EXHIBITIONS
"A Motherboard" at SIC Gallery, Helsinki, Finland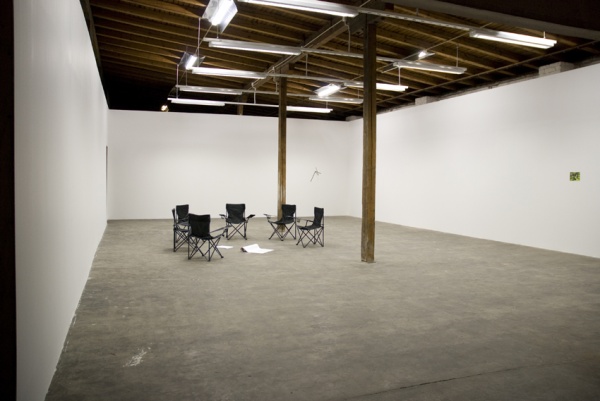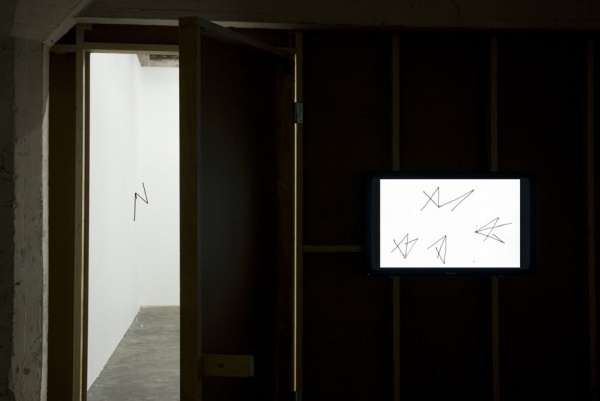 The exhibition "A Motherboard," curated by Jonas Žakaitis—the mind behind the Tulips & Roses gallery—grew out of a "utopian" architectural design from the early '90s that became the focus of a collaboration with the Åbäke artists collective and Nene Tsuboi.
We decided to ask Jonas a few questions about the show, and here's what he had to say:
Can you tell me something about the upcoming exhibition, like what artists you've decided to invite, how you came up with the concept?
Well, everything started whirling around the architectural conceit of Kazuo Shinohara, who proposed building the museum of contemporary art in Helsinki with a huge cylindrical gallery poking through the building. A fascinating (and alas, rejected) idea that is probably not so useful for exhibiting Euclidean artworks, but one that could certainly be used for many other purposes, especially if the world's gravitational field were to dramatically change. Abake and Nene Tsuboi have built a model of that space which will be exhibited at Kiasma, the current museum in Helsinki. And around that, other things will hopefully happen. We are trying to devise a new search icon that could, in the best case scenario, replace the magnifying glass. It would be great to have another shape for current search engines, one that wouldn't be so anthropomorphic and grounded in veteran ontology. Another thing we are going to present is the Ceilbot, a new robotic arm being constructed at Aalto University at the moment. It is a ceiling robot modeled to resemble an octopus arm – a very exible and versatile structure that can do a lot of things in many dimensions. There will also be a new video by Liudvikas Buklys and an open le titled Automobile by Gintaras Didžiapetris—the latter is a vector graphic that can be produced in various ways, this time, for instance, as gift-wrapping paper and a rubber band.
What's the connection between the title of the exhibition, "A Motherboard," and the concept behind this selection of works?
Well, I am sure that the importance of mothers cannot be overestimated, and at the same time a motherboard is a slightly antiquated computer device holding all the main components (CPU, video adapter, BIOS, etc.) together and providing connections for other peripheral devices.
I'm wondering what results will be achieved by subverting the normal characteristics of an exhibition space. Is this about trying to find different contexts for the act of exhibiting something?
The space does not have any conceptual, let alone subversive, significance. It is just something that is available. But as such it will of course have its own e ect on whatever is going to happen in the exhibition. But again – I am simply curious to see what this e ect will be, nothing more.
(Jonas Žakaitis interviewed by Antonio Scoccimarro)
–
"A Motherboard" is an exhibition curated by Jonas Žakaitis for STAGES Museum of Contemporary Art, Helsinki
on view at at SIC Gallery, Jätkäsaari, Helsinki, Finland
until 22 July 2012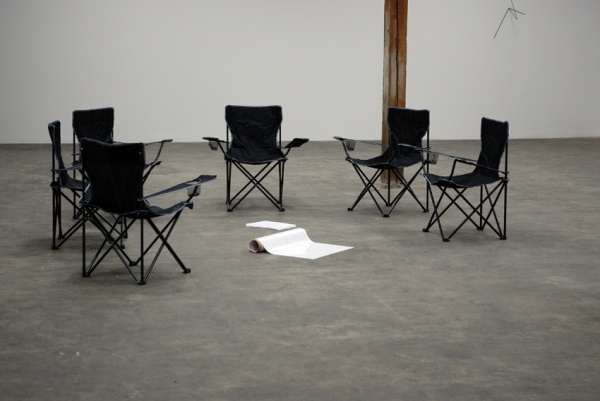 –
A motherboard
"At some point there was an excess on knowledge, and now there's no way back. It's not a very nice situation. But I know it will never change, so I'm trying to live with it", I recently read Darius Mikšys saying in an interview. I am not sure what precisely  Darius meant, but his statement reminded me of Colin Laney, a character from William Gibson's All tomorrow's parties. Laney is not in good shape, living in a cardboard box in one of Tokyo's underground stations, subsisting on blue hypnotic cough syrup and a potent cocktail of alcohol, caffeine, aspirin and liquid nicotine, immobile and in permanent insomnia. The interesting thing about Laney though, is that his brain is directly connected to data. Not just some part of it, but to the whole thing, the totality of Information flowing in the world is channeled through Laney's head. And he seems to experience this infinity of information in a peculiar way, as if it were moving in patterns and converging towards certain "nodal points", tectonic events of the world. Laney does not know what these events are, he doesn't really understand why they happen or what they result in, but he can sort of follow and predict their dynamics in an almost tactile way. The totality of information condenses into something like a physical flow of energy, nonlinear pulsation, with every single point in this flow getting so over-determined with possibilities and connections that he
starts seeing snowflakes.
Snowflakes that are most likely made of languages and number, but still look like snowflakes.
Not unlike the Automobile (2011-ongoing) [1] devised by Gintaras Didžiapetris, except that the latter condensation does not even resemble an automobile that much. It is an open file which can be produced by an indefinite variety of mechanisms. Spontaneously, you want to think about this figure via available analogies (and there's nothing wrong with that, analogy is a perfectly legitimate mechanism as well), but it might be more efficient just to treat the Automobile as a fact. Sometimes it appears as an image or an object, at other times it is an element of something else. The Automobile, too, is overdetermined with connections and possibilities, but that does not distort it
at all.
"The process doesn't care where it is, and moreover it doesn't care how long it's been going", says Mitchell Feigenbaum, a mathematical physicist who discovered that a large variety of non-linear systems (economy, atmosphere, ecosystems, fluids) share some universal patterns of development that can be mathematically calculated and graphically represented. These patterns themselves, though, are neither mathematical, nor visual.
Over the last couple of year Camilla R. Fox, a programmer at MIT university, has knit several teapot cozies [2] according to the growth patterns of cellular automata. Cellular automata are models made of basic computer-generated pixel cells that grow on a geometrical grid according to fixed simple rules indicating only how each cell should relate to the ones in its immediate proximity. Curiously, as these cellular automata grow in time, they start morphing into really complex patterns, big clusters of cells that disappear and reappear and change direction and do all kinds of weird stuff that could never be deduced from the initial rules. As if an independent living organism was generated by nothing but binary code. Cellular automata models are used for various purposes, predicting voting patterns or forecasting urban growth, for example. And they are not restricted to computers. There is a species of venomous snail named Conus textile which has a cone shell looking exactly like a cellular automaton pattern. This one is generated by pigment molecules interacting as the surface of the shell grows.
We've been talking a lot about analogies and metaphors with Liudvikas Buklys. The distinction between the two is very basic, we figured it out before finishing the first round of drinks: analogies tend to link diverse things via a certain shared element, an intermediary formal or sensory element. For instance, a raised eyebrow approaches a bridge because of a rampant arch attracting them to each other. Now a metaphor does essentially the same, just with one important difference – it does not need the intermediary element. The sun becomes a god, architectural elements get aroused, proximity becomes speechless, a favor becomes a body without delay and mediation, without any necessary likeness. In that sense a metaphor is less concerned with signification and generally more efficient than an analogy. But then another line of thought intrigued us: what if you not only get rid of the semantic middleman, but of the initial separateness between the poles of the metaphor as well? In other words – what if you begin in the very middle of the metaphor, temporally and spatially, and stay there? I was about to ask Liudvikas to provide me with an example of this idea, but by the time I finished wording he had already produced A Study for a Buried Sculpture (2011) [3] and a Holder in the Twilight (2012) [4], and left his glass tongue-tied.
Speaking of (2012) [5].
Morihito Kumano and Motoi Ishibashi have proposed a new model of the search icon [6]. Not that there is something wrong with the veteran outline of the magnifying glass, but we just might need to give this new shape a serious tryout to see if it can improve things.
The figure of the magnifying glass was introduced to computing more than three decades ago as part of the broader desktop metaphor in human-computer interface. This had a good reason at the time: command-line interface was too cryptic for the uninitiated, thinking about computers in terms of familiar physical objects (trash bins, folders, drawers and stationery) proved to be much easier and way more popular. The metaphor is rigid though. And the growing complexity of computing does not sync with the images of antiquated functions. The drawing of the magnifying glass is an anthropomorphic image: it implies a human hand, a human eye, a certain way of reading, a certain spectrum of bodily movements. But there is more to it – a reified archive, linear time, manual labor, Part vs. Whole ontology. Things that don't really need to be imagined when you think of the current search systems which process the whole of information without the part/whole or inside/outside distinctions, without the limitations of anthropomorphic architecture and without the sleeves of beginning and end. Imagination without metaphors?
Where did Laila Pullinen imagine Kazuo Shinohara's model of Helsinki's museum of contemporary art [7], I wonder? In her garden of sculptures maybe, or as a giant pre-historic octopus, folding around suboceanic mountains? In any case, it was bound to be a joyful meeting – Shinohara's virile geometry, an architectural idea which is upright and iconic and orchestrated by symmetry, but at the same time incorporating an element of a much wilder, untested imagination; and, on the other hand, Laila Pullinen's sculptural space, grounded in basic materials and embodying something much more visceral, forms that celebrate uninterrupted fluidity, animals dancing their traditions into floral patterns within the hands of a woman. Hands which are not organs, but faculties.
It is very likely that robots of the future will look nothing at all like human beings. In fact, most of the new generation robots already look more like cephalopods, insects and reptiles. The fact is that robotic manipulators modeled after human limbs prove to be of little use when it comes to navigating areas like deep sea ridges or cardiac muscles – they are hinged on joints and thus have a very narrow spectrum of movement, plus they are generally oversized. And so the new 'continuum robots' mimic invertebrates instead, octopus limbs and caterpillars that are all muscle and can move in all directions and can be really big or really small, almost scale-free because of their structural simplicity. This is not speculation. Robots that will take care of endonasal surgery for us will look like octopuses, simply because this works much better. These days at Aalto university Dharma Srungavruksham is working on Ceilbot [8], a cephalopod robotic arm that is going to be used for domestic purposes, to help us get around things. "The motivation behind a robot crawling on a ceiling is simply to free up the space they occupy
on the floor otherwise", Dharma tells me.
Helsinki 2012, Jonas Žakaitis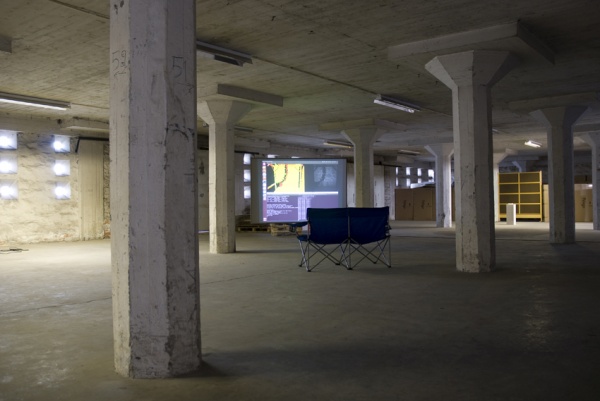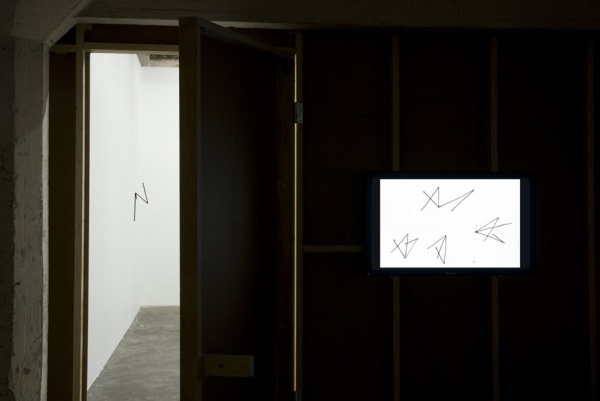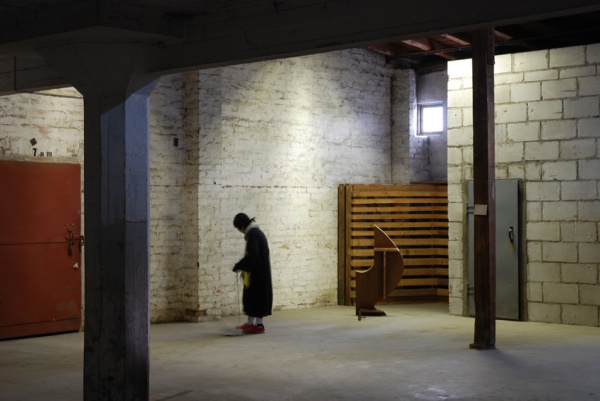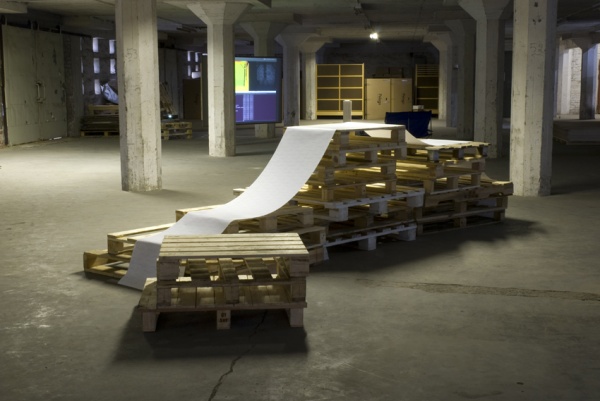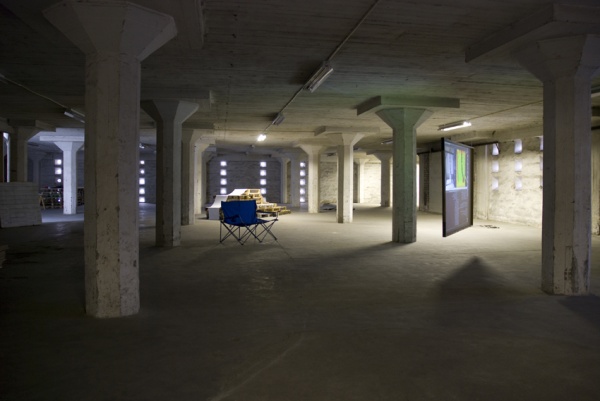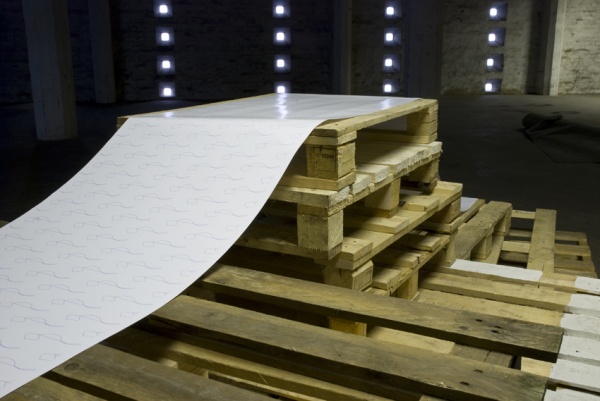 Gintaras Didziapetris, Automobile, (2011-ongoing)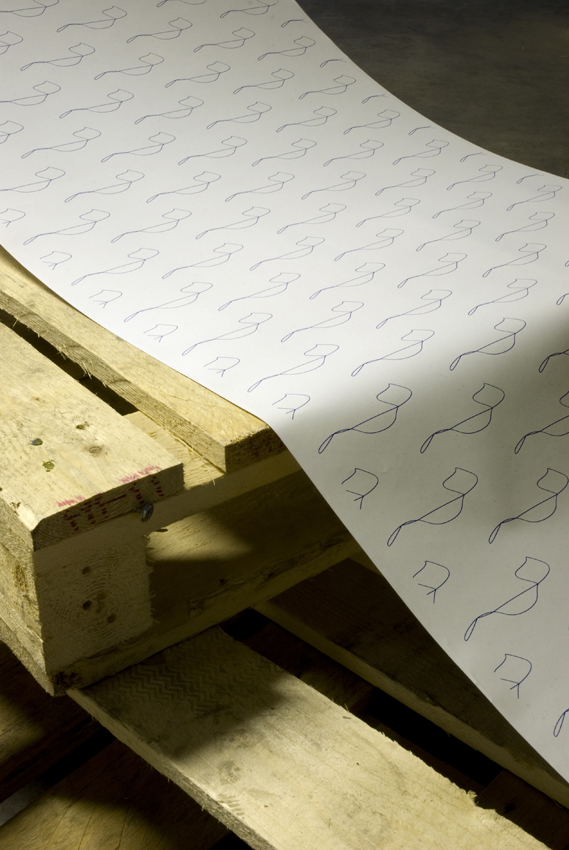 Gintaras Didziapetris, Automobile, (2011-ongoing)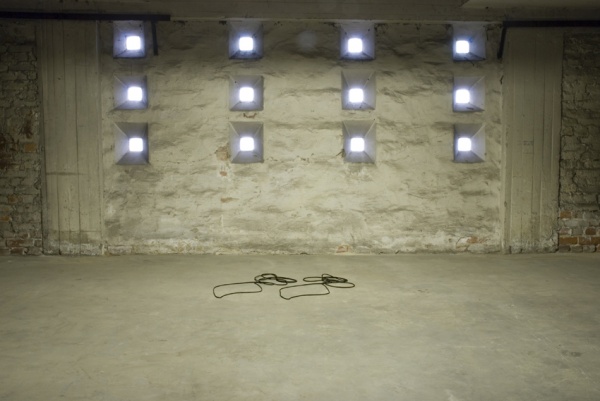 Gintaras Didziapetris, Automobile, (2011-ongoing)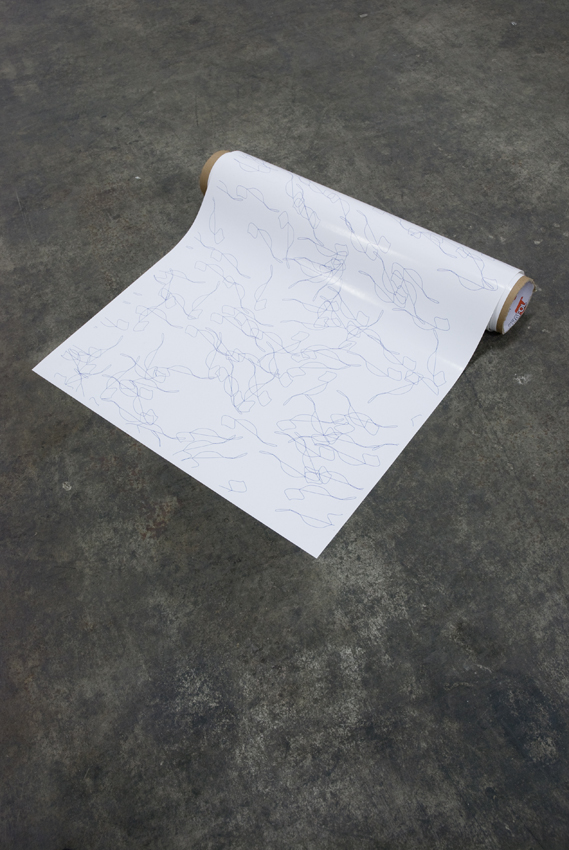 Gintaras Didziapetris, Automobile, (2011-ongoing)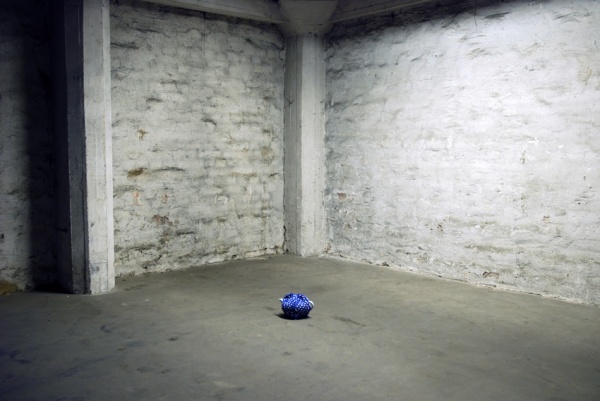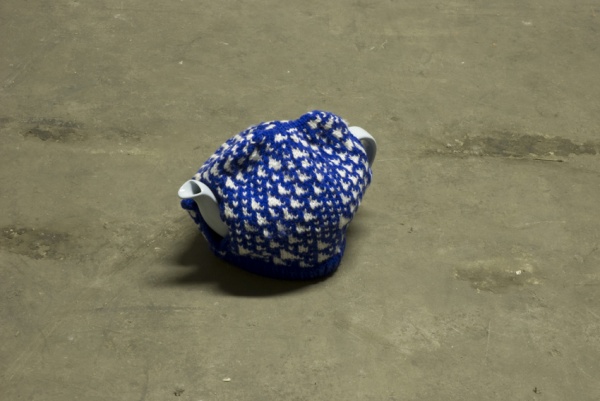 Camilla R. Fox, Teapot Cosy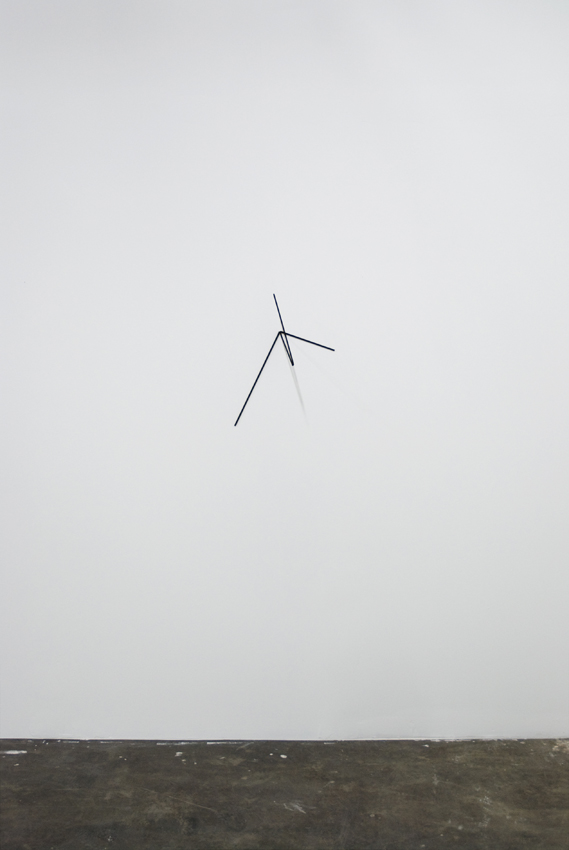 Liudvikas Buklys, Study for a buried sculpture (2011)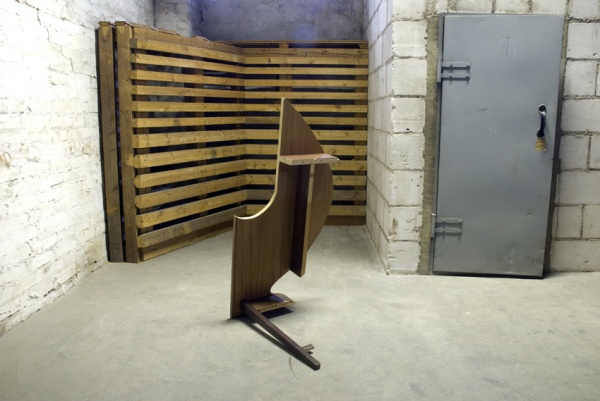 Liudvikas Buklys, Holder in the Twilight (2012)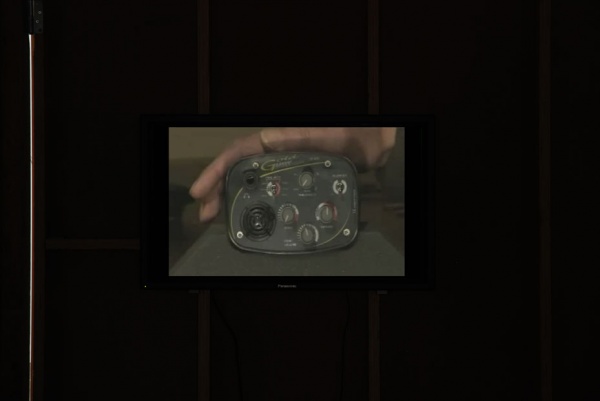 Liudvikas Buklys, Speaking of (2012)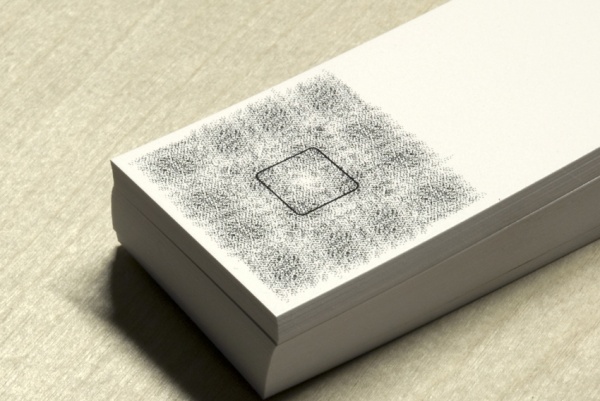 Bookmark with the image of a search icon, Morihito Kumano and Motoi Ishibashi, (detail)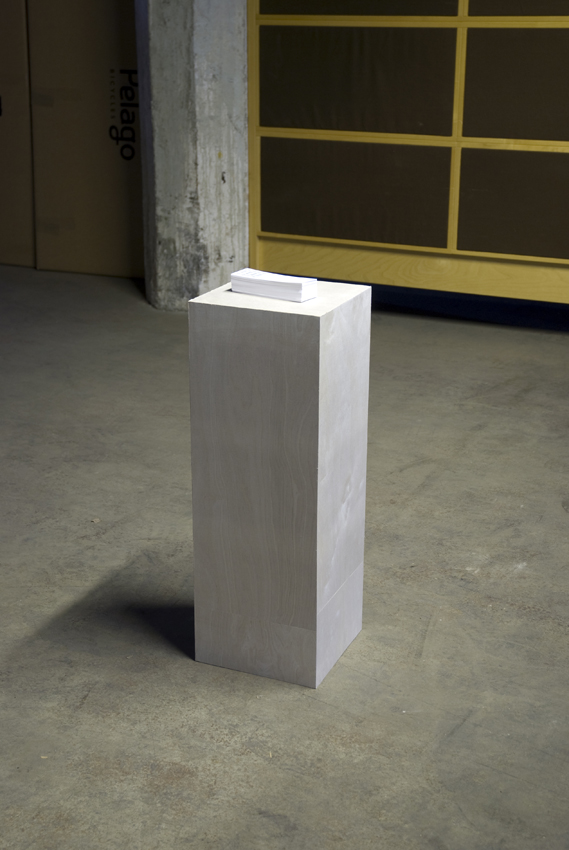 Bookmark with the image of a search icon, Morihito Kumano and Motoi Ishibashi, (detail)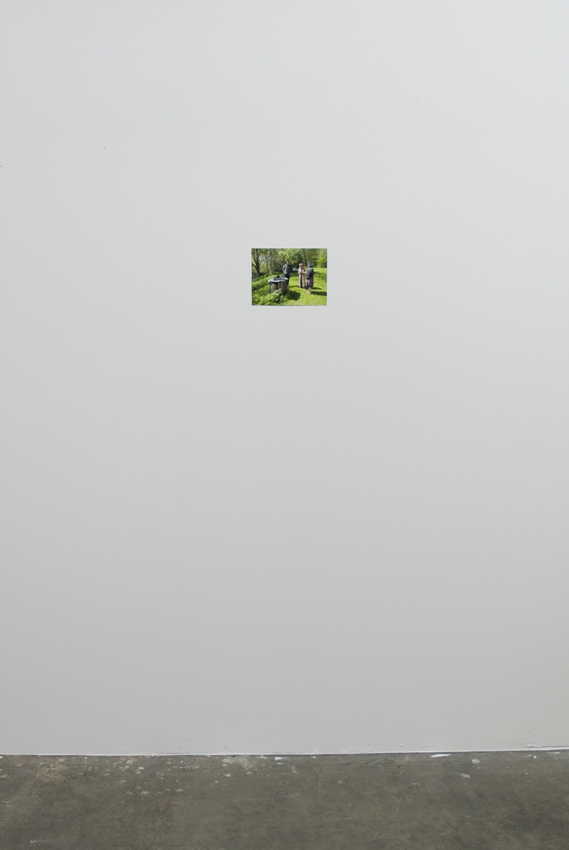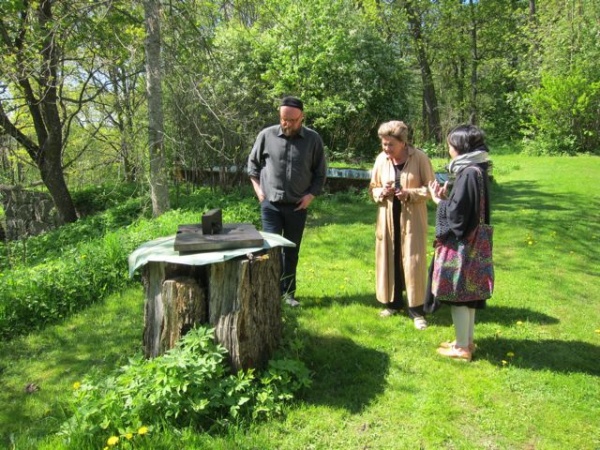 A cast model of Kazuo Shinohara's STAGES visiting the sculpture garden of Laila Pullinen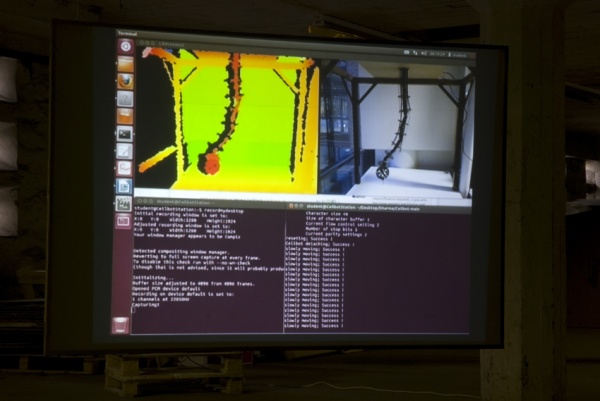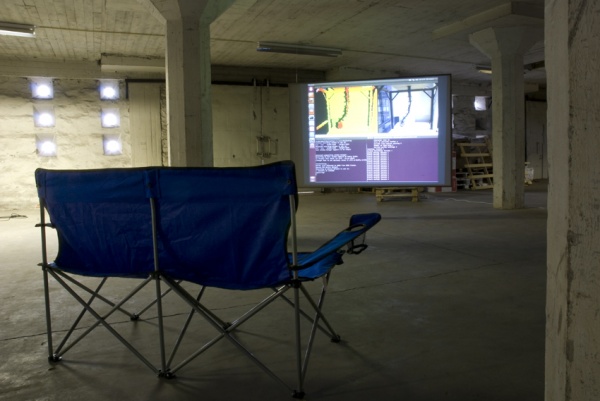 Video presentation of Ceilbot.
Ceilbot is being developed as student project in Aalto university department of Automation and Systems Technology (Espoo, Finland). The original video material was created by Dharma Srungavruksham, Master's Degree Student in Joint European Master Programme in Space, Science and Technology
Photos by Willem Heeffer