CONVERSATIONS
Adrian Piper "The Mythic Being" at MAMCO, Geneva
Close
1
2
3
4
5
6
7
8
9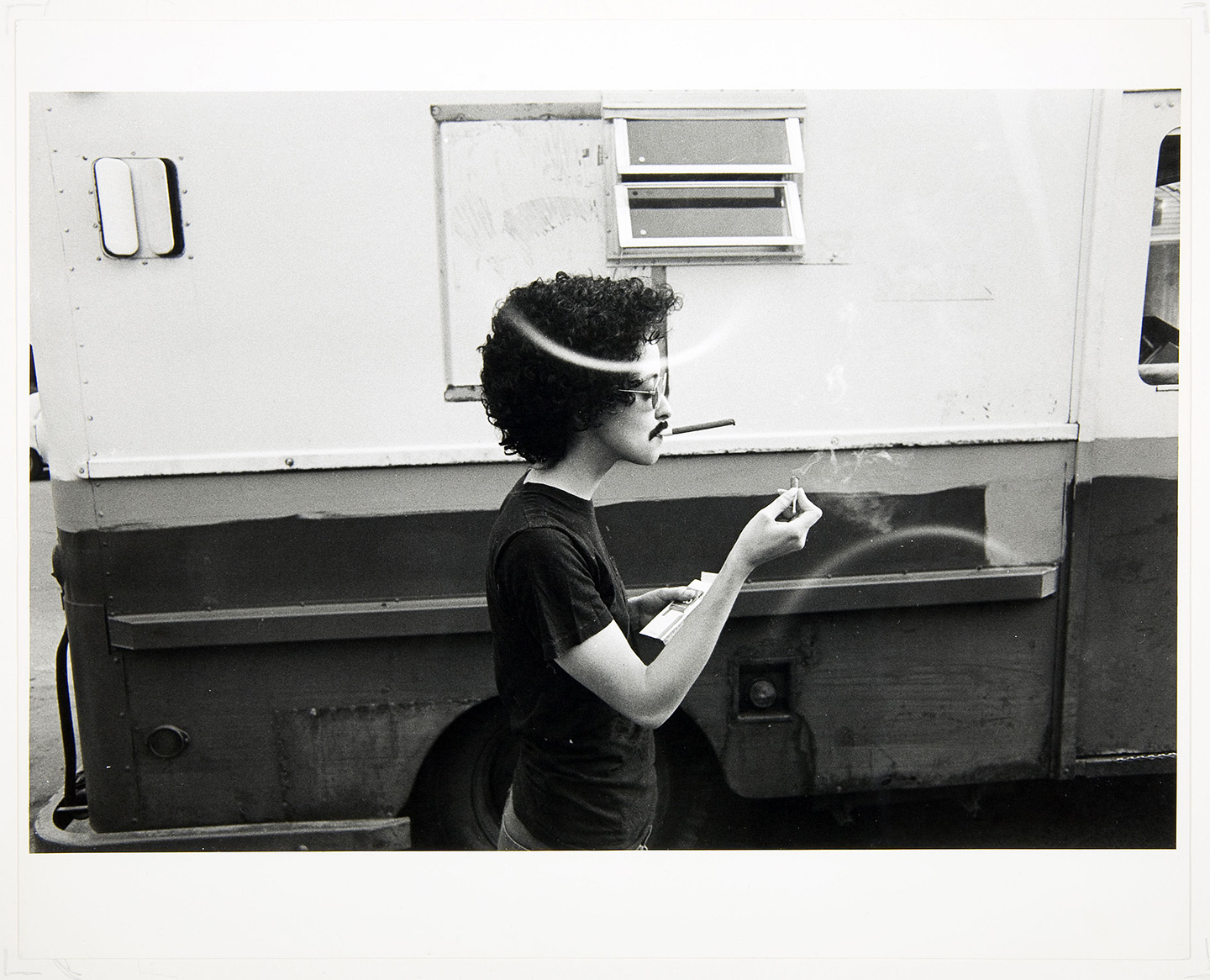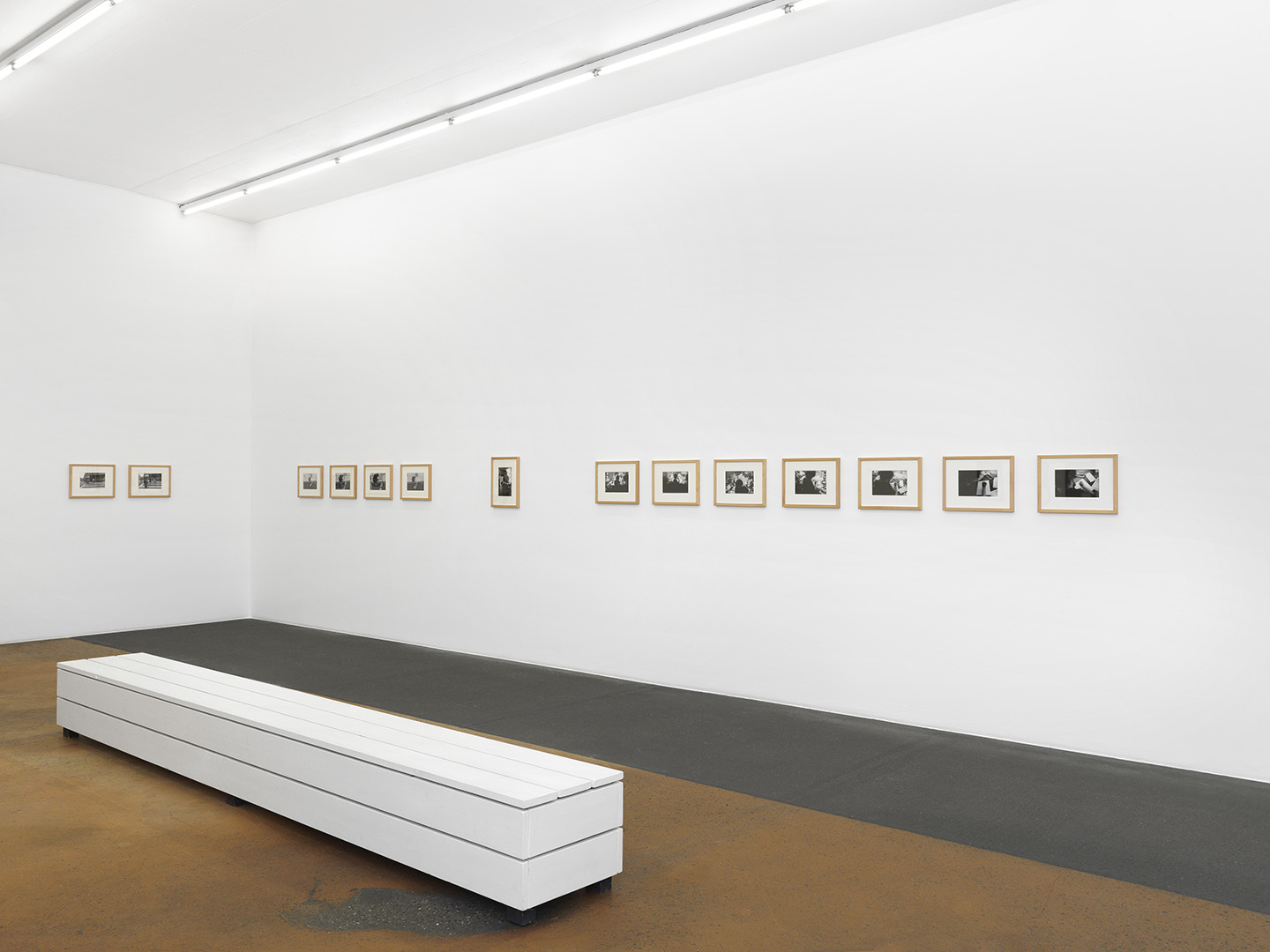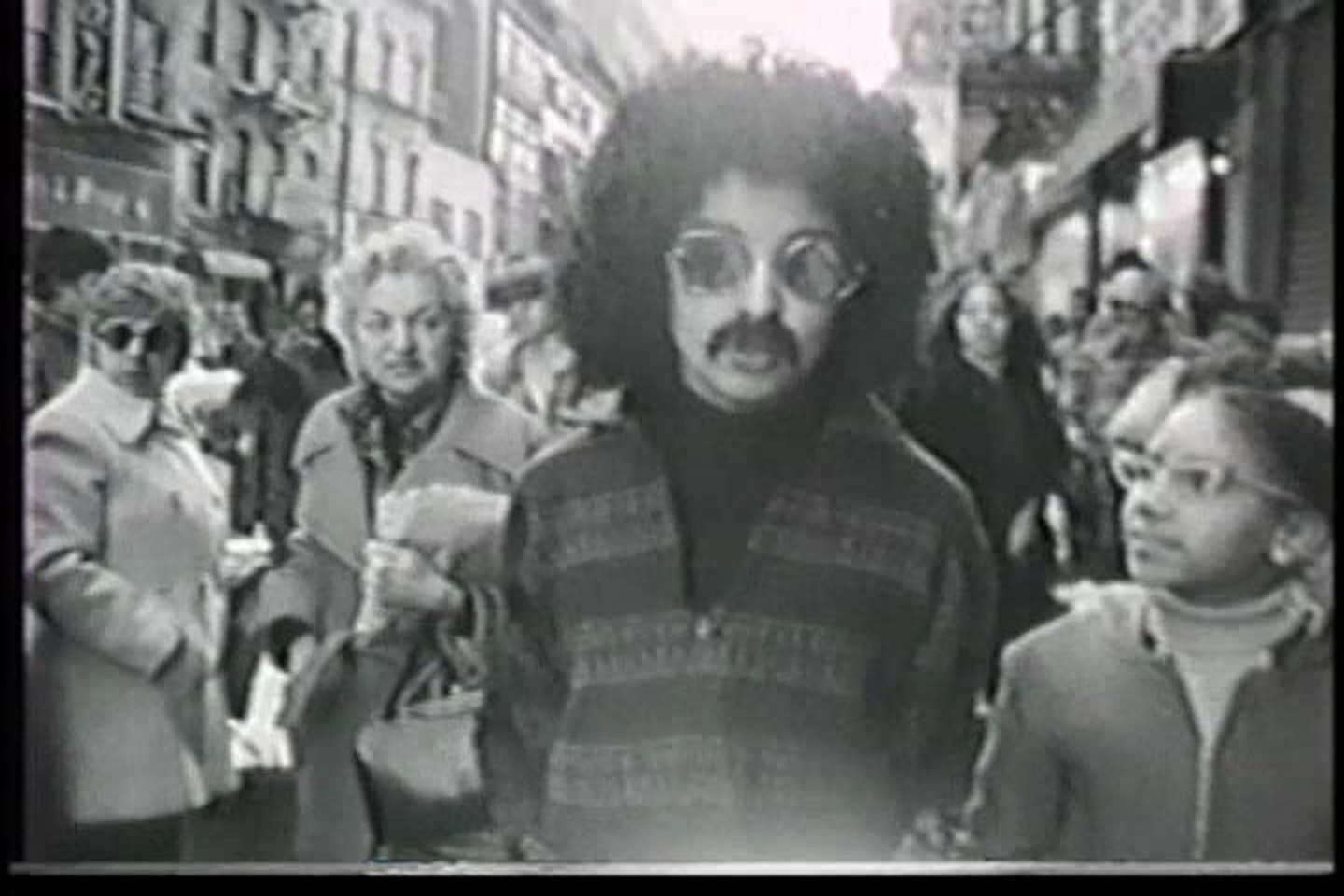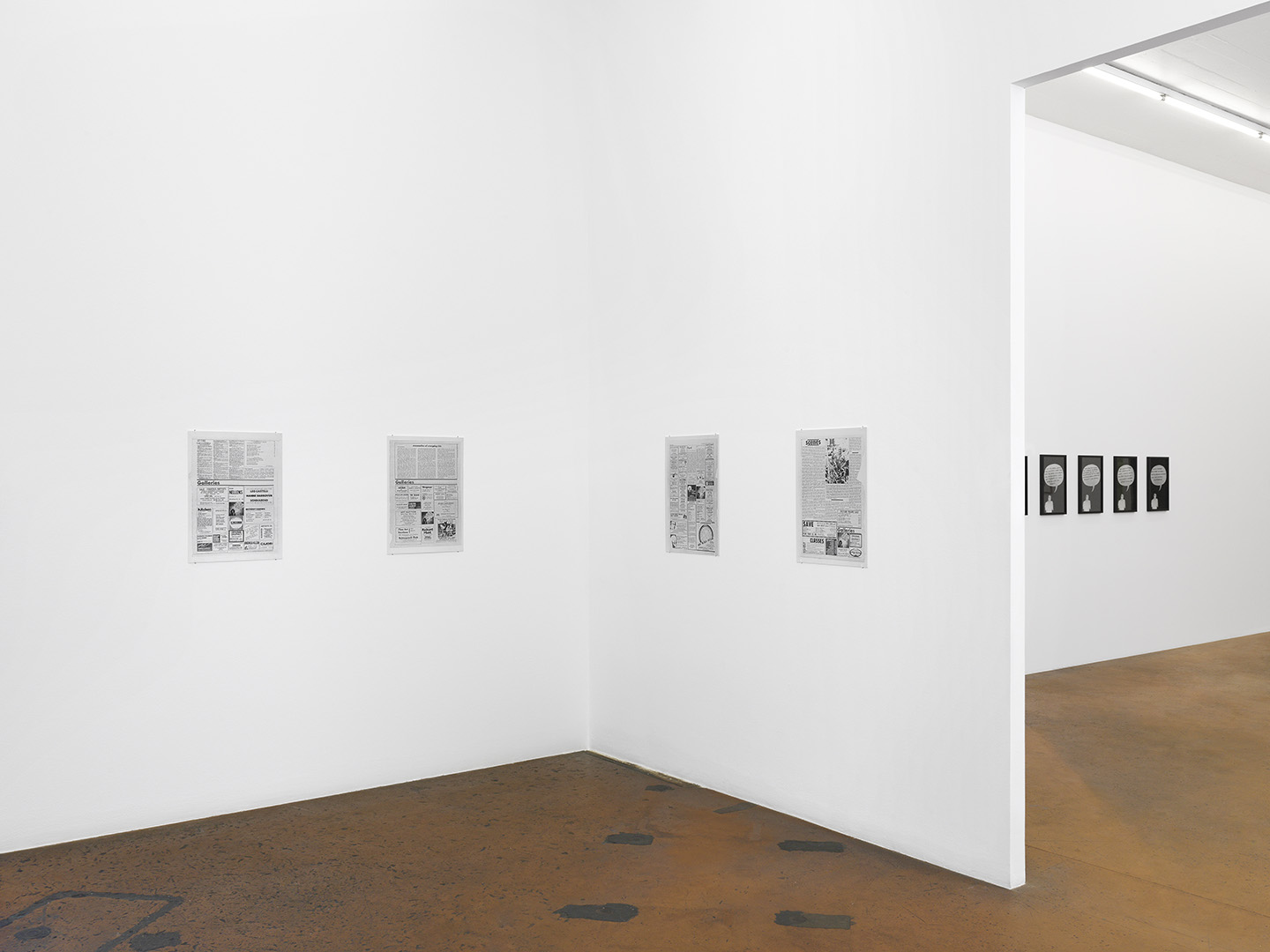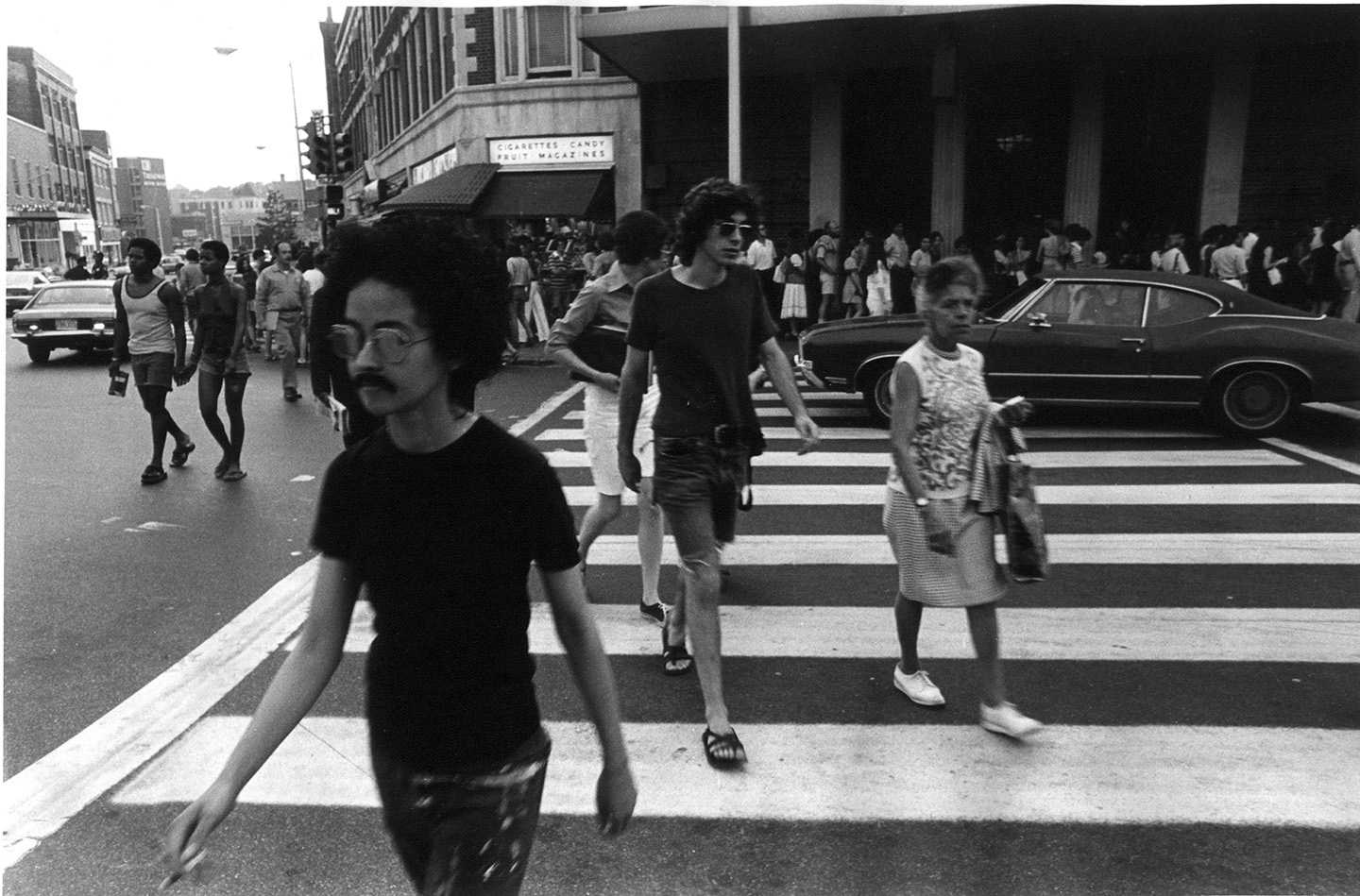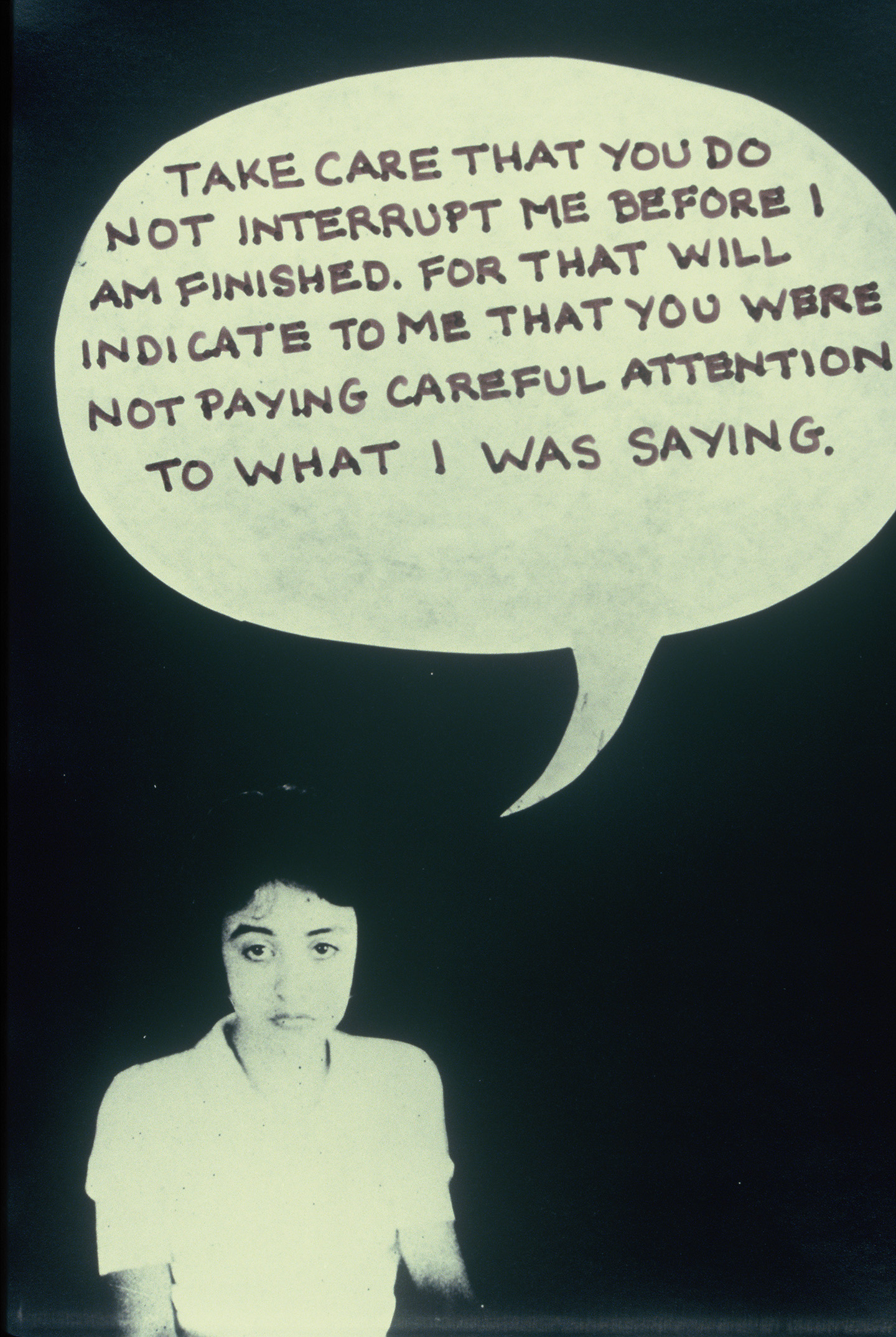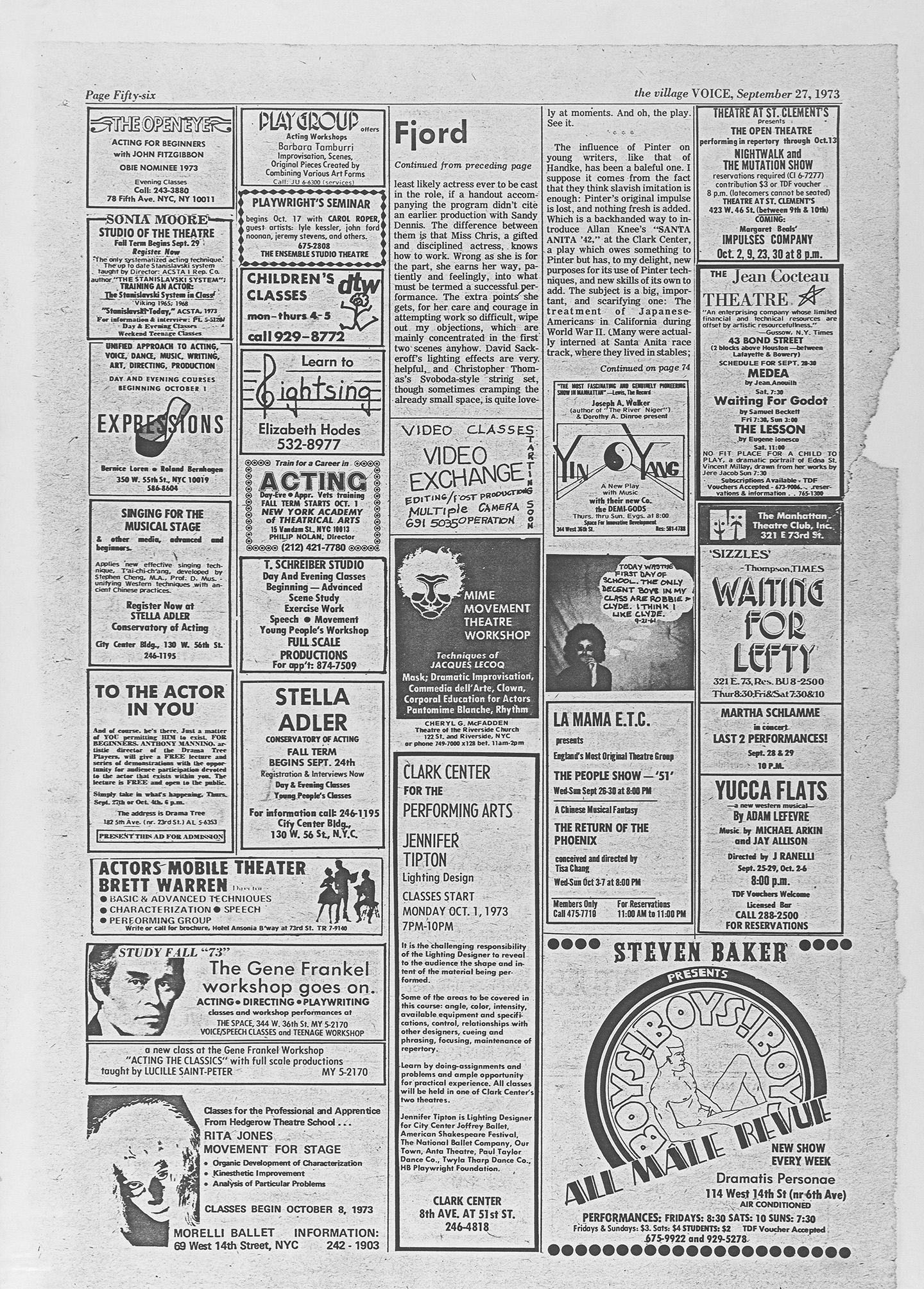 Elise Lammer and Karima Boudou in conversation
The exhibition Adrian Piper: The Mythic Being, currently on view at MAMCO, Geneva, features a selection drawn from Piper's extensive body of work titled The Mythic Being (1973–75). Here Elise Lammer, curator of the exhibition, gives a detailed account of the narratives and constellations operative in Piper's work.
Karima Boudou: Adrian Piper is a first-generation American Conceptual artist and an analytic philosopher. Let's begin with an introduction to her work and how you first encountered her oeuvre.
Elise Lammer: If I remember correctly, I first heard of Adrian Piper through early works such as The Mythic Being (1973–75) and Funk Lessons (1983). Until I met her personally, I associated her work with early Black feminism, until I realized that it was way more complex and multilayered. Although race and gender are key concerns in her oeuvre, over time it became clear that Piper's work was essentially conceptual, as end and means. A female and black artist (although she retired from being black in a public announcement in 2012), Piper always encourages anyone, be it an artist or a viewer, to focus on the art rather than the individual. This position by no means negates who she is, but it shows her ability to incarnate the ideas she advocates, while tackling ostracism and racism.
My goal in assembling this exhibition was to propose to the audience the possibility of reading Piper's The Mythic Being through an angle that was close to her initial intention. I wanted to highlight what she was thinking about when conceiving this work, rather than presenting the many interpretations it's gone through since its conception. By reading some passages of her journal, it seemed clear that beyond race and gender, Piper was concerned with addressing a more universal notion of the other. To me, this work expresses truly existential questions, through the prism of a young female artist living in 1970s New York.
KB: How did the exhibition Adrian Piper: The Mythic Being come up? And how would you describe the selection of works from the Adrian Piper Research Archive Berlin?
EL: When I started teaching at Geneva School of Art and Design (HEAD) in early 2017, I gave a public talk in which I attempted to trace the relationship between dance and the construction of identity in Piper's work. It was attended by MAMCO curator Paul Bernard, who wanted to present a selection of Piper's works into a larger series of exhibitions in the museum. Together, we decided to focus on The Mythic Being, Piper's male alter ego who manifested himself in performances, newspaper ads, drawings, and a series of black-and-white photographs. It was crucial to allow the intention of the artist to prevail over my own interpretation, so in that sense it's not a typical "curated" exhibition. I was thinking all the time: "What would Adrian do?" so I tried to produce a thorough, explicit, and humble presentation.
Piper has produced a lot of writing about her own work, which is mostly published in Out of Order, Out of Sight (MIT Press, 1996), which I used a lot in the preparation of this project. For Piper, an artwork exists at the moment when it manifests as an idea.
KB: Tell me how the artist embodied The Mythic Being between 1973 and 1975.
EL: As I mentioned, The Mythic Being was Piper's male alter ego. Deciding to completely change her appearance, she went out to public events in drag, sporting a short curly wig, reflective sunglasses, a moustache, and dark pants. She was often smoking, while reciting a personal thought from her journal. Each thought was a mantra on which "she meditated and directed her consciousness during that month." The same mantra was published monthly in the Village Voice in a photomontage showing a photograph of Piper as The Mythic Being with a thought bubble containing the selected passage. To me The Mythic Being is an alter ego and not one at the same time: Piper admitted that she would never dress like that if she were a man, nor would she be attracted to such a person. I see The Mythic Being as her opposite and in that sense a complementary figure.
KB: So The Mythic Being is like a drag king. Piper asks in the video The Mythic Being (1973): "What would happen if there was a being who had exactly my history, only a completely different visual appearance to the rest of society? And that's why I dress as a man." Such a statement reveals something about the conceptual artwork channeling multiple systems, which constantly renegotiate internal expectations in opposition to external audience perceptions.
EL: The work originates from several observations and reflections made by Piper in the period preceding the realization of The Mythic Being, from even before she decided to dress in drag and wander in the public space. In her journal she describes a moment when she was dancing in a New York club, and her feeling of "becoming the music," which implies the idea of becoming something else. Shortly after, she explains becoming aware of her reflection in a mirror, while being looked at by the audience, and transitioning back into another level of self-consciousness. This situation reveals that she becomes the object of what she tries to conceptualize through dance, which is reflected in Notes on The Mythic Being (1975), another work in the exhibition. In this poster produced on the occasion of a talk Piper gave at the Rhode Island School of Design, she wrote, "A person frees himself from himself in the very act by which he makes himself an object for himself," a quote by Jean-Paul Sartre.
There is another anecdote of Piper encountering a scary-looking character in the subway, maybe a homeless person. This man embodies "the other," "the stranger," and triggers a feeling of rejection among the subway users. She later interpreted this estrangement in The Mythic Being, further experimenting with notions of confrontation, objectification, and estrangement. Finally, and despite her young age at the time, Piper was already a member of an art scene that must have felt cruel and individualistic. That's probably why The Mythic Being existed outside of it; it was made for an accidental, uninitiated audience, in the public space and in the newspapers.
I want to say that there was something deeply existential in the young Piper, who attempted to define herself and her work in accordance with her philosophical research, a strategy that she never ceased to apply while trying to combine art making and her practice of philosophy.
KB: Piper explains in the same video that she incorporates into her performative work selections of text from her journal on a systematic basis and memorizes that particular selection. She speaks of the text as a "mantra" and "focal point." Could you expand on that in relation to Piper's thought processes as both a philosopher and an artist? It seems Piper touches upon the possibility of an eternal return, or how to transform the experiences she is thinking about in the work. In The Mythic Being, what do you think of the relations to text and sentences as some material and testimonies one would come back to when "not thinking about something in particular," as the artist puts it in the video The Mythic Being?
EL: Piper chants her mantras while incarnating the Mythic Being. They're passages selected from her journal between September 1961 and December 1972. The repetition of the same paragraphs over and over allows her to enter a sort of trance, and transcend herself through high concentration. It also allows her to keep focused when confronted with her accidental audience in the streets of New York, and to review her own history.
KB: Did you try to re-create or give a spatial experience in the space of the museum similar to the one of someone walking in the streets and channeling multiple sources of information? I am thinking specifically of curatorial choice you made with the insertion of the sound piece The Mythic Being Cycle 1: 2/66 (1974) in a corner of MAMCO's galleries—which amplifies this perception, to my mind.
EL: This sound work is very important to me. We hear Piper recording herself in a private and quiet space, somewhere away from the street crowds. Here we understand the idea of practicing and repeating a mantra until it acquires a new meaning. One hears Piper making mistakes, repeating herself, being angry, until she manages to repeat a sentence in its entirety: "Within the eye probes more and more deeply and its strength of vision is broadened and toughened by its external blindness." Played in a loop, on loudspeaker, her voice laps over all the black-and-white photographs documenting The Mythic Being in different situations (while reading, walking, reading the newspapers), it's everywhere and hypnotizing. As time goes by, the attention of the viewer shifts back and forth between various senses, between artworks and meanings. It becomes a direct experience of what Piper was exploring at the time: a tool of consciousness. The idea was to propose to the viewer to step into the methodology of the artist and become The Mythic Being themselves. In the movie The Mythic Being (1973) presented in another room, we see Piper in the middle of metamorphosing into her character; from Adrian to this anonymous other. Here the process is unveiled, bringing an awareness of our condition as spectators. I attempted to script the viewer's experience by arranging the works in a specific order, hoping that the idea of "in and out of self-consciousness"—a core concept in this body of work—could be experienced.
KB: Can you expand more on how this exhibition is related to your work and involvement in the Adrian Piper Research Archive?
EL: I started working for Piper in 2014, shortly after moving to Berlin from Vienna. At the time she was looking for someone to help at the archive where she keeps most of her writing and art. She was starting to work on her retrospective at the Museum of Modern Art, New York, and needed assistance with the growing volume of work she was dealing with. I had the chance to work closely with her and her work for almost two years, while preparing what she knew would be her largest exhibition to date. During the process, I also worked closely with David Platzker from MoMA and Connie Butler from the Hammer Museum, who spent a great deal of time in Berlin selecting works and discussing conceptual and curatorial approaches. Together we went through Piper's entire production from the 1960s to today. It took us almost two years to finish. I realized it was crucial for Piper to provide an accurate reading of her own work, so we embarked on what seemed like a time machine; for each work, each drawing or piece of text, Piper carefully explained what the intention behind it was, at the time she conceived it.
So much has been said and written about her work, and it's been interpreted for several decades now! Each of them bringing a new cycle, a new army of scholars and curators ready to engineer a concept to fit a specific agenda. This painstaking process was necessary in order to produce the right exhibition. This time will remain one of the most valuable experiences in my life, and the specific knowledge I accumulated is enough to curate another ten Piper retrospectives. I was lucky that she agreed to let me put together the exhibition at MAMCO only a few months before the opening of the retrospective in New York, as it includes works rarely exhibited before that won't be shown in New York.
KB: How did you personally navigate between the scientific and intellectual work of the archivist and the role of curator in the context of this presentation at MAMCO? This is an interesting context, as it seems to me that the issue of how to tackle one's own history and systems of thought is a tight and complex fil rouge in Piper's work.
EL: I worked on many exhibitions while working at the Adrian Piper Research Archive in Berlin, both for exhibitions involving Piper's work where I acted as an archivist and on exhibitions I was curating elsewhere. My experiences there brought me closer to the original meaning of the curator, as one who takes care of a work of art. Indeed I was responsible for the physical and conceptual maintenance of the works—making sure they were in the right state of conservation, but also making sure external curators were framing the work correctly, theoretically speaking. There is a strange fascination today with curators as authors. And that definition can indeed hold, but working for Piper taught me that it's not necessarily the case. Curators have a responsibility because they manipulate objects and deal with historical discourses that they tie together and make public. In a nutshell, through my work for her, Piper taught me rigor and honesty: for myself, my work and my life. Those notions are the core of her practice.
KB: How would you articulate the exhibition Adrian Piper: The Mythic Being in relation to the broader narrative that MAMCO unfolded around the issues of narrative and its multiple and labyrinthine forms? I am referring to the deconstruction of Hollywood narratives and structures with Californian artist William Leavitt, irony and the reuse of magazines with General Idea, the movement of "narrative art" in the 1970s and 1980s with artists using pseudonyms or fictive characters, and specific artistic and historical figures such as Allen Ruppersberg, Martha Rosler, or Gordon Matta-Clark.
EL: The exhibitions presented at MAMCO draw lines between the United States and Europe in the 1960s and 1970s, and between the West Coast and the East Coast, and offer a new understanding of the mere notion of borders through artistic production. I believe it's part of Lionel Bovier's [MAMCO new director] plan to present the history of art from a global perspective, by bringing together artists who worked simultaneously without necessarily having ever been in contact. With so many visual, conceptual, and aesthetic similarities tying these works together, one can only wonder if they're accidental. This questions the very notion of exchange and circulation and allows for a completely new reading of history. When one sees William Leavitt's retrospective, the link with Dutch conceptual artists such as Ger van Elk and Bas Jan Ader becomes obvious. It made me wonder if Piper was aware of their practices, in light of her own use of narration. Put in this context, the notion of contemporaneity I'm describing also allows us to approach Piper's work as that of an American artist working in the 1970s in New York. It also raises the question of the role of an art institution: What does a museum like MAMCO have to do vis-à-vis the rereading and writing of art history?
Elise Lammer trained as a fine artist in Barcelona and holds an MFA in curating from Goldsmiths College, London. She is curator at Kunstverein SALTS in Basel, and the host and founder of Kunsthalle Roveredo, an artist residency program and exhibition space in Graubünden, Switzerland. Between 2014 and 2016 she was responsible for the exhibitions and archivist at the Adrian Piper Research Archive in Berlin while preparing Piper's upcoming retrospective at the Museum of Modern Art, New York. She has participated in exhibitions as an artist, curator, and writer in institutions and galleries internationally, including the Schinkel Pavillon, Berlin; Goethe Institut, Beijing and Hong Kong; MAMCO, Geneva; South London Gallery; Autocenter, Berlin; Centre Culturel Suisse, Paris; Kunsthaus Langenthal, Switzerland; and MCBA, Lausanne, Switzerland. She is a regular contributor to Spike Art Quarterly. She is currently a research fellow at the Istituto Svizzero in Rome.
Karima Boudou is an art historian and curator. She participated in the Curatorial Training Programme at De Appel, Amsterdam, in 2012–13 and is a member of IKT International Association of Curators of Contemporary Art. In the past five years she has coordinated research projects, exhibitions, and publications in Europe and Morocco. Boudou has lectured about the writers Jean Genet and Mohamed Leftah, and the artists Danh Vo, Dave McKenzie, and David Hammons. She has written for exhibition catalogues (Mu.ZEE, Ostend, Belgium; Le Cube, Rabat, Morocco) and magazines (Ibraaz, rekto:verso). She is currently a research fellow at Musée d'art contemporain du Val-de-Marne, France.