EXHIBITIONS
Adriano Costa and Ruby Neri at David Kordansky Gallery, Los Angeles
Adriano Costa "DearMeatCutsDevilMayCry"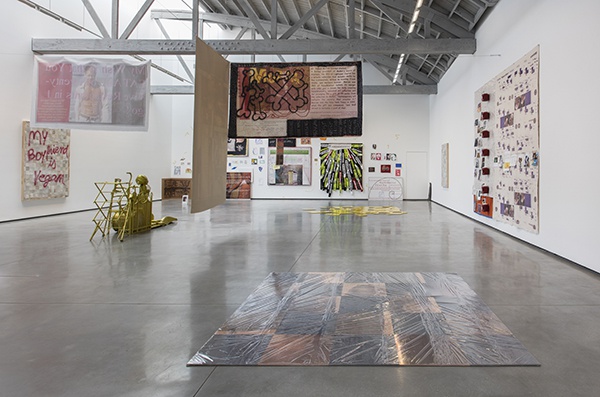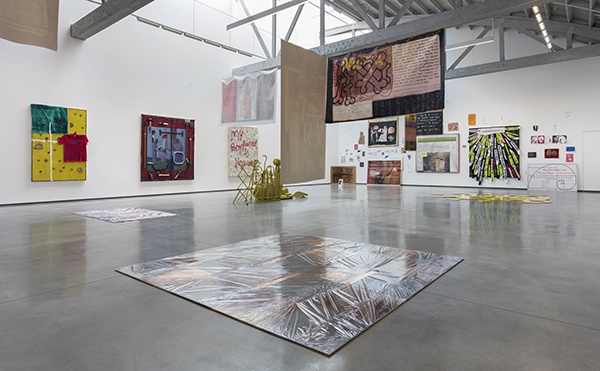 David Kordansky Gallery is pleased to announce "DearMeatCutsDevilMayCry", an exhibition of new work by Adriano Costa—the artist's first solo show in the United States.
Adriano Costa culls his materials from the detritus of contemporary existence. He weaves together poetic tableaux from objects and images generally regarded as ephemeral, accidental, or discarded. In his work these forms find new life while retaining markers of their disvalued state, allowing the artist to hold up a mirror to the social divisions, the pervasive dread, and the paradoxical, fallen beauty that characterize life in the first quarter of the 21st century. Costa's practice often involves working on site in whatever city his next exhibition will take place, and he combines materials foraged from the urban landscape of his native São Paolo with those he finds in his temporary adopted homes. DearMeatCutsDevilMayCry will therefore reflect the booming and broken dream-state that is Los Angeles, the political and economic disasters facing Brazil at a moment when it is very much on the world stage, and the perennially decaying cornucopia of information that is the Internet, where a large part of the global population currently maintains a second residence.
The exhibition features works made using a wide range of processes, and includes paintings, works on paper, and a diversity of sculptures, though it is impossible to relegate any given piece to a single one of these categories. Costa's approach to installation reinforces this notion. Works that might ordinarily be placed on the floor are suspended from the wall and vice versa, and almost all are replete with imagery and text that speak to the moment of their creation.
A hanging bath mat, canvas fragment, and the top of a styrofoam to-go box, for instance, bear printed dates in the style of On Kawara: "22 JUL 2016", "23 JUL. 2016" and "24 JUL 2016", the day before, of, and just after the exhibition's opening. In this case, as in several others, cutting-edge digital printing techniques are applied to the most humble and abject of materials. Similarly, in many sculptures Costa combines durable media like steel and aluminum with ad hoc objects and unstable substances that are the very definition of impermanence. He thereby undermines traditional notions of value, and highlights unsustainable attitudes toward luxury in a world brimming with deprivation.
Despite the pressing contemporaneity that characterizes his work, Costa is also an astute descendant of the rich art historical traditions particular to Brazilian modernism. These include Neo-Concretism and Antropofagia, a movement that originated in the 1920s and celebrated the cannibalization of Eurocentric cultural forms, reimagining and distorting them from a South American position at the geographical periphery. Such reference points help situate Costa's affinity for consuming the stuff of world culture and regurgitating it according to the unavoidable particularities of his own sensibility, as well as the compositional decentralization that informs each of his works and his exhibitions as a whole. If the products of this regurgitation are notable for their aesthetic subtleties, and a finely tuned sensitivity to geometry, color, and volume, Costa's is an aesthetic in crisis, one in which formal decisions feel inevitable rather than planned, and works are not finished so much as posed as ongoing questions. As such, his aesthetic is inseparable from the pertinent extra-aesthetic issues of the age, including income inequality, the constant threat of reactionary politics, and the authoritarian abuse of power, as well as the fact of the artist's own queerness, all of which he allows to saturate his work even as he eschews polemics.
Costa instead delights in uneasy contradiction and slack humor, both of which are on view in a work on canvas featuring appropriated images of a muscle-bound Arnold Schwarzenegger in his beefcake prime. Equal parts digital collage, political commentary, studio painting, and agitprop-style provocation, the work is like a Google image search gone wrong, with decidedly non-digital interventions (doodles, scrawled marks, erasures) registering the emotional timbre of the artist's response to the political and ideological climate of California, where originality is indistinguishable from artifice. Slapdash painted text reads "Muscular / Committed / Refugee / Versatile / Indigenous", speaking to the troublesome social hierarchies in a state where the line separating Muscle Beach from the governor's mansion is as porous as Swiss cheese.
The image of Swiss cheese, incidentally, plays an important and recurrent role in Costa's practice. It appears in this exhibition in the form of a sculpture consisting of a grid of aluminum tiles, punctuated by irregularly shaped openings that give way to the floor below. Easily trod underfoot, its holes both pornographic and purely spatial, the sculpture's radically low profile renders it at once inconspicuous and pervasive, dependent on the space in which it is installed, and yet stubbornly insistent on claiming its own territory within that space.
In this way Costa incorporates his surroundings at every turn, whether that means responding to the news dominating the media, reacting to the environments in which his work is shown, or making use of objects he acquires as he moves through a given city. A new work of the latter sort plays a key part in "DearMeatCutsDevilMayCry". By applying an industrial, glittering gold finish to a group of found objects, including a bass drum, a walker, and a vacuum cleaner all acquired at a thrift store within close proximity to the gallery, Costa has created an unlikely family of stand-ins for the contemporary human subject. Bathed in visual symbolism indicative of the promise of easy wealth, and yet divorced from the purposes of their own labor, the objects hang together by the slightest of conceptual threads, united by surface alone as their usefulness disintegrates. With this exhibition opening less than two weeks before the already fraught spectacle of the 2016 Summer Olympics in Rio de Janeiro, works like these channel the corruption and despair, the crumbling nostalgia, and the specters of disease, that are, despite their ominous undertones and overtones, inexhaustible sources of life as we know it now.
.
at David Kordansky Gallery, Los Angeles
until 27 August 2016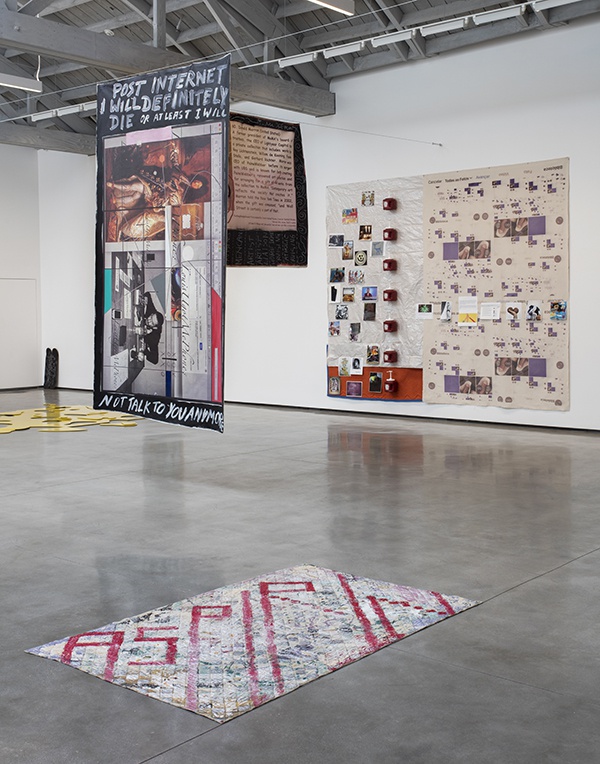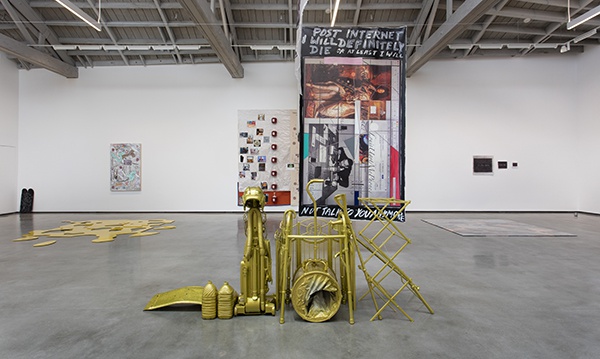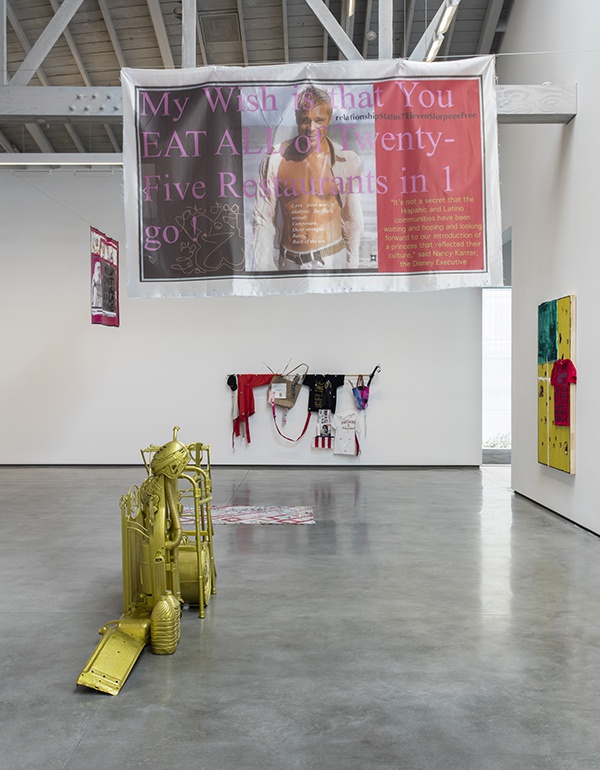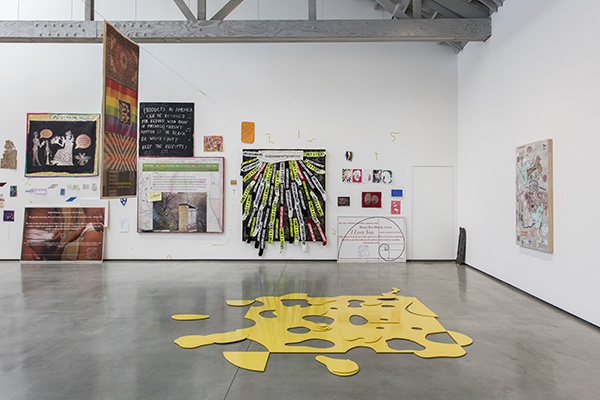 Adriano Costa "DearMeatCutsDevilMayCry" installation views at David Kordansky Gallery, Los Angeles, 2016
Courtesy: David Kordansky Gallery, Los Angeles. Photo: Brian Forrest
.
Ruby Neri "Slaves and Humans"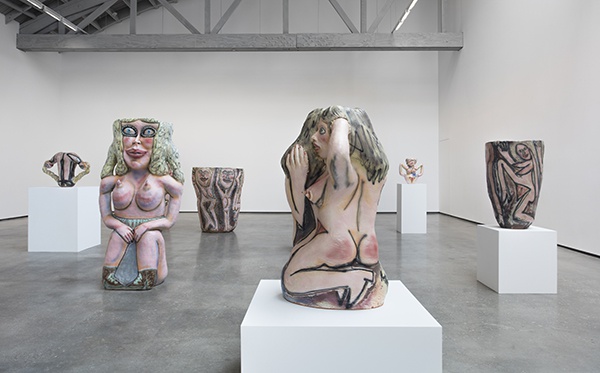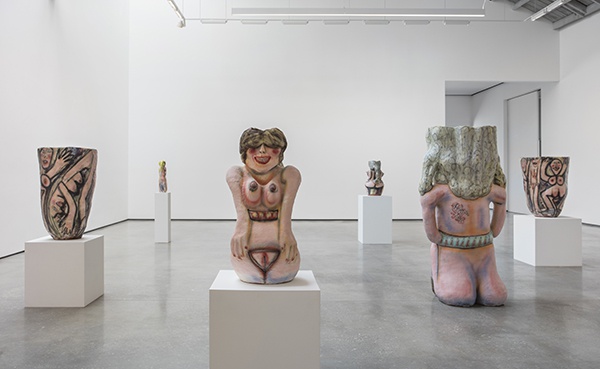 David Kordansky Gallery is pleased to announce Slaves and Humans, an exhibition of new ceramic sculpture by Ruby Neri.
In her sculptural practice Ruby Neri embraces a broad spectrum of figuration, drawing upon idiosyncratic 20th century West Coast traditions as well as a global catalogue of art historical and anthropological modes. Over the course of the last two decades she has moved fluidly from one material to another, including plaster, metal, and paint, to generate highly personal works of emotional immediacy. While she has frequently turned to ceramics, Slaves and Humans marks the first time she has produced an entire body of work within the traditional bounds of this medium, relying solely on fired clay and glazes to generate forceful, highly sexualized representations of the female form.
The largest works on view are totemic, life-sized vessels that stand directly on the floor, while others take shape as sculptural vases and pots installed on pedestals. Together the assembled objects enact a tableau of frenzied and interlocking bodies. The functional elements of vessels, namely cylindrical volumes and tubular handles, provide the surfaces on which Neri inscribes figurative imagery. These same elements often constitute the sculptural forms from which the figures' bodies are constructed; handles, for instance, double as arms or lengths of braided hair. The figures, then, regularly serve as containers even as they are contained, both empowered and bound by the typologies and histories that define them. Caught in a cyclical process of capture and liberation, they depict the tumultuous nature of desire, which binds people to each other and breaks them apart again in visceral ways that exceed rational explanation.
Neri gives the figures in "Slaves and Humans" exaggerated anatomical features, particularly when it comes to the erogenous parts of their anatomy, and facial expressions that merge ecstasy and hysteria. Their intensity finds a parallel in the artist's direct approach to her materials. Highlighting the erotic tactility of clay, she builds each sculpture's curvaceous silhouette by hand, forming irregular walls and organic extensions. Glazes are then applied using an airbrush; the resulting range of sprayed flesh tones provides each figure with a luminous "skin", while doodle-like black lines demarcate genitalia and other body parts, introducing lightness and improvisation to forms that otherwise display physical density and permanence.
By spraying pigments, Neri also recalls the street art she produced as a leading member of the San Francisco-based Mission School in the early 2000s, connecting a 21st century urban art form and the archaic power of pre-historical wall-painting and object-making. Just as graffiti requires an artist to assert her vision in public spaces, the sculptures in Slaves and Humans find company among the countless objects that have served as focal points for religious ceremonies and devotional rituals throughout the ages. Like Cycladic figures from the Neolithic era, or the collection of figures that Freud and his patients gazed upon in his office, any mystery regarding the functionality of these works only increases their potential to access deeper wells of pathos, humor, and passion in their viewers.
Fertility goddesses for the contemporary imagination, Neri's vessels carry the spark of spontaneous emotional connection, however risky, uncomfortable, or unpredictable its ramifications in a world in which humans increasingly rely on strategies of mediation to interact with each other. She has given most of them unblinking stares, and so they seem to conjure proximity like a spell, drawing the viewer towards them in a disarmingly intimate pact. In at least one work, however, the figure's eyes are hidden behind dense rows of overhanging bangs, resulting in a character that appears absorbed in reverie, her smile registering untold private pleasures. Locked within herself, and her static medium, she does not share what she dreams, but perhaps it is this very tension that makes her so familiar. Neri's figures remind us of our own free-willed and desiring human selves, and that we too are are bound, slaves to our circumstances and identities.
.
at David Kordansky Gallery, Los Angeles
until 27 August 2016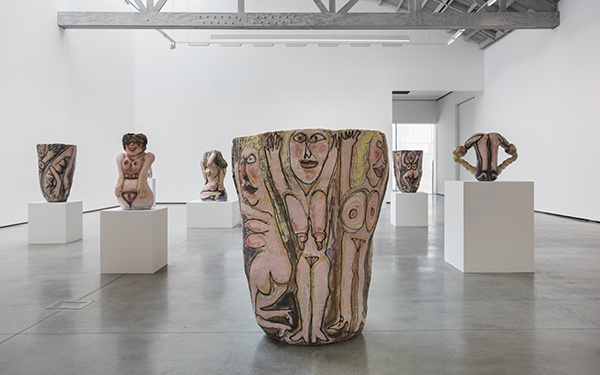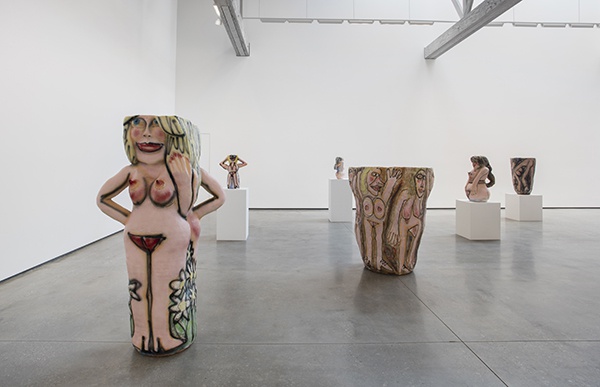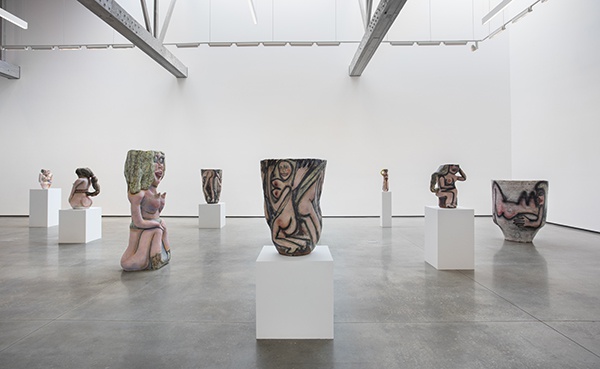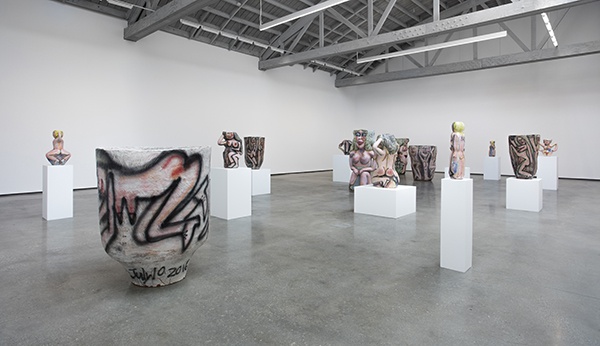 Ruby Neri "Slaves and Humans" installation views at David Kordansky Gallery, Los Angeles, 2016
Courtesy: David Kordansky Gallery, Los Angeles. Photo: Brian Forrest