ESSAYS Mousse 61
Adriano Pedrosa on Picture Gallery by Lina Bo Bardi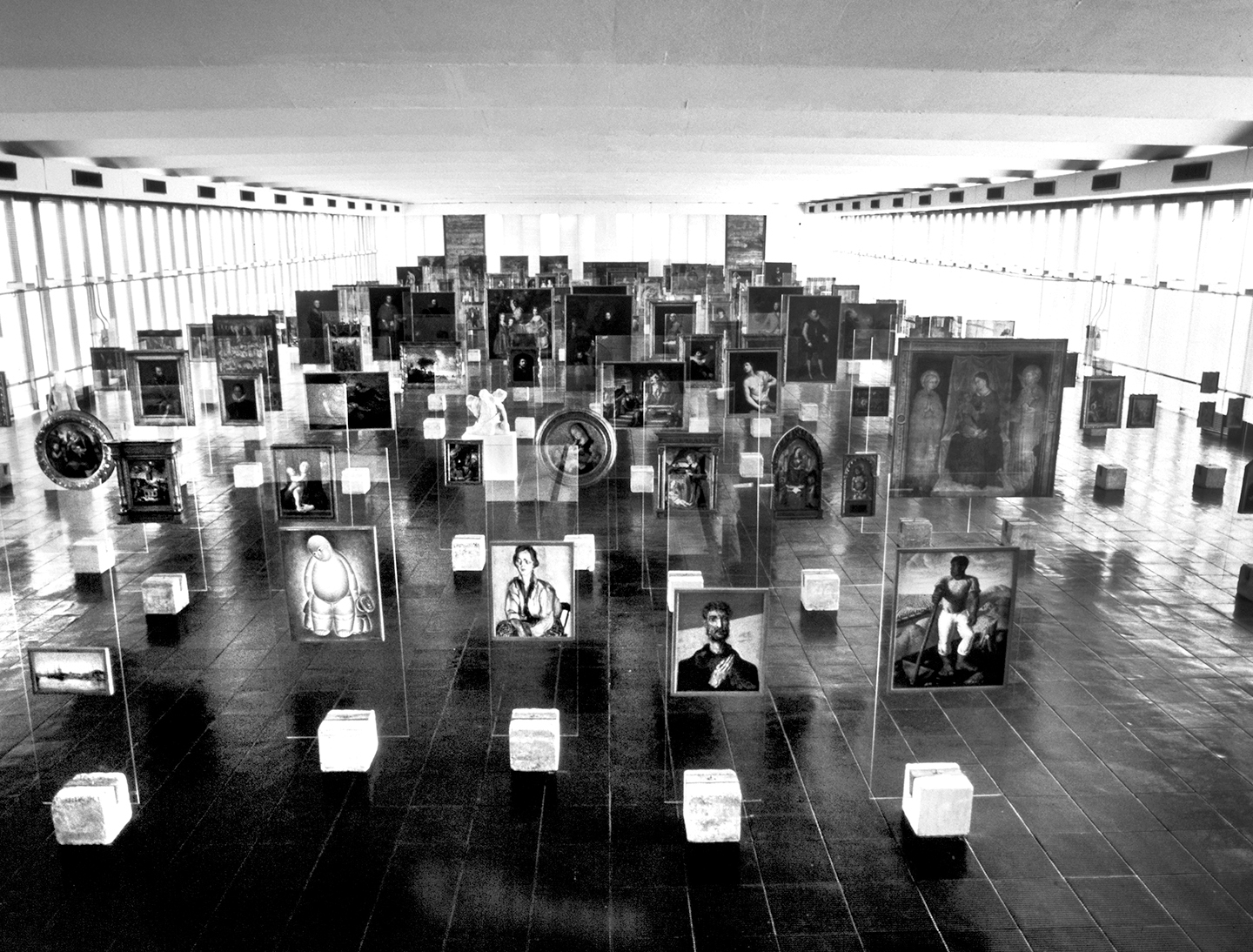 View of the picture gallery of MASP on Avenida Paulista, 1970s. Lina Bo Bardi, exhibition design.
Photo: Luiz Hossaka
The collection display at MASP's Picture Gallery uses a radical system of glass easels designed by the Italian Brazilian architect and curator Lina Bo Bardi (1914-1992). The system was conceived in close, intricate dialogue with the architecture of the gallery and the building. As Bo Bardi's husband, Pietro Maria Bardi (1900-1999), had been MASP's director since its foundation in 1947, she had great familiarity with the museum, which holds what is considered the most significant collection of European art in the Southern Hemisphere as well as art from Africa, the Americas, and Asia, from antiquity through the contemporary.
Concrete, glass, steel—the crude, almost elemental materials used throughout the building and in the glass easels have a raw, no-frills quality to them. Each easel consists of a sheet of glass inserted in a cube of reinforced concrete, composing a freestanding transparent panel of varying widths and equal heights onto which a painting or picture (and more recently also a video screen) is hung. On the back of each easel, the work's label is affixed, with an explanatory text. The back of the picture may be viewed through the easel's glass, and as such, the stretcher, frame, and labels are revealed. In a Brechtian way, the mechanisms of construction are starkly revealed through the architecture in the gallery and the museum in the same way as the pictures are through the glass easels.
In a wall-less, glass-encased gallery of two thousand square meters, some 150 pictures are on display on the easels, distributed in loosely arranged rows, with all works facing the viewer as he or she enters the space. The result is a transparent, permeable, and open gallery in which the viewer is not dominated by the architecture or guided through a succession of rooms in an imposed narrative, but at all times understands and is able to perceive the space in its entirety, controlling his or her path through it. Because the works are off the wall and on the floor, the viewer is able to walk around and view them from different angles, as if in a forest of artworks, and hopefully feel less intimated by them. One of Bo Bardi's intentions was to present artworks as products of labor, desacralizing them and getting rid of the churchlike, reverential atmosphere of the traditional museum. A closer rapport is established between the viewer and the works. The visit assumes experiential contours and becomes more humane, democratic, accessible.
MASP's Picture Gallery with the glass easel system was introduced at the museum's inauguration in 1968, then dismantled in 1996, then reconstructed again in 2015. Bo Bardi's system takes inspiration in some of the 1940s exhibition displays of Franco Albini (1905-1977), such as the Pinacoteca di Brera. More recently, it inspired the Galerie du Temps at Louvre-Lens, designed by SANAA, which opened in 2012 in the north of France.