News
Ai Wei Wei and Richard Long at Lisson Gallery, London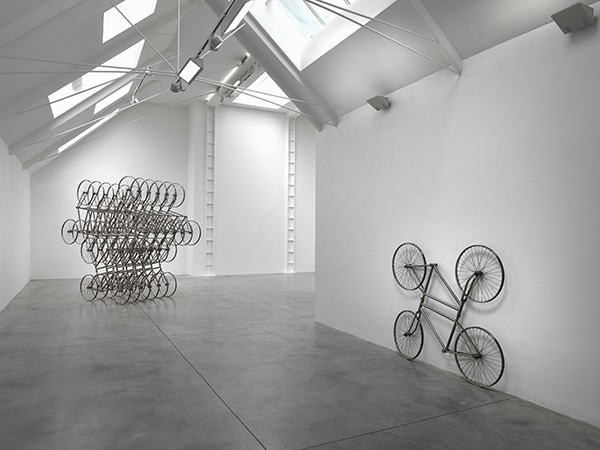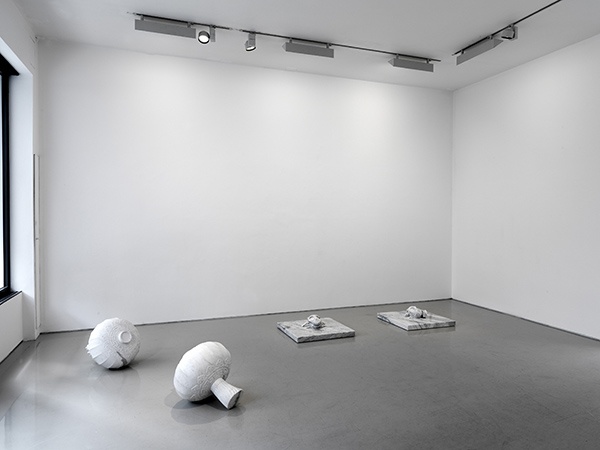 For his third solo exhibition with Lisson Gallery, Ai Weiwei has created a monumental new installation of bicycles as part of an ongoing series, 'Forever', as well as a number of hand-carved, domestic-scale copies – in various materials including wood, stainless steel and crystal – of some highly personal objects. These include: a marble recreation of his father's armchair; two sets of humble cosmetics bottles fashioned from jade; various handmade facsimiles of coat-hangers and pairs of handcuffs; as well as the window handles taken from Beijing taxis, which appear to be readymades, only remade in clear glass.
Although some of the sculptures in this show relate to his secret detention of 2011 – during which he spent 81 days accompanied only by his interrogators and the scant furnishings of his cell – the overall impression is of Ai's life as it was before and currently is in Beijing, confined as he is to his native China. The formative influence and example of Marcel Duchamp, as an artistic hero of Ai's discovered during his period living in New York from 1983–93, also looms large.
A ghostly, carved-marble gas mask, like a deaths-head emerging from a tomb, relates to the perpetual pollution experienced in the Chinese capital city, while the massing of bicycles also addresses a stereotypical national symbol in an uncompromising and unconventional way. Ai's groupings of stainless-steel bikes – here configured in different modular shapes and layers of geometrically stacked structures – refer to the famous 'Forever' brand of bicycles that have been mass-manufactured in Shanghai since 1940. Once ubiquitous, this classic marque and indeed the perceived profusion of pushbikes on Beijing streets are now steadily dying out, to be replaced by smog-emitting cars on clogged highways and six-lane ring roads. The transparent Taxi Window Crank pieces are further examples of a surreal political system that insists on removing such mundane items from public life for fear that protesters would transmit their leaflets through car windows during sensitive times.
Ai is also showing four major works in the newly refurbished Chapel at the Yorkshire Sculpture Park (24 May–2 November). He is the subject of two other international solo exhibitions, in Berlin at the Martin-Gropius-Bau ('Evidence', until 7 July) and in New York, where his touring show: 'Ai Weiwei: According to What' ends on 10 August.
.
until 19 July 2014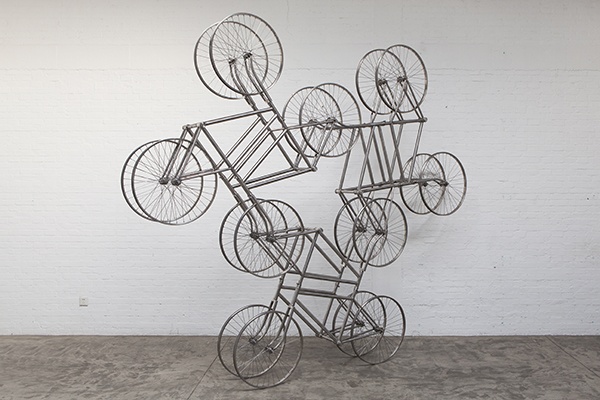 Forever, 2013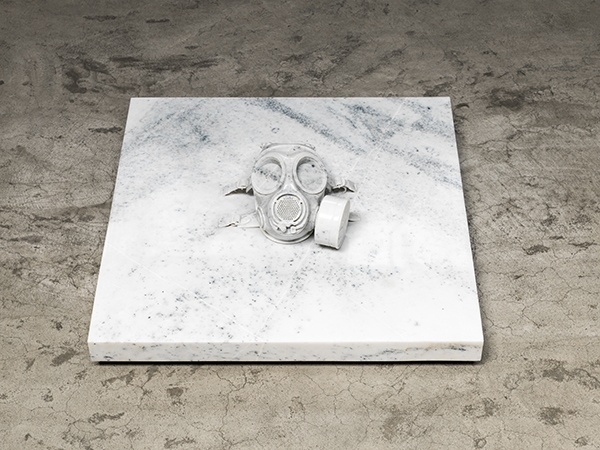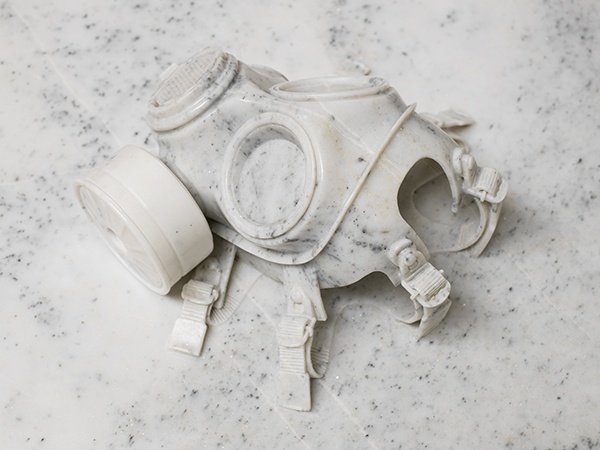 Mask, 2013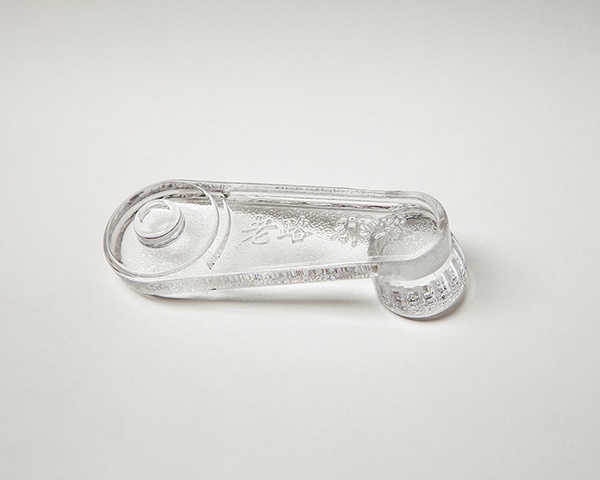 Taxi Window Crank, 2012
.
Ai Wei Wei, installation views at Lisson Gallery, London, 2014
Courtesy: the artist and Lisson Gallery, London
.
Richard Long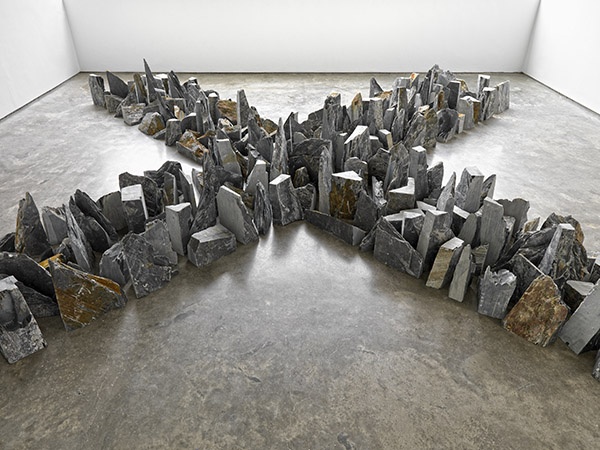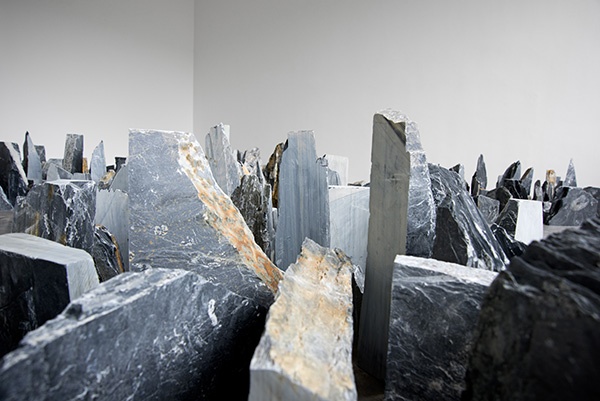 For his first solo exhibition with Lisson Gallery in over three decades, Richard Long presents a new work made directly in the gallery, as well as other recent pieces made on walks in England, Switzerland and Antarctica. Having began his career with the gallery in the 1970s, Long comes full circle while continuing to investigate many of the themes that concerned him then – from the real and conceptual routes he traverses, to the existential notion of the solitary exploration of nature. An image of Long's red tent, perched on the expanse of the Driscoll Glacier in 2012, depicts his continuing commitment to making art in the most remote and uninhabited corners of the world and represents his first trip to Antarctica. A sculpture of standing stones of Delabole slate from Cornwall will be accompanied by a new series of large, gestural mud works using white Cornish clay and tidal river mud gathered from the banks of the Avon in Bristol. These works are formed as much by natural forces – including gravity and the fluidity of the watery material – as they are by the human energy of Long's body and hand.
In addition to bringing raw matter from outside into the galleries – asserting an alternately ancient and contemporary relationship to the land, redolent of prehistoric monuments and current environmental concerns alike – Long also brings the experience of his walks into the public domain through text and photography. The text work documenting his 240-mile, eight-day walk from Cornwall to Oxfordshire – taking in Dartmoor, the Dawlish cliffs and Cheddar Gorge – describes a walk in terms of geology, namely the five materials encountered along the way: SLATE GRANITE SANDSTONE LIMESTONE CHALK. One photo-work, entitled Romansch Stones (2013), provides the only remaining evidence of a stone circle made along a 16-day walk through the Engadine region of the Swiss Alps. Ultimately, Long seeks "A balance between the patterns of nature and the formalism of human, abstract ideas like lines and circles. It is where my human characteristics meet the natural forces and patterns of the world – that is sort of the subject of my work." (1991)
Long is also the subject of the touring show: 'Richard Long: Prints 1970-2013' at New Art Gallery, Walsall (16 April–22 June) and an ARTIST ROOMS display, at Burton Art Gallery (4 October–10 January 2015). He is included in the group shows 'Body & Void: Echoes of Moore in Contemporary Art' at the Henry Moore Foundation (1 May–26 October) and 'Uncommon Ground: Land Art in Britain 1966-1979' at the Yorkshire Sculpture Park (until 15 June).
.
until 12 July 2014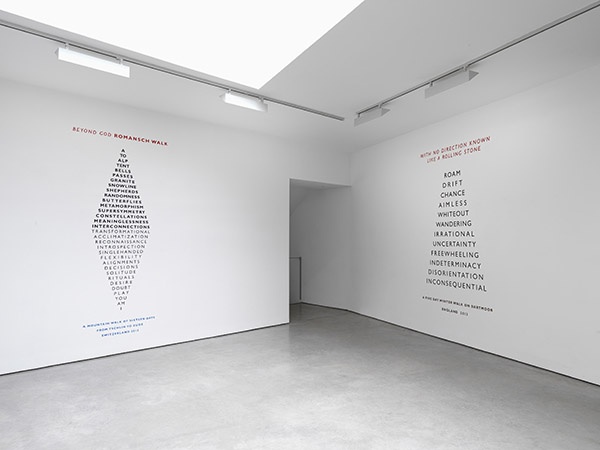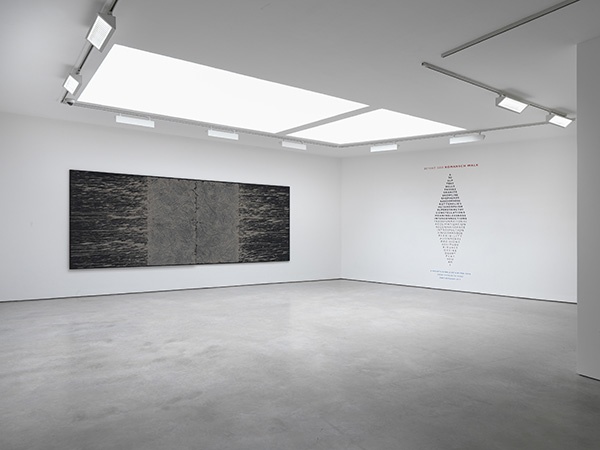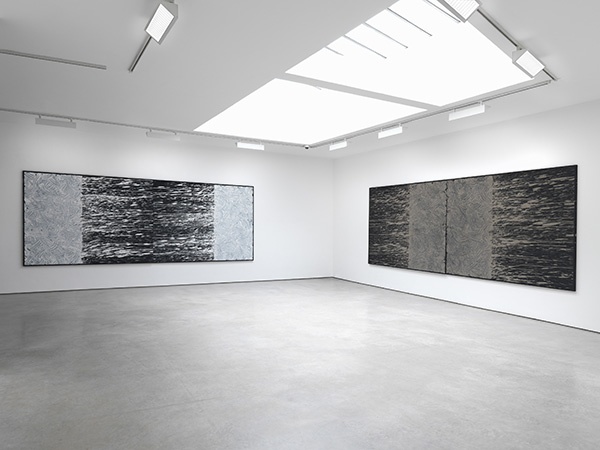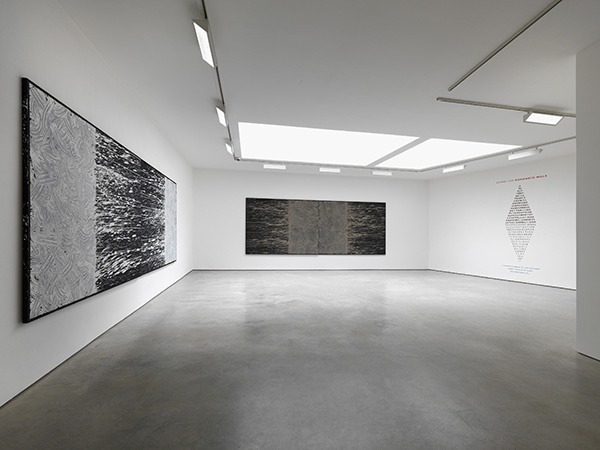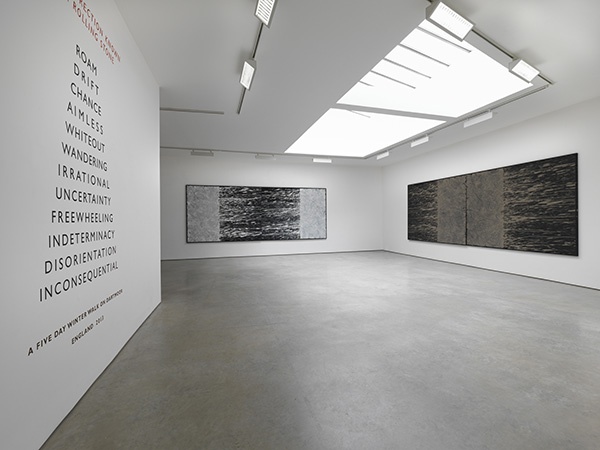 Richard Long, installation views at Lisson Gallery, London, 2014
Courtesy: the artist and Lisson Gallery, London