CONVERSATIONS Mousse 68
A Queer Politics of Entanglement: Alex Baczynski-Jenkins
Close
1
2
3
4
5
6
7
8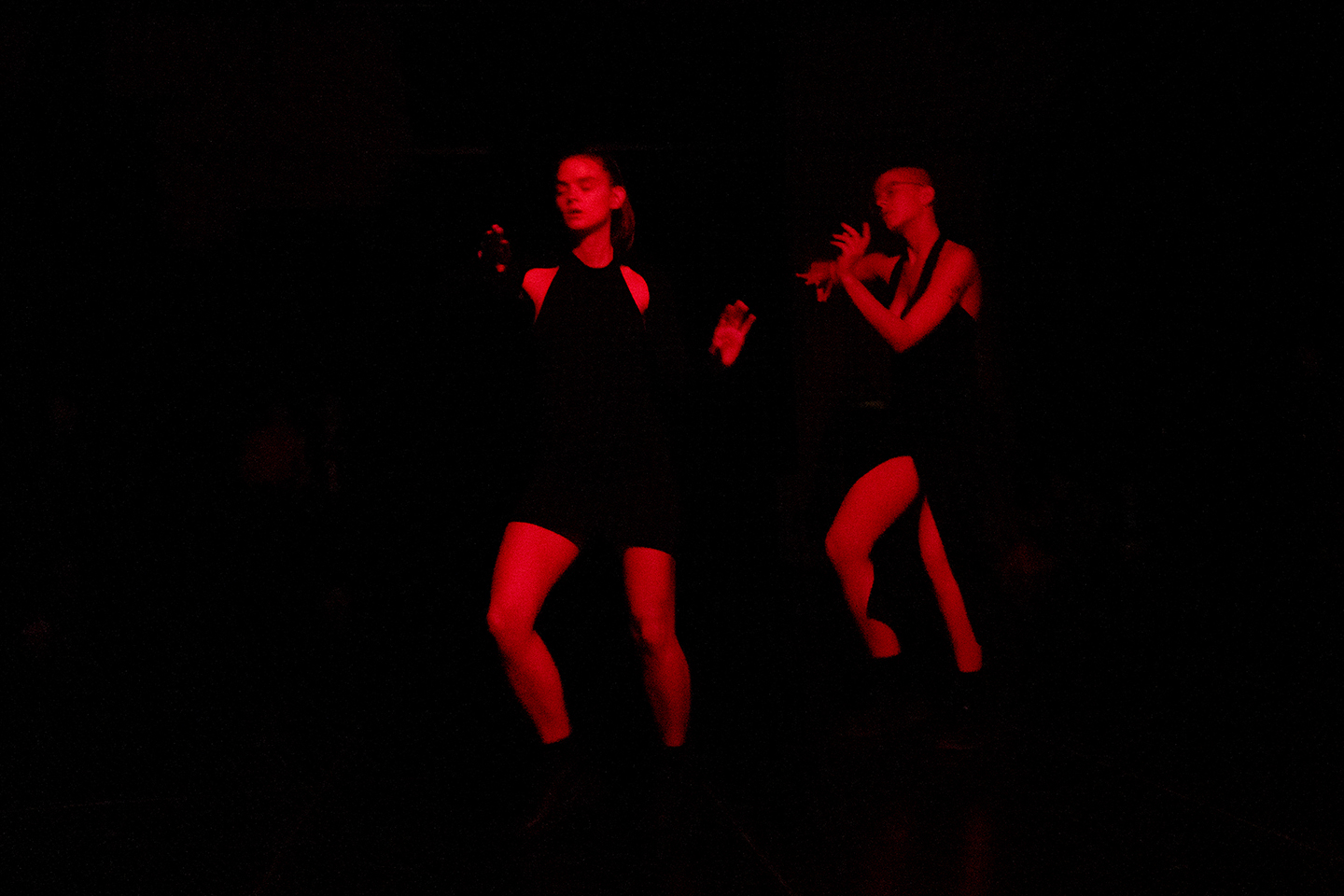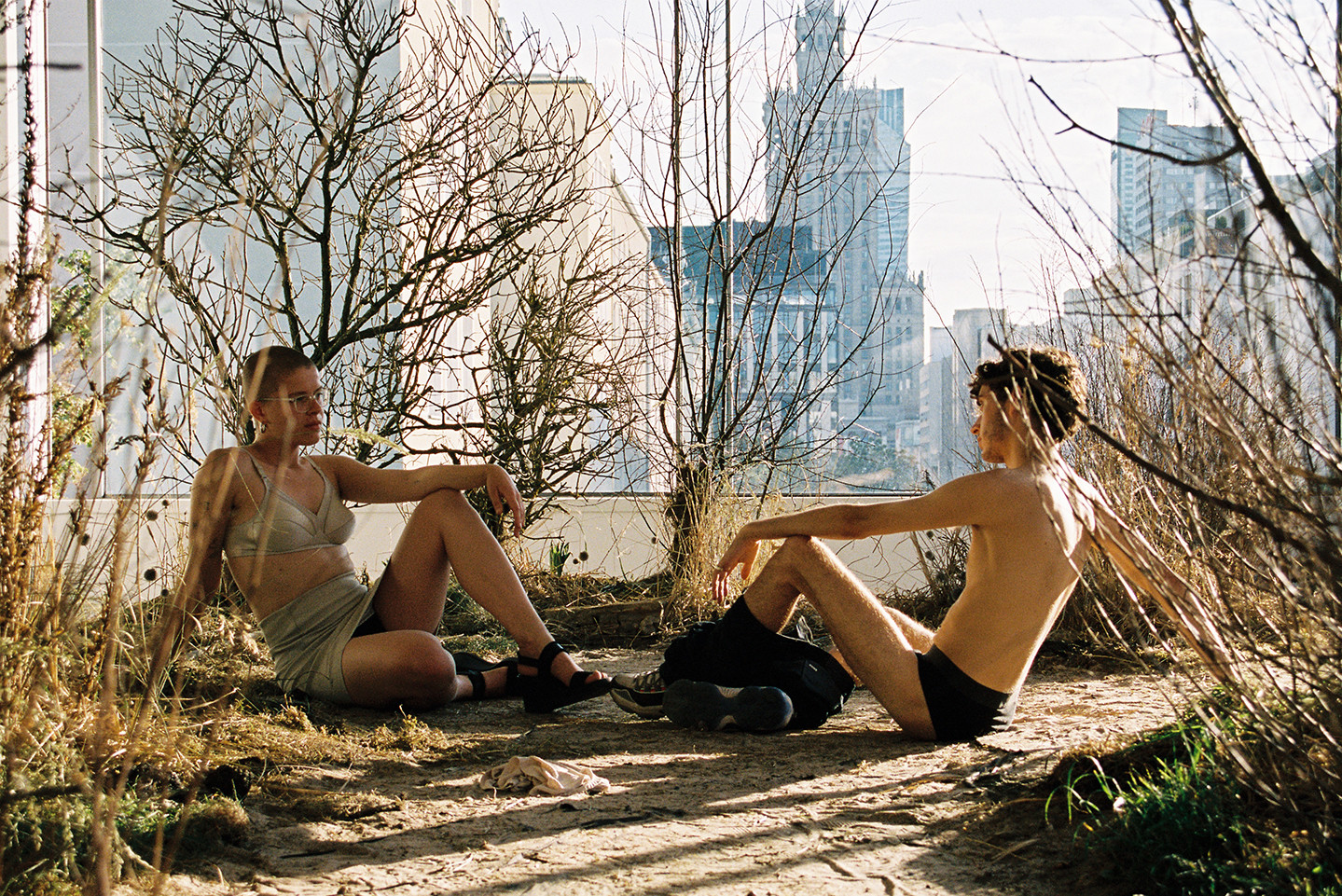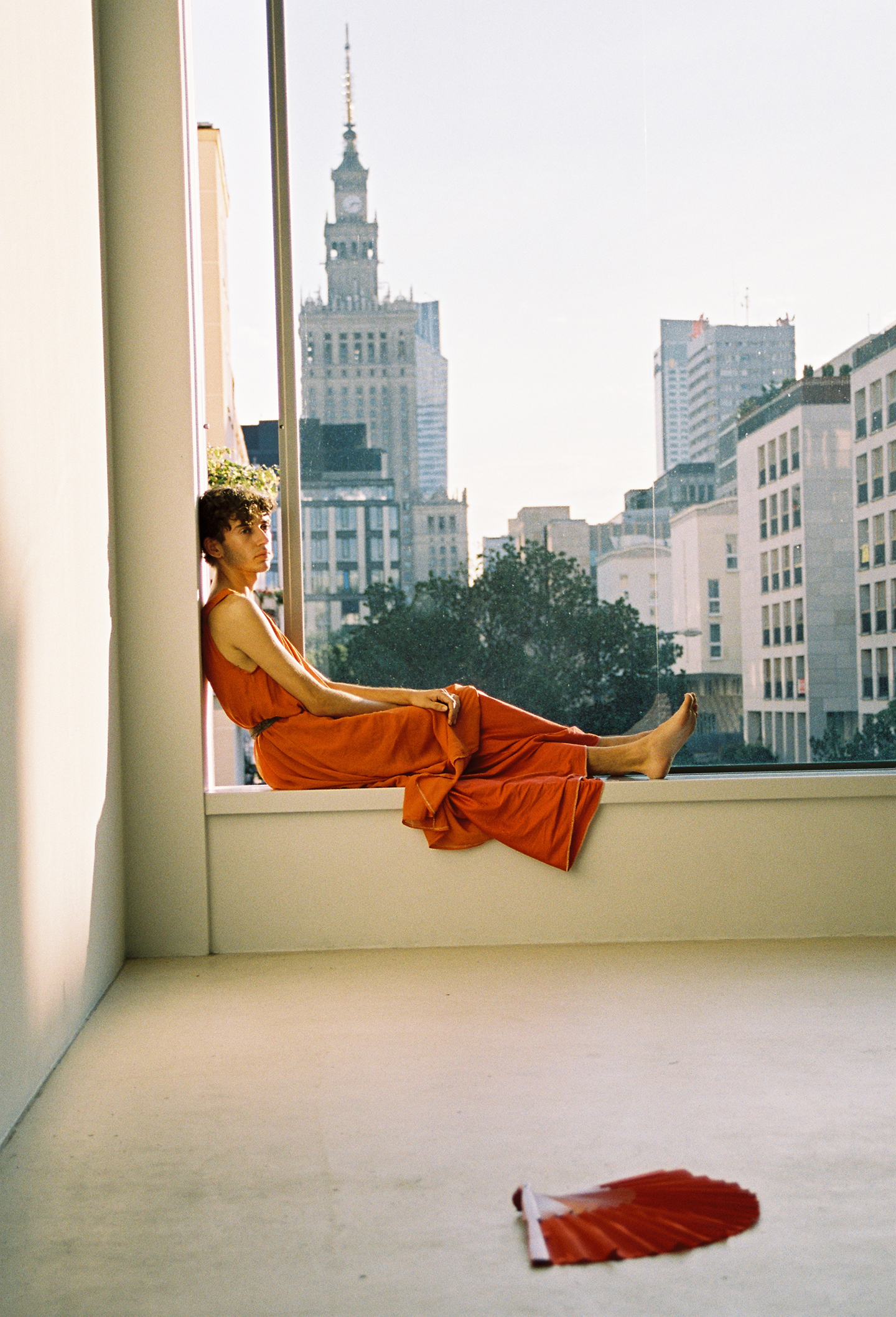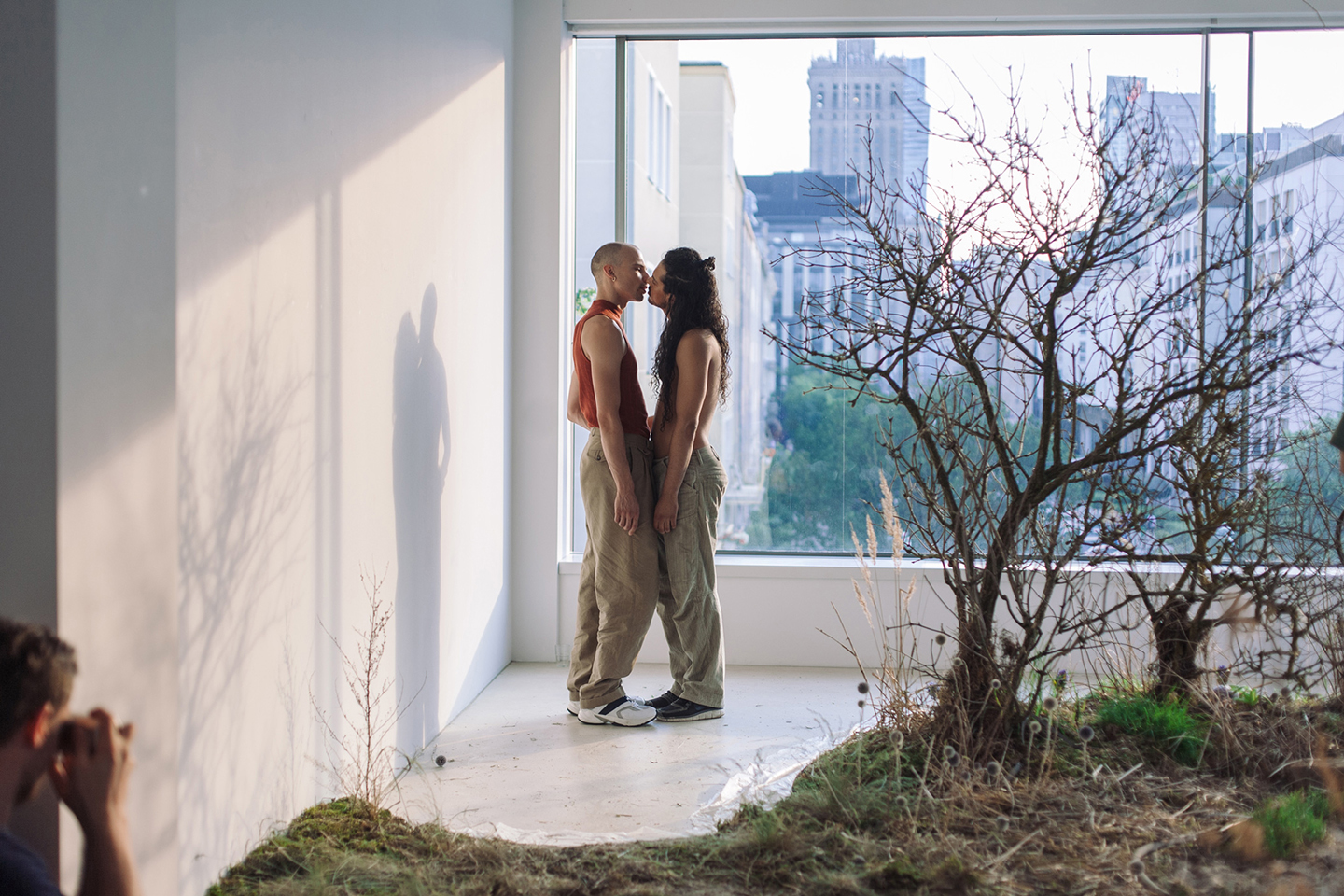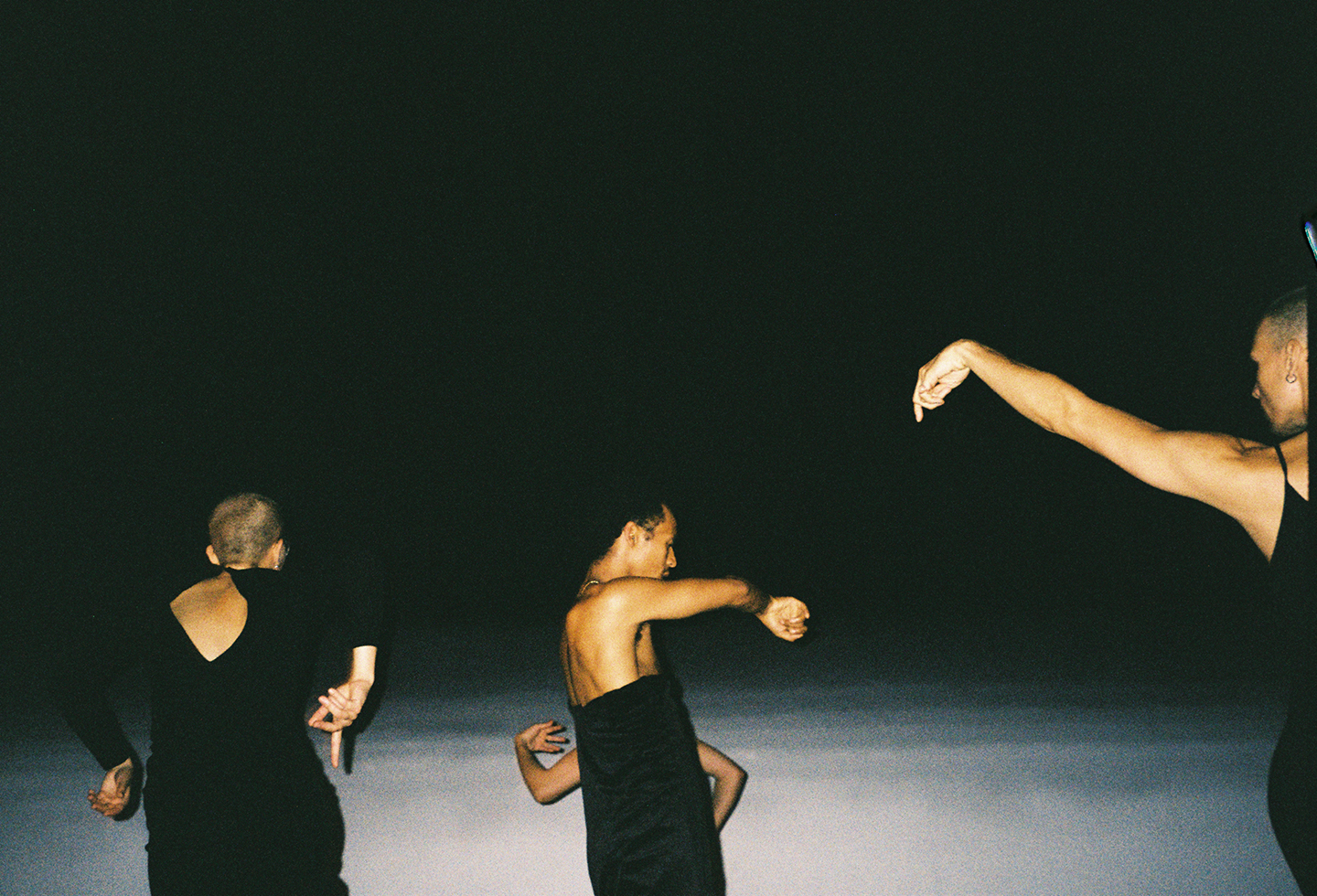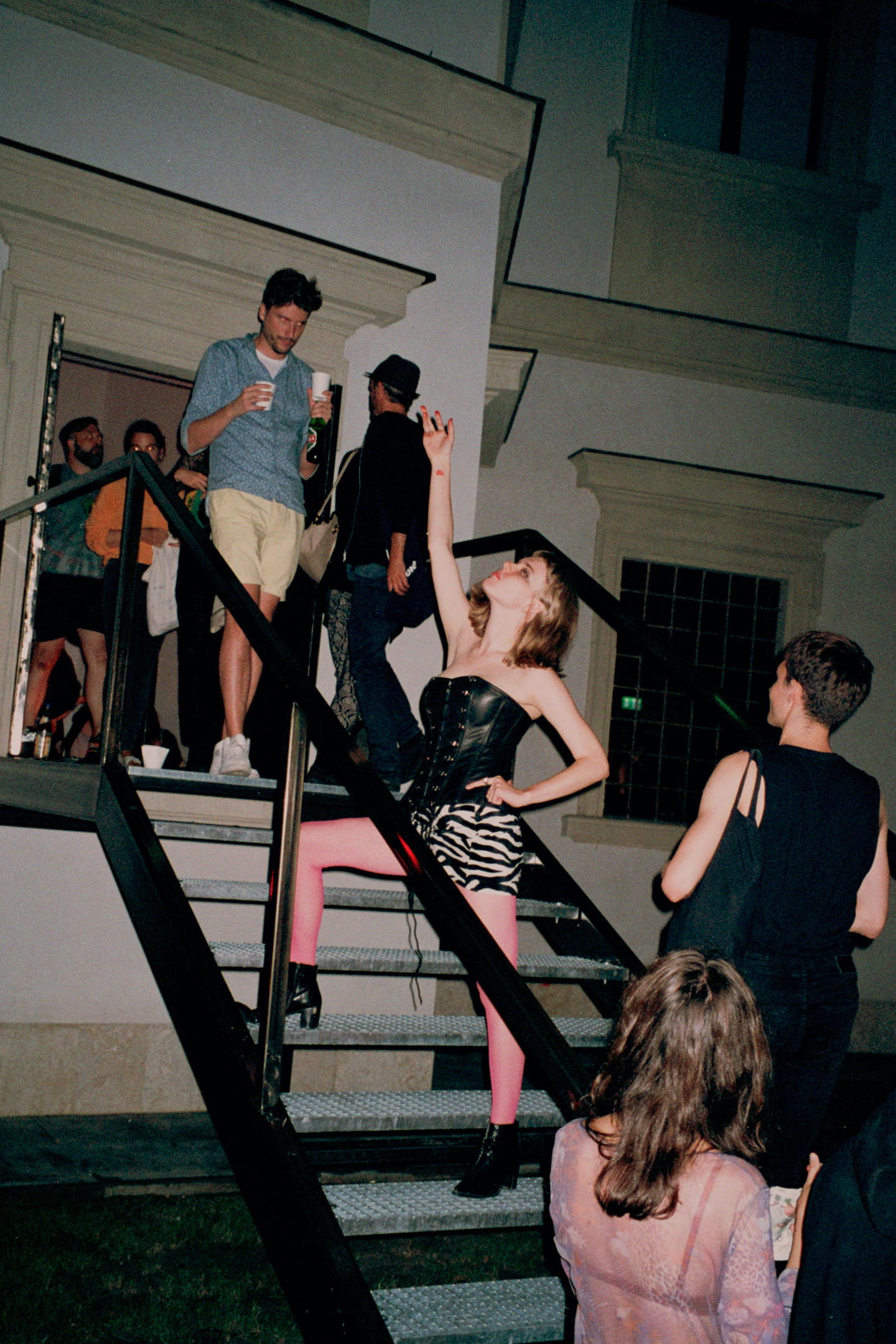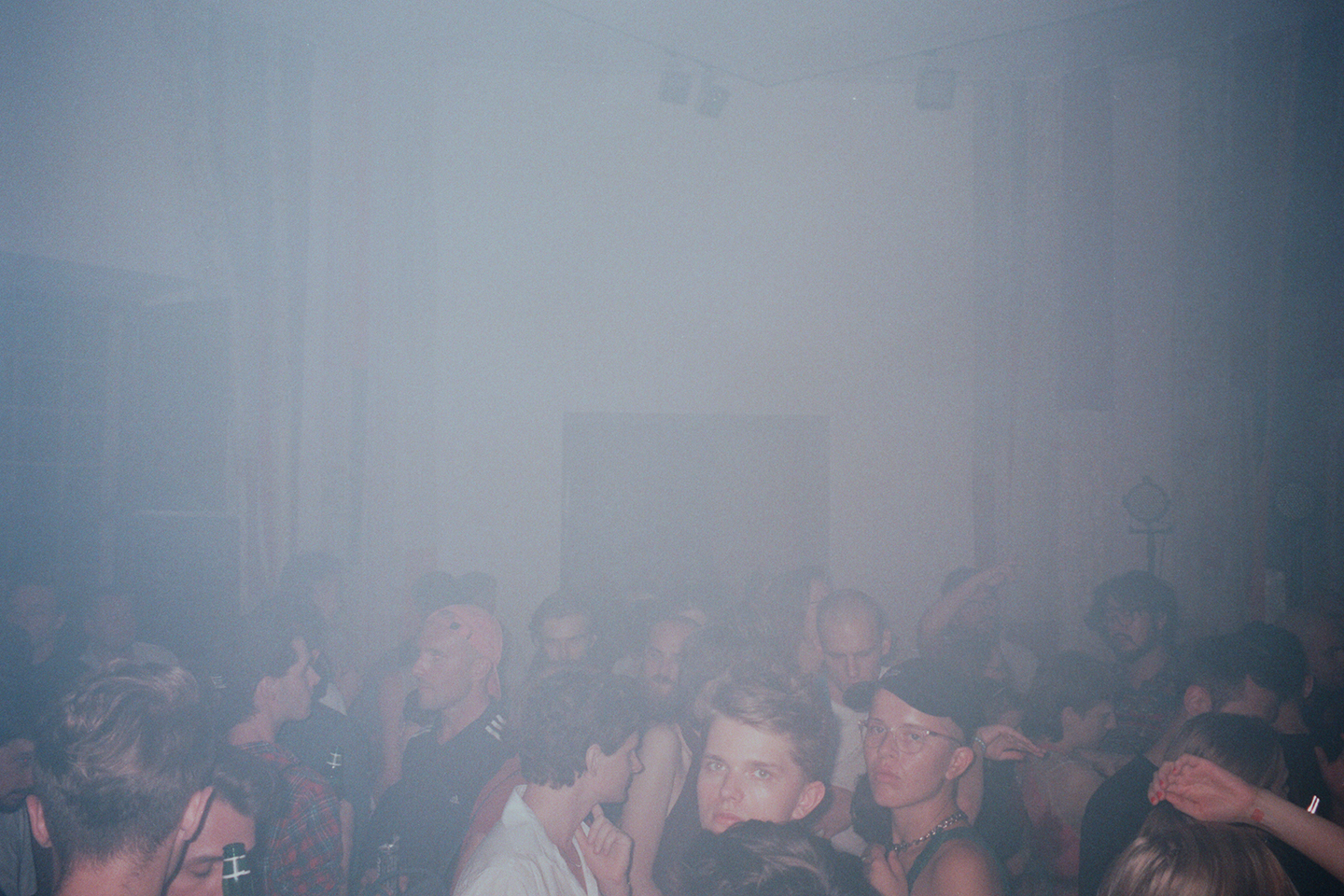 Alex Baczynski-Jenkins in Conversation with Eliel Jones
"Love and time. It is basic," wrote artist Ian White in his 2011 essay "What Is Material?" The work of London- and Warsaw-based artist and choreographer Alex Baczynski-Jenkins shares this approach. Working closely with collaborators, he mediates relationality and the politics of desire, producing experiences of queer time and space. On a sunny afternoon in Venice, as we geared up for the presentation of his work as part of the performance program at the 58th Venice Biennale, he and I sat down to talk about the queer politics of entanglement, friendship, and the making of community.
ELIEL JONES: We've known each other for about three years now; we met by working together and have continued to do so ever since. We perhaps return to each other because we share interests and research in queer sensitivity, but also undoubtedly because there is a friendship. People have asked me before if we are in a relationship, and a lot of the time it does feel like we are. Our entanglement happens through both friendship and working together. I think this is not just the case with me, but with your close collaborators in general. It's a complex family of sorts, without wanting to sound too incestuous.
ALEX BACZYNSKI-JENKINS: I've said this before: who you want to work with is who you want to share your life with. My works often become both an occasion and a means for relations to develop. The politics of friendship, desire, love, and community are as embedded within the choreographies themselves as they are in the processes that bring them into being. It's a challenge at times, and it entails a lot of care—mutual care—both outside and inside the work. The process of developing a work and the works themselves are intensely relational, and I think there is a strong aspect of queerness as interdependence, communal belonging, and a collective notion of subjectivity itself.
EJ: Is that also why so many of your works invite close proximity and connection? You ask your performers to engage in various modes of queer relationality. That often materializes in physical and emotional modalities of touch, facilitating shared intimacies. There is also an ongoing question in your practice about choreographing desire, which is mediated not only formally but also affectively through the relationships that you develop with, and that occur between, your collaborators. This was the case with Bloom (with Warsaw in the background), (2018), where the performers navigated a situation that evoked a cruising ground. Perhaps it's a good piece to think about the relation between association, representation and presence in your work. Here, the performers both extended the connections that already exist between as well as enacted them in front of a live audience. 
ABJ: Touching, in both its physical and its affective forms (the sensation of touching someone and folding that in on itself, or the experience of touching a sensation with someone) is present throughout my work. It manifests in a practice of amplifying gestures, situations, and spaces of a queer mundane. The kind of gaze that I seek to choreograph with this queer everyday is a desiring, even loving gaze, one that is attuned to detail. I think of it as similar to a voyeuristic or cruising gaze in that it is attentive to minor gestures and moments of desire, fantasizing and staging queer fictions in the process. Another way of speaking about this is as other-worlding—releasing the latent potential of basic material found in queer sociality. How I then work with these materials—an amalgamation of gestures, dances, and situations—is to produce a kind of choreographic edit that queerly fabricates the real, producing an intensified queer experience.
EJ: This production of queer experiences, and spaces, also relates to your work with the collective Kem in Warsaw, which you cofounded and currently run with Krzysztof Baginski, Ola Knychalska, and Ania Miczko. Over the past few years you have been thinking about friendship as a political act. Being anything but white, male, and straight in the current climate in Poland is a struggle, and creating relationships between commons seems crucial for survival but also for building a resistance through a social-political body that can work together toward changing the future of Poland. This past summer you organized Dragana Bar as part of your residency at Ujazdowski Castle Centre for Contemporary Art. The bar and its program not only provided a safe and nourishing space in Warsaw, but also, I feel, was a place where a lot of people met, perhaps for the first time.
ABJ: The political rhetoric in Poland has changed quite significantly over the past three years. Kem started at the advent of a right-wing government coming into power, and hate speech has since become incredibly present in the public sphere. The political machinery of hatred toward threatening "others" was originally geared toward Muslim, brown, refugee and immigrant bodies, and more recently it has been redirected toward the LGBTQ+ community. Kem is engaged with an expanded choreographic approach that experiments with formats of affective resistance as a way of strengthening queer and feminist artistic practices and discourses in Poland. You mentioned one of the ways we have done this recently, which was by throwing a series of parties called Dragana Bar this past summer. This was also a way of continuing to build a community and responding to a lack of queer and feminist clubs in Warsaw.
EJ: Your recent work Untitled (Holding Horizon) (2018), which you developed as part of the Frieze Artist Award, seems very directly connected to Dragana Bar. In this choreography you explore what it means to dance and move together within a particular social and affective space, while also thinking about the conditions under which this happens and also about the people who get to partake in that experience.
ABJ: I was developing this work at the same time and in the same space as we were running Dragana Bar at Ujazdowski over the weekends. I see sharing pleasure in dancing and moving together as itself a queer mode of affective resistance. And for sure this piece touches on the experience of the queer dance floor as a place that can invoke a safe space within a hostile environment. This pleasure and politics can be contained within a single gesture of the hands—the longing, playful wrists. In the club, this gesture is a way of sending out a sign, a mode of queer communication and self-enactment. In this work, these faggy gestures are mediated by the box step, a social dance step that has a certain formal strictness. Here the basic step allows for the possibility of finding meeting points, moments of synchronicity. 
Alex Baczynski-Jenkins (b. 1987, London) lives and works in Warsaw and London. He has presented work at the 58th Venice Biennale, Venice (2019); Foksal Gallery, Warsaw (2018); Migros Museum für Gegenwartskunst, Zurich (2018); Chisenhale Gallery, London (2017); Palais de Tokyo, Paris (2017); Museum of Modern Art in Warsaw (2017); Swiss Institute, New York (2016); Muzeum Sztuki, Łódź, Poland (2016), and other venues. In 2018 he received the Arts Foundation Award and the Frieze Artist Award. Alex Baczynski-Jenkins's forthcoming solo exhibition at Kunsthalle Basel, Switzerland, runs September 27 through October 13, 2019.
Eliel Jones is a (queer) critic, writer, and curator based in London. He has written about contemporary art and performance for Frieze, Artforum, The Guardian, Elephant, MAP, Flash Art, and elsewhere. He is currently writing an essay on Alex Baczynski-Jenkins's practice in relation to the pioneering Polish performance group Akademia Ruchu (Movement Academy) for a forthcoming reader on contemporary performance, due to be published by Mousse and Ujazdowski Castle CCA in 2020.
Originally published in Mousse 68