EXHIBITIONS
Alex Bag and Renate Müller at Kunsthall Stavanger
Close
1
2
3
4
5
6
7
8
9
10
11
12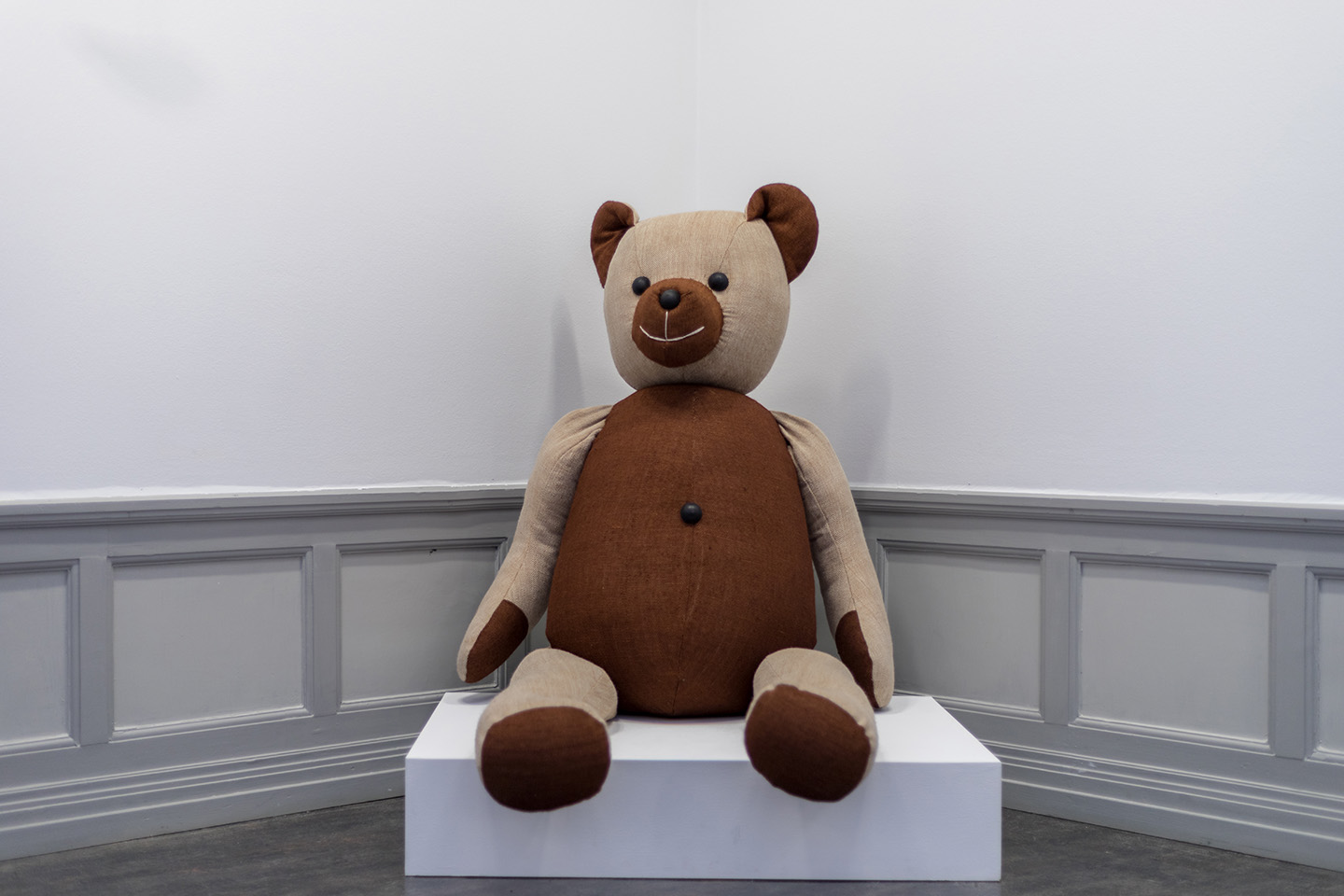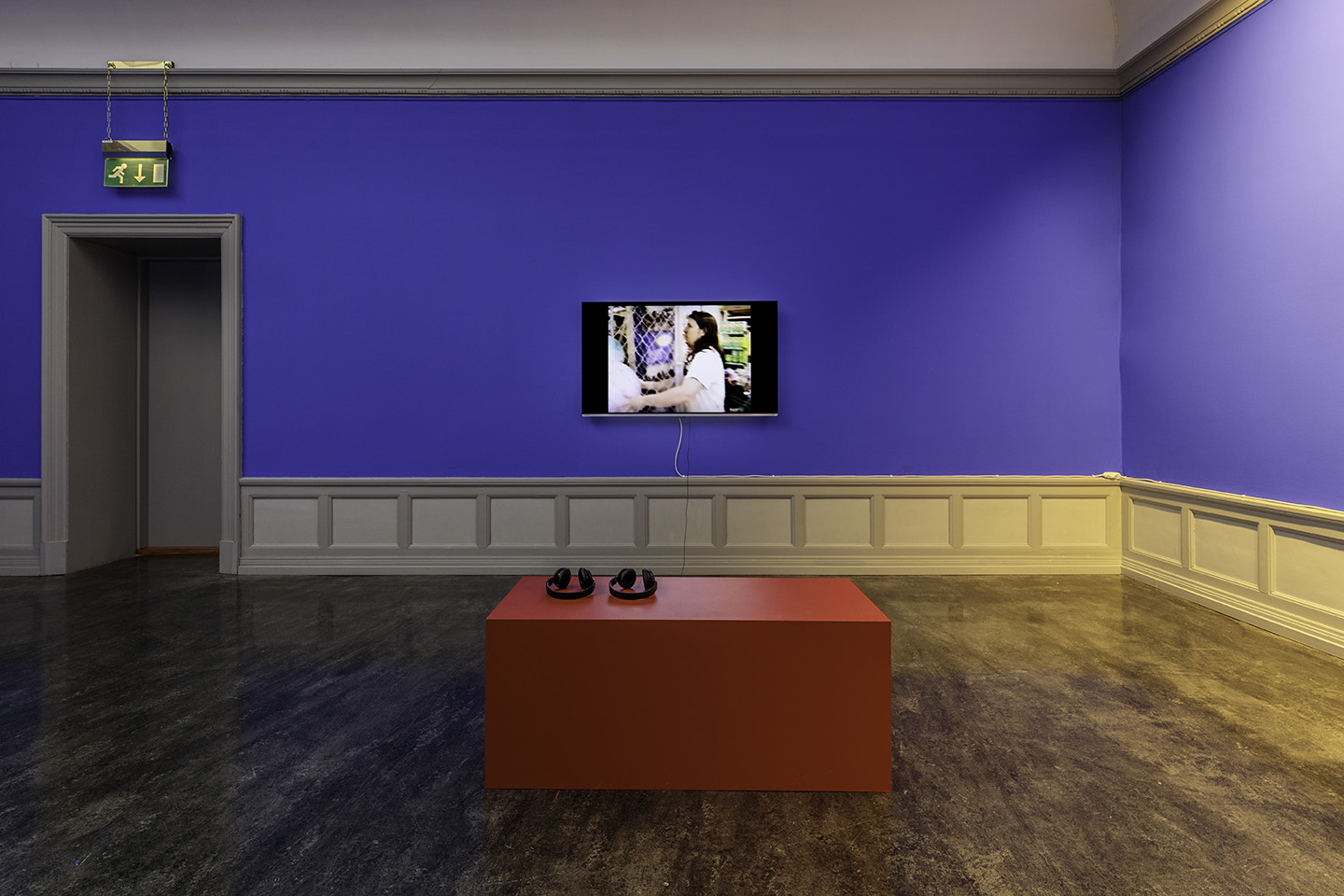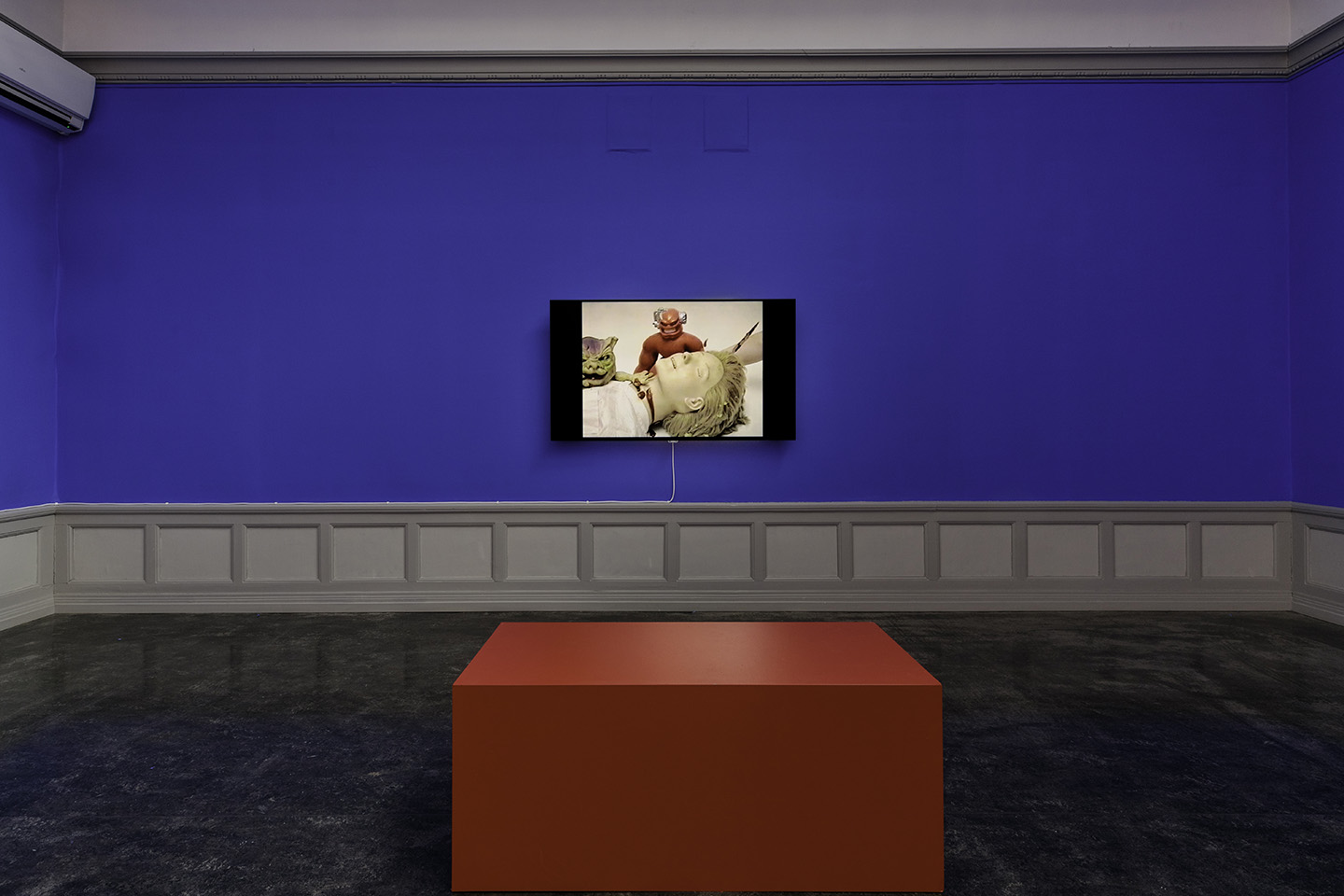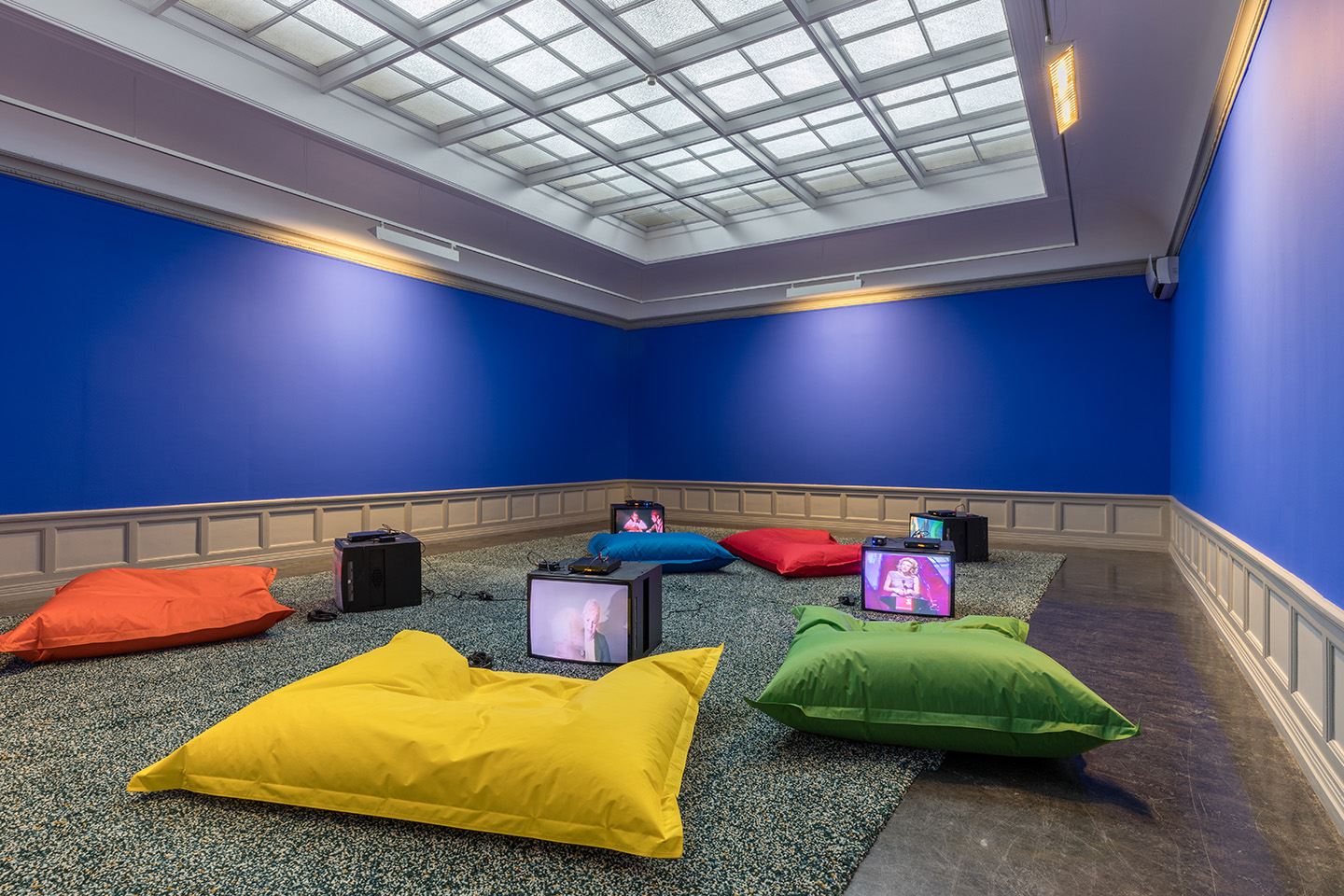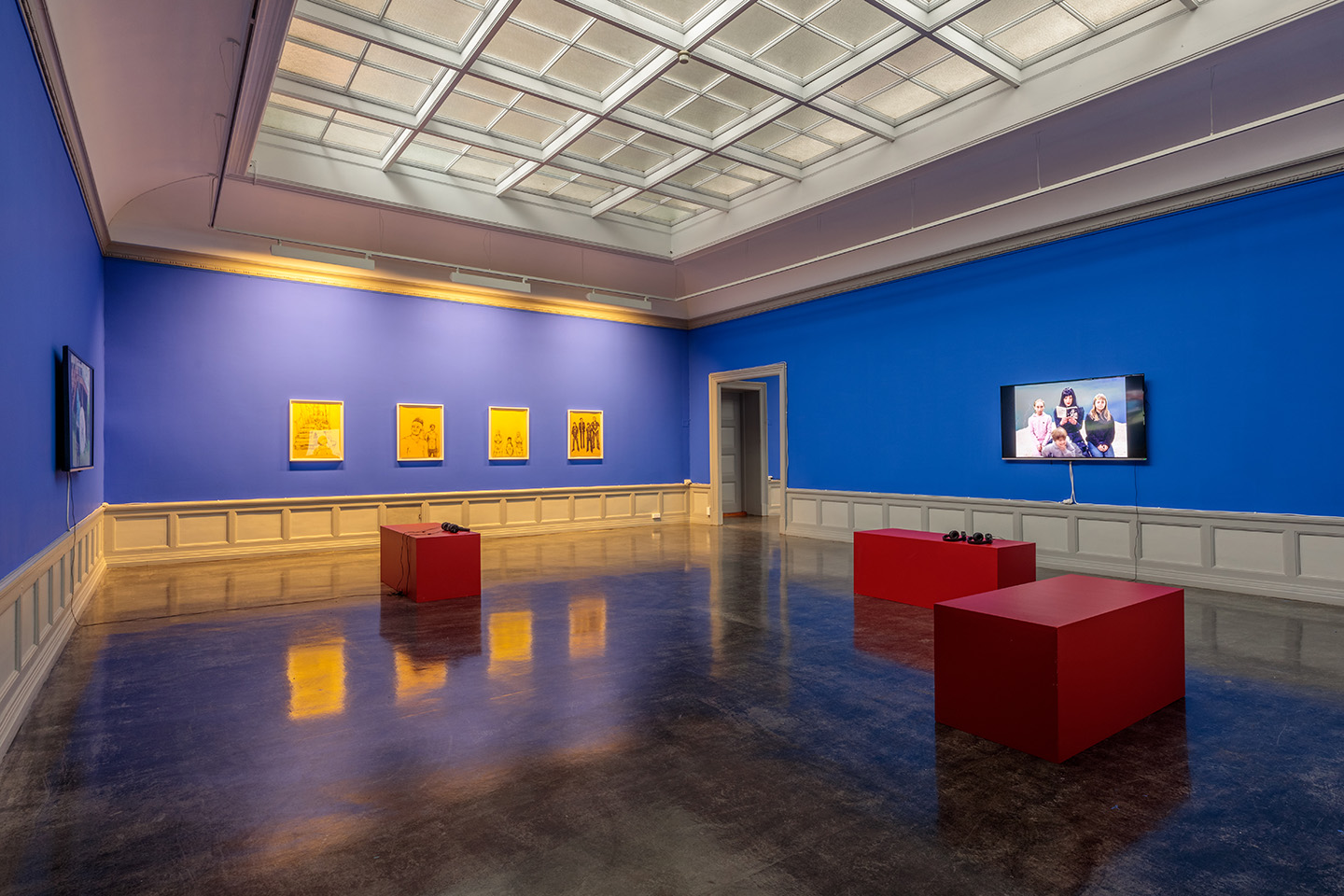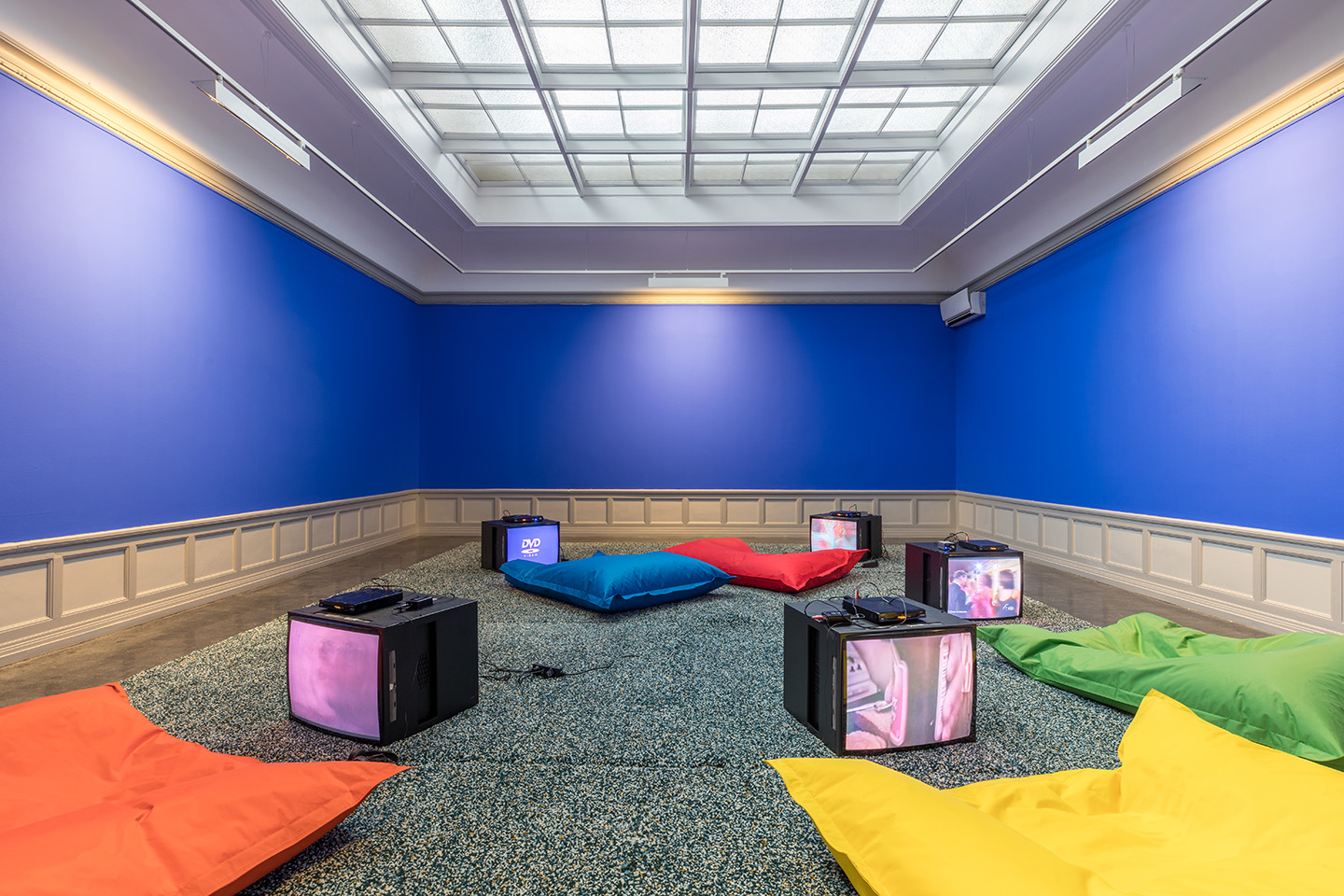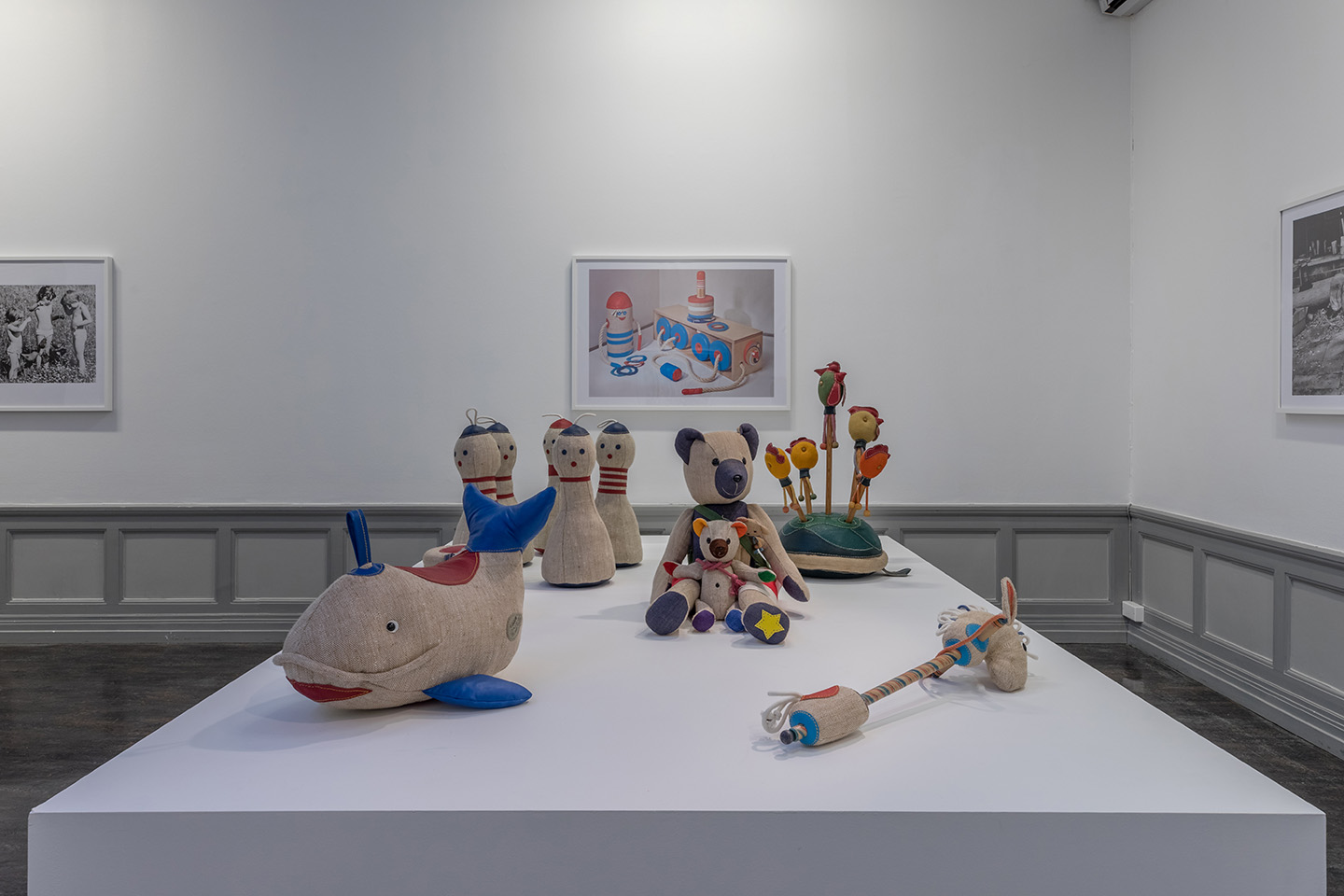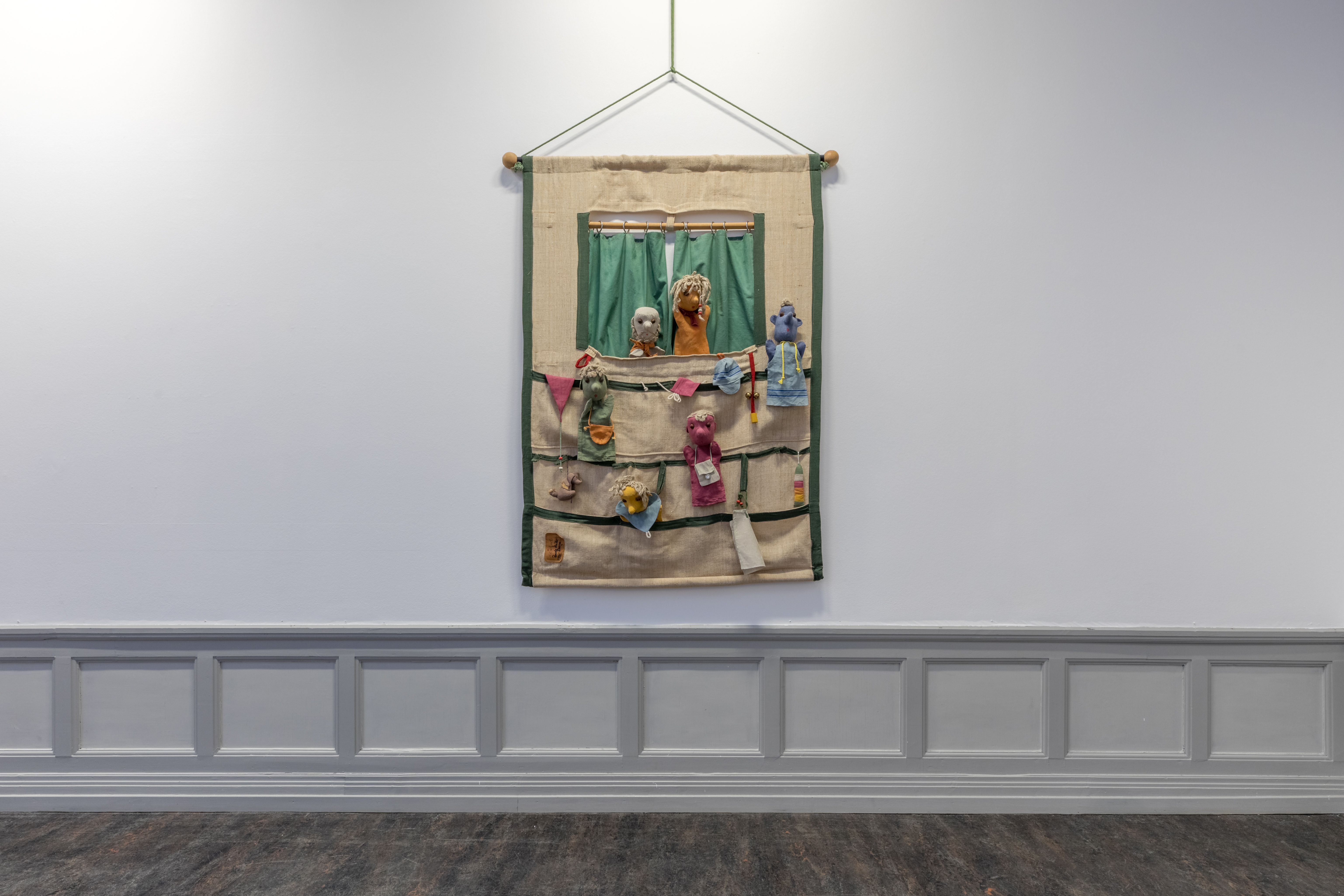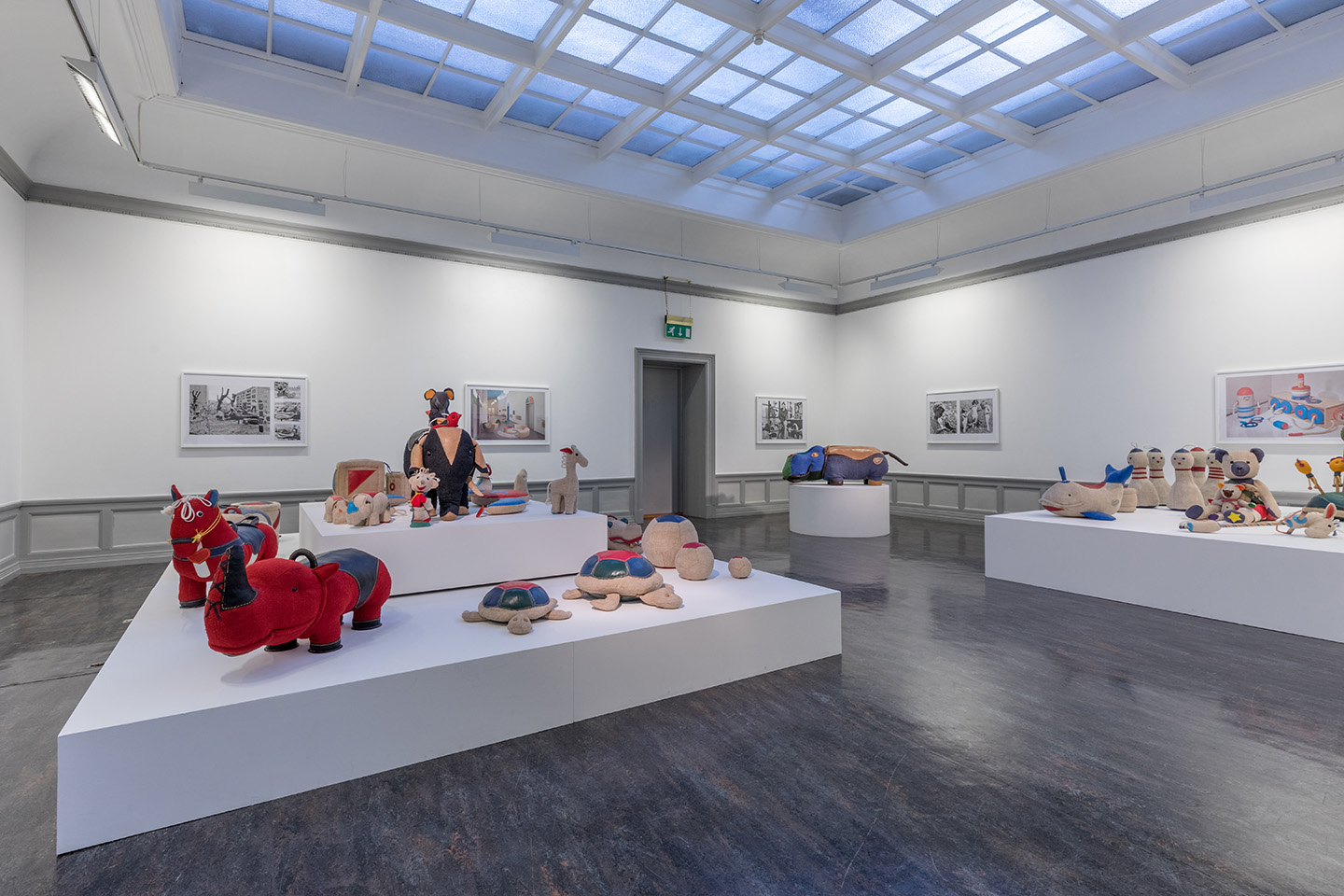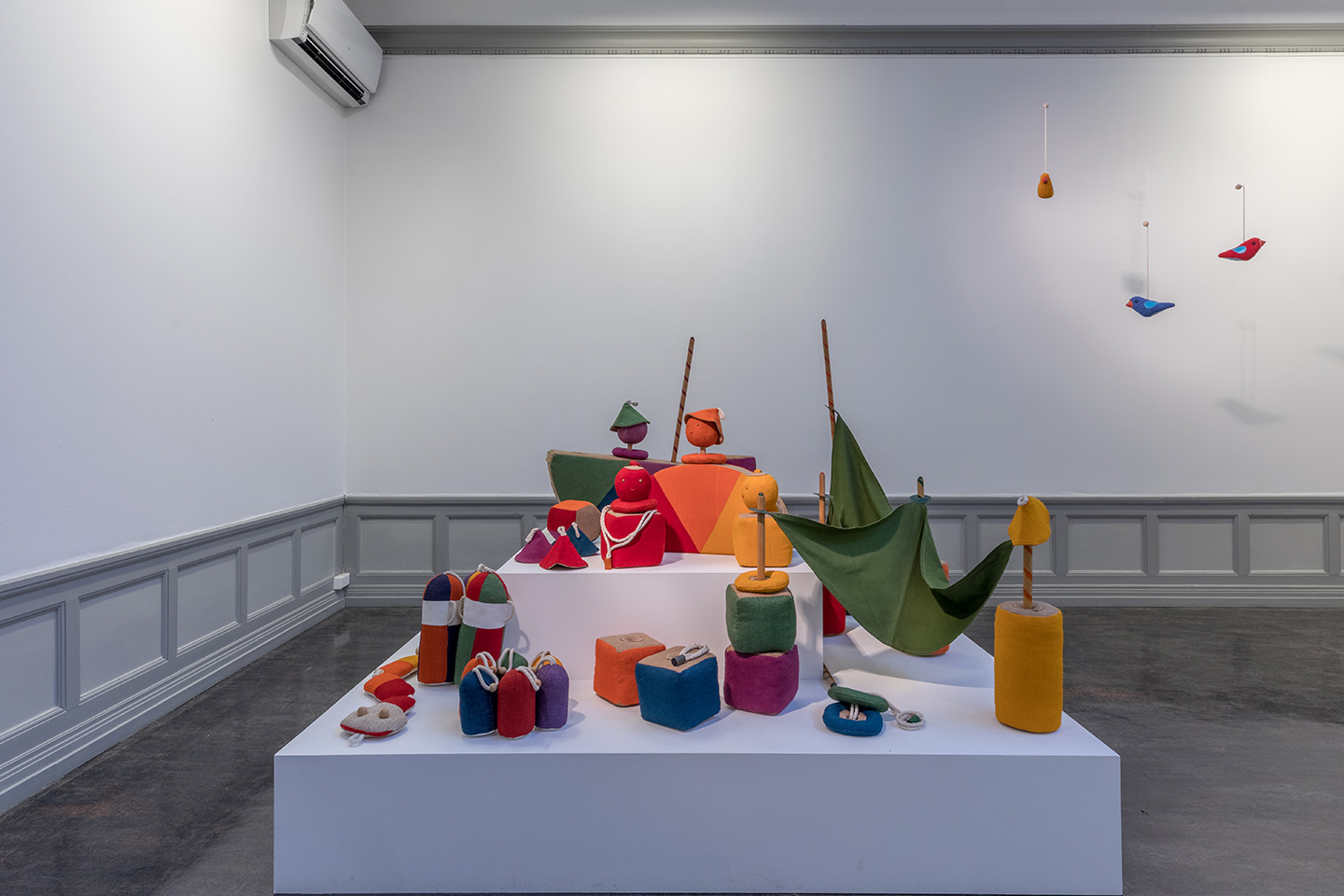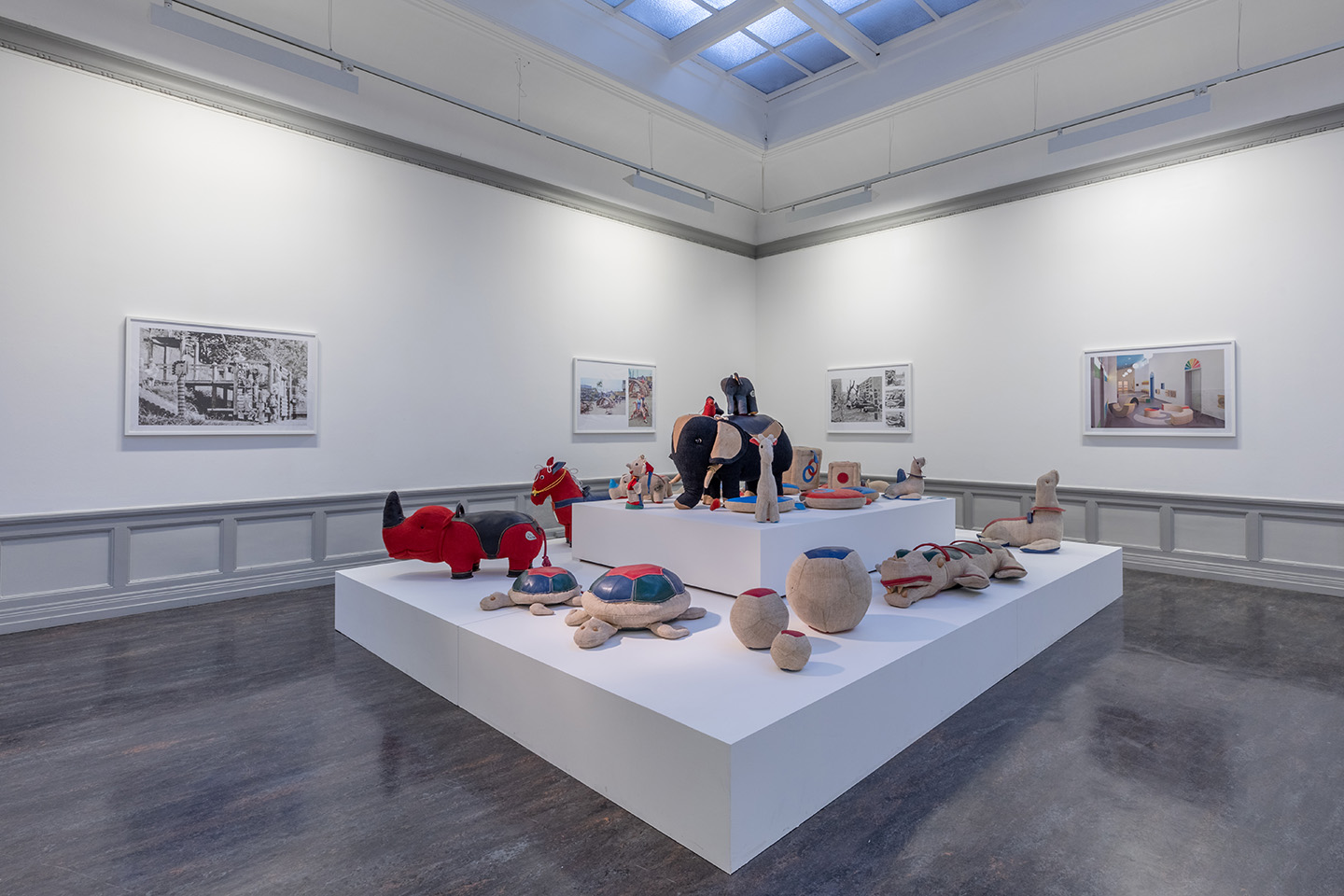 Alex Bag 
"Ms. Bag, a combination performance artist, stand-up comedian and character actor, is usually the star and sole on-camera participant in her videos, and she has more than enough charisma to carry a show. Her target is media culture, and very often art world culture, which she skewers with mordant brilliance."
–Holland Cotter, The New York Times
Kunsthall Stavanger is proud to present a solo exhibition by American artist Alex Bag. Working primarily at the intersection of video and performance, Bag incorporates dry humor, popular culture and the contemporary art scene into video works that are at once wryly funny and sharply critical. This exhibition at Kunsthall Stavanger presents individual video works by Bag, a selection of drawings, and a single immersive installation.

Influenced from an early age by television culture and the associated staging of the self, Bag appropriates common media tropes to ironic affect in her artwork. As a child, Bag was exposed to the sets and other behind-the-scenes elements of TV through her father's work in advertising, which she later described as "something just as exciting and important as traditional kinds of fine art." Her mother also worked in television as the host of The Carol Corbett Show, a popular children's program. The show was later renamed The Patchwork Family and Bag herself was a guest on the show at the age of four. Although these experiences were subtly influential, The Patchwork Family would later overtly impact her work when she rewatched the episodes while in university.
Similar to Pop Art in its pop culture and mass media references, Bag's work sets itself apart in its open social and political criticism. With few exceptions, the artist herself stars in her low-tech, simplified videos and is a precursor to the now ubiquitous Youtube star. Bag has proven herself to be an impressively versatile actress, adopting a variety of roles and delivering her script with deadpan accuracy. Rather than attempting to present fully believable characters, she presents caricatures and parodies of real situations, calling into question the ways in which we define ourselves in relation to media. Simultaneously humorous and disturbing, her videos and installations have been largely influential to a younger generation of artists.
The immersive installation Cash from Chaos / Unicorns and Rainbows (1994-97) consists of footage from Alex Bag and Patterson Beckwith's legendary late-night public access programs. The shows were twenty-nine-minute long weekly cablecasts, aired on Channel 34 at 2:30 a.m. on Wednesday nights between 1994 and 1997. The artists filled their time slots with prank calls, surreal, decontextualized clips from other programs, and cock-eyed tours of stranger parts of New York City. Television here is both the subject and medium: while it might be an outrageous sendup of broadcast media, it is itself a TV show, and a highly entertaining one at that. The viewer's pleasure watching the work is a constant reminder of television's sinister seductive quality.
In the seminal video Untitled Fall '95 (1995), Bag, at the time an art student, "plays" Bag the art student. In a series of deadpan performances, Bag gathers fragments of pop detritus, fashioning a thoroughly mediated document that is at once a celebration and a record of loss. With the narrative inevitability of a TV serial, the eight diaristic segments trace a woman's struggle to make sense of her experience at art school. As each installment marks the start of a new semester, Bag's character addresses the camera with her latest observations and frustrations. Interspersed between these confessions are eight set-pieces, in which Bag performs scenes from the background noise of her imagination: a pretentious visiting artist, London shop-girls discussing their punk band, a Ronald MacDonald puppet attempting to pick up a Hello Kitty doll, the singer Bjork explaining how television works. These surreal episodes sketch out what Bag sees as the simultaneous attraction and repulsion of contemporary youth culture, and teeter on the divide between parody and complicity.
In Untitled (Project for the Whitney Museum) (2009), commissioned as part of her 2009 installation at the Whitney Museum, Bag imagines herself as the host of a nightmarish children's television program, clinically depressed, dissociating from reality, and unburdening herself to a mean-spirited dragon puppet. The work is both a broad pop-cultural parody and a satire about the vapidity of contemporary art-making. As Alan Licht writes in Modern Painters, "The rapport between Bag and the dragon resembles that of a spacy art student and an acrid professor during a particularly nasty art school crit." Bag fumbles and eventually abandons her attempt to explain her creative intentions for the project, shrugging in apathy.
The Van (2001) features Bag as three young female artists riding in the back of a van, en route to The Armory Show in New York. As Bag derides the wish lists of the art-star hopefuls (the Turner Prize, the cover of ArtForum, Rosalind Krauss' critical attention, "more product endorsement"), she implicates the contemporary art world—herself included—in a bacchanal of greed. The Artist's Mind (1996) also unflinchingly satirizes the ugly underbelly of art as commodity with pitch-dark humor. Taking the form of a TV documentary chronicling a day in the life of a contemporary visual artist, Bag made the video in commemoration of Damien Hirst's 1995 Turner Prize.
The videos Fancy Pantz and Le Cruel et Curieux Vie Du La Salmonellapod further satirize different TV shows and formats. Fancy Pantz (1997) is a mock prime-time newsmagazine report on a fictitious street-performance troupe of the same name. Described by one member as "experimental modern dance of the ages…definitely," Fancy Pantz collectively dazzle the city of New York with spandex costumes and spontaneous outdoor performances. Le Cruel et Curieux Vie Du La Salmonellapod (2000) is a mock nature show starring an amphibious, carnivorous flying animal. The video is not merely a satire about human interpretations of the animal kingdom, but a darker joke about the mirth and horror of living.
In her condensed remake of the film Harriet Craig – titled Harriet Craig (1998) – Bag plays the titular character. Craig is a meddling, maniacal and despotic housewife: she terrorizes her servants, ruins her cousin's love life and belittles her husband. She behaves this way—in the name of keeping her home tidy—until she is abandoned by her servants and family and left alone to her perfect house.
The drawings Untitled (Charm School 2), The Large Gas (Tool Academy), Fountains (Rock of Love 2), Cunt Descending a Staircase (NYC Prep) and In Advance of the Broken Heart (Daisy of Love) (all 2009) depict scenes from various reality TV programs. For these, Bag would simply freeze what she was watching on TV, and make a drawing of it.
Alex Bag received a B.F.A. from Cooper Union in New York City in 1991. Bag has shown work at venues such as The Museum of Modern Art, MoMA PS1, New Museum, Tate Gallery, The Getty Research Institute, Philadelphia Museum of Art, Andy Warhol Museum, Yale University, Centre Georges Pompidou, and the Institute of Contemporary Art in Philadelphia, and galleries including 303 Gallery, Artpace, Elizabeth Dee Gallery, Gagosian Gallery, Deitch Projects, and Metro Pictures. She has lectured at Yale University, California Institute of the Arts, The Getty Research Institute, Parsons School of Design, Philadelphia Museum of Art, and Electronic Arts Intermix.
Kunsthall Stavanger would like to thank Alex Bag, Alissa Bennett / Team Gallery, the Migros Museum of Contemporary Art, and Electronic Arts Intermix (EAI), NY for their support.
Renate Müller "50 Years of Toys and Design"
"Kids take toys incredibly seriously. A child can tell right away whether the adult really thinks it's a piece of useless rubbish […]. A toy can influence a child emotionally as well as physically. As a result, toys can become healing tools—emotionally as well as physically.''
—Karl Staudinger, 1922
Kunsthall Stavanger is proud to present an exhibition, a playroom and a series of workshops for children by revolutionary German toy-designer Renate Müller. With her marriage of unique designs with traditional techniques, Müller has managed to create objects for children that are equally beautiful and useful. Through decades of experience and experimentation, Müller has developed a distinct design aesthetic that is easily distinguishable from others, and her use of jewel-tone hues and natural materials such as leather, jute, cotton, wool and wood, contributes to her timeless designs that perfectly merge function and form.
Perhaps most characteristic of Müller's works, which are all handmade by the artist, is the attention to detail evident in each toy and its appeal to many aspects of the child – physical, visual, haptic, and emotional. In her design process, Müller reduces a form, for instance, an animal, into its bare essential elements, thereby activating the imagination of the child to fill in everything but the animal's most basic form. She also considers the relationship of the toys to the body of the child, both in size and form as well as tactile versatility. She has created animal toys large enough to sit on and interact with using the whole body and thus encouraging physical development, and the textural differences in the materials she incorporates engage more subtle senses. Further, all toys function both individually and as part of a larger, cohesive whole. This, along with her chosen limited color palette, creates a calming effect rather than the anxiety often produced by an overwhelm of choices and possibilities pushed at children in our current era.
Müller's skill in designing with children's development in mind in part comes from the long and rich history of child-centered education and play in the region where she was raised. Renate Müller was born in 1945 and raised in Sonneberg in the Thuringia region of Germany, an area which was also home to the founder of the first kindergarten, Friedrich Froebel. Froebel incorporated bodily movement and nature in his educational model and his theories would go on to influence the Bauhaus in later years. Müller counts Froebel's pedagogical philosophy as a major influence in her work. The town of Sonneberg itself is often referred to as Spielzeugstadt (Toy Town); before the World War II, forty percent of the world's toys were produced here.
After World War II, Renate Müller's father took over the factory formerly owned by her grandfather, Friedrich Engel, which Müller came to see as a second home. At the age of 14 she helped represent the family business at trade fairs, and began designing and producing toys herself in the early 1960s under the tutelage of Helene Haeusler at the Sonneberg Technical College for Toy Design in Sonneberg. Haeusler's dream was to produce large, bright, exceptionally made toys that could be used in a therapeutic setting for children with physical and mental disabilities. Not only for fun, the toys were a comforting tool for use in balance training and musculoskeletal exercises as well as for sensory stimulation emotional development.
This early training in therapeutic play, particularly for children with physical or mental disabilities, shifted the trajectory of Müllers career and design process. From then on, she designed with the whole of the child in mind, and her designs consistently met rigorous qualifications for serving children with special needs. In 1976 her therapeutic toy line received a gold medal at the Leipzig Trade Fair and were tested (and deemed successful) by German psychiatric hospitals and clinics. In addition to the commercial production by the H. Josef Leven Company of her toy designs which she continually expanded, Müller founded her own studio in 1978 where she designed entire play environments and playgrounds, still keeping therapeutic play as her focus. She continues to hand-produce very limited quantities of the classic designs as well as continual renovate and create new objects for play.
Although toys that are created to be played with by children, Müllers works are also now regarded as heirloom pieces and artworks and are being collected and preserved by galleries and institutions internationally. In production for nearly six decades, Müller's designs have stood the test of time and promise to continue to be influential for both adults and children for many years to come.
Kunsthall Stavanger would like to thank Renate Müller and her family and Evan Snyderman and Julia Hartshorn / R+Company for their support.
at Kunsthall Stavanger
until 3 June 2018