EXHIBITIONS
Alex Martinis Roe "To Become Two" at ar/ge kunst
Close
1
2
3
4
5
6
7
8
9
10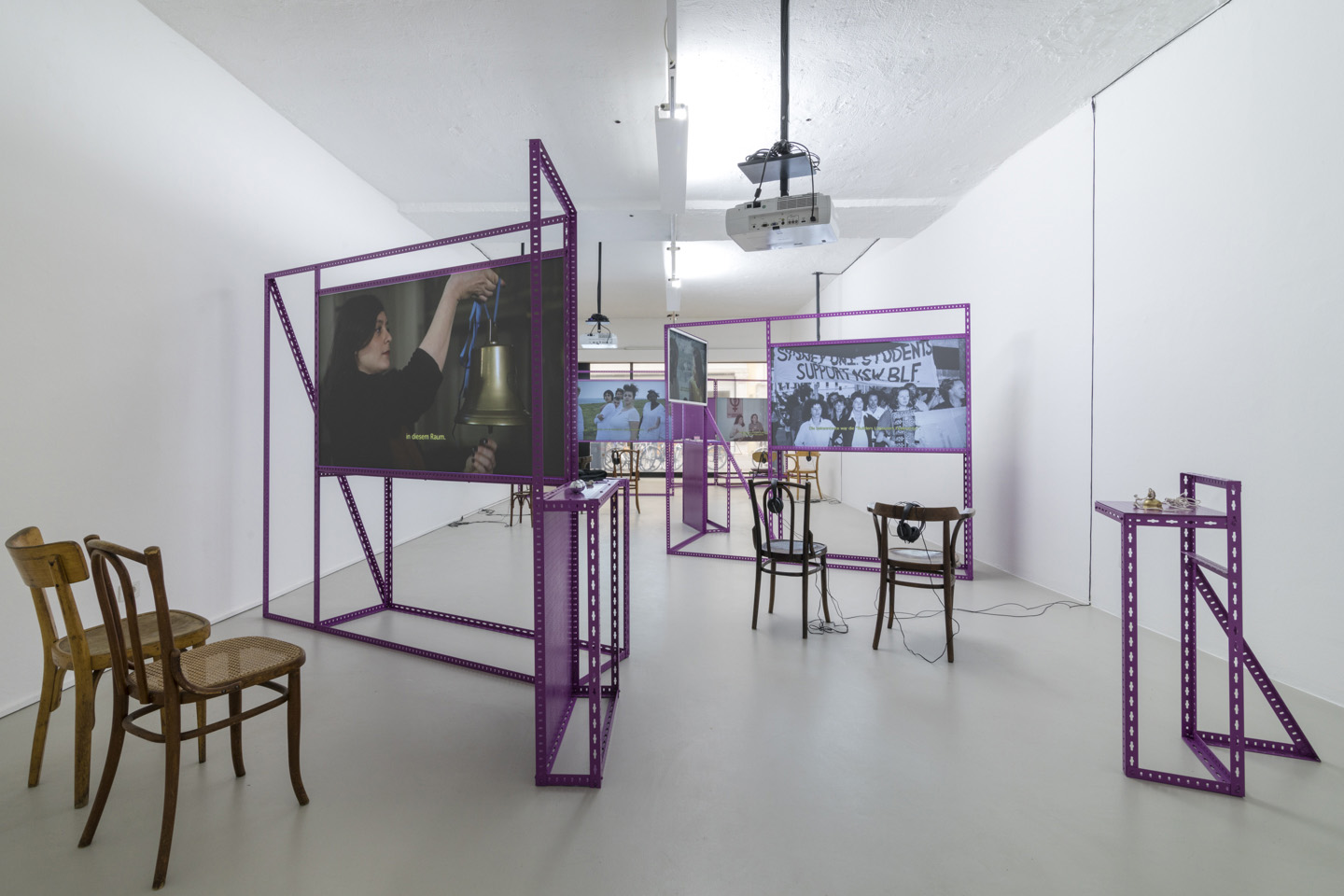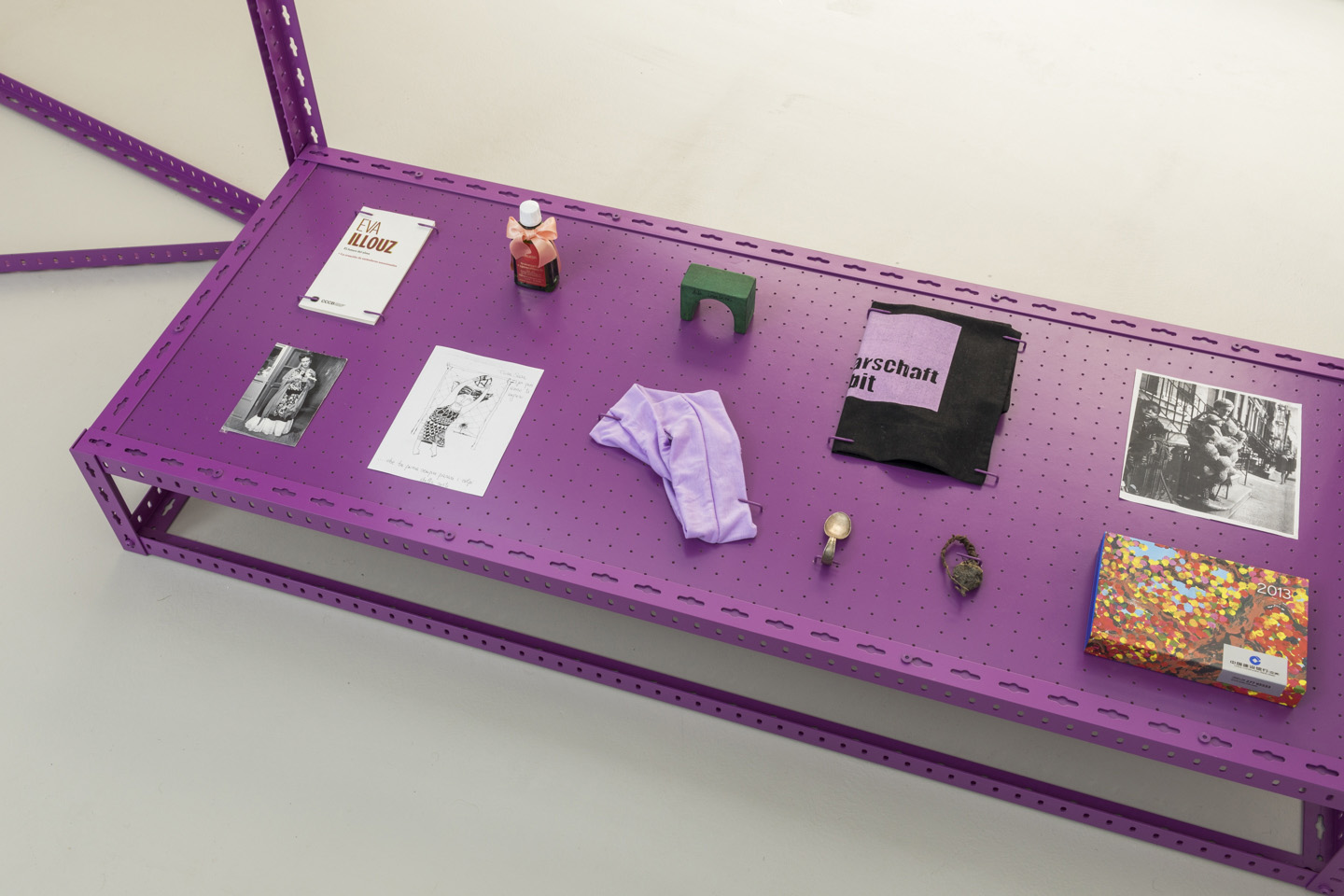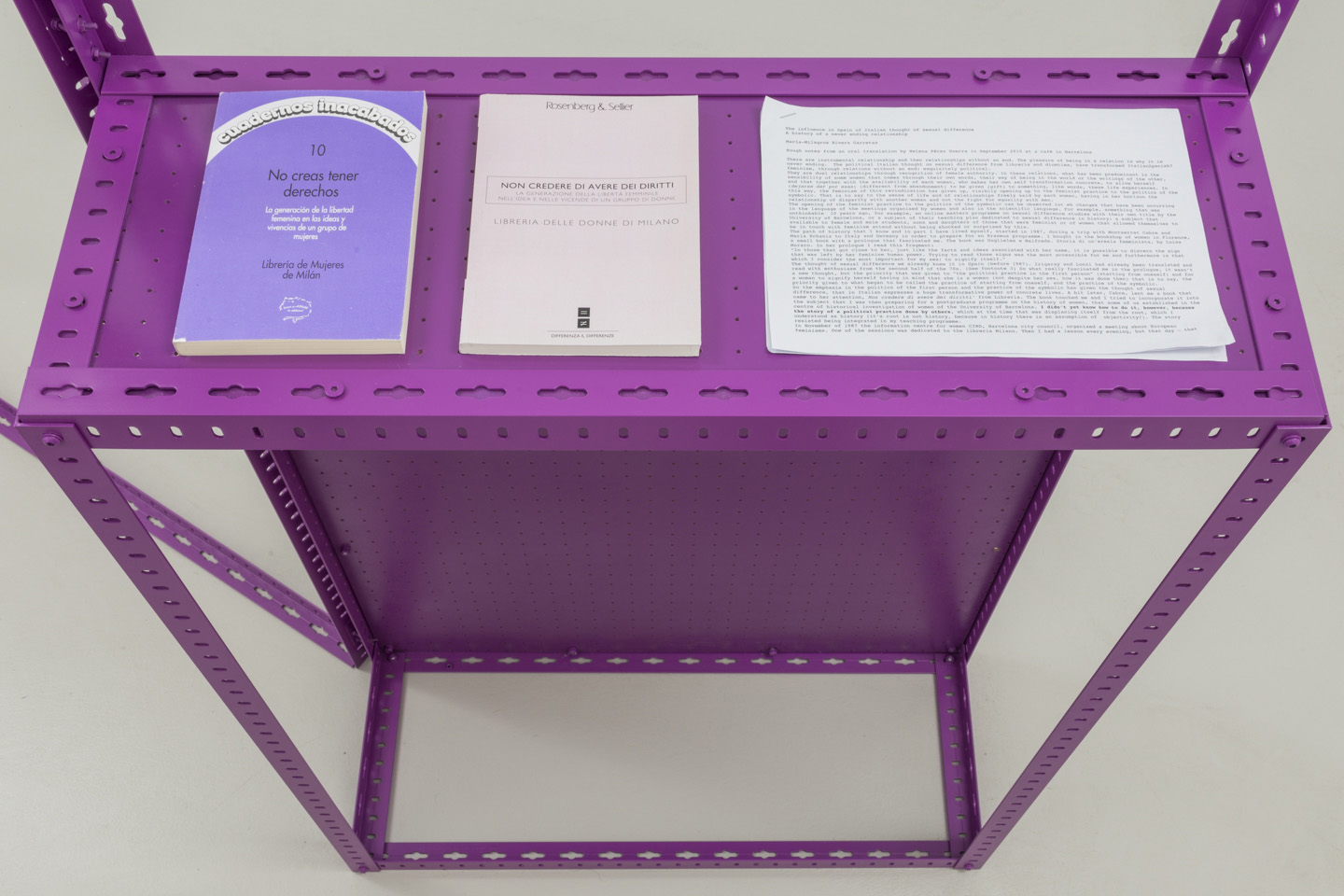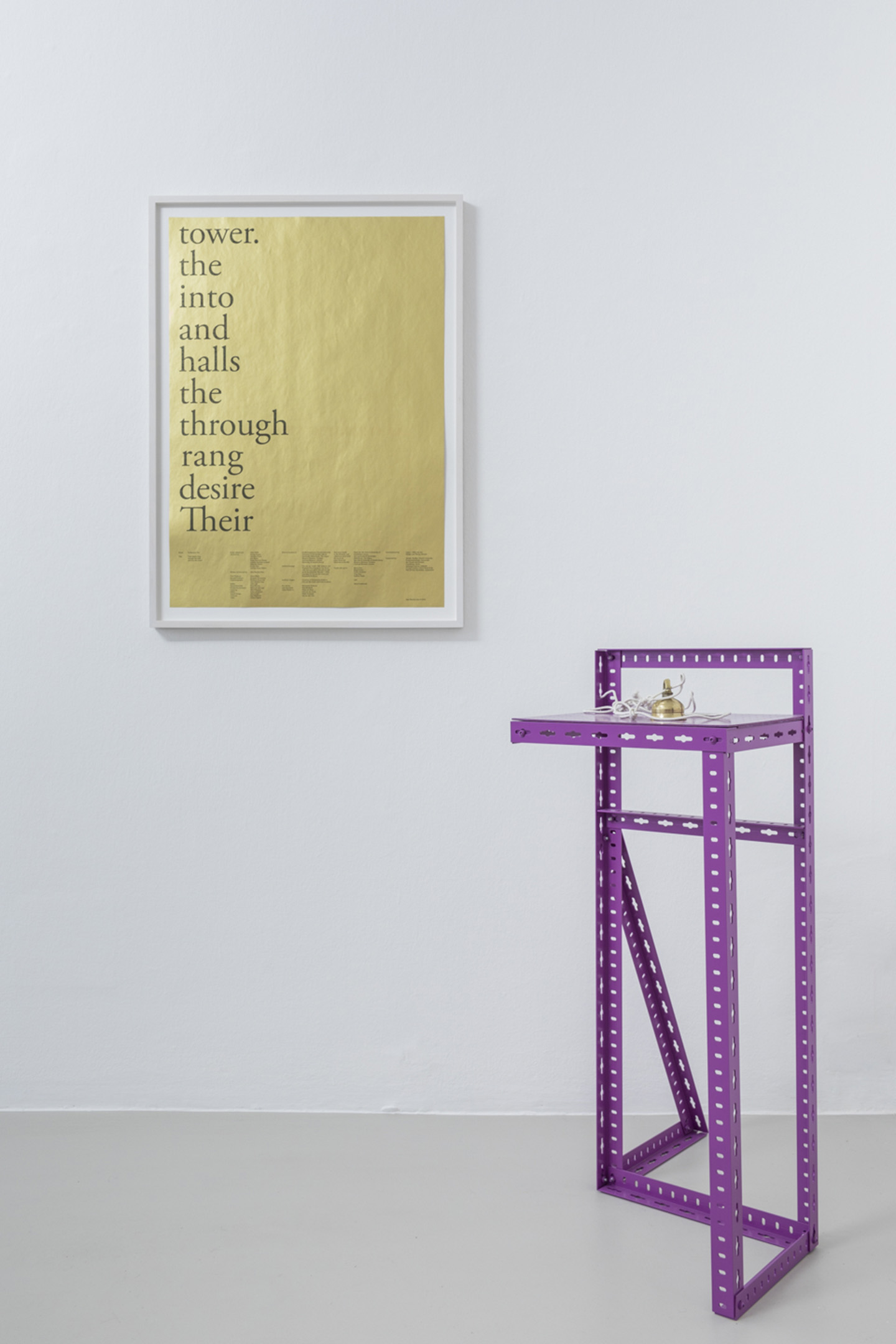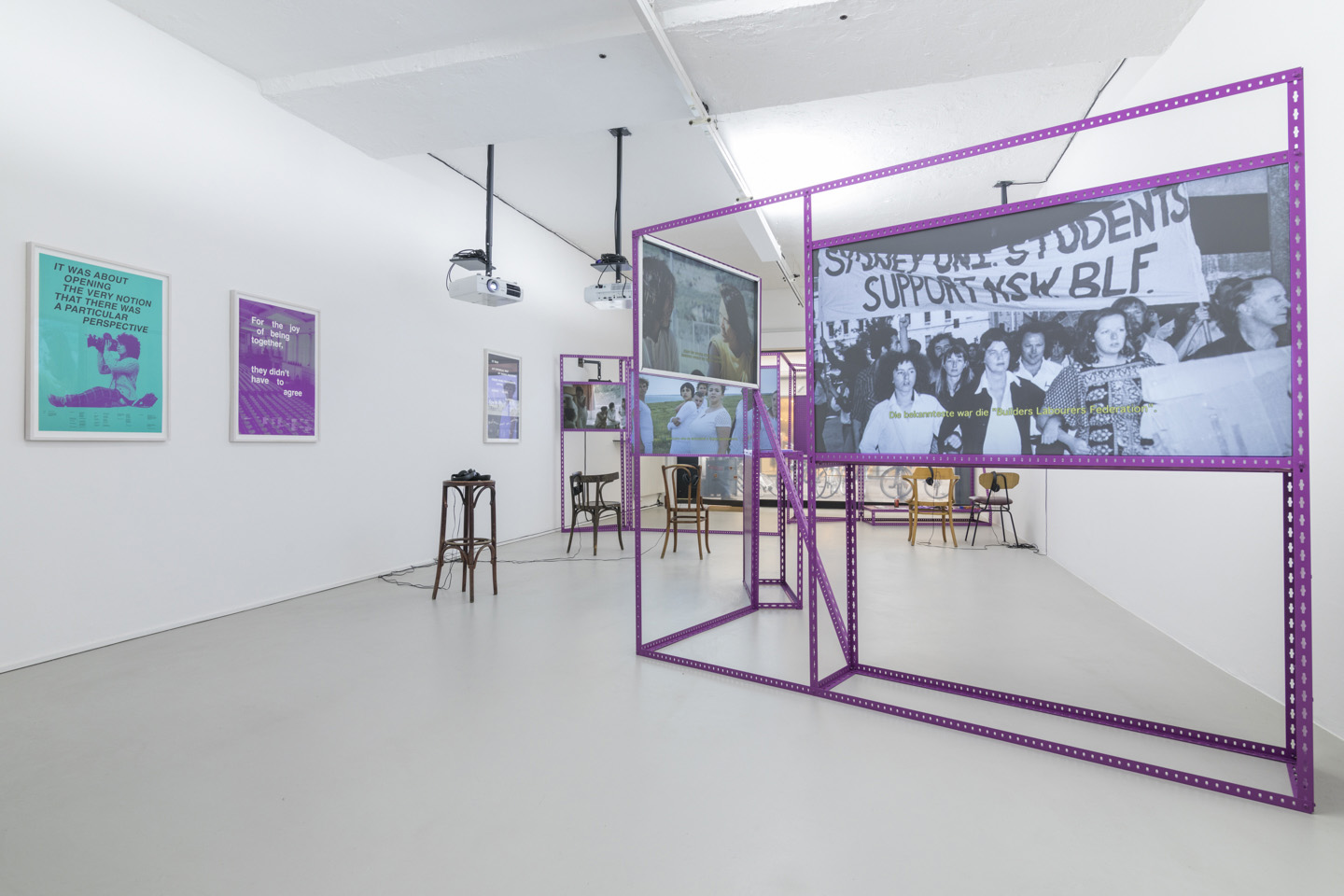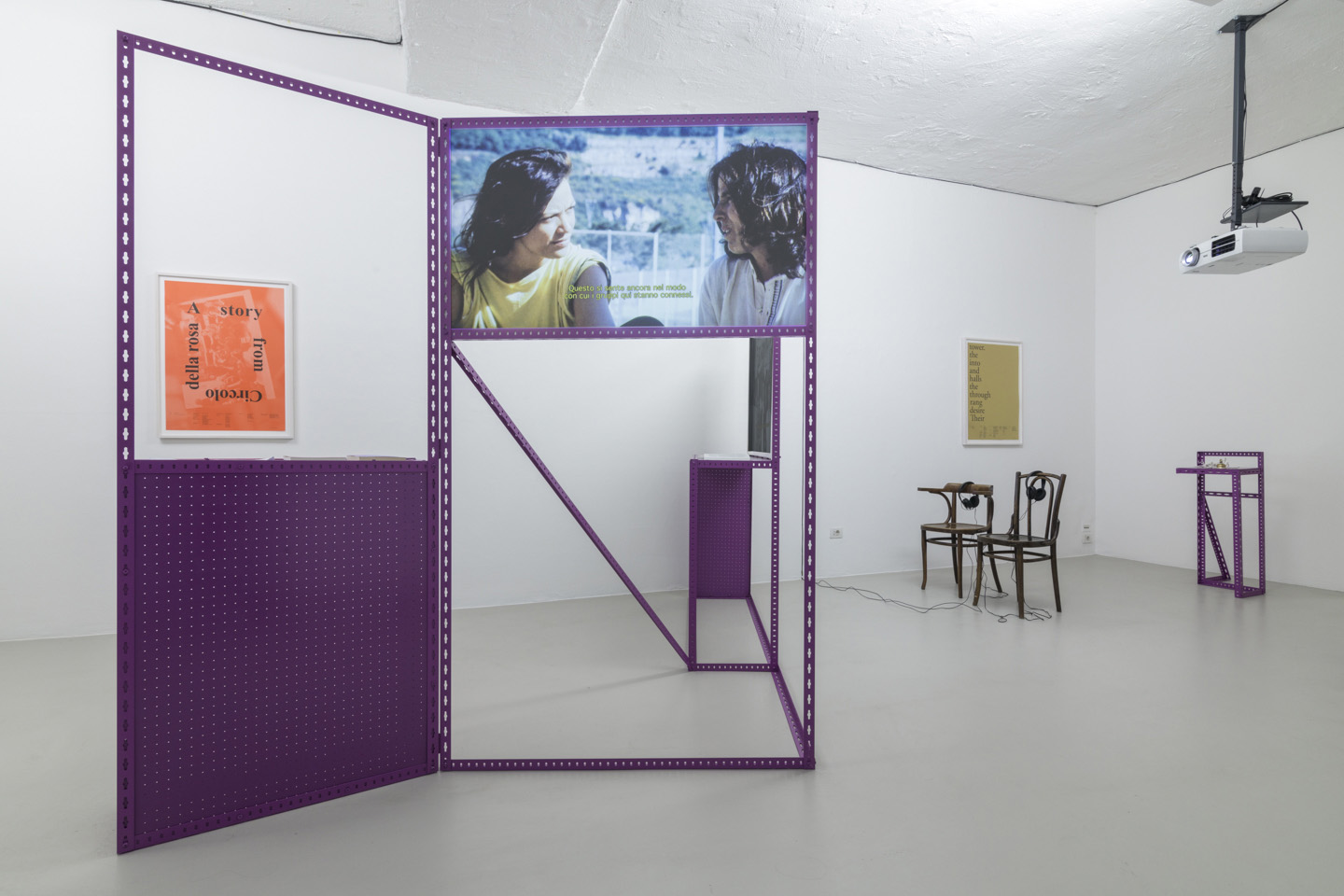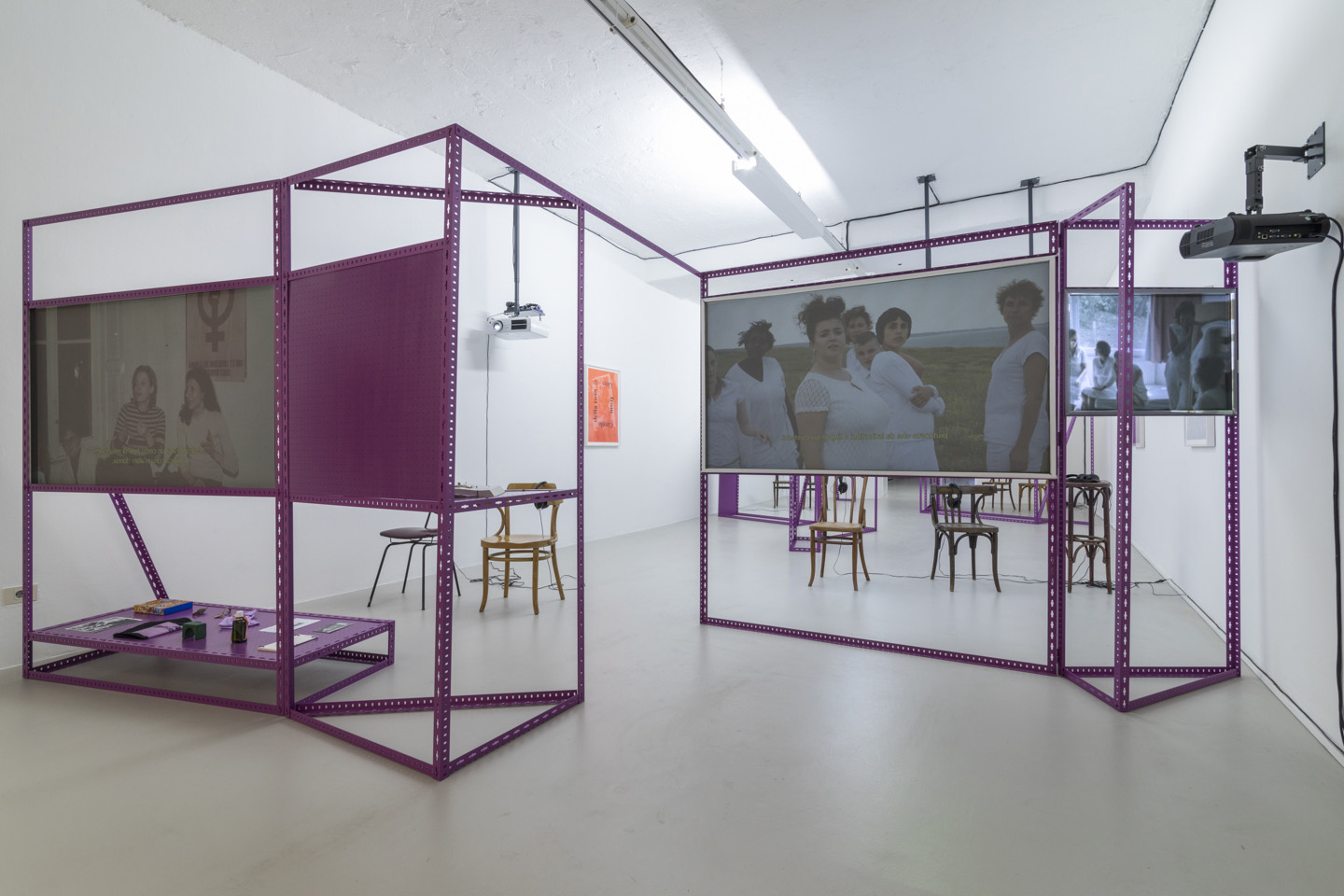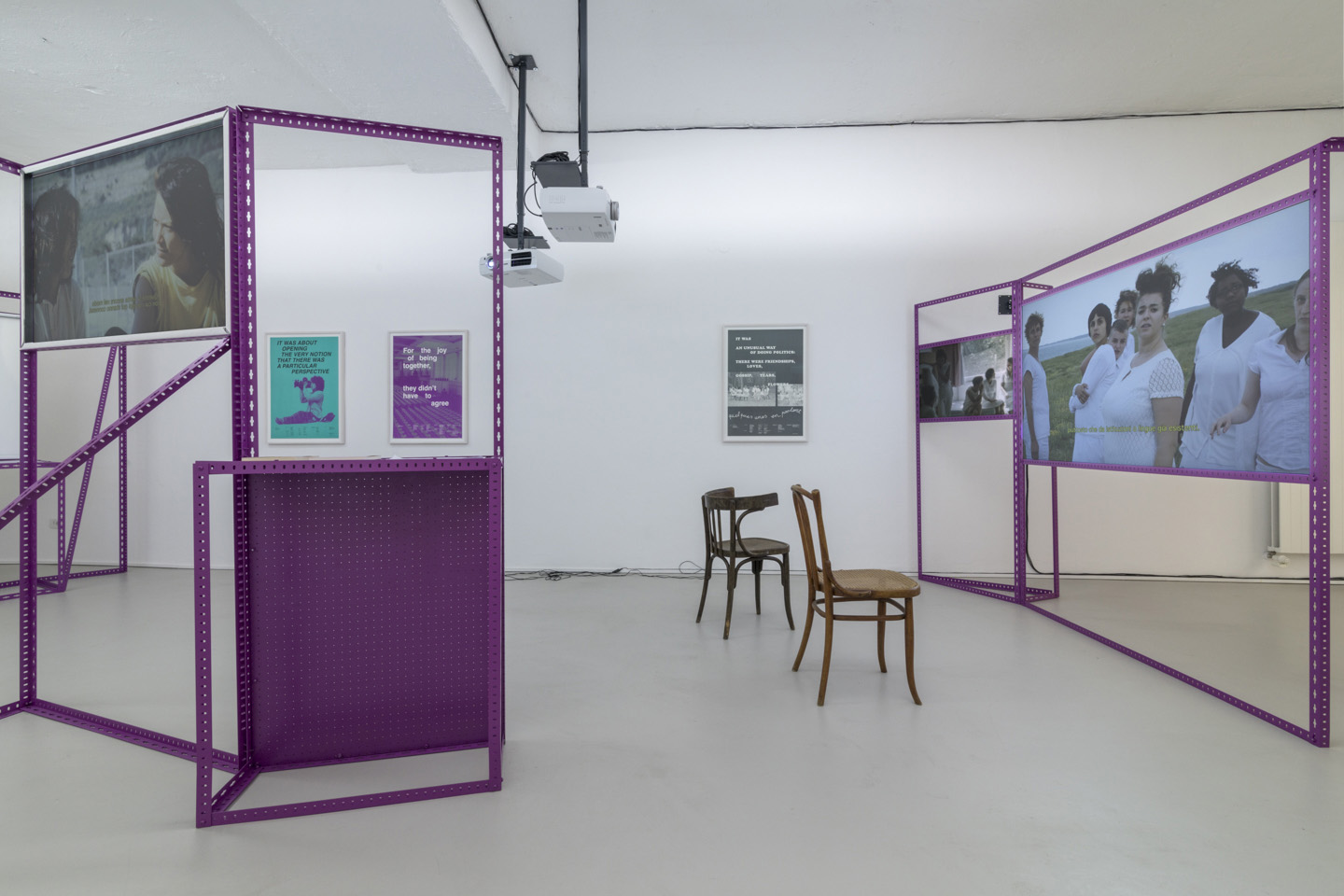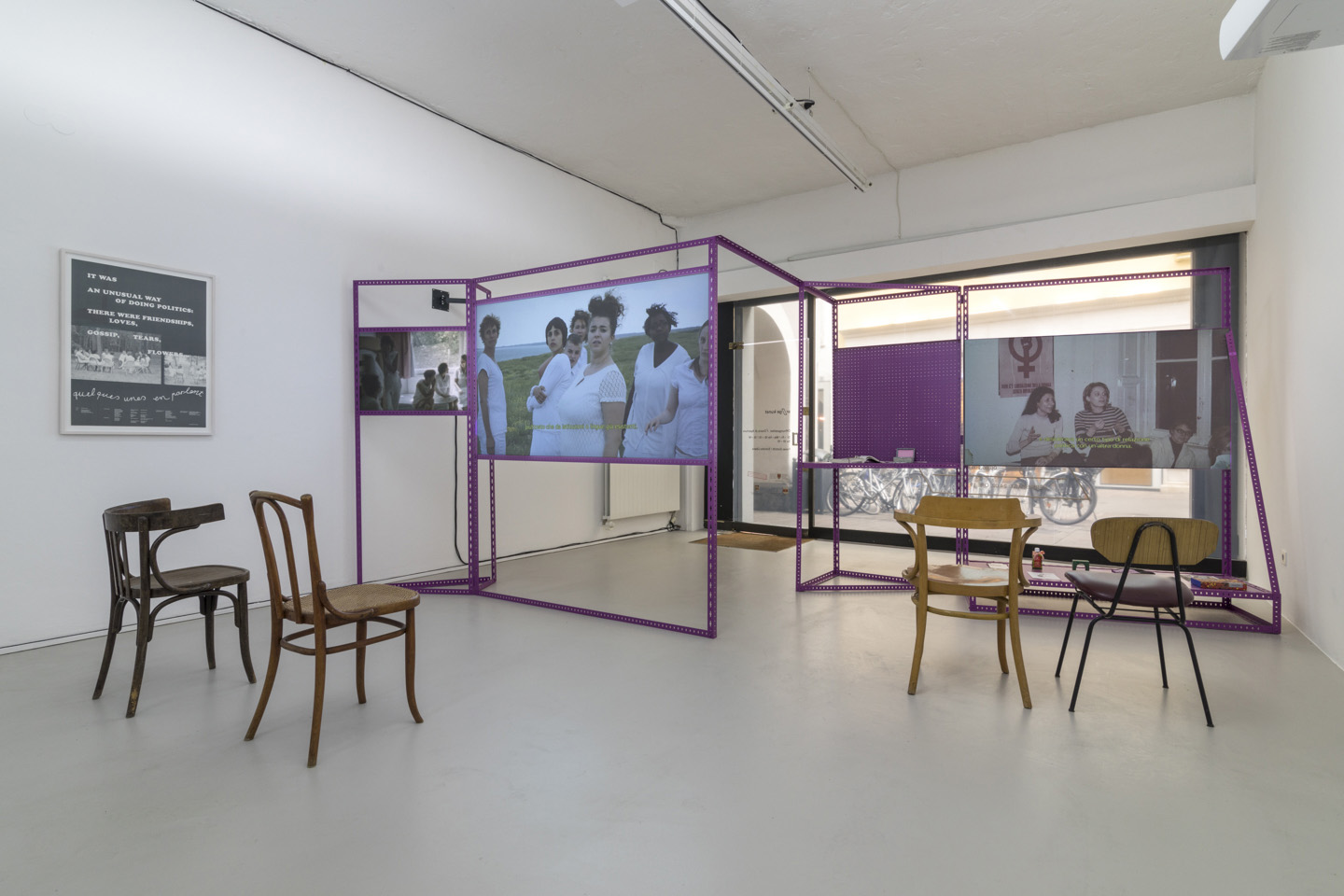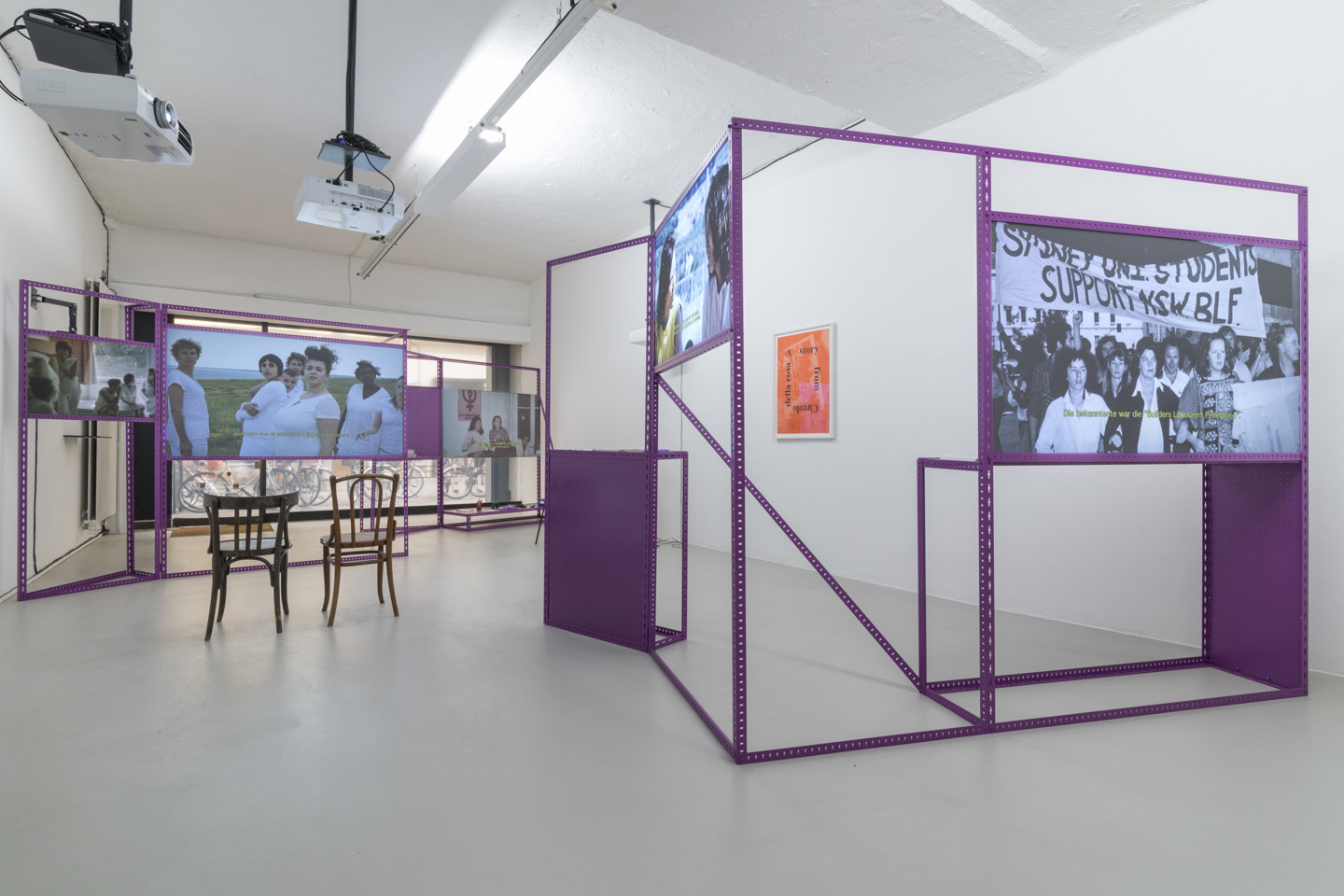 Alex Martinis Roe discusses her ongoing projects To Become Two, Our Future Network, and Genealogies; Frameworks for Exchange, embedding them in a genealogy of feminist collective practices. She describes the departure point of her research—"the practice of relations"—and how it lends itself to the creation of a culture of difference:
To Become Two (2014–17) is a theory-practice history project, tracing a specific genealogy of political practice among a number of related feminist communities and currents. It is a series of six film installations (which can be shown individually, or in multiple channels) as well as workshops, events, posters—a collaboration with Chiara Figone—and a book. In each of the films, I attempt to look simultaneously at collective and personal histories in order to explore what has been, and what could be, transferred into feminist collective practices now and in the future. The films are shown on modular display structures—that is a collaboration with Fotini Lazaridou-Hatzigoga—alongside archival materials and objects. These film installations become settings for workshops and performance-based events under the title Our Future Network, a continuation of the film project of the same title, which generated a toolbox of collective feminist practices in response to the historical ones explored in the other five films. Each of the five history films explores the organization of a particular feminist group and its connections to the groups explored in the other films: the Milan Women's Bookstore (1975–ongoing); Psychanalyse et Politique (Paris, 1968–ongoing); a network of people who were involved with Feminist Film Workers, the Sydney Filmmakers Co-operative, and General Philosophy at Sydney University in the 1970s and early 1980s; Women's Studies (now Gender Studies) at Utrecht University (1988–ongoing); and then a community in Barcelona, including Duoda and Ca La Dona (late 1980s–ongoing). I worked directly with these groups and a younger generation around them using various methods, including participant observation, oral history interviewing, archival research, and collaborative social practices, with the aim of performatively bringing about new collective practices through the act of storytelling. In each film I also explored the interior architectural spaces that were used and created by these groups as a meditation on the agency of the material setup of their political practices.

To give a sense of some of the key practices explored in the project, the departure point of my research has been what the Milan Women's Bookstore calls "the practice of relations." This describes the political work of reworking interpersonal relationships, and in the process, one's self. Patriarchy and other forms of structural violence are embedded in these most intimate domains, and this kind of feminist practice is concerned with constructing them differently in order to create a culture of difference. More specifically, I have been very interested in the Milan Women's Bookstore's practice of affidamento (entrustment), which describes a relation between two women that begins from their differences, including (but not limited to) differences in age, competence, and access to different political spaces. By referring to one another, each gives the other authority in her spheres of political practice by acknowledging her desires, competences, and differences. The two women thus gain access to and restructure the political spheres and knowledge they desire and the relation becomes, in the words of the Milan Women's Bookstore cooperative, "indispensable if a woman is to achieve a social aim."[1] The first film I made in the series tells the story of one of these relationships as a kind of parable. It is the story of the relationship between two experimental historians, Marirì Martinengo and Laura Minguzzi, and among other things, how their reciprocal commitment has generated the authority for one of Marirì's embodied historiographical methods, "the practice of living history," to be taken up and validated as a form of situated knowledge.
The invention of committed selves-in-relation, what I call "collective difference," makes it possible for macro political projects to really change the structure of institutions, and not just to attain rights within existing systems. One of the stories told in that direction in the series is about how in the 1990s this thinking around this practice of relations and the kind of authority it generates entered into the way that the Women's Council in the city government in Barcelona was organized. During a debate about the need for a "president," Mireia Bofill as a representative of Ca La Dona, who had contact with the practices of the Milan Women's Bookstore, proposed that instead they choose a "mentor" to help generate a shifting authority in the council, affirming each of their voices. Ada Colau, the current mayor of Barcelona, was at one time the mentor of the women's council, and although I am not claiming that she has or hasn't restructured the local government, the fact that she held the position of mentor in the past means that some of those ideas and practices could play a role in how she might perform the role of mayor.
One of the other key practices that I want to briefly mention here is what I call "the practice of alliance," which I use to describe the way in which feminist politics was intertwined with other social and environmental movements in the 1970s in Sydney. A group of people who were part of this broad social movement narrate It was about opening the very notion that there was a particular perspective (2015–17), and one of the stories they tell is about how in 1973 staff and students at Sydney University went on strike for more than a month because a course on feminist philosophy had been vetoed by the academic board. The Builders Labourers Federation, a radical union in Sydney, which supported a range of social and environmental movements at the time, put what was known as a "green ban" on all building works at Sydney University, which contributed to the successful pressure of the strike. The Philosophy department split, and General Philosophy was set up as the new department for Marxist, feminist, and later poststructuralist philosophy, which played a large role in the transdisciplinary way in which continental ideas coming out of May 1968 were digested into what now gets called "feminist new materialism." The practice of alliance during that period in Sydney was successful not only because these social movements joined together, but because social and environmental issues are intertwined.
This project comes out of a long-term attempt to resonate with other voices, as a feminist approach to authorship. Coming from within my broader project of attempting to make my actions responsible to others in their difference, this practice of resonating traces my desire to expand my authorship as an artist, by acknowledging the other voices that were and always become a part of it, but without losing my voice in the process. This practice of resonating attempts to trouble the normative model of "solo" authorship in the art world and its performative role in the construction of capitalist individualism. Attempting this expansion has necessarily come up against many problems—problems of representation. How could I include other people's voices in my own, without colonizing them? This is the central question that a feminist, post-colonial historian, documentarian, or ethnographer must ask. Now, artists working with participatory practices must ask this too, and there are no easy answers. Negotiating and responding to these problems has been an integral aspect of my attempts to include voices other than my own in my work.
My project Genealogies; Frameworks for Exchange (2011–12) was the first time that I attempted to create situations where my audience became my interlocutors: no longer on the outside of my practice looking in, but engaging directly with me to construct conditions under which I could bring their unique voices ethically into my work. It was in that project that I developed the model I now work with, where the production of the work and its reception are structured as a flow. Both are contexts for engaging the network of people who take part in my projects.
In that project, I set out to explore my female authorial genealogy as a way to make artworks that foregrounded my co-emergence with and contingencies upon other authorships. I contacted many people who had already participated in my projects, or who had discussed them at length with me, and asked each to nominate a female author who had been important to her or him. In this first phase of Genealogies; Frameworks for Exchange, I facilitated a series of online video-conference encounters between these writers and readers, which were recorded, and then edited in consultation with the participants afterward.
One of the major motivations for this current To Become Two project is to do something about the very real risk that feminist histories will become disconnected from future gender-political work due to generational rifts. My project seeks to create solutions for the increasing fragmentation of feminisms, which threatens to fossilize the legacy of the women's movement. In particular, some feminist theory and practice since the 1990s has been distanced by popular "postfeminist" rhetoric. In particular, there are some common misunderstandings of the theory and practice of sexual difference, which takes "woman" not as an identity, but as an empty signifier to be reinvented in an infinite number of ways. The commitment to this project, and thus to "woman," is a commitment to generating language for difference. This strategy is very different from the discourse around "gender," which often uses the strategy of generating "neutral" language in an attempt to prevent fixed stereotypes and identities from being imposed by signifiers of difference. Sexual difference feminism is based on analysis by Luce Irigaray and others of the history of Western philosophy, which finds that the erasure of difference from its fundamental modes of thought means that our whole culture and language is already coded masculine, and thus the "neutral" is always already male. My project is an attempt to redress this disconnection in a bid to develop and retrieve modes of intergenerational solidarity and to form transgenerational connections, forging continuities between second-wave feminism and contemporary feminist activism.
Currently, some important work being done in feminist philosophy forms a potential bridge between these estranged feminist cultures and generations. Some have called it "posthumanism," and others "feminist new materialism," although that title is subject to healthy criticism from some whose work is included under that umbrella.[2] A definition of this thread of feminist theory could be as lengthy as its history. For brevity, I characterize it here as theory that uses discourses from the sciences together with the humanities to extrapolate political theories of difference. It involves writing new theories of materiality, embodiment, and subjectivity in such a way as to overcome the binary opposition of nature and culture embedded in Western habits of thought and knowledge production. These theorists, like for example Karen Barad, Rosi Braidotti, Elizabeth Grosz, and Vicki Kirby, are gaining interest and influence due to the "bridging discourses" they produce, making it possible to move beyond some of the more stalemated essentialism/anti-essentialism debates that have defined feminist, queer, and postcolonial theory in the last decades.
Particularly in North American queer and feminist theory, "essentialism" became the target of social constructivist critiques, intensifying in the 1990s (particularly around the reception of Judith Butler's book Gender Trouble) into a widespread project to debunk any assumptions of necessarily fixed, or "essentialist," relationships between sex (bodies) and gender (social roles). This discourse often proved incompatible with the embodied approach of continental feminist philosophy, which approaches sex and gender as one entanglement, exemplified by Luce Irigaray's philosophy. Although continental feminist philosophy was often dismissed in the 1990s as "essentialist," this is currently being redressed by feminist new materialists/post-humanists. They do this through analysis of the role that certain received scientific concepts of nature have played in "anti-essentialist" methodologies. The new materialists/post-humanists work closely with various scientific discourses, theorizing nature as a series of processes, rather than a fixed, unchanging backdrop to culture. In exploring the entanglement of nature and culture as dynamic forces, these theorists account for embodiment and material differences without explaining them away as cultural constructions, but in doing so, they do not reconfirm the habits of categorization that anti-essentialists sought to deconstruct[3].
My project explores the social history of this bridging discourse and its relationship to sexual difference feminism, and through my artistic process draws it into other forms of political practice. The importance of describing this genealogy is to make it visible, and to characterize it as a kind of transgenerational solidarity—a continuation of the women's liberation movement.
My concern regarding the relations between different generations of feminists is about the political importance of building a culture of difference. To do that, to have a culture where the unique difference of every voice is inextricable from the ways in which meaning is made, we need to gather the work that has already been done toward this, in, for example, different feminist movements. We need to be able to gather that history, without reducing its intricacies, in order to create trajectories for our own work.
The format of the exhibitions, punctuated by meetings and events, is designed so that visitors are aware of one another and thus their own situation. I hope people will respond to the stories in the films as parables and make use of the empirical knowledge shared in them. And I hope that the virtual futures that emerge through telling these histories become propositions for new collective practices, a toolbox that gets used by more people who then adapt, extend, and add to them in response to their needs, desires, and contexts.
The project has already been exhibited at Casco – Office for Art, Design and Theory, Utrecht, and is now on at ar/ge kunst, Bolzano, and is traveling in the next few months to the Art Gallery of New South Wales, Sydney; the Showroom, London; and Badischer Kunstverein, Karlsruhe, Germany. In each exhibition there will be a different configuration of the films and installation elements, which shifts the emphasis and the way the different stories relate. Also in response to each context, I involve the community around the art space in different ways. In some cases there are workshops that generate new propositions for feminist collective practices, which are then presented in performance-based public salons, and in others there are events that I am putting together in advance, which are designed to engage a new community which then has the opportunity to get involved further in response. Since these events and workshops continue the project in each of these different places, the specificity of the audience and their knowledges and desires shapes the way in which the exhibitions are activated.
at ar/ge kunst until 7 May 2017
Alex Martinis Roe was born in Melbourne, Australia in 1982 and have lived and worked in Berlin since 2009. Her projects focus on feminist genealogies and seek to foster specific and productive relations between different generations, as a way of participating in the construction of feminist histories and futures.
Notes:
[1] Milan Women's Bookstore Collective, Sexual Difference: A Theory of Social-Symbolic Practice, trans. Patricia Cicogna and Teresa de Lauretis (Bloomington and Indianapolis: Indiana University Press, 1990), 32.
[2] As a prominent example, at the 2014 Irigaray Circle "Topologies of Sexual Difference" conference, Elizabeth Grosz stated that she is "not a new materialist"—that the term does not apply to her because in her work she traverses the traditional opposition of materialism and idealism. In an interview with the editors of the journal Interstitial, she said, "Materialism is an ontology, one that is often set up in opposition to the ontology of idealism. I would not call myself a materialist at all because of how strongly this opposition has figured in the history of Western thought in framing what materialism is, whether it is understood in terms of atomism, of physicalism, or in terms of dialectics. I am interested in an understanding of the real or the universe that does not reduce what is there to matter, but is capable of conceptualizing the nuances and layers of ideality that matter carries within itself." From "Significant Differences: An Interview with Elizabeth Grosz," Interstitial (March 2013): 1. Despite this, Grosz's work has been included in such volumes as Diana Coole and Samantha Frost, eds., New Materalisms: Ontology, Agency, and Politics (Durham, NC, and London: Duke University Press, 2010), and she is explicitly described as a feminist new materialist and cited as a major reference in Rick Dolphijn and Iris van der Tuin, New Materialism: Interviews and Cartographies (University of Michigan Open Humanities Press, 2012).­­
[3] This and the previous paragraph are taken from my forthcoming book To Become Two (Berlin: Archive Books, 2017).