ESSAYS Mousse 69
All that Scrawl: Toward a Wild Writing
by Travis Jeppesen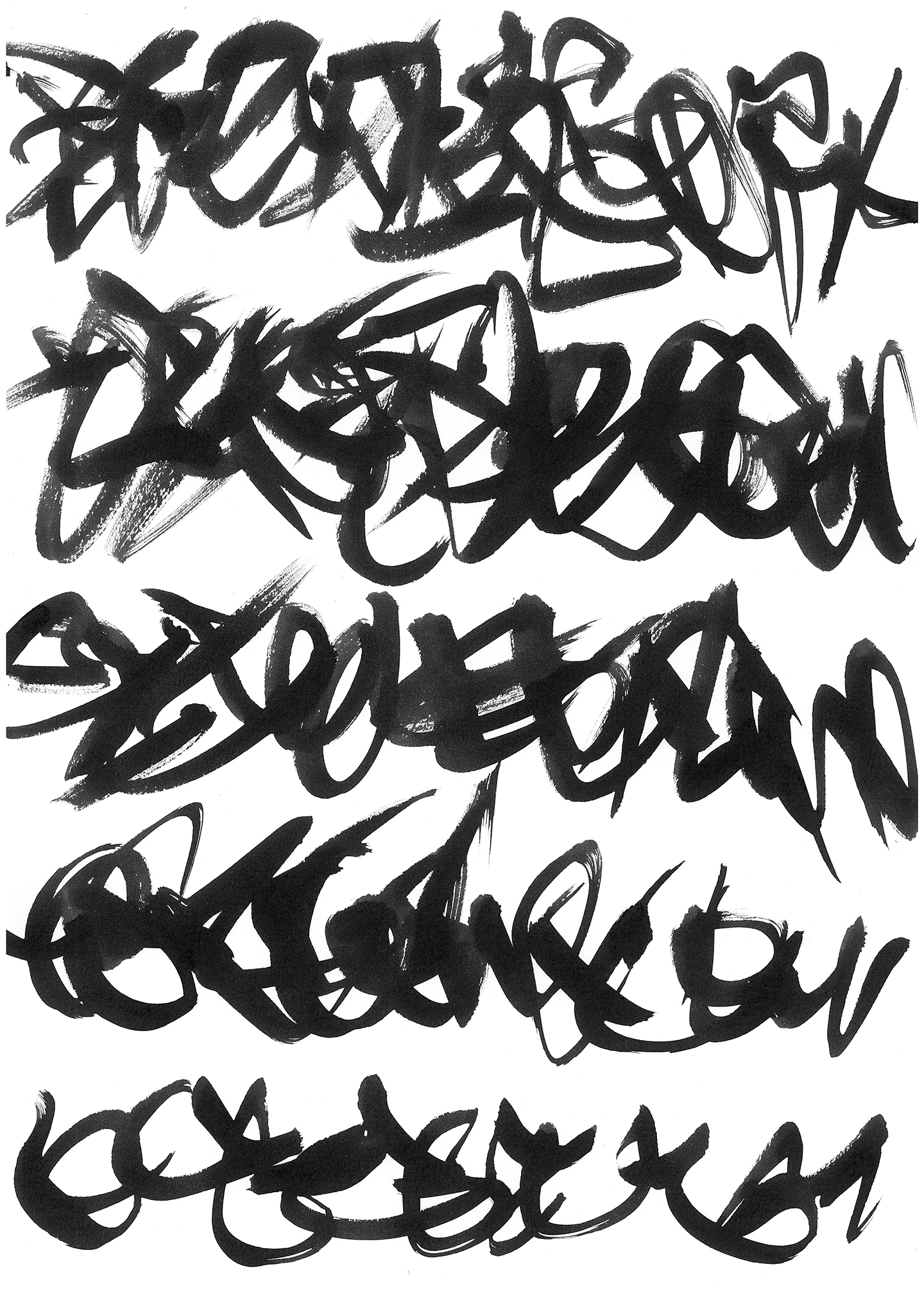 Travis Jeppesen, Untitled, 2019. Courtesy: the artist
Writing is a hot horny relationship with the world, and its most idiosyncratic practitioners have always known this. We could go back as far as Catullus, Terence in the Latin world; all that body pouring, gushing forth; though this tendency starts to arrive at its crazed zenith in the twentieth century. Gertrude Stein, who applied the principles of Cubism to language. Hannah Weiner, who saw words in the air and attempted to capture them, like butterflies, on paper. Add to that lineage, that glorious legacy, Robert Grenier, whose poetry of scrawl cuts both ways: literature and visual art. In this, there is a connection with Henri Michaux, whose work staged a confrontation between Western mysticism and the Eastern calligraphic tradition. 
In China, traditionally, this dichotomy between word and image so cherished in the West resolves itself not only in the writing system of Chinese characters, but in the literati tradition. Poets were usually also painters, paintings were often inscribed with poems. Calligraphy, wherein word is image and vice versa, continues to evolve with the work of practitioners like Wang Dongling, whose calligraphic performances often yield abstract meditations upon the work of Tang masters like Li Bai, effectively melding the past and the present in scrawl-like formations resembling relics from outside of time.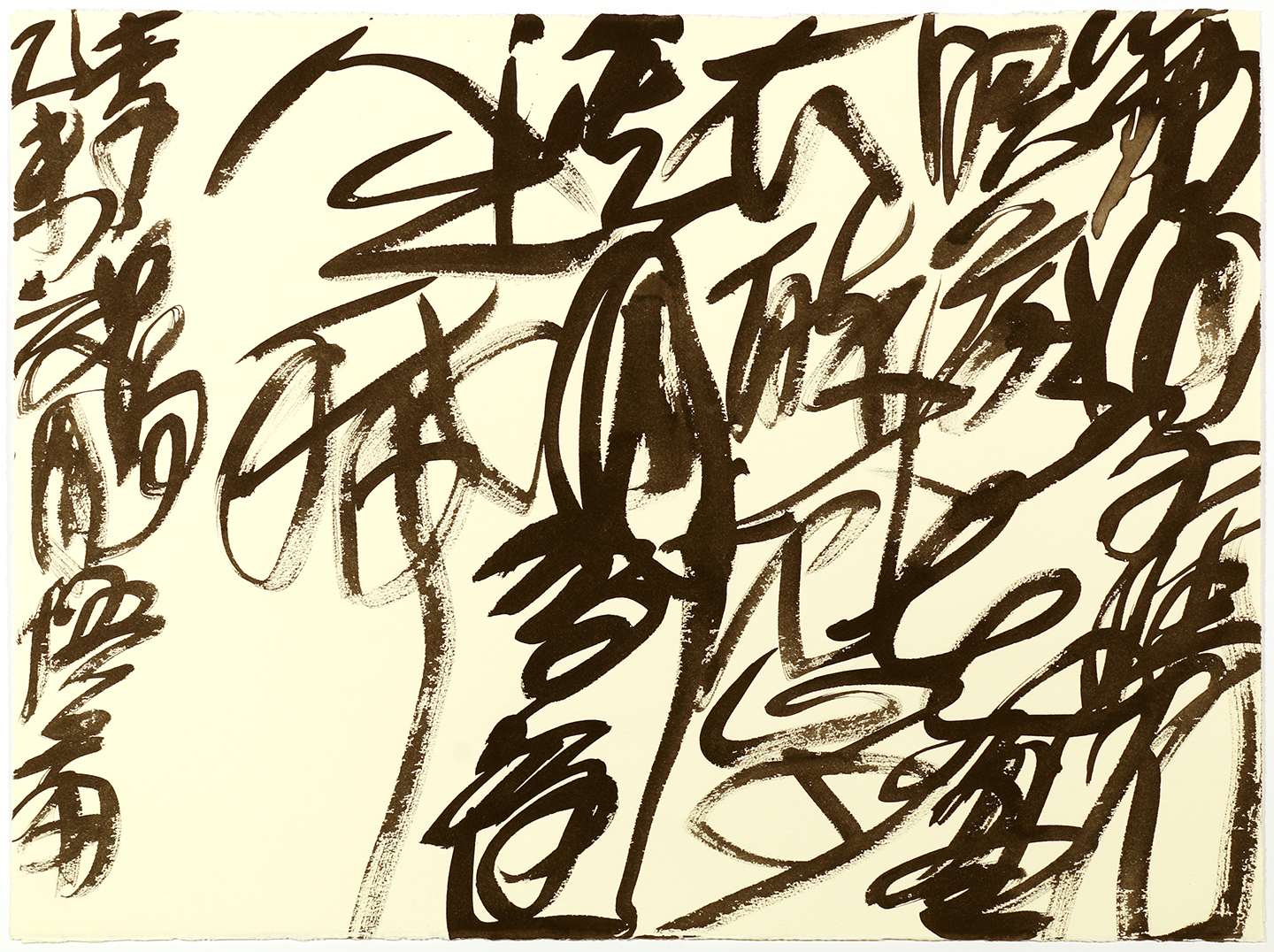 Wang Dongling, Li Bai – Drinking Alone Unaware of Sunset, 2015. Courtesy: the artist and Chambers Fine Art, Beijing / New York
Painting and writing—what is painting and what is writing? The answer turns out to be that, in some instances at least, there is no real difference. Painting, like writing, is at its very root the making of marks upon a surface ("strokes," if you prefer); at times these stroke marks might coalesce into the inference of an image; at others they do not, at which point, one might say, they retain their pure writerly, planar form. The most famous illustration of this tendency occurs in the oeuvre of Cy Twombly, poet-painter par excellence. With his at-times-legible, at-times-not inscriptions of Latinate poetry upon the canvas, among all the splotches and drippings and strokes, Twombly engineered his own painterly-writerly language—one we might deem, for lack of a better term, scrawl.
Scrawl, in its joyful salubrious illegibility, is writing masquerading as nature. Now, writing, in its classical form, constitutes the originary definition of culture. This kind of writing, as practiced by Twombly and others under consideration here, this ugly writing, devoid of all normative signifying function, mimics or embodies the lines of growth and rot sprouting all around us when we take a walk through whatever scape surrounding: in a literal sense the writing on the wall. The city walls are meant to corral us, protect us from the barbarians "out there," those unseen and unnamable threats to our august culture. But the city is, in a sense, defined by those cracks, that writing on the wall, that which invades the sheath of its vulnerabilities, those inferences of rot that prove, time and again, that nothing lasts forever. That we are all perpetually dwellers in a state of decay.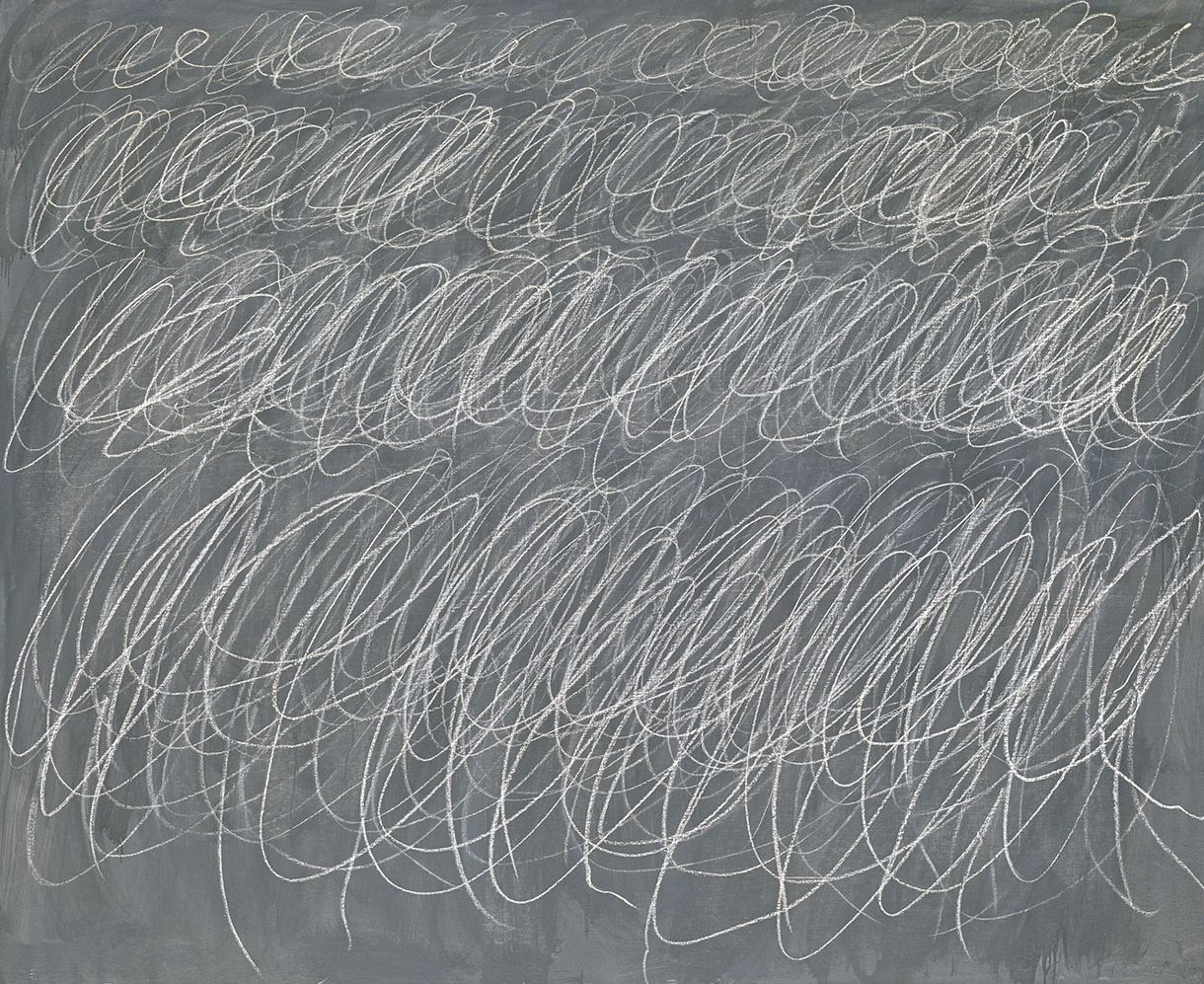 Cy Twombly, Untitled, 1970. © Cy Twombly Foundation. Courtesy: Archives Nicola Del Roscio
Scrawl, then, is implicitly unnatural. Neither nature nor culture, not quite belonging to either, and not-belonging, then, being something of its formative essence. Resistant to any aesthetic assessment that would define, etymologicize, rationalize it. Language is the biggest failure; scrawl is one way to reclaim it. Of course, different practitioners give it different names. For Irma Blank, it is radical writing; for Park Seo-bo, écriture; for Michael Jacobson and Tim Gaze, asemic writing. All of these are equally valid means of thinking about and framing this work. Scrawl, in its anarchic nature, both craves discourse and resists it. Seen, read, but never resolved.
I've been mark making, making scrawl, for as long as I have been writing, but it is only in the last few years that I started to gauge that there is no fundamental difference between those two activities. So, lately, I have been thinking about these marks I make and their relation to narrative. And the narratives of others. Because mark making, scrawl, does not occur in a vacuum. Rather, it is a process, something very many—nearly all of us—do. Not all of us are exhibitionists, of course, but very many of us make marks. Scrawl, I have been led to believe, is more than just scratches upon a surface. It is, at the very least, both an attempt at and a theory of narrative. A theory that attempts to link narrative with the material means of its enunciation. It has to do with an anxiety over the surface, whether that surface be paper, canvas, stone, wood. Wall. Face. Surface presents itself as a blankness yearning to sing, to be able to enunciate its substance, tell a story, tell its story. But also: to be attacked from without, defaced, mutilated, raped. For there is a violence inherent in all acts of writing, and, uncomfortable though this fact may be, we must learn to come to grips with it, to therapeutize it, if we are to move on. There is, of course, always present a desire to lose oneself in the writing; because within writing there is no autonomy, no freedom from the crime. To write is, in effect, to become one with this violence—with all that scrawl.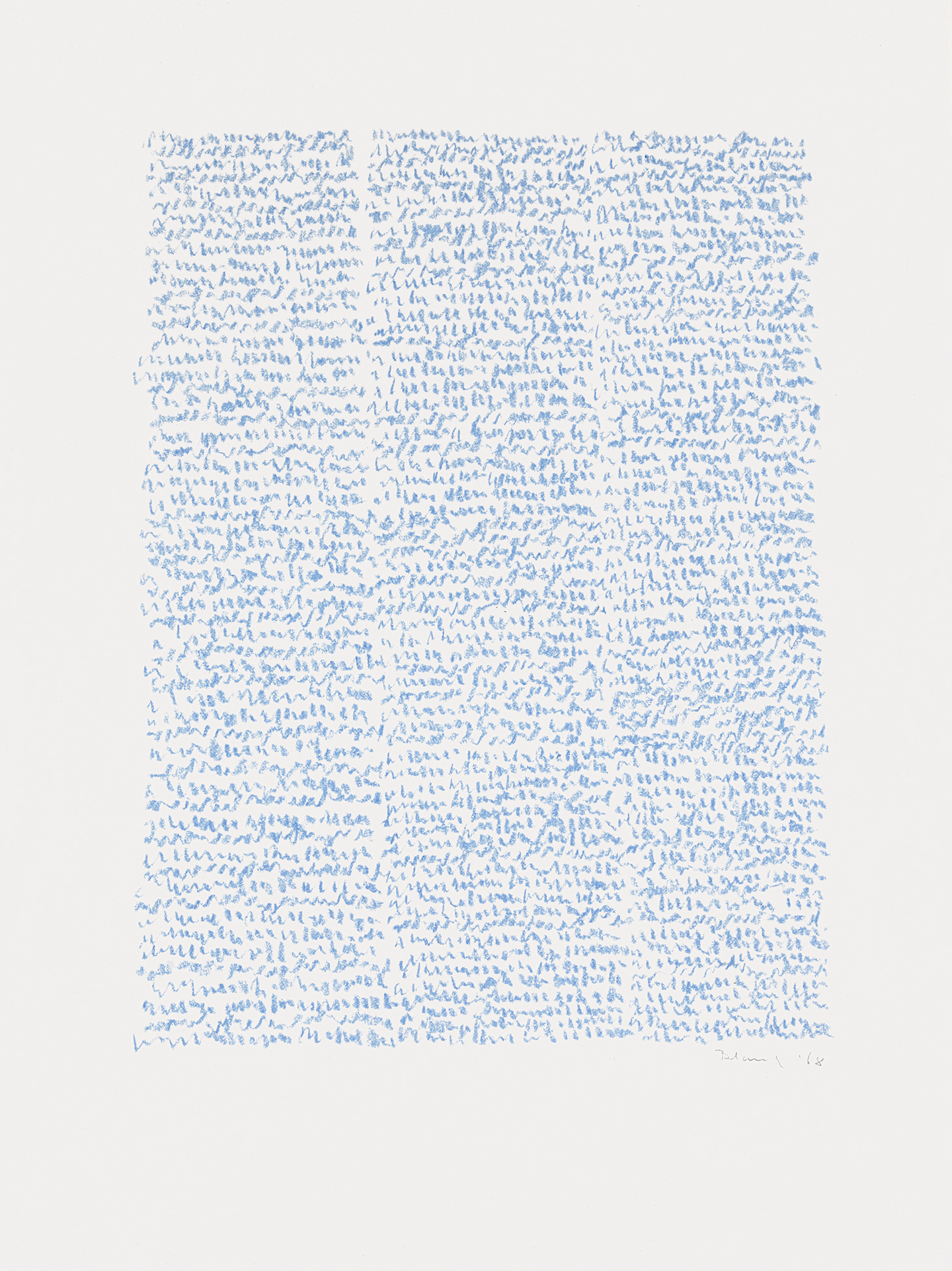 Irma Blank, Eigenschriften, 1968. Courtesy: Collection of Charlotte Feng Ford, New York. Photo: Dario Lasagni
I have sometimes discussed this kind of writing as wild writing, a boundary-less etching into the future unknown. The purpose of all writing, of every writer, really, should be to create an entirely new language every time one sits down with pen in hand. Scrawl can be considered a vivid dramatization of this process. We have to fight against meaning—that is, meaning's hegemony over language. Through new forms of writing, new forms of meaning necessarily emerge. This breeds new means of conceiving, of perceiving, of relating to the world. (Were this to be a constant, universally embraced process, the Earth would be in a state of constant revitalization rather than the precarious state of decay in which it is currently enmeshed.)
We should not be afraid of asignification, of meaninglessness, because, like writer's block, it does not actually exist. We should rather embrace "working," processing the world, in states of trance (as did Henri Michaux, who experimented with working in a number of heightened states; see for instance his mescaline writings). Letting the body guide (glide). Because the body has its own language, its own will to narrative. The body is never completely severed from the mind. But, allowing for the Cartesian split to assert itself for one moment, let us reverse the order of importance: let body take precedence over mind, within the total machinery. Thus, the body-mind machine.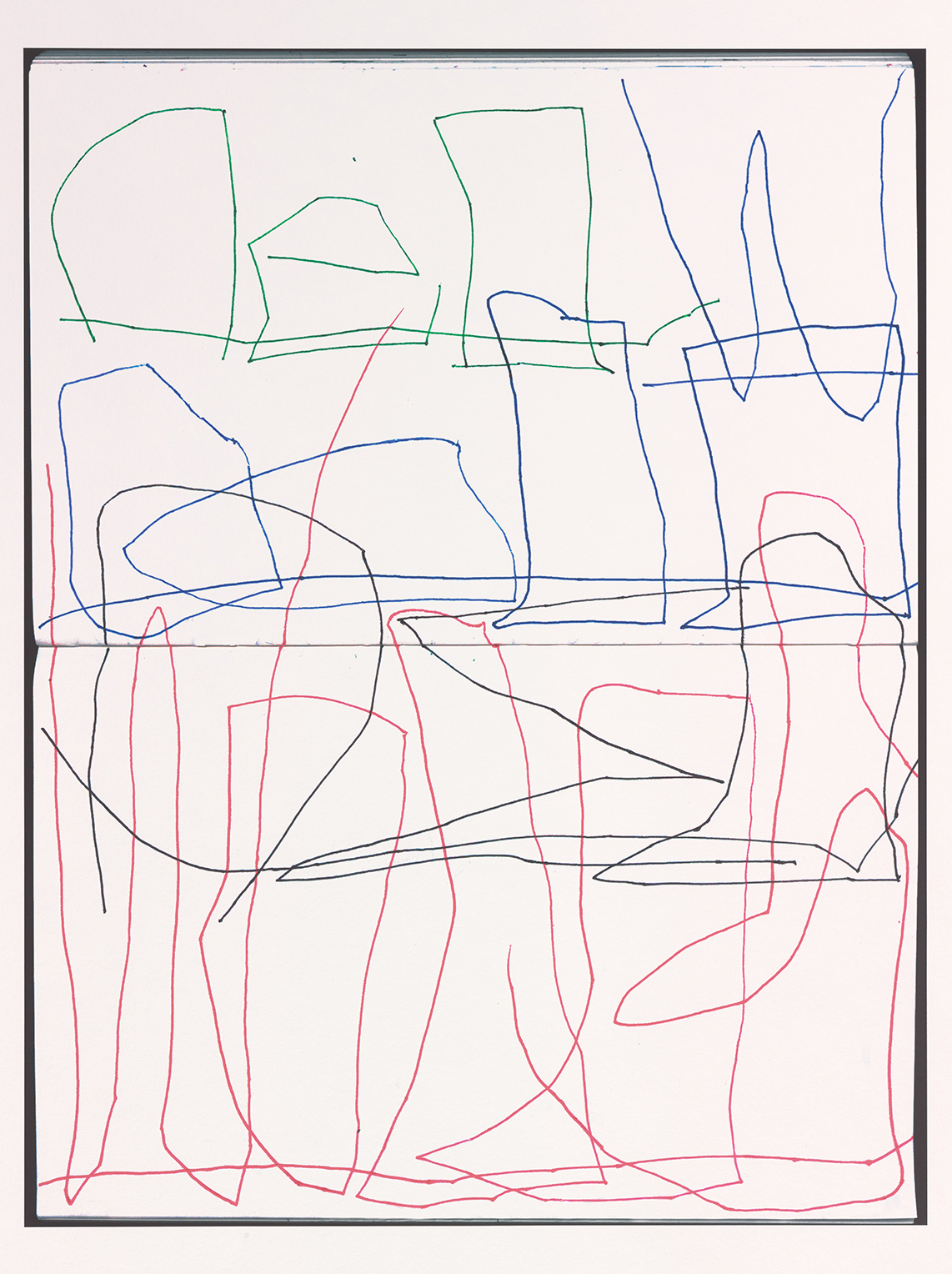 Robert Grenier, RED W/OOOD/RED/WOODS, 2004. © Robert Grenier. Courtesy: Yale Collection of American Literature, Beinecke Rare Book and Manuscript Library, Yale University, New Haven
Not just any machine. What I'm most interested in is motion, movement. That's always been the most important thing. From A to B, hence: line. I have this body here, and it's really good for nothing other than pure motion—forming ways across the scape. The face (the scape/face, facescape, in this particular instance, being paper). Hence: vehicle. Body-mind vehicle. Trance poetics of vehicularity. Vehicularity being an automaticism. Because: 1) all writing is, and 2) I'm a machine. Everything is so bizarre, the wind. Nature also has many forms of writing. The waves (as Virginia Woolf recognized and managed to translate in the novel she named after them). The clouds in the sky. Writing like this is not contemporary. This is because it is produced outside of time, in a state of trance mindlessness; it comes from the past and the future; is detached from the now. This is work that resists any sense of belonging. In its intention, its will to asignify, scrawl cannot be eaten up by any moment. These new forms of wild writing of course necessitate new ways of reading. One can read this writing according to qualities like stroke, rhythm, movement, gesture, systematicity, consistency, resistance. This is not about defying meaning formation; it is about embracing other means of making meaning. It is, in the words of literary critic Marjorie Perloff, a poetics of indeterminacy. Language in the expanded field.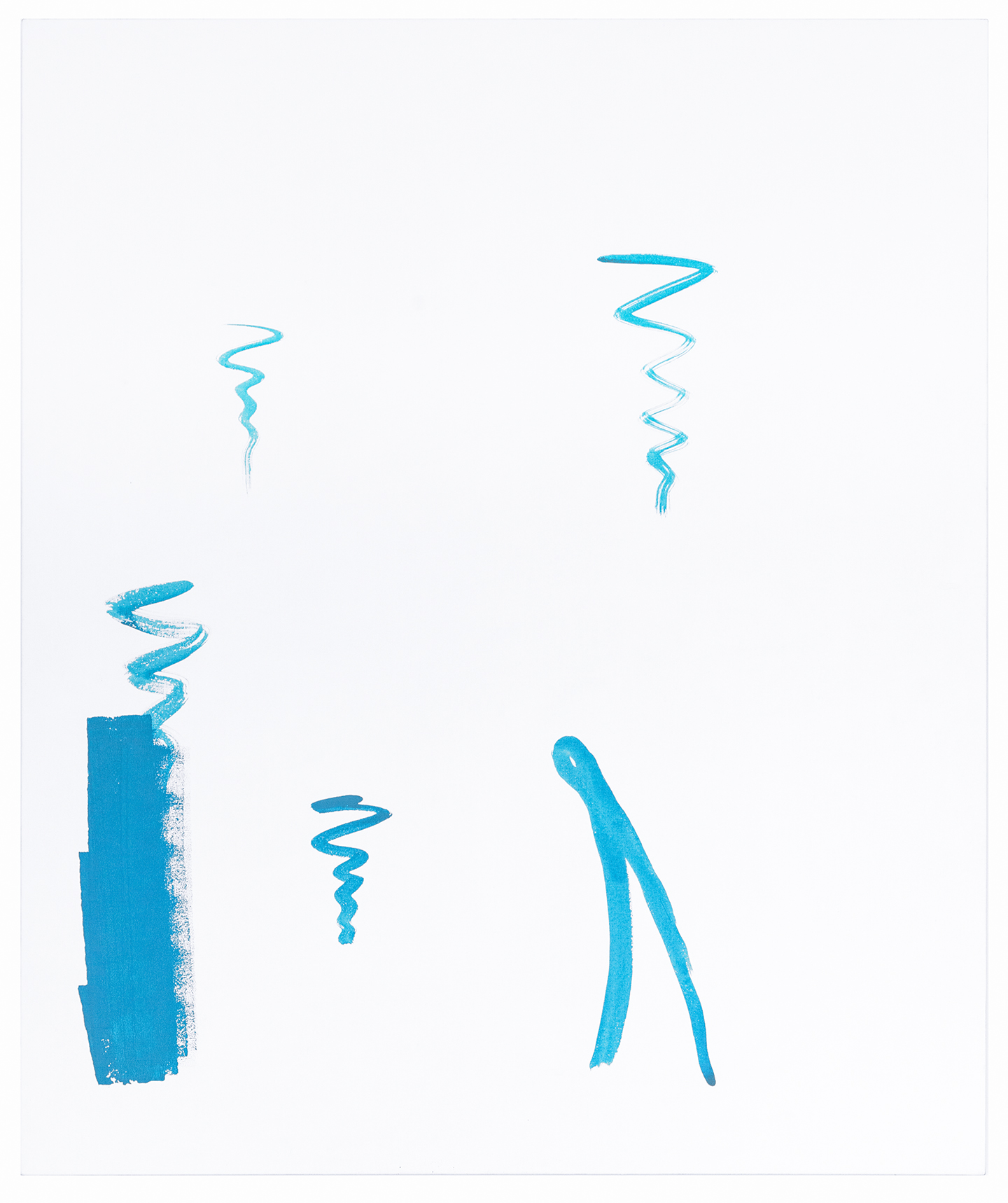 Michael Krebber, MP-KREBM-00068, 2013. © Michael Krebber. Courtesy: the artist; Greene Naftali, New York;  Maureen Paley, London
Travis Jeppesen is the author of See You Again in Pyongyang, The Suiciders, Victims, Wolf at the Door, and All Fall, among other books. In addition to his fiction and art criticism, he is known as the creator of object-oriented writing, a metaphysical form of writing as embodiment that attempts to channel the inner lives of objects. His first major object- oriented writing project, 16 Sculptures (Publication Studio, 2014), was featured in the 2014 Whitney Biennial as an audio installation and was the subject of a solo exhibition at Wilkinson Gallery, London. His new book of essays is titled Bad Writing (Sternberg, 2019). Jeppesen is based in Shanghai, where he teaches at the Institute for Cultural and Creative Industry at Shanghai Jiaotong University. 
Originally published on Mousse 69