EXHIBITIONS
Andrea Zittel "Fluid Panel State" at Andrea Rosen, New York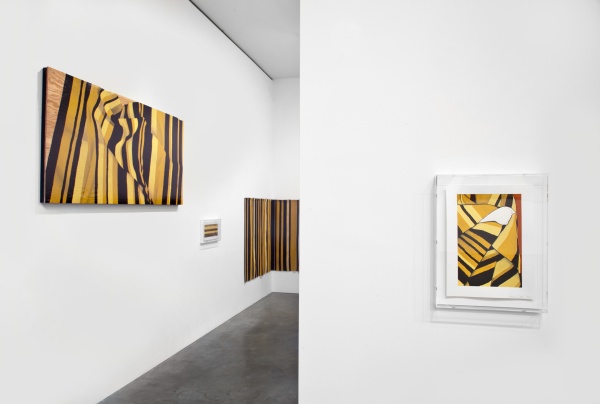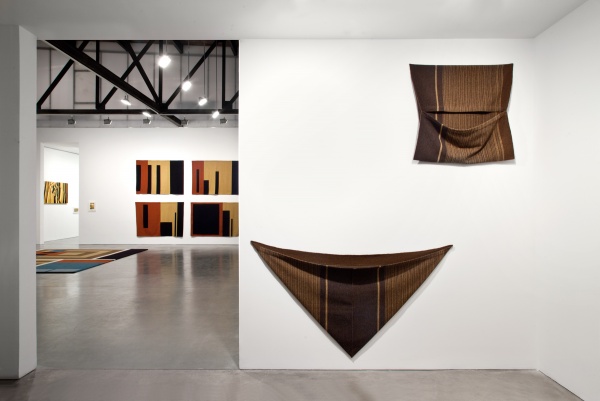 "The panel is interesting because it is a plane liberated in space. A 'super plane' that can transcend the limitations of two dimensional space without ever actually becoming three dimensional." (excerpt from "Andrea Zittel, Gouaches and Illustrations", edited by Theodora Vischer for Schaulager)

Since the early 1990s I have been fascinated by various ways that we create categories, definitions and rules as a way to generate order and meaning in a seemingly chaotic and often difficult to navigate world. For instance, I find myself analyzing the subtle distinctions or social roles that separate fine art from design – while trying to understand what psychological need this separation serves. Or on a more fundamental level, I wonder how we attribute roles such as "table" or "bench" to a horizontal surface on which things can be placed, or "art" to a flat element that is hung on the wall in order to be looked at. My intention is not to collapse these categories and value systems but rather to reveal their overlooked significance and to understand our inherent psychological need to give objects personal and social relevance. A panel is a perfect example of an amorphous form that can slip between categories and social roles depending on subtle contextual shifts. A panel is a flat section of a plane that can be assigned many different functions: a doormat, a tablecloth, a bath towel, a 4×8 sheet of plywood, or a piece of printer paper. A panel can support, cover, divide or serve as a visual object. A flexible panel, such as a textile, is particularly interesting because it is in essence flat, but can transcend twodimensional space to become a dynamic three-dimensional object. I like to think of this kind of situation as a "Fluid Panel State."
Identifying and exploring these sorts of nuances have been at the root of some of my earliest bodies of work: "A-Z Covers" (1993), velvet, wool and linen blankets, "A-Z Carpet Furniture" (1993), furniture which rides the boundary between literal function and the representation of function and "A-Z Personal Panels" (1997), Russian Constructivist inspired garments made out of rectangles. All of these works exist between abstract and literal potential – highlighting the slippage between formal art object and useful possession.
This exhibition will extend these ideas, emphasizing the tension that comes from our culture's dual-sided attraction to consumable "art" objects. On one hand we want to fill our lives with beautiful and well designed objects that we can intimately engage with in the act of day to day living, and on the other hand we yearn for objects that are charged with the authority of art history and/or ideological content. We have a fascination with artisanal art objects usurped from other cultures, because they bridge these two desires and can be imbued with a sense of meaning or cultural relevance that is parallel to that which is imparted onto fine arts. For instance, Mies van der Rohe – a maker of modern ideology – was obsessed with both Navajo rugs and paintings by Rothko, which he would hang together on the same wall.
I have chosen to work at the intersection between textiles and painting as both are formal, tactile objects that are embedded with a conceptual language that comes from their social history and technical act of making. In this case I have imposed my own set of rules (presented as a series of instructions) to the weavers, who are a diverse, highly skilled group of artists and artisans from all over the country. The end result reflects duration as well as technical and subjective decision-making processes. For example, a series of striped panels have been generated by asking the weavers to switch thread colors with each new weaving session – marking the beginning of each day with a strip of light yellow. Or, for a series of geometric panels, the weavers are simply given a set of instructions, similar to those used by Sol LeWitt to generate wall drawings – only the weavings allow for a predetermined range of subjective decisions. My goal is to make a work that is simultaneously a highly rendered artisan object, conceptual art, and functional object.
Another ever-evolving project based on a series of "rules" is the "A-Z Uniform Series" (1991-present). Between the years of 1994 to 1998 I experimented with ways of making garments solely out of rectangles of fabric – based on a Russian Constructivist dictate to not adulterate the "true nature" of the fabric, which is woven in long continuous rectangles. In the case of this newest series of uniforms, I have returned to the this format with panels woven directly to the dimensions of the body, so there is no waste or fabric left unused.
In the exhibition are also new works from my ongoing series of "Prototypes of Billboards, " "A-Z Studies for Furniture, " and diaristic gouaches. I have always been interested in the crossover between fine art and commercial art. Early on, I started to paint in a more commercial and illustrative manner, which felt completely liberating, as I was no longer struggling with the ideological weight of representation in fine art. Because we already understand advertisements to serve a function of persuasion, they already read as a potential "fraud, " which somehow makes them feel more truthful since their role as propaganda is so transparent. All of these new works are representations of the "panels" in themselves.
"A-Z Carpet Furniture" is another work that highlights the slippage between represented space and literal space. It hovers between being a representation of something (it can hang on the wall or lay on the floor) and the actual thing itself (it is meant to be used just like any furniture). The newest and largest work of the series is "A-Z Carpet Furniture: Cabin, " which is a panel that creates a functional space which fits exactly into 12' x 16' cabin that I one day hope to acquire, adjacent to my current home A-Z West. I often fantasize about one day retreating to this cabin with nothing more then my carpet furniture, a camp stove and many stacks of books.
– Andrea Zittel, 2012
–
at Andrea Rosen Gallery, New York
until 27 October 2012
–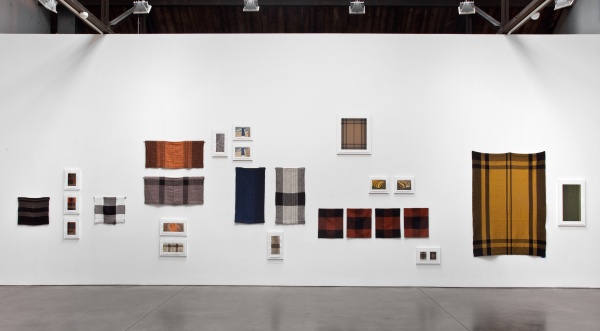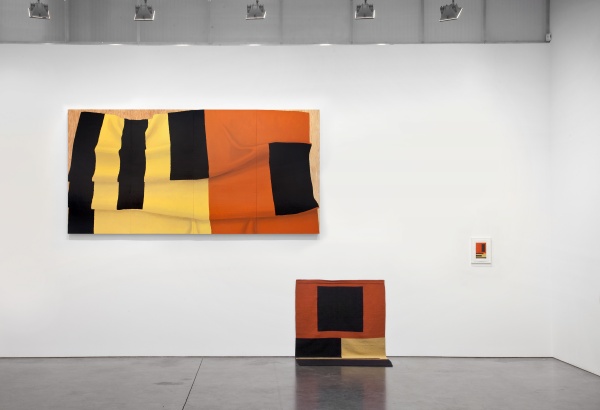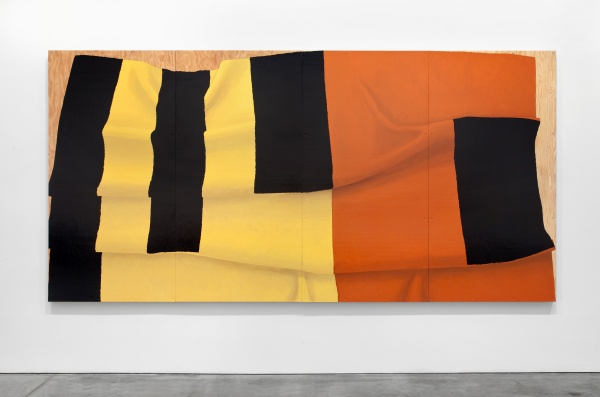 Prototype for Billboard: A-Z Cover Series 2 (Rust and Gold Geometric), 2012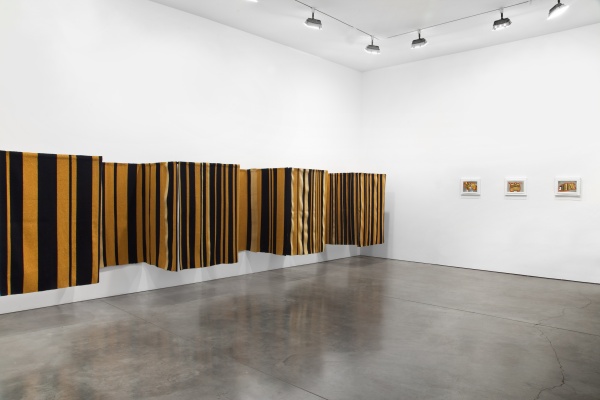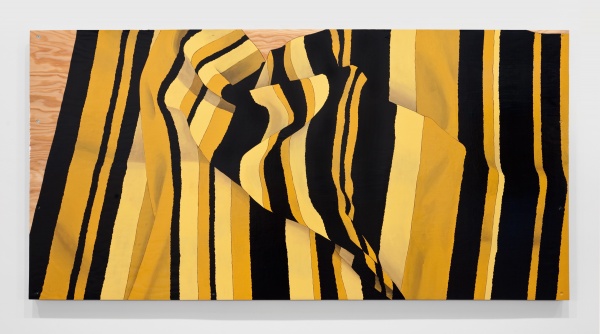 Prototype for Billboard: A-Z Cover Series 1 (Gold and Black Stripes), 2012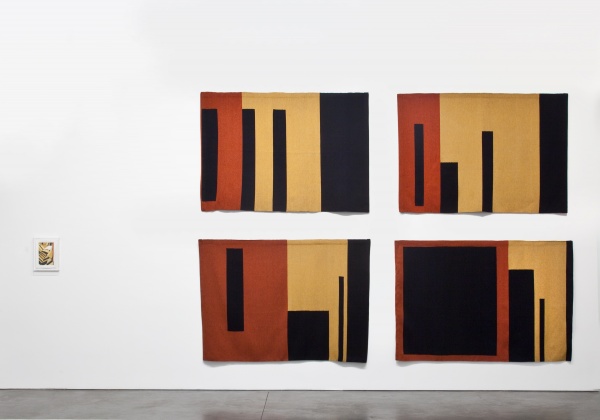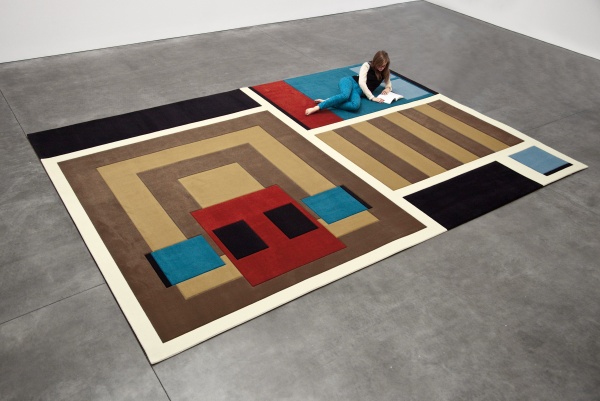 A-Z Carpet Furniture: Cabin, 2012
–
All images – Courtesy of Andrea Rosen Gallery, New York