ESSAYS Mousse 43
We Don't Need a Dislike Function: Post-Internet, Social Media, and Net Optimism
by Andrew Durbin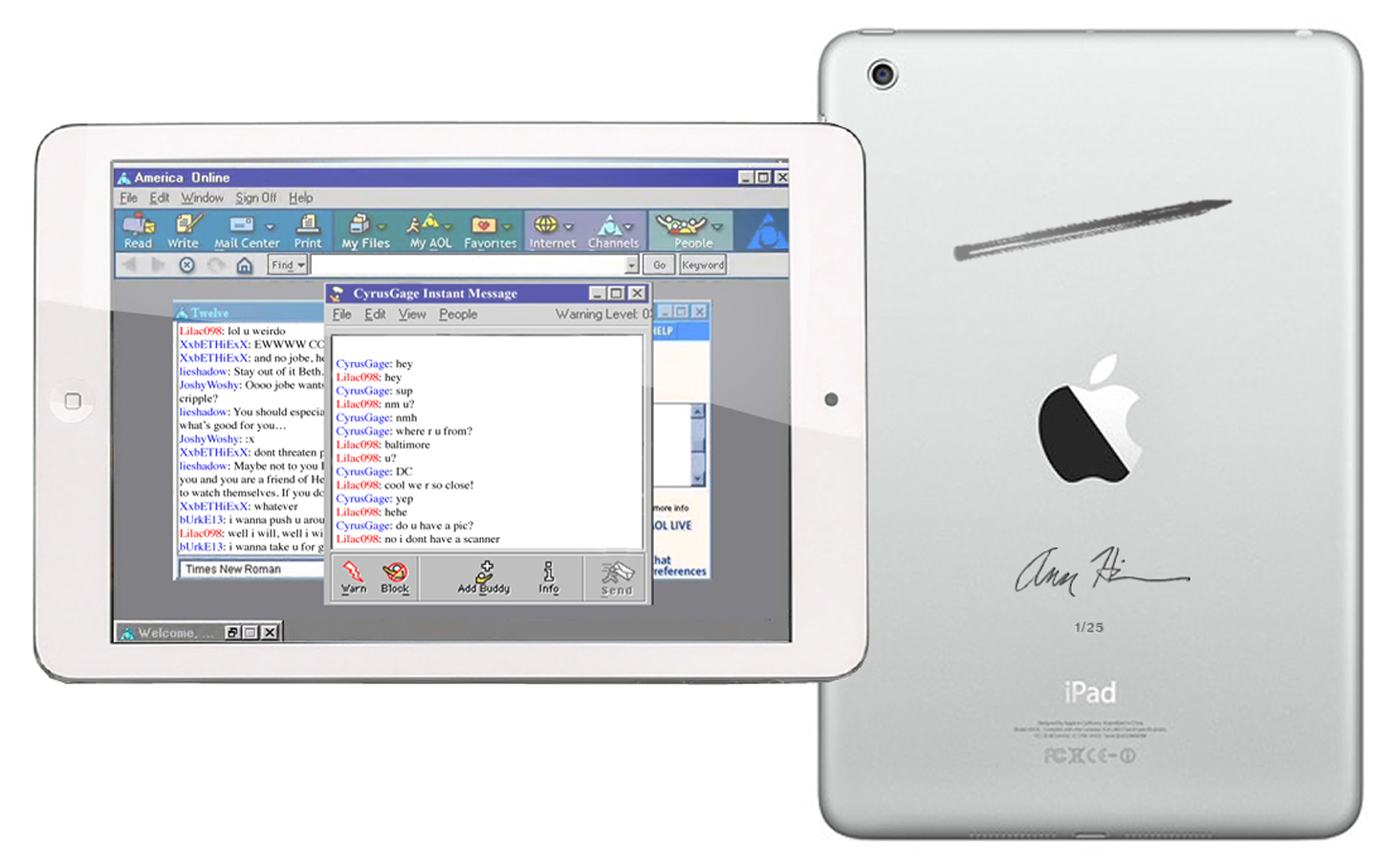 Ann Hirsch, Twelve, 2013. Courtesy: the artist 
In her recent essay "Too Much World," Hito Steyerl asks us to imagine "an Internet of things all senselessly 'liking' each other, reinforcing the rule of a few quasi-monopolies. A world of privatized knowledge patrolled and defended by rating agencies." For Andrew Durbin, it isn't a difficult world to imagine. In fact, it is very much the world we live in now, one in which artists, writers, and bloggers struggle to overcome the web's imperative to brand and make work in accordance with the corporate gesture to "like" and "share." And for Durbin, the art that counts is that which counters the network by exploiting the senselessness that alarms Steyerl but few others.
PLAYGROUND
Internet art often narrativizes its production as a pozzy, optimistic, even utopian engagement with followers and friends on the corporate web, a not-so-bad playground of free exchange, following the happy regime that demands we always like and reblog or else suffer obscurity. In 2014, the only measure of quality is likes. Despite the supposed openness of social media interfaces, art made and distributed through these networks is critically subject to their terms and conditions. In October 2013, for example, the New York-based artist Ann Hirsch staged Playground at the New Museum, a performance based loosely on the artist's cyber sex history set in a fictional 1990s AOL chatroom called Twelve, which she released as an app of the same name. Apple hosted Twelve for roughly two months before it removed the app from the App Store because it violated Apple's terms and conditions. Specifically, they faulted its "simulation of a desktop experience," its "use of AOL branding," and its sexual content. [1] Apple declined to review Hirsch's case, arguing censorship was not a "legitimate contention." Four months later, Klaus_eBooks, which originally commissioned the app for the New Museum, released an editioned set of jail-broken iPad Minis, each preloaded with Twelve and signed by the artist. As this incident highlights, these seemingly open, friendly networks—iTunes, Facebook, Tumblr, etc.—are in fact sites of intense, often invisible struggle, wherein content competes not only for likes (and virality), but for a place on the network in the first place, always granted until revoked if found to violate the unreadable fine print. And if it fails to accumulate enough likes, it recedes from the newsfeed. While we are free to like, only social media's corporate administrators are privileged to dislike—and remove content. Yet distaste remains a definitive aesthetic response, and central in many cases to the artists who use social media. How do I dislike your stupid profile picture? Or a jpg of your shitty politics? I share them widely.
TERMS AND CONDITIONS
Sometime in the mid-2000s, net art began to keep a second home off the web, in the real space of galleries and associated venues. While this art, some of which has recently been termed "Post-Internet," existed as a jpg, pdf, tiff, or gif circulated on artist-made websites and blogs, Facebook, Twitter, and later Tumblr, it doubled offline as tangible, physical objects (often in multiple versions of itself.) Although Lev Manovich first used the term "Post-Internet" in 2001, Marisa Olson popularized it in a 2008 interview on we-make-money-not-art.com[2], citing Thomas Beard's Rhizome interview with net artist Guthrie Lonergan from that same year. In that interview, Lonergan expressed an interest in moving beyond the Internet's (and net art's) "kind of disrespect for objects" into new, Internet-aware territory that would allow for the creation of objects that "aren't objects."[3] Later, younger artists and writers further parsed the term[4], emphasizing a diversified materiality (and immateriality) that reflected upon its iterative possibilities in both "real life" and online. As such, art increased its attention to how Internet-native communities also form offline.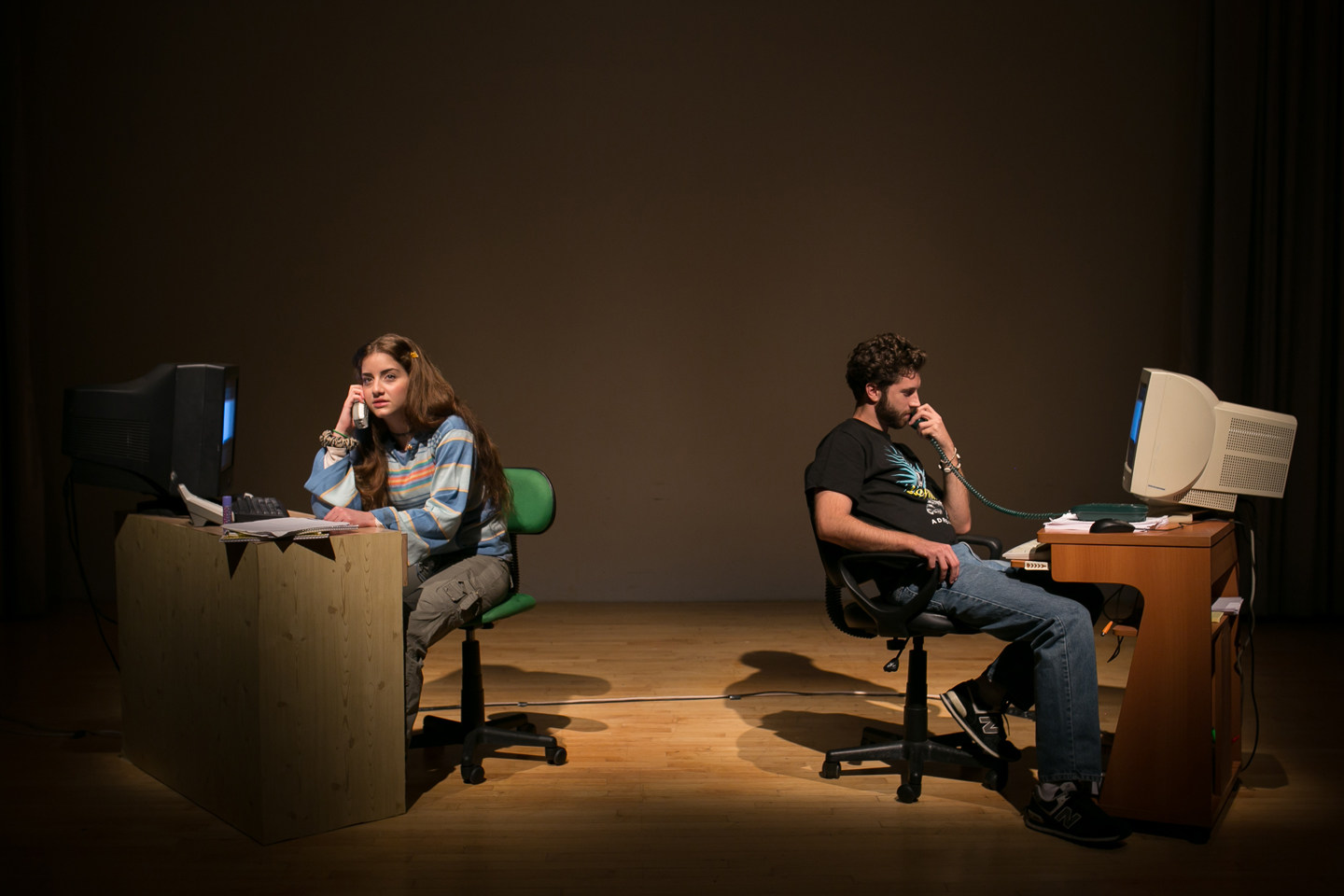 Ann Hirsch, Playground at The New Museum, New York, 2013. Courtesy: the artist. Photo: Oresti Tsonopoulos
In "Notes on Post-Internet," the artist and writer Jennifer Chan points out that net art's "optimistic tendencies […] possessed little if any critical background towards the political implications of existing on any network,"[5] though multiple attempts were made by Nineties net artists to subvert the browser and the structure of the Internet. With some exceptions, Post-Internet art has adopted an even less critical pose—however difficult it remains to assess what is intentionally or unintentionally critical in net and Post-Internet art—in incorporating and aestheticizing accelerationist capitalist strategies of branded production on social networks. From Ryder Ripps' RedBull residency to the Jogging's Powerade memes, brands—and branding—became essential to how Post-Internet art relied on and reflected on the corporate web as both a distribution network and a source for visual material, even if it became increasingly unclear whether this was "political" or not.[6] For Post-Internet artist Brad Troemel, social media made art populist by providing new, "accidental" audiences for art, augmenting Boris Groys' binary between "unpopular democratic art vs. popular undemocratic art" with a third, literally redundant term: "popular art that is also democratic."[7] But doesn't "popular democratic art" represent yet another way the net utopianism of the 1990s has reinvented itself, this time valorizing audience participation as ipso facto good, even if the networks themselves might not be?
In a conversation with Lauren Cornell, Ed Halter raises an important question about Post-Internet art's use of corporate strategies: "Couldn't you argue that this line of work—seeing culture as the new nature—not only acknowledges the logic of the market, but basically endorses it, refuses to offer any idea beyond it?"[8] It seems that one way that Post-Internet art has managed to disrupt the logic of the market has been through the ways it tests the limits of social media. I would characterize much of Post-Internet as neither optimistic nor pessimistic, but rather as fixed in a critical holding pattern that highlights the machinations of semiocapitalism, but not its effects. Sometimes. It frequently slips into bleary humor, as in Madison Beer's recent shoot for Dis magazine, which features plants potted in beanies with Chelsea Manning and other whistleblowers' names printed on the side of the hat. Politics and ecology as interior design.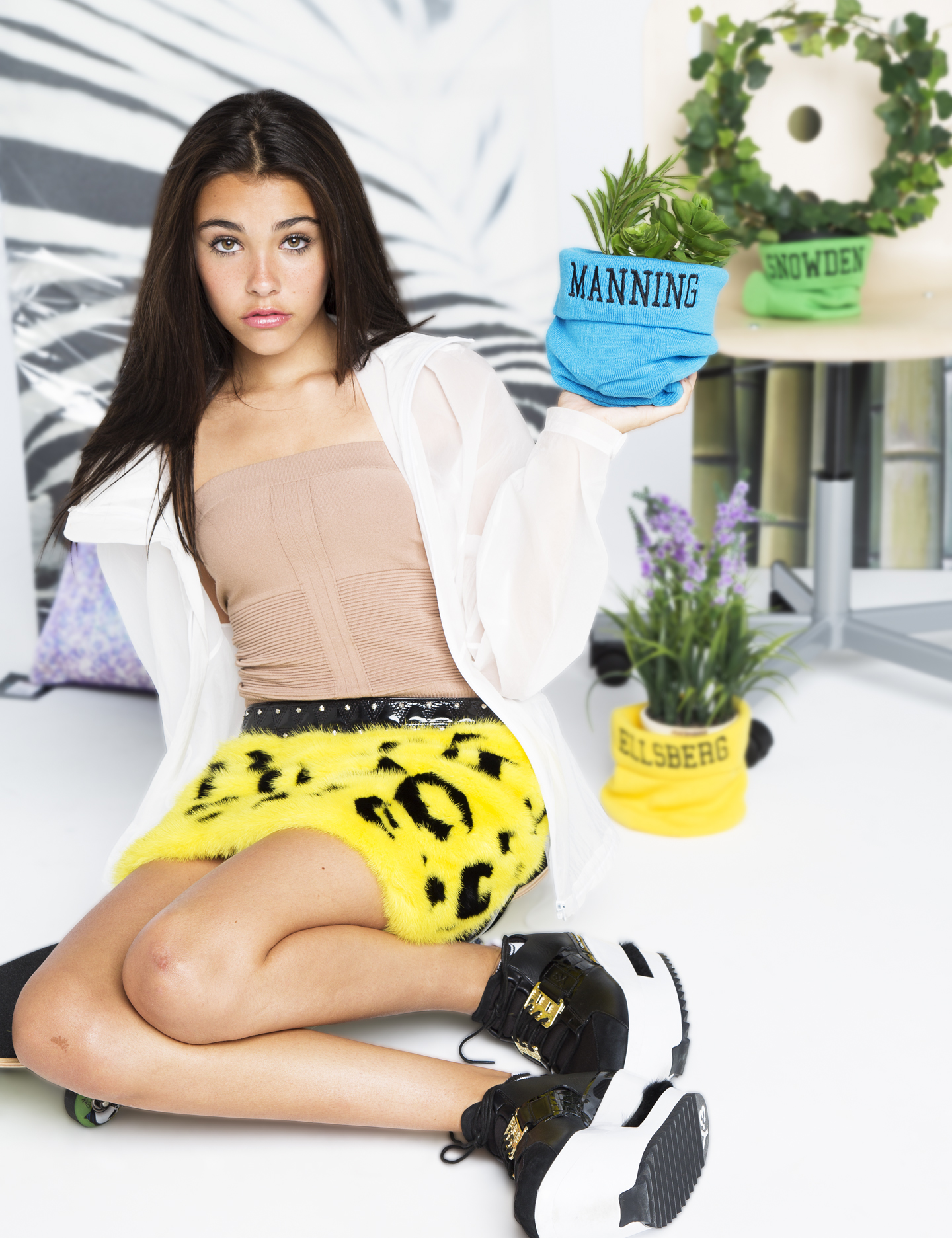 The Jogging and DIS, Political Freedom Planting Pots, 2013, from Madison Beer #NoFilter series. Courtesy: DIS Magazine. Photo: DIS
Post-Internet art largely avoids any extended consideration of the political and natural environment and has focused its critique instead on what Cornell has called the "mobile, decentralized information environment,"[9] an environment that collapses the political and the natural into one. Perhaps this info-environment has more or less replaced the one in which waves crash on beaches and trees are logged for paper, as the "space" for art to consider; perhaps it has been so thoroughly infiltrated by technology that it no longer exists. But it seems to me that it isn't fully gone yet, and that it is incumbent upon an art that relies on the technologies of (drastic) consumption to reflect on that original environment whose consumption it so thoroughly aestheticizes. Too often it doesn't engage in this reflection, leaving us to admire plants potted in beanies. But there have been distinct moments in which Post-Internet art has offered a salient critique of the ways in which social media presents itself as an open field of exchange, above and outside politics.
THE SPECULATIVE OBJECT OF IDEOLOGY
Social media ask: Who has time for art—or anything for that matter? In a time of no time, wherein the only way to be noticed is to be always noticed, Post-Internet art has seized on the mobilized, always-posting blogger/creative/artist/alt lit poet as web anti-flâneur, exploring the net, yes, but also filling it with content, endlessly elaborating the city s/he is incapable of fully exploring. These anti-flâneurs trawl the web and reformat what they find and make into a politics of how we produce (or name) art objects rather than of what we produce. In his essay "Athletic Aesthetics," Brad Troemel describes the "aesthlete" as an overproducing artist of this how. The aesthlete "overwhelms his/her audience" with content "rather than provide them with a selection."[10] Aesthletes post twenty albums of images to their Facebook a day, an exhaustive practice exemplified by the Jogging (curated in-part by Troemel), which invites artists to contribute to a continuous stream of image content that follows similar visual (and now political) logics.
It is hard to define what makes a Jogging post, but often it looks like Madison Beer's potted plants, rooted in the ambivalent politics of obsolescence. For a time its images humorously (?) and post-ironically (?) submitted technology and brands to the natural or human forces that underscored their fragility—and, in the best, the fragile ecology of our reliance on these technologies of exchange. The Jogging was:
parodied obsolescence
branded détournement
content as art
endless scroll of individual works, thus a useless archive
crucially: perhaps none of these things
It's never a joke anymore than it's not not a joke; sub-ironic in its dreamy, endless scroll of user-submitted images, it's a post-joke. It's actually very "bro," a category that is not only purveyor of the joke or prank but its victim too: fail videos, the flat affect of homoerotic (but often homophobic) fraternity, of the pluralized "experience of maleness" and its constituency (brands: Five Hour Energy, Xbox, Powerade; hyper-gendered bodies: male, female; athletics, the gym). The Jogging bros things, communalizes them by imbuing diverse objects—iPhones, a tennis ball, a soda can, a watermelon—with fraternité, establishing an excited sense of things as being related in mysterious ways, like university freshmen who discover a common, if abstract, bond with other "brothers" in a frat house or sports team. It goes so far as to bro its own platform, converting "blogging" to a sport—scrolling as derivative of exercise.
Recently, the Jogging has largely changed the images it generates from the ones described above to images that parody diagrammatic right wing memes, highlighting a new logic of the obsolescent politics of social media. The Jogging has copied the visual tropes of the right's conspiratorial jpgs to expand on even more absurd conspiracies, torqueing right wing conspiracy logic with impossible "facts," a unit of truth the right wing meme seeks to uncover from under the obscurity of government corruption[11]. These facts are often hiding in plain sight. But for the Jogging, facts obscure obscurity, and so its memes seek to bring that obscurity to the fore. After the first months of these images' appearance on Tumblr, Tea Party Republicans and other far right conservatives began to reblog and share these images on their Facebook pages in earnest, circulating them as authentic expressions of their beliefs even though, under the most basic scrutiny, these memes "say" "nothing" by saying nothing.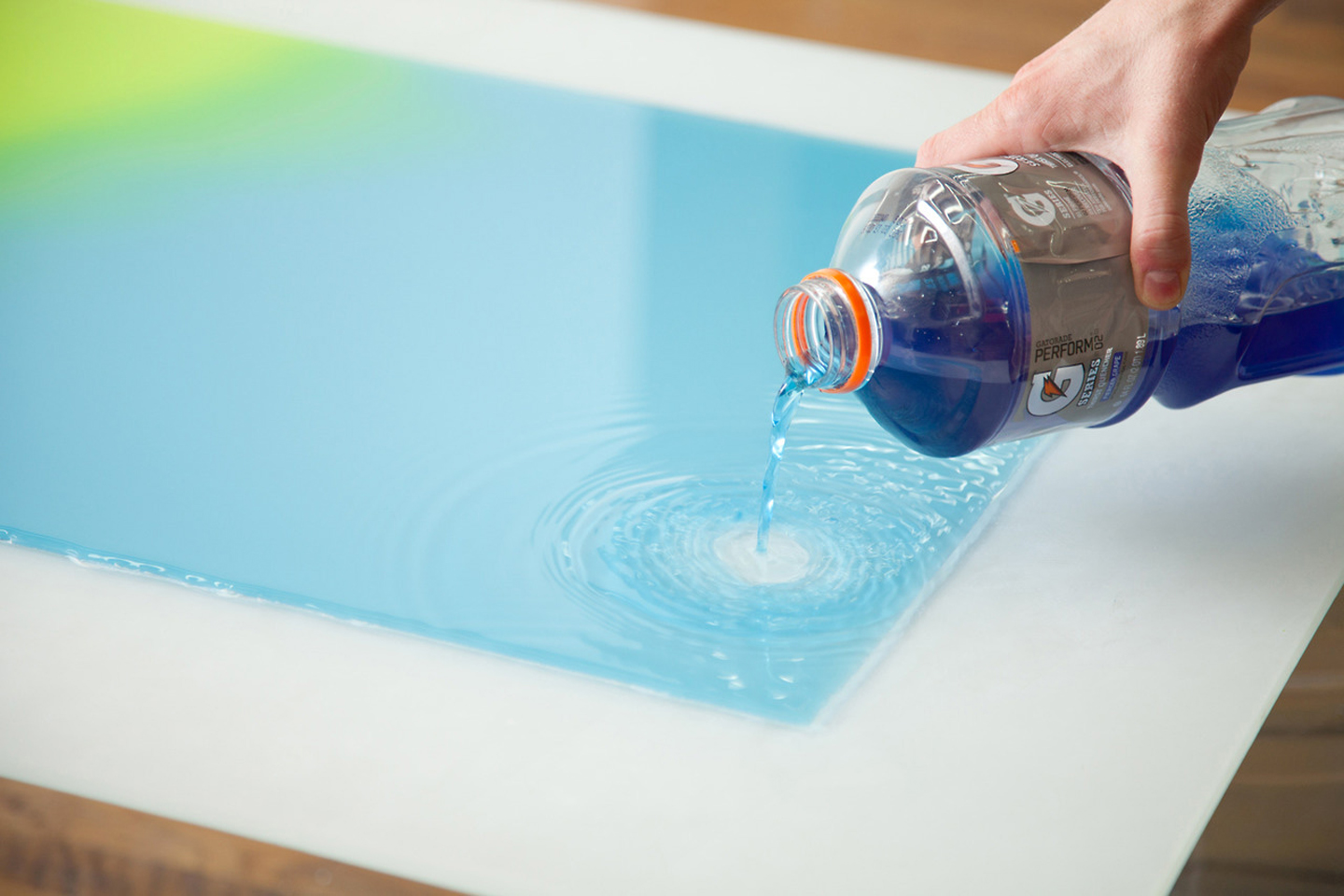 The Jogging, Rationed Water, 2013. Courtesy: The Jogging
These recent images—a shift initiated by Troemel and Edward Marshall Shenk—express a Hegelian idea of Aufhebung (to borrow from Bettina Funcke, who used the term to describe Warholian sublation in pop art) that is, the idea of the "upheaving" of things in the "negation of their negation" that allows the original thing, raised to the fore, to be preserved even in its destruction. For the Jogging, the preserved/destroyed is the ideological object. Funcke imagines a figure in excavation, which "in order… to be lifted up, it must be dug out of its ground, thus producing a 'heap' under which what used to be still lies under a new and higher surface."[12] It is easy to see an interpretative framework for the Jogging's conservative posts in this image of the excavated figure. The Jogging and its contributors extract this ideology in order to upheave it in a negation of its original intent or context that simultaneously affirms its value as a message-carrier, underscoring the obvious: these conspiracies ultimately represent imaginative failures for the far right. The Jogging uses the social network to feed the right explicit representations of that imaginative failure, calling into question the authority of these right-wing administrators to clarify what it is they share.
The Jogging's speculative objects of ideology reflect on the network and offer a third way between the optimism and pessimism that has defined net and Post-Internet art. This break is characterized by a strategy of upheaval, a method that rethinks the translational, diffuse Internet object and its life online and how they might politically engage community. The Jogging's conservative memes color the water, allowing us to follow a meme's migration across radically different contexts and trace how meaning shifts, even if its "message" doesn't. The Jogging transformed itself by annihilating itself, co-opting an accidental audience that had been previously far, far out of reach. By not only allowing for the space of misinterpretation (a hallmark of the web in its numerous forums and anonymous messages), it elevated that misinterpretation to a unique instrument for expanding its audience, for making "contact" with divergent webs outside the normal purview of contemporary art. In doing so, it made an even more remarkable translation than jpeg to object, it translated itself into a practice of outside, to borrow a phrase from the poet Robin Blaser, by bringing the outside in. Blaser wrote nearly forty years ago: "A reopened language lets the unknown, the Other, the outside in again as a voice in the language. Thus, the reversal is not a reduction, but an openness. The safety of a closed language is gone and its tendency to reduce thought to a reasonableness and definiteness is disturbed."[13]
RETURN OF THE REAL
The rise of the art fair culture stretched along the geographical axes of Beijing and Los Angeles, Basel and São Paulo, has transformed much of the art world into a large-scale circuit party, held mostly at night, fueled by day drinking, room service, afternoons on South Beach (or at Berghain), sales, dinners, after parties, after after parties, and the associated vacuity of meeting and adding a collector/gallerist/artist/writer on Facebook, whether at the 21:00h dinner or much later at Lady Bar in Basel. In this world, geographical and time-based distinctions break down, and the internationalized tweet, the Facebook post, the #artselfie increasingly signal where you are and who you are with and what you are doing, narrowly defined by their relationship to, and expression of, your career, transforming what typically characterizes the "social" of these networks (the "warm" family and friend moments and photo albums that Facebook uses to promote itself), transforming them into diffused LinkedIn-like pages in which career is developed and broadcasted to the members of the network as a new selfie, one in which the clearest picture is of a brand and not a subject.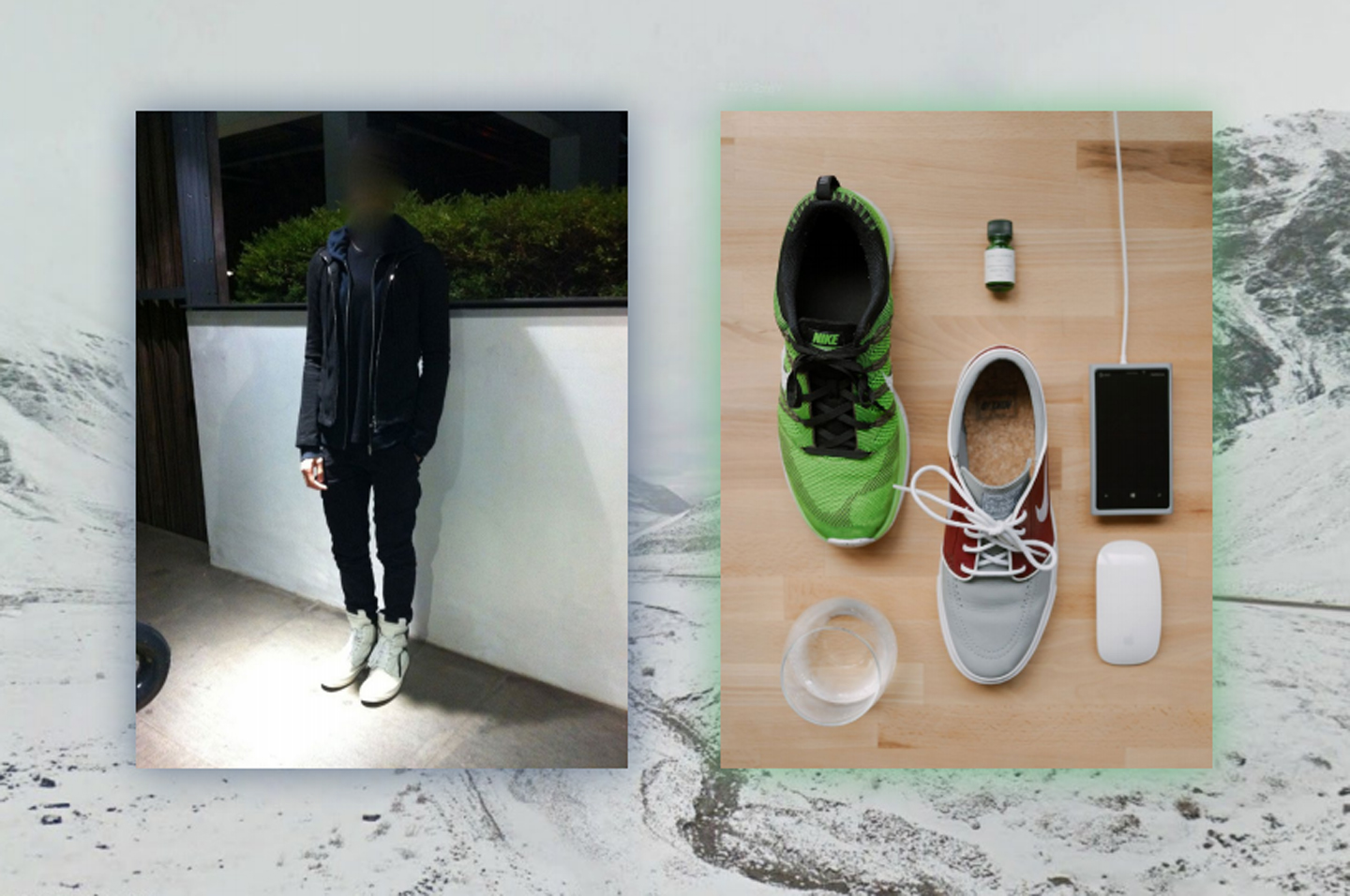 Image from Youth Mode: a Report on Freedom. Courtesy: K-Hole and Box 1824
Looking toward this exhausting art world, trend-forecasting group K-Hole hopes for another practice of outside that might network disparate communities into a larger, more inclusive one. In a recent report titled Youth Mode (a collaboration with Box 1824,)[14] K-Hole addresses the migration of the Internet into the space of the real and its attendant culture of alienation (characterized by extreme public cell phone use at parties, avoidance of eye contact, and a general malaise/wish to be online at all times) by proposing "Normcore" as a new social category for the "strategic misinterpretation" of the varieties of cultural "experience," which K-Hole de-hashtags in order to reassert the individual's right to freely express themselves in the métiers defined by the scarcity of difference that administer and control that experience. For K-Hole, normcore makes room for the sincerity lost in the totalizing, "mass indie" culture that organizes taste into harmonious consumer choices, acting as its counterpoint: "Normcore capitalizes on the possibility of misinterpretation as an opportunity for connection—not as a threat to authenticity." Choice is situational and always subject to (rapid) change. Normcore generates a celebratory feeling of belonging, non-exclusivity, and individuality not predicated on its isolation amid the hypersensitive particulars of scenes and cliques. And as K-Hole clarified in a recent talk at MoMA PS1, it is most productively experienced at night, in "nightlife," amid the libidinal economies of the nightclub/bar/party/rave.
Vaguely optimistic, Normcore recuperates party culture as a space for sincere play, play characterized by actual—rather than virtual—connection. K-Hole pushes back against "mass indie" by splintering its isolationist territories and reconstituting the fragments into a patchwork community wherein the divisive, net-oriented competitiveness of the current scene(s) is replaced by inclusiveness. No photography, no tweeting, no IRL, rather the return of a pre-Lacanian real, a real real de-psychologized by invasive discourses of the body, a simple real of tactility and the pleasure of getting to know someone, a utopian real that cannot and even refuses to exist except in the imaginary of emergent Normcore culture.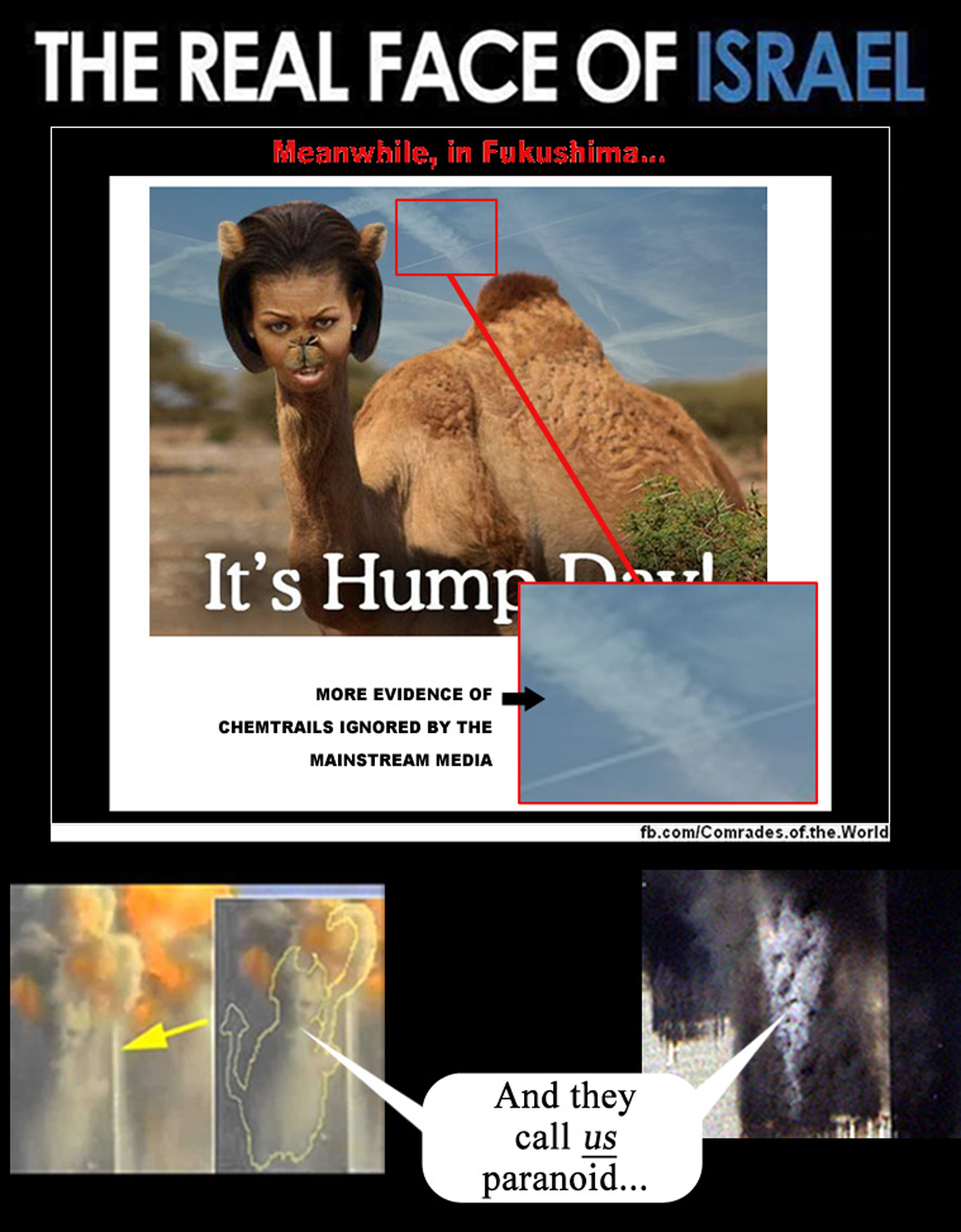 Edward Shenk, More Evidence of Chemtrails Ignored by The Mainstream Media, 2014. Courtesy: the artist
I am suspicious of K-Hole's Normcore, even though I appreciate its drive toward a supposedly non-hierarchical social engagement predicated on the genuine, even sincere desire to know someone else and feel the "freedom to be with anyone," too. Normcore's move "away from a coolness that relies on difference to a post-authenticity coolness that opts in to sameness" ignores the ways difference and sameness are defined within the larger systems that authenticate them. Any mode, youth or otherwise, that effaces difference is ultimately hierarchical as it must rely on the instrumentalization of privilege via a calling forth of authority (often white, male, and straight) to assert that there is no hierarchy in the first place. But there is always a political and economic structure in place for determining how youth and nightlife are experienced and by whom, mobilizing and compelling bodies along vectors specified and conditioned by discourses that establish the two categories in the first place. That structure is most thoroughly locked-in when it affirms that it does not exist, that within it you are "free" to "lose yourself" to communalized pleasures. But whose sameness are we opting into?
SELFIE OF THE YEAR
Against this promise of a recuperated nightlife, the artist and performer Juliana Huxtable has offered a unique platform for meaningful social engagement in the various parties and events she hosts, including her #ShockValueNYC. Networked to other similar parties hosted around lower Manhattan and Brooklyn (especially Bushwick) like WestGay, 11:11, and those at the Spectrum, Huxtable's events constitute an open space in which difference—subtle or exaggerated, expressed in fashion or in gender identification or behavior—is not subsumed to the core energies of normativity, which super-conduct an homogenizing American nightlife; it operates against it, fleshing out a space in which you are permitted to body yourself and circulate on multiple platforms offline and on. This nightlife of difference-expressing, alternative bodies also calls into question what it even means to "be yourself" by cycling through visual and social references from the previous thirty or so years, from Warholian superstars to the ballroom culture of Harlem in the 1980s to 2000s cybergothic, self-historicizing itself as a scene among scenes, virtually out of time as much as it is out of gender.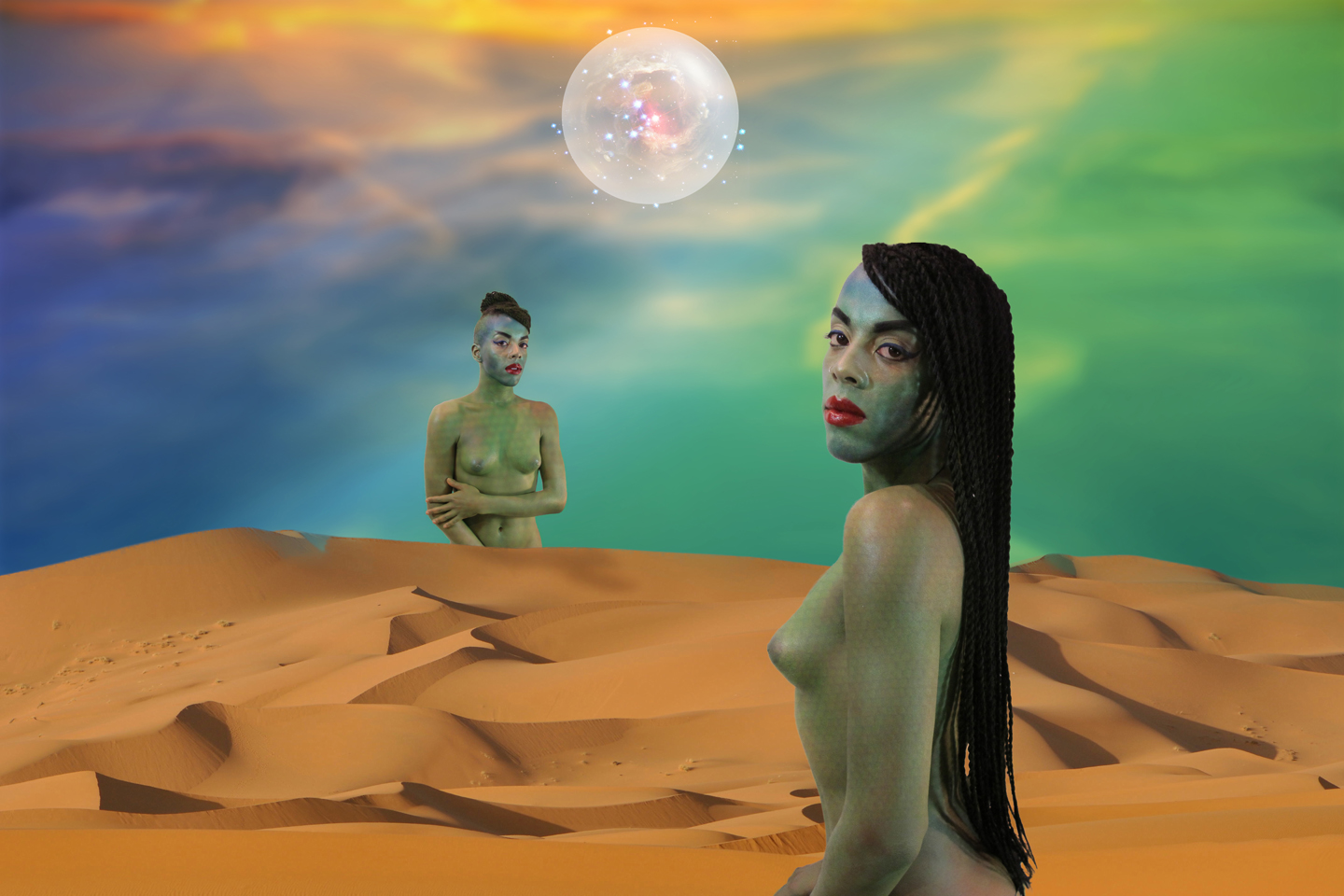 Juliana Huxtable, Nuwaubian Princess, 2012. Courtesy: the artist
The integration of the Internet into IRL has allowed for more choice and the opportunity to reference the varieties of the backlog, leaving questions of "authenticity" to seem as dated as K-Hole's name sounds in 2014. Huxtable's work—and the space it creates—is positive, open, inclusive, and difference-friendly. She uses hashtags #TRANSENCOURAGED and #FULLSPECTRUMRAGE to define these events for an online audience. Her parties and related performances, which rely on the web as a site of organization, promotion, and archive, become exactly the positive space for engagement that K-Hole mythologizes and cannot seem to locate. K-Hole seeks refuge in communities of sameness and comfort. Huxtable notes in an interview with Ana Cecilia Alvarez on topicalcream.info: "I don't want to go somewhere and feel completely at home. I want to be surprised by someone I see—to see different people exist together. The best is at the end of the night when the people who are here to just have a good time and dance indulge in the space."[15]
In her writing, Huxtable opposes the cis-masculine imperative that calls for bodies to conform to it. In a poem she recorded for Hood By Air's New York Fashion Week show, she calls for the annihilation of monogamy and divorce in order to make polyamority the basis of (idealized) community. For Huxtable, love is the requisite feeling that binds community, not youth, and frees us from the alienating over-interactive web. In this atmosphere, Huxtable elevates difference to an organizing principle for community that might actually return us to an IRL released from the scene-y fears that haunt K-Hole. She diagnoses our problem as the propensity to monogamy, which isolates and bisects individuals, continuously displacing love by forcing it to compete with a coupling desire that must ultimately die in order to live. Love is a compass, one that might point us to territory still further out: "SHOUT OUT TO MY URBAN ANGELS SEARCHING FOR POST-OR-PRE-GENITAL DESIRE VIA GPS,"
LIKE SNOT, MUCOUS, CUM, SHIT SWEAT-UNITING ELEMENTS AS THE BASIS OF REALITY
AND CLOTHING AS AN EXTENSION OF FLESH
MONOGAMY DIED AT THE HANDS OF THE FETISH
AS IT'S MANIFEST IN THE CARNAL MARKETPLACE OF DESIRE EMBODIED IN XTUBE AND POLYVORE
LOVE IS NO LONGER A LOVE OF A SINGULAR AND COMMITMENT HAS COLLAPSED AS ITS FRAIL AND EMACIATED LEGS GIVE WAY TO THE BURDEN OF THE DIMINISHING HALF LIFE OF THE SHARE AND RE-BLOG AS RE-IFY, AVOIDING ENTRAPMENT BY AN OVERLY SPECIALIZED AND SPECIFIC CORNER OF THE AESTHETIC MATRIX
MONOGAMY DIED AT THE HANDS OF THE POLYAMOROUS
AN EXTENSION OF ONE'S LOVE TO MULTIPLE AT ONCE
SPLITS TIME BETWEEN INDUSTRIAL WORKERWEAR, DISCOUNTED 'URBANWEAR' OUTERWEAR AND SECOND-HAND MILITARY SHOES AT THE SAME DOWN TIME
MONOGAMY DIED AT THE HANDS OF SERIAL MONOGAMY
[…]
MONOGAMY PROPER DIED AND WAS REINCARNATED—STEADY SINGULAR LOVE OF MUTABILITY AND CONTINUAL SHAPE-SHIFTING A-LA THE CYBORG AS LOVER. CONSTANT DECAY AND BIRTH. SOME PIECES ARE PERMANENT, OTHERS EPHEMERAL, DIMINISHING AGAINST THE HORIZON OF OPENNESS[16]
Decay, rebirth: a re-enforcement of the obsolescence of the body that re-privileges it as the superior platform for the mediation of the social. Decay gives things meaning: the you-IRL that obsolesces, not the you-online that replicates infinitely. If the condition of the world is, in fact, Post-Internet, and if we are to continue to believe in its liberating potential, whether it's the freedom to expand a social scene secluded in one of the world's cities united under the banner of art and partying hard or to organize a protest that will overthrow a government, then it is time to look toward that horizon of openness and force its homogenizing alternatives to diminish behind us as we approach it.
[1] Quoted material provided by James La Marre, who designed?the App.
[2] Olson, Marisa. "Interview with Marisa Olson." We Make Money Not Art. 28 March 2008. http://we-makemoney-not-art.com/archives/2008/03/how-does-one-become-marisa.php#.Uwy2r0JdU
[3] Lonergan, Gutherie. "Interview with Guthrie Lonergan." Rhizome. 26 March 2008. http://rhizome.org/editorial/2008/mar/26/interview-with-guthrie-lonergan/
[4] The writer Gene McHugh followed the development Post-Internet art on his blog 122909a.com, later published on Lulu as Post-Internet. But see also the writing of Brad Troemel and Artie Vierkant.
[5] Chan, Jennifer. "Some Notes on Post-Internet." You Are Here. Ed. Omar Kholeif. London: Cornerhouse. 2014.
[6] In, "The Image Object Post-Internet," Vierkant characterized Post-Internet by the "sincerity" of its translational practice. Brad Troemel made clear that Tumblr and similar platforms are "democratic" in his essay "The Accidental Audience."
[7] Troemel, Brad. "The Accidental Audience." The New Inquiry. 23 March 2013. http://thenewinquiry.com/essays/the-accidental-audience/
[8] Cornell, Lauren and Halter, Ed. "Mass Effect." Mousse. No. 41.
[9] Ibid.
[10] Troemel, Brad. "Athletic Aesthetics." The New Inquiry. 10 May 2013. http://thenewinquiry.com/essays/athletic-aesthetics/
[11] Other images in this conservative vein replicate the diagrammatic structure but insert nonsensical images from cartoons or random images from other memes.
[12] Funcke, Bettina. Pop or Populus. Berlin: Sternberg Press, 2009.
[13] Blaser, Robin. "The Practice of Outside." The Fire: Collected Essays. Berkeley: University of California Press, 2006.
[14] K-Hole and Box 1824. "Youth Mode." 2013. http://khole.net/
[15] Alvarez, Ana Cecilia. "Juliana Huxtable #Shockvaluenyc." Topical Cream. 2013. http://topicalcream.info/?post_type=editorial&p=992&preview=true
[16] Huxtable, Juliana. "SHOUT OUT TO MY URBAN ANGELS SEARCHING FOR POST-OR-PRE-GENITAL DESIRE VIA GPS." 10 February 2014. http://julianahuxtable.tumblr.com/post/76261782220/a-portion-text-from-the-vocals-i-did-for-the-hood-by
Originally published on Mousse 43 (April–May 2014)