EXHIBITIONS
Andro Wekua, Kara Walker and Senga Nengudi at Sprüth Magers, Berlin
Close
1
2
3
4
5
6
7
8
9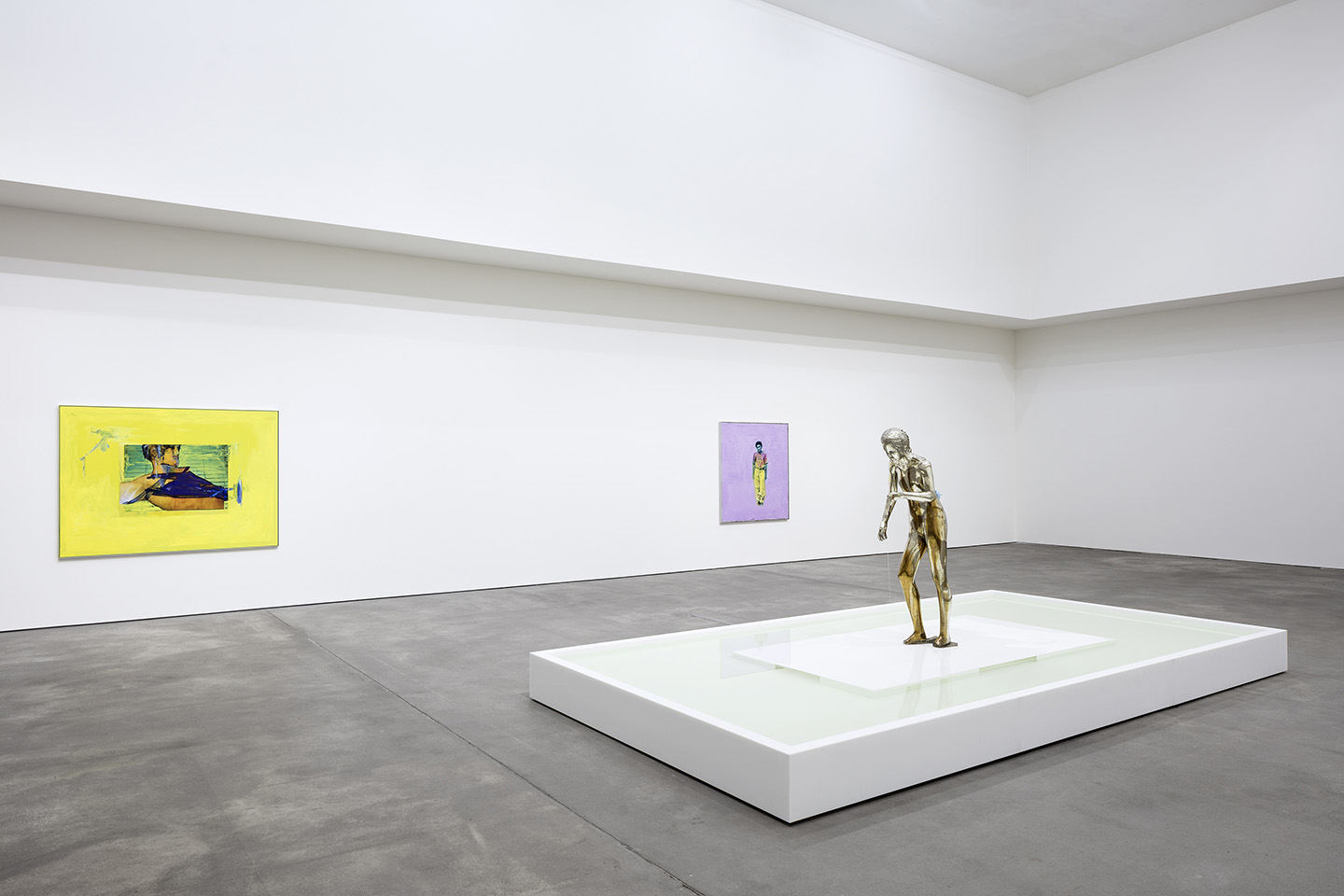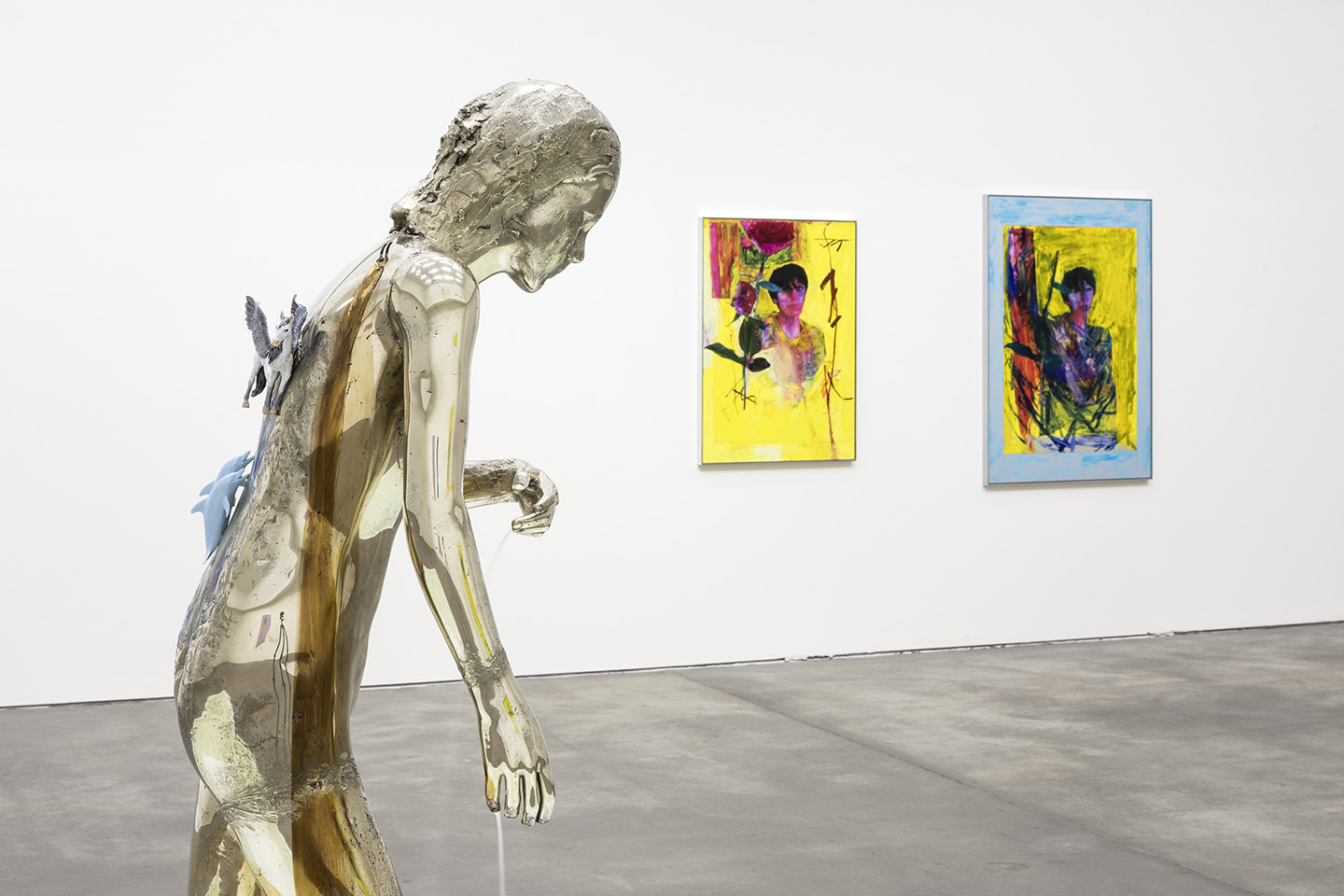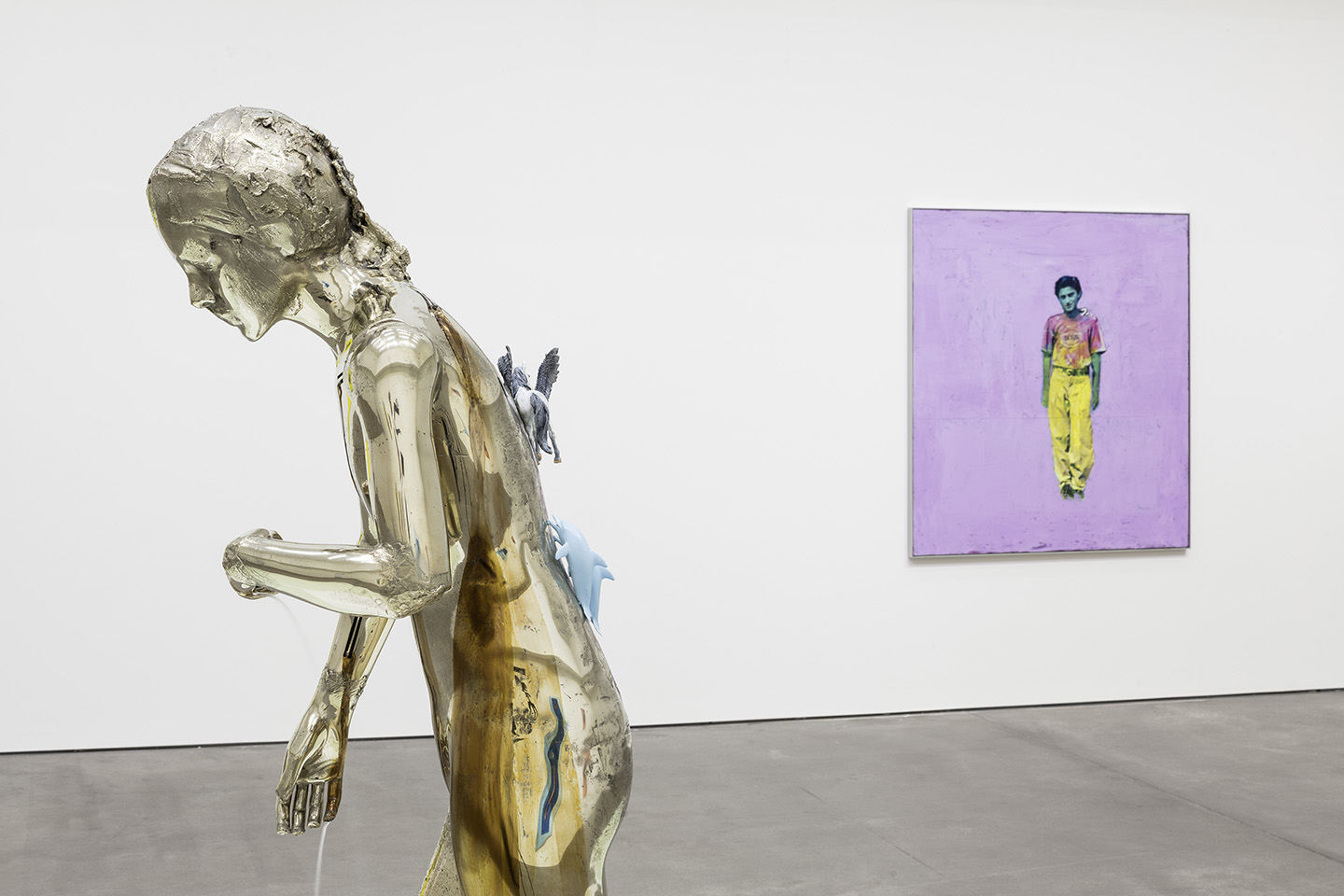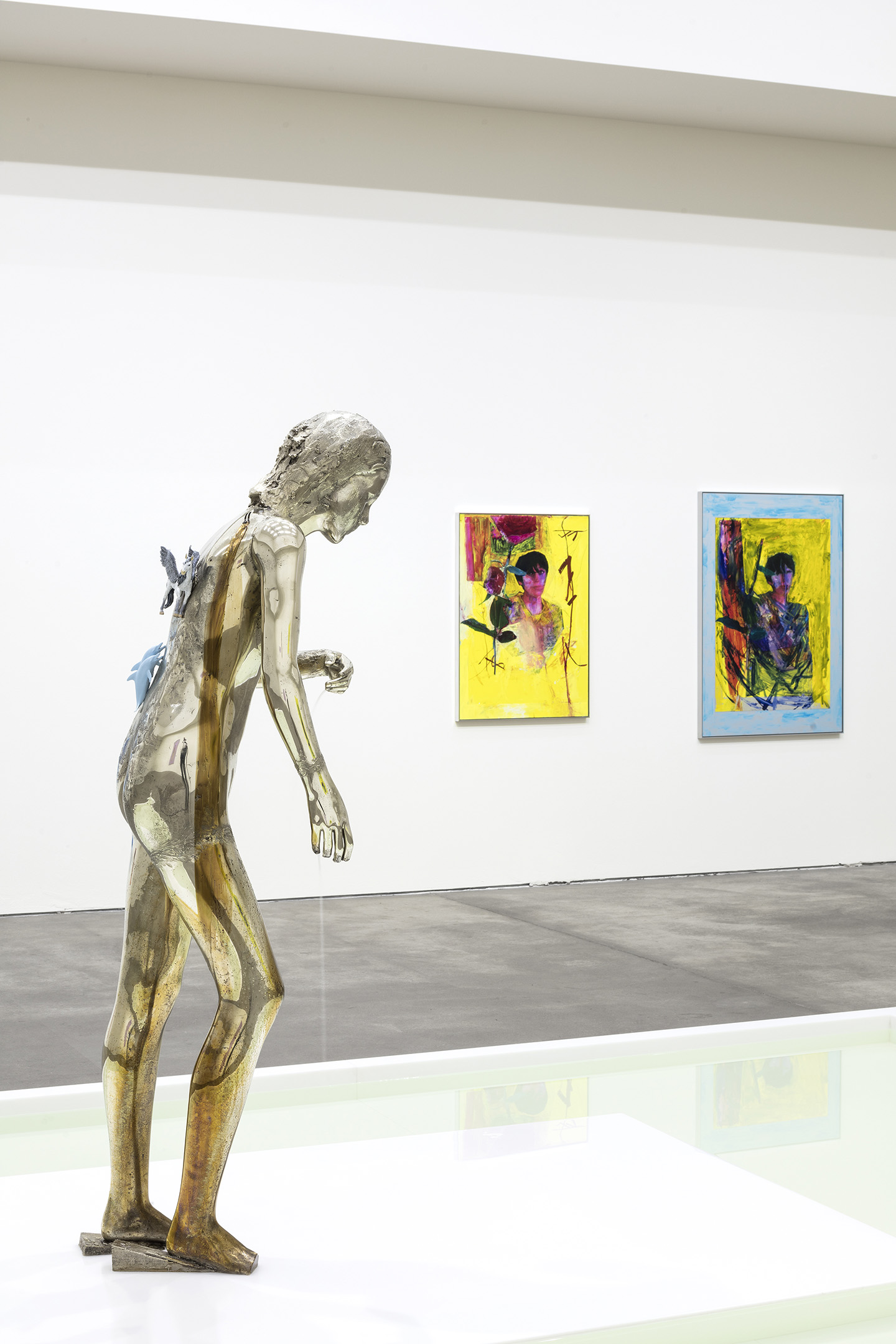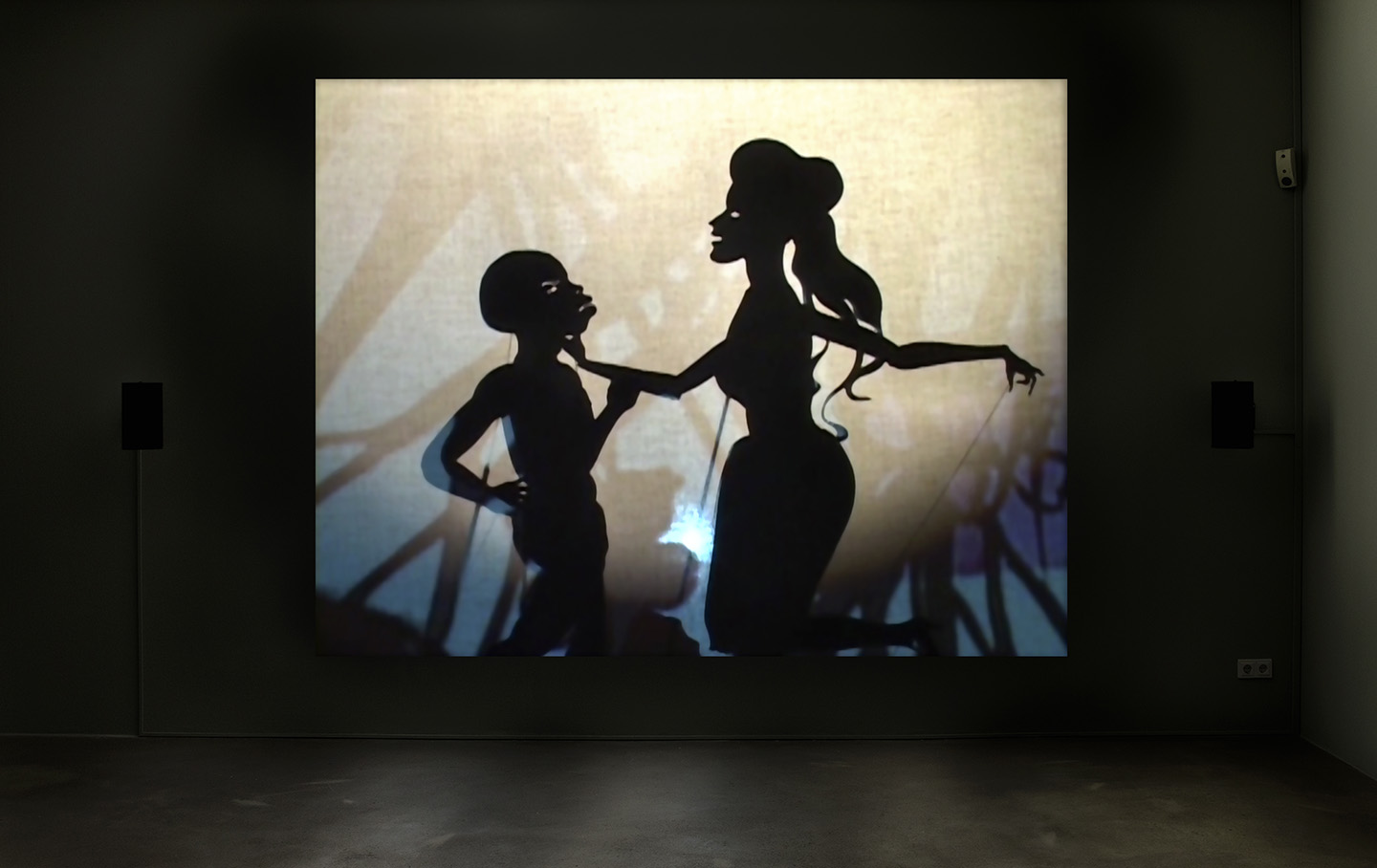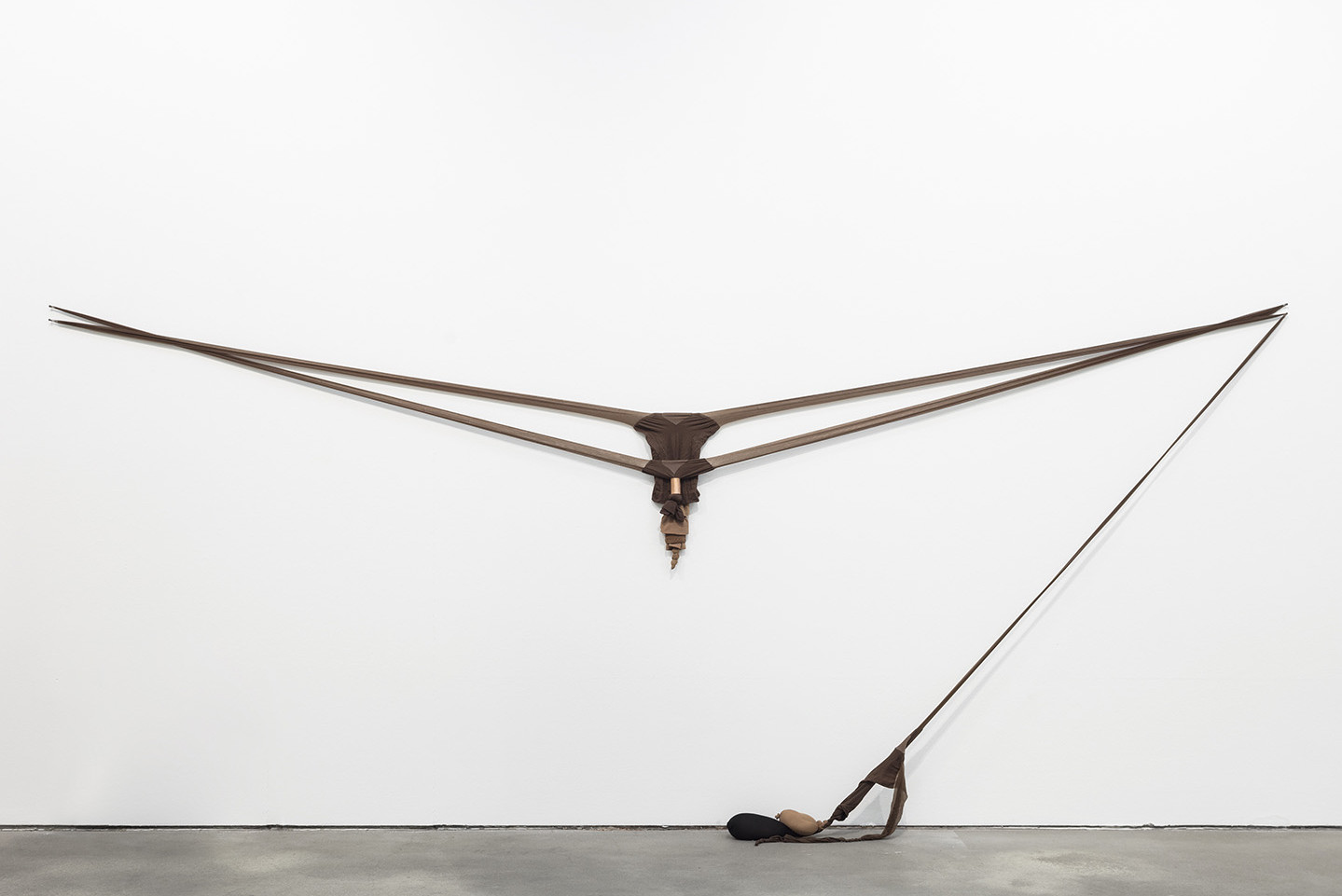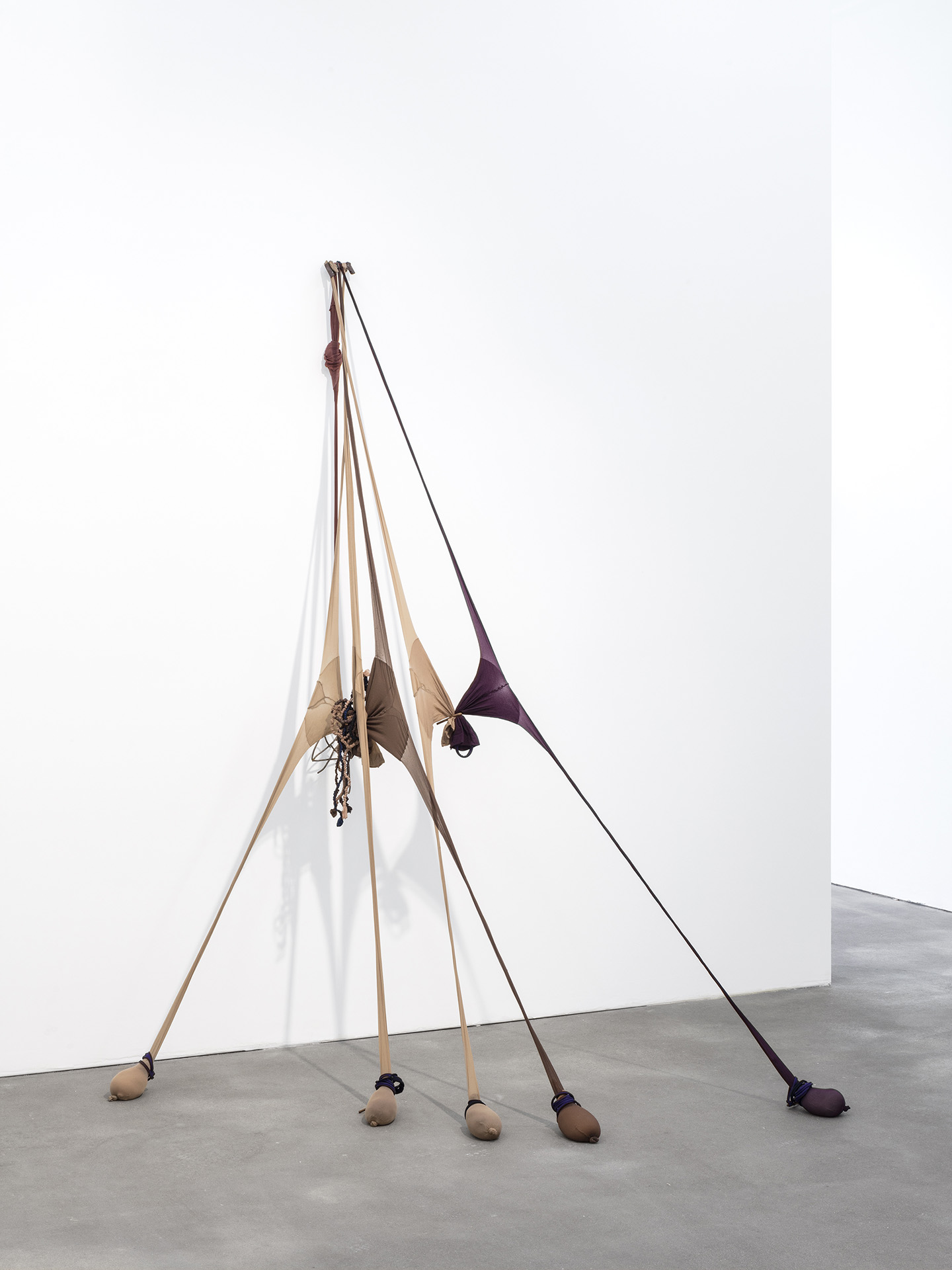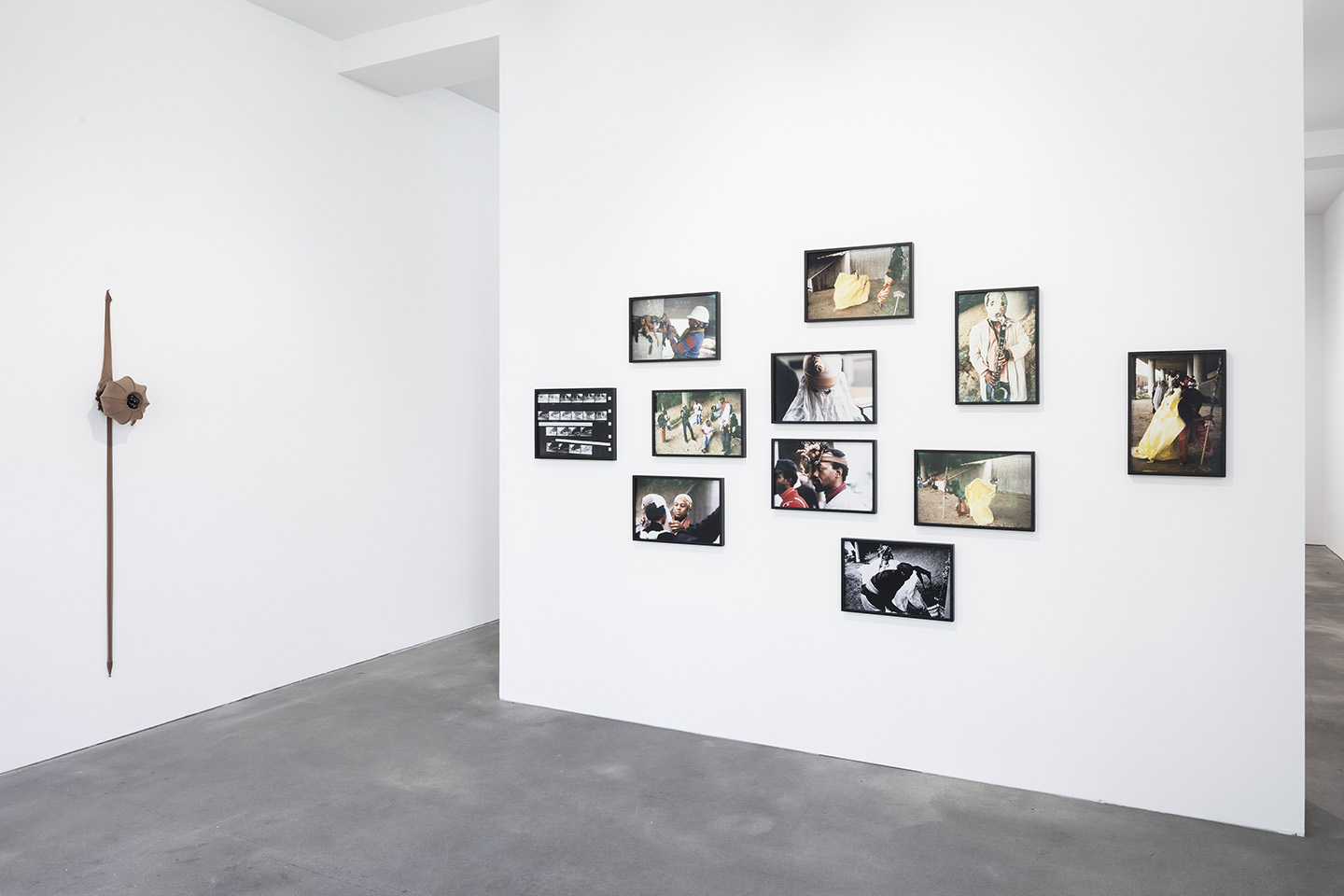 Andro Wekua
At the center of Andro Wekua's new exhibition at Sprüth Magers is a life-size sculpture made of nickel silver – a silver-like alloy of copper, nickel and zinc – and a group of paintings. The untitled sculpture recalls Wekua's earlier mannequin figures and continues their subtle formal vocabulary. The androgynous figure appears situated between the sexes; its body has a prepubescent, almost childlike look. On the back of the sculpture sits a small, black bronze Pegasus with purple wings—a futuristic element, childish toy and mythical reference in one. The physical proportions of this figure are realistic only at first glance; they are unthinkable in real life. The figure is a composite of various, non-related body parts. Before casting, it was composed of miscellaneous models of real limbs. Even the sculpture's body posture probes the limits of what is physically possible. It recalls the Christ figure in Michelangelo's unfinished Rondanini Pietà. In the original, the Virgin Mary stands behind her dead son and tries to hold him upright. Wekua's figure stands in a pool; water runs from parallel slits on its arms and shoulders. Its silvery surface is in constant motion and yet it appears preserved in a state of perpetual stagnation. For all its overt artificiality, this figure seems to lead a psychological life of its own. It seems strangely, if improbably, alive.
The sculpture is surrounded by a series of paintings. Wekua uses an architectural redefinition of the space to create his own viewing plane for the paintings while simultaneously reflecting the centrally-positioned sculpture as an object in space. Like the sculpture, the process of creating the exhibited paintings is based on strategies of assemblage and collage. Photographs were often a starting point for these works; Wekua treats these photos as archive material. First they appear in paper collages, then the collages are transferred to aluminum-composite plates using a complex, painterly silkscreen-printing process with different layers of pigment. The finished paintings emerge when Wekua edits and paints over these plates. Using a process of continuously applying oil paint and removing it, changing backgrounds, blurring or adding details, he constructs new contexts of meaning for his source material. The dominance of the respective color background and proportions of the original photos he incorporates often evoke the tradition of icon painting. The process of creating these paintings follows the same self-reflective, abstracting and sometimes effacing process that our memory does. Wekua succeeds in compressing several levels of time into one image while countering the past with a poetic reality of his own. These works are not to be understood as commentaries on the past and certainly not as its reconstruction. Rather, they are aimed at its complete, aesthetic transfiguration.
Various geographies, stories and characters appear again and again in Andro Wekua's work. He tears these elements out of the totality of life context and fuses the isolated fragments of reality back together in an unexpected way. Subjective memories dissolve in the logic of dreams. Latent elegance and subtle symbolism trigger mechanisms of the uncanny. Few can illuminate the dark, in-between spaces of emotion and memory, the ambiguities of history, fantasy and (art)-historical memory better than he. Seemingly effortlessly, Wekua expresses universal narrative structures and creates timeless works.
Kara Walker

Kara Walker's work is well known for the incisive connections it draws between the legacy of slavery in the United States, the evolution of historical narratives and cultural beliefs, and contemporary race relations. Since the 1990s, her silhouetted wall works, drawings, and videos have treaded an uncomfortable line between beauty and violence, attraction and repulsion, and past and present, and she is recognized equally for her skillful draftsmanship and her trenchant storytelling. Sprüth Magers is honored to exhibit Walker's video Fall Frum Grace, Miss Pipi's Blue Tale (2011), a work that highlights the artist's compelling approach to difficult but crucially relevant subject matter.
The seventeen-minute video follows the complicated tale of Miss Pipi, a "Southern Belle" with beautifully coiffed hair who has a sexual encounter with a black man, presumably a slave. When their tryst is uncovered, he is eventually beaten, castrated, and brutally killed by a group of white men. The story invokes a cultural fear with origins in the nineteenth-century American South of black men's sexual power over and violation of white women. As with many of her films, Walker uses the ancient art of shadow puppetry, so that her characters appear as silhouettes against simple, sometimes colorful backgrounds. Their forms are starkly delineated, yet they also remain empty, ready for viewers' imaginations to fill in any missing details that are often sexually and violently explicit.
While Walker's narrative moves forward linearly, it is interspersed with scenes that add a level of surreal abstraction: flowering trees scroll by, a man in a top hat dances to jovial music, a figure who is half-human, half-bicycle wheels across the screen. In addition, the artist offers viewers glimpses of the puppeteers themselves, of which Walker is one. This periodically breaks the illusion of silhouettes, adding touches of humor and jolting us out of the artist's uncanny reverie and into the present moment. The video's soundtrack, moreover, moves from Delta Blues to seventies groove music to ambient noise, adding yet another complex layer to Walker's ambivalent blend of cultural and historical references.
Senga Nengudi 
For over four decades, artist Senga Nengudi has been pushing at the boundaries between sculpture, photography, and performance. A member of the African American avant-garde in Los Angeles and New York in the 1970s and 1980s, Nengudi began her career with innovative sculptures and performances, staged within art spaces and beyond gallery walls, that expanded the definition of sculpture, engaged with performance art's ephemeral nature, and questioned women's delimited roles in contemporary culture. Nengudi was previously included in POWER, Work By African American Women From The Nineteenth Century To Now at Sprüth Magers Los Angeles in 2017, and it is with great pleasure that Sprüth Magers announces the first solo exhibition of the artist's work in Germany, opening during Berlin Gallery Weekend 2018.
The exhibition features four recent sculptures from Nengudi's celebrated R.S.V.P series, which the artist first began in the late 1970s in response to her changing pregnant body. Using nylon stockings, sand, and metal objects, Nengudi generates delicate, webbed and knotted forms that stretch across walls, from one wall to another, or from the wall to the floor. Though decidedly abstract, each sculpture assumes bodily stances and proportions. R.S.V.P. Reverie "Scribe" (2014) includes five strands of stockings that reach down to the floor, weighted by sand to create what looks like slender legs and feet. In R.S.V.P. Reverie "Bow Leg" (2014), a twisting metal armature takes on a skeletal quality, giving the loose nylons the appearance of papery skin. The stockings in Blossom (2014) and R.S.V.P. Reverie "Scribe" (2014) extend vertically, horizontally and diagonally across the gallery walls, with a strength that belies the simple, ethereal quality of her materials.
Nengudi likens the stretching of her sculptures' fabric to the resiliency of the female body and mind, and they have often served as the staging ground for performances incorporating actual bodies. Dancers, including the artist herself, move and manipulate the strands, bending and turning as they catch their limbs in the sculptures' nylon networks. Their contortions echo the ways in which women have had to conform to society's expectations, while the power inherent in their movements suggests a conviction to reshape the world. In the late 1970s, the artist took photographs of many of these performances, in addition to others in which she used similarly quotidian materials such as rubber tubing, ropes, and crumpled papers. Performers wear these materials as costumes of sorts, transforming into alien or insect-like beings. More than mere documentation, her images are carefully staged, often symmetrical in composition, and add to the power of her groundbreaking sculptural work. A selection of photographs will be presented in the exhibition.
at Sprüth Magers, Berlin
until 8 September 2018