ESSAYS Mousse 71
The Spiraled Heart of Abandoned Things: Ann Greene Kelly
Close
1
2
3
4
5
6
7
8
9
10
11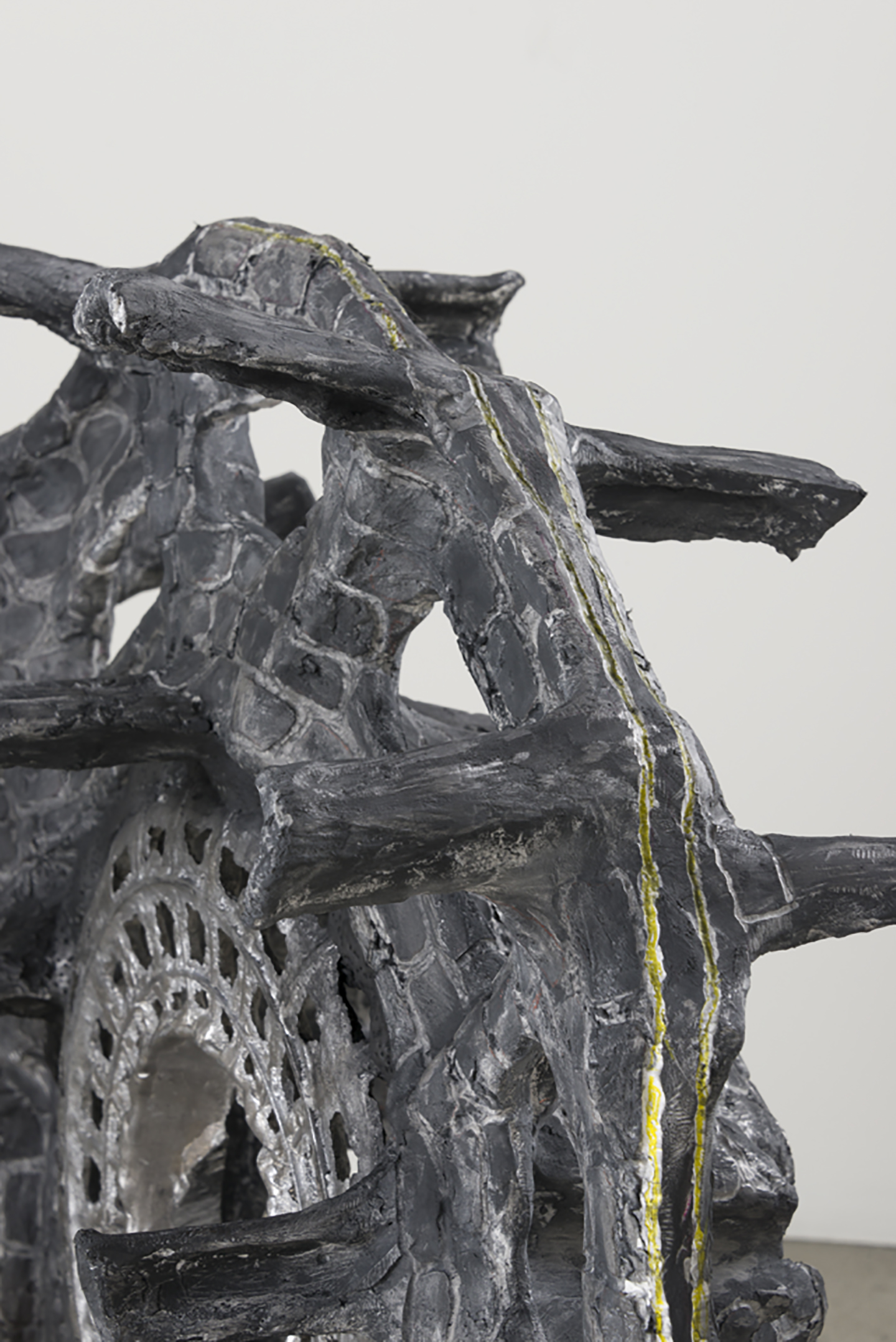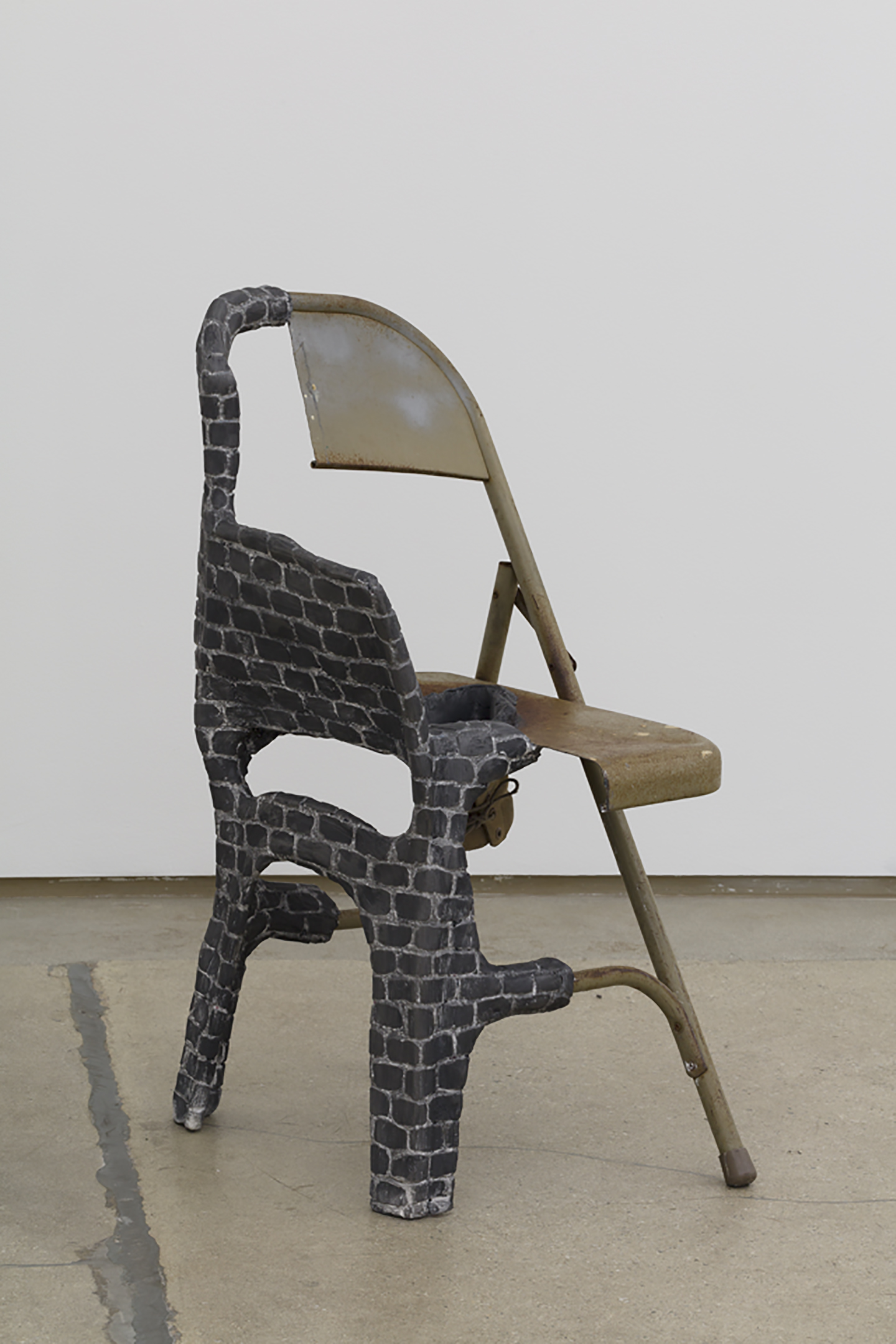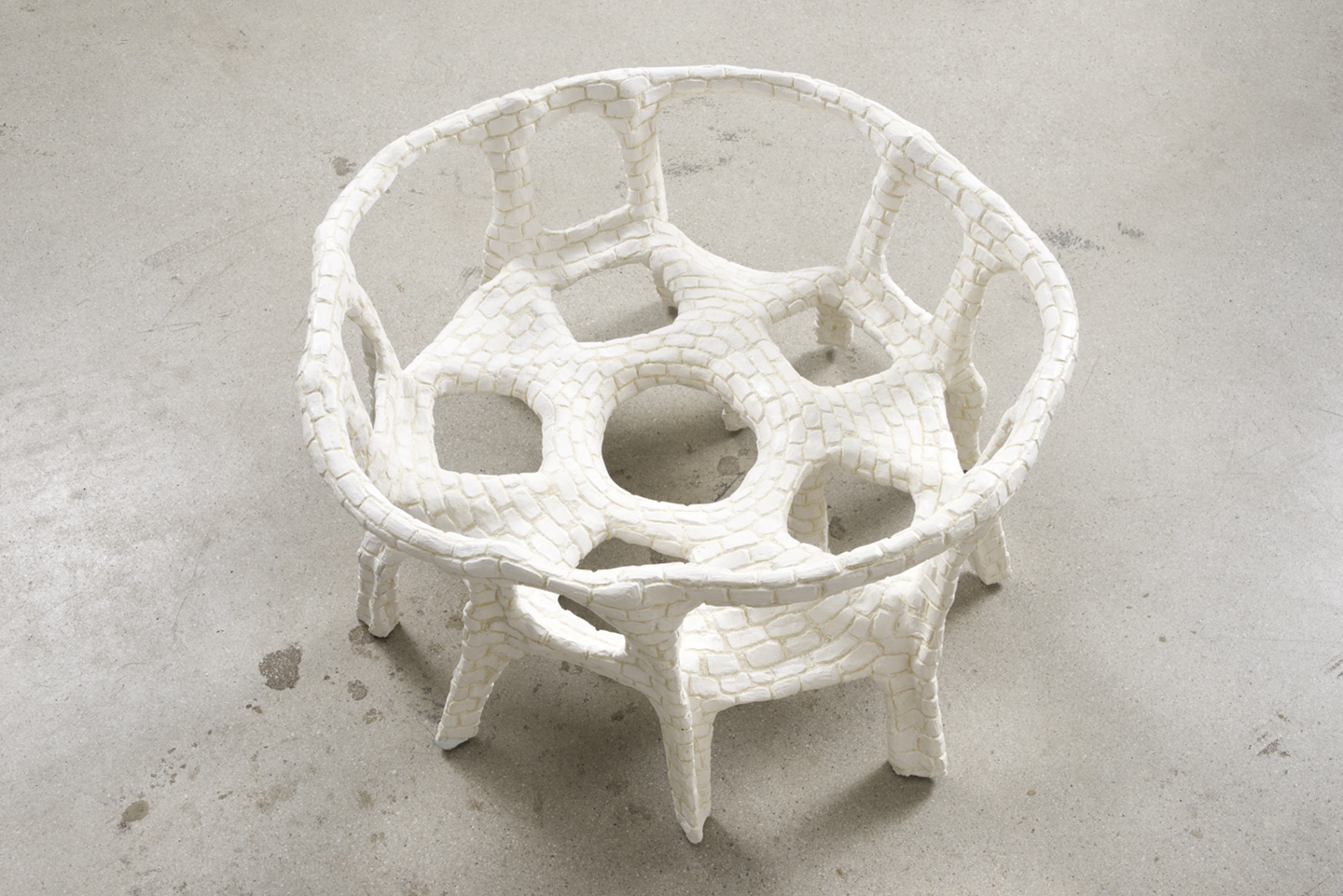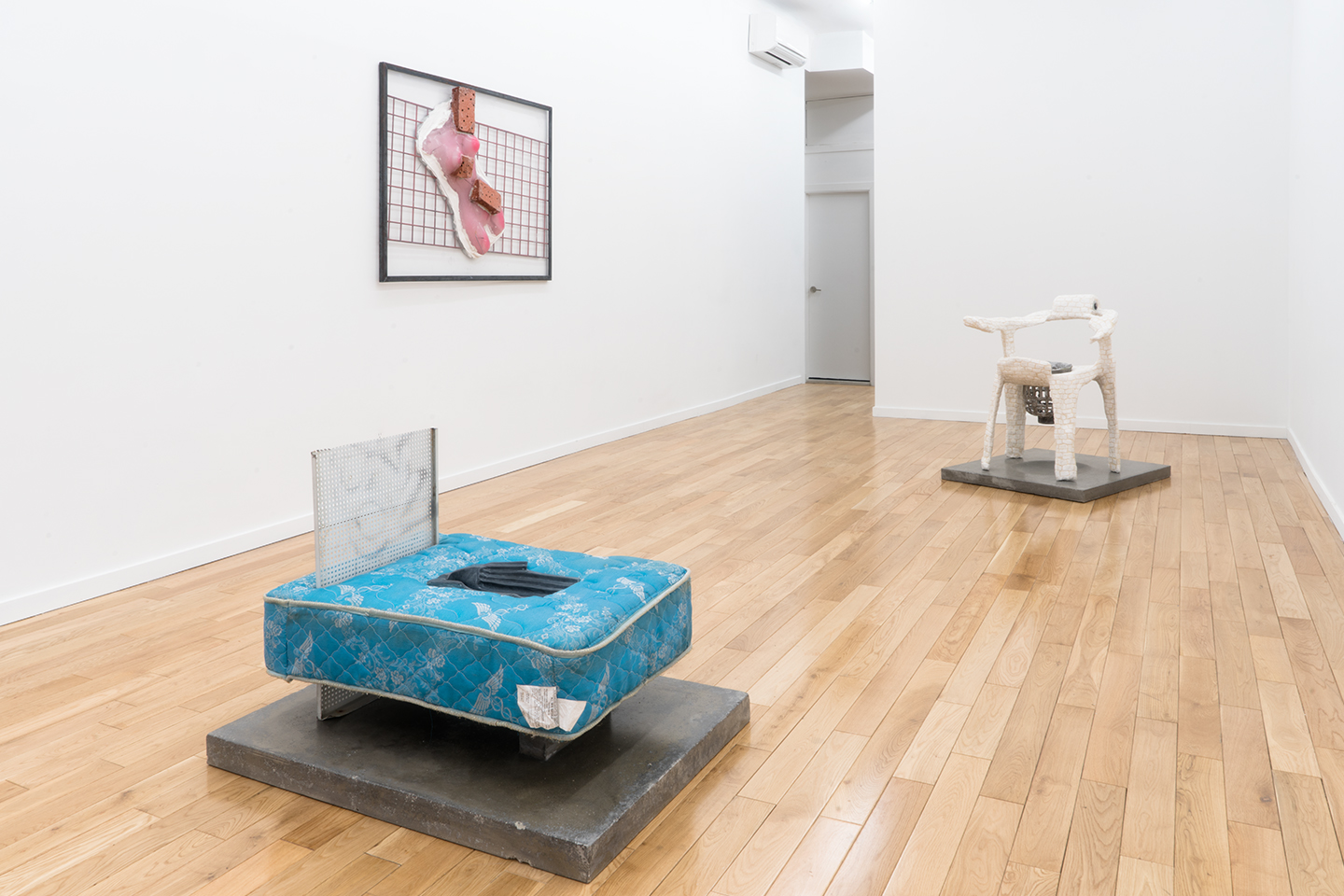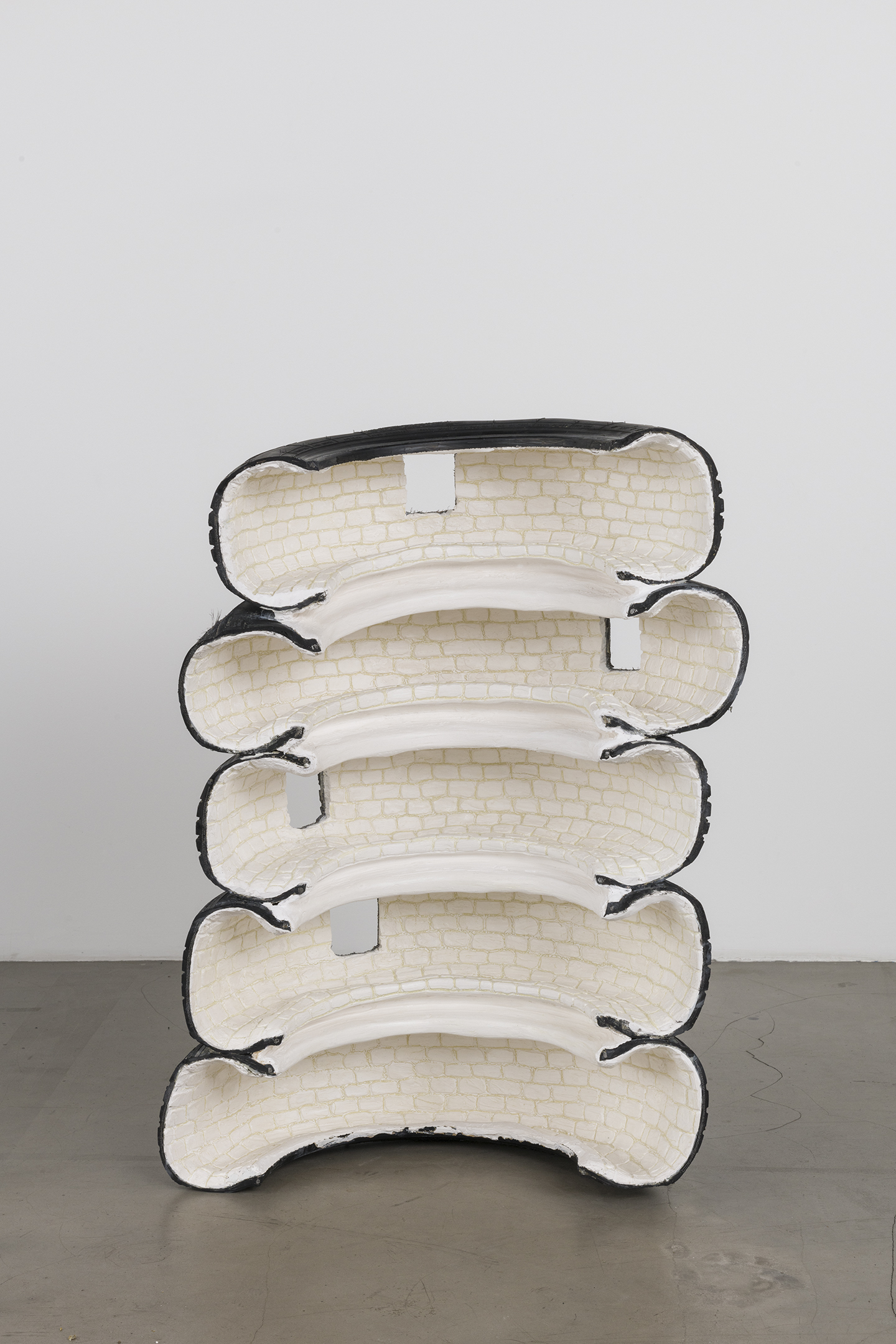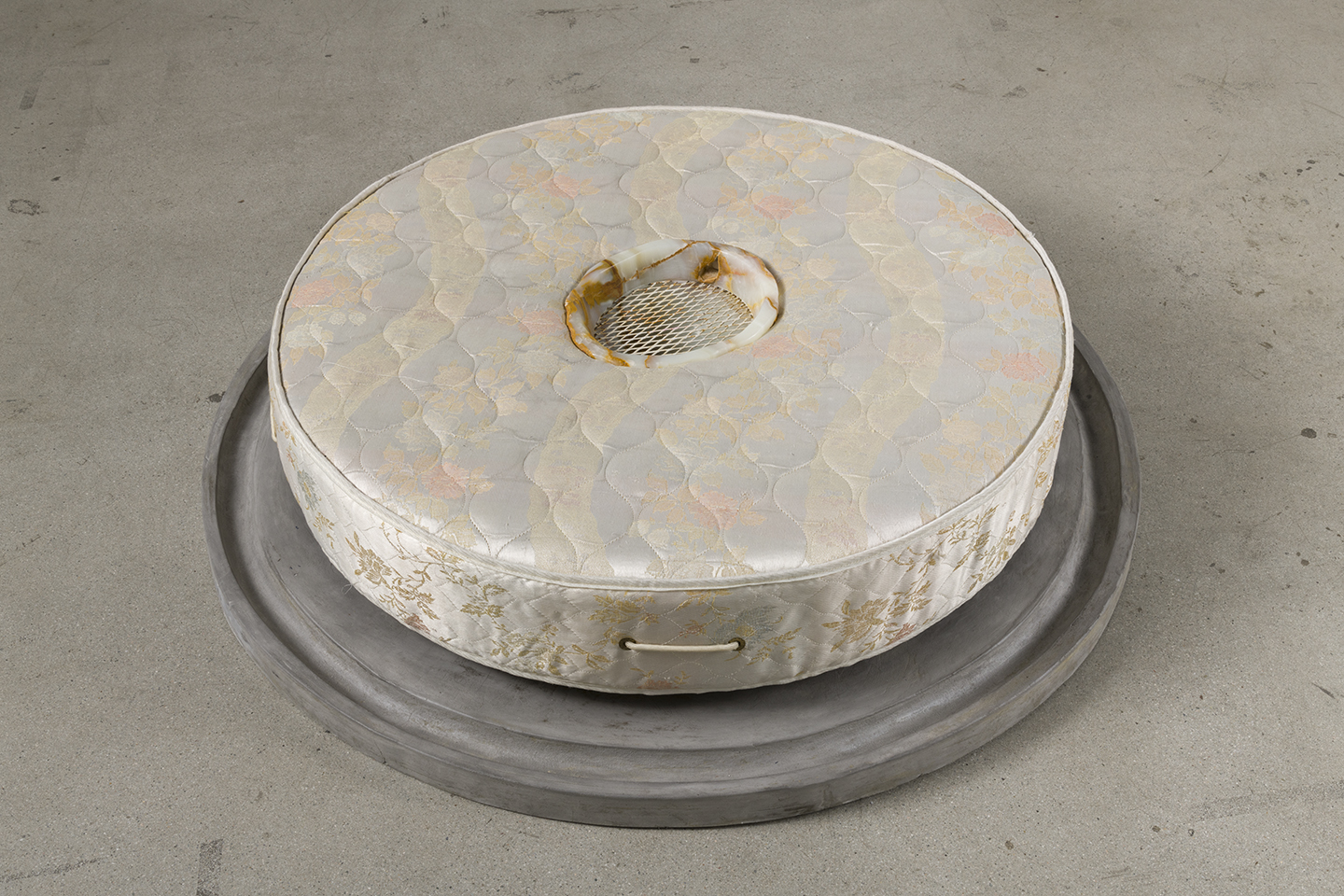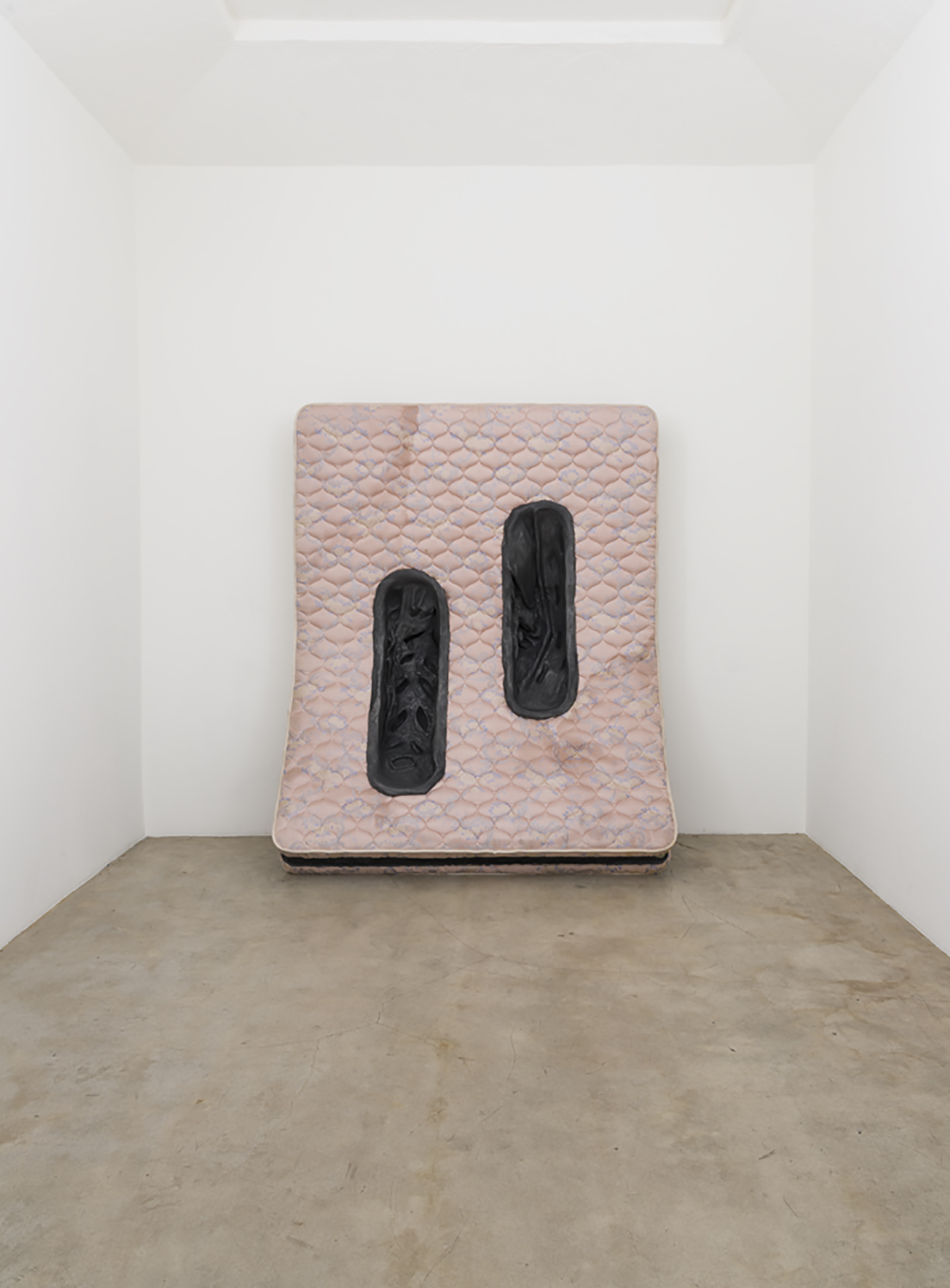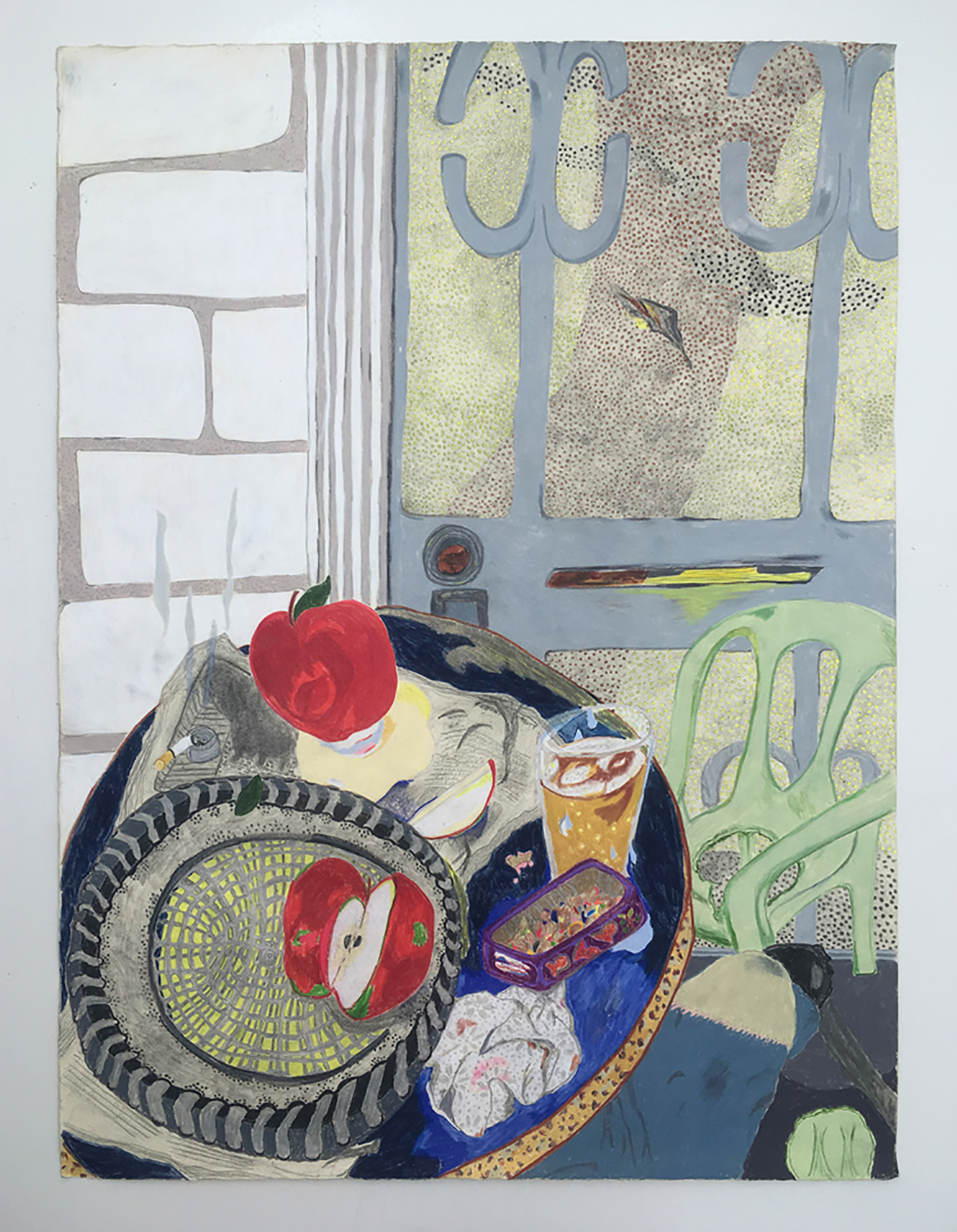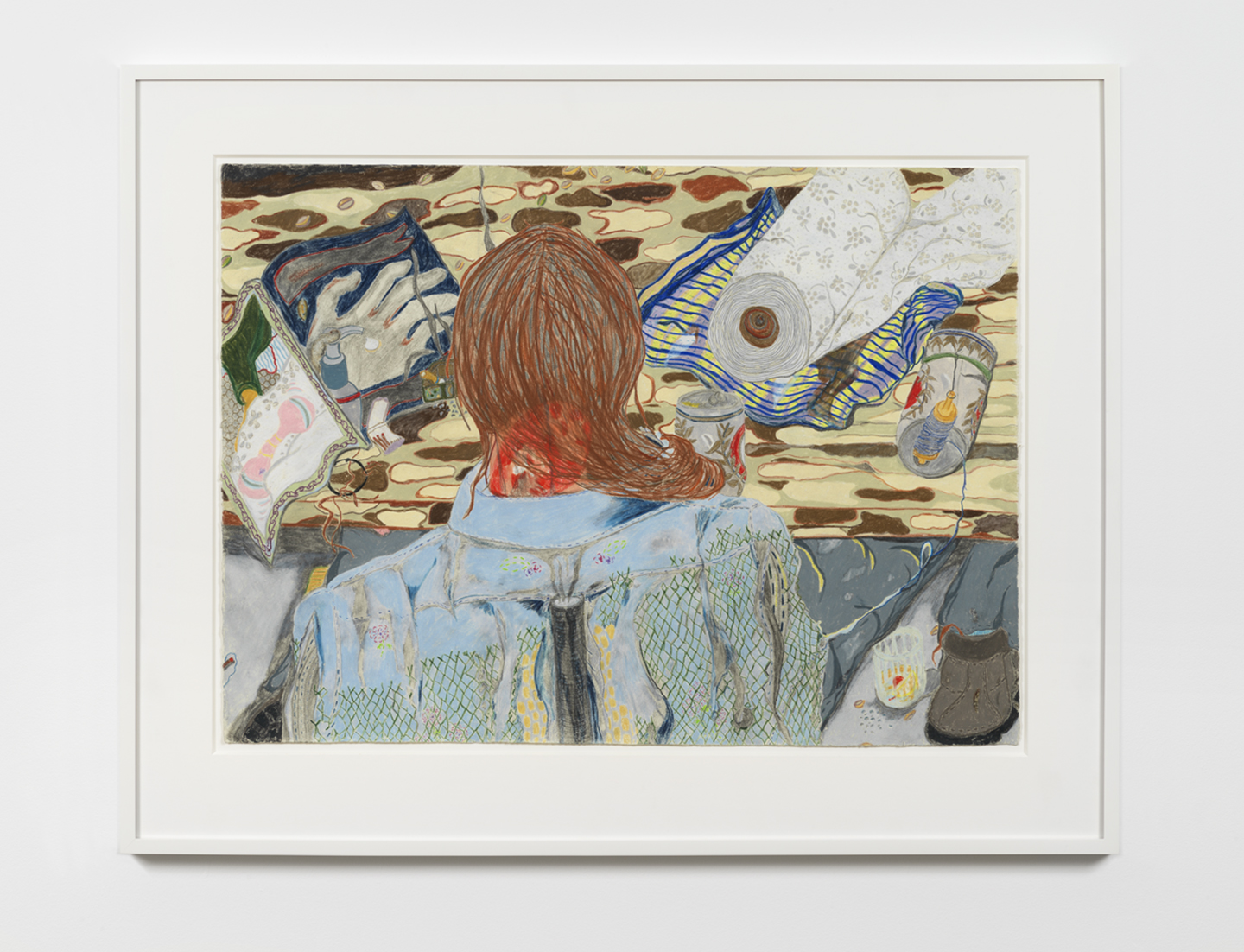 Hidden in the curves and folds of abandoned things live worlds within worlds.

Old tires, empty cans

of sardines, stained mattresses,

metal drains—the artist

Ann Greene Kelly

slices open these and more,

summoning revelations from

their spiraled hearts.
Imagine cutting open and reskinning a broken folding chair, or plastic kids' furniture, and then morphing into each other into odd (and unexpectedly erotic) chimeras. Metal security gates might mutate into legs to prop up a polyurethane T-shirt. Sometimes the road they likely were found on runs with black asphalt and double yellow lines over the split chair or standing mattress. Though largely readymade and reassembled, Kelly's sculptures sometimes prop up carved alabaster and calcite—formalist stones tumbled into the odd company of the otherwise found. The artist's sculptural vocabulary is singular and reiterative; things appear over and again in new combinations, new creatures, new amalgamations, always with a sweet, sad beauty that reveals a certain tenderness for otherwise trashed and forlorn household objects.

The artist finds many of her materials abandoned along cracked, run-down Los Angeles sidewalks: the plastic lawn chair with the broken leg, the sagging mattress leaning against a lamppost, the old rubber tire, its tread worn smooth, with ragged weeds poking through its center. Once they're worn out, their owners set them into the garbage or onto the street—anywhere, wherever, just so long as they're somebody else's problem. I once lived on a street lined with cheap apartment houses where it felt like mattresses came to die. Stained and sagging, probably infested with bedbugs, springs erupting from rips and wounds, their lonesome, awkward beauty always filled me with love and sadness. I imagined the lives of those who folded into them nightly to dream and fuck and cry and watch television and read, to talk to their mothers far away and their lovers not close enough. I still see mattresses every day in the streets, sometimes tagged with sloppy graffiti, or just wearing a coat of grime over their pillow tops. Though chairs don't hold quite the same poetry, they also conform to our bodies. And our bodies are the measure of all things, including our physical relationship to the three dimensions of sculpture.
These abandoned items lost their purpose, their reason for existence, when their usefulness ended. Yet they still retain some tensile aura of their last lives. Any passerby can see the shapely intentions of what they once were and now will never be again. Weathering the sun and rain and chill, they linger, waiting for anyone at all to see in their bedraggled and jilted bodies some new purpose besides disintegration: the tire to become a planter, a tree swing, tread for new cheap shoes—or, in Kelly's hands, art.
Though certainly participating in a tradition of the readymade and assemblage, Kelly's works conjure through her process of curiosity and care a discursive set of imaginative associations. The stack of tires becomes an apartment tower, and so she cuts windows into the tread in Untitled (2019) to reveal the rough interior; responding to this hardness in another work (also Untitled, 2019), she then pads that curving underside with a floral quilt; but softness needs protection, so along the rim of a tire she adds a fence. For me, peering through the fence of the chopped tower of tires at the floral quilt interior surfaces a kind of meandering story. While the "bricks" she often skins her found objects with is only carved gypsum cement and not actual bricks, it provides a subtle transmutation, a shifting of properties into the unexpected. In Untitled (chairs with pillow and tire) (2017), a duo of plastic chairs united leg-to-leg with a red tire somewhat erotically pressed into the seats of both, the new skin adds a layer of protection, as if these forlorn things really needed the extra care, something sturdier to ward off whatever might break their fragile bodies. The result is a physical, sculptural tension that's almost surreal and goes to the heart of the best games that sculpture can play.
Sculpture works in many registers, but its relationship to our bodies and their expectations is fundamental. Los Angeles–based artist Charles Ray frequently plays with scale in a manner that quietly and assuredly disturbs. Things might be creepily oversized, as in his iconic work Fall '91 (1992), or the naked, anatomically correct nuclear family all uncannily rendered the same height in Family Romance (1993). Kelly's play is mostly with unexpected surfaces and materials, but in one series of works she employs a plastic children's chair that doesn't quite seem right for any human child to sit in. In another body of work, the mattresses get cut down to almost miniature size and fitted with a drain or hung on the walls and hearted (as in a cavity carved out and filled) with graphite-covered shapes. The miniature round mattress in her 2019 exhibition at Michael Benevento in Los Angeles, so small with its drain, feels quietly, subtly disturbing in its unique way. Of course there are creatures in this world who would find that cut-down bed just the right size, and the accompanying drain a gross but effective way to handle incontinence. But the mattress isn't a dog bed, or at least not like any I've ever seen. It's a human mattress, yet like the chair, too small to fit a human body. Its circular shape is definitely not correct—too sexy for a baby. And the drain has its own poetic resonances, the portal to the sewer and all the wet bodily grossness we pour into them.
Though any drain inserted just so inevitably invokes the heartbroken sculptures of Robert Gober, Kelly cites another precedent, indeed calling it the single exhibition that turned her into an artist: The Uncertainty of Objects and Ideas: Recent Sculpture, curated by Anne Ellegood, which premiered at the Hirshhorn Museum in Washington, DC, in 2006. Billed as a contemporary response to Robert Rauschenberg's Combines (1954-1964) and California "junk" sculpture, it featured works by Isa Genzken, Franz West, and Rachel Harrison. Though her voice is assuredly her own in its sweet retoolings, Kelly shares these artists' sense of sophisticated play, rough and ready ideas, and a focused and devious attitude toward materials
Though her sculptural practice remains primary, Kelly's drawings also play an important role in her exhibitions, with their loose lines and lightly surreal scenarios. Humans there are almost ghosts amid the much more tangible tumbles of junk and furniture surrounding them. To collapse these scenes into objects, from the brick walls to the toppled chairs, would easily require one of her sculptures—all these things we surround ourselves with, that we think we've made but which really make us. Bedraggled and broken and beautiful, as they are in Kelly's work, she and they reveal what resides in our own hearts more than we might wish to admit.
Ann Greene Kelly (b. 1988) lives and works in Los Angeles. She received her BFA from the Maryland Institute College of Art in 2010. Solo exhibitions include Institute of Contemporary Art, Los Angeles (2020); Michael Benevento, Los Angeles (2019); Chapter NY, New York (2019 and 2017); AND NOW, Dallas (2017); and White Columns, New York (2015). She has participated in group shows at White Flag Projects, St. Louis; David Zwirner, New York; Maisterravalbeuna, Madrid; Stems Gallery, Brussels; and ZERO…, Milan. She will be included in the upcoming exhibition Made in L.A. 2020 at the Hammer Museum, Los Angeles.
Andrew Berardini is a writer and Los Angeles editor for Mousse. He recently co-curated Kris Lemsalu's solo presentation for the Estonian Pavilion at the 58th Venice Biennale (2019).
Originally published in Mousse 71