EXHIBITIONS
The Trilogy. An interview with Annika Eriksson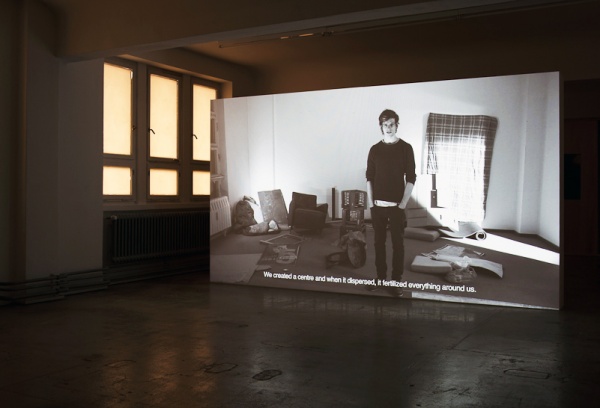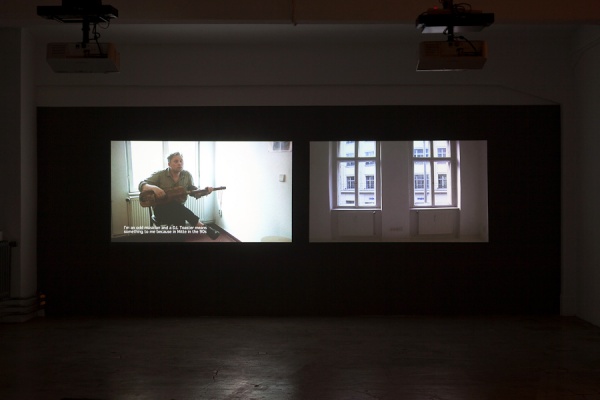 Adnan Yildiz: "The Trilogy" is based on recent video works you produced during the last three years. How would you describe your motivation for creating a trilogy?

Annika Eriksson:  After making the first two works, I learned that they functioned well together and I was intrigued by the idea of forming a Trilogy. The idea is appealing, the first time I encountered it was with the Star Wars Trilogy and from the Swedish play writer Lars Noren's trilogy, "Night is the mother of day" these works had a strong impression on me.

–
AY: And what brings them together in a set? What are the connections between the pieces?
AE: In the different parts the preparation process functioned in slightly different ways. With the punks it developed over the years. I encountered the Berlin punks for the first time when I visited Berlin in the 80s, they were a significant part of (West) Berlin. I had never seen so many punks anywhere else before and I thought that they functioned like a metaphor for the city. Since I moved to Berlin they are disappearing every year, in the "New Berlin" they are obviously displaced. But they are still as significant as they disappear. In the film they appear like ghosts from the 80s or perhaps an idea of a future situation.
With the piece in my former home it started already when I moved in, this building was built in 1755 and it hosted layers and layers of memories, if a building can ever have a soul this one has it. I wanted to do a work about it somehow but it took some years to come to that point, it was first when it became clear that we would all have to move out because of new owners. In the film the people seem like they are forever stuck in the building, their presence will always remain. This piece turned out to be a work about resistance and time, also a farewell to this building and my former neighbours, the last tenants.
The last work came out of the first parts of the Trilogy. I wanted to bring the time aspect further, to blur the distinction of time, and also look upon the idea of resistance and political activities in a wider sense. I spent a lot of time looking into the late 60s in Berlin, especially with the politically oriented communities that were formed, like Kommune 1 and others. I met with one of the leading figures, Rainer Langhans and others that were more or less loosely connected to the movement. There is a lot written and documented from this period and for awhile I drowned in research, but it was necessary to learn and try to understand this exceptional post-war situation in Germany and this generation of young people coming out of this extremely complicated situation. This research forms the core of the work but I also took it further. In the script I inserted quotes from people involved in this time and movement with quotes from science fiction novels, from Doris Lessing for example. Looking at the film we are perhaps back to the 60s, or perhaps the young man in the film is looking back at something that has not yet happened. I would say that the people appearing in the films all come out like some kind of ghosts trapped in time pockets.
A text that was for me especially inspiring during the last part was a text by Peio Aquirre,  Science Fiction and Historicism where a quote to William Gibson appears: "Hallucinations of Unrealised Futures"; there is something promising in this.
In all parts the notion of resistance in a wider sense is evident. The punks are totally passive aggressive, refusing to be a part of a society that they despise; the ones appearing in my film claimed that this passivity was a political act. In the second part my former neighbours decided to remain in the building and claim their rights to do so. They somehow knew that it is nowadays seen as rather pathetic to hang out a banner claiming that you are staying ("Wir bleiben). As one of them said:
"–but even so who and what are we if we don't even try to resist?".
In the new part you encounter a person that has an experience of political activities, but it's unclear if it is in a past or in a future.
–
AY: Why do you think Berlin appears as the production site in all of these video works?
AE: I have lived in Berlin for ten years and it is a town that is so full of information, I am never bored there. In recent years I have focused on producing my works where I live, to make works where I spend most of my time instead of making them elsewhere. It involves less stress and more concentration for me and it suits me very well.
–
AY: During 2010, we collaborated for the multi-venue exhibition project, "correct me if I'm critical" in Berlin and you came up with a performance piece, "Annika Eriksson´s Hanna Arendt Band". It featured young boys with an interest in aggressive music; the participation of their peers really challenged the art audience at Basso, especially those who expected a feminist band. I am always interested in the way you play with expectations and create conceptual entities from real situations. How do artistic ideas come to you? How do they find their forms?
AE: My works emerges from something I encounter and react on – often in my surroundings – and then I take it from there, sometimes a lot of research is involved sometimes not. I try to embrace ideas with secrets that will only be clear to me if I execute the work. But this work belongs to what I call my "displacements works". They play with expectations in the art world that is my starting point. The idea for the "Hannah Arendt Band" came out of a conversation we had, you mentioned her as a reference for the show and somehow I reacted on the sound of her name…Hannah Arendt, Hannah Arendt, Nina Hagen, Nina Hagen Band, Hannah Arendt Band. What would the audience expect from a female, feministic, middle aged artist and what could it be? It turned out to be a surprise I think.
–
Annika Eriksson "The Trilogy" is currently on view at Künstlerhaus Stuttgart
until June 17, 2012
–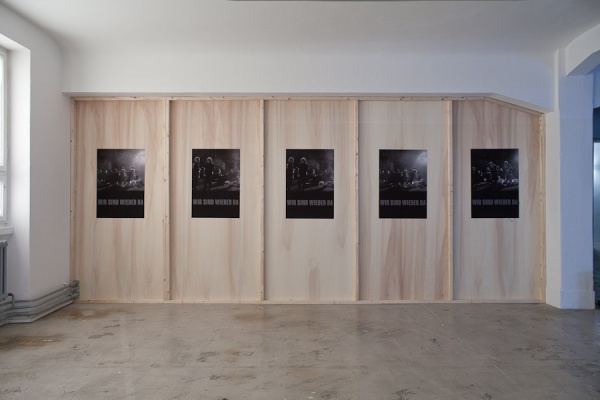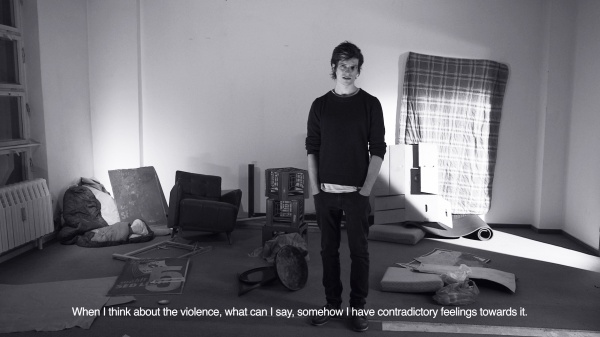 Annika Eriksson, It did happen soon, 2012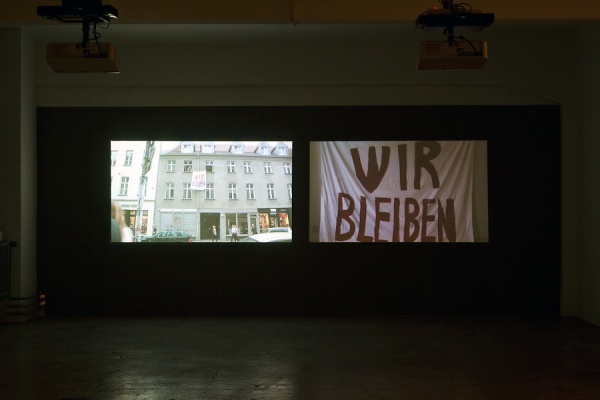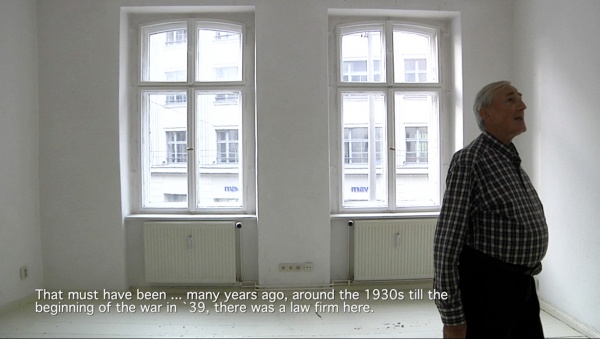 Annika Eriksson, Wir Bleiben/The Last Tenants, 2011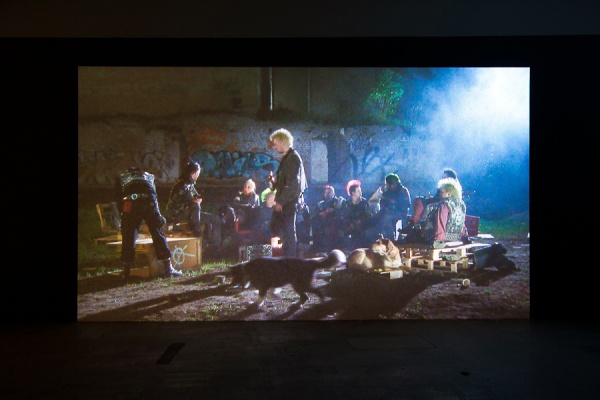 Annika Eriksson, Wir sind wieder da, 2010
–
All works – Courtesy of NON Gallery, Istanbul, and Krome Gallery, Berlin
Installation shots – B. Kahrmann