ESSAYS
Are Museums Like Parks? The "Public" in Public Museums
by Melanie Bühler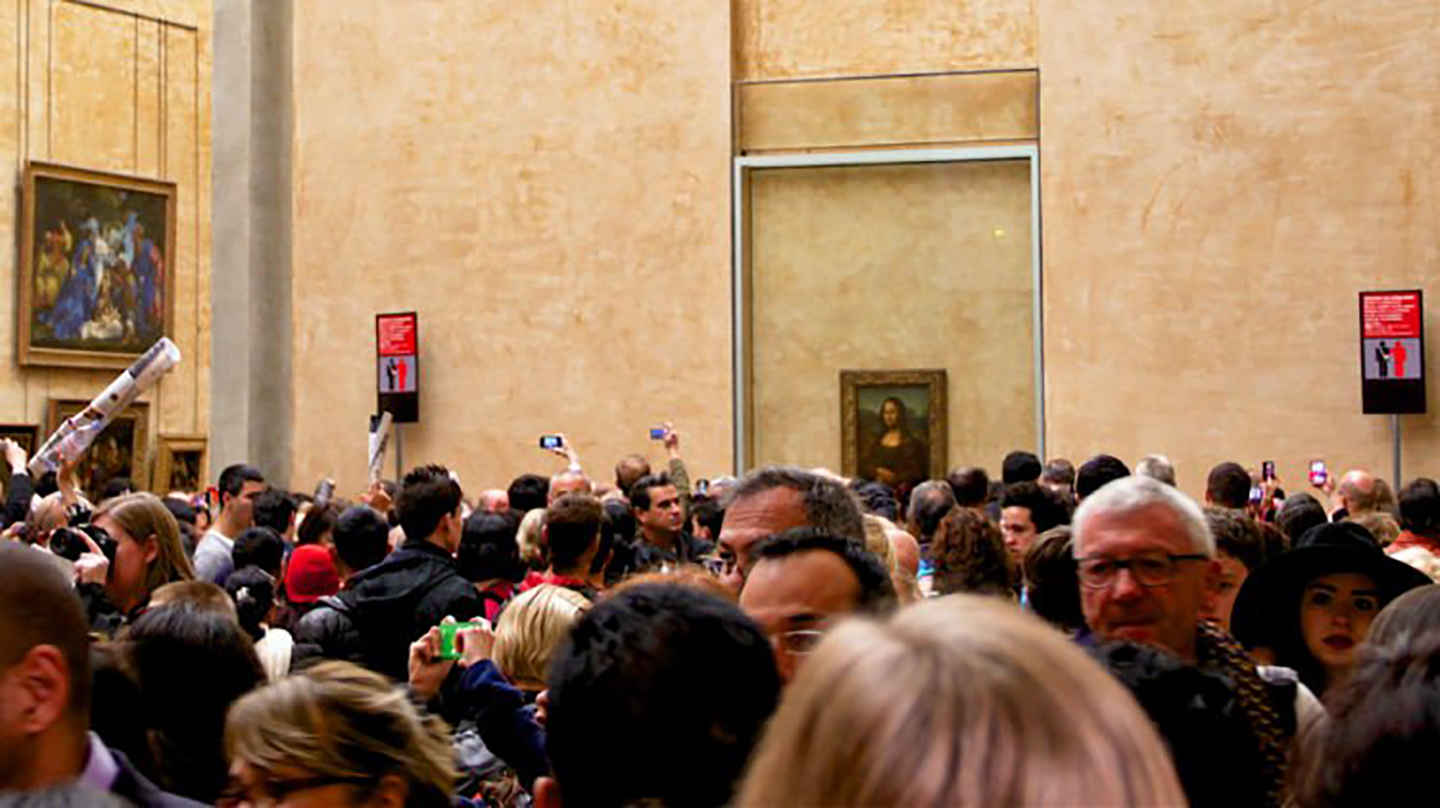 Mona Lisa in the Louvre at 10 am – granted it was during the Easter vacations but not on the actual holidays or weekend, 2018
While museums have been closed due to COVID-19 lockdown measures, it is remarkable how much of the discussion around the suspension of their activities has mobilized the notion of "publicness." Museums have been described as "serving the public" (András Szántó), hailed as part of the public infrastructure in that they "are like parks" (Bart De Baere), and referred to in a general sense as public institutions: "It is our collective role as public institutions to support artists and culture at this time" (Hans Ulrich Obrist).1 But what does it mean for a museum to serve "the public," or to be a "public" institution, today?
One thing we already know: these art-world professionals cannot mean that museums are public in the sense of being exclusively publicly funded. This is no longer—if it ever was—the case for the majority of art museums in the United States or the EU. Austerity measures, as we saw in the 1990s and late 2000s in particular, have consistently involved cuts to public funding for museums. Rather, the notion of "public" in these statements functions as a social imaginary—a normative term that, as Michael Warner describes, invokes an ideal.2 And at a time when people cannot actually come together as physical bodies, this ideal has become especially powerful. Moreover, with an economic crisis looming, the question of what is deemed essential to society—more specifically, which institutions and businesses deserve to survive and thus should receive financial aid—will be asked again and again, with ever greater consequences.
Museums will need to make a strong case for themselves, and if the statements above are any indication, the notion of "public" is likely to function as a key value. This then is the moment to move beyond vague implementations of the term and critically assess what "public" actually means given the reality of how museums function today. This text will look at the practices of institutional critique, developed over the course of the last forty years, to arrive at a more differentiated understanding of "public." One conclusion of this analysis, which certainly won't come as a surprise, is that museums—having become steadily more dependent on earned income—increasingly employ businesses strategies. In many ways, this adaptation has pushed the museum further away from what is generally understood to be public, despite the ever-larger number of visitors flocking to museums such as the Louvre, Tate, or the Museum of Modern Art.3 It is especially ironic that the museums that have most successfully adopted more entrepreneurial strategies—for which increased visitor streams and a large public are essential—have been hardest hit by the current crisis.
On Grease and Camouflage: The Museum as Ideological Frame and Critical Site
When Hans Haacke started to exhibit his pioneering works of institutional critique in the late 1960s, they spoke directly to the first point made here: that the "public" in "public museum" doesn't mean that a given museum is actually funded from public sources. More to the point, Haacke's work made clear that the philanthropists and corporations who are the real sources of funding for many public institutions are not neutral parties but bring with them values that may go against the progressive images of themselves that museums try to convey.4 His work Manet-PROJEKT '74 (1974), for instance, revealed that the Édouard Manet painting Bunch of Asparagus (1880) that had been permanently loaned to the Wallraf-Richartz Museum in Cologne actually came to the institution through its donor's Nazi connections. The painting, as Haacke's text-based work made clear, had been in Jewish possession for years before it ended up in the hands of museum patron Hermann Josef Abs during the period of Nazi rule. Other works, such as On Social Grease (1975), allude to the fact that corporate and private contributions to museums are strategic investments rather than acts of civic goodwill.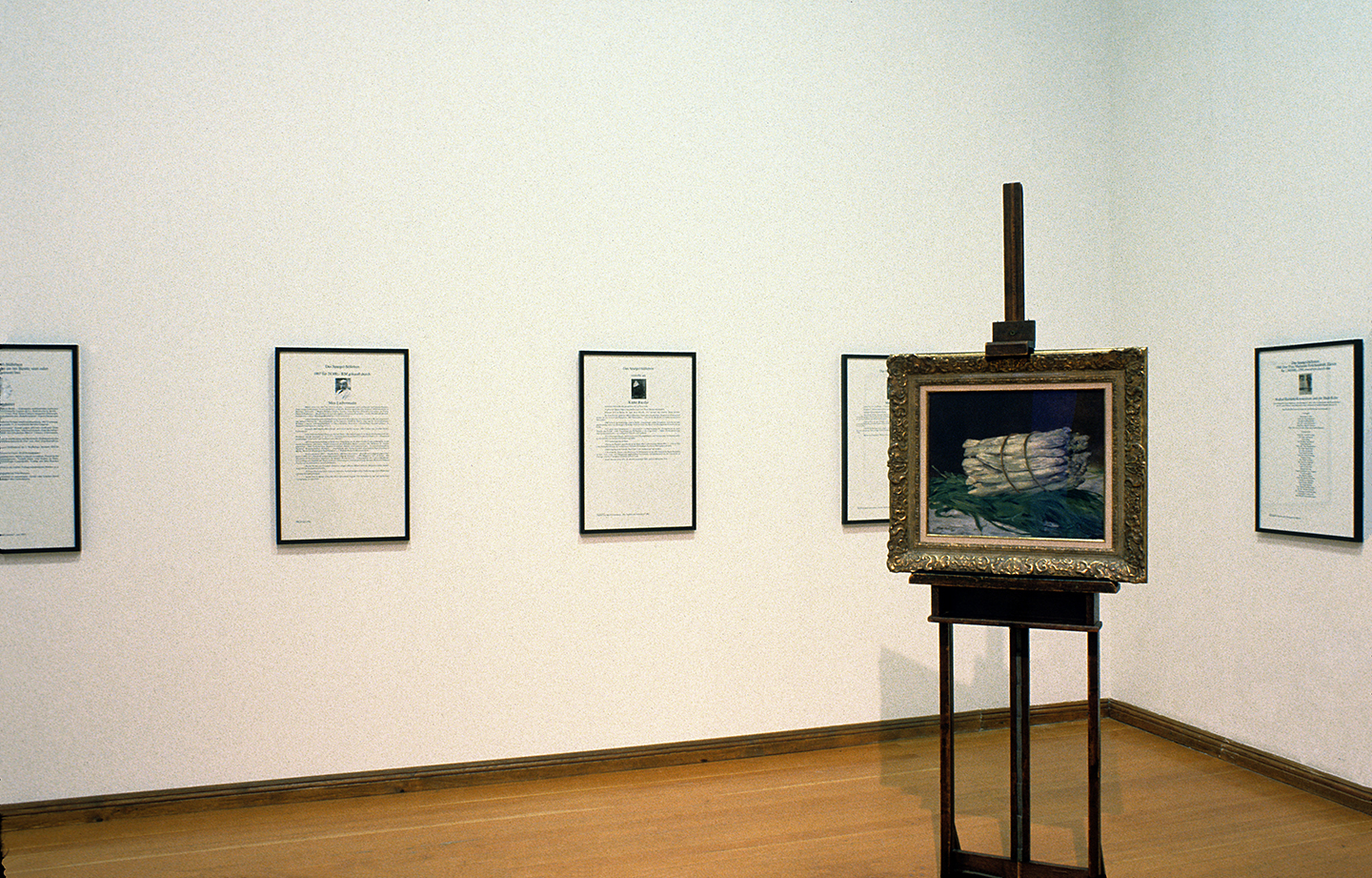 Hans Haacke, Manet-PROJEKT'74", 1974. Collection: Ludwig Museum, Cologne. First installed at Galerie Paul Maenz, Cologne, July 4–31, 1974. © Hans Haacke. Courtesy: the artist and Paula Cooper Gallery, New York. Photo: Rolf Lillig
Haacke's investigative works have been historicized together with the works of Daniel Buren and Michael Asher, which surfaced around the same time.5 Whereas Haacke made explicit the power mechanisms behind museums, Buren and Asher focused on spatial rules and exhibition conventions. The ways in which exhibition spaces are set up, they showed, are by no means inevitable or neutral, but instead follow certain conventions aimed at conveying an image of neutrality and timelessness. All three artists used sober means that spoke to an ethic of transparency and accountability. Buren applied the same formal element—his signature black-and-white-striped canvases—time and time again in different exhibition settings to draw attention to the context of the exhibition space; Asher removed and altered walls, heating elements, and partitions; and Haacke brought polls, graphics, and info panels to the museum to communicate the results of his institutional excavations. By shining a light on what it takes to make art possible, they transformed the space of the museum into a "critical" site, connecting to an ideal of public space as theorized by Jürgen Habermas: their works expressed an ideal of the public museum as a place that facilitates critical debate around the experience of art.6 This, according to Habermas, is the foundation of the public sphere: a space where subjects engage in rational-critical debates among equals.7 Their respective critiques can be seen as an attempt to reinstitute the Habermasian notion of the museum, which they saw endangered, or "camouflaged," as Buren would have it,8 by private and corporate interests and an architecture of neutrality.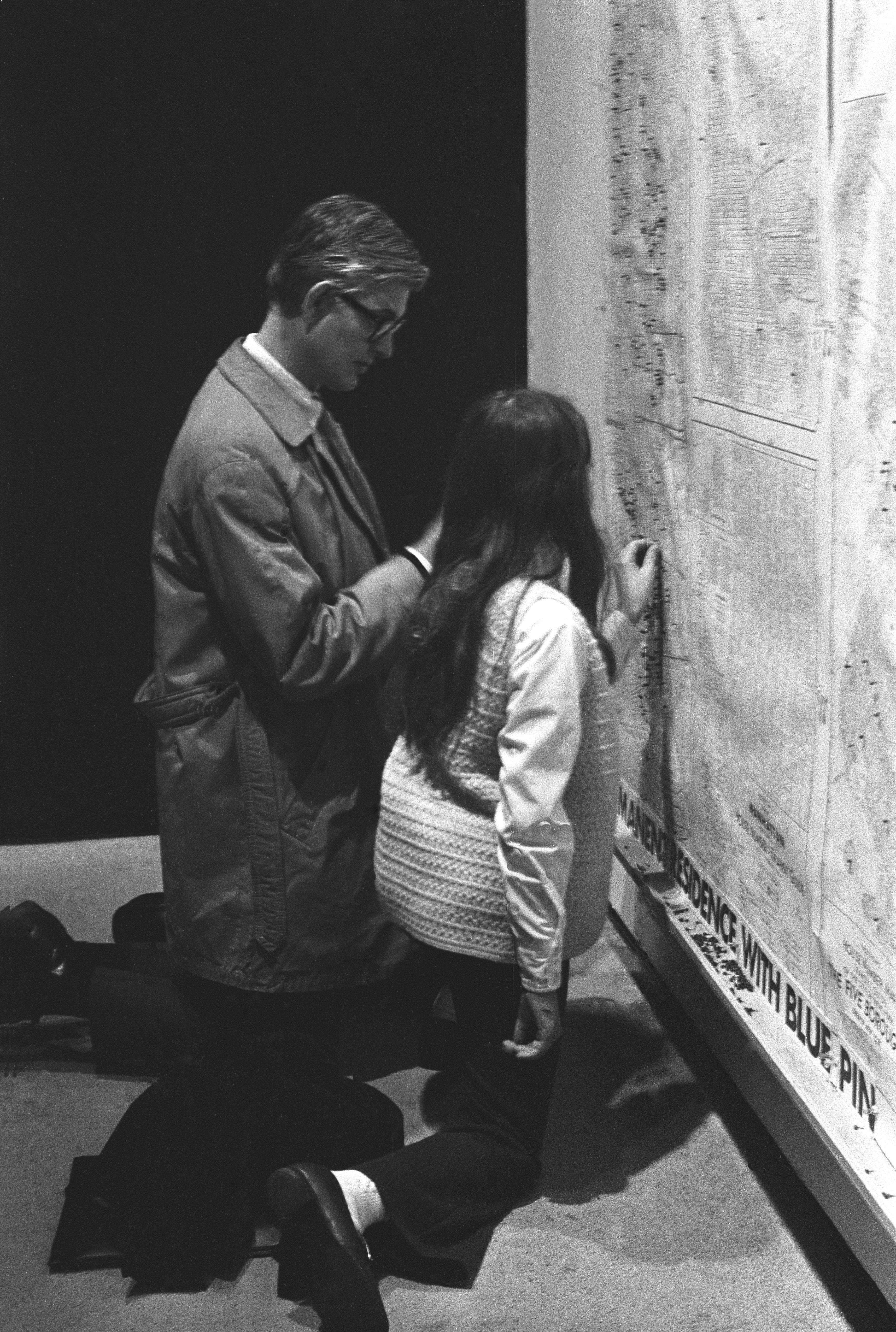 Hans Haacke, Gallery-Goers' Birthplace and Residence Profile, Part 1, 1969. © Hans Haacke. Courtesy: the artist and Paula Cooper Gallery, New York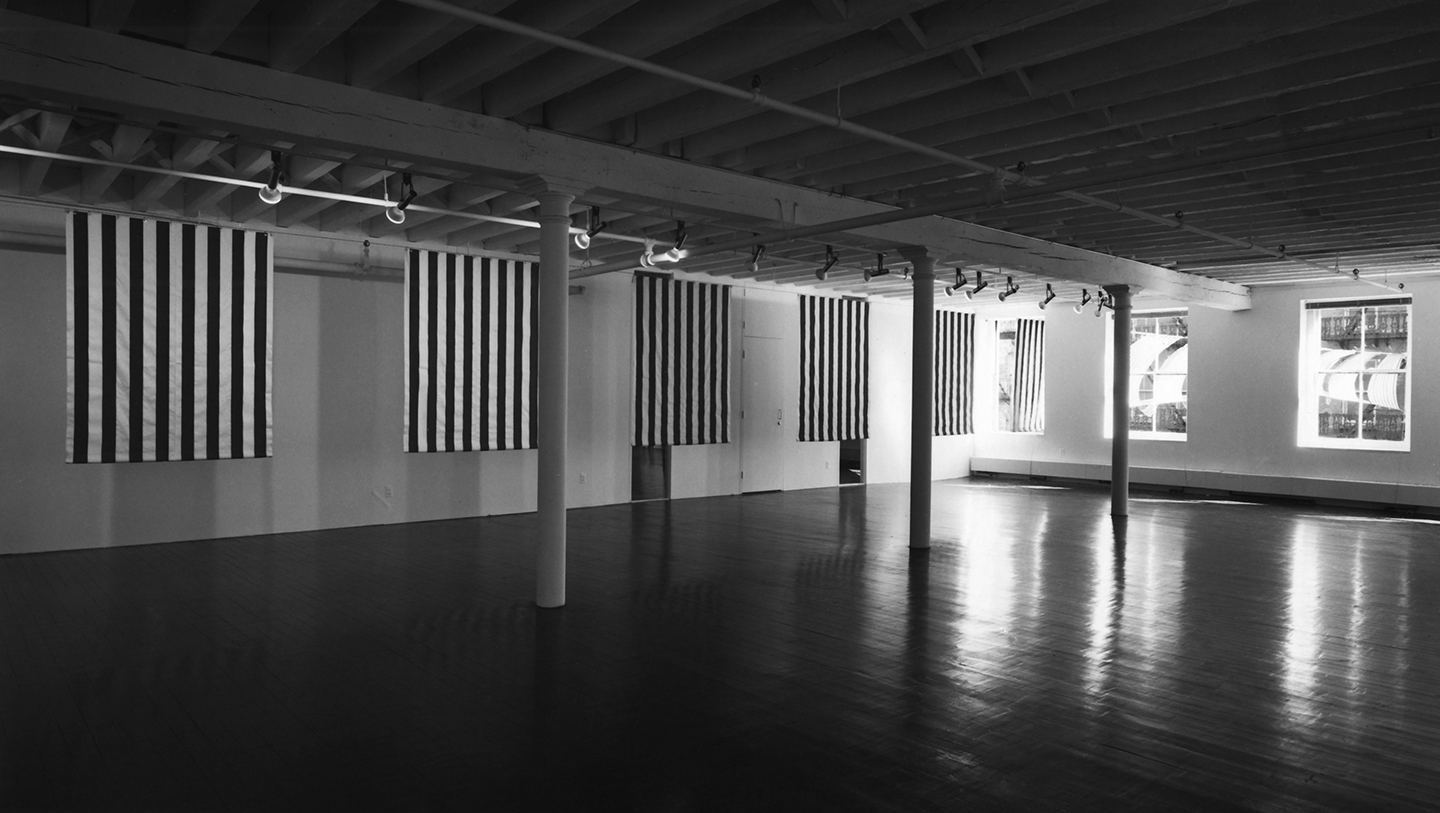 Photo-souvenir: Daniel Buren, Within and beyond the frame, work in situ, Galerie John Weber, New York, October 1973. Detail. Courtesy: the artist and Bortolami, New York. © Daniel Buren/ADAGP, Paris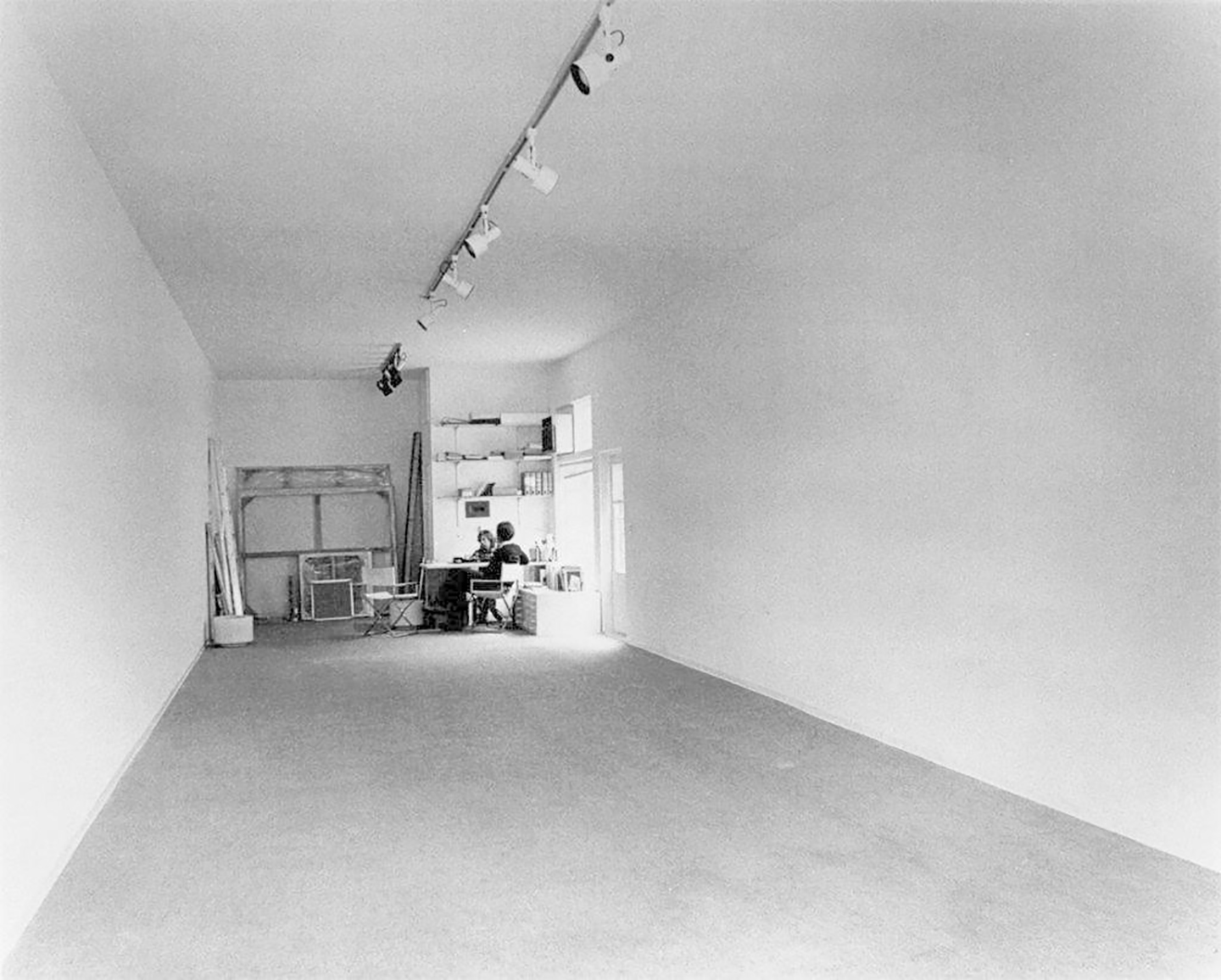 Michael Asher installation at Claire Copley Gallery, Los Angeles, 1974
Who Is the Public?
The practices of institutional critique that followed brought this general analysis down to the level of specific subjects. They showed that access to museums is not offered equally to all members of "a public of equals." On the contrary: the way that art institutions operate privileges access to these institutions for some, while inhibiting it for others. Artists such as Mierle Laderman Ukeles, Andrea Fraser, and Renée Green introduced the idea that publics are created by museums—constituted via institutional makeup, modes of address, and language employed. Consequently, it should not be assumed that every person is similarly able to participate in the general "critical" public; moreover, it is perhaps the case that a general public does not actually exist.
Ukeles's works from the 1970s addressed the invisible, often feminized labor of care by literally presenting maintenance work as art (the artist sweeping the stairs of a museum, for instance). Such performances demonstrated that care work, such as childcare and other forms of reproductive labor, had as yet no place in official exhibition spaces. What do you do with your baby in a museum when it needs breastfeeding and that supposedly public space offers nowhere for you to do so? Ukeles's work can be seen as a bridge to the practices of women artists such as Fraser and Green in the late 1980s and 1990s. Taken together, their work brings into focus the cultural value systems by which institutions are governed, pointing to the ways in which institutions give access to and address their publics. These practices paved the way for a more differentiated understanding of the museum's (un)intended public—one that is structured by gender, race, and class.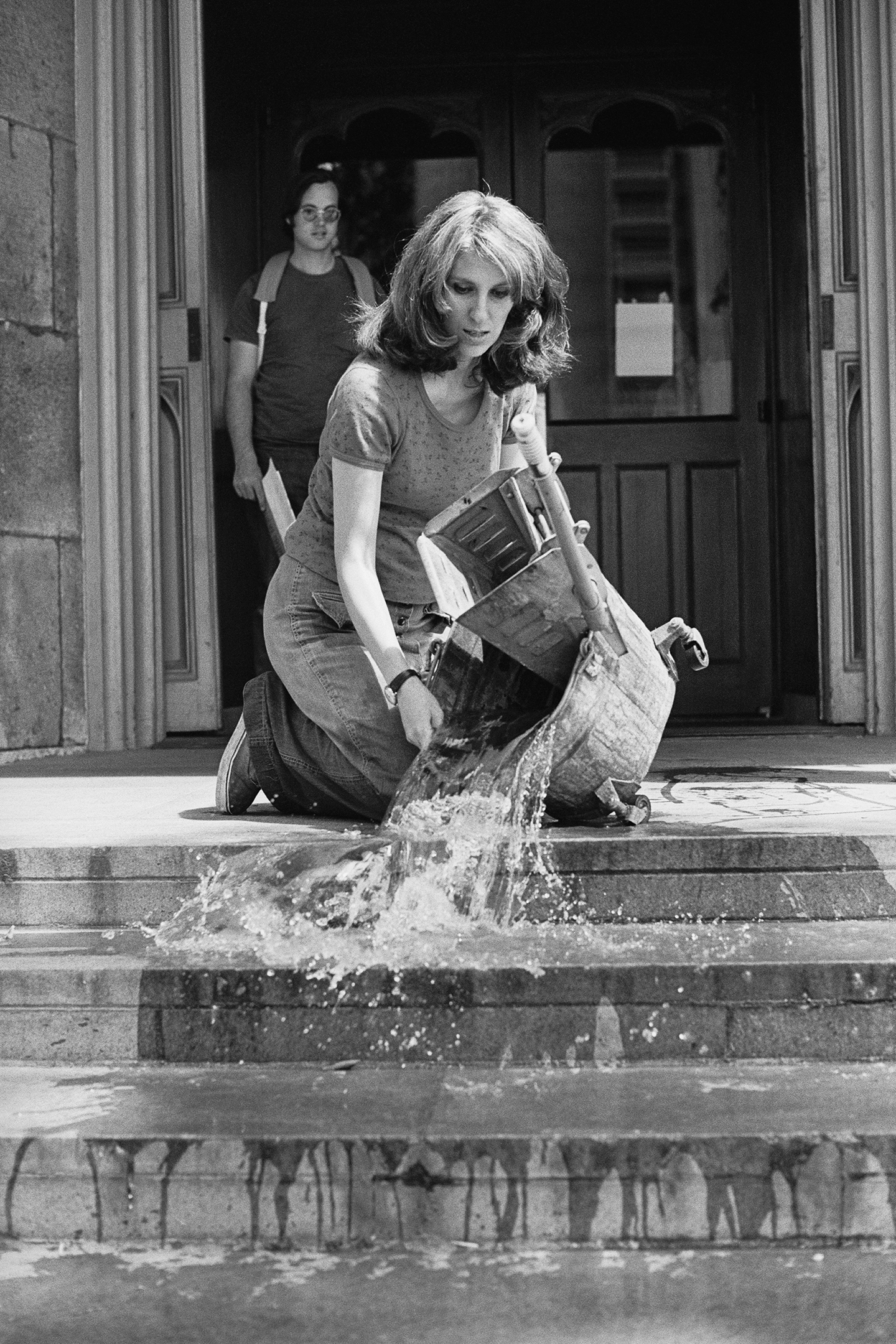 Mierle Laderman Ukeles, Washing / Tracks / Maintenance:  Outside, 1973. Part of Maintenance Art performance series, 1973-1974. Performance at Wadsworth Atheneum, Hartford, CT. © Mierle Laderman Ukeles. Courtesy: the artist and Ronald Feldman Gallery, New York
Whereas Ukeles and Fraser critically addressed the gendered and class-driven hierarchy of the art world, in Green's multifaceted work it was the cultural economy surrounding "the other" that was put into perspective. In the late 1980s and early 1990s, a number of Green's installations—for instance Permitted (1989), Sa main charmante (1989), Revue (1990) and Seen (1990)—centered on the ways in which Black women's bodies have been put on display. Seen, for instance, questioned the act of looking, describing, and classifying, using the examples of Saartjie Baartman, who became known as "Black Venus" in the nineteenth century, and Josephine Baker, one of the most celebrated performers in interbellum Paris. By creating a setup that drew in the visitor, Green highlighted the visitor's role as spectator, while at the same time putting them in a position of being examined. In order to see the work, one had to stand on a freestanding podium, exposed, in the gallery space, where an intense spotlight was directed onto the person's body so that their shadow was cast on a screen. As a result, the viewers must have become self-conscious of their own identity and how it reflects back on their viewing of others' bodies.9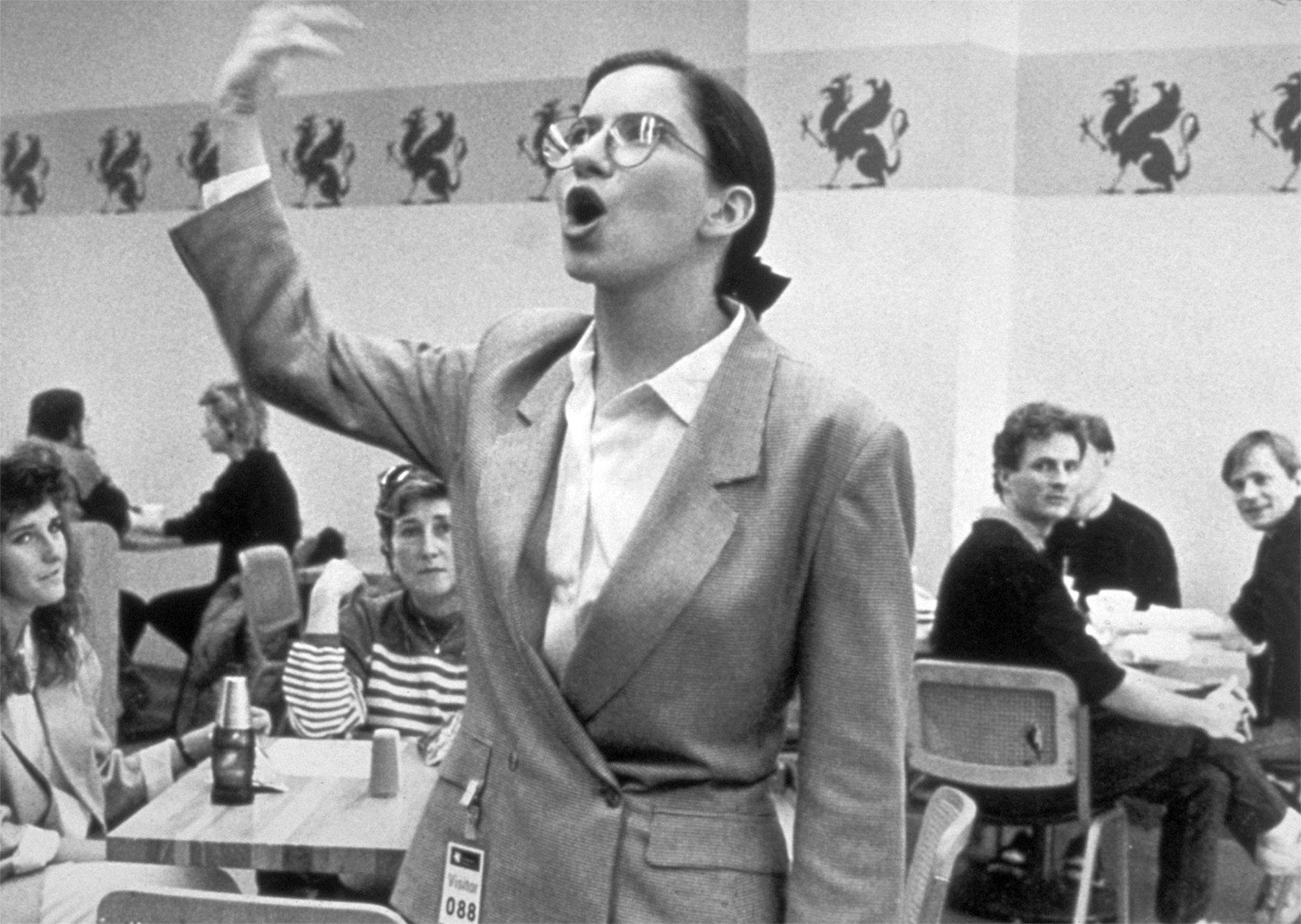 Andrea Fraser, Museum Highlights: A Gallery Talk (still), 1989. Courtesy: the artist
The Visitor Turns Client
Turning to the current situation, one could get the impression that museums have been involved in a process of adapting to Ukeles's, Fraser's, and Green's criticisms. Picnic rooms, drawing tables, and family tours have become staples of contemporary museums, which now cater in various explicit ways to school groups and families with young children. Elitist art-speak has given way to more approachable registers of language, and programs that aim to bring a more diverse public into museums abound. Yet such initiatives may have less to do with progressive politics than with business models. After all, elitism precludes a larger customer base. And while the range of services offered by museums has been diversified to serve different types of visitors, admission prices—the most tangible barrier to access—have steadily increased.10
With the rise of corporate social media platforms such as Instagram, Facebook, and Twitter, museums now increasingly build their online presence (their digital cultural capital) around user engagement and, increasingly, user-generated content.11 Users are vigorously encouraged to like and share museum-related content so as to extend the reach of the museum as widely as possible. In this environment, the notion of "public" is a concern of the PR departments that manage and advertise to audiences. Exhibitions are conceptualized for specific target groups defined by age, gender, and pastime activity preferences. Calculations are made about specific publics on the basis of previous experiences, which makes it hard to argue for reaching out to new, untested audiences. Doing so might prove unprofitable.
While these strategies are tied to specific programs, the museum as a whole—its building, its collection, and its overall communications—is considered and conceived of as a brand. The museum has become consumable. Its reach extends beyond the museum walls through online communication, marketing, rentals, and a wide range of merchandise. It becomes public through consumption, while the "general public" has diversified into a defined array of client types. Educational outreach programs exist, yes, but the current crisis has also made painfully clear that these departments are the first to be cut under budget strain.12
All Is Business in the Attention Economy
Artists who reflect on the current condition of art museums allude to an environment that, in large part, has merged with a broader creative industry in which the public and the commercial spheres have become inseparable. Moreover, they show that the communication between museum and publics has become more image-centered and no longer prioritizes language.13
In the performances and staged situations of the artist duo Lloyd Corporation, London emerges as a sprawling and layered commercial space. For A Search for Lost Causes and Impractical Aims (2016), the duo brought handheld signs and faux leather goods of the sort sold by street vendors into the luxury space of Frieze art fair. In The World for Less (2014) they invited street artists to perform in and around cultural centers like Hayward Gallery. The public spaces of London—its streets, riverbanks, and art centers—are revealed through such works as intertwined with commercial interests as a result of the city's outsourcing of its development to private investors. It becomes clear that the real friction here is not between art and commerce but between the lowbrow commerce of London's streets and the polished pastime economy of art.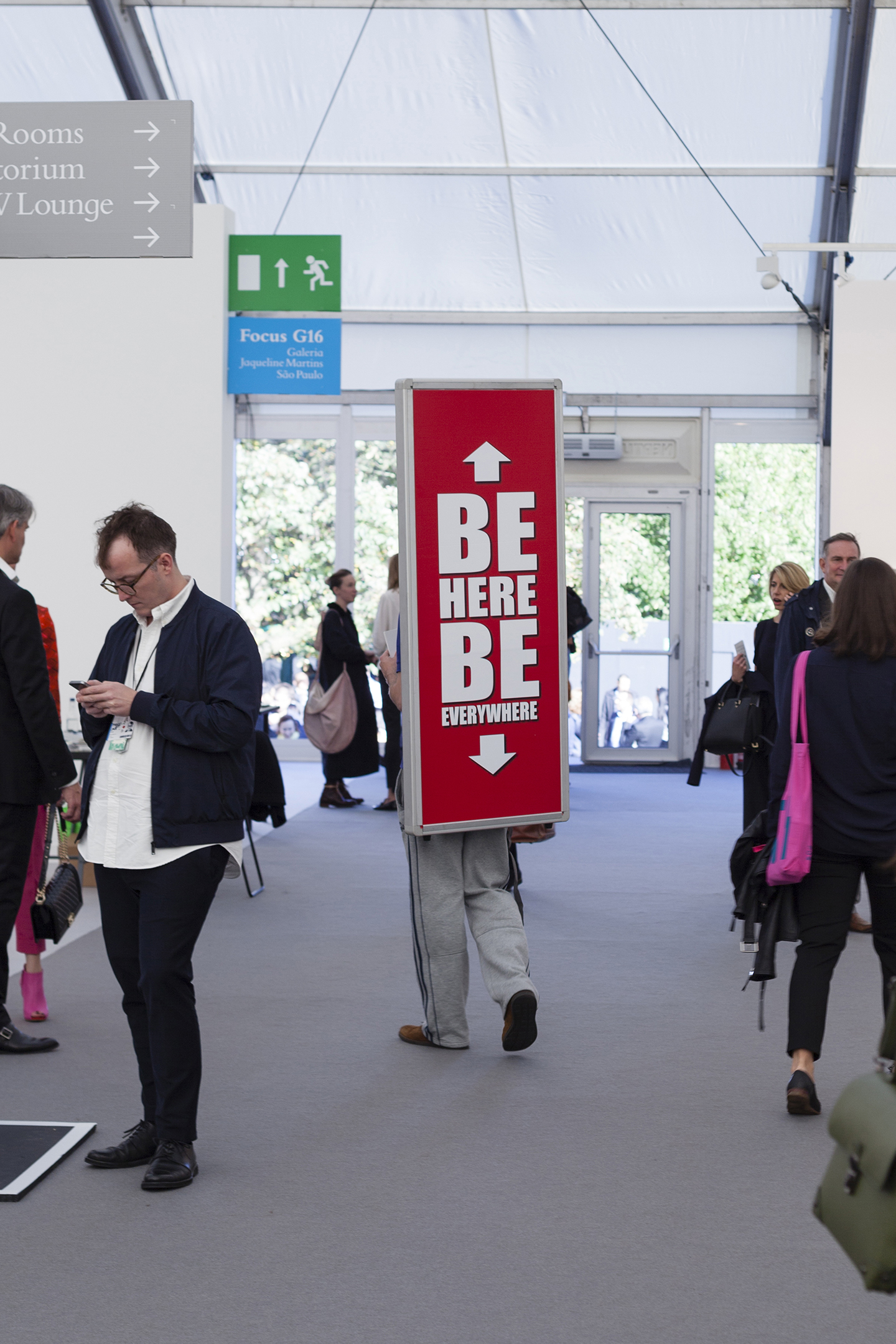 Lloyd Corporation, A Search for Lost Causes and Impractical Aims, Performance, Frieze Live, London, 2016. © Lloyd Corporation. Courtesy: the artists and Carlos/Ishikawa, London
Constant Dullaart's work focuses more explicitly on the networked, digital aspects of the art-world economy. High Retention, Slow Delivery (2014), for instance, addresses the fact that followers on social media have become a commodity.14 This work involved Dullaart buying and then "gifting" 2.5 million Instagram followers to various players in the art world (a gallerist, a curator, fellow artists, and an institution) so that each of them ended up with an equal amount. With this blunt gesture, he established a level playing field for these entities within Instagram's marketplace of attention. The work makes clear that for all involved, despite the different statuses they might claim, followers have become a prime property and that on social media, museum clients turn into commodities that further expand the commodification of the museum.
Simon Fujiwara, on the other hand, repositions the art museum experience by embedding it within a larger economy of attractions where the emulation of hyperreal experiences—the "you had to be there" factor—has become paramount. One could consider the success of Marina Abramović's The Artist Is Present (2010) at New York's Museum of Modern Art or the Yayoi Kusama mirror rooms dispersed across international museums as art-world renditions of this phenomenon.15 Drawing on strategies employed by cultural heritage sites—one of his long-term ongoing projects focuses, for instance, on the commodification of Anne Frank's story16—as well as attraction parks (Empathy I [2019]) and tourist destinations (The Happy Museum [2016]), his work questions the experience of culture and art under these conditions and, ultimately, the possibility of criticality therein.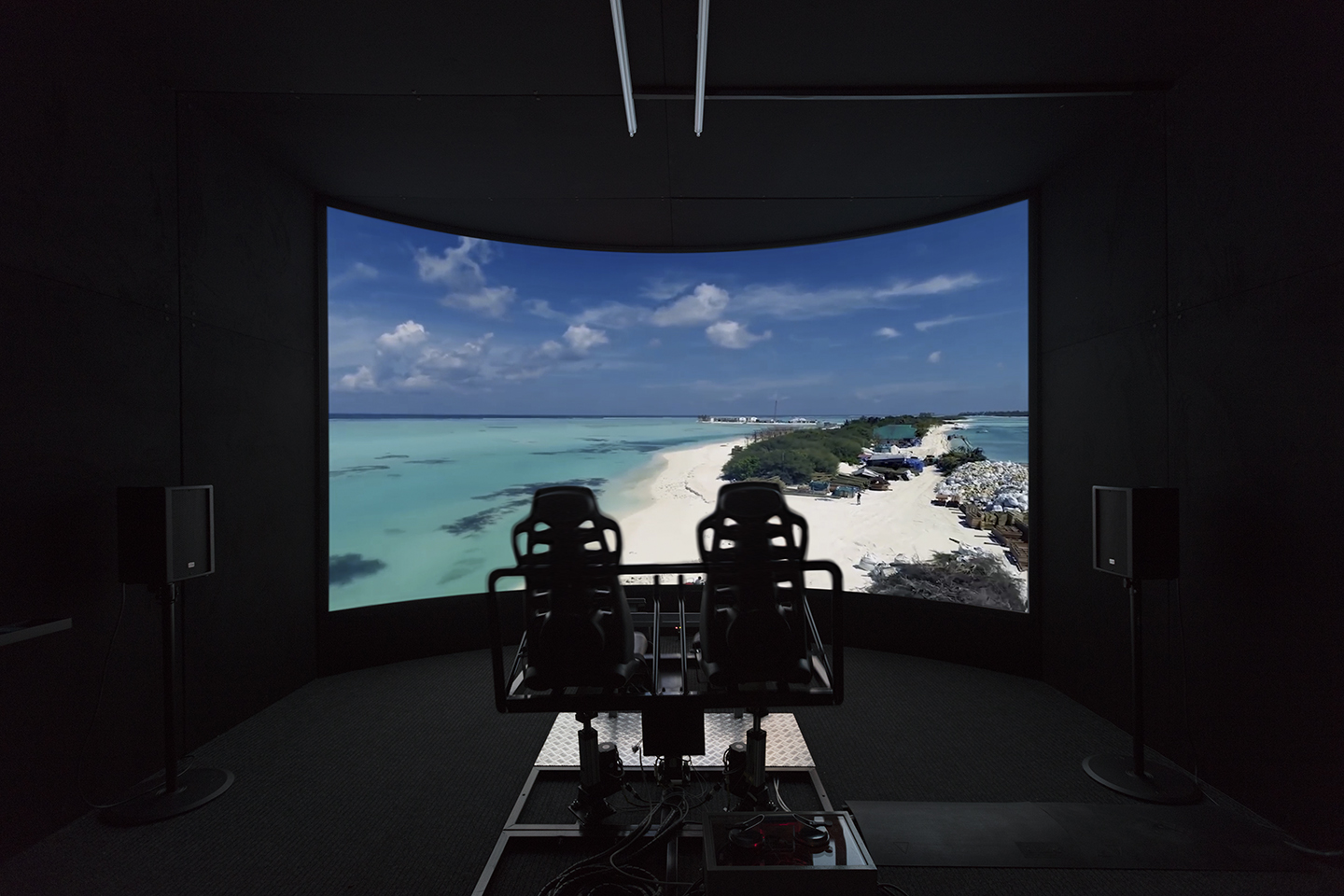 Simon Fujiwara, Empathy I, 2018, Simon Fujiwara, Empathy I installation view at Esther Schipper, Berlin, 2018. Courtesy: the artist and Esther Schipper, Berlin. Photo: © Andrea Rossetti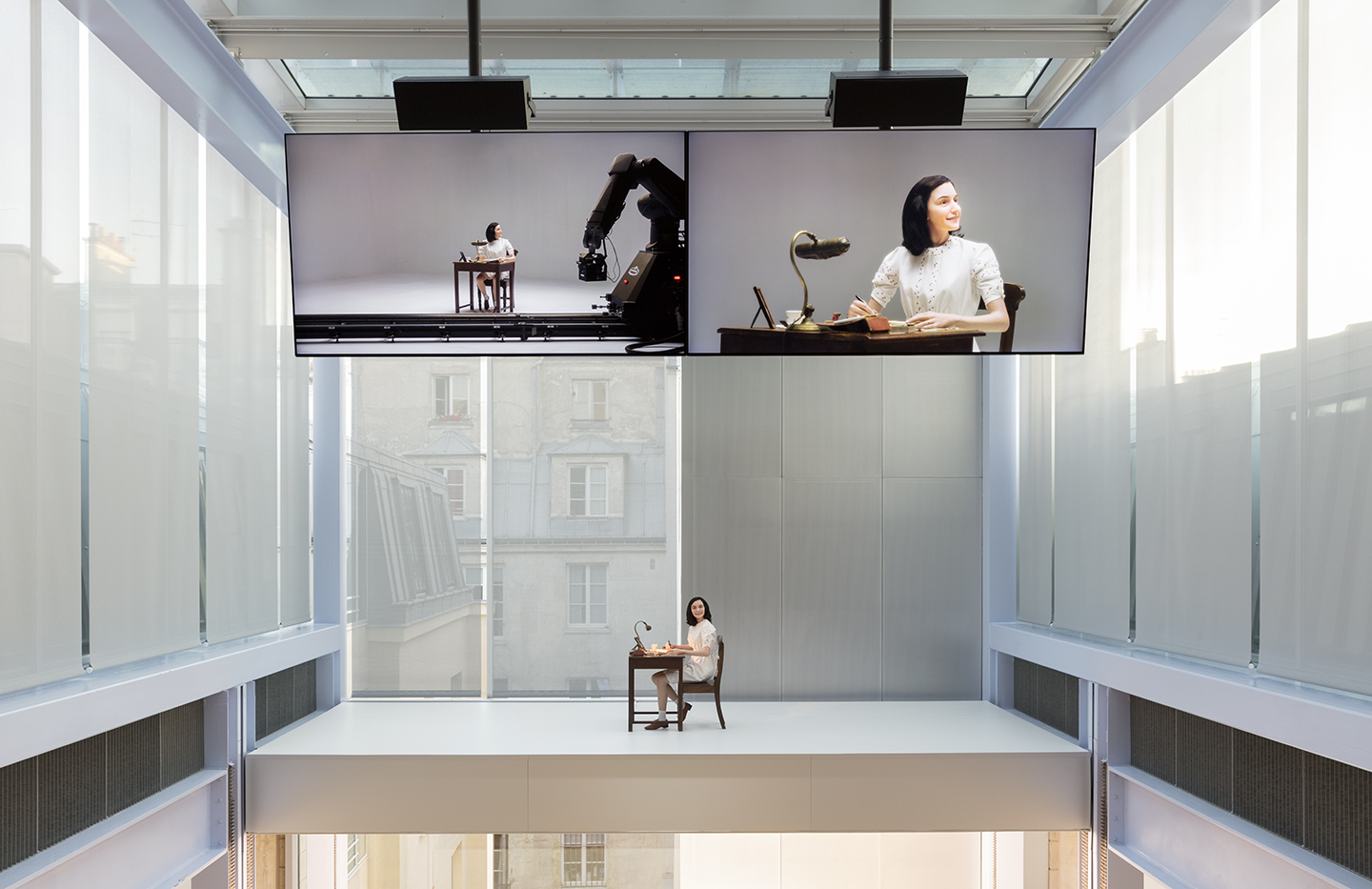 Simon Fujiwara, Likeness, 2018, Simon Fujiwara, Revolution installation view at Lafayette Anticipations, Paris, 2018. Courtesy: the artist; Esther Schipper, Berlin; Lafayette Anticipations – Fondation d'entreprise Galeries Lafayette, Paris. Photo: © Andrea Rossetti
Lastly, Gina Beavers's sculptural paintings depict the integration of artworks into content shared on Instagram. Here, the cultural capital that artworks have accrued enhances the value and image of the bodies they adorn. The Mona Lisa is painted on a fingernail, for instance, and lips are decorated with the geometric forms familiar from Wassily Kandinsky paintings. In these deliciously grotesque pieces, artworks become fetishes that mingle with stylized bodies. Art here is part of an all-consuming economy of desire and competition that draws precisely on the kind of visual capital and the iconic quality that museums hope their artworks will gain when they make them accessible online.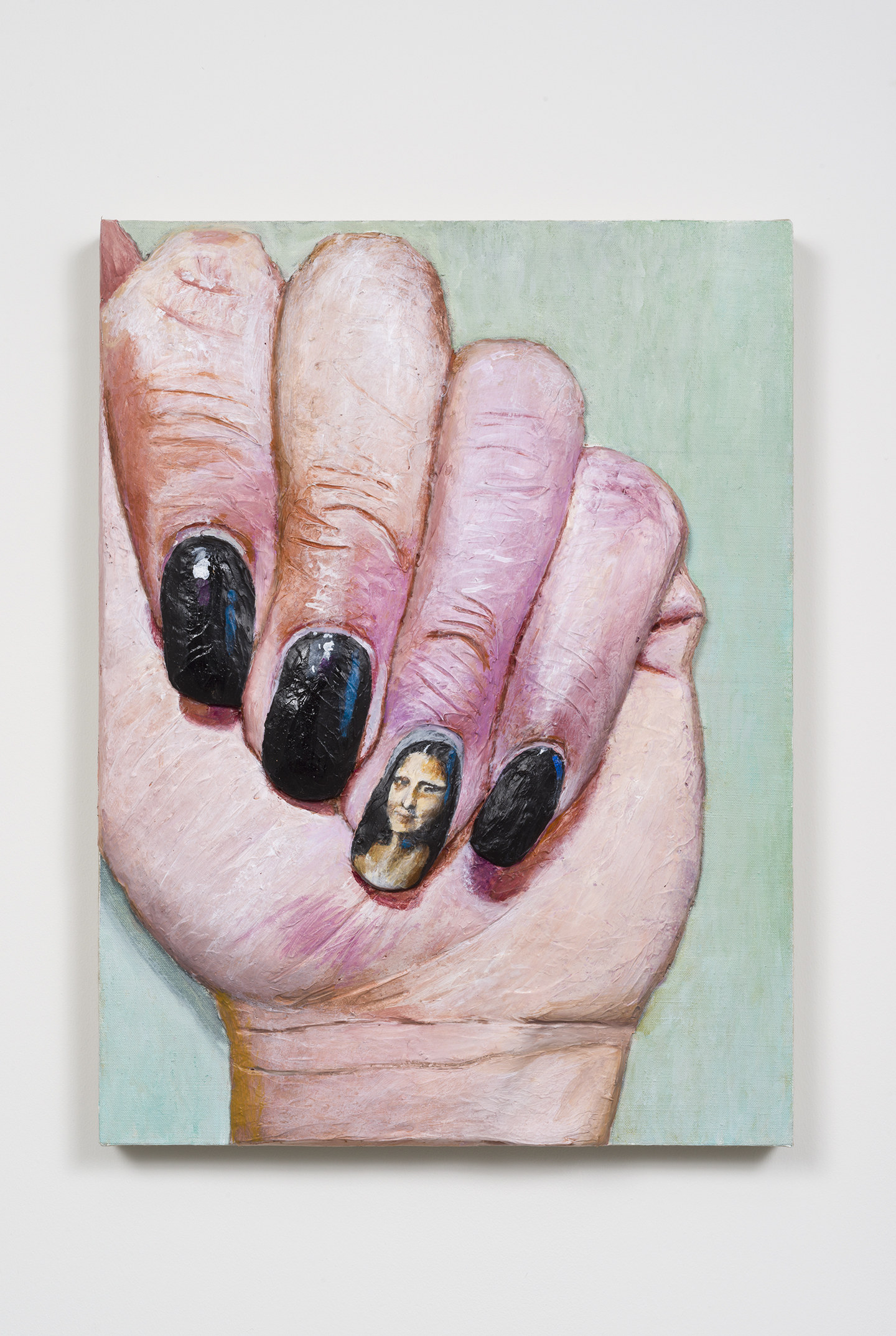 Gina Beaver, Mona Lisa Nail, 2015. Courtesy: the artist. Photo: Jeff McLane
Now or Never
Museums are valued because they are deemed public institutions, especially now that people are isolated in their homes. But "public" means more than coming together in physical space. In various works of institutional critique, "public" has been connected to transparency, criticality, accessibility, and inclusivity, and has been contrasted with private interests, shady business practices, elitism, profit, and spectacle. Museums have long been spaces in which all of these elements coexist. In recent years, however, and especially after the 2008 financial crisis, the scale has tipped in favor of business and its priorities. This reality is reflected in the most recent examples of artistic practice discussed here, which mirror a scenario where the public and the commercial have become inseparable.
Before the outbreak of the COVID-19 crisis, we saw how the normative idea of the museum as a public institution can function, much like practices of institutional critique themselves, as a corrective to that reality: recent protests have led to the resignation of board members (for instance Warren Kanders at the Whitney Museum of American Art, New York) and the termination of sponsorship ties (most famously, institutions such as the Louvre, the Metropolitan Museum, Tate, and the Guggenheim cut ties with the Sackler family).17 And at this very moment, we are beginning to see the reverberations of the Black Lives Matter movement at the museum.
But in a moment of intense financial pressure, as it becomes apparent that pre-crisis business models (based on mass tourism and mass attendance) will no longer be available, we must radically rethink how the scale can be tipped in favor of the "public" if we want to continue to argue for museums as public spaces. We need to reconsider how these spaces can be funded so that the priorities attached to that which we deem public don't come last, and so that museums truly are like parks, meaning that they belong to the category of public infrastructure and remain free and open to all, with an uncontested right to exist.
[1] András Szántó, "People Need Art in Times of Crisis. That's Why Museums Should Be Among the First Institutions to Reopen for Business—Here's How," artnet news, April 14, 2020, https://news.artnet.com/opinion/andras-szanto-op-ed-reopening-museums-1832439; Bart De Baere, director of the M HKA, Antwerp, in a press release: "Museums are like parks; spaces in which the individual experience can intertwine with the public space of being together" (https://www.muhka.be/en/programme/detail/1425-m-hka-sluit-tijdelijk-de-deuren); Hans Ulrich Obrist, "New New Deal: Toward a New Era of Social Imagination," artnet news, May 5, 2020, https://news.artnet.com/opinion/new-deal-arts-hans-ulrich-obrist-1851828.
[2] Warner writes: "The idea of a public is a cultural form, a kind of practical fiction, present in the modern world. . . . The idea of a public is motivating, not simply instrumental. It is constitutive of a social imaginary." Michael Warner, Publics and Counterpublics (New York: Zone, 2008), 8, 12.
[3] Warner connects the idea of public to a set of expectations (among which: "open for everyone," "official," "common," "impersonal," "known widely," "acknowledged and explicit"). Warner, Publics and Counterpublics, 29. K. Sabeel Rahman connects a public institution with values such as "transparency, accountability, nondiscrimination, and responsibility to the public interest." K. Sabeel Rahman, "Infrastructural Regulation and the New Utilities," Yale Journal on Regulation 35, no. 3 (2018): 236.
[4] In the United States, this is also a condition for their tax-exempt status, which (among other criteria) requires that an institution "serves the public good."
[5] Most famously by Benjamin Buchloh in "Conceptual Art 1962–1969: From the Aesthetics of Administration to the Critique of Institutions," October 55 (1990): 105–43.
[6] Haacke: "In order to reach a public, in order to insert one's ideas into the public discourse, one has to enter the institutions where this discourse takes place." Yve-Alain Bois, Douglas Crimp, Rosalind Krauss, and Hans Haacke, "A Conversation with Hans Haacke," October 30 (1984): 42.
[7] Frazer Ward, "The Haunted Museum: Institutional Critique and Publicity," October 73 (1995): 73.
[8] Daniel Buren, "The Function of the Museum," in Theories of Contemporary Art, ed. Richard Hertz (Englewood Cliffs, NJ: Prentice-Hall, 1985): 192.
[9] See Huey Copeland, Bound to Appear: Art, Slavery, and the Site of Blackness in Multicultural America (Chicago: University of Chicago Press, 2013), 157ff; Kobena Mercer, Travel Et See: Black Diaspora Art Practices since the 1980s(Durham, NC, and London: Duke University Press, 2016), 555ff.
[10] As Dana Kopel recently wrote: "Nothing that costs $25 to enter can really be considered public." Dana Kopel, "The Museum Does Not Exist. Pay What You Can, See What You Can't," SSENSE, May 13, 2020, https://www.ssense.com/en-us/editorial/culture/the-museum-does-not-exist. The surge in museum admission prices is often directly linked to tourism, as is shown in a 2018 Guardian article discussing the decision of the Metropolitan Museum in New York to charge US $25 for non–New York state residents and give up its "pay-as-you-wish" policy. Nadja Sayej, "'Museums Should Be Accessible': The Backlash to the Met's New Pricing Policy," The Guardian, January 8, 2018, https://www.theguardian.com/artanddesign/2018/jan/08/met-museum-new-pricing-policy-backlash.
[11] In times of quarantine, the museum selfie has been swapped for re-creating artworks at home, which has been captured by the account/hashtag tussenkunstenenquarantaine (https://www.instagram.com/tussenkunstenquarantaine/) and taken up by Getty as "the Getty Museum Challenge" (https://blogs.getty.edu/iris/getty-artworks-recreated-with-household-items-by-creative-geniuses-the-world-over/).
[12] In the beginning of April, MoMA terminated all contracts with freelance educators. The email sent to them stated: "It will be months, if not years, before we anticipate returning to budget and operations levels to require educator services." Valentina Di Liscia, "MoMA Terminates All Museum Educator Contracts," Hyperallergic, April 3, 2020, https://hyperallergic.com/551571/moma-educator-contracts/.
[13] Warner, Publics and Counterpublics, 16.
[14] View High Retention, Slow Delivery at https://vimeo.com/107035478.
[15] See "Will Work for Dots: High Museum to Hire Temporary Staff to Deal with Kusama Crowds," Art Newspaper, September 11, 2018, https://www.theartnewspaper.com/blog/will-work-for-dots-high-museums-to-hire-temporary-staff-to-deal-with-kusama-crowds.
[16] This is an ongoing project that has resulted in different works with varied titles, for instance Hope House, Dvir Gallery, Tel Aviv (2017) and Hope House (different work, same title), Kunsthaus Bregenz (2018), and various works with individual titles such as Untitled (Penthouse) (2018), Anne Frank's Birthday Cake (2018), and most recently Likeness (2018) at Lafayette Anticipations, Paris, and Hamburger Bahnhof, Berlin.
[17] The Kanders scandal was over the production of tear gas; the Sackler scandal was related to the opioid crisis. Board members at US museums pay significant amounts to the institutions they "serve." As a 2019 New York Times article makes clear: "At the Whitney, a new trustee is generally expected to contribute about $5 million within a few years of joining the board and then about $200,000 annually to stay on it." This is a particularly fraught system, as it means that the same people who fund art institutions also govern them. Robin Pogrebin, Elizabeth A. Harris, and Graham Bowley, "New Scrutiny of Museum Boards Takes Aim at World of Wealth and Status," New York Times, October 2, 2019, https://www.nytimes.com/2019/10/02/arts/design/whitney-art-museums-trustees.html.
Melanie Bühler has been the curator of contemporary art at the Frans Hals Museum, Haarlem, the Netherlands, since 2018. Prior to this, she worked as an independent curator. She is currently working on The Art of Critique, a series of three exhibitions of which the first, Image Power: Institutional Critique Today, is currently on view at the Frans Hals Museum. Other recent exhibitions include Noise!, Frans Hals Museum (2018); Photography Today: Private Public Relations, Pinakothek der Moderne, Munich (2017); and Inflected Objects, an exhibition series that appeared at Future Gallery, Berlin (2016), De Hallen Haarlem (2016), and the Swiss Institute, Milan (2015). She is the founder and curator of Lunch Bytes (2010–15), a project on digital art and culture for which she collaborated with Art Basel; CCA, Glasgow; ICA, London; and the Hirshhorn Museum and Sculpture Garden, Washington, DC. She is the editor of No Internet, No Art (Onomatopee 2015) and coeditor of The Transhistorical Museum (Valiz, 2018), and her writings have appeared in various exhibition catalogues and art magazines.