ESSAYS Mousse 18
Are We Looking Good?
by Thibaut Verhoeven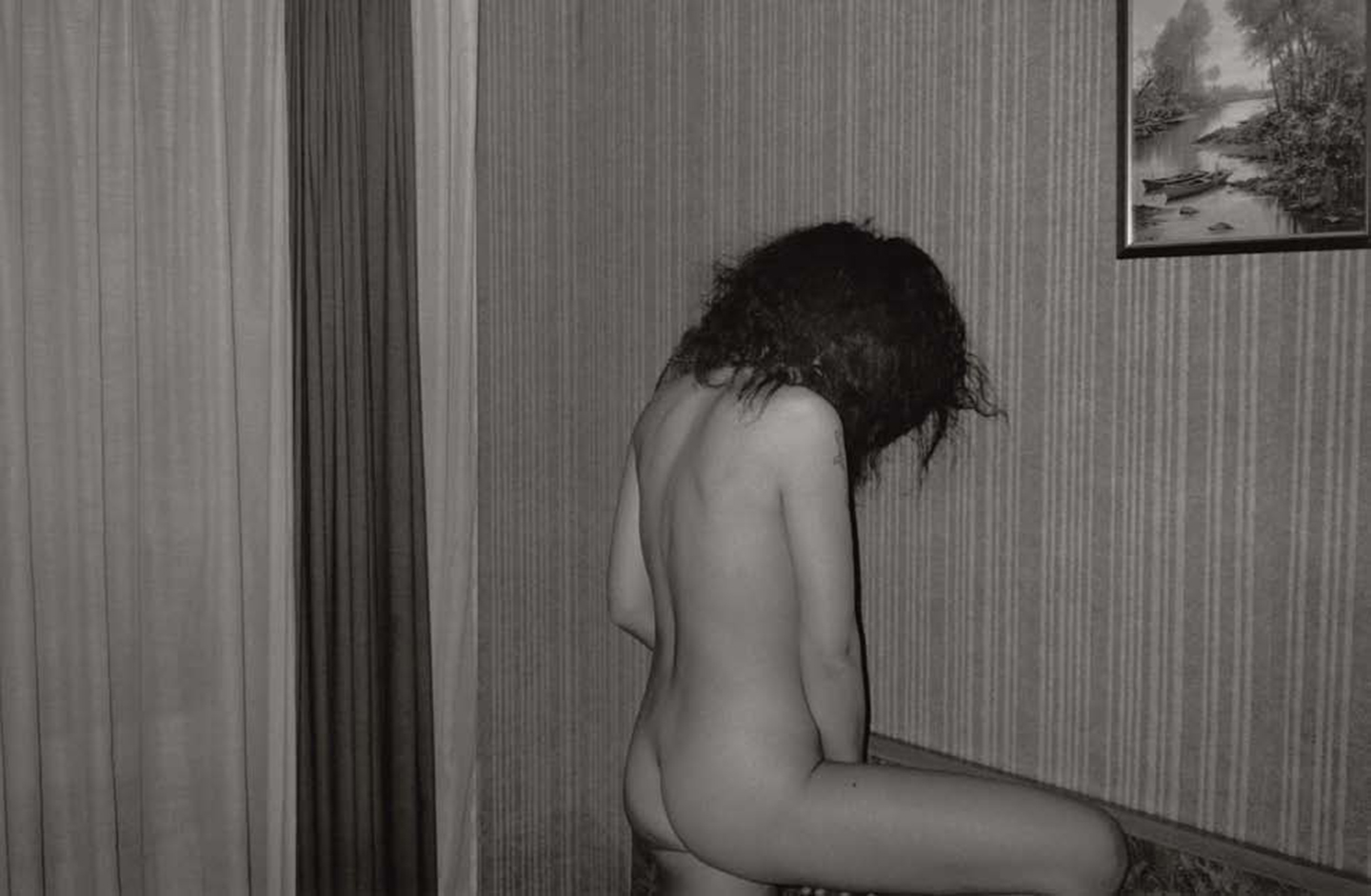 Dirk Braeckman, V.R.-P.A.-96, 1996. Courtesy: ZENO X Gallery, Antwerpen

What is really behind the recent boom in both criticism and the market that come to involve even non-abstract painting? Anything but an idle question, and it is Thibaut Verhoeven's starting point for investigating whether the motive for this renewed interest lies in the specific material and representative characteristics of this quintessential form of "artistic" expression, or in the tendency of the most successful figurative contemporary painters to explore conceptual terrain. Is painting still the magical realm where color is turned into image, or is it a means of discussing semiotics?
"Hot, Hotter, Hottest". They are three simple words and the title of a hit by the Belgian rock band Zita Swoon (whose singer is also a spare-time painter) that always comes to mind when I look at the popularity of figurative painting in the contemporary art world. Nowadays, it could not be any hotter, certainly not among collectors. Here's a snatch of recent "art history" to prove it: a few years ago the Saatchi Gallery came up with The Triumph of Painting, a series of large-scale shows on painting. Matthias Weischer took off through the roof of the Giardini at the last Venice Biennale but two. Young painters, who have not yet been on the international circuit for long, such as Wilhelm Sasnal, Michaël Borremans and Koen van den Broek, are fetching dizzying prices. In Belgium itself, retrospective articles are being written about twenty years of painting in Flanders, and very young painters like Mathieu Ronsse sell out the whole of their first serious solo show, again at prices far beyond the reach of the average office worker's budget. Much more attention is being paid, by museums among others, to other Belgian painters such as Werner Mannaers and Joris Ghekiere, who have spent years on the fringes of the national art circuit. To say nothing of the still escalating international success of Luc Tuymans, who by now has achieved the status of national art hero.
So it's not hard to point to a minor hype about figurative painting. But is it being spoken about seriously or, rather, is it being looked at properly? Do we still actually know how to look at a painting in a way that transcends the individual artist and, even more importantly, his message? I somehow fear not. Because, however ubiquitous painting now again seems to be (in addition to the other media, of course), I do not get the impression that the ability to look at and interpret paintings has progressed very far since the early nineties. In fact I wonder why. And while we are at it, I actually wonder above all whether painting today can in any sense still be viewed from the point of view of painting itself. Because now more than ever it seems that paintings and painters are increasingly viewed by the art-loving public from an angle generated mainly by the new media.
Perhaps it's time to go on a retreat again, in order to consciously try to take a new look at these fascinating things comprising four battens, a few staples and a piece of canvas, which—despite all the cool and smart media—have been cropping up in the history of our Western art for more than half a millennium.
In principle, looking at painting these days suffers from a gigantic and entirely schizophrenic problem, which started to polarize slightly less than a century ago in the work of two of the twentieth Century's most important painters: Marcel Duchamp and Pablo Picasso. In my opinion, it is in the work of these two artists that one for the first time senses the duality of the way people look at painting, which has to a certain extent influenced our view of contemporary painting to the present day. As every true culture-vulture knows, Duchamp's urinal, which he exhibited under the name R. Mutt in 1917, is just about one of the greatest statements on the status of art ever made. He was the first to elevate absolute ordinariness, in the form of banal found objects, to the level of art. It was in this most radical way that Duchamp took up his position in the debate on contemporary art. But at the same time his urinal statement also had another effect, something that was of substantial but negative importance to the view of painting and was to be dominant over the decades to come. What he did, in a work that was conceptual before its time, was to distance himself fundamentally from the material itself—in the context of this article this means paint—whereby, at a stroke, he made short work of one of the aspects most inherent to painting: the image as a construction of a specific reality. Since Duchamp, looking at art has never been the same. Since then, one no longer looks at art, one discusses it. With your art—or your discourse—you position yourself in a debate on art. Looking is converted into being seen or, rather, being heard.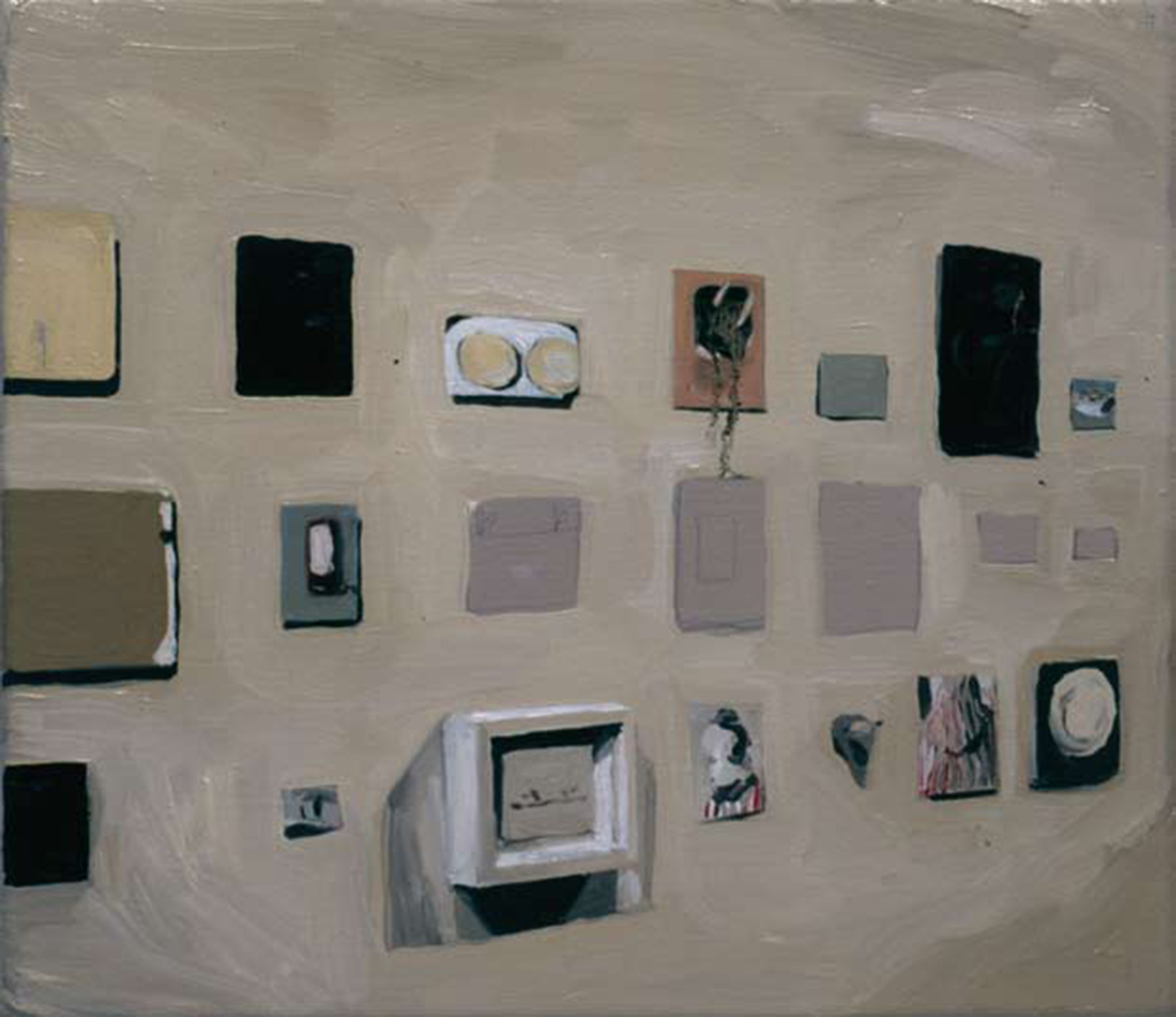 Michael Borremans, Exhibition, 1999. Courtesy: ZENO X Gallery, Antwerpen
What Pablo Picasso was doing at about the same time was in principle exactly the opposite. With the aid of his materials, he proved that a painting was nothing but a (de)construction of a particular reality. An illusory work, built up using paint, whereby the viewer needed to do no more than look attentively in order to (re)construct the painted image in his mind and thus form a possible image of reality. Looking at a Picasso was in the first place a highly material, perhaps even physical form of looking.
The two artists did however have one thing in common: their art stood out in contrast to a medium which was then very young but advancing rapidly: photography. Painting was no longer the ideal medium in which to represent reality, and over the decades to come it was largely in isolating itself from this new medium that painting retreated into a fairly autistic, self-reflective and modernist logic. It had chosen the angle from which it would view things, and it was no longer that of the physical body, but that of the mind.
At about the end of the seventies, when the Neue Wilden appeared in Germany, there was a highly emotional and demonstrative reaction to this intellectual approach to looking and painting which in fact rejected the whole of conceptual modernism, with the desire to return to pure painting. In their case, this took the form of an extremely expressive, unreasoned and physical handling of the pure materials: paint and canvas. The Neue Wilden proclaimed an abundantly clear U-turn in the way of looking at painting. It once again became an almost lustful, physical and material looking. It was a view that involved bold materials and a shiny, usually very thick use of paint. A wild and unreasoned, but primarily formal way of looking, that claimed little or no actual content.
This constantly polarizing switch between discourse and material in the way of looking at painting lasted a good half-century, and gave painting the opportunity to reflect upon itself, safe and undisturbed. But this was thoroughly shaken up by a crucial development that profoundly shaped the current way of looking at painting: the rise of new media.
The appearance of such media as film, photography and video in contemporary art pushed painting into a serious crisis of legitimacy. The reason for this is actually quite simple; they are all media that are extremely well suited to generating pure content. This inherently media-like quality in fact gave rise to a way of looking at art that concentrated intensely on generating meaning in its content. This almost fetishist focus on the semiotics of the image meant that painting—which in principle had throughout its history occupied itself with drawing an image into a specific materiality (i.e. paint)—was now obliged to show itself as an image which in fact again comes down to the aspect of communication. Since then, an artistic image is obliged to convey a message which—difficult as it may be—must in one way or another be communicated to a particular recipient. So, since the arrival of the new media, this way of looking, which revolves very much around content, meaning and message, was unwittingly entirely oblivious to one essential material aspect of painting: its conversion into an image in paint.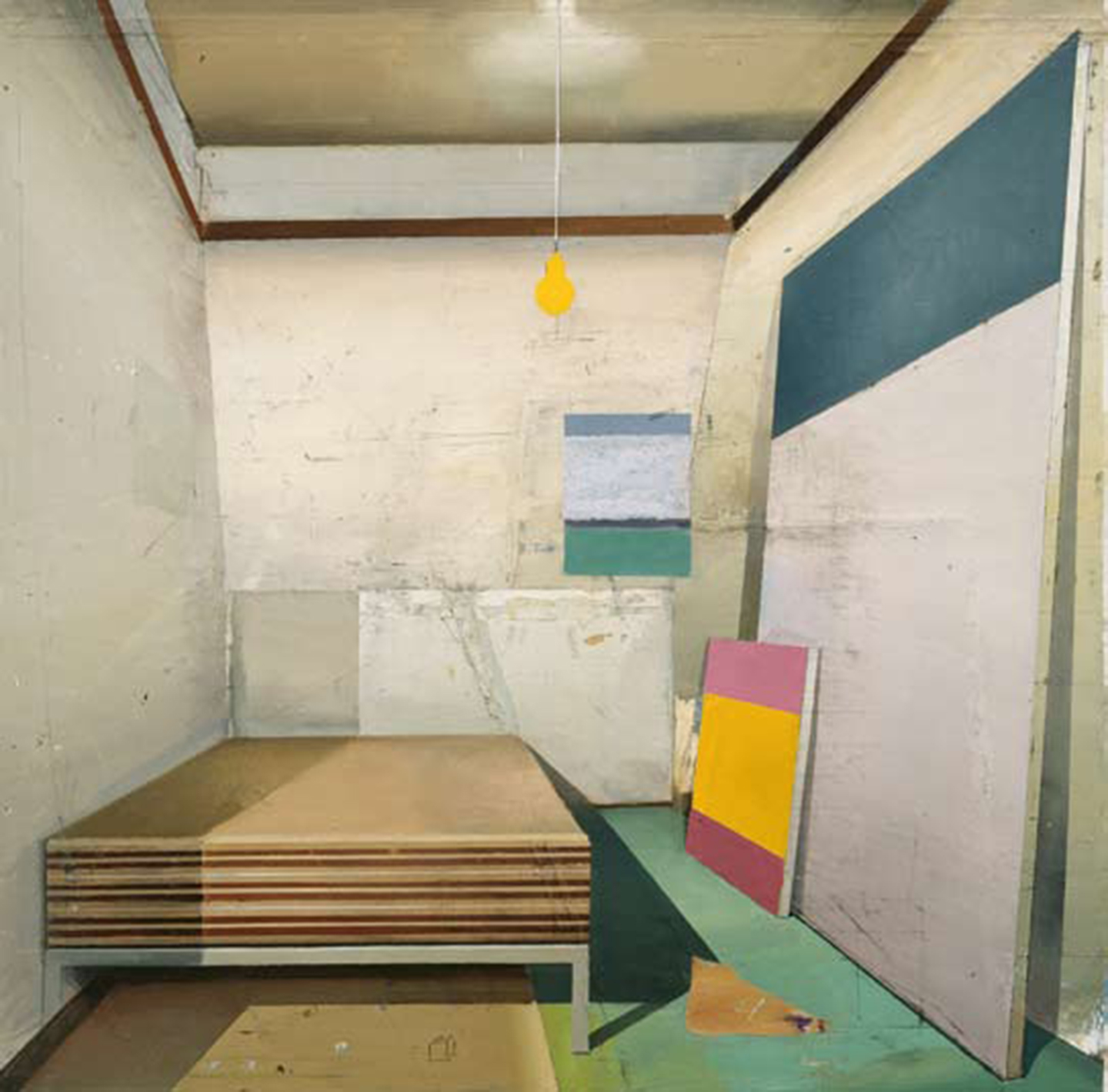 Matthias Weischer, Gelbe Lampe, 2004. Courtesy: Galerie EIGEN + ART Leipzig /Berlin
In this regard, an additional problem is that—in the Eighties and Nineties—painting itself started to defend itself in completely the wrong way against this 'new' way of looking that was unsuited to the medium of painting. In its urge to position itself with regard to the view of art generated by the new media, with its hunger for meaning, it largely disregarded its own materiality. At certain times this went so far that painting began to define itself in interdisciplinary terms. A good example of this is the Trouble Spot: Painting exhibition, organized by Luc Tuymans and Narcisse Tordoir at the Museum of Contemporary Art in Antwerp in 1999. In their quest to tie painting in with the new media, these painter-curators brought together artists from a variety of disciplines and media, who displayed links with the practice of painting in form and/or content. The capital error they made is that by means of this scheme they generated a perception that reinforced the one-sided "meaning-based approach" to painting even more. One quite alarming consequence is the frequency with which the Belgian art photographer Dirk Braeckman has since been taken for "a painter", because he takes photographs with a particular "painterly-looking texture". In fact there's nothing difficult about it: Braeckman is a photographer, for the simple reason that he doesn't use paint to create his images. That's all. So the evolution outlined above, which was partly brought about by painting itself, has seen to it that, precisely when painting is no longer starved of real attention, in today's contemporary art world it is interpreted largely as concerning a semiotics of the image. It is regarded solely with a view to the content, meaning or message the painting is meant to generate, and what position this occupies in a contemporary art world and its typical debate-oriented culture. In short, at the present time the painting is commonly seen simply as contemporary art, and this within the context of contemporary art. Whereas in my opinion, paintings, certainly at this moment in time, once again have a pressing need for a view based on the material, pictorial, and thus typically painterly aspect. In this respect, what is especially fascinating is in fact the conclusion that painting today is still the only medium that seems to have no "non-artistic" counterpart. Video and photography do, in the form of television and journalistic photography. This is perhaps precisely why looking at painting is in principle more a question of looking at a niche medium, and thus in the first place has more to do with looking at the specific materiality of the medium than searching for its content.
After all, looking at a good painting still means looking at the miraculous way paint becomes an image. In that order. As far as I am concerned, precisely what this image means lies at least as much between the paint and the image as after the image. But it always, always, comes after the paint.
Originally published on Mousse 18 (April-May 2009)