CONVERSATIONS Mousse 62
Inhabitation and Dialogue: Asad Raza
Close
1
2
3
4
5
6
7
8
9
10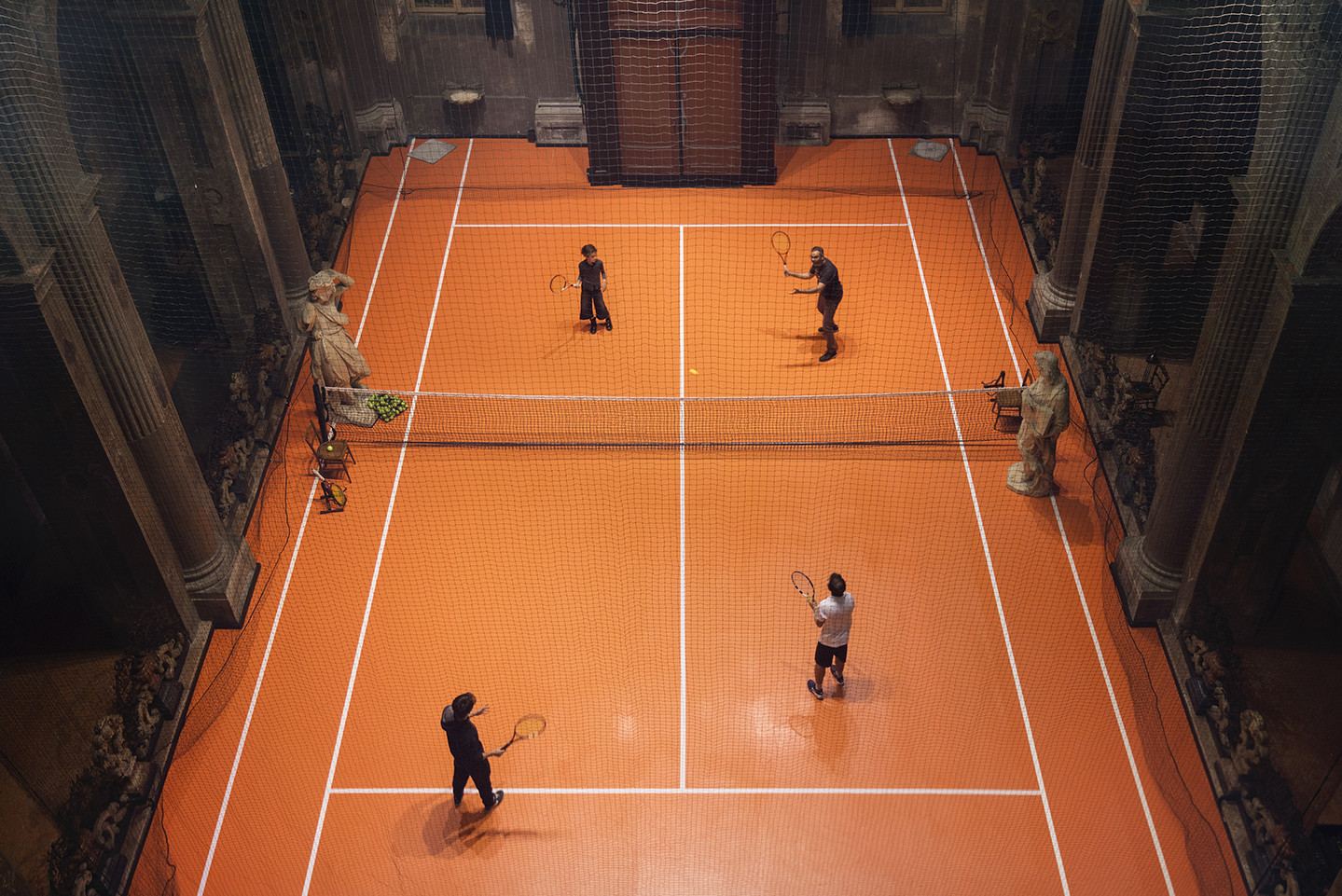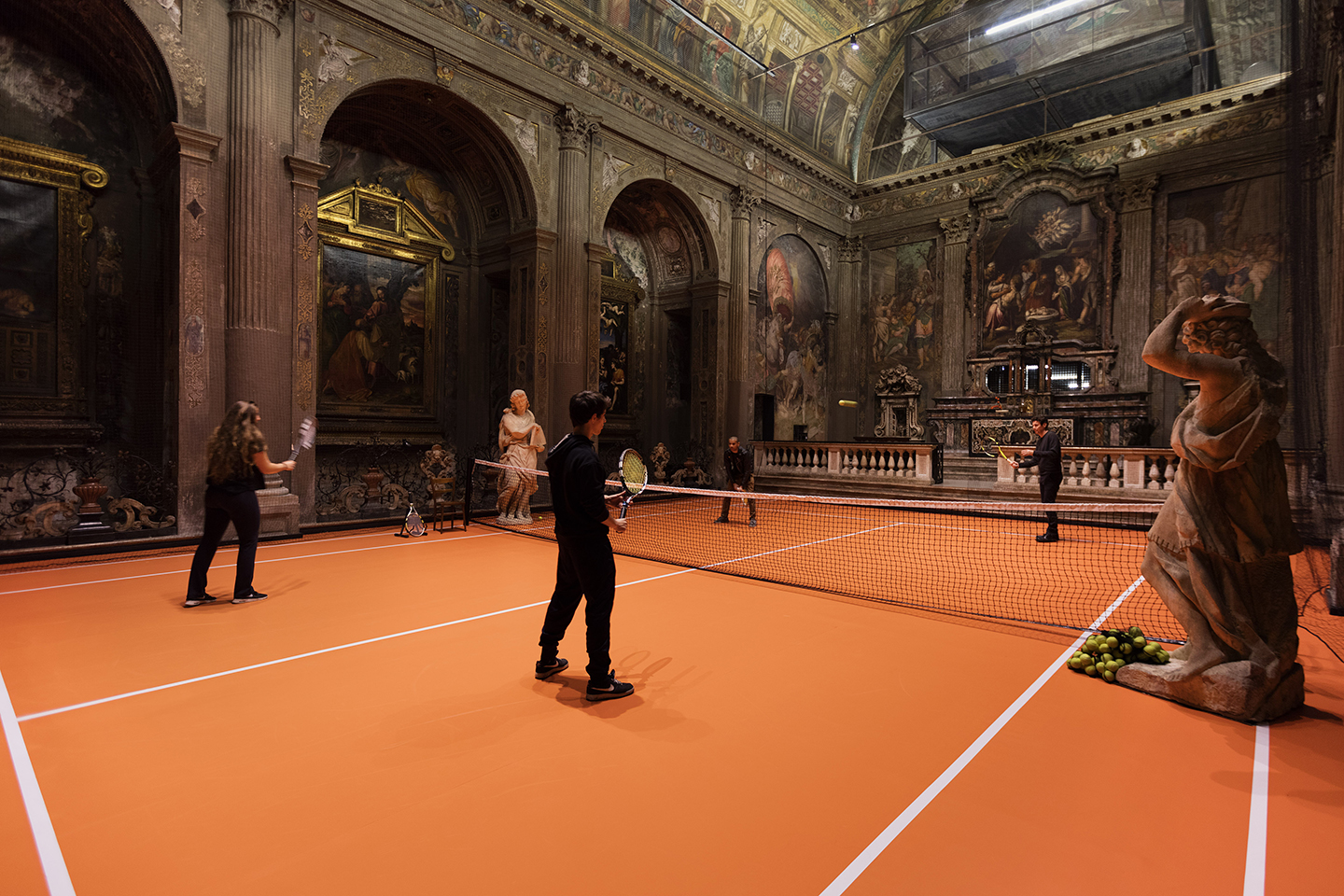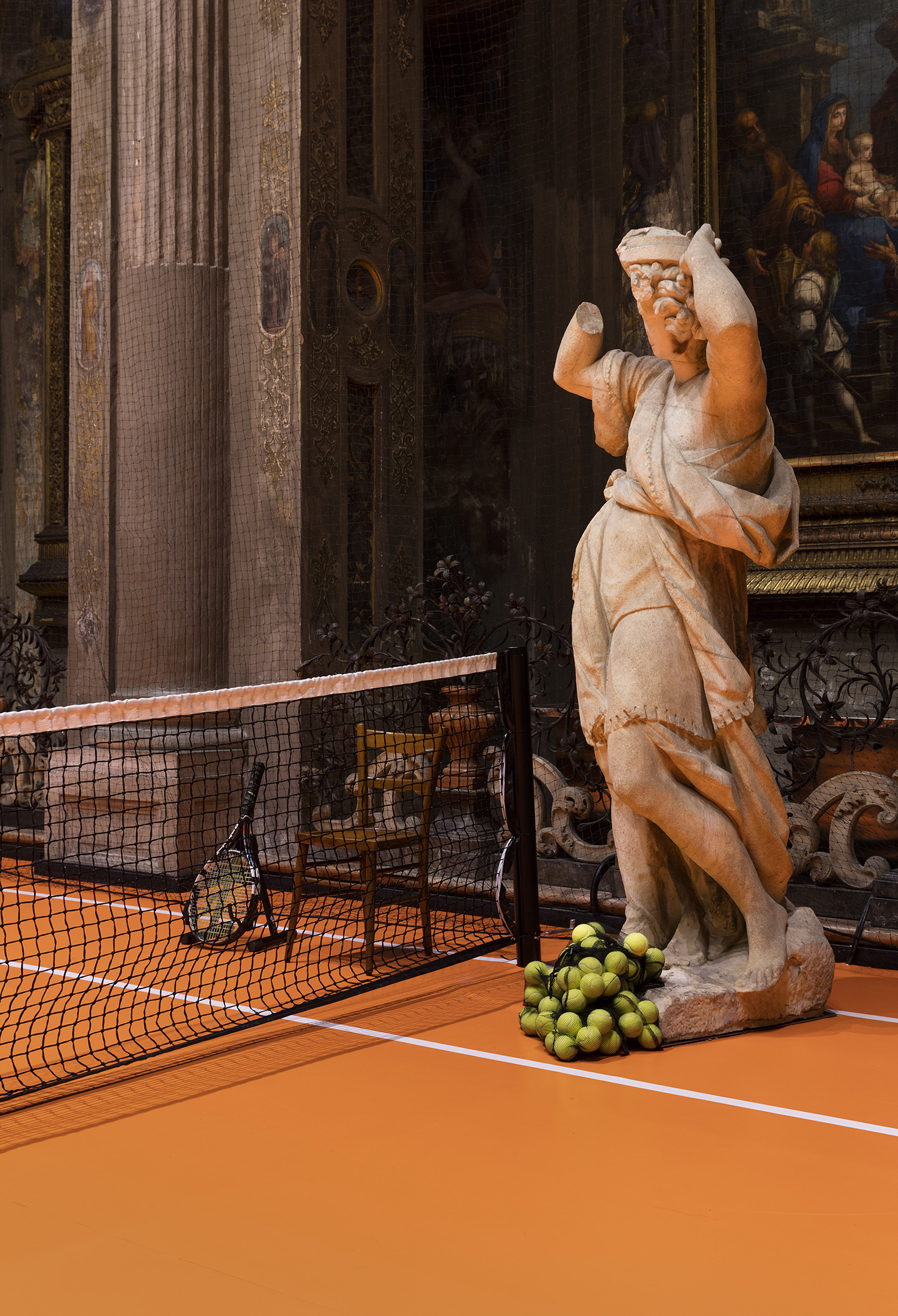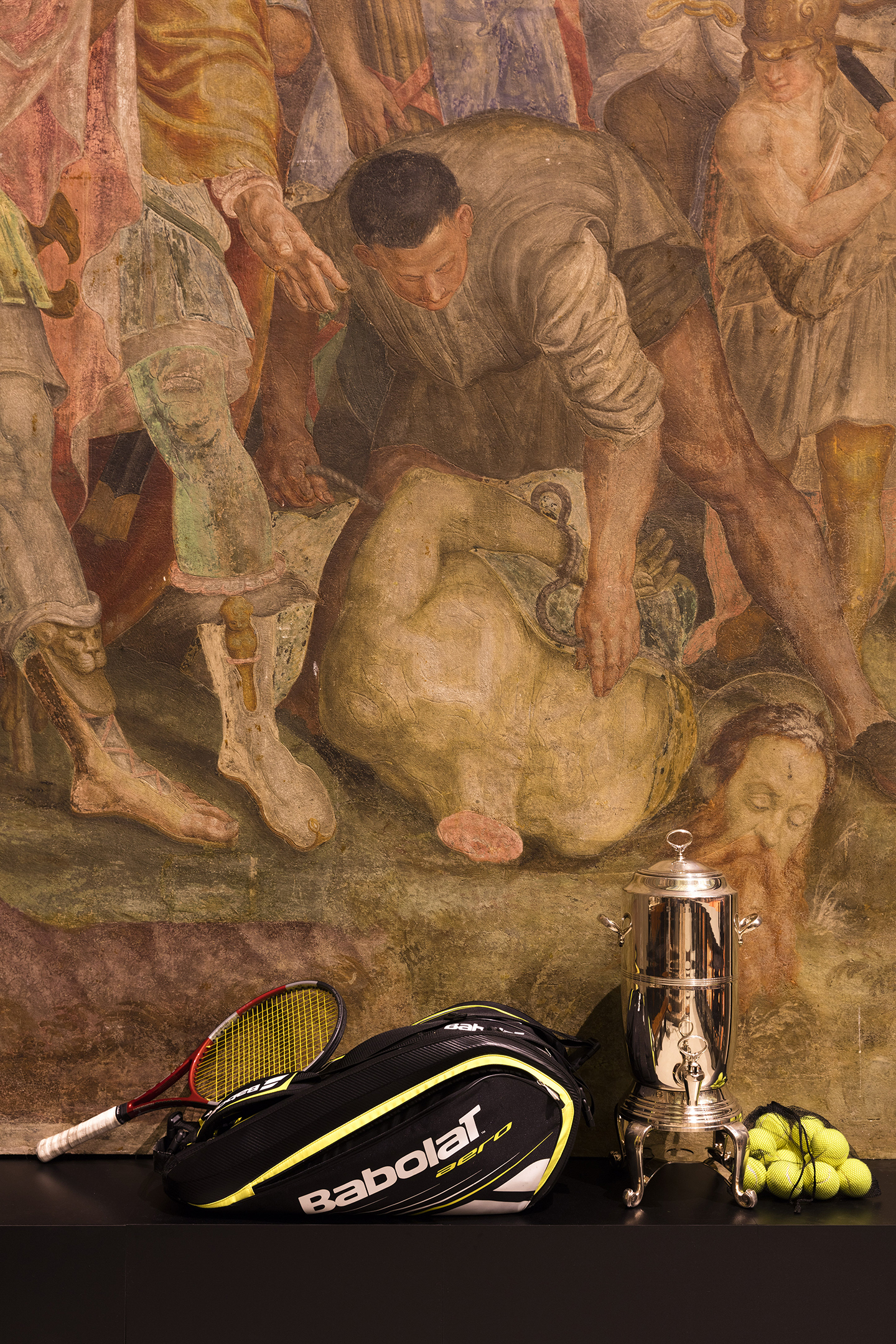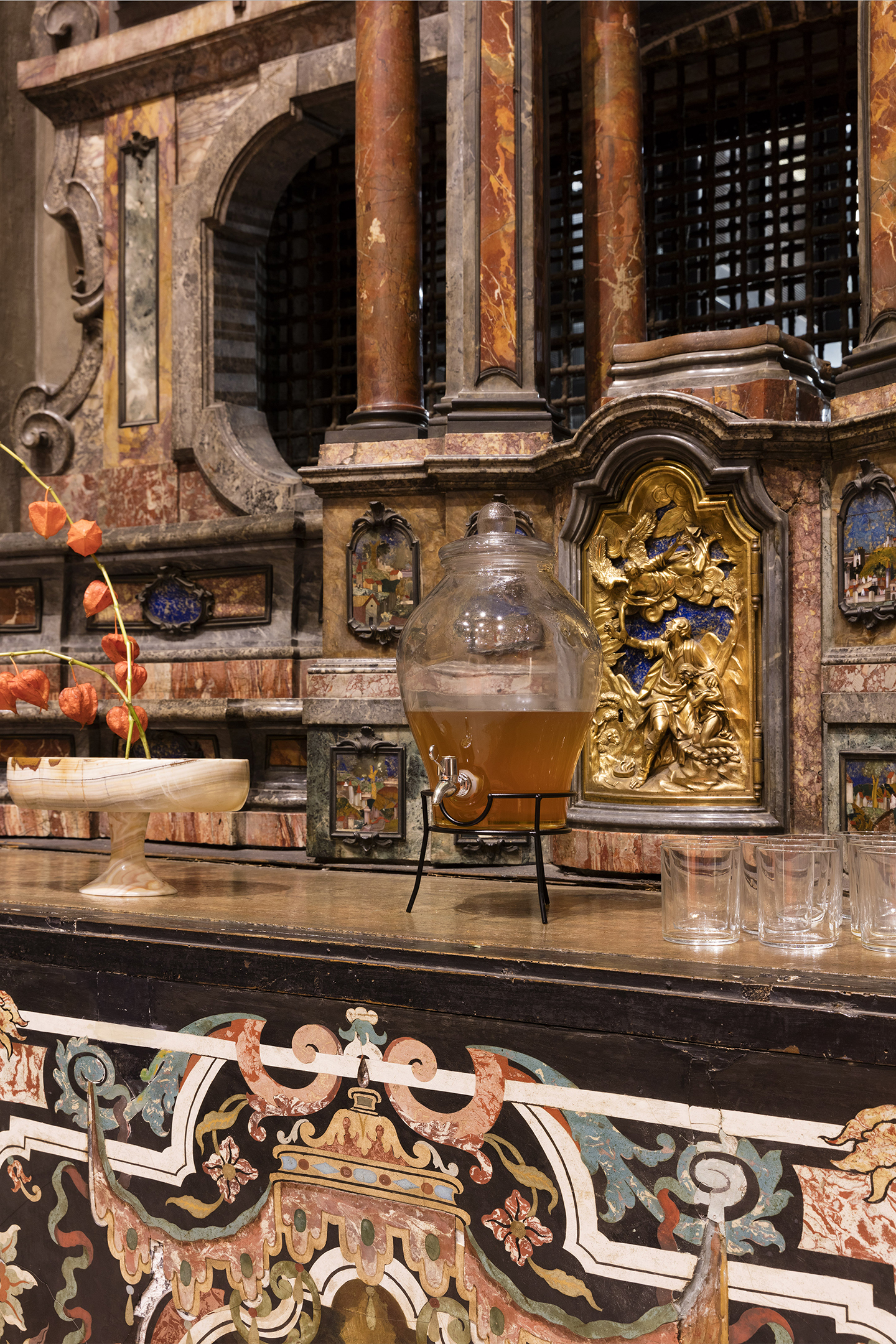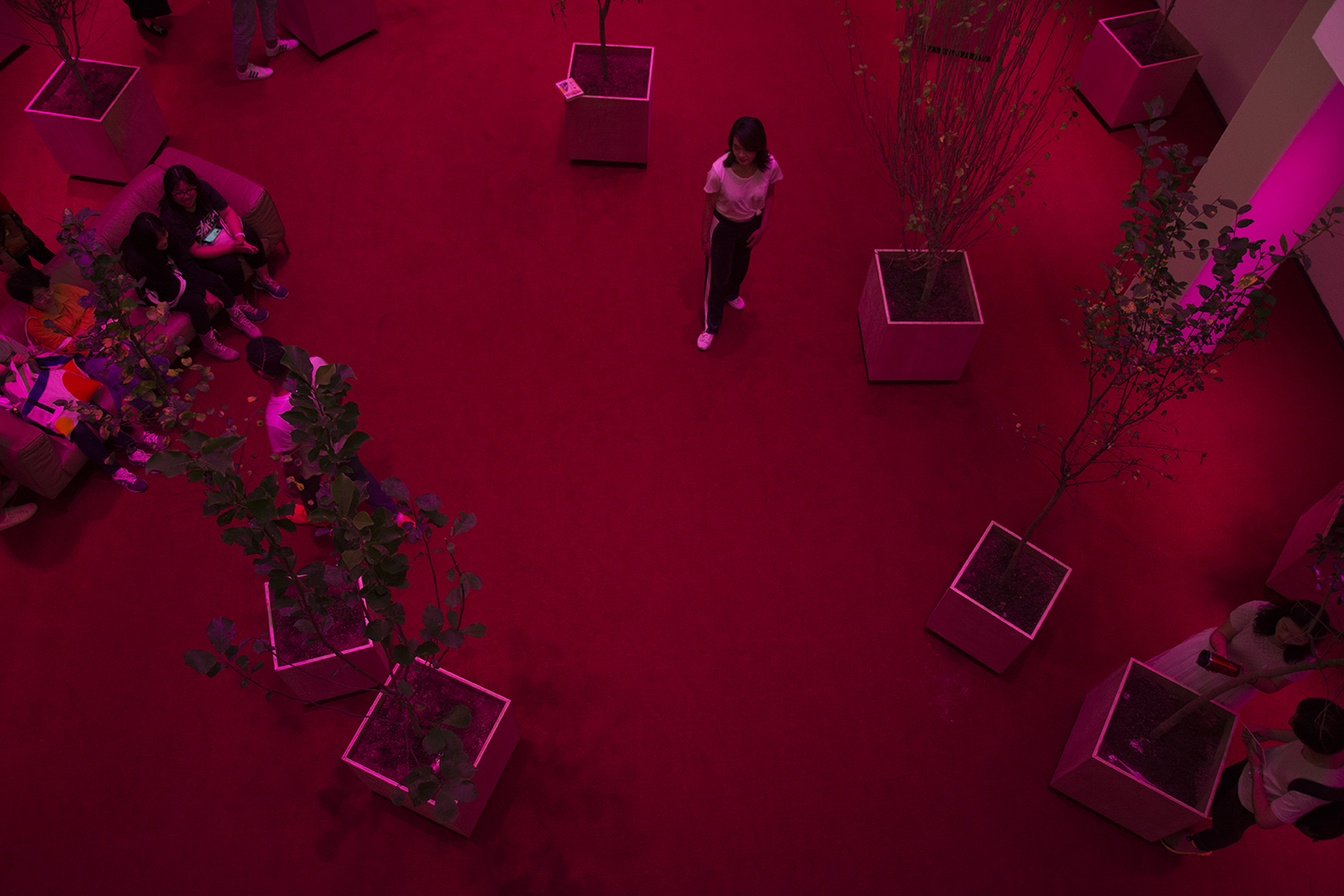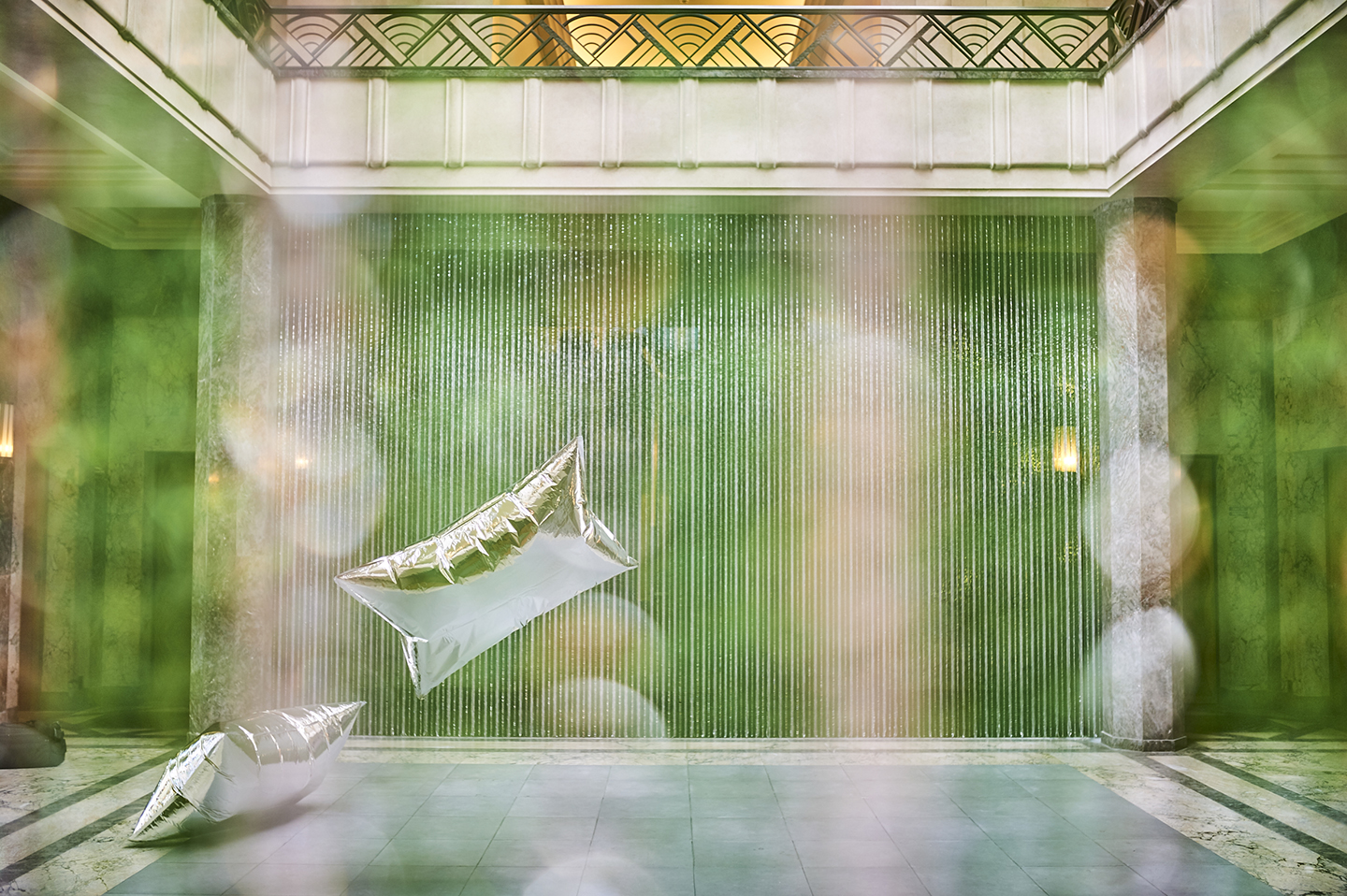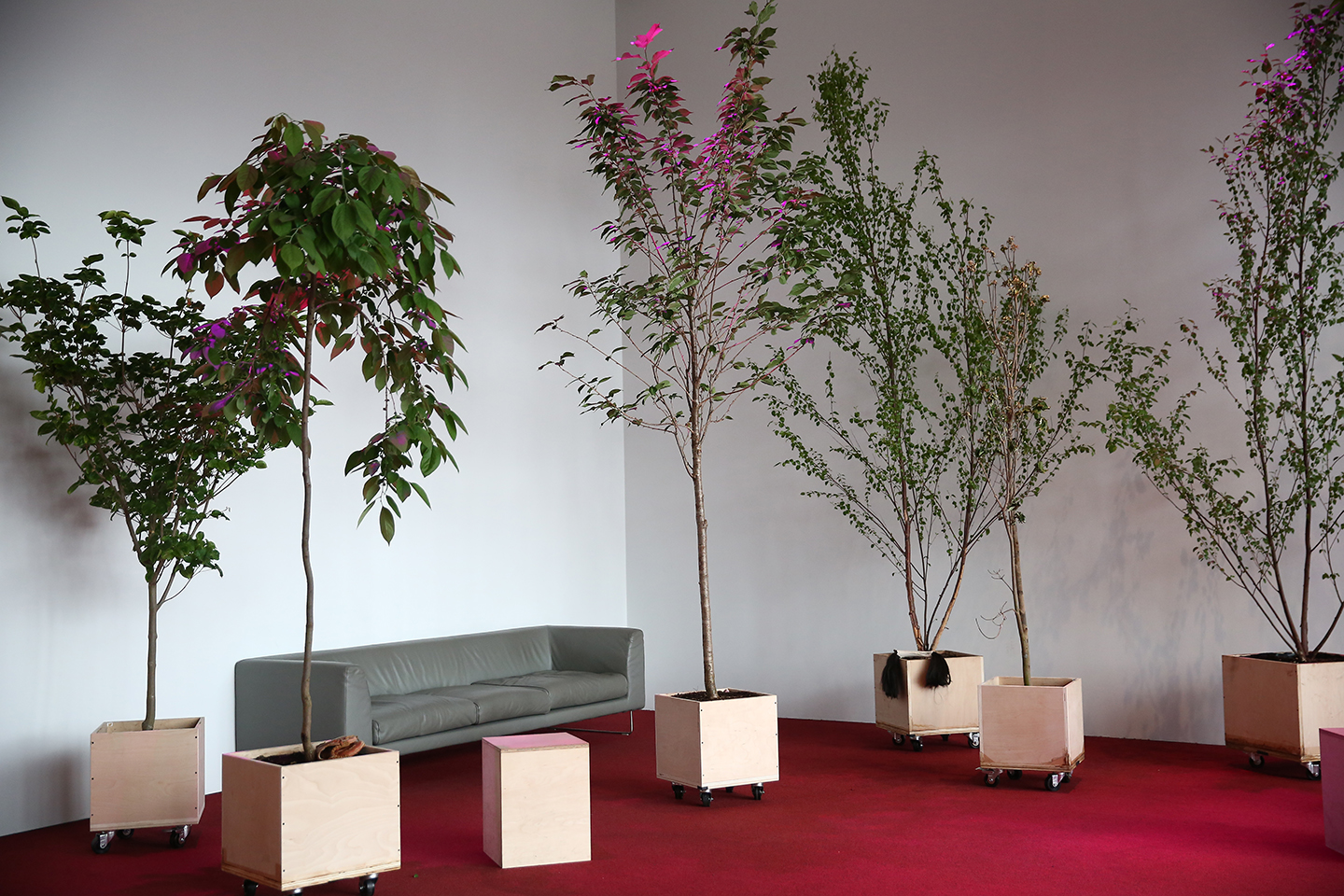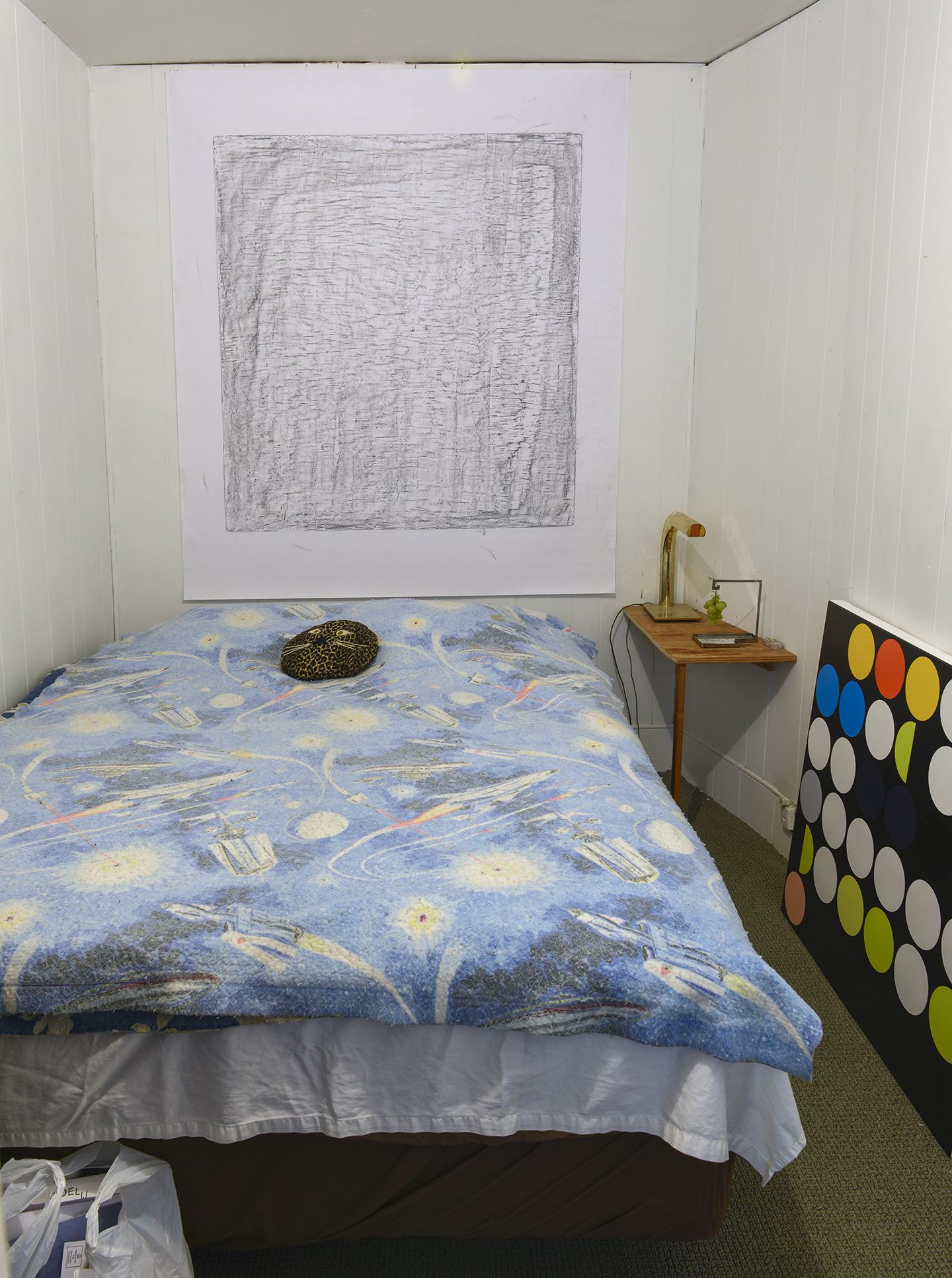 Asad Raza and Laura McLean-Ferris in conversation
Asad Raza's recent works seek to consider the different ways that objects and living things dwell in space, and indeed, many of his projects have a "lived-in" aspect to them. These include home show (2015), in which he invited artists, family and friends to intervene in his apartment, for which he then gave a personal tour to each visitor. Adrián Villar Rojas installed a lobster and other perishables in the freezer, and Sophia Al-Maria created a ritual for him that involved clogging his bathtub drain with her hair. Root Sequence. Mother Tongue (2017) involved the installation of twenty-six trees and their caretakers within the 2017 Whitney Biennial and later at Shanghai's Rockbund Museum. More recently, in Untitled (plot for dialogue) (2017), Raza created a large, orange, playable tennis court inside San Paolo Converso, a sixteenth-century church in Milan, accompanied by human coaches, scent and tea. 
LAURA MCLEAN-FERRIS: We've talked before about "inhabitation" with respect to some of your recent projects. Why is the idea of inhabiting a space important to you, and what does it mean to you to install in situ?
ASAD RAZA: Inhabitation is an interesting lens to me. It suggests an active relationship between a place and an artwork living there. Before the eighteenth century this was more common, but lots of in situ pieces create this kind of dialogue, for instance Judy Chicago's atmospheres or the work of Daniel Buren or Niele Toroni. An older but still modern example would be Jean Cocteau's frescos in Villa Santo Sospir. Dan Graham's pavilions are all about inhabiting the landscape and adding an understanding of the viewer's own presence in that place. Philippe Parreno's show at Palais de Tokyo showed you the space itself anew. So inhabitation is a way to describe ways that art can embrace being part of and together with a place or an architecture that has its own qualities. But, as you mentioned, it can also mean to add life. For me adding life resolves another issue with exhibitions. Exhibitions started at home, as collections assembled by curious people to show their peers, but they were closed to the public. Later, nineteenth-century museums were open to the public, an important democratic innovation, but they introduced a sense of policing and distance, a "look but don't touch" atmosphere that made art colder and more disembodied. An exhibition inhabited by life tries to make public space behave more like an inhabited home. That's why the tennis coaches were an integral part of my Milan piece.
LMF: Do you see your works as connected to those of Buren, Graham and others you just mentioned, and do you connect to Buren's ideas about where the work's home is? Where is the "home" of this work for you, its point of origin, and how does a tennis coach fit into that?
AR: I've learned a lot from works that coexist with a site with vulnerability and dependence. Dan is my friend. Even though he calls me a "Libra dilettante." I was also influenced by Buren's essay about the studio and the organic connection between works and where they are made. So when I served as artistic director of the Villa Empain in Brussels, I tried to "haunt" the space with work-making. Andros Zins-Browne made a choreographic piece that could happen anywhere in the Villa at any time; I asked the residents to work and practice inside the exhibition space; and we made a show called Decor (curated with Dorothea von Hantelmann and Tino Sehgal) that used artworks to make a setting for all this activity. Anyway, back to Milan: my piece was entirely built for Converso. When Alex May first showed me the church, which is covered in frescoes of Saint Paul from Michelangelo's death year, I had to react to the space itself. To make the tennis court, I added the flooring and lines, then an urn of iced tea, a blank book, and scent diffusing into the space as vapor. We moved the statues into position as umpires, or ball girls. All the elements kind of rhymed with the church function. But the key was the coaches, who were young tennis players we found in Milan. They approached the visitors and explained that the idea was to meditate by hitting the ball back and forth. The visitors would say, "No, I'm just here to see the piece." And the coaches would coax them, and then another transformation could happen.
LMF: What was that transformation you were looking for?
AR: The visitors became inhabitants, too. Playing with the coaches, hitting the ball, and then drinking the tea (it was iced jasmine tea with a little honey,) and watching others do it made them feel at home. It became a hangout. The coaches were also reassuring, somehow. Rather than guards, they became like genii loci or something. People lost the "visitor to a gallery" habitus. Which, in a way, the piece was a machine to do, to attack the feeling that there are authorities who own the house. It's all about making it your house.
LMF: I was recently researching Jason Rhoades's installations that involved participants or audience interactions. I was very interested to see in his instructions for PeaRoeFoam (2002), which involved karaoke, that his aim was "to 'milk out' the sincerity of each participant and imbue the objects in the room with a 'pure' spirit." I wonder how you would respond to such an idea?
AR: Wow, that is funny. I would like to know how that went. In my piece at the Whitney, I asked all the caretakers to add objects of their own, which we would place in and alongside the trees each day. I did it more to make a triangle between the trees, the caretakers, and their things, so the caretakers wouldn't become docents to the trees, so their relationship would make the piece a pietà. I was surprised at how sincerely the caretakers discussed each other's objects and how much storytelling came from that process. But similar to the tennis, the conversations there tended to loosen something up in the visitor. I think that's generally healthy, but more importantly, it takes the focus off criticality and onto the creation of a new moment, a new exchange.
LMF: I think that Rhoades was dealing more with factory labor, production lines, and some more risqué contact with pornography, so the participants' sweetness and sincerity had a leavening effect. Your recent projects have been perhaps more engaging in care and sincerity from the point of inception. But why do you want people to loosen up, exactly? Can you say a bit more about this "new moment, new exchange"? What is coming together in these moments, and what is being exchanged? And how does it relate to the other exchanges that those people might be more used to, for instance shopping, playing sports, or visiting a botanical garden?
AR: The Jason Rhoades piece sounds more expressive of a kind of esoteric (ironic?) "artistic" content, or a social critique, maybe. I'm focused on the visitor having a dialogue without a particular content. That is why the exchange itself takes precedence, and what gets exchanged only the visitor can determine. Care and sincerity are a condition of this kind of exchange occurring, but they're not the subject of the Milan work as much as part of the fabrication. If the visitor's experience is your focus, you will need a modicum of those two ingredients. That's one of the things I learned from working with Tino. Otherwise it's just more art that purports to be about "participation" but can't match the engagement of playing pickup basketball or going to a botanical garden. A good botanical garden is better than most contemporary art, anyway.
LMF: Could you describe some of the formal qualities of the fabrication?
AR: Since I wanted the visitor to actually play, and not just look at the court as a set that could theoretically be used, the coaches had to practice their way of inviting the visitors to try. It was about details, like the kind of eye contact and the speed with which you address the visitor. Being aware of and taking care of the larger situation is kind of a fixation with me. I see it as an opportunity for a kind of social virtuosity—that relates to charm—which also happens to be really helpful in this effort to make the visitor feel at home. When you do that, they experience the formal qualities of the piece properly: they experience their own bodies in motion, like Michelangelo's bodies, twisting, turning, stretching. They experience ease in an "elevated" place. And they experience a wordless dialogue with another person, displaced into hitting a ball. 
LMF: I wanted to bring up Július Koller's work, which has included tennis court lines drawn in Casopriestorové vymedzenie psychofyzickej cinnosti matérie (Time-Space Definition of the Psycho-Physical Activity of Matter, 1968), or his table tennis works. In these he sought to engage audiences and groups within a simultaneous collective state of mind, even if this is just an adherence to fairness, or imagination. Did Koller's work ever play a part in your thinking about the work in Milan?
AR: José Kuri told me about it (and Rirkrit Tiravanija's 2012 show relating to him) after my piece was installed. I was also reminded of Robert Rauschenberg's tennis performance at the Armory later, but I didn't think about that when working on Milan. I've played tennis since I was a kid, so it's an ingredient from my own life, a primal material. I like Koller's idea that tennis promotes a kind of fair play. In my piece, though, I was more specifically interested in the warm-up, when the two players are just trying to help each other get grooved. That part of tennis is very much a gentler conversation, like a dialogue. My coaches weren't there to compete with the visitor as much as to help them get into a good rally. Good conversationalists have to listen as much as make clever pronouncements.
LMF: I love the sense of possibility for living another way that you see encapsulated in Koller's work: he often used the acronym UFO to stand for a variety of different concepts and phrases: Utopia, Universal, Fantastic, Futurological, Object, Operations, et cetera. But the UFO can also be something previously unknown that surprisingly arrives and changes the course of things. That brings us to the exhibition and book Mondialité (2017), which you made with Hans Ulrich Obrist recently. I'm interested in the idea of a search for a vocabulary that shifts possibilities.
AR: Mondialité was focused on Édouard Glissant's idea of what could be a global dialogue that is not globalization. I had learned a lot about Glissant from Hans Ulrich already, but doing this allowed me to get much closer to his thought. It's amazing how Glissant elaborates complicated philosophical ideas but then compacts them into poetic images. He's abstract and totally concrete at the same time. And he had a breadth of reader-admirers who contributed to the project: Sophia Al-Maria, Patrick Chamoiseau, Manthia Diawara, Dominique Gonzalez-Foerster, Steve McQueen, Gayatri Spivak, and on and on. Anyway, for Glissant, a dialogue is about a poetics of relation between entities, but it's hard to look inside that exchange, because every subject is opaque at its core. That is a good lesson: rather than try to control the content of a conversation, you can try to create one, and in doing so, you might have to change, too.
LMF: What kinds of possibilities or transformations arose from that project? What are the homogenizing forces at play in exhibitions and bookmaking for you, and how could Glissant's thought be important to think our way out of possible traps?
AR: On a smaller level, it made me think about books in a different way. With that book and with the book for my home show, we tried to make anatomies of lots of different kinds of contents, with poetic associations between them. At a bigger level, Glissant's way of boiling the biggest things (the chaos opera, or the Whole-World, as he called it) down into resonant landscapes, to give tools for intuition, stuck with me. He let me see that the form of exchanges can matter as much as what is exchanged, and that the homogenization problem also comes from mindlessly reducing complexity in the name of communicating. His own practice is an answer to that: he collaborated with Wifredo Lam and Roberto Matta, he started a school in Martinique, he was trying to start a museum there, he ran a magazine named after a tree, he was agnes b.'s muse in Paris, he taught William Faulkner in Mississippi. Glissant has a concept called pensée du tremblement, or trembling-thinking—it's a little bit Jane Bennett avant la lettre—which represents the trembling of all the world's various voices. In a way, the presence of this constant shaking, this impossibility of freezing things into a steady state, is an inspiration.
LMF: This funnily enough reminds me of a great piece of tennis writing of yours, covering Wimbledon in 2012. I've always been an ardent Roger Federer fan, but I noticed your affection for Novak Đokovic in that piece in relation to his unsteadiness and uncertainty—his panic attacks and breathing troubles and crises of confidence that plague him despite his talent. This was contrasted with Federer's princely, classy steadiness. Perhaps such an energy is compelling to you across many forms and ideas.
AR: Well, I have asthma.
Originally published on Mousse 62
Asad Raza lives and works in New York and Leipzig. 
Laura McLean-Ferris is a writer and Curator at Swiss Institute, New York.