ESSAYS Mousse 69
"At Eternity's Gate": Another Romantic Depiction of Tortured Male Genius
Close
1
2
3
4
5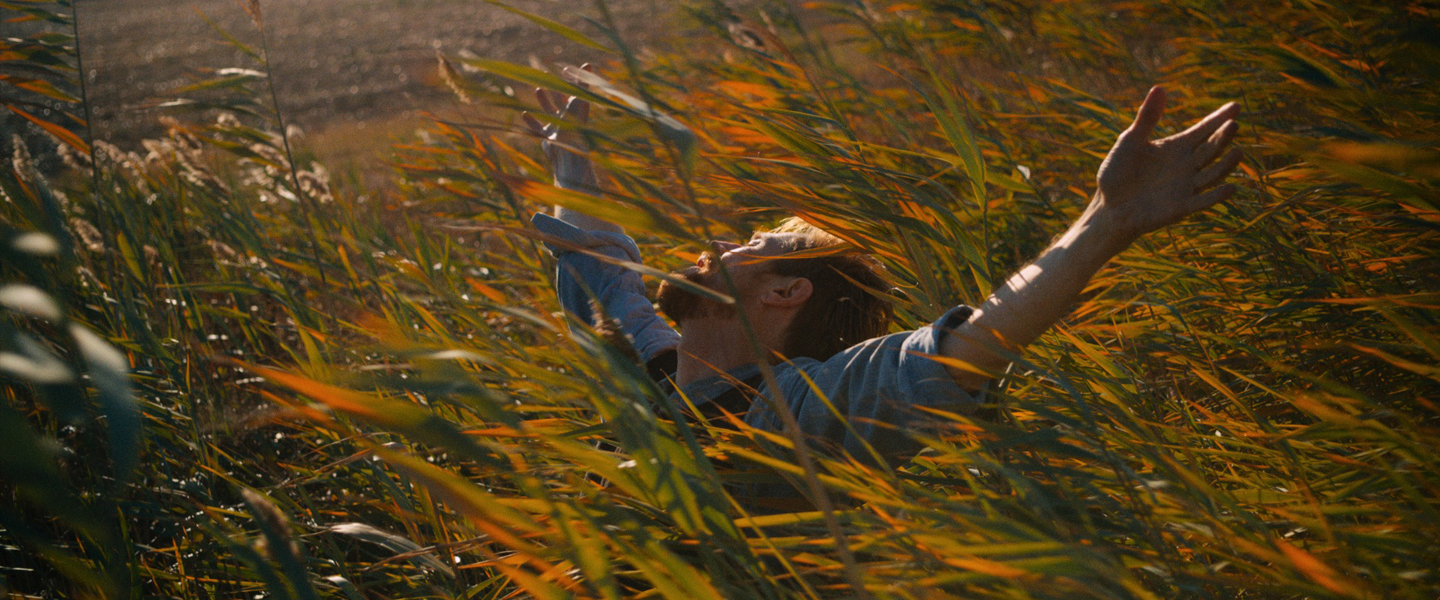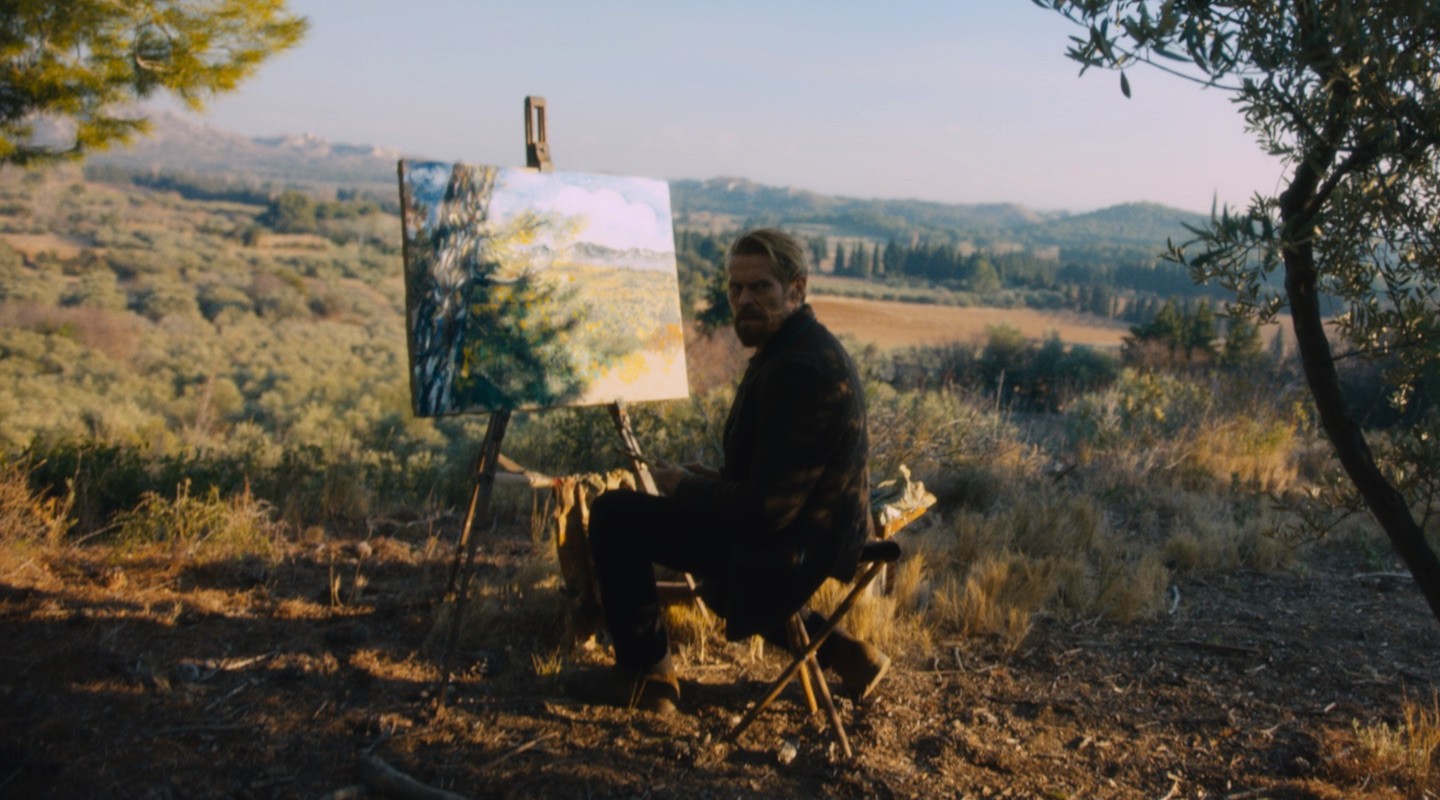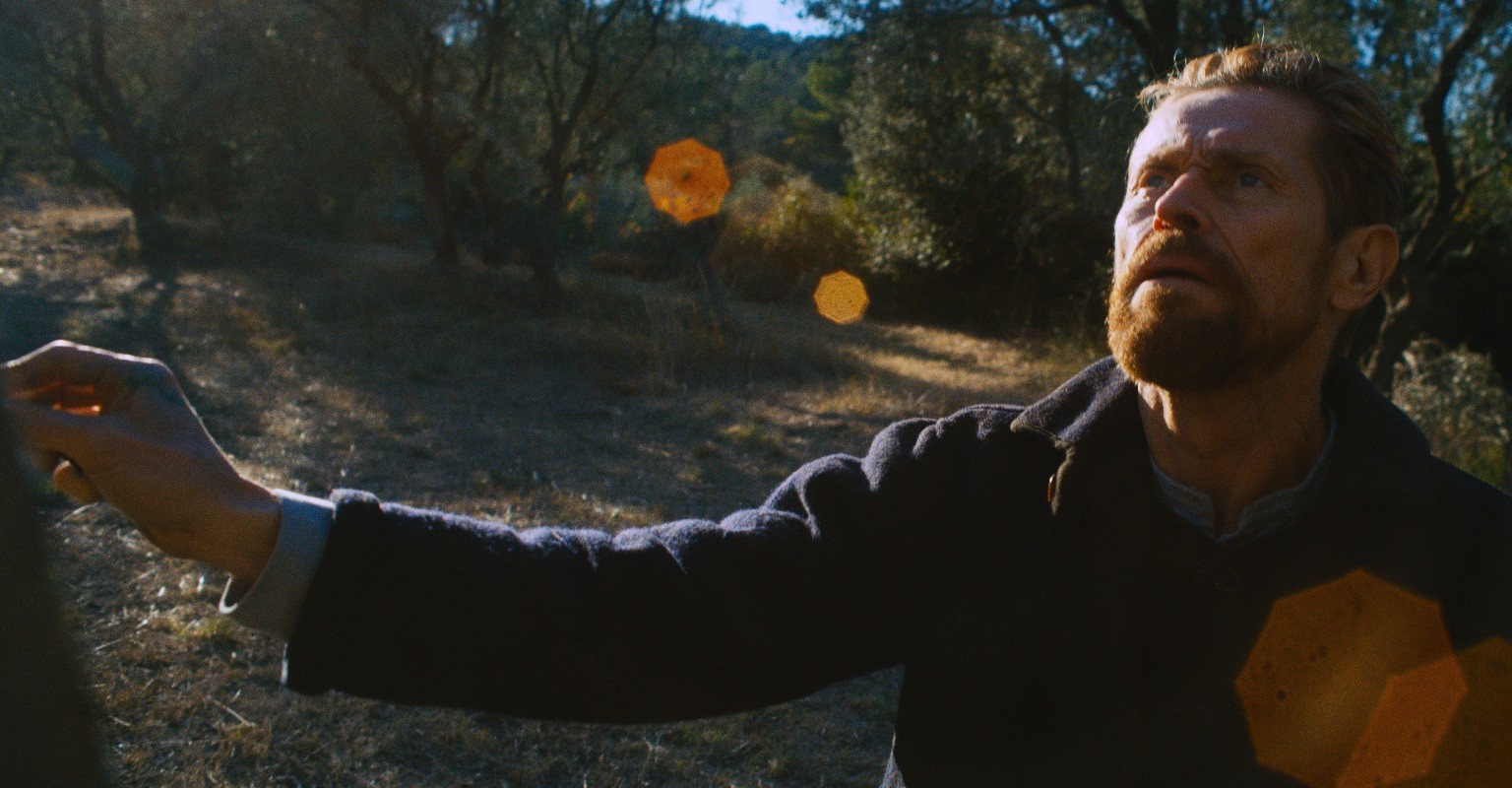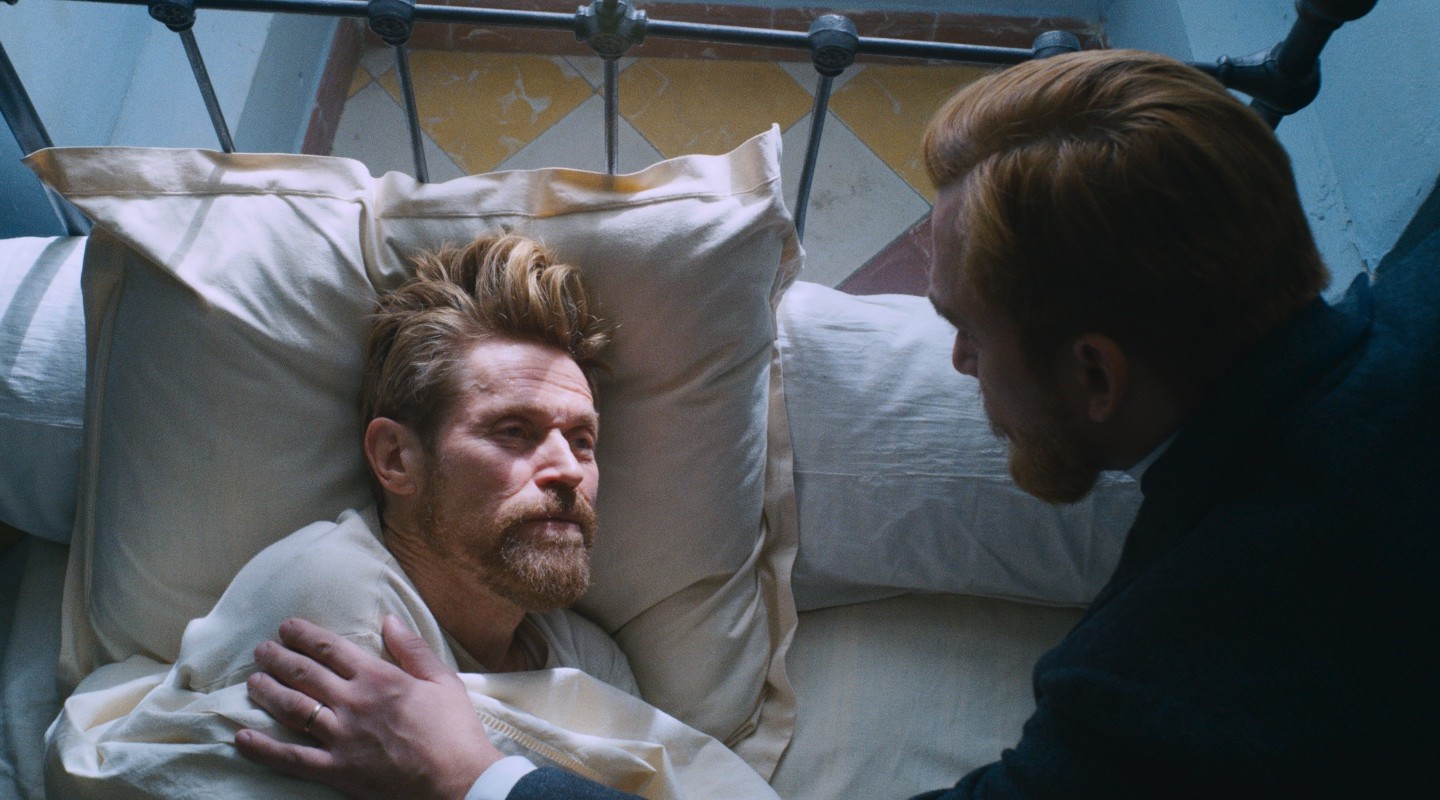 by Mitch Speed
Julian Schnabel's new Vincent van Gogh biopic evokes astral posterity. Like the film's subject, the maker of At Eternity's Gate (2018) has a history of vaunting himself star-ward. Before making films, he made himself a hero of the gilded 1980s art world. His enormous canvases lent epic Grecian mythos to more or less inscrutable content. In 1981 Schnabel blazed into the market with two New York solo shows that sold out before opening. In a more recent advertisement for Absolut Vodka he strikes a valiant pose, trench coat blowing like a cape in Olympian winds, the word "ZEUS"—emblazoned on a painting in the picture's background—floats over his shoulder.
Schnabel's van Gogh film is the latest in an unofficial series that could be titled Intrepid Artists and Their Discontents— pictures that verge on beauty before veering into saccharinalia. With the exception of Miral (2010), his subjects have been men. In 1996 it was Jean-Michel Basquiat in Basquiat, and in 2007 fashion editor Jean-Dominique Bauby in The Diving Bell and the Butterfly. Both were tragedy steeped: Basquiat struggles fatally with his own success, Bauby with a paralyzing stroke. Basquiat (lead character played by Jeffrey Wright) was peopled with artistic titans: Andy Warhol (David Bowie), Madonna (Courtney Love), the critic Rene Ricard (Michael Wincott), and Schnabel himself, barely disguised as Albert Milo (Gary Oldman), a fictional painter who—like the man in charge of all of this—has a penchant for pajama sartorialism.
Schnabel opened Basquiat in a New York park, wherein Ricard recited a poem about van Gogh. It makes a certain kind of sense, then, that he has now given us his own overture to the genius painter, self-mutilator, mentally disabled martyr. Less sensible is Willem Defoe's lackluster depiction of the Dutch artist. The usually devilish actor seems bored, as he fumbles with wooden lines. This weariness may be the result of another ego fighting for space in the character's body. A movie about one hero-painter by another inevitably suggests hidden autobiographical intentions. In certain cringe-inducing scenes, this hunch is corroborated. Late in the film, van Gogh converses with a priest. Having relieved the artist of a straitjacket, the worried father parses his ward's sanity and canvases. He asks: "Would you say that God gave you the gift of painting?", van Gogh answers "Yes," a response that succinctly mirrors Schnabel's own religious aspirations.1
As we follow the Dutch painter through his well-known struggles—with obscurity, mental illness, addiction, a loving if worried relationship with his brother, a strained if inspiring friendship with Paul Gauguin—cinematographic techniques mimic psychological disorientation. A handheld camera jostles us through buttery French wheat fields. The feeling is disorienting but predictable; so too when the camera is slightly fogged, like drunken eyes. Gimmicks like this abound: conversations structured with face-into-camera shots, strained for psychological intensity; a single piano and string piece repeatedly seek- ing dramatic effect, only to fall into cheap melancholy. Voices don't fare much better. The film's central protagonists—van Gogh and Gauguin—speak stock American dialect, contrasting with the French accents of their colleagues. Why? The painters seem like American exchange students larping through European summer.
Admittedly, I have a soft spot for the bombast of Schnabel's paintings; their grandiloquence seems more cartoonish, than politically suspect. And so I came to this film with an open heart. But the heart desires complex feeling. Here, it found under-reflected fuss and muss over yet another gifted and tortured male painter. Objectively, van Gogh's pictures are fascinating. Objectively, he suffered. Objectively, that suffering reverberated pain into those around him. His family worried. More disturbingly, one cryptic scene shows van Gogh subduing a woman before the screen goes black. At no point does Schnabel's film delve into these topics with surprising or illuminating depth. When van Gogh removes his own ear, cinematographic precautions protect us from witnessing the wound. Vincent van Gogh's mythic suffering is fodder for entertainment, so long as we don't get too clear a picture of the real thing. This is Catholic kitsch pathos.
All of which provokes the question: Why, after at least six films have already sought to revive the Dutch painter, do we need another? In Robert Altman's Vincent and Theo (1990), Tim Roth's van Gogh glowered rabidly through blackened teeth and wielded his canvases as professional wrestlers wield metal chairs. Thirty-four years earlier, Kirk Douglas lent the painter a less feral pathos, amid shrill piano crescendos—the sound of insanity itself. By contrast, Schnabel and Dafoe's is a subtler depiction. But it still feels less like a fresh vision than a stale old story, retold once more, with surface flourishes standing in for the structural innovations necessary to give an old yarn new life.
Self-regarding men have been crafting Oedipal portraits for so long that we can't really ascribe Schnabel's effort to a specifically twenty-first century phenomenon. That said, the critical attention now being paid to male abuses of power makes this depiction of tortured male genius especially tiresome. So do critiques of neoliberalism that underline how our reverence for lone heroic figures enforces an ideology of isolated individualism. If Schnabel's van Gogh is this kind of lone male archetype, his status as a martyr to cultural conservatism—in terms of the reception of his paintings and the tabooing of his mental illness —at least hints toward a relevant contemporary conversation. But the film is too avowedly romantic to start this conversation. And even if it could, the list is long of artists—especially non-male artists—whose well-deserved depiction could also bring us to these discussions, albeit in much fresher form.
If there is an upshot to this heirloom bromance, it is that it brings to mind all the films that could and should be made instead: about artists who are not white men; about artists who are neither men nor women; about artists who are not individual people at all; about cutting under the skin of cliché to give us a vision of something else that artists, and our memories of them, could be.
1. See: https://www.vitoschnabel.com/news/julian-schnabel
Mitch Speed is an artist and writer based in Berlin. He contributes to several publications, including Frieze, Mousse, and Momus; his next book is about Mark Leckey's 1999 work Fiorucci Made Me Hardcore for Afterall Books' One Work series.
Originally published on Mousse 69