ESSAYS Mousse 12
Athens, An Alternative Guide for Art Lovers
by Marina Fokidis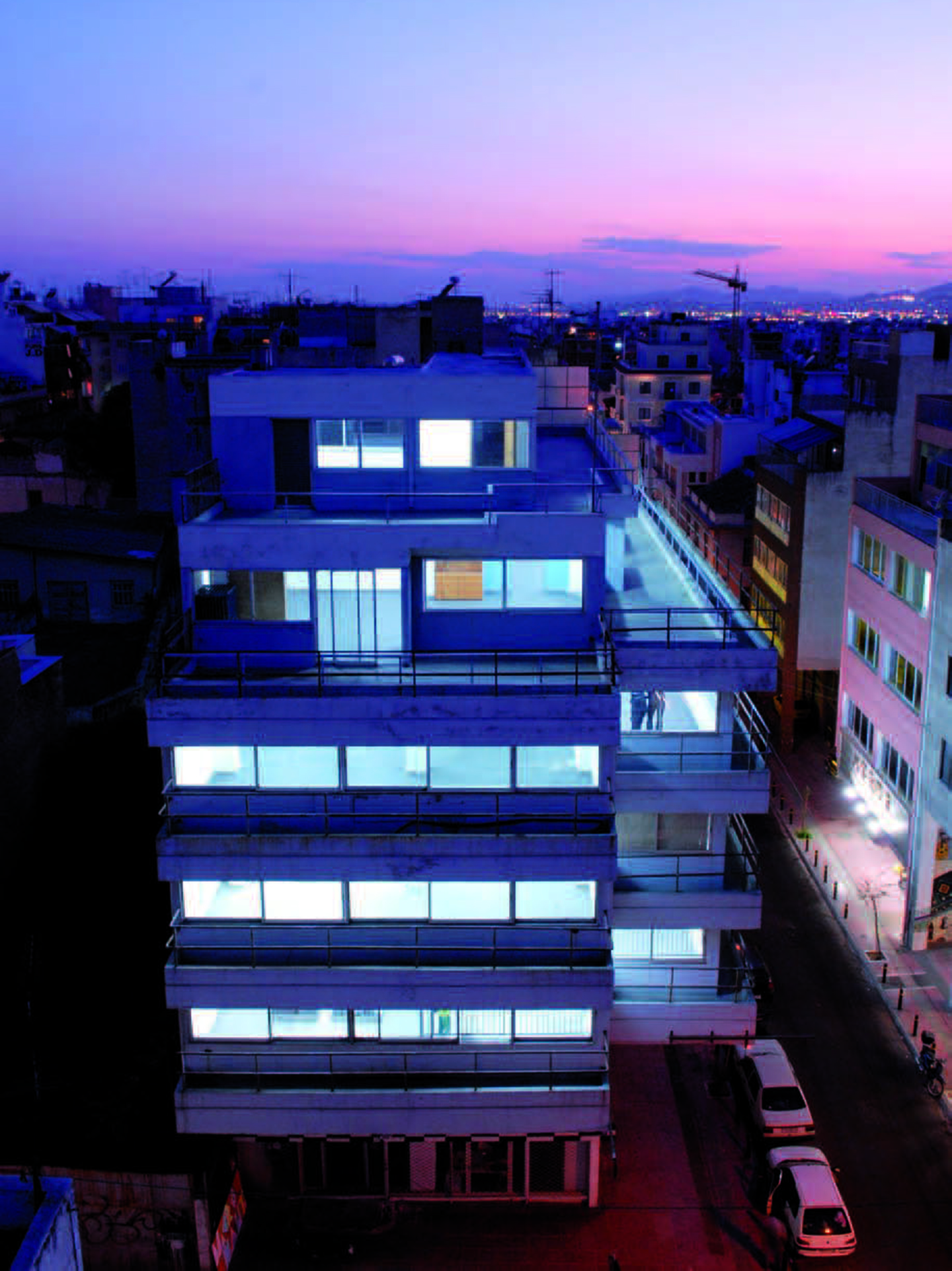 Courtesy: Peres Projects, Athens
Here you have the second episode of the column called City Focus, that is the best way we have found to approximate the gift of ubiquity. In this issue, we decided to point the telescope at the city of Athens, after we have heard that many things are happening over there—a brand new Biennial, foreign galleries opening a branch, and above all a super lively art scene. So forget for a moment about Zorba and sirtaki. Now, like every other intelligent being, when we are going to some place we always ask one or more locals for some tips. In this case, we selected as our tourist guide Marina Fokidis, a shrewd Athenian journalist and writer that keeps her eyes and ears well open to he surroundings. Not only as far as galleries and museums are concerned, but also music, street culture, fanzines, and so on. (For better understanding, have a look at her profile on MySpace). So are you ready? Let's go.
It seems always useful, before one singles out information on the so called current contemporary "art scene" of a specific place, to try and give a hint of what this place feels like! In this sense, instead of just filling the "charts", it might be interesting to say that Athens the city of contradictions, far and foremost, is a mass of concrete, and almost 5.000.000 people extended beneath the emblematic and literal shadow of Parthenon, a symbolic excuse to any route that diverts from the "Greek ideal". It is quite characteristic, and not irrelevant to the title Destroy Athens of this years successful first Athens biennial that as early as 1944, Makris, wrote a manifest for the "destroy of Parthenon" signed by the team of saboteurs to ancient monuments This act did not derive from an anti-Greek spirit but from the desire for immediate acknowledgement of a greek youth culture who needed to differentiate itself from a system of bipolar relations which involved the Parthenon as the ideological emblem of all sides.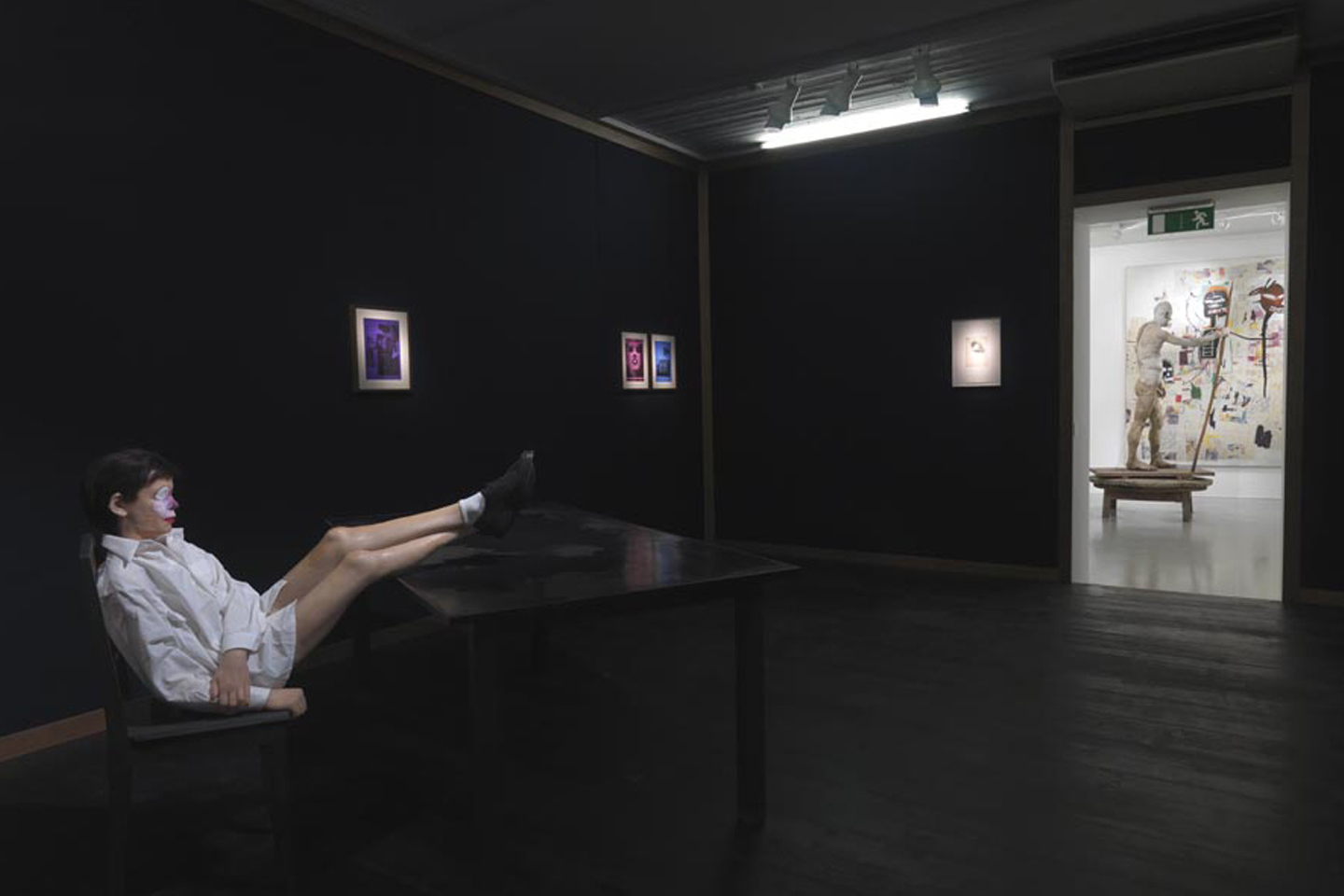 Fractured Figure – Works form the Dakis Jannou Collection, exhibition view. Courtesy: Deste Foundation, Athens. Photo: © Stefan Altenburger
Within a situation as the above, the local art-history evolved equally erratically with the rest of the city and mainly through individual will. As paradoxical as it might sound the "State" seemed to have done its best to "hide" anything that does not refer to our glorious "cultural heritage" or that does not succumb to a contemporary re-definition of "Greek cultural identity. " Lots of separate individual efforts have been finally resolved in a condition which allowed today to the initiation of two young biennales, and the appearance of a dynamic spectrum of younger artists, galleries, institutions and exhibitions. The 1990s seemed to be more promising. Collector Dakis Joannou initiated DESTE foundation, which through a lively and pertinent exhibition program (originally under the direction of Katerina Gregos) and the Deste prize for Greek artists every two years. have become the main source of information. Since its opening Deste organized a series of international shows curated mainly by Jeffrey Deitch which broke ground internationally and started again to "infect" the local production with different more pertinent artistic concerns. The first major exhibition of his collection Everything new is interesting (1996) managed to bring in closer proximity a big part of the local audience to the international contemporary artistic practice, and although local artists were not among the protagonists, they nevertheless came in immediate contact with what they have been cut off due to the absence of contemporary art institutions and the anachronistic and introverted character of the local fine art academy. At the same time, By opening her gallery in Psyri, a move that was followed by many of her colleagues, Rebecca Camhi brought again—since the 1950s—the art scene closer to life. Curatorial organizations, artist studios (complementary to the ones that pre-existed, also moved in there and new collaboration saw the light An new artistic community which is still there had been shaped amidst the food market, small wholesales shops of domestic products illegal refugees, street vendors and etc. The state became a bit more concerned with the contemporary visual culture imitating a National Contemporary art museum which has not managed yet neither to get a roof nor to fill the gab of its absence though its program of exhibiting and collecting mainly blue chip r international artists At the same time Outlook mega-international contemporary art exhibition organized and curated by Christos Joachimides and its team, during the Olympic games period in 2003-2004 found big funding support from the state. The show gathered over eighty artists in a territory which is not so often exposed to this kind of assemblies, offering to the public a fruitful quite thoughtfully selected and installed overview of the recent art history but it did not manage to get involved into deeper communication with the idiosyncratic character of Athens.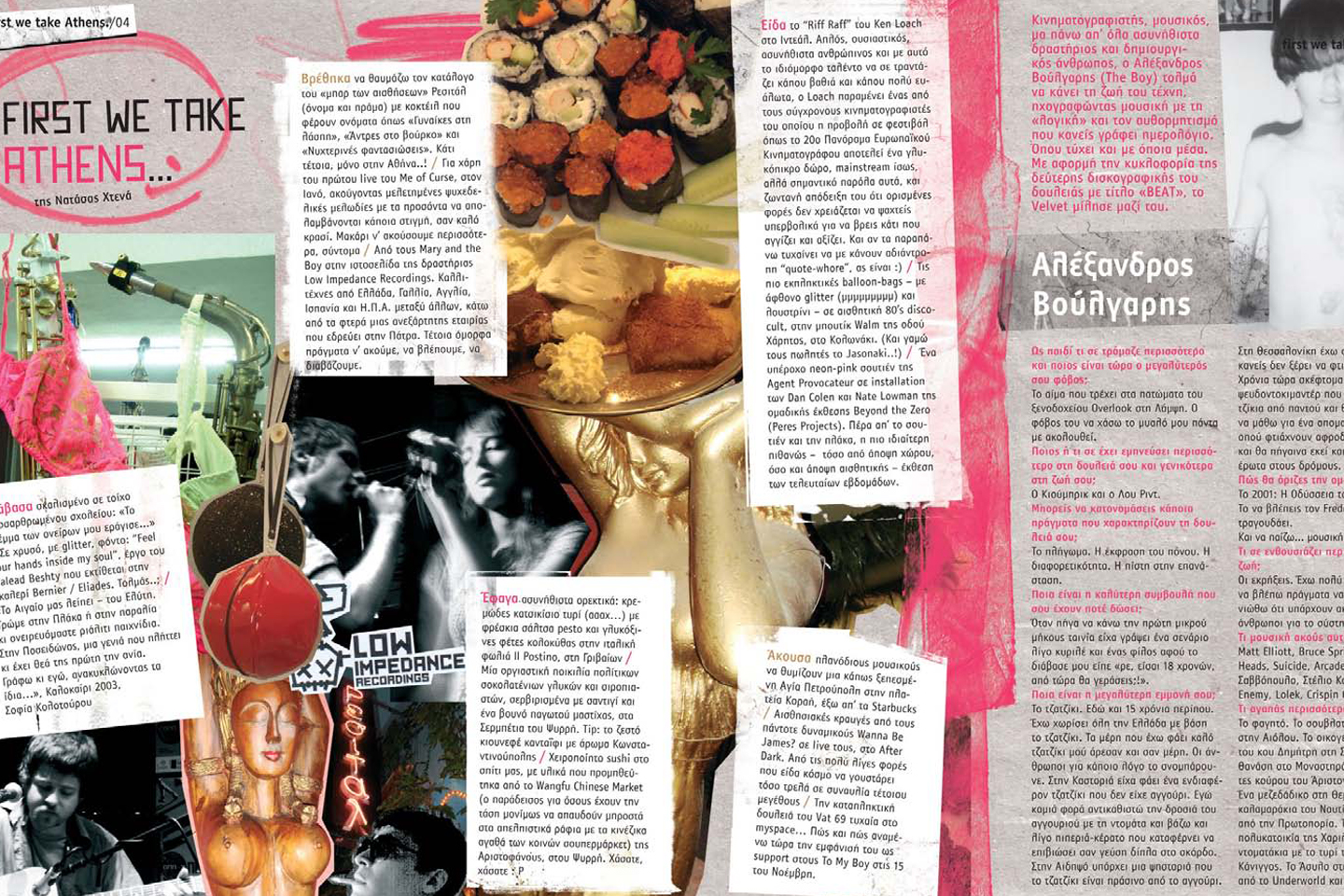 Velvet Magazine
Those are the foundations, but what exactly does it mean to be a "young Greek artist" in the early 21st century operating from a county which its real contemporary mainstream is buzuki pop and private channels television entertainment? "For society that extremity is as attractive as catastrophic," explains artist Maria Papadimitriou referring to the local situation, "but for me inspiring too! Therefore I like to be based in Athens."
Apart from the a nomadic generation of younger Greek artist who mostly reside in international centres, while maintaining strong ties with Greece or those who found their position in different establishments as described above, where do the rest fit and how they make themselves apparent? During the last few years there has been an intense cultural activity by young Greeks (artists and art related individuals) who fully encompass the energy of Athens, as a city in a constant flux of unsystematic metamorphosis which one way or another managed to preserve a certain kind of even symptomatic uniqueness due to its long stay to a cultural in all levels) periphery. Through a do-it your self manner which apply to self organization and distribution and not always in the nature of the work, they have managed not only to communicate with audiences (mostly within the youth culture) but also ultimately to "hijack" the Greek cultural policy! Eventually, gallerists, collectors critics, curators, theoreticians, art administrators- institutions followed closely this contemporary artistic production which is now starting to get the bigger attention it disserved. A series of free press lifestyle magazine like the pioneer Ozon, and Velvet which was actually initiated by the artistic duo and music performers The Callas, covered largely the visual art activity together with other youth culture concerns, the example was followed by the more established and high circulation free magazines Athens Voice and Lifo (in the form of Village Voice) which now both hold among the most well read art columns in the city. At the same time, a series of exhibition dedicated to younger Greek artists curated by Nandja Argyropoulou, Sotiris Bachttsetzis, and only recently by the National Museum of contemporary art, together with the unconditional support of collector Leonidas Beltsios who holds the only important collection of exclusively younger Greek art, brought broader institutional attention and support. In a different manner, the show Anathena held in Deste foundation—an incomplete mapping of an alternative artistic reality in Athens—curated by Marina Gioti and myself, opened the discussion at large around individuals outside the ordinary art world (even if in cases they become also part of it) who produce work within the broad context of music, fanzines, comics and the actual streets of the city from as early as the 1960s.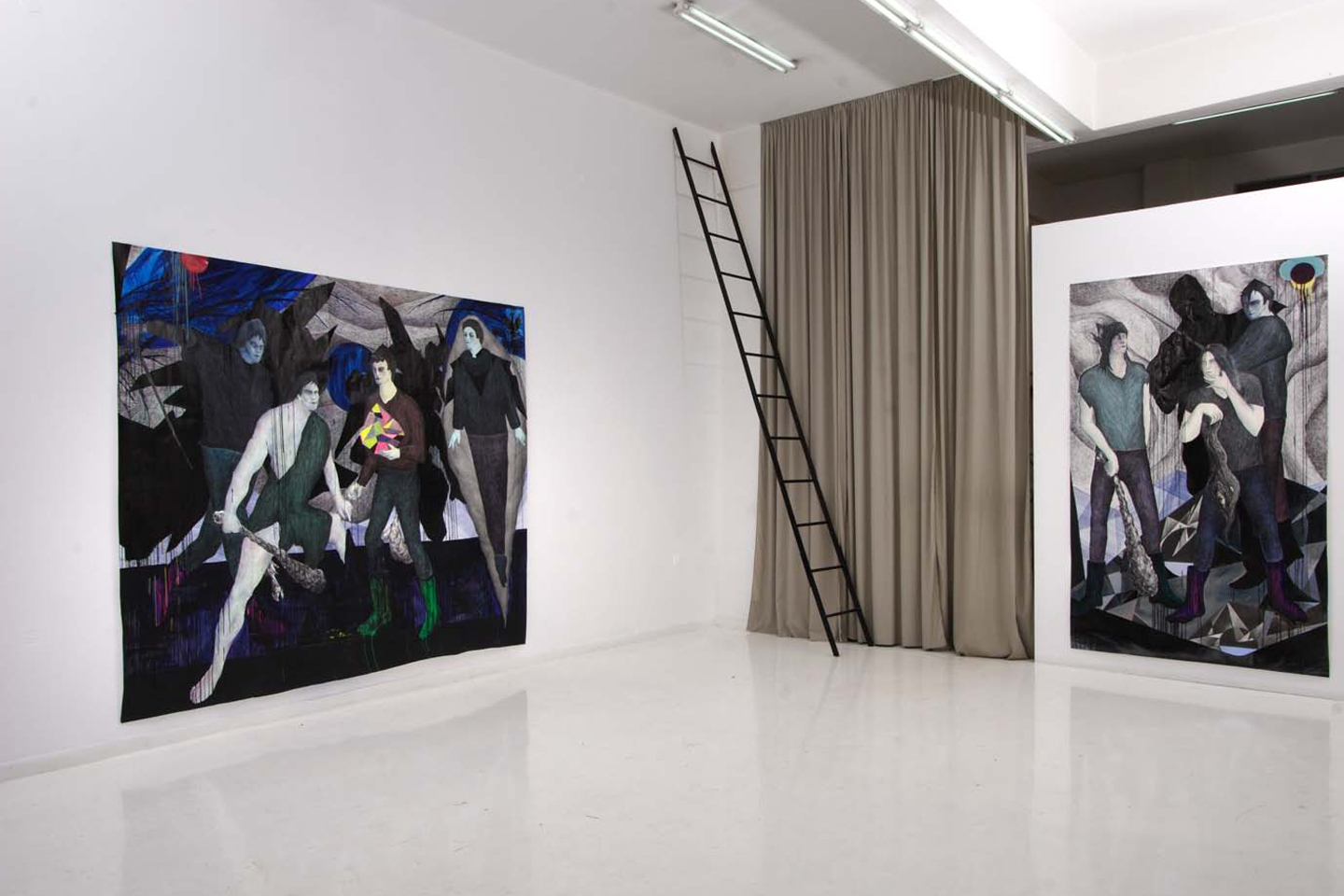 Courtesy: The Breeder, Athens
Younger Galleries, Breeder more above all, tuned up and took the risk to invest in Greek artists presenting them in different international art fairs and placing them this way into the "an global market." The most precise example though of all seems to be the first biennial of Athens who was initiated by young curator Xenia Kalpaktsoglou, young ctitic Avgoustinos Zenakos, and artist Poka Yo originally as a bluff, and arrived to become a well orchestrated and strong international biennial witch attracted international funding support, 40.000 people and the artworld"s attention to the city. Under the title Destroy Athens, the first session of this newly established biennial presented an interesting gathering of international and Greek artists installed in a very strong narrative way which bare traits of the specific place and time. Together with that they intrigued the more significant collaboration within the different members of the "the Greek art world" by taking under biennials promotional umbrella a series of collateral projects. The most interesting among them, seem to be: Remap, (organized by young entrepreneur Jason Tsakonas) an interesting get-together of Greek and foreign galleries who opened "their shops" for two months in (abandoned to be refurbished) spaces in Metaxourgio area, located near the exhibition premises of the biennial and mainly known for its uncountable whorehouses,. Apart from the Greek galleries which were relocated (Breeder, Eleni Koroneou, Ileana Tounta art center, AD, Xippas, Loraini Alimantiri/Gazon Rouge, Rebecca Camhi, Vamialis and Andreas Melas present, Peres Projects, Ibid, Blow de la Barra, Jasper Konig, Nice and Fit and Rodeo, came all the way from their hometown to Athens too. Among the most interesting presentation was held by the gallery Peres Projects who came up with two group show which works that dealt in an motivating and innovating way with "Greek matters."
Within this frame, of a newly shaped artistic scene which strives for international attention while being here and now, it feels inadequate to mention few artists names and not others. It just takes a cheap flight and the will to explore, the real Athens and its inhabitants!
Originally published on Mousse 12 (January 2008)