REVIEWS
Avery Singer "Sailor" at Secession, Vienna

Close
1
2
3
4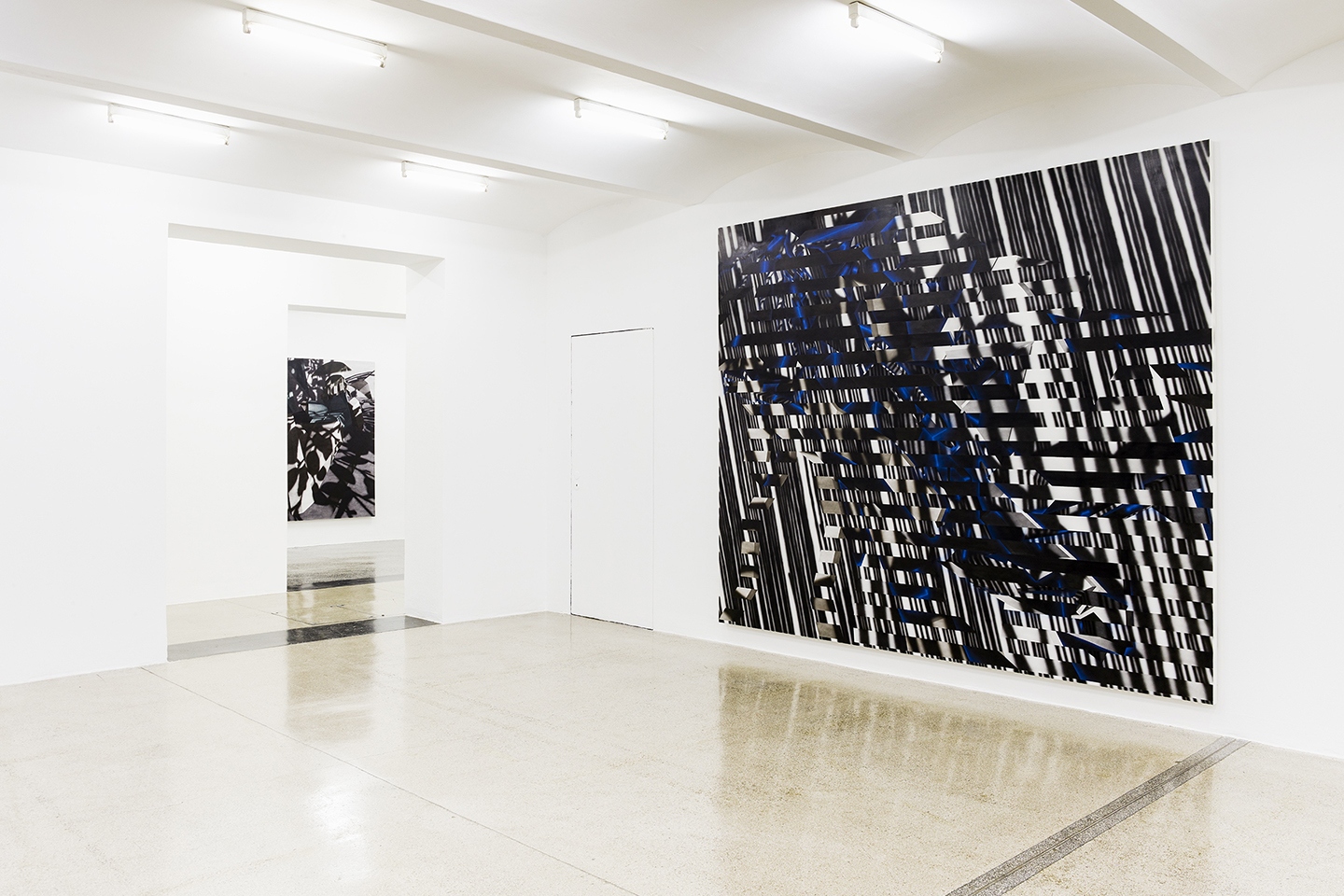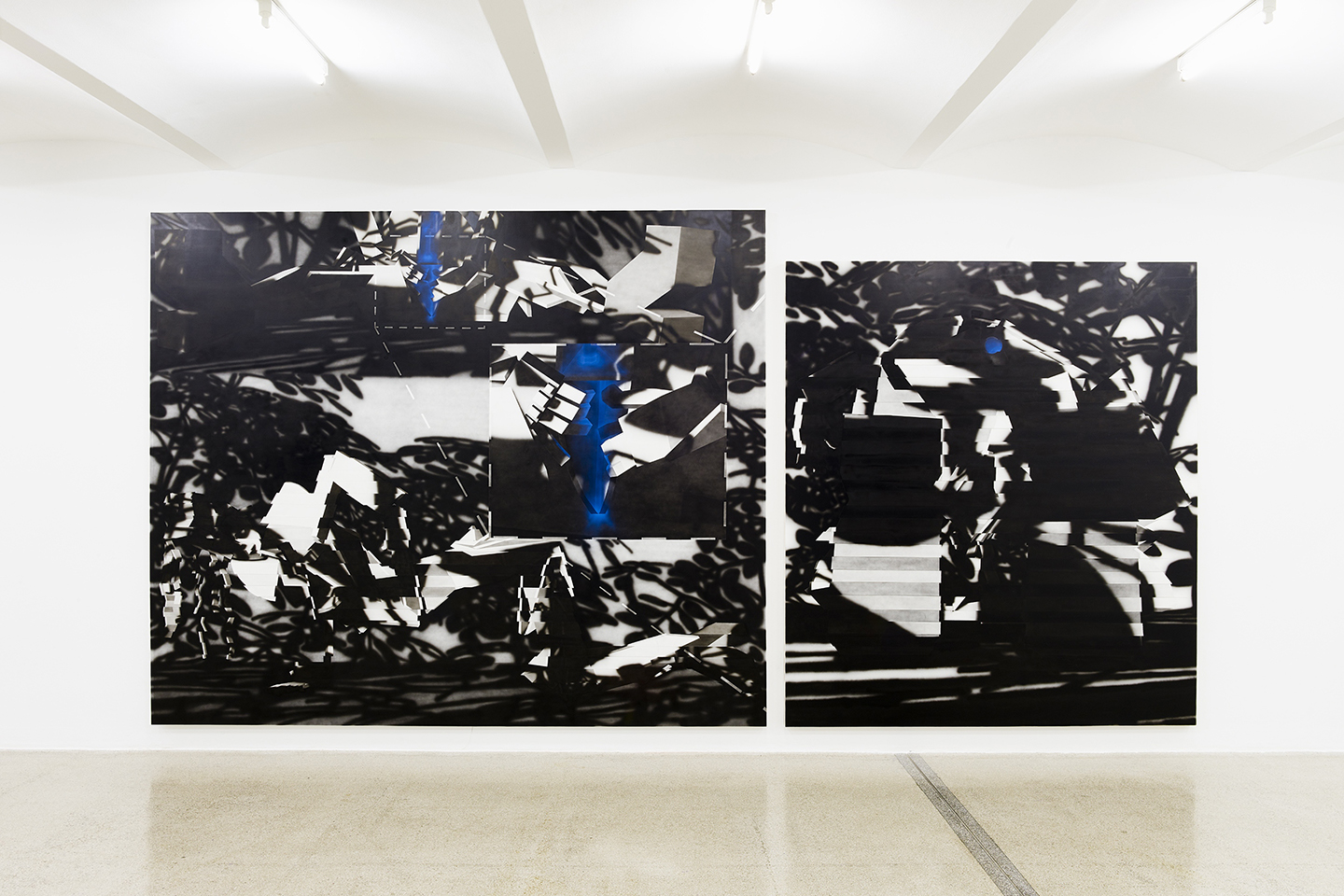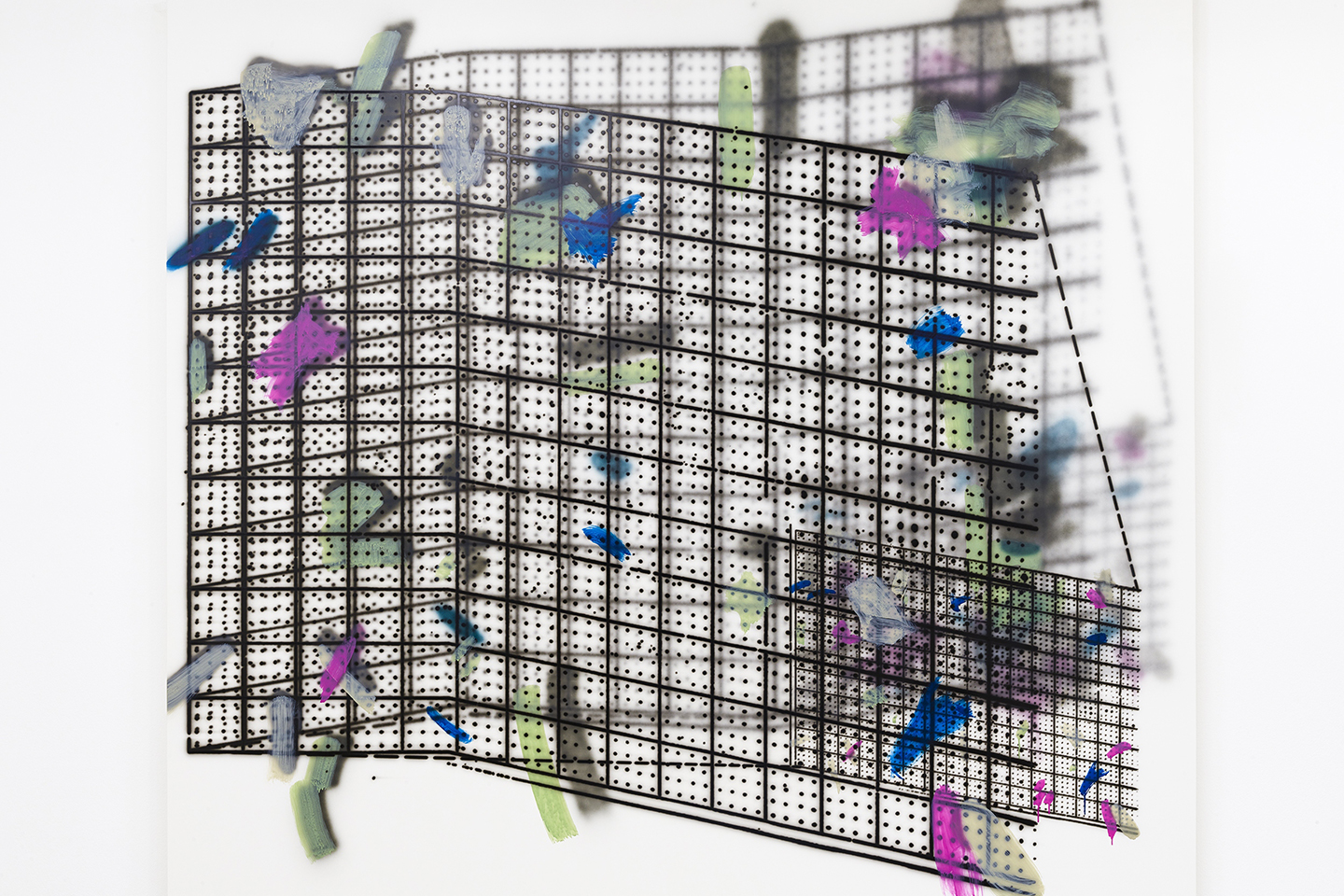 by Cory Scozzari
Sailor by Avery Singer consists of fourteen new works, occupying the entirety of the serpent-shaped basement of Secession. All of them presumably developed through Singer's well-trodden technical style, conceived digitally through the architectural software Sketch Up, projected onto the pictorial surface, and then airbrushed in acrylic, in some cases using extensive tape masking to create densely layered compositions. The works in room one were further automated, produced using an industrial airbrush printer, allowing for nuances that could not be produced by hand.
Every work in the show was made in 2016 and is untitled, aside from the first work in the exhibition, Larry Poons. This pixellated pink and blue, almost tie-dye painting seems to be a direct nod to Poon's vibrational Op art field paintings. Singer's version is bordered by a crisp white frame of blank canvas and hung next to a smaller painting of a figure whose face, partially obscured by a screenlike, bluish, reflexive section, seems to gaze at its pink neighbor. This art historical correlation—the only reference explicitly built into the titles—is the first of many elements in this show separating Sailor from much of the artist's previous practice. Using titles, Singer has repeatedly referenced art history and art's social configurations, as in Happening (2015) or The Studio Visit (2012). As distinct paintings, in contrast to her more immersive installations, the works here offer temporary reprieves into engulfing phenomenological fields, oscillating between depiction and flatness.
They are arranged according to aesthetic sensibility and technical specifications. The pieces in room one, perhaps most radically different from the artist's previous output, possess the machinic application of paint and a deviation in imagery resulting in compositions that are less patterned, and more object based or diagrammatic. One looks like a series of radioactive fences receding in space; another resembles a remote-controlled gate opening mid-swing, with painterly splotches resulting from over-application of paint in specific sections. One shows what looks like an instruction manual or a chart mathematically outlining synapses and flows of power. These robotic paintings echo the process of their becoming, the algorithm rather than the hand, regulating the paint from airbrush nozzle to surface.
The middle section houses two works on paper, one showing an architectural space with leafy shadows, and the other a singular character's hand holding a tablet emitting a blue glow. Both are hung across from a black, white, and green painting with a figure receding in space and lying on its front, veiled in shadows from organic foliage that defines its contours. The third and final room consists of several heavy, predominantly black paintings arranged along parallel walls. One diptych, hung close but differing in size, colludes and teeters with shifts in scale. The larger part contains a cutout and enlarged section that illusionistically protrudes, yet is unmistakably flat, as if zoomed in on a touch screen—a process so normalized through our ways of active looking, expanding sections to reveal close-ups of images within images. One particularly complex painting, and the largest in the show, hanging by the entrance to the gallery, ensures a dizzying response through an optical obliteration caused by a venetian-blind flickering of black to white striped sections, a tape-masked and painted deterioration as if made a by a printer banding while losing ink.
The show as a whole has stylistic inconsistency evident of experimentation that feels exciting, settling in at best as a unified whole comprised of fragmented parts. In general the works are deeply abstract, yet somehow made representational and evocative, in part through recognizable forms from Singer's taxonomy, and also through the depiction of an electricity, a buzzing, a movement, the flickering lights on a circuit board. There are no depictions of meetings, but rather an assertion of an extreme, isolated sociality—no groups, only singular figures, usually heavily obscured by a density of information, cubed fingers covering a face, or lying down, back turned, in a dimly lit room. They possess a deep sense of alienation yet a simultaneous connectedness accentuated by the computer's blue glow.
While Sailor seems to align with a mode of inquiry about the digital, physical, mechanical, material, soupy constellation that all of us find ourselves sailing—or perhaps drowning—in, the adamant instance and over-explanation of the digital-physical divide apparent in the specific technical execution of the paintings feels trumped by the overwhelming feeling of aloneness, the singular sailor, that is depicted through them. Maybe this narrative question or ontological condition of being alone, given the amount of instability present in the world, is more pressing than one that harps on the application of color, and how that reacts differently when it hits the physical canvas than was anticipated through the render on the screen.
.
at Secession, Vienna
until 22 January 2017