CONVERSATIONS TIDBITS
Manipulating Meaning Through Visualizing Language: Babi Badalov
Close
1
2
3
4
5
6
7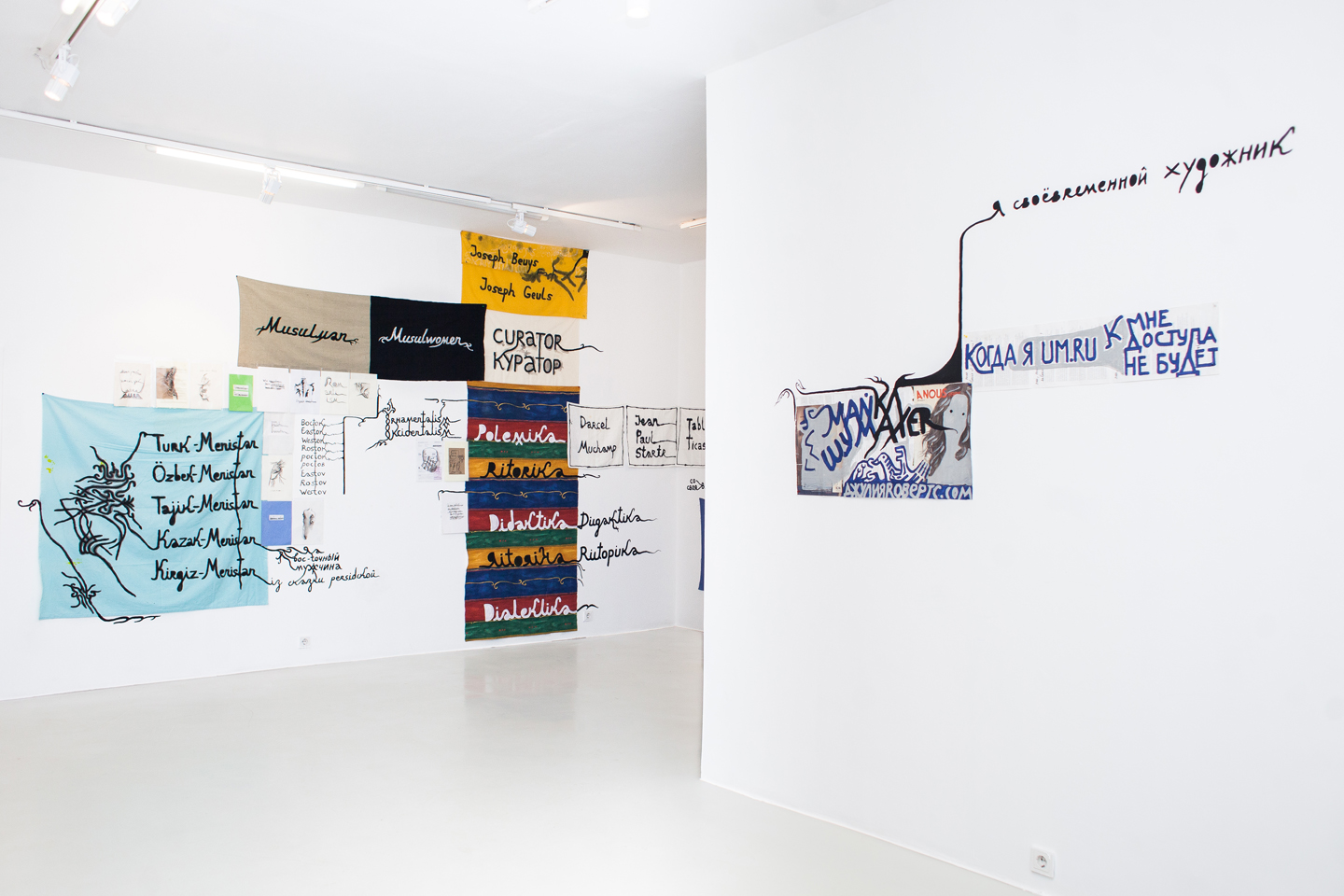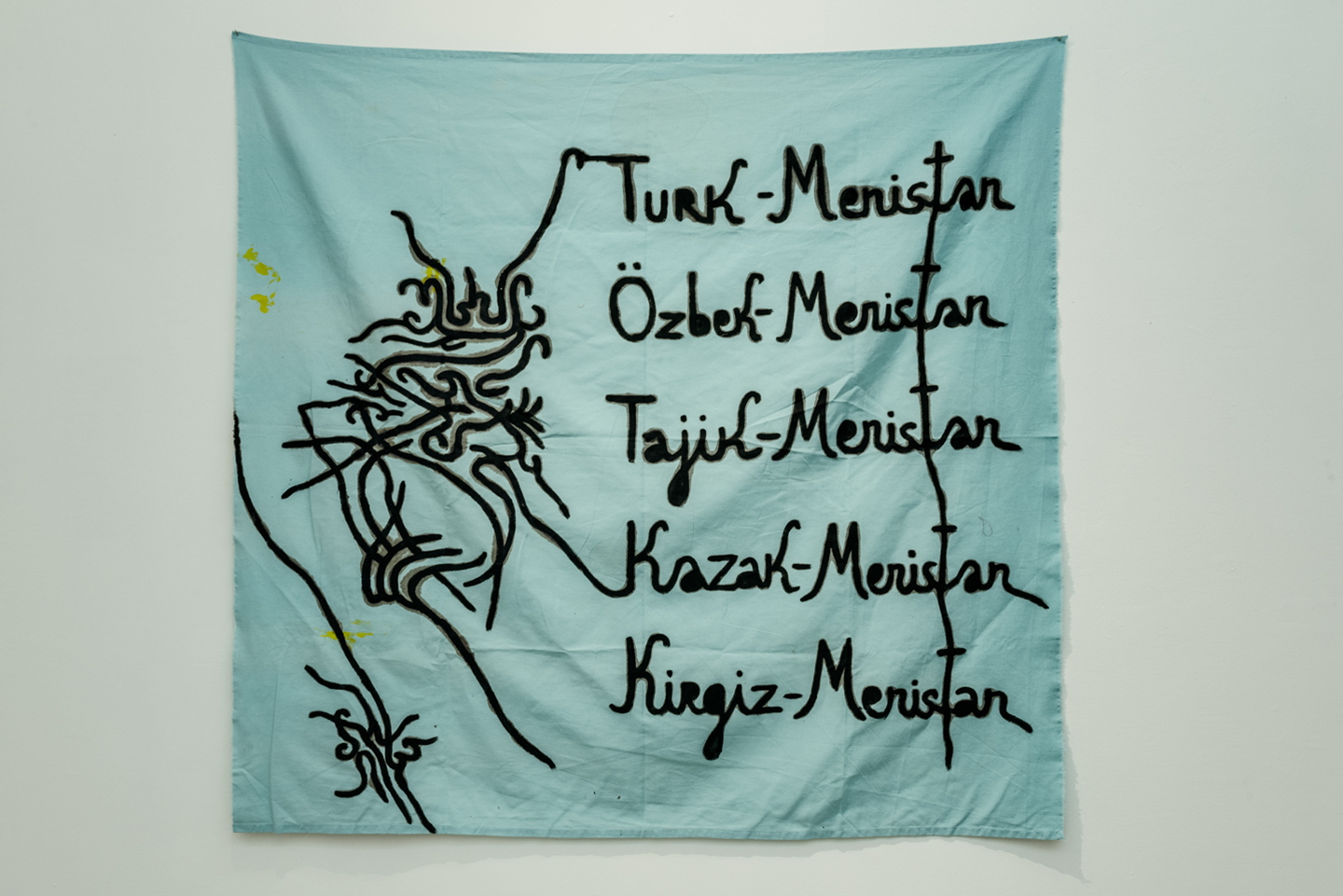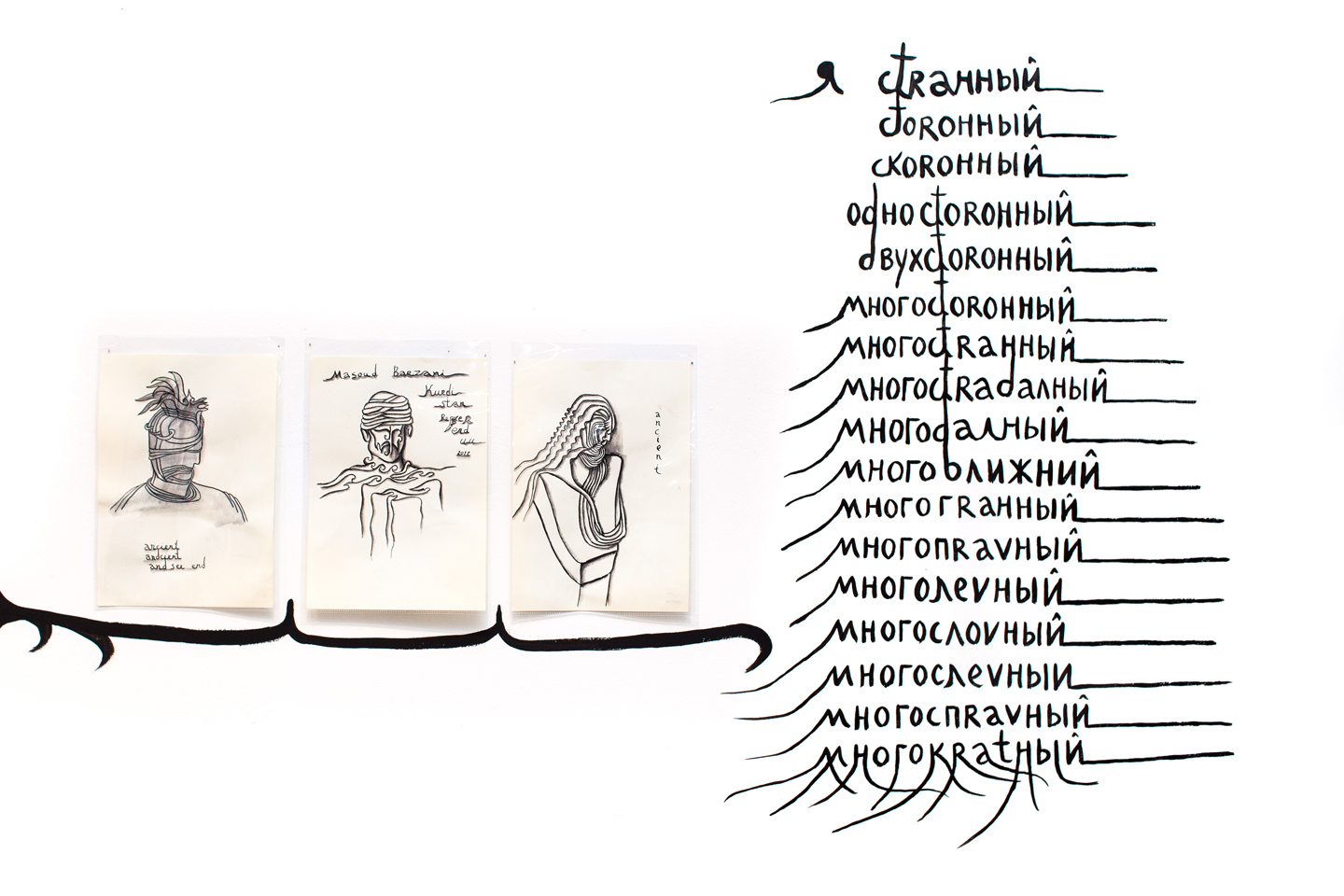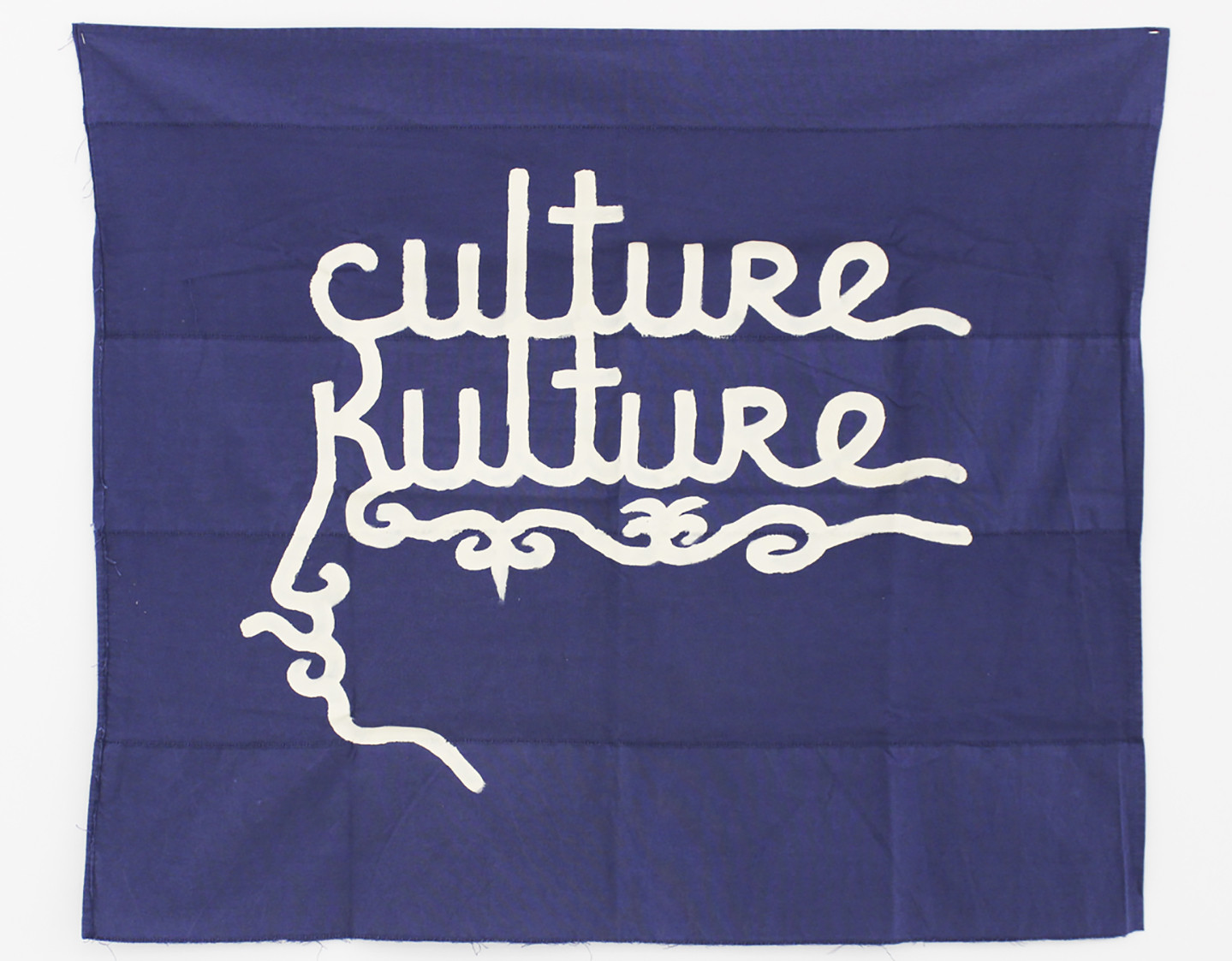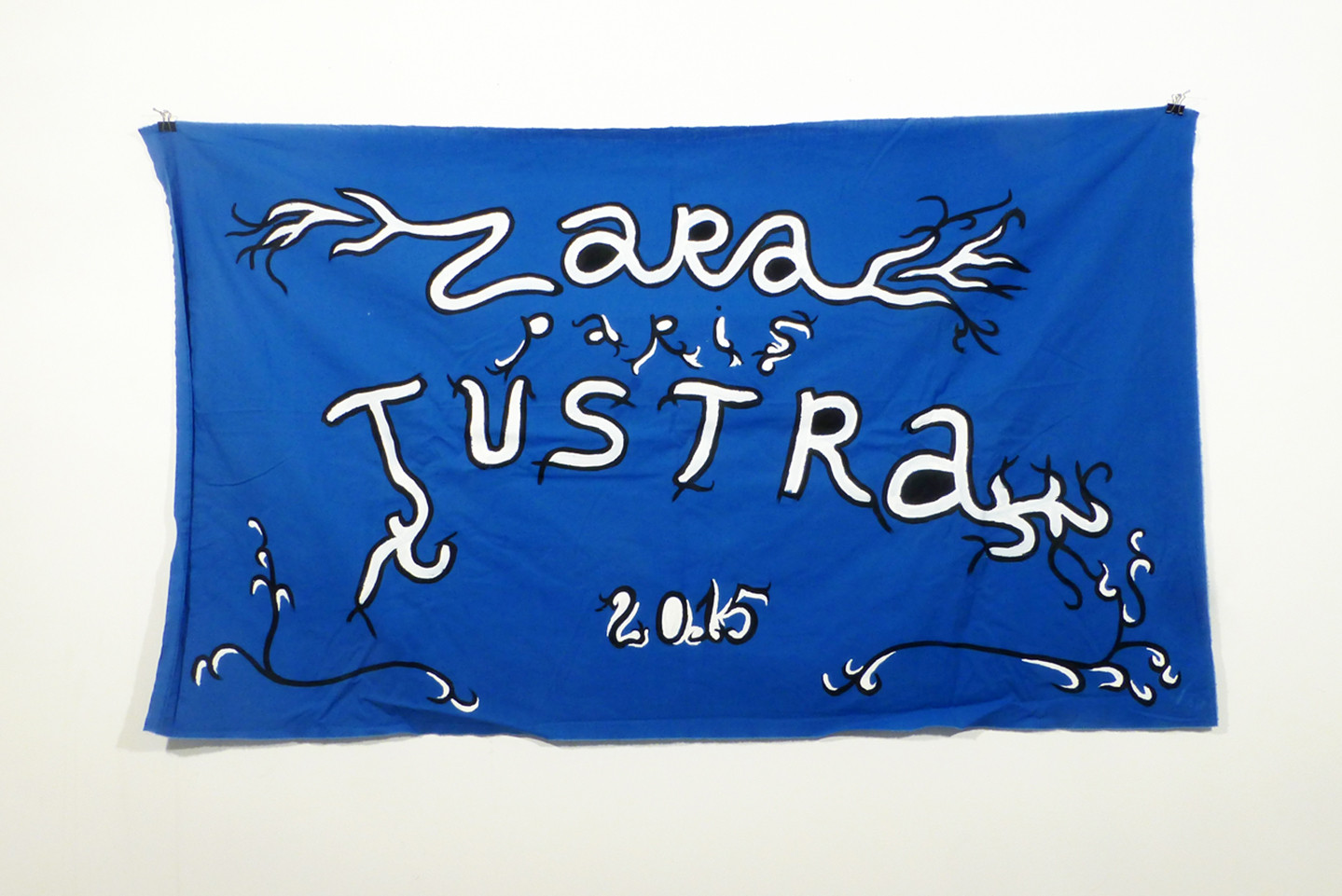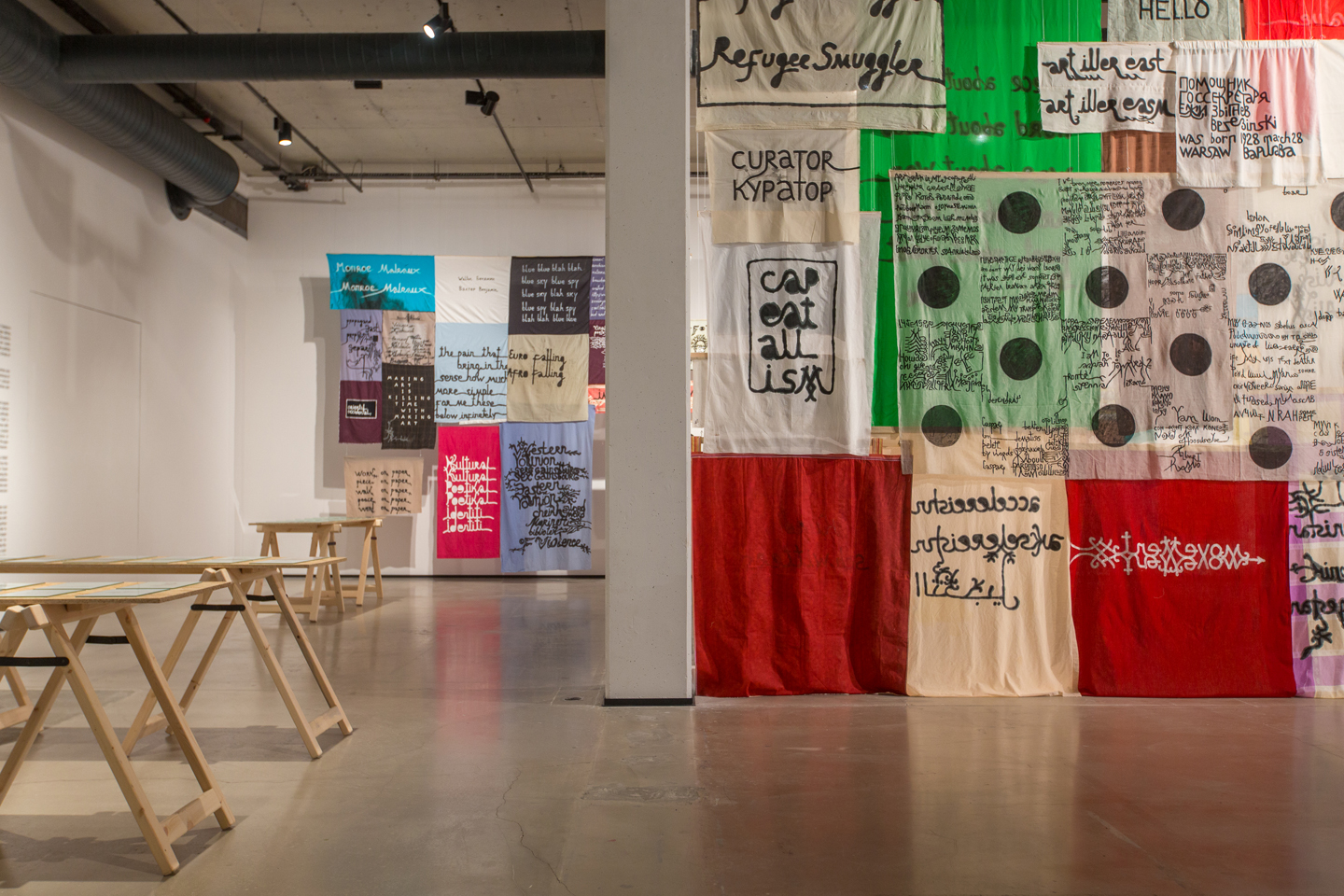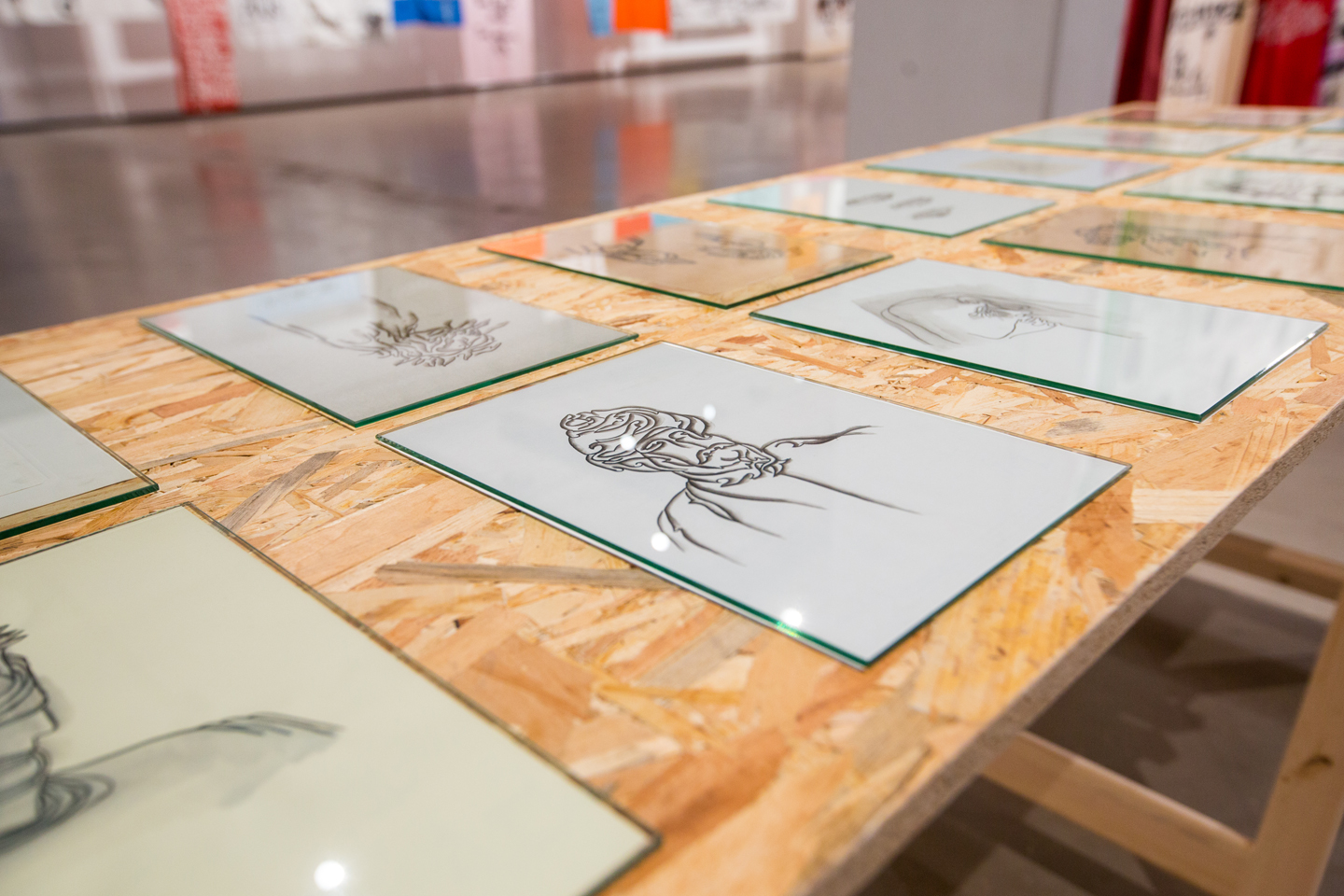 by Alice Bucknell 
In a short car ride through Baku, Azerbaijan's capital unravels across cultures and centuries: sweeping Parisian-style boulevards and ornate neo-Ottoman facades give way to Soviet-era public plazas and the growing army of bulbous glass giants dominating the skyline. Past the carpet shops of the Old City and the logos of luxury brands is the old harbor, nodding oil pumps and a spotless new urban master plan frame the YARAT Contemporary Art Center, where you will find ZARAtustra, a solo exhibition by the Paris-based Azeri artist Babi Badalov. It is a homecoming to a changed city that also addresses a global audience through topics of politics, precariousness, and identity. 
ALICE BUCKNELL: Let's begin by talking about your background and how it influences your work.
BABI BADALOV: My roots, memories, and mother language all belong to Lerik, the region of Azerbaijan where I was born and grew up. But in my life, I am so far from this country —I don't see anybody, I don't know who my friends are, I don't see my relatives. My family can't go out to a café without being shamed because of my homosexuality. In the Azerbaijani art circle, we can't really make work about political activism. So because of my personal life, and my work as a political artist, I was forced to leave Azerbaijan—first to Saint Petersburg, and then to Paris, where I live and work now.
AB: How does this, your first solo show in Baku for more than twelve years, sit with the art culture of the city?
BB: The contemporary art scene here is nascent. Much of the work exhibited across Azerbaijan is conservative; there are no new topics, certainly no dialogue. My mission in this exhibition at YARAT is to bring exactly what I am doing in Paris to Baku. The painted fabrics suspended from the ceiling address topics of anticapitalism, decolonization, language identity, spirituality, mysticism, orientalism, poetics. There is also a mural on the back wall that I made for Azerbaijan that explores the country's complex cultural identity by modulating language.
AB: For me, a viewer unable to understand Azeri, the language flattens out into a picture plane: I see ornamentation and symbols, how they melt together, sometimes creating pictograms, other times birthing new words. How do you use language as a visual phenomenon?
BB: Azeri is a layered language; it shares roots with Turkish, but its dominant script has changed four times in the last century alone. In this exhibition I work across languages, including Azeri, Russian, English. I often fuse or switch languages mid-exercise to create new words, new symbols and meanings, as well as occluding individual interpretation—unless the viewer also speaks both tongues. In my work, I try to destroy writing as a formal exercise. For me, writing is never formal—I am not interested in the intrinsic meaning of words, but in manipulating meaning through visualizing language. I want to transform writing from words into ornament and pattern, to create images with letters. It is a stream-of-consciousness exercise and relies a lot on chance, but sometimes I get lucky: for instance in the mural, within the words "Home Sweet Home" comes an oriental chair. The mural considers our hybrid identity, which hangs between Europe and Asia, Occidental and Oriental, Russia and Persia. 
AB: Do you consider yourself an artist or a poet?
BB: I call my work visual text: I am more of an artist, I come to poetry through writing. I could never say I'm a writer—not in the sense that content means everything. For me the form of language is the most significant thing. I make hybrid words by changing the root, such as "Immigration, yougration, hegration," or "Sovietism or SOSvietism," or by picking the words apart, twisting them. I also work with the space between the words and depend on it greatly.
AB: How should art engage with social issues today?
BB: Art today is critical and real—we are living in a very contradictory and controlled time, and I believe contemporary art is responding to our want, our need, for truth, with documentary-style work as well as work informed by personal experiences. I consider myself an old-generation artist in that I don't use digital media and I don't base my work on research, but nonetheless I find myself an activist and a mobilizer through my work, which is a reflection of my own history as well as of
the global forces that continue to structure the world through language. Sometimes, as in this exhibition, my fanaticism means that art itself becomes the strongest human aspect.
AB: How does this exhibition address Baku in particular? The title ZARAtustra is a portmanteau of an ancient religion, Zoroastrianism, and the global fashion brand ZARA. Does it relate to the globalization of post-Soviet Baku?
BB: When I came to YARAT for this show, it had been almost thirteen years since I had been in the city of Baku. I had heard Baku had totally changed, but it truly felt like coming to a new city for the first time—the feeling of being lost in an unfamiliar place. I was totally crushed. All the modernist architecture, the luxury shops—for me all of it is a monster, and I don't see it contributing to our culture. Azerbaijan's deep history is that of Zoroastrianism—we converted to the Islamic faith in the seventh century, underneath Arabian rule—and while the country has undergone many religious shifts since then, this ancient religion remains the most embedded in our culture. ZARAtustra says, "Azerbaijan, you must confront this—this is your culture, your capitalistic hunger that has come to destroy you and take your money." This is the camera in front of ZARA that is always watching you, this is Zardush, the prophet protecting you; it is everything. 
Babi Badalov (b. 1959, Lerik, Azerbaijan) lives and works in Paris. His practice explores the complexities and limitations of language and expressions of gender and sexuality. Recent solo exhibitions include Je Suis Mazimir Kalevich, New Museum, St. Petersburg (2018); Quand la litterature sort du livre, Festival Extra, Centre Pompidou, Paris (2018); To Make Art to Take Clothes Off, Museo de Arte Contemporáneo de Castilla y León (MUSAC), Spain (2017); For the Wall, for the World, Palais de Tokyo, Paris (2016). 
Alice Bucknell is an artist and writer based in London. Her background in visual anthropology contributes to her current interests in the hidden links between high art and pop culture, cosmology and technology, and spiritualism and late capitalism, among other unlikely bedfellows. She contributes to a range of print and digital publications, including Architectural Digest; frieze; ICON; Elephant; and the Harvard Design Magazine. 
Originally published on Mousse 67