EXHIBITIONS
Caroline Mesquita "Bal" at Spazio A, Pistoia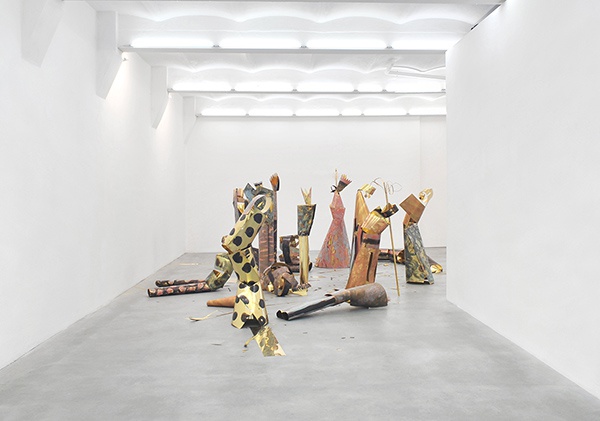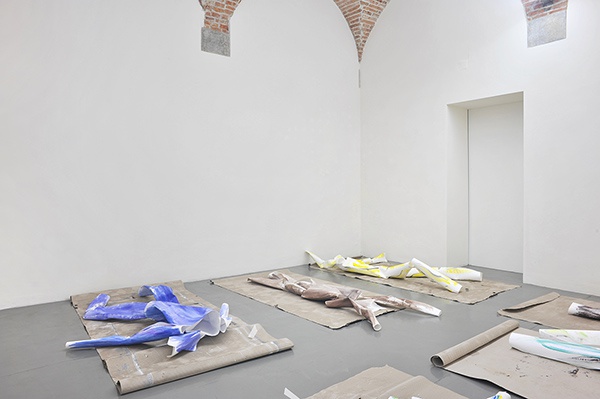 Caroline arranged to meet me at the Louvre to look at the pieces she would be showing during "Bal", organized in Pistoia.
We met up under Rubens's Exchange of the Two Princesses of France and Spain. It was right there, flooded with divine light, beneath a cornucopia overflowing with drops of gold, mother-of-pearl pearls and roses, that we would imitate the gesture of agreement of the two princesses, and finish writing this text.
"Bal" presents a kind of fantasy ceremony.
Caroline's "bodies", latterly depicted naked, ecstatic and euphoric; cut out, in a weightless state, in metal, or engraved by burin like a love message or an anonymous insult written on a public bench, have been covered for the occasion by much more solemn costumes.
These bodies, perhaps tired by their hours spent dancing in the Camping nightclub, seem to have come to spend some moments in contemplation. They have left the animal form of the "idle" crawling over the ground, got to their feet, and reached for the sky. The brass covered with gold leaf no longer imitates the bodies of monkeys, but those of human beings.
The women do not wear miniskirts, or high heels, for this strange mass, but very full tight-waisted gowns inspired by the 16th century . Velvet capes trimmed with ermine on their shoulders.
Their tousled hair has been combed and dressed with jewels. Their necks in tight collars and ribbons.
The male figure is bedecked with items evoking the man of god: mitre, sceptre, chasuble and other religious trappings.
On the brass gowns and clothes are printed, as if branded with an iron, the symbols of nobility and power: fleurs-de-lis, medals and other recognizable signs of wealth borrowed for "Bal from court painters, from Titian to Velazquez.
It is in this theatrical and dramatic presentation that the baroque comes into play.
For, camouflaged beneath these symbols of social ethics, it does not seem to me that this is the coronation of a queen or a king that we are celebrating here; rather, it is the coronation of a love. Grandiose and painful.
The characters plunged in this chiaroscuro light, "sprinkled" by a sound track, worthy of Walt Disney cartoons, might be ready to make a bow; to intertwine themselves and waltz until the last chime of midnight, because the magic is there, sublimated.
But, for all this, these bodies dressed to the nines no longer have arms and now only touch each other by mistake. The priests, as a sort of symbol of clear conscience, have crowns which become detached, ready to shatter on the ground. The faces have reddened with emotion or anger in the brass.
Their make-up seems to have run and dripped on their sumptuous clothes, like in Death in Venice.
They reject all these emblematic signs of power conveying desire and vestiges of passion. They wear them, tattooed like a curse.
Tears of oxide stain the "as bright as the sun" gowns of the lovely princesses. The multi-coloured motifs render things vulgar and hysterical, and have a humiliating effect. And if we lift up their gowns, it does not seem to me that Caroline's princesses are wearing glass slippers, and I even think I can hear them whisper:
"Love, love is not wise! Love, love has made me mad!".
Lucile Littot
.
until 24 July 2015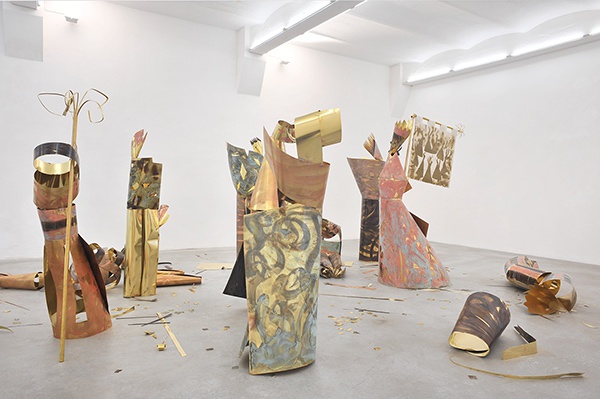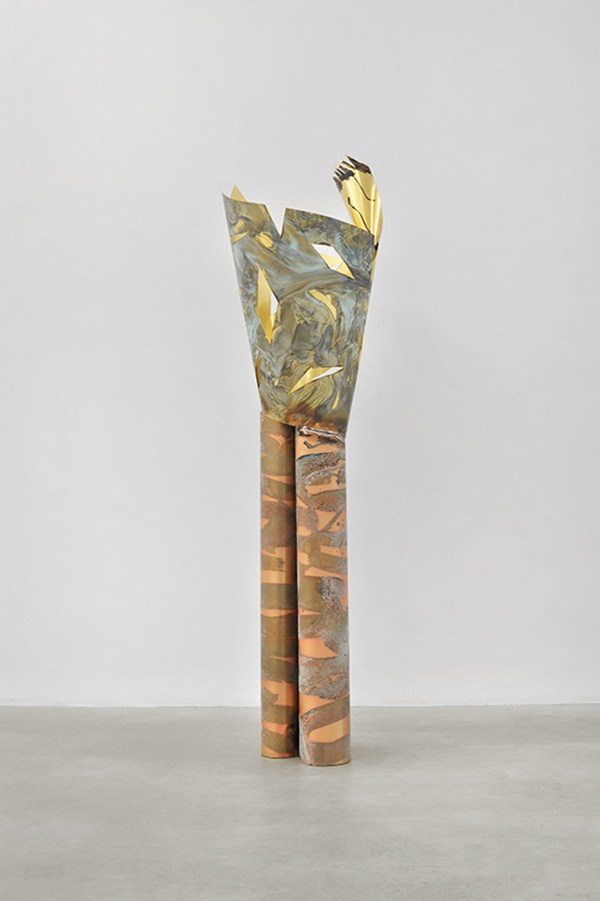 Rocco, 2015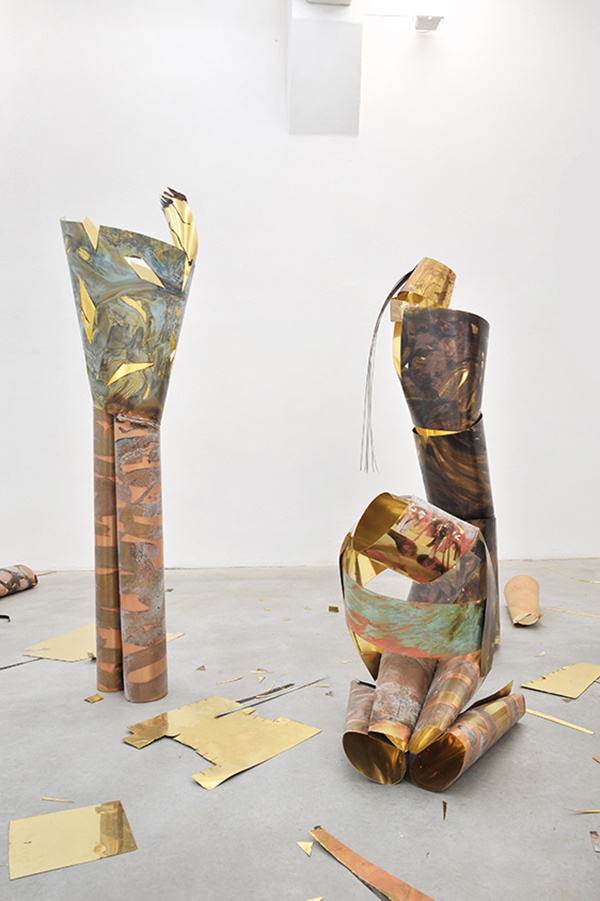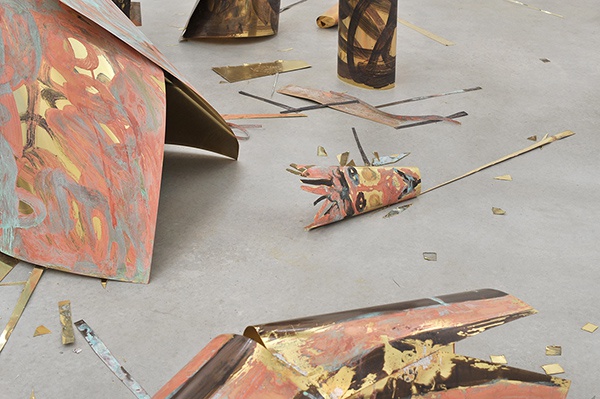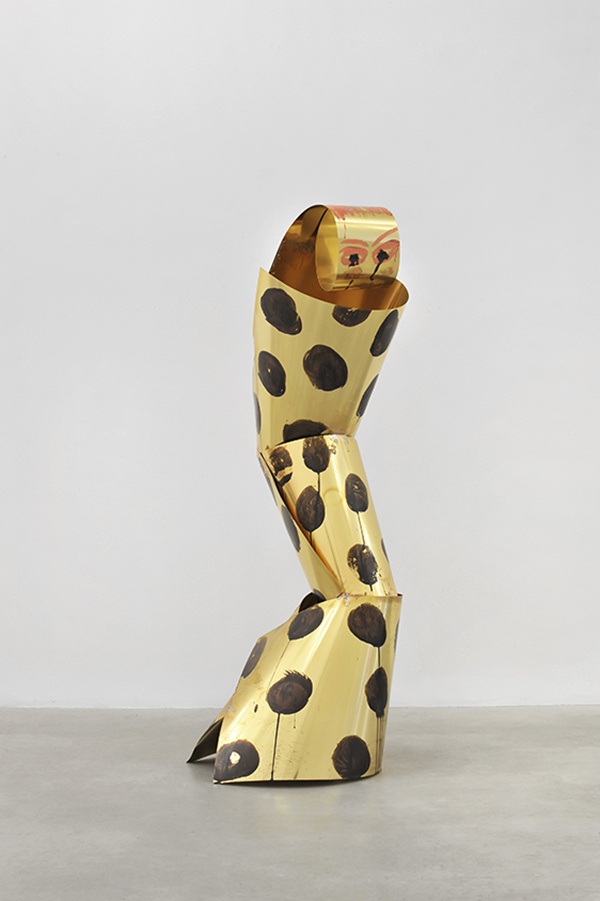 Ramona, 2015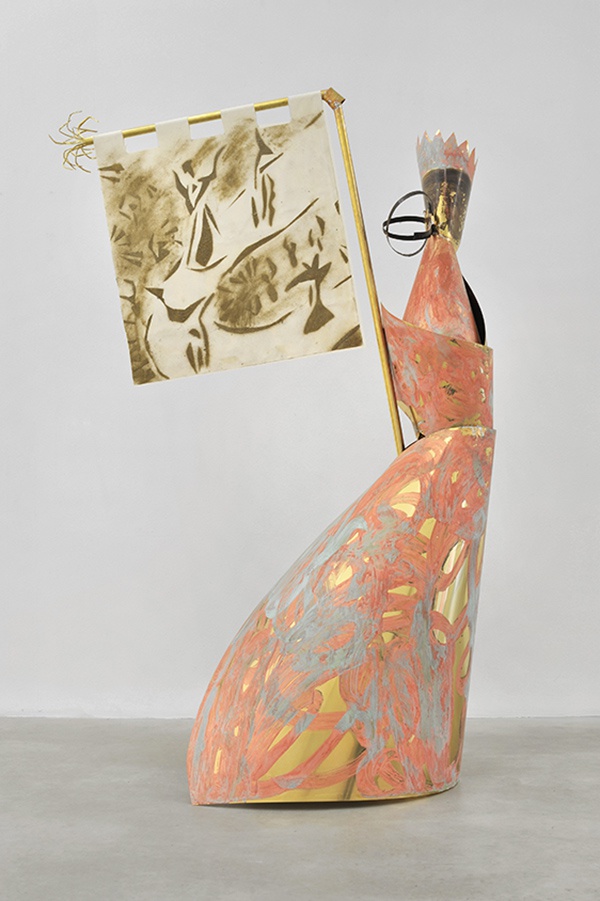 Alfonso, 2015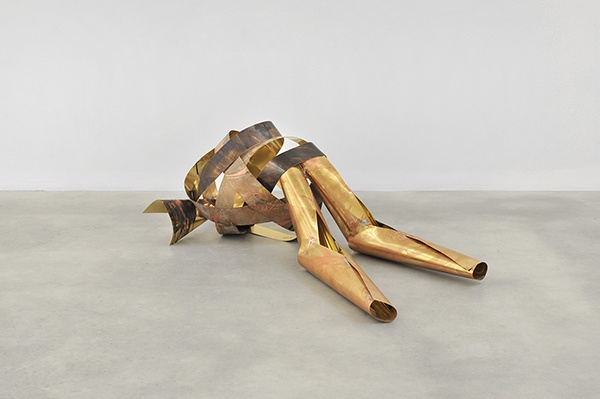 Leonardo, 2015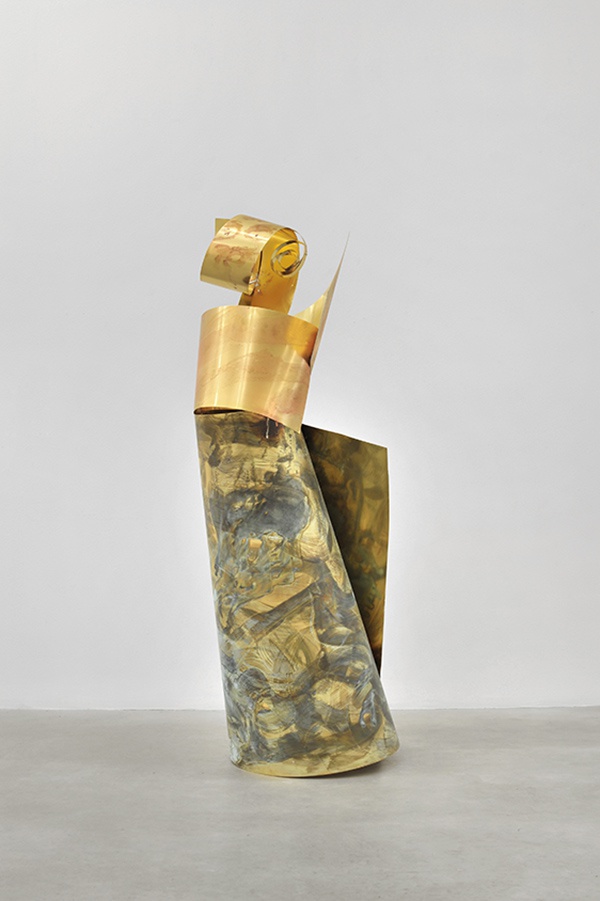 Fortuna, 2015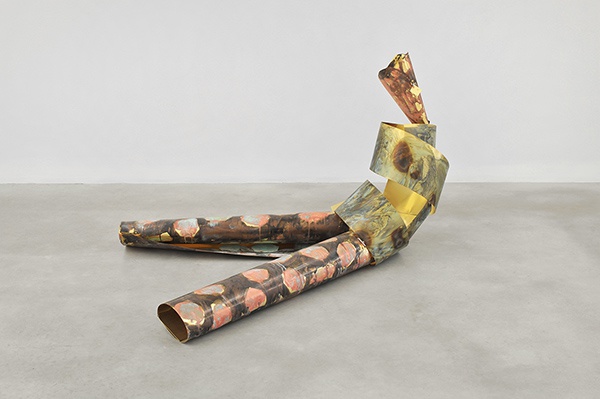 Mariano, 2015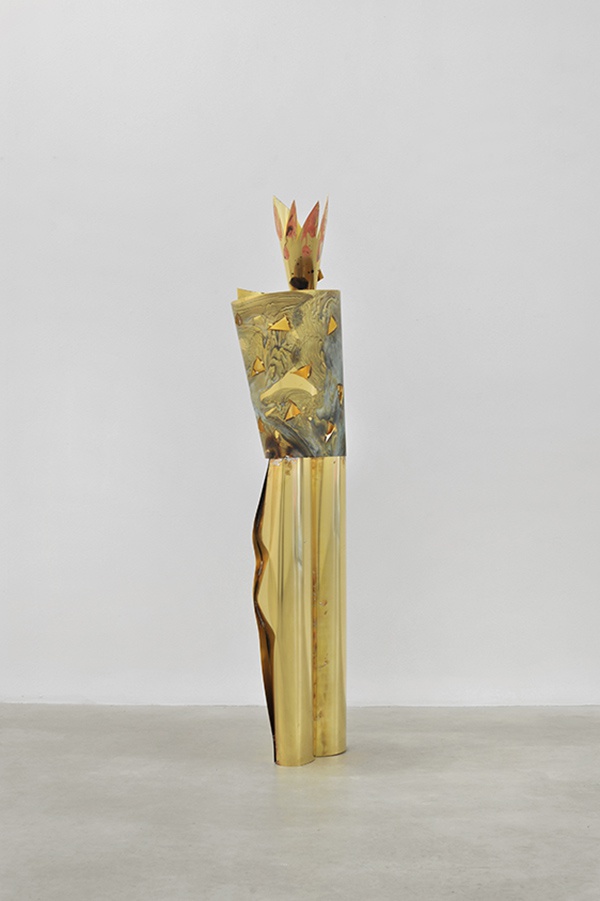 Riccardo, 2015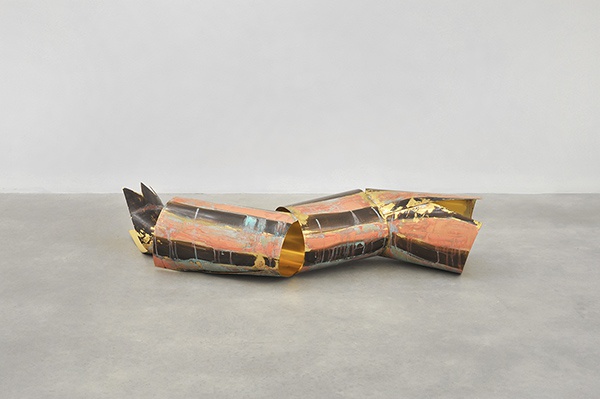 Simona, 2015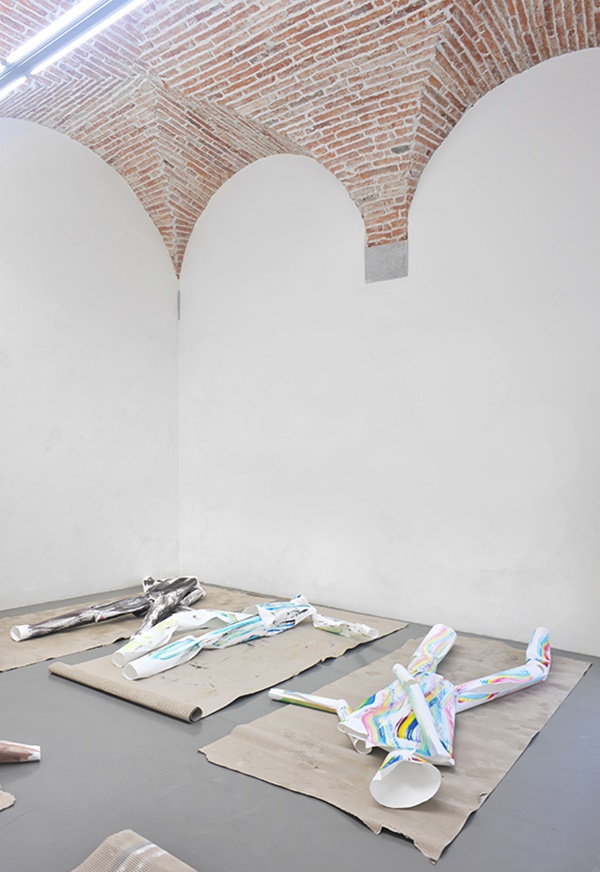 Dispensaire, 2015
.
Caroline Mesquita "Bal" installation views at Spazio A, Pistoia, 2015
Courtesy: Spazio A, Pistoia. Photo: Rebecca Fanuele.