REVIEWS
On Interstitial Fragments of Private Life and Sociopolitical Unrest: Beatrice Gibson
Close
1
2
3
4
5
6
7
8
9
10
11
12
13
14
15
16
17
18
19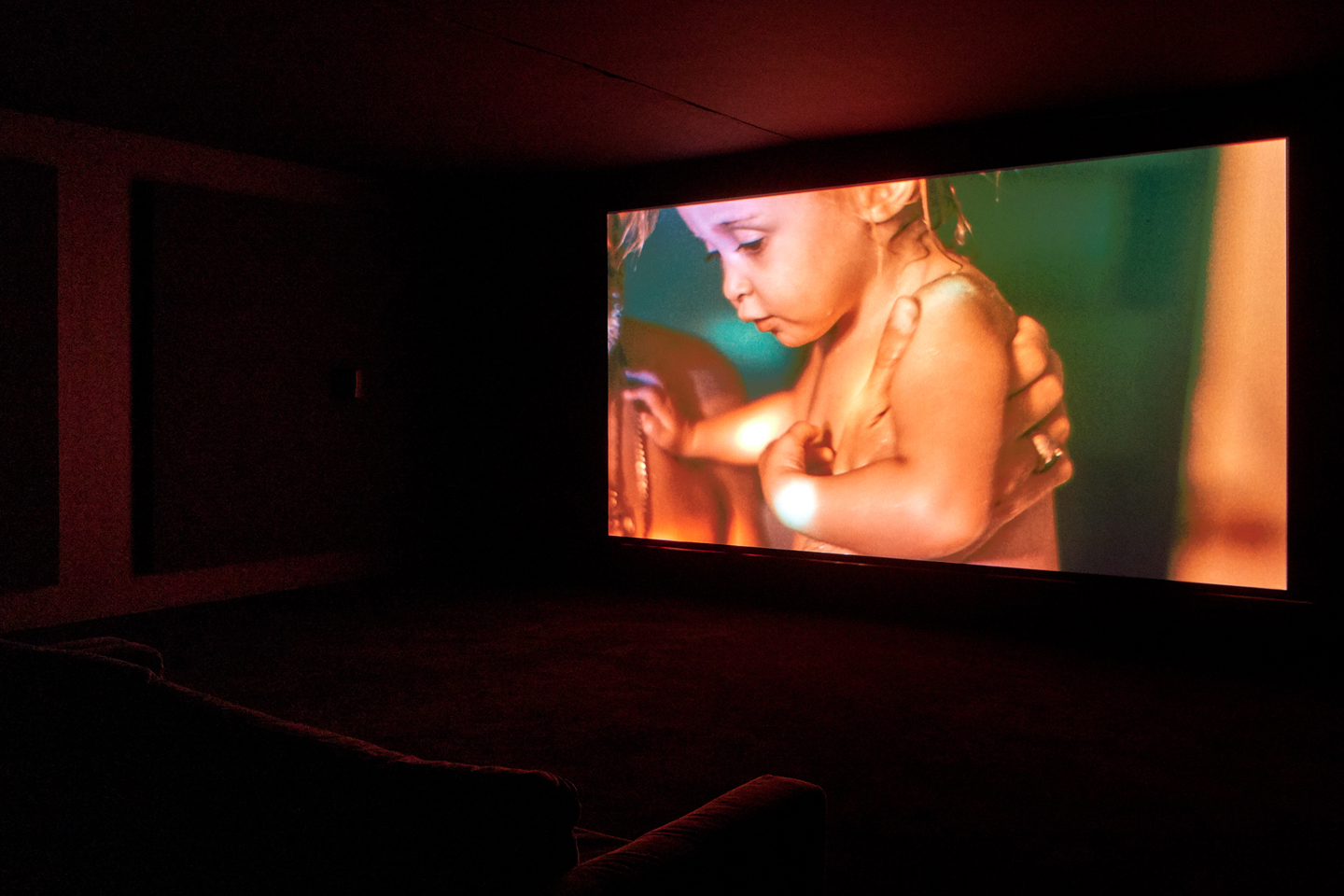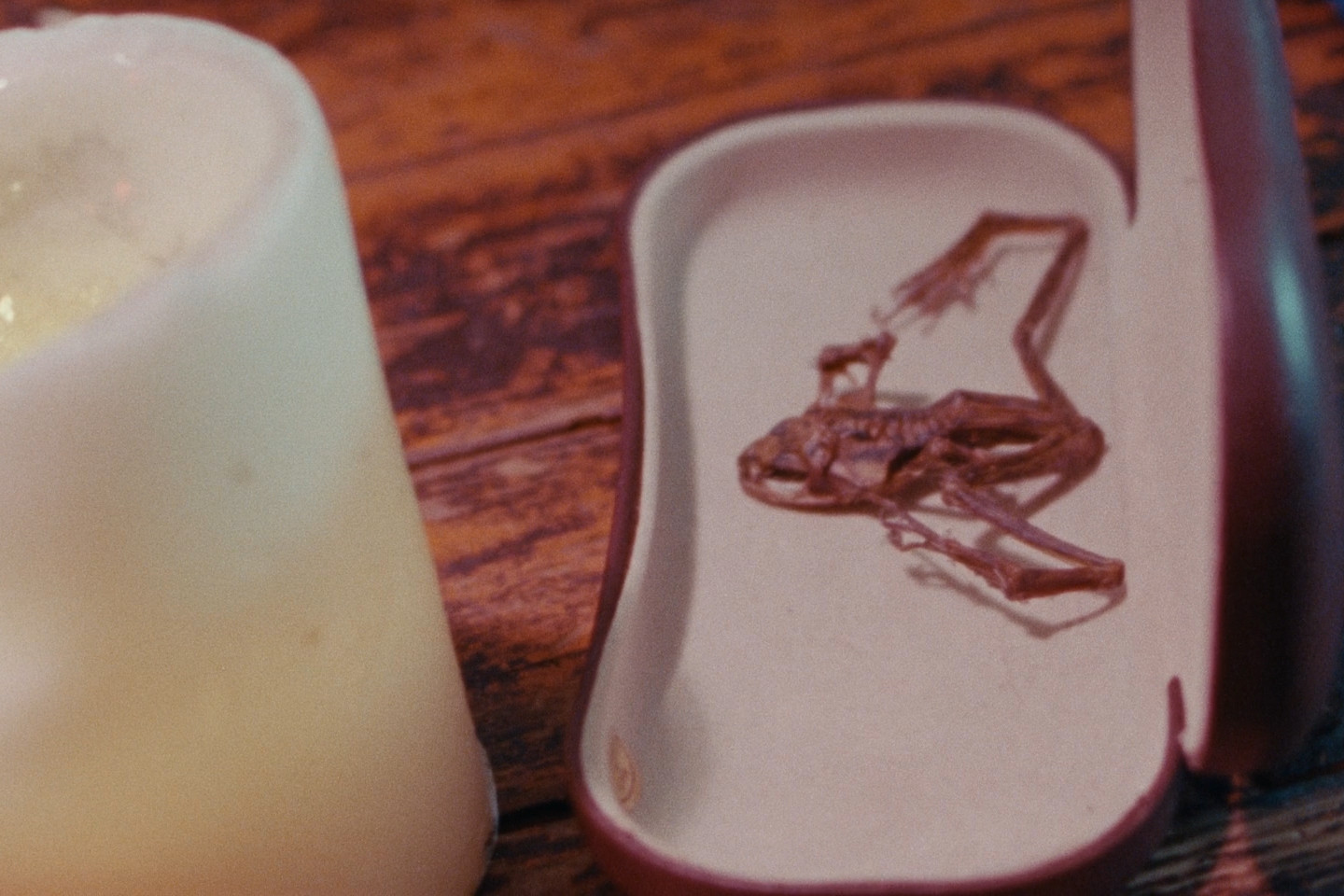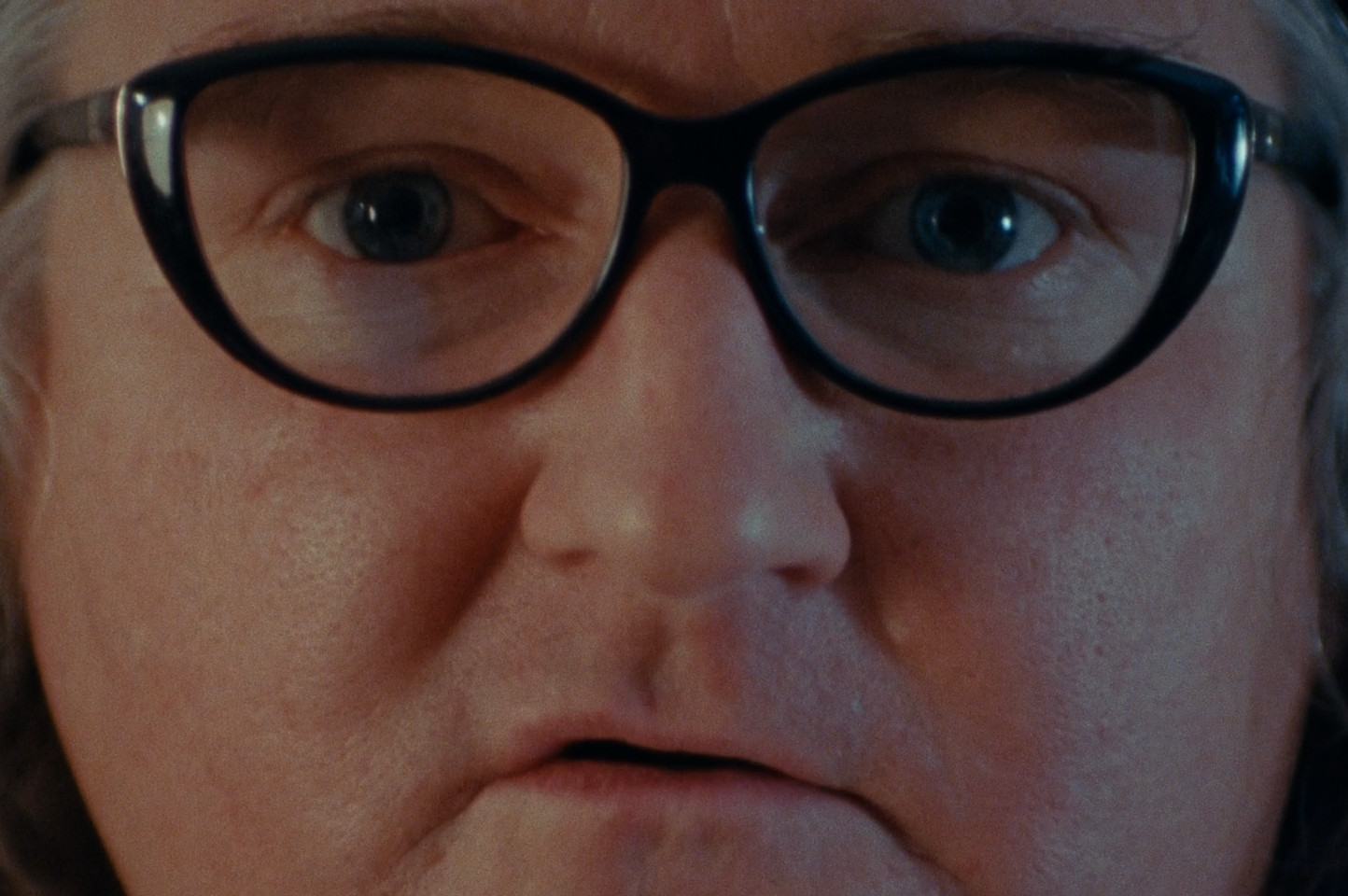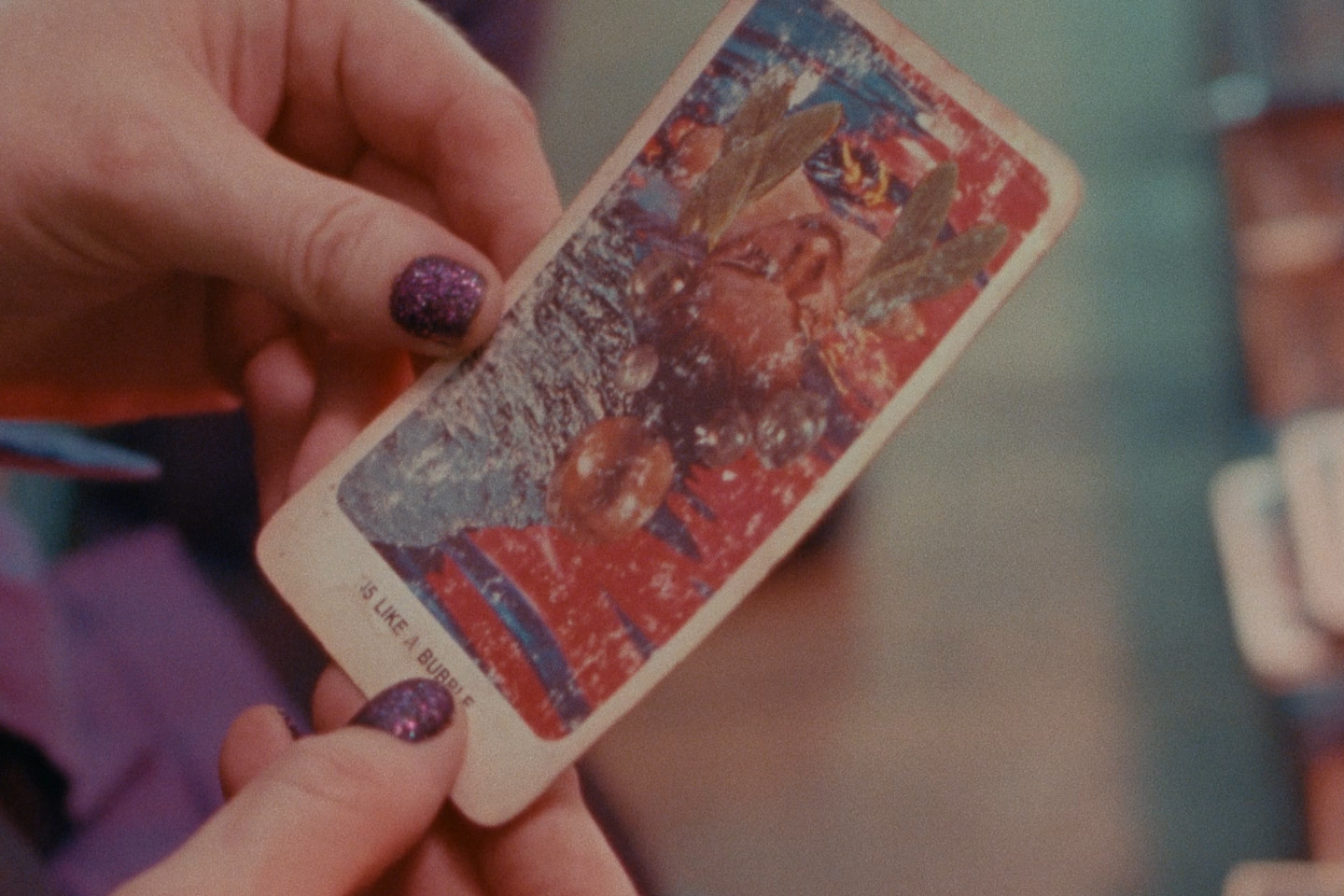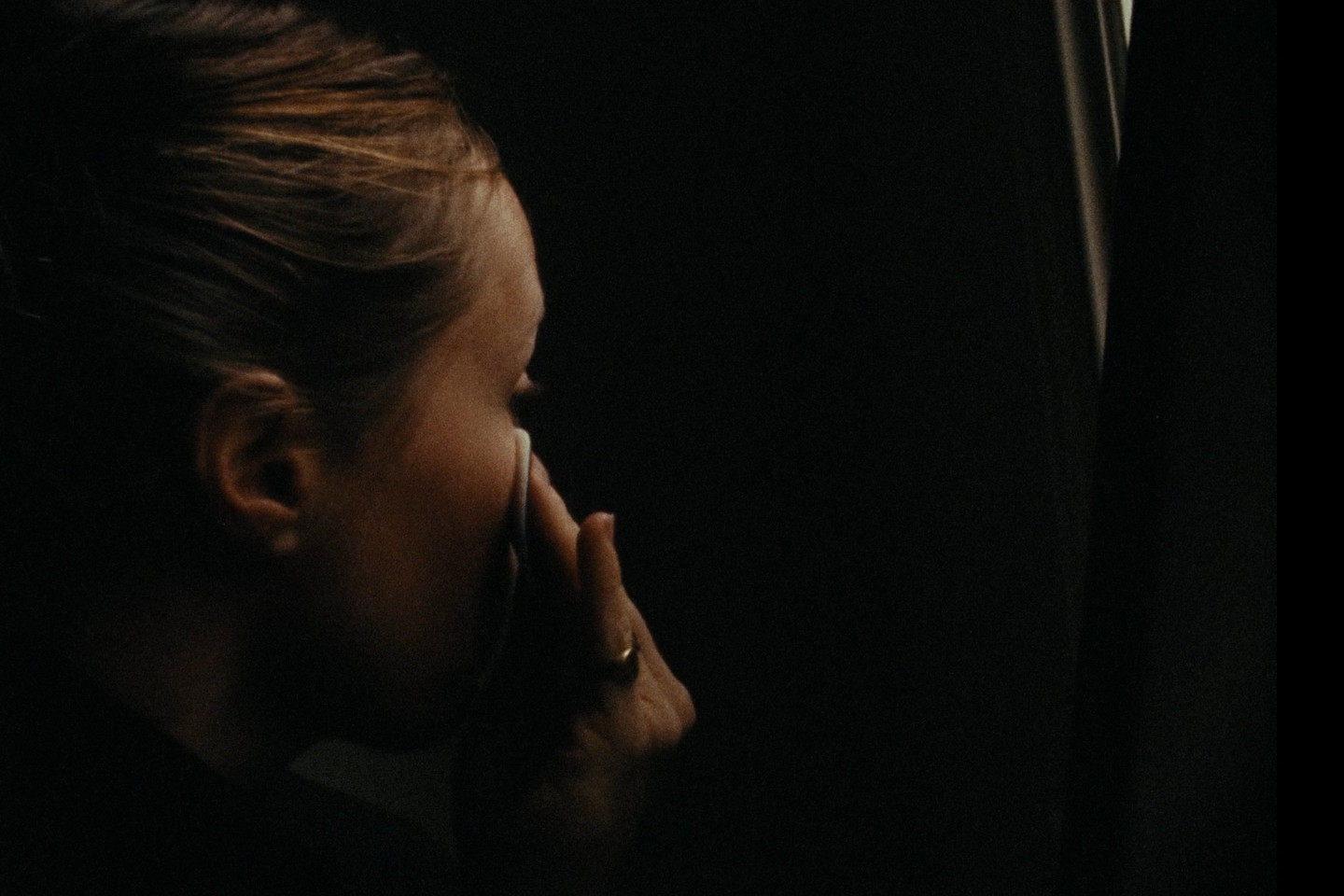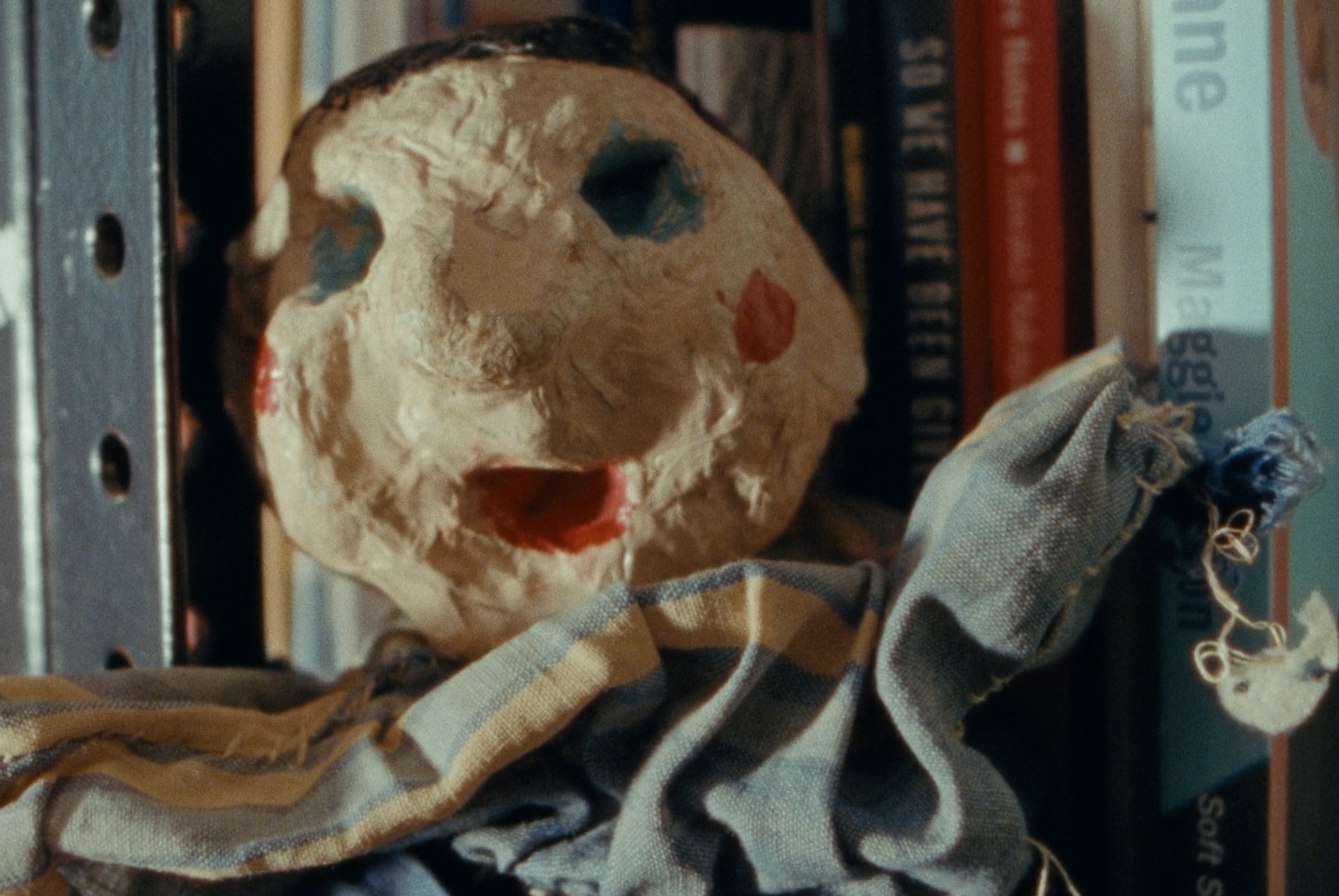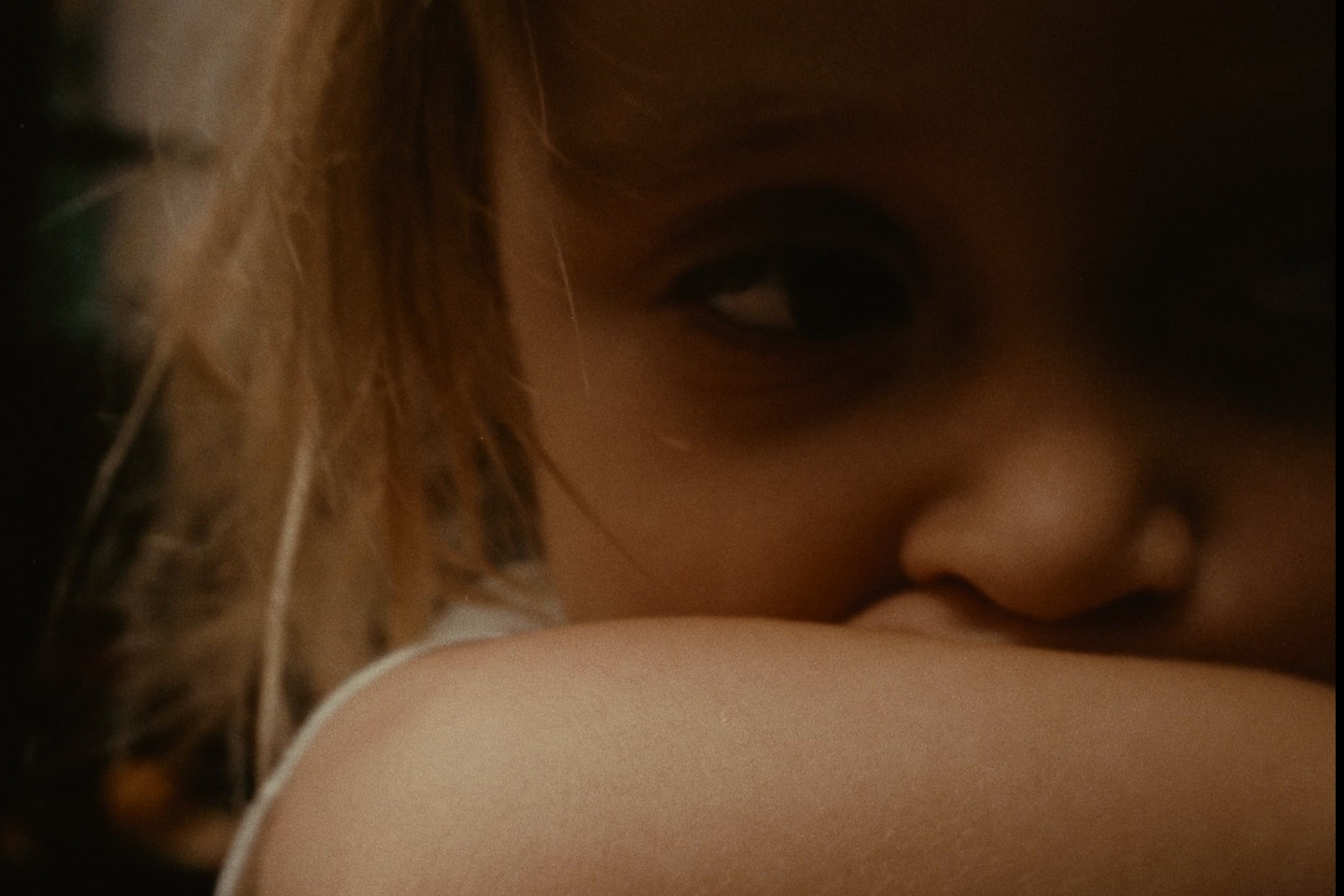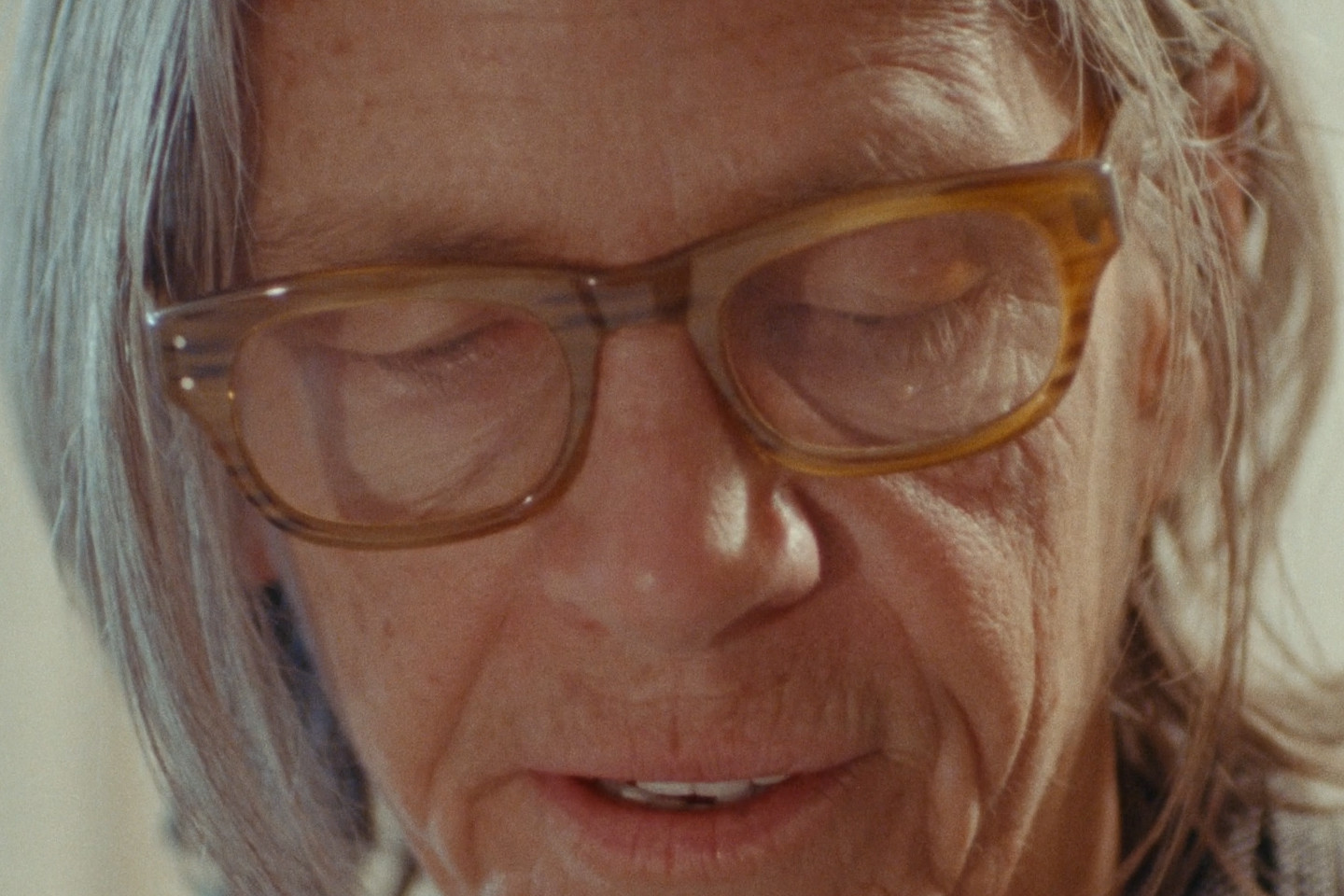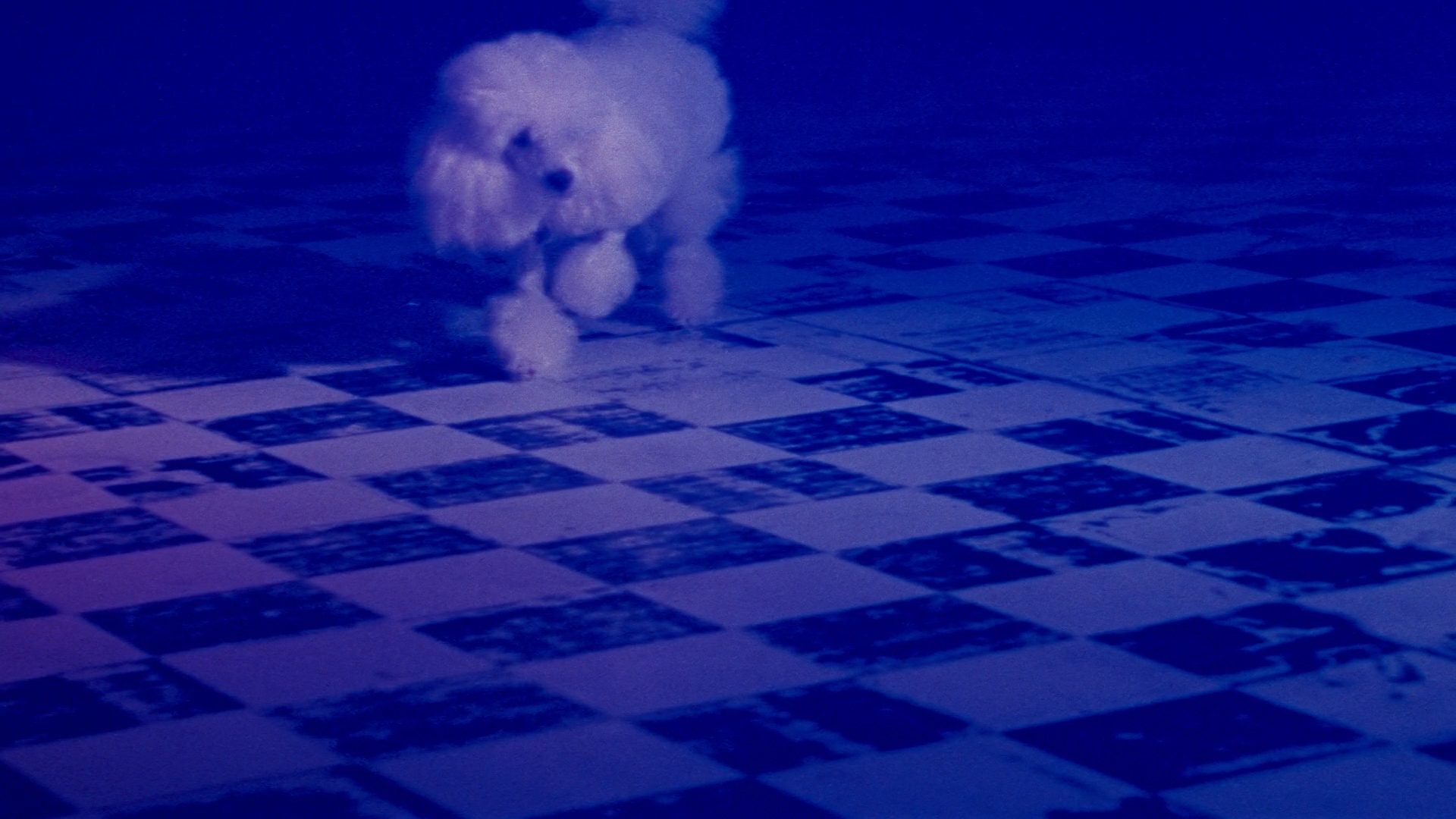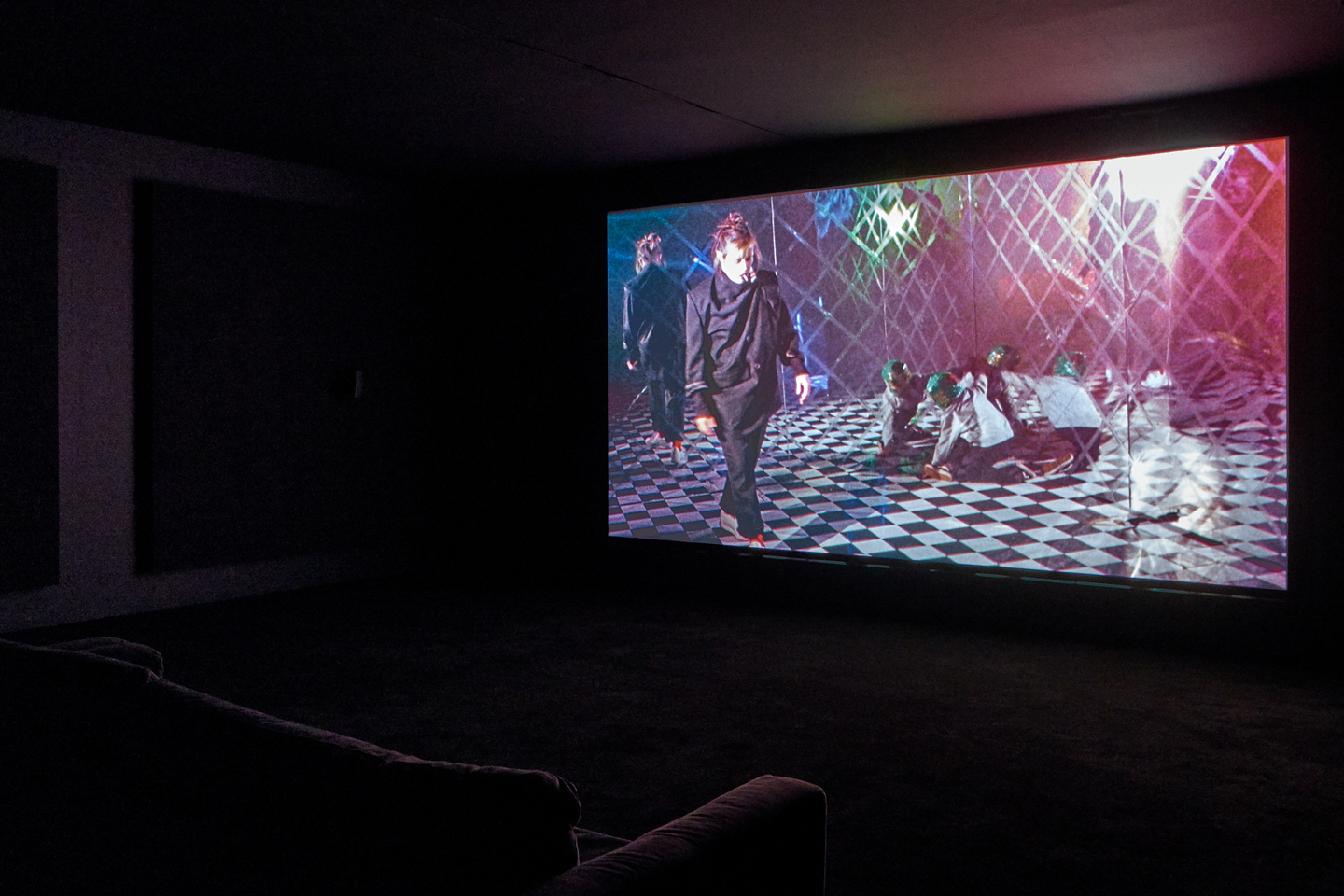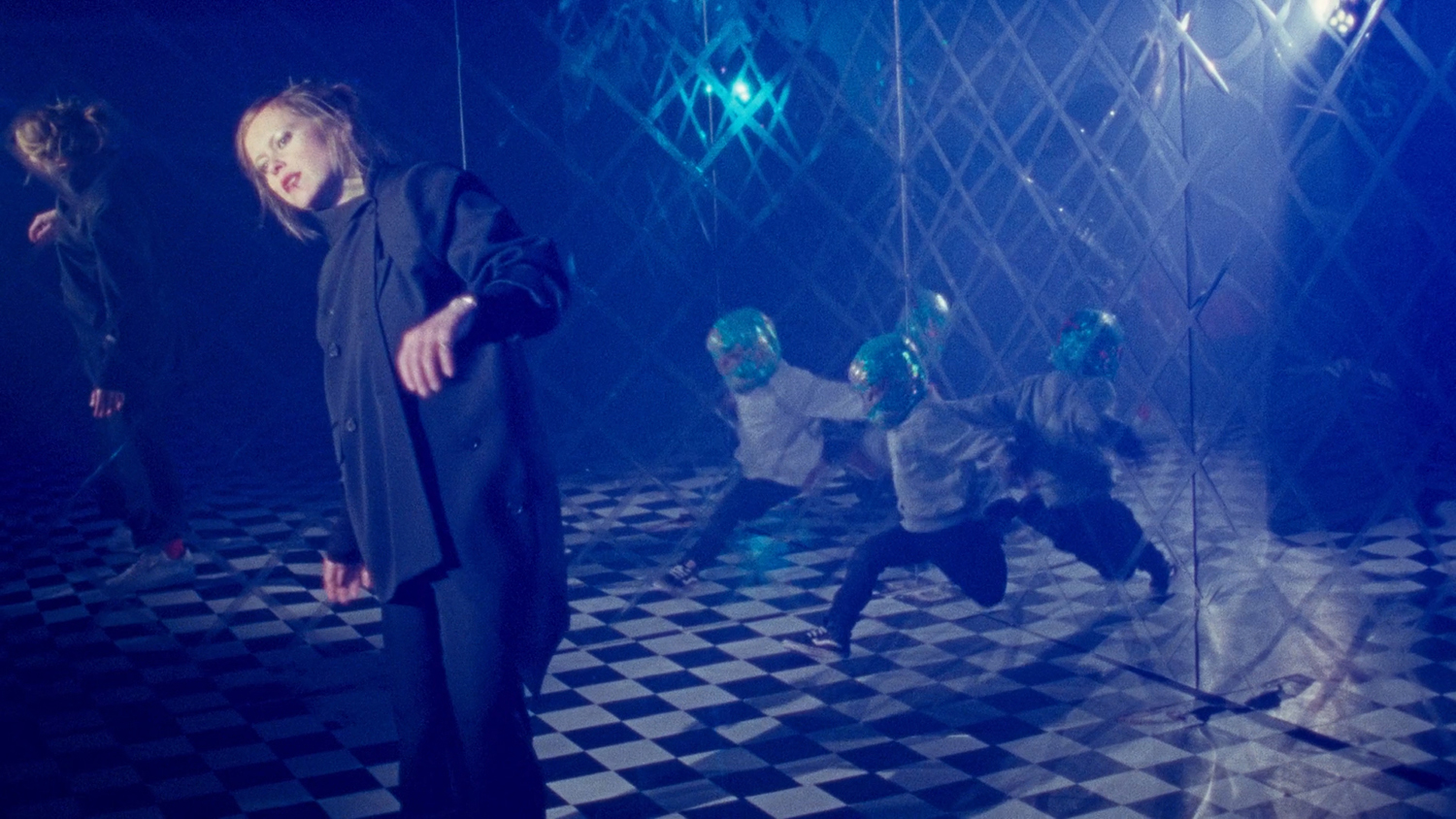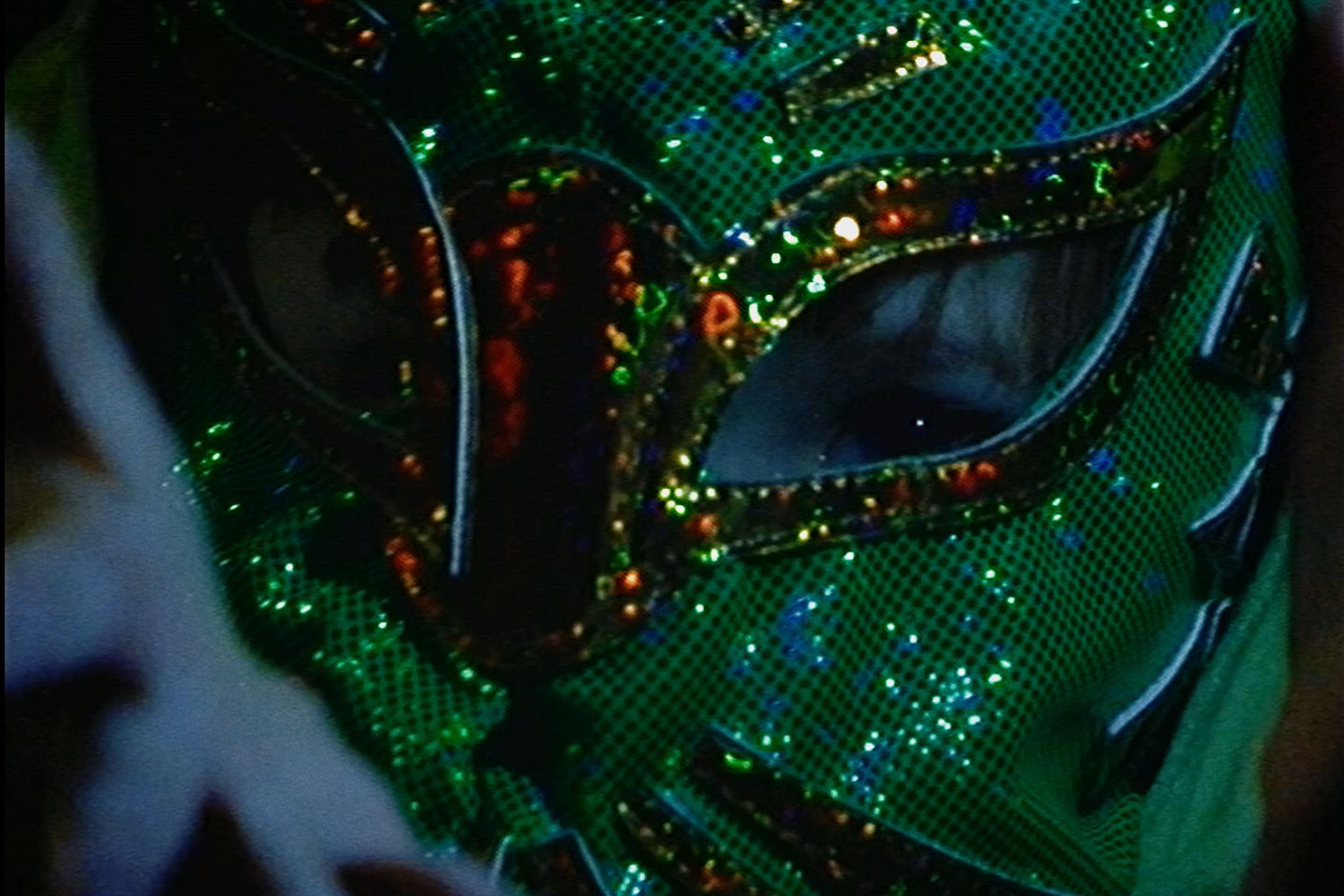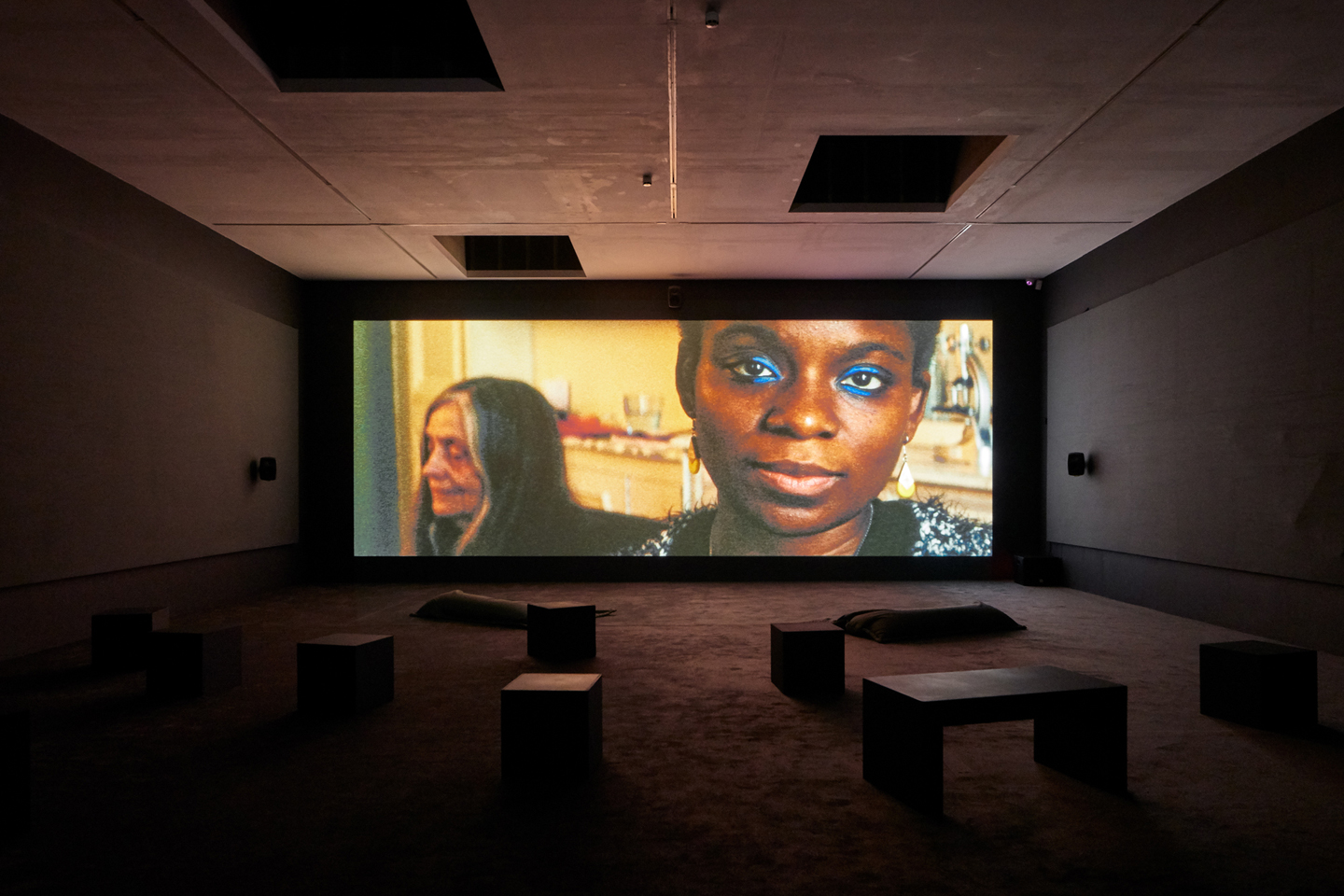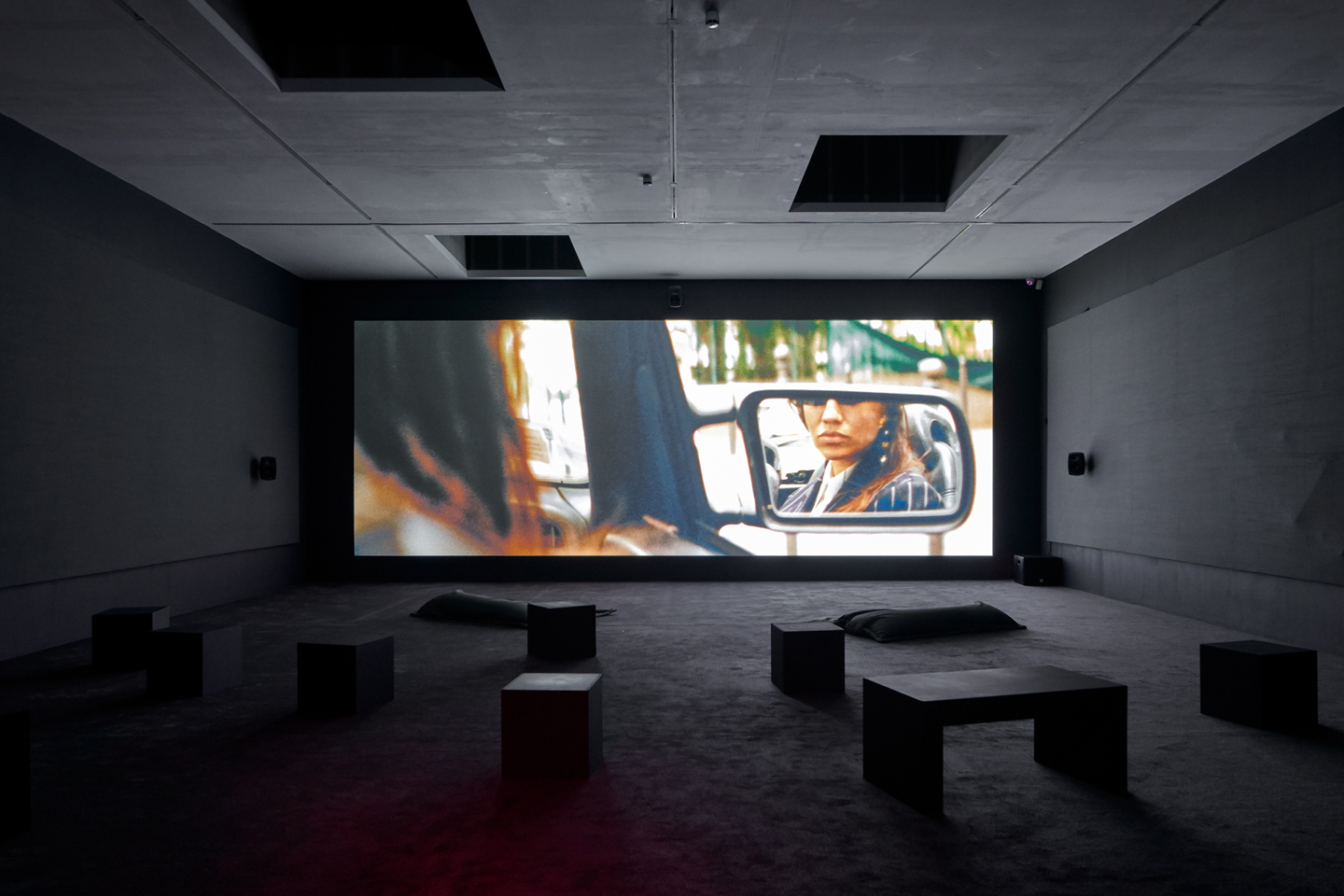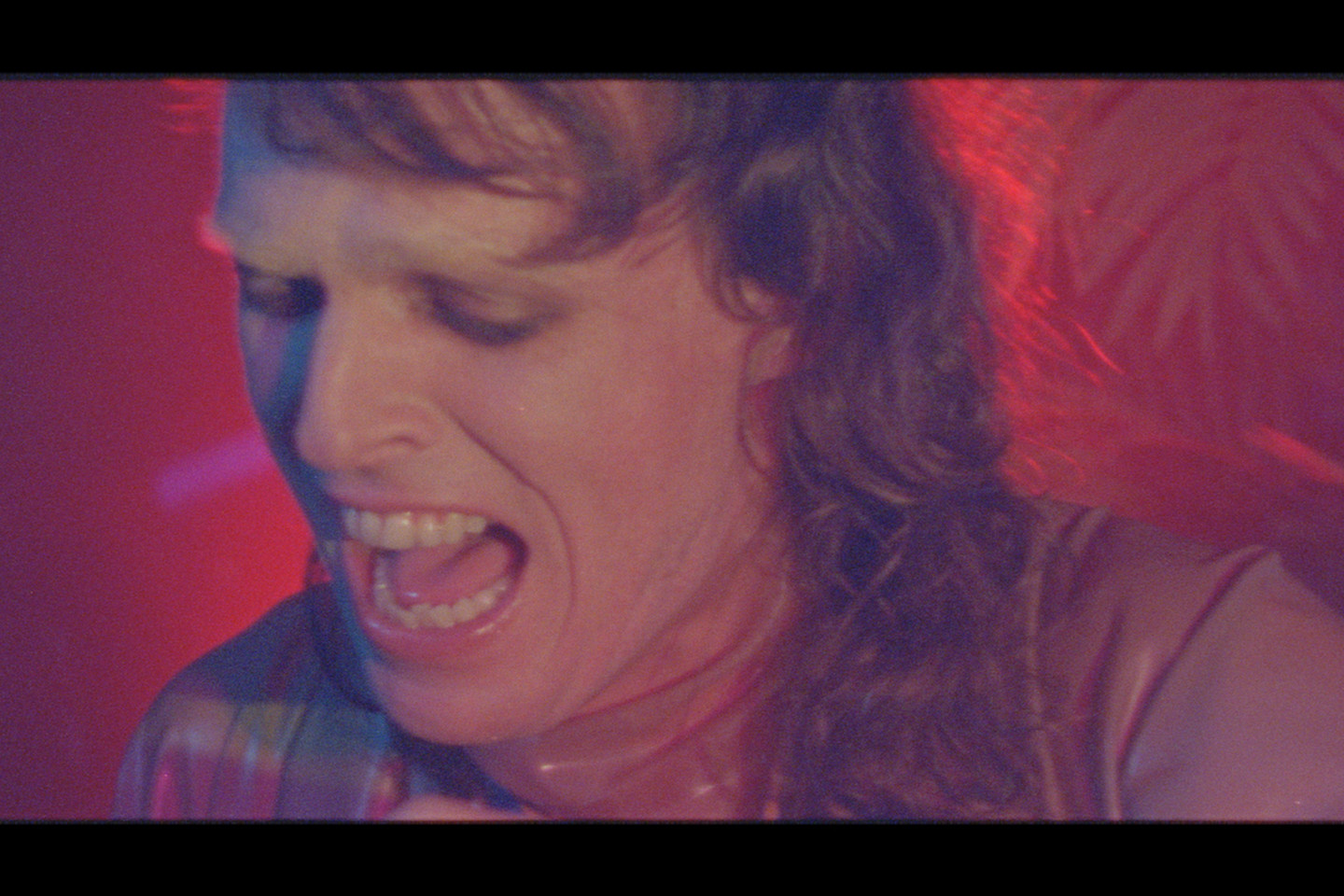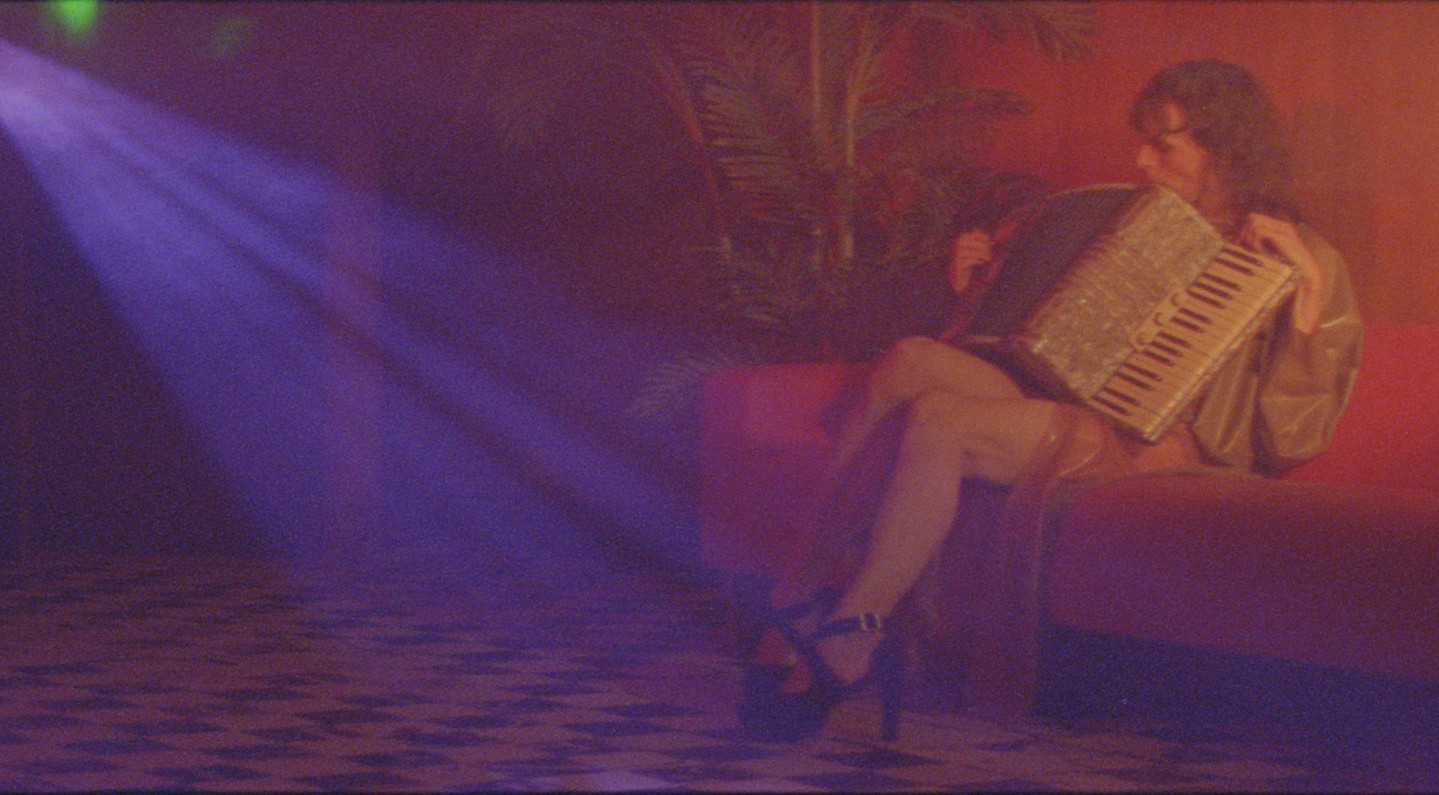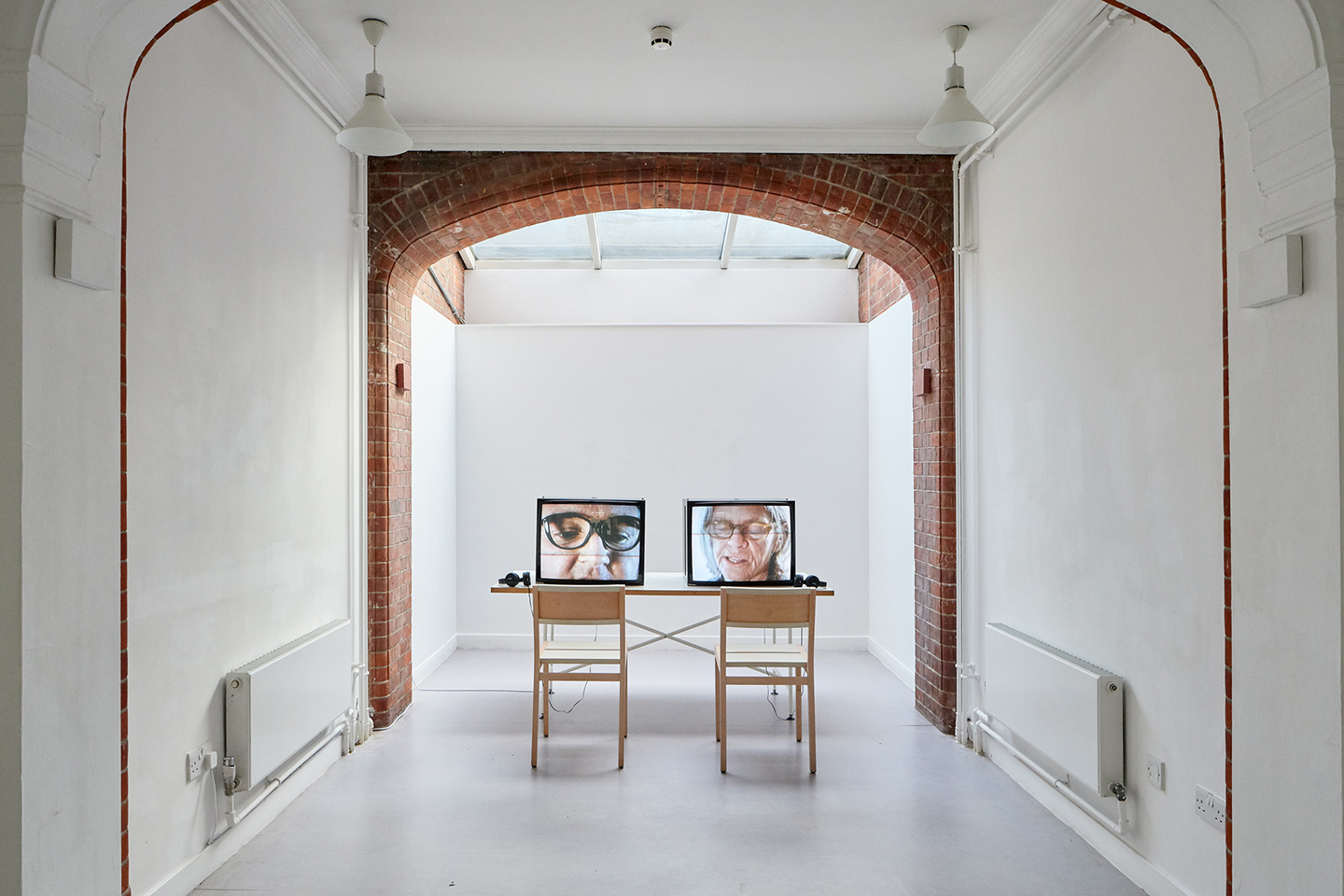 by Giovanna Manzotti
Dealing with themes spanning experimental literature, art, expanded cinema, poetry, music, and feminism, Beatrice Gibson's practice has always been informed by participatory processes and collaborations. In her two new interconnected and multigenerational films presented at Camden Arts Centre, in London, the Franco-British artist brings these issues into a more intimate level of analysis, exploring family values and unfolding collective concerns in an even more unsettled world.
It's 6 p.m. and a woman is having a sort of panic attack in the subway: "I can still feel my body except it's like the skin is gone. It's all nerve, edgeless, pulsating. There's intense breathlessness. Blood is thumping. It's like being in the club. I feel weightless. Unstitched." Her voice follows her eyes, which seem to see out loud a batch of wobbly images running fast on the screen: violent protests, shots, screams, chaotic speeding trains, crowded subway stations, CCTV images, and melting glaciers are interwoven with black-and-white home movies of her two-year-old daughter, Laizer. Heartbeats in the background. Suddenly, applause coming from a television blends with an audience's voices, and the framing focuses on two figures sitting on a sofa. They are the most significant living poets in the United States: CAConrad and Eileen Myles, here depicted as a portrait of an entire nation. They are evidently nervous: it's the eve of the forty-fifth American presidential inauguration in January 2017.
The flickering eye of the camera dwells on the furnishings of the studio. Tarot cards, a desiccated frog in an open case, candles, matchsticks, pastels, and the book Concrete, by Thomas Bernhard, are scattered on a table. A mysterious mood fills the air. Swiftly, with a highly ironic yet dramatic leap, CAConrad reads their poem "I Hope I'm Loud When I'm Dead," here quoted in its final part:
many are
haunted by
human cruelty through
the centuries
I am haunted by
our actions since
breakfast
you said too much poetry
I said too much war
the biggest mistake for
love is straining
there was a
door marked
MISTAKE we
entered
you said too much fooling around
I said fuck off and die
The female voice heard before appears again: "What do you afraid of? I'm afraid of my anger. I'm afraid of fighting against them." It's the artist's voice. Now we see her face. Now we know who had that panic attack.
Named after this poem by CAConrad, the twenty-minute film by London-based artist Beatrice Gibson—part of Crone Music, her solo show on view at Camden Arts Centre, London—is both a sort of manifesto toward a fragile moment and a unanimous emotional condition of fear and anxiety, and an attempt to grab the transformative capacity lying in family values. Conveying a sense of tenderness and intimacy, the film ponders a future filtered by the eyes of motherhood, and it points out how art and poetry might still be a spot for regeneration and recovery. "Around the time I started on these works, poetry and the art world were having a flirt. I was reading a lot of poetry and meanwhile the world was collapsing, so it seemed like a healthy thing to be doing in contrast to refreshing the news every thirty seconds."1
While CAConrad and Myles's words are interwoven with passages by fellow poets Audre Lorde, Alice Notley, and Adrienne Rich recited by the artist herself, images of mass refugee migration across the Mediterranean Sea and the Grenfell Tower fire in London flow relentlessly with moments of worldwide unrest and sensitive portraits of the artist as a woman and a young mother, all exploring a dimension where the "outside" is emerging from the "inside" and vice versa, an in-between zone where private corners meld with sociopolitical issues, questioning the boundaries between the two.
The intimate soundtrack of the film relies on the experimental score titled A Woman Sees How the World Goes With No Eyes (from the album Crone Music, 1990) by the musician and composer Pauline Oliveros, whose pieces are well known for seeking out a kind of compositional and structural form, as the film itself does. The apparent ungraspable and confusing dimension deriving from the use of 16 mm film, digital video, iPhone footage, and found images unveils, in fact, a circular structure where the visual parts—mainly working by contrasts—and the verbal spheres alternate in a series of increasingly clear sequences. This collagist approach also reveals the process of the film's own making and its improvised nature, and lends itself to a kaleidoscopic level of citations and associations—for example, poet as prophet, and poem as ritual path through the chaos of life.
This circular effect is intensified at the end of the film, where Gibson recalls her earlier description of panic, now redeemed by unconditional love for her daughter: "Because of you, I am tone of voice. All nerve, edgeless, pulsating. I can breathe." Fragments start to compose a pattern. In this near act of inheritance, she reads a letter to Laizer, in voiceover: "I wanted to put all of these voices in one frame for you, so that one day, if needed, you could use them to un-write whoever it is you're told you're supposed to be." A promise for a future not so far from now. A promise to herself, and for herself, reflecting in the other. In the last scene, that feeling of "being in the club" takes physical form in an act of joy, play, and purification somehow. A poodle skitters alone across the dance floor—anticipating the beginning of the second film—and Gibson dances to "The Rhythm of the Night," by Corona, with her masked son, Obie, smoking alone before a mirrored backdrop with disco lights. It's both a personal and a collective catharsis, as well as an homage to the unforgettable ending of the film Beau Travail (1999), by Claire Denis. "It's a great scene to perform because it's performing letting go: I had to be totally free and abandon myself."2
Strangely interconnected with I Hope I'm Loud When I'm Dead (2018), the companion piece Deux Soeurs Qui Ne Sont Pas Soeurs (Two Sisters Who Are Not Sisters) (2018) is based on an eponymously titled script by Gertrude Stein, written in 1929. Questioning the relationship between reality and cinematographic representation, this screenplay is one of  two texts by the American novelist conceived explicitly for film—the other is A Movie (1920)—and consists of a page-long autobiographical script about Stein herself; her confidante, lover, muse, and editor, Alice B. Toklas; and their poodle, called Basket. Based on repetition, simplification, and fragmentation, the original scenario is here slightly recast by Gibson and set against the backdrop of a contemporary Paris and Lisbon, where themes such as motherhood and pregnancy are reexamined in terms of a collective vision. Screened separately from I Hope I'm Loud, this film intercepts and links in bizarre ways stories from different characters: two sisters, a missing poodle—the real star—a washerwoman, two pregnant women far from home reflecting on their suffering conditions and fears. All these images and stream-of-consciousness dialogues and confidences interact with a great performance by artist Adam Christensen, who sings and plays an accordion, Oliveros's primary instrument.
The soundtrack of Two Sisters, previously conceived and realized by the British composer Laurence Crane in collaboration with the artist, responds to the duplication and duality distinctive in Stein's script, intended as "a talismanic guide through a contemporary moment of comparable social and political unrest."3 The two films are open-ended, expressing the double idea that events and situations are built and developed inside an unconventional narrative scheme—for example, the fictional thriller of Two Sisters or the crime thriller in The Tiger's Mind (2012)—and through the perspective that the cast of performers and artists involved by Gibson are all friends of hers. "We collaborated through open discussion on certain aspects, such as their roles […] I work in an open-ended way, leaving things to chance and letting many voices help construct the work"4—exactly like Stein's modernist approach to literature, writing, and life.
Putting slightly aside her inspiration from huge male figures presented in some previous works—Robert Ashley in A Necessary Music (2008), B. S. Johnson in The Future's Getting Old Like the Rest of Us (2010), Cornelius Cardew in The Tiger's Mind, or William Gaddis in F for Fibonacci (2014), just to name a few—Gibson seems to take one step further from this range of references; she reveals a sense of responsibility toward her family and collective state of mind, while facing her own fears and their unfolding in a "present perfect time"—so appreciated by Stein. One might call it a reaction, an urgency, or a resistance: maybe, in the end, it is simply an endeavor to somehow give form to the multitude of chaos we live in. The interpretations that arise are all possibilities.
[1] Ellen Mara De Wachter, "Emotion Should Have a Comeback: Filmmaker Beatrice Gibson on Feminism and Family in Fragile Times," Frieze, January 18, 2019, https://frieze.com/article/emotion-should-have-comeback-filmmaker-beatrice-gibson-feminism-and-family-fragile-times.
[2] Ibid.
[3] Press release for Crone Music, January 18 – March 31, 2019.
[4] Ellen Mara De Wachter, "Emotion Should Have a Comeback: Filmmaker Beatrice Gibson on Feminism and Family in Fragile Times," Frieze, January 18, 2019, https://frieze.com/article/emotion-should-have-comeback-filmmaker-beatrice-gibson-feminism-and-family-fragile-times.
at Camden Art Centre, London
until 31 March 2019