ESSAYS Mousse 69
Stunt Meanings in Action: Beatriz Olabarrieta
Close
1
2
3
4
5
6
7
8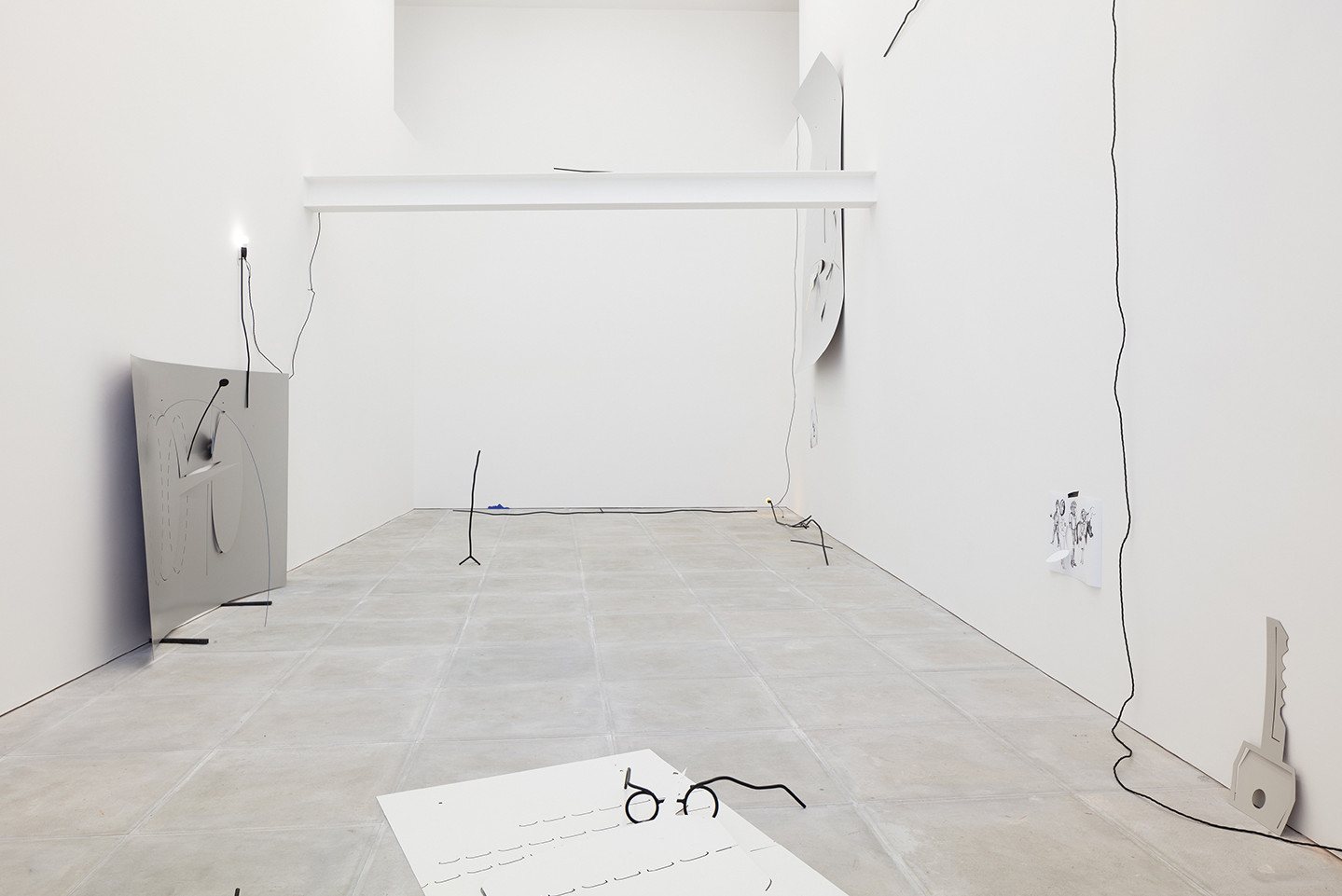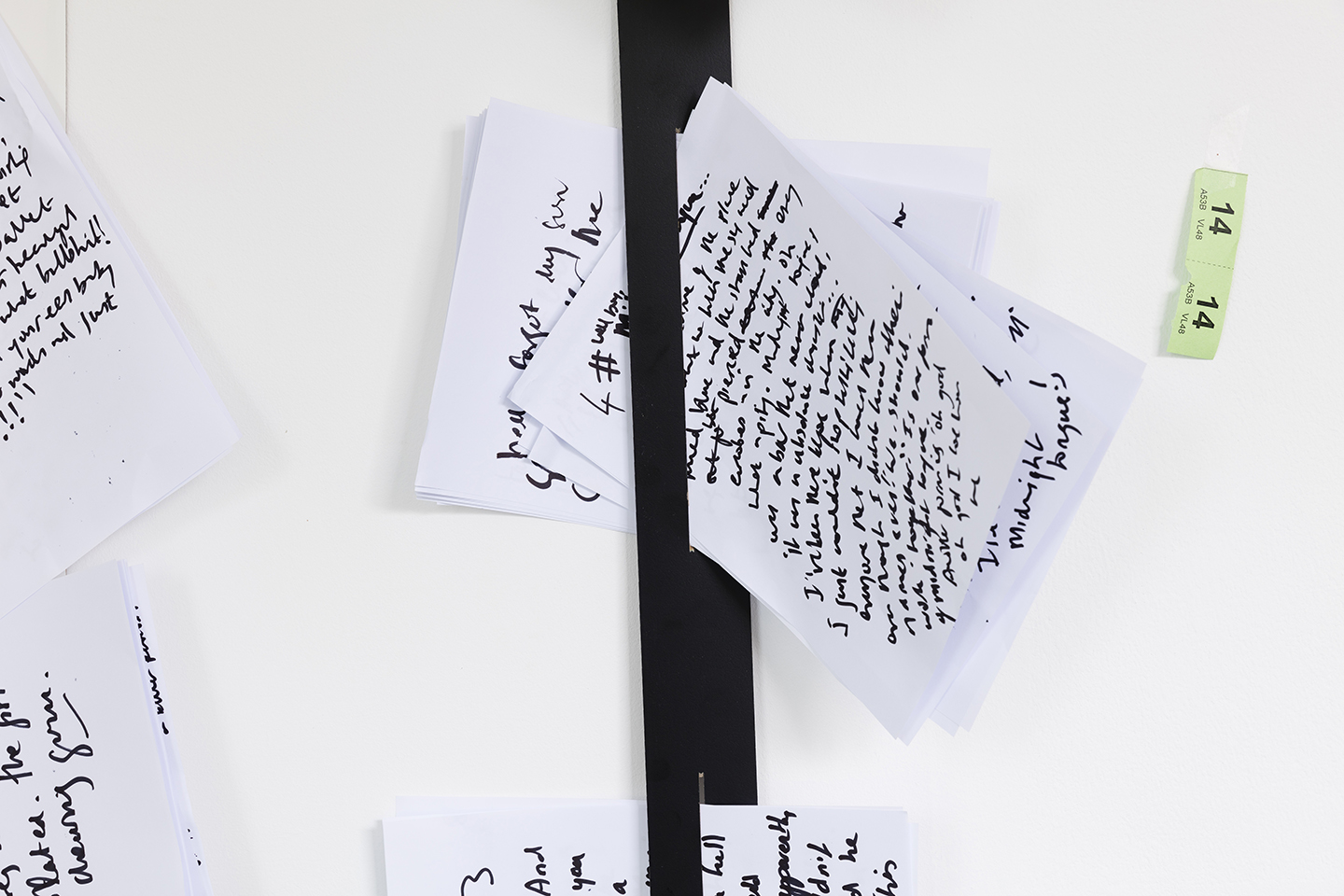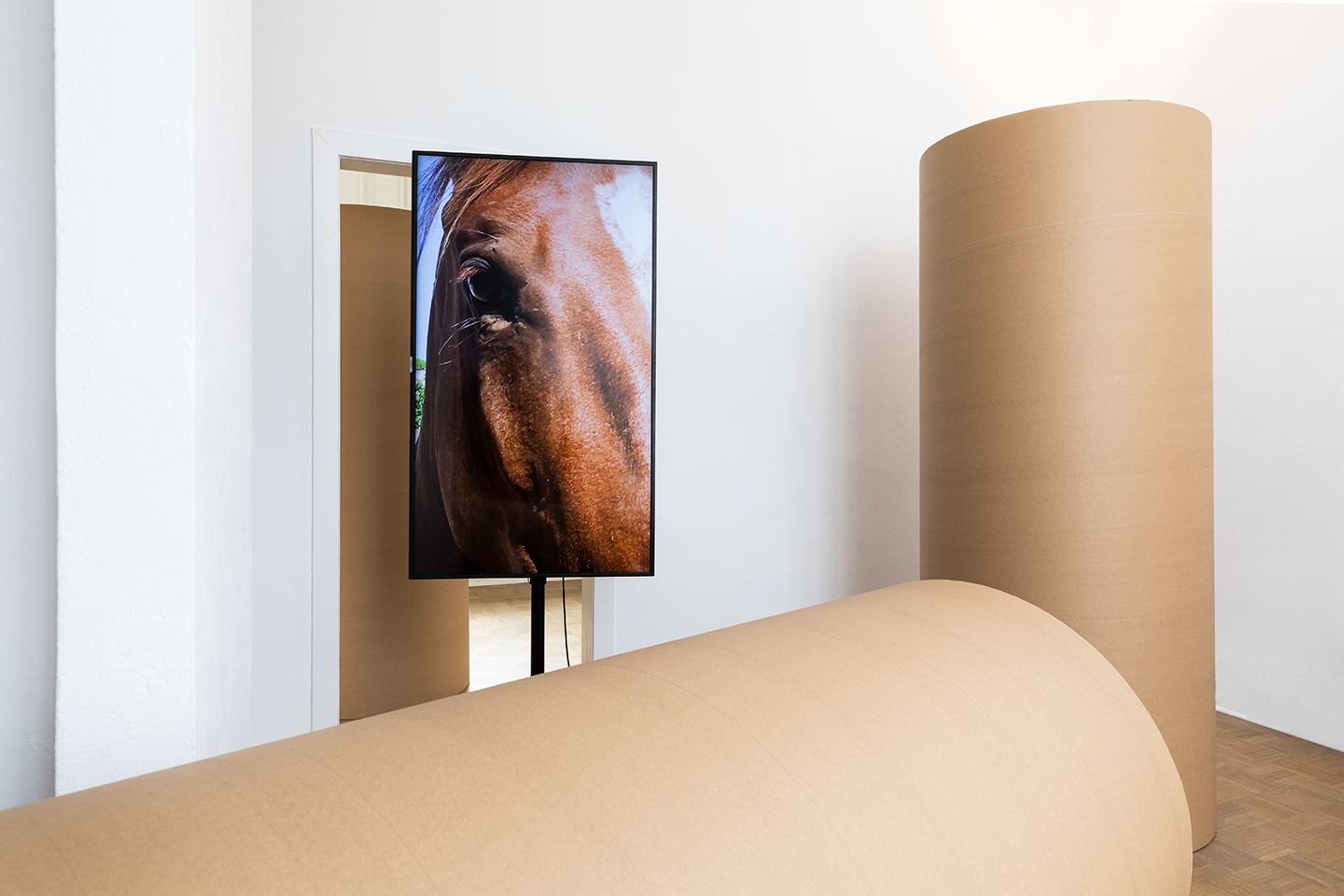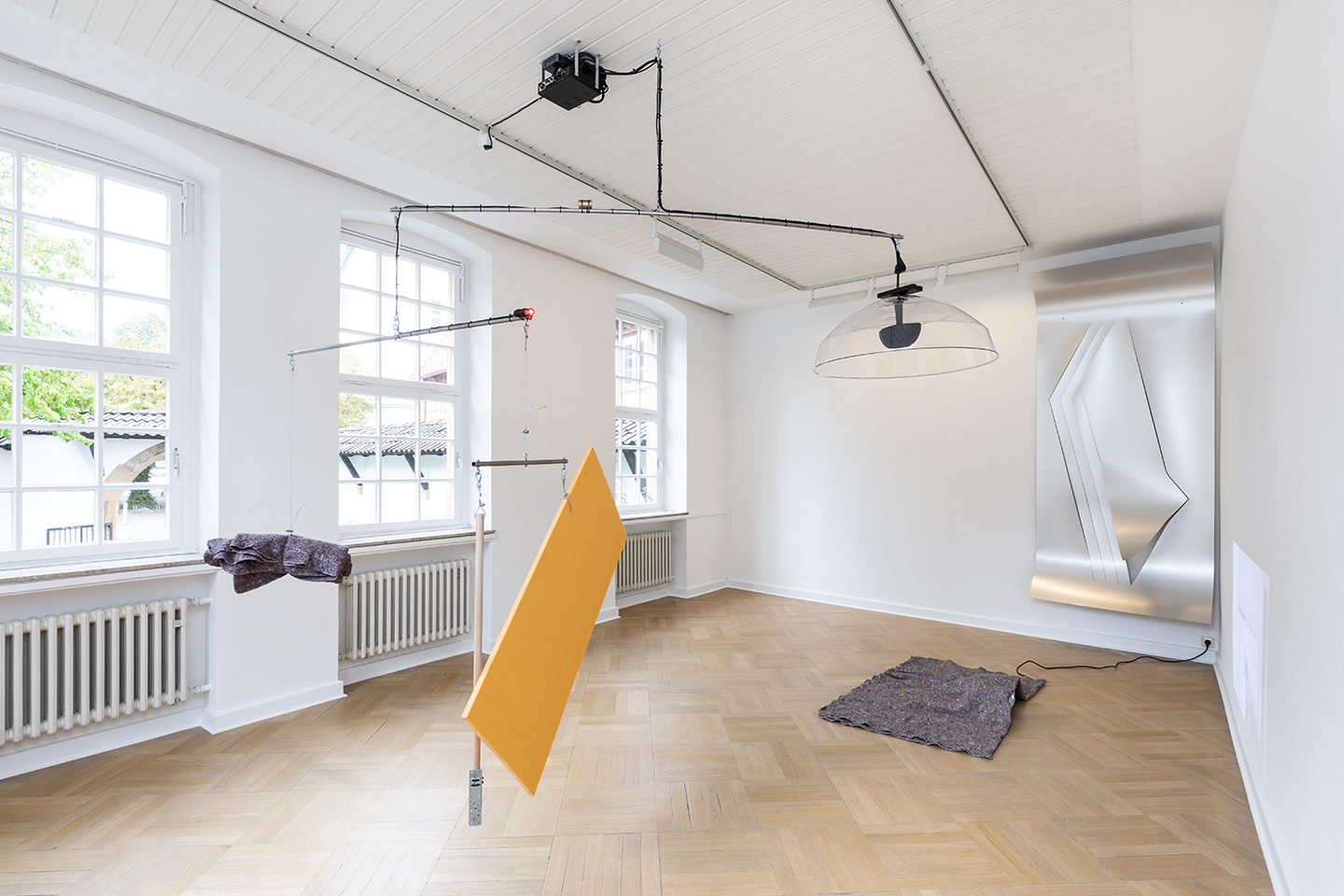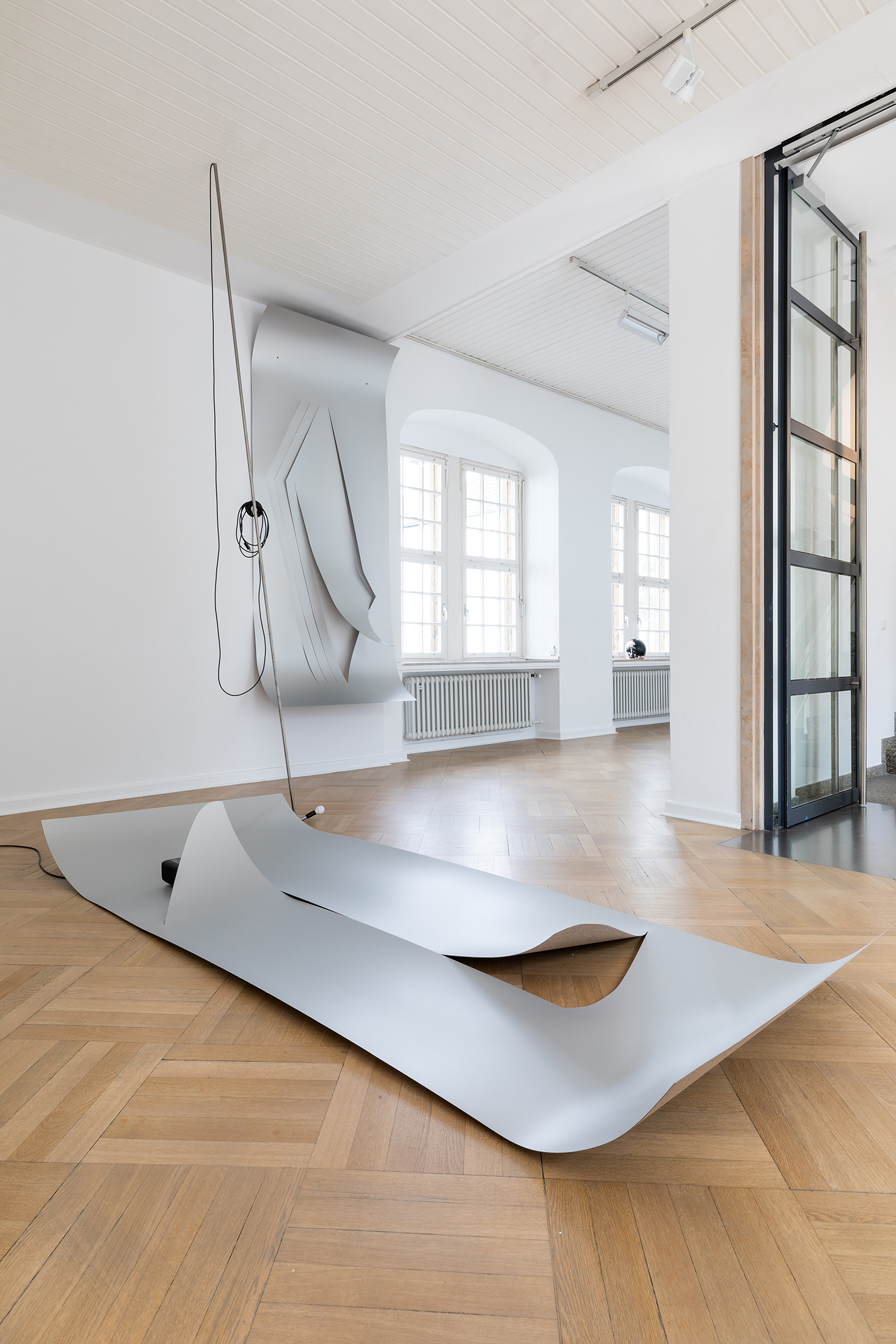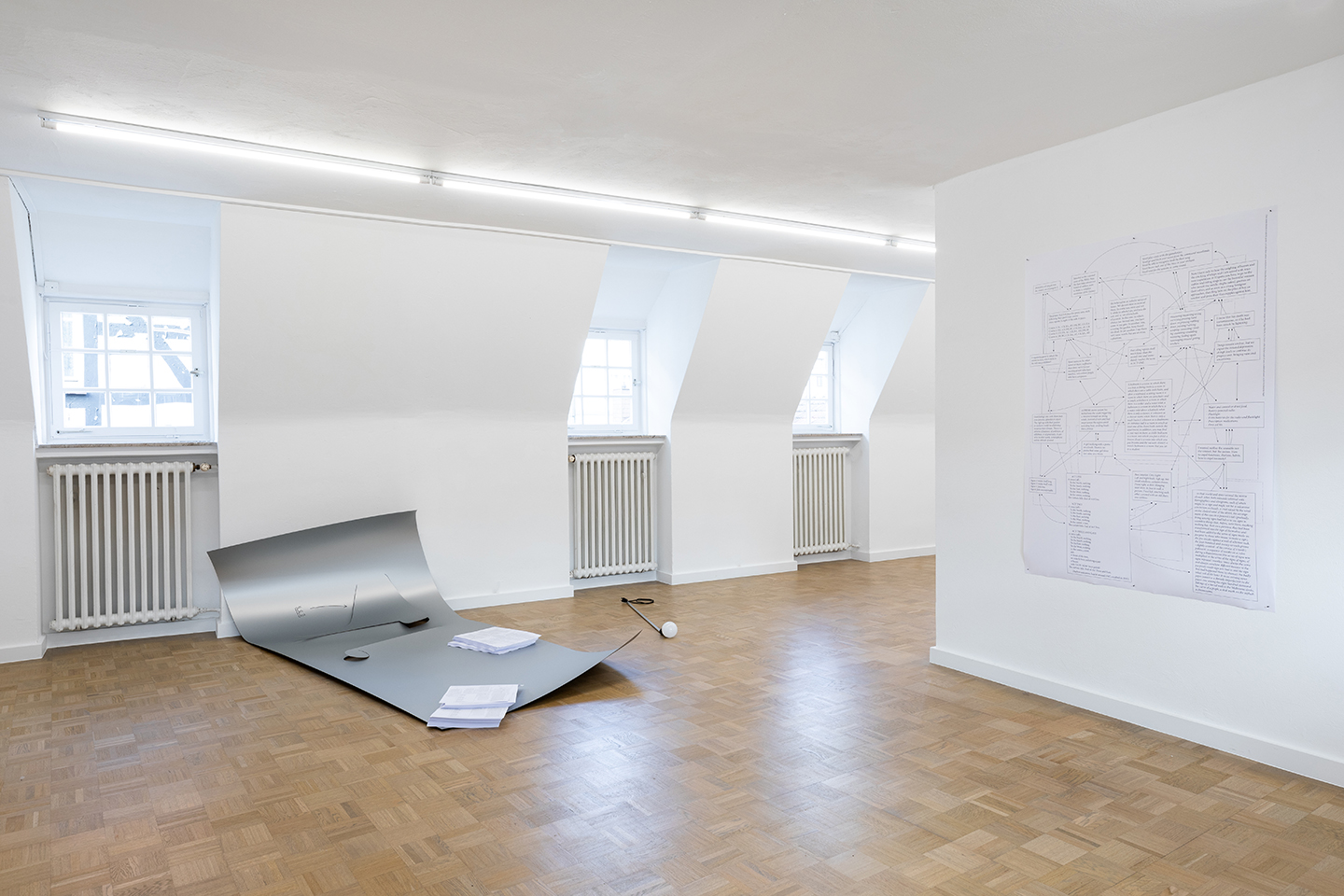 by Gabriela Acha 
In a soccer game, the ball puts all elements into relation with one another; it triggers laws and actions around it that become meaningful only when played.1 Similarly, the elements in Beatriz Olabarrieta's multimedia installations exist only in relation with the whole. Perhaps influenced by her early involvement in the tradition of "poor theater," her productions materialize not as static objects, but as sequences in which the works perform unrevealed scripts. 
Olabarrieta's rejection of literal narratives—possibly an automatic reaction to her education in philosophy—has led to making up her own semiotics and using automated movements as meaning generators. Motion is a decisive aspect in her practice—the motion involved in writing, in the passage of time, or in the observation of an artwork, which emphasizes the works' inherent feeling of progression.
In her 2012 show Motor Motor at Artium Museum in Vitoria, Spain, Olabarrieta proposed a structure made of an aligned series of wooden octagons. It was presented in its virgin state at the beginning of the exhibition and was then progressively filled by miscellaneous props found throughout the museum, such as damaged video projectors or photocopy machines. The octagons almost recalled the ribs of a whale, whose interior was fed with the museum's "guts." Those often unseen everyday elements brought the whale's corpse to life, turning the work into a living organism. In its meaning as "muscular action," the word "motor" could recall the process of physical motion, through which time passes unavoidably—an exhibition is never the same at its beginning as at its end.
The reproduction of everyday artifacts such as keys, spectacles, or bulbs is recurring, and their "stunt" versions in various materials and altered scales merge the quotidian and the surreal. In everyday life they are meant to be activated and perform their designated functions by a set of automated choreographies. Yet in Olabarrieta's work, the usual functions shift, opening up new constellations of movement, which point at certain social structures and dynamics. In her 2017 installation The only way out is in at The Sunday Painter, London, the presentation included a group of doppelgängers and a set of sharply cut laminates spread over the walls and floor. The cuts, shaped like heads, staples, or straight lines, clipped a set of paper sheets and were traversed by cables ending with lightbulbs. These works turned into "lamps" seemed to seek emancipation from the regular light settings and thus exist autonomously. 
From a distance, some sculptures look calligraphically drawn as if with a 3D printing pen. Indeed, calligraphy is another recurring element, appearing under various forms such as scribbles or hieroglyphs. In the seven-chapter film Ask the Dust, shown at the Museum of Contemporary Art Santa Barbara in 2019, a hand is seen compulsively drawing abstract statements on a pile of blank papers, one after another, while a voice-over comments intermittently. Do voice and graphics really communicate with one another? When the voice stops and briefly silences after a cling, bang, or clap, the scrawl fits in the gap, as if answering questions on a quiz show. Yet the answer seems determined by the automated muscular movement rather than by intellect, having no apparent relation to the question.
Drawing and writing recur in Olabarrieta's work, for instance in the form of A4 paper sheets. Some of these are contributions by other artists and writers, and they convey a series of collaborative conversations. The very first example of such a collaboration as a tacit game when, as a child, she "completed" the notes her father drew on Post-its, who then in turn added more notes. Further alliances have taken place with multiple people ever since, adopting different forms each time. In the 2017 exhibition Book! Don't tell me what to do at Parallel Oaxaca, Mexico, augmented "stunt" clips and keys coexisted with screens and commissioned texts on A4 sheets, which were hooked into the laminate cuts. Like keys to decipher a secret message, words such as "object," "key," or "relationship" were the given parameters for their contributions.
The performative project Dumb Bells (2016) gathered at Serpentine Galleries in London a set of contributors who constantly wrote, almost driven by an ideomotor reflex. When the running recording stopped, one of them read the last sentence of the freshly written script as if the whole setting was a content-generating machine—albeit encrypted content.
Beatriz Olabarrieta's installations find themselves in a constant state of becoming, disclosing their temporal and changing nature. In her asemic universe, calligraphy acts as choreography, allowing the involved agents to communicate autonomously in languages that perhaps only they can grasp. The spectator is, however, authorized to take active part in the game, playing the role of the decipherer and thus questioning the actual idea of meaning. As in the soccer game, in Olabarrieta's works, all actors fluctuate back and forth, relating to one another, executing strategies and exchanging their status as subjects and objects in order to make sense of the surrounding noise.
[1] Michel Serres uses this metaphor to explain the theory of the quasi-object in The Parasite (Baltimore: The Johns Hopkins University Press, 1982): 224–34.
Beatriz Olabarrieta (b. 1979, Bilbao) lives and works in Berlin. Her upcoming solo exhibitions include Stay Twice, Bielefeld Kunstverein (2019); Espai 13, Joan Miró Foundation, Barcelona (2019); and CentroCentro, Madrid (2020). Selected recent shows include Ask the Dust, Museum of Contemporary Art Santa Barbara (2018); New Clear Family, Frankfurt am Main, Berlin (2018); The only way out is in, The Sunday Painter, London (2017); Book! Don't tell me what to do, Parallel Oaxaca (2017); and Dumb Bells, Saturdays Live, Serpentine Galleries, London (2016). Recent group shows include The Garden Bridge, BrückeMuseum, Berlin (2019); M. Quelque Chose, Les Bains-Douches, Alençon (2018); and Los Algoritmos Suaves, Centre del Carme, Valencia (2018).
Gabriela Acha is a curator and writer based in Berlin.