ESSAYS Mousse 52
The Importance of Being an Influence
by Jens Hoffmann, Sanya Kantarovsky, Ryan Gander, Jac Leirner, Camille Henrot, Cheyney Thompson, Rayyane Tabet, Liz Magor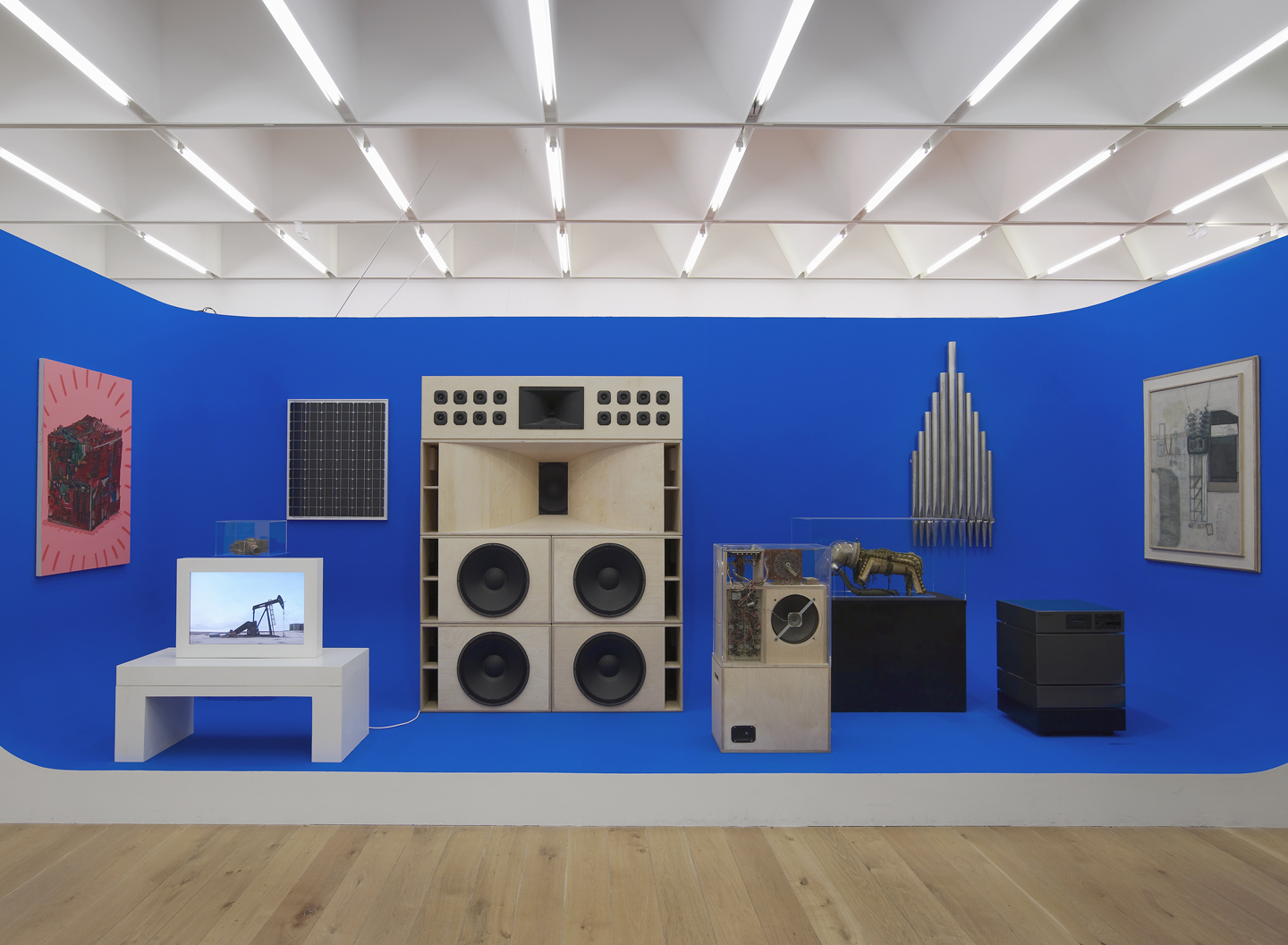 Mark Leckey, The Universal Addressability of Dumb Things installation view at Nottingham Contemporary, Nottingham, 2013. Courtesy: the artist and Gavin Brown's Enterprise, New York
Is there a starting point, something like a Big-Bang, in the formation of a Canon? The writer and curator Jens Hoffmann questions the subject of influence investigating the idiosyncratic personal mythologies of seven artists who uncover for us their formative references.
Read the texts by Jac Leirner, Camille Henrot, Cheyney Thompson, Rayyane Tabet and Liz Magor in the printed issue of Mousse #52.
In order to enter a canon a work must be known, which generally requires its inclusion in a publicly accessible collection, where it can be seen and commented upon by the public, critics, and scholars. So how does an artwork enter such a collection, where it can be stored, preserved, evaluated, and re-evaluated by subsequent generations? What are the criteria that determine whether the work deserves inclusion in a collection and, by extension, a shot at entering the canon? Many museums specialize in certain past eras whose canons are considered fixed and immutable but, within the context of modern and contemporary art, canons are, against all odds, still being actively constructed. Indeed, not only is it not fixed, but in the last thirty years or so, the very processes by which the canon takes shape have been under constant attack. Canonization has been unmasked as something ideologically biased, based on external factors such as class, gender, and ethnicity. The Western canon in particular, we have come to realize, camouflaged itself as a supposedly objective truth regarding what was of importance in the development of art, when in fact it was a construct based on often sexist and racist ideologies. In our time, art previously excluded or marginalized by the Western art system has managed (to a certain degree) to enter the mainstream art world and the grand narratives of the past have become porous. But more than the canon itself has been cast adrift; our compass of judgment has likewise lost a true north. Our previous understanding of artistic "progress," we now realize, trapped us in a limited or false understanding of what cultural progress means; it was in large part a romantic leftover from the avant-garde movements of the early 20th century that believed in the linear development of art and society toward an intellectually and artistically free utopia. What can new ways of judging an artwork look like, of measuring its importance relative to other works, now that we are grappling for new evaluative terms? The curator is generally regarded as the entity who imposes order on the chaos of creative production. But in the age of the Internet, it seems that anyone is eligible to participate in canon creation by liking a line on Twitter, an image on Instagram, or a post on Facebook. And while the general public participates in the judgment of art, art critics, curators and other specialized protagonists are confronted with ever more artworks to look at and choose among. Perhaps new artistic canons, then, should not be about privileged entities choosing individual works at all. What if we came to regard different canons as a sort of mirror of a broader history—a reflection of the realities under which certain artworks were produced? And what if we opened up the playing field to take into account the reality that many artists find their inspiration entirely outside the field of visual art but in film, architecture, literature, or music? Or even more broadly in politics, anthropology or religion? Would this help us understand art in a more interdisciplinary way—one that is somehow closer to the work and the artistic intentions themselves? In the age of social media and continuous connectivity, relationships among artists themselves might be an interesting place to begin addressing these questions. The influence of artists on one another's work is not yet a substantial realm of inquiry, in spite of the fact that to be an artist and make art is to be in constant dialogue—either friendly or contentious—not only with the artists of your own time but with all of art history. Artists influence other artists in various ways. The most direct would probably be from teacher to student, a relationship that could take place in an art school or a working studio. The idea goes back to the Renaissance and perhaps even before that, when successful artists—from the Italians Michelangelo or Donatello to the Dutch masters Rembrandt and Rubens—might employ dozens of assistants in their studios. Another form of influence, one that is more remote, involves seeing works in museum collections or temporary exhibitions, or reading about them in books or magazines. Social circles are another form of influence in which artists exchange ideas and information in an energizing dynamic that is less top-down and more democratic—constantly establishing and then redrawing a common ground in which similarities and differences are discussed. For some artists, making art is about creating a sort of argument with other artists. They disagree with a statement that has been made in the form of a work and begins a dialogue by responding with a new work. Other artists are simply inspired by a thought. And while the art world tends to focus relentlessly on what is coming next, artists also frequently look back into art history for inspiration, unearthing forgotten artists or hardly remembered artistic movements of the past. Such re-animations have in fact become tropes in their own right—the idea of the artist as art historian, making art about art. Along similar lines, a number of artists play with the idea of the reproducibility of art by making straight copies of works already canonized with the goal of questioning authorship, the market and consumerism, or established tastes. Might it be possible to write a different kind of art history based on the influences of artists on other artists, in the artists' own words? Here we asked a number of artists to name one or several influences on their work. The results are as heterogeneous as they are surprising. They are also enticing in how they suggest modes of evaluating art beyond the normative ways of producing art history, and constitute an exercise in re-evaluating the importance of curators', museums', and critics' points of views. They are certainly more playful, subversive, anti-authoritarian, and fragmented than any traditional monolithic and linear art history. In many of these statements, conversations with lesser known figures, forgotten teachers, or obscure characters—those left behind by the canon—bubble to the surface.
—Jens Hoffmann
SANYA KANTAROVSKY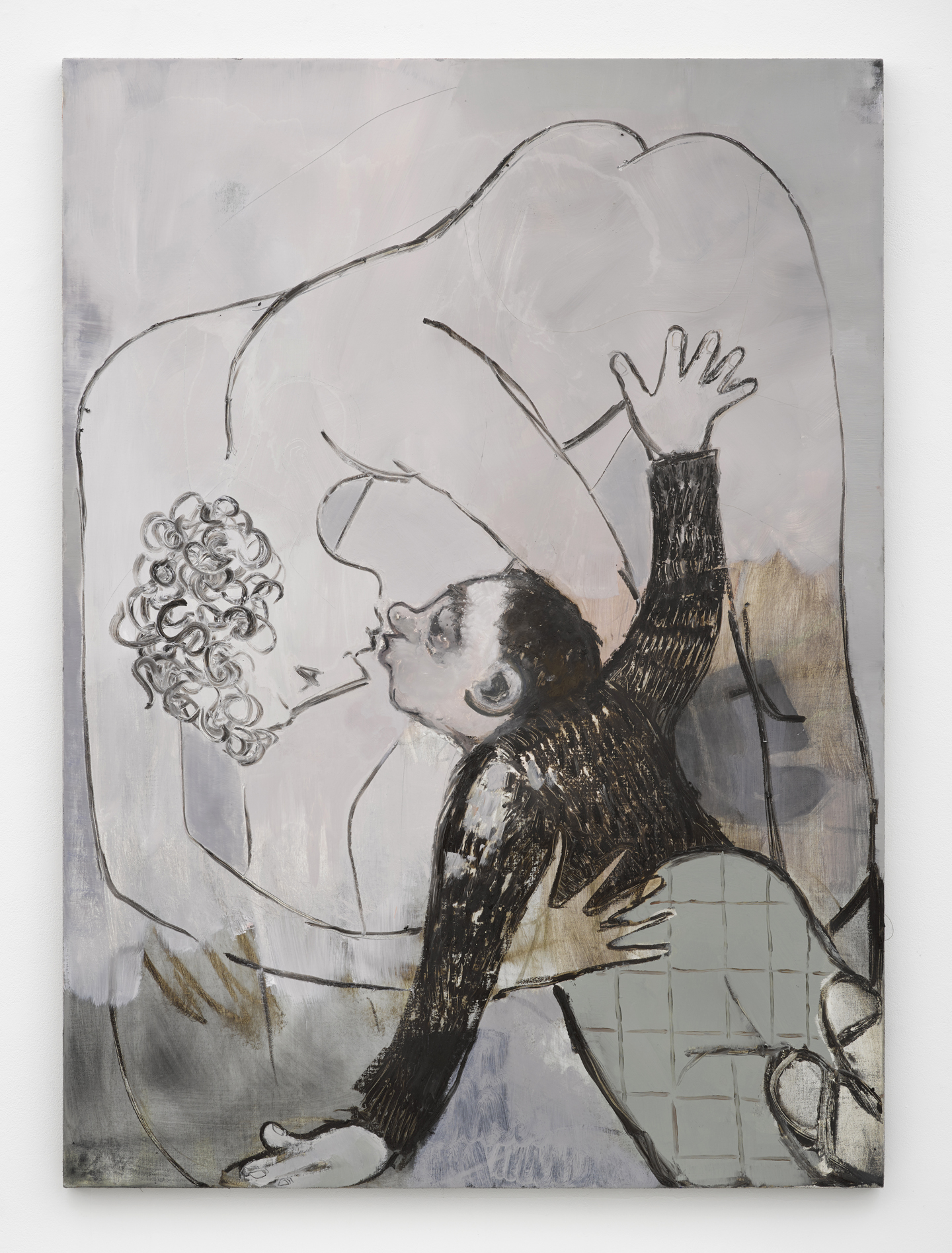 Sanya Kantarovsky, No Down No Feather (after Eisenstein), 2015. Courtesy: Stuart Shave/Modern Art, London. Photo: Ben Westoby
A Google search for Nadya Rusheva yields scores of similar results–mostly dated looking Russian fan pages, message boards and tumblrs that reveal a cult-like adulation replete with a litany of melodramatic platitudes such as "the lightness of genius", "sighs on paper" and "forever 17." Clicking through these sites, one quickly learns three facts: Nadya Rusheva was an artist who drew with uncanny precocity, she died abruptly of a brain aneurysm in 1969, nationally known at the age of 17, and she left behind a body of work consisting of more than 12,000 drawings and works on paper.
Rusheva, in the words of her aunt, "did not know the eraser." She drew entirely a la prima, skipping the fuss of the preliminary sketch. Her pen and ink figures often approach calligraphy, thrown onto the page in an efficient shorthand. Despite the animated, sometimes childish haste of her marks, her sophisticated compositions are fixed in what Guston would describe as "positions that feel destined." Rusheva described her process as little more than outlining forms that were already present on the page like "watermarks." This anterior way of seeing was due largely to the fact that she found much of her subject matter in literature. She depicted characters already fully formed in her mind's eye, drawn from classical mythology, Tolstoy, Pushkin and Lermontov. Yet the inventiveness and deeply felt peculiarity of Nadya's visual world makes it difficult to regard as illustration. At times her drawings seduce with a Matisse-like fluency, and at others—like in the quick sketches of her bell bottomed classmates—they betray an adolescent awkwardness, leaning closer to the values of '60s fashion kitsch and cartoons. The wet eyed faces, limber ballerinas, hussars and flâneurs that populate her work are impossible to classify.
I first saw her drawings as a 1st grader in Moscow. For years since, I've tried, both consciously and not, to imitate her firm hand. On a trip back to Moscow a few years ago, I rifled through my earliest drawings, startled at the extent to which they aped hers. I became interested in seeking out the work and eventually met Natalia Usenko, a high school literature teacher who maintains a miniscule museum devoted to Rusheva, situated within a classroom in the artist's former high school on the outskirts of Moscow. With dozens of original drawings and glass vitrines housing tidy arrangements of Nadya's notebooks, drawing utensils and school uniforms, this strange archive cum memorial is the only site open to the public where one can see her drawings in the flesh.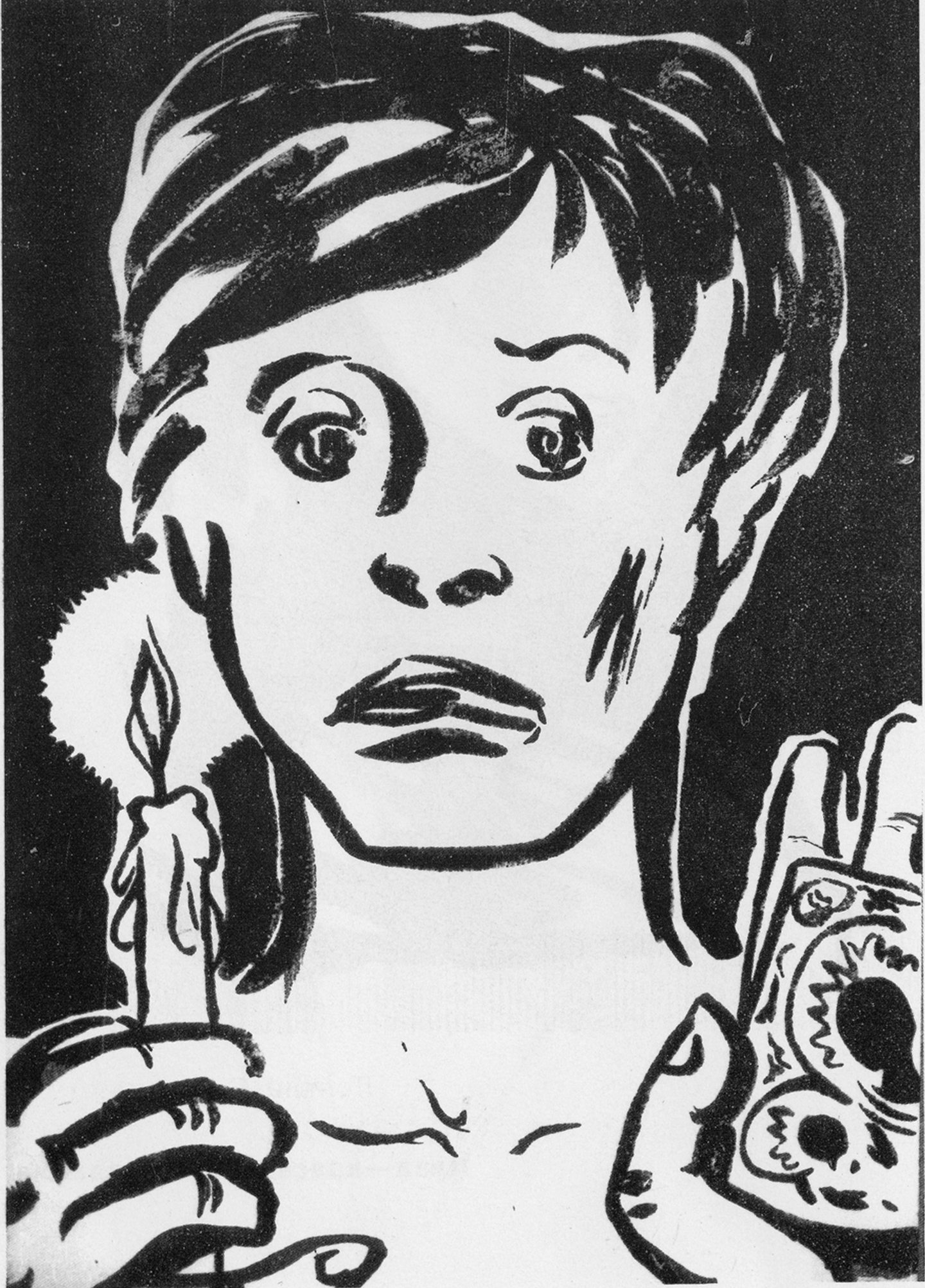 Nadya Rusheva, Ivan the Homeless (after Mikhaíl Bulgakov's Master and Margarita), 1968. From Nadya Rusheva, Portraits and Scenes from Mikhaíl Bulgakov's Novel Master and Margarita, National Literary Museum and Studio of the Soviet Literary Fund, 1991
Rusheva's life, began with the death of Stalin and ended with the Soviet invasion of Czechoslovakia, neatly coincided with the years of the Khrushchev Thaw. Her popularity during the '60s was a reflection of the hopeful air that marked the time. Her remarkable illustrations to Mikhaíl Bulgakov's newly published subversive masterpiece Master and Margarita became her best known work, though she was a fundamentally apolitical artist, who thrived in the breathing room afforded by the period's ideological relaxation. Despite the prevailing narrative of the tragic wunderkind that permeates her many Internet memorials, Nadya's singular oeuvre, much like Francesca Woodman's, demands engagement on it's own terms, unfettered by the martyrdom we like to attach to brilliance that lives fast and dies young.
Sanya Kantarovsky (b. 1982, Moscow) lives and works in New York. Recent solo exhibitions include Gushers at Marc Foxx (2015), Los Angeles and Apricot Juice at Studio Voltaire, London (2015). Recent group exhibitions include Tightrope Walk: Painted Images After Abstraction, White Cube, London (2016) curated by Barry Schwabsky, and the Ljubljana Biennial of Graphic Arts curated by Nicola Lees (2015). Currently, Kantarovsky is included in The Eccentrics, curated by Ruba Katrib on view at the Sculpture Centre, New York. Upcoming solo exhibitions include Tanya Leighton, Berlin (2016) and Stuart Shave/Modern Art, London (2016).
RYAN GANDER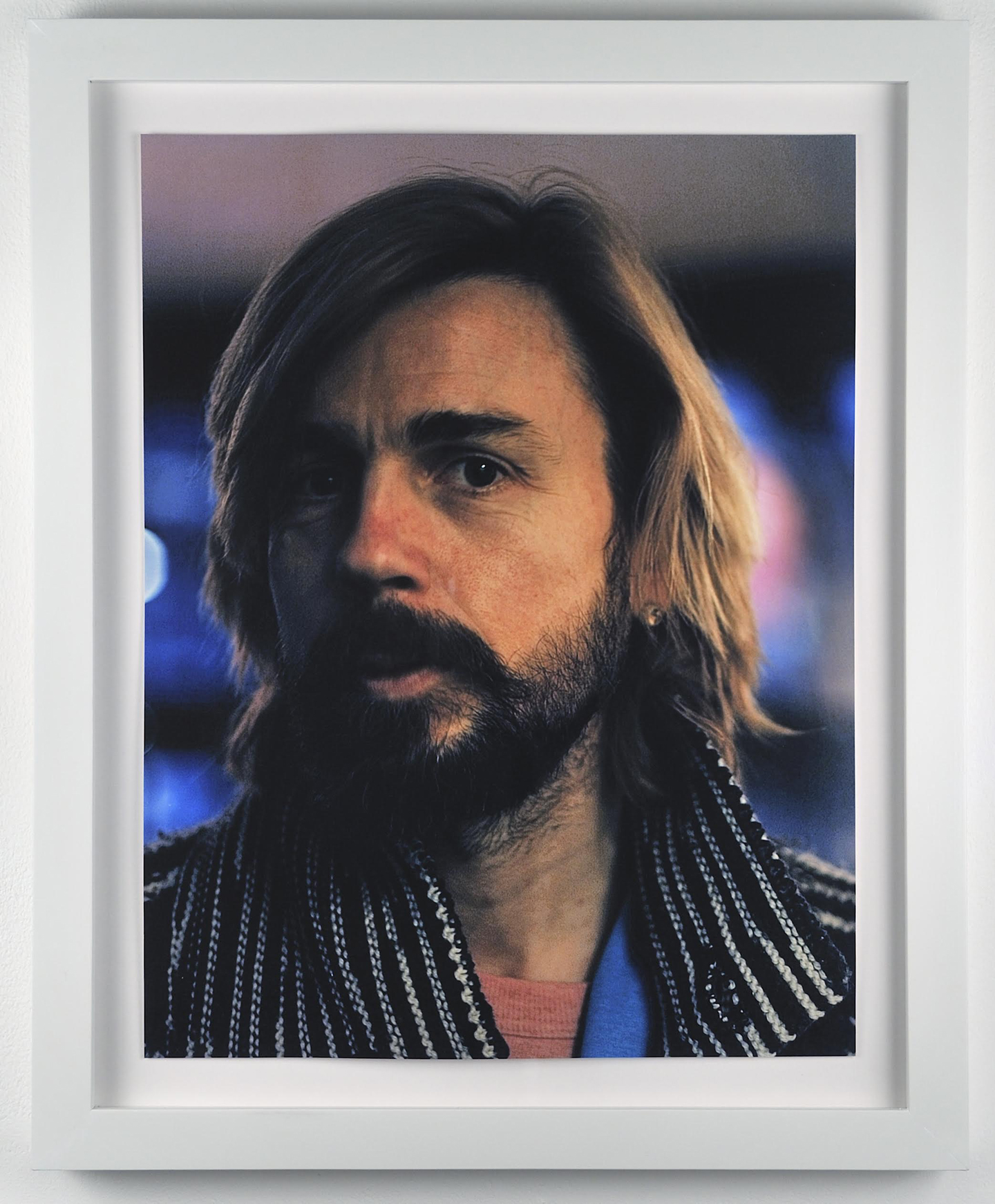 Ryan Gander, A portrait of Mark Leckey, 2009. Courtesy: the artist and Metro Pictures, NewYork
I'm not an envious type of person but I have to come clean: Mark Leckey is one artist that I do have jealousy issues with. I thought it might be good to use these 200 words as a form of self-psychiatry/cleansing, to get it all out or so to speak.
I'd known Mark's work for almost a decade before meeting him and would wait with bated breath and anticipation for the next episode in what has always been to me an endeavourous, ambitious and uncompromising practice. Mark is a great influencer of younger artists as well as artists of his own generation, his work is so idiosyncratic, performing brilliant super loops of meaning that it is hard not to fall into the trap of thinking to oneself: "I wish I'd made that."
Mark and I are from the same neck of the woods, the North West of England, and although he is older than me, we are of a similar generation from which reference point of popular culture are synchronised as well as our understanding of the finesse of British social class stratification and the colloquialism of verbal and visual languages from the region. I've always sort of felt that I knew where he was coming from but in the same breath also felt that I could never articulate my understanding of these things as fluently as he. By the time I finally met Mark, I was ordering a pint in a pub called the Macbeth on Hoxton Street, it was the winter of 2006, having friends in common I would hear snippets of stories about what Mark was up to, these stories had almost become folklore in the mind of someone who was quite evidently star struck. Perhaps in this equation it was simply that Leckey was normal and could have quite easily been one of my classmates at school who just happened to end up making art as a life decision.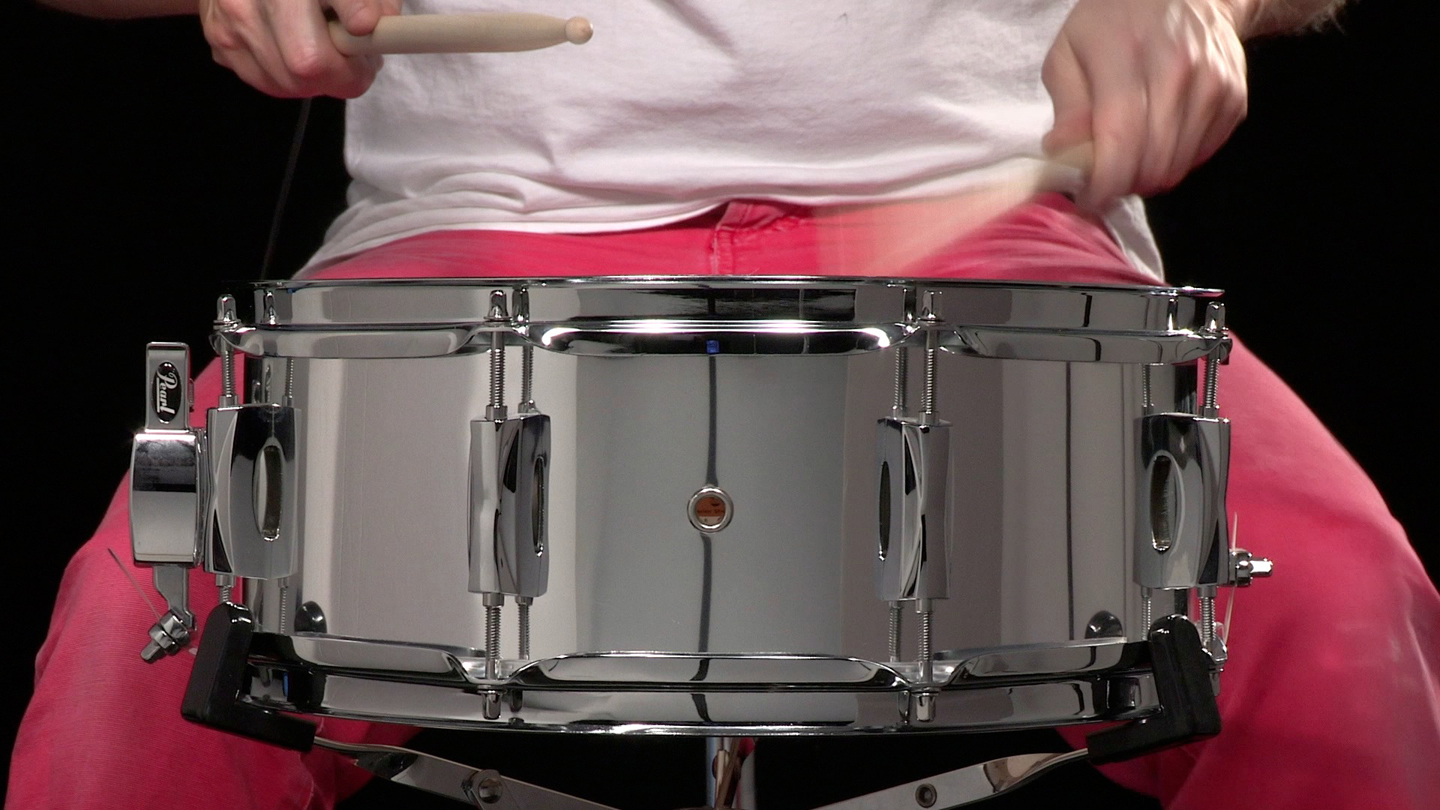 Mark Leckey, Pearl Vision, 2012. Courtesy: the artist and Gavin Brown's Enterprise, New York
The work Made in 'Eaven (2004) is sheer brilliance. With its latitude of a hundred million reference points and thought branches pinging off into the ether, Made in 'Eaven, for me, discusses a high-art, low-art divide, the elitism of the art world and the simple contemporary art stigma; the fear of "not understanding". The title Made in 'Eaven alludes to a localised accent, in one form or another, where the geography of where the accent is from is not as important as the clear fact that the accent is one of someone "uneducated". To those with knowledge or art education, we are presented with a computer-generated video of a Jeff Koons mirrored bunny sculpture. Whilst to those without knowledge or art education: a mirrored helium balloon representing a cartoon-esque rabbit. The bunny is placed in Mark Leckey's flat on Windmill Street, in this world of silicon graphics the flat has been made devoid of all furniture and belongings, representing a used carcass, either abandoned or depicted in its prelude to the artist's life there, a space that is familiar to him and, although unfamiliar to us, is charged with a familiarity through our knowledge of it being his personal space. Perhaps the magic dust in this work, although certainly not the crux or the punch line, is that the viewer or the spectator or the photographer or the animator or the artist or me or you; the receiver of the information, bears no reflection in the mirrored bunny, something that can be achieved quite easily with computer-generated imagery. As the camera pans around the room examining the object, we are subconsciously aware, if not in full realisation, that there is no spectator and that the objective of the work, its goal if you like, is fruitless and futile; acknowledging to itself that its end-user is perhaps less important than the physicality or digital-physicality of the object. The work is a shrug with a wry grin, a nod and a wink to those who believe that art is inclusive, art is for all, and that perhaps the stigma of the over-intellectualised history of contemporary art is a hindrance to our reading and understanding of the things we encounter around us as opposed to an assistant. Hail Mark, king of art. Perhaps we should stop calling him Mark, he's certainly achieved enough to be known as Leckey.
Ryan Gander (b. 1976, Chester) is an artist living and workin in London and Suffolk. He has established an international reputation through artworks that materialise in many different forms from sculpture to film, writing, graphic design, installation, performance and more besides.
Originally published on Mousse 52 (February–March 2016)