Mousse 70 TIDBITS
About the Distinction between Crutches and Chains: Berenice Olmedo
Close
1
2
3
4
5
6
7
8
9
10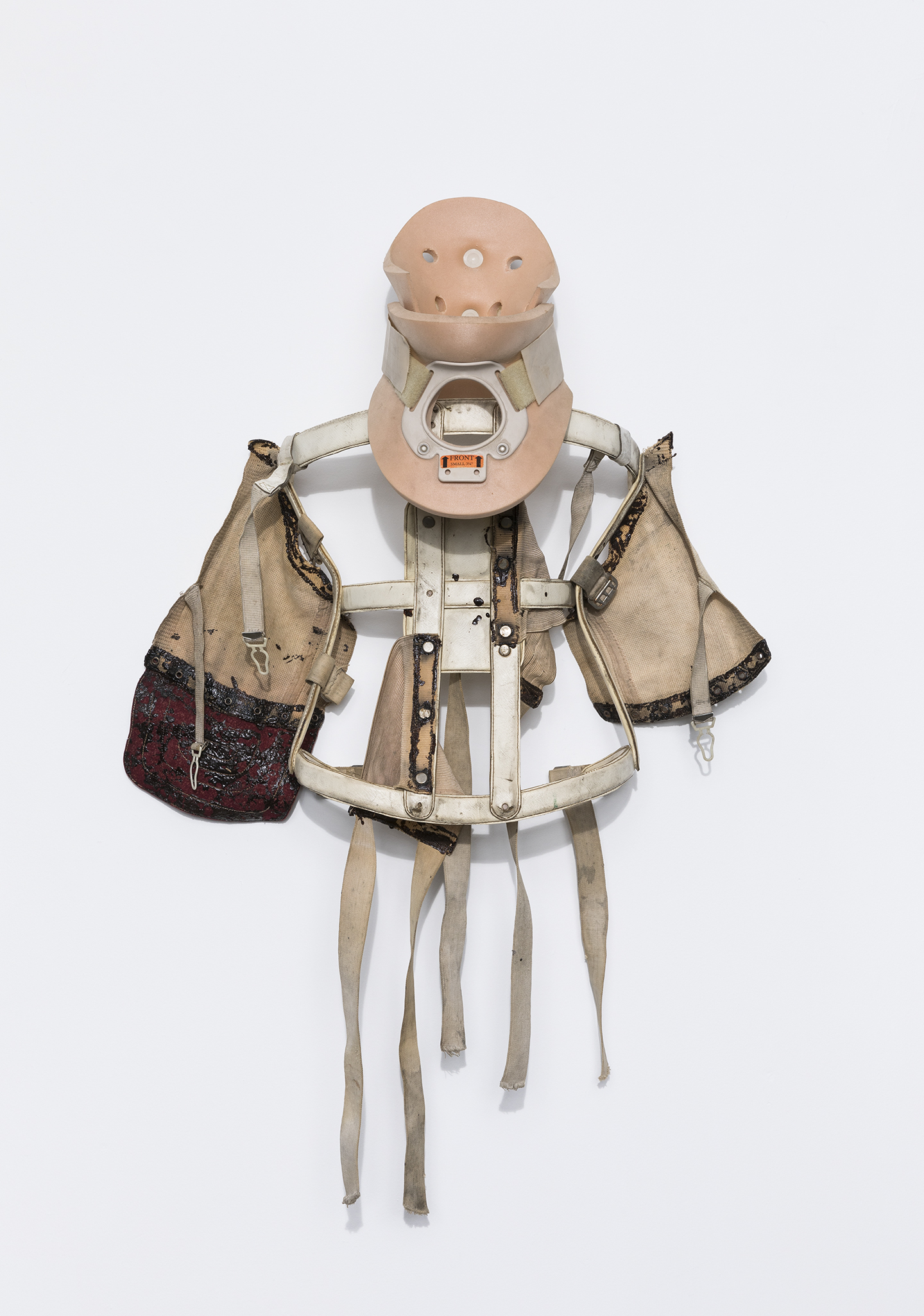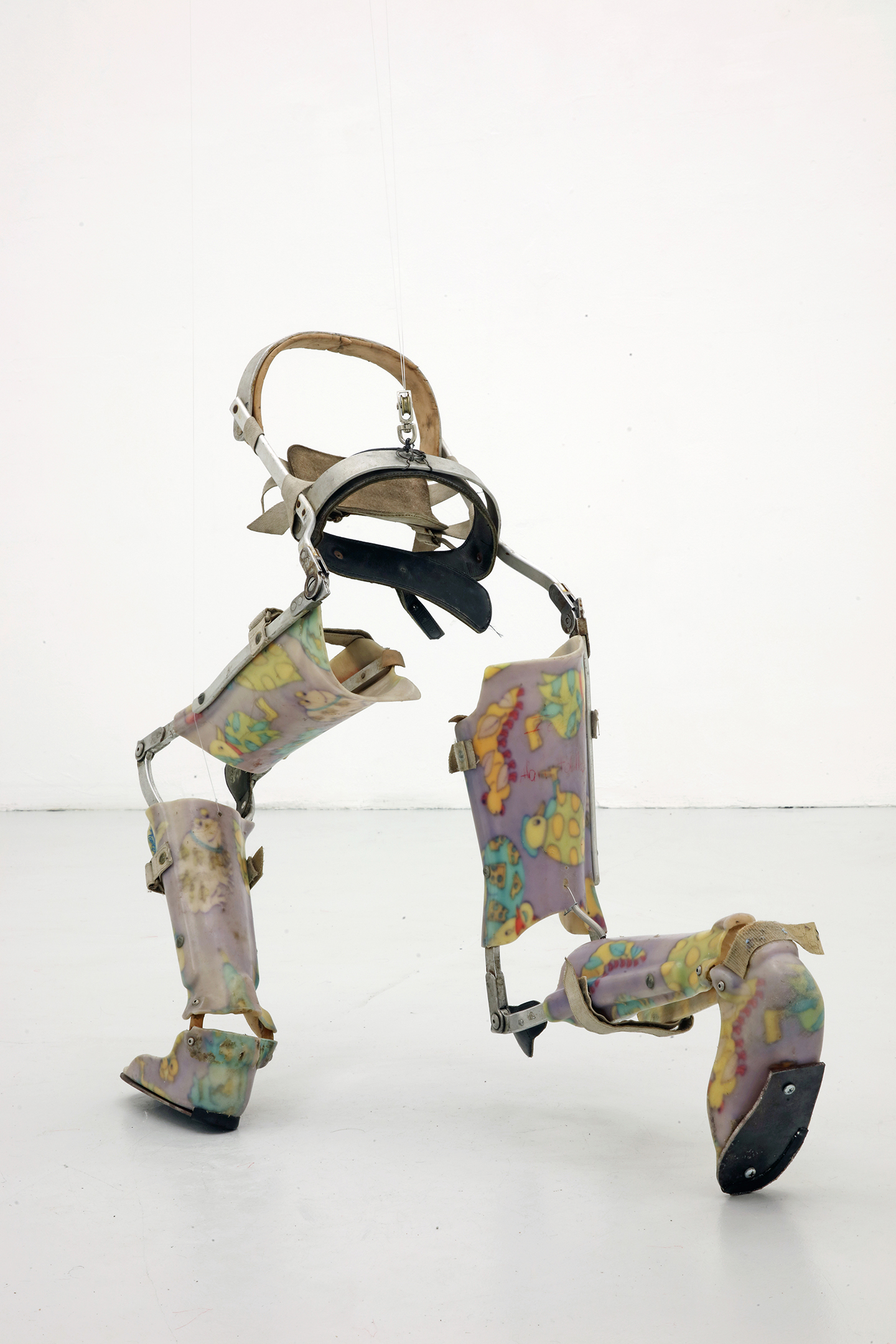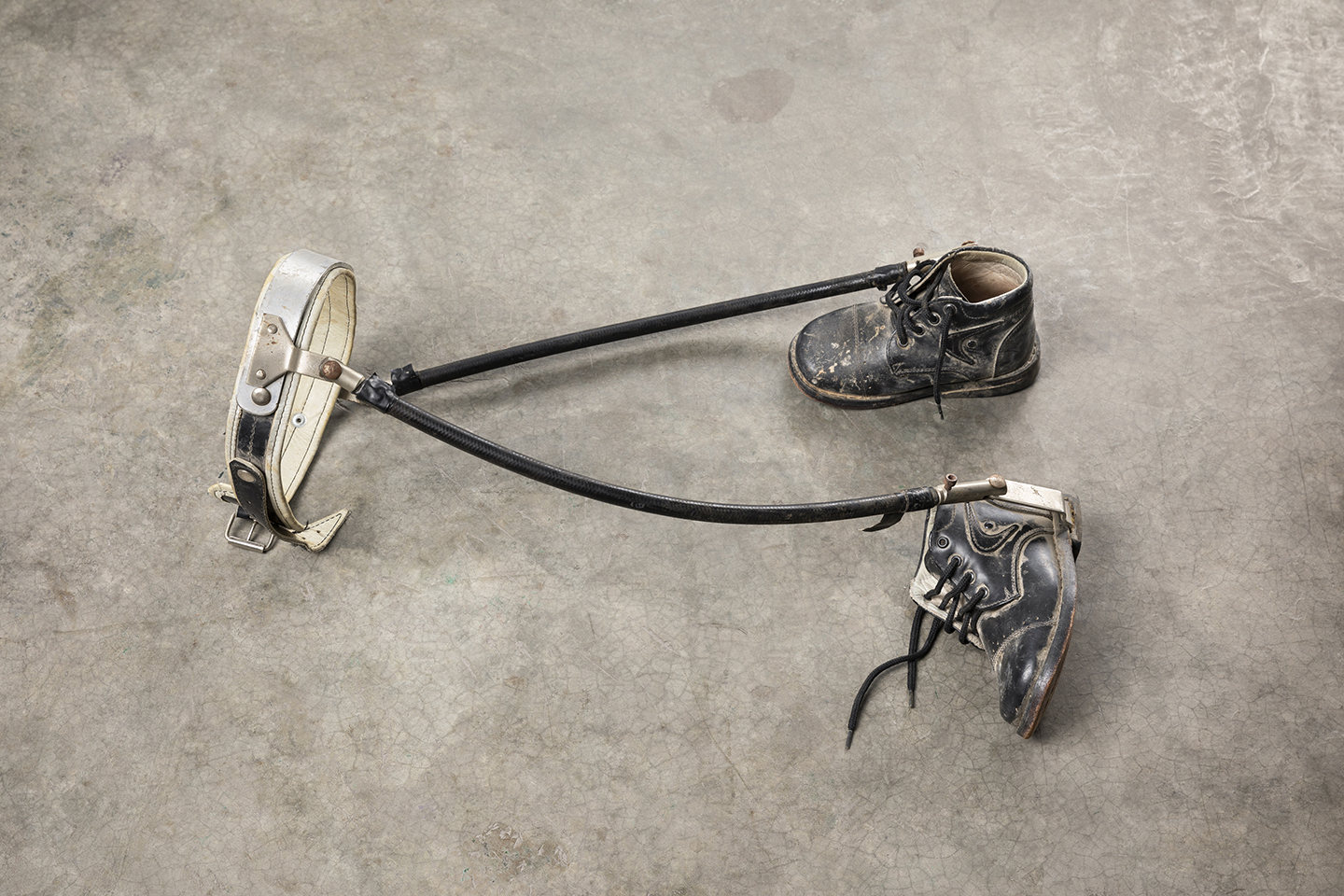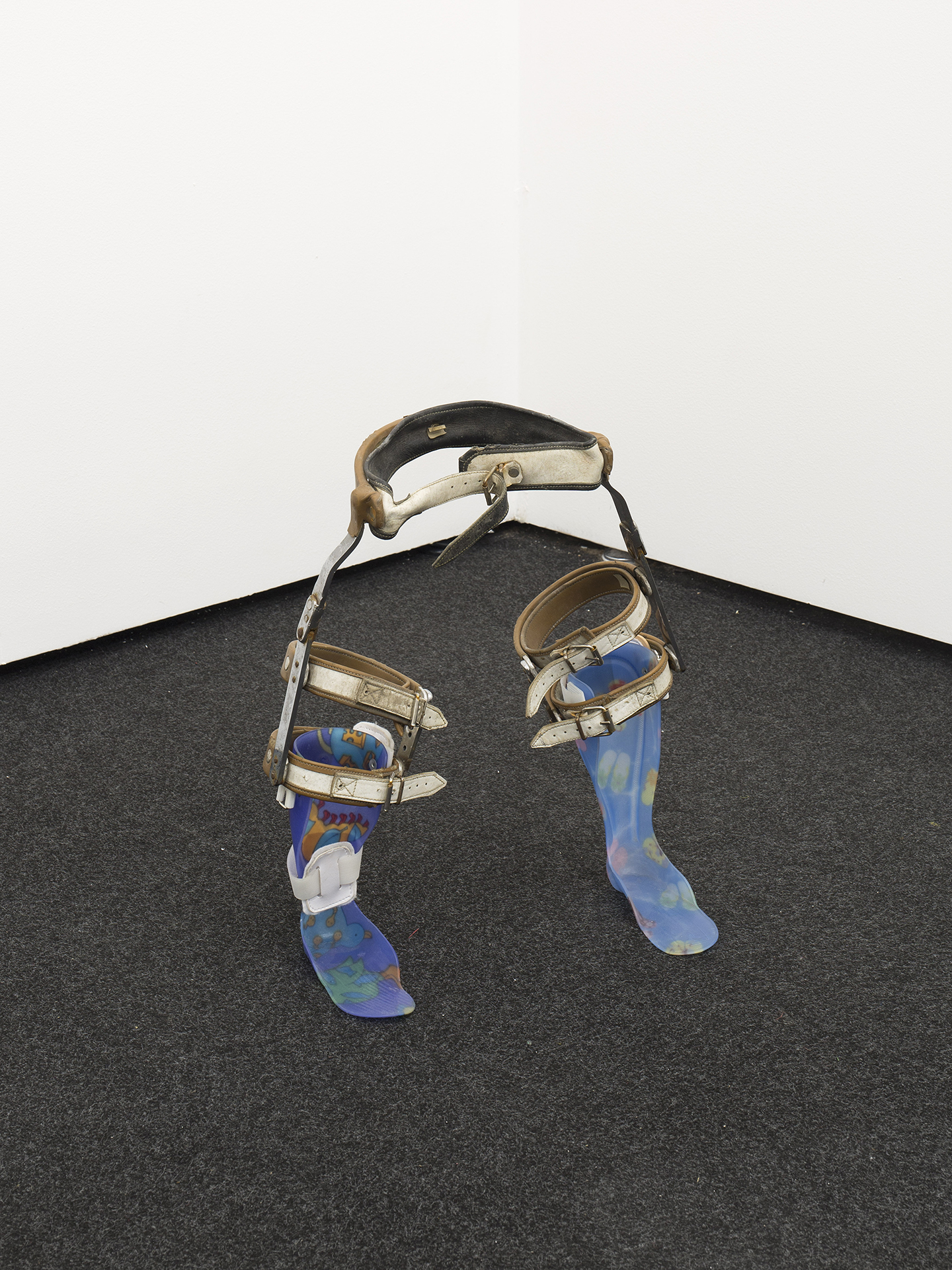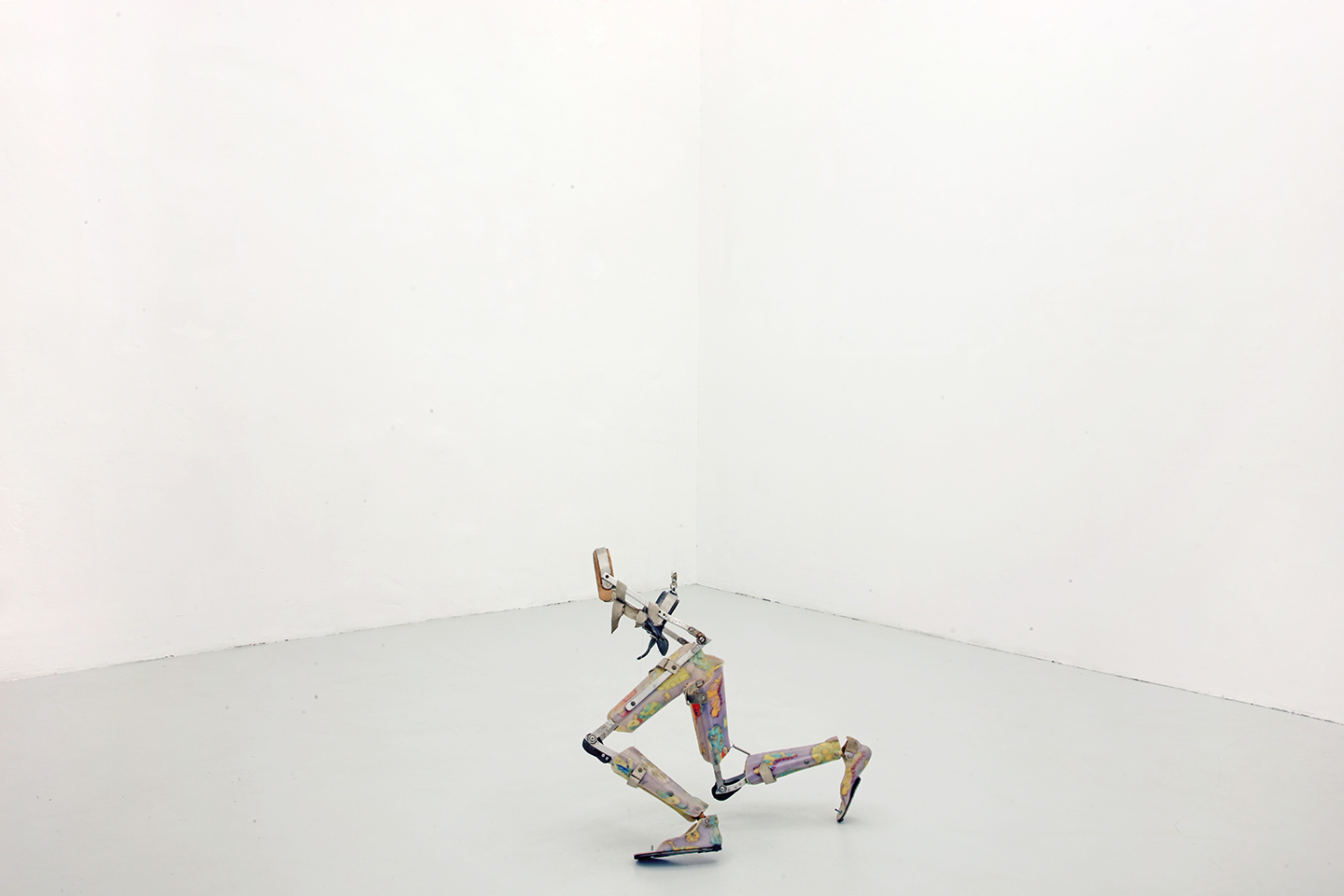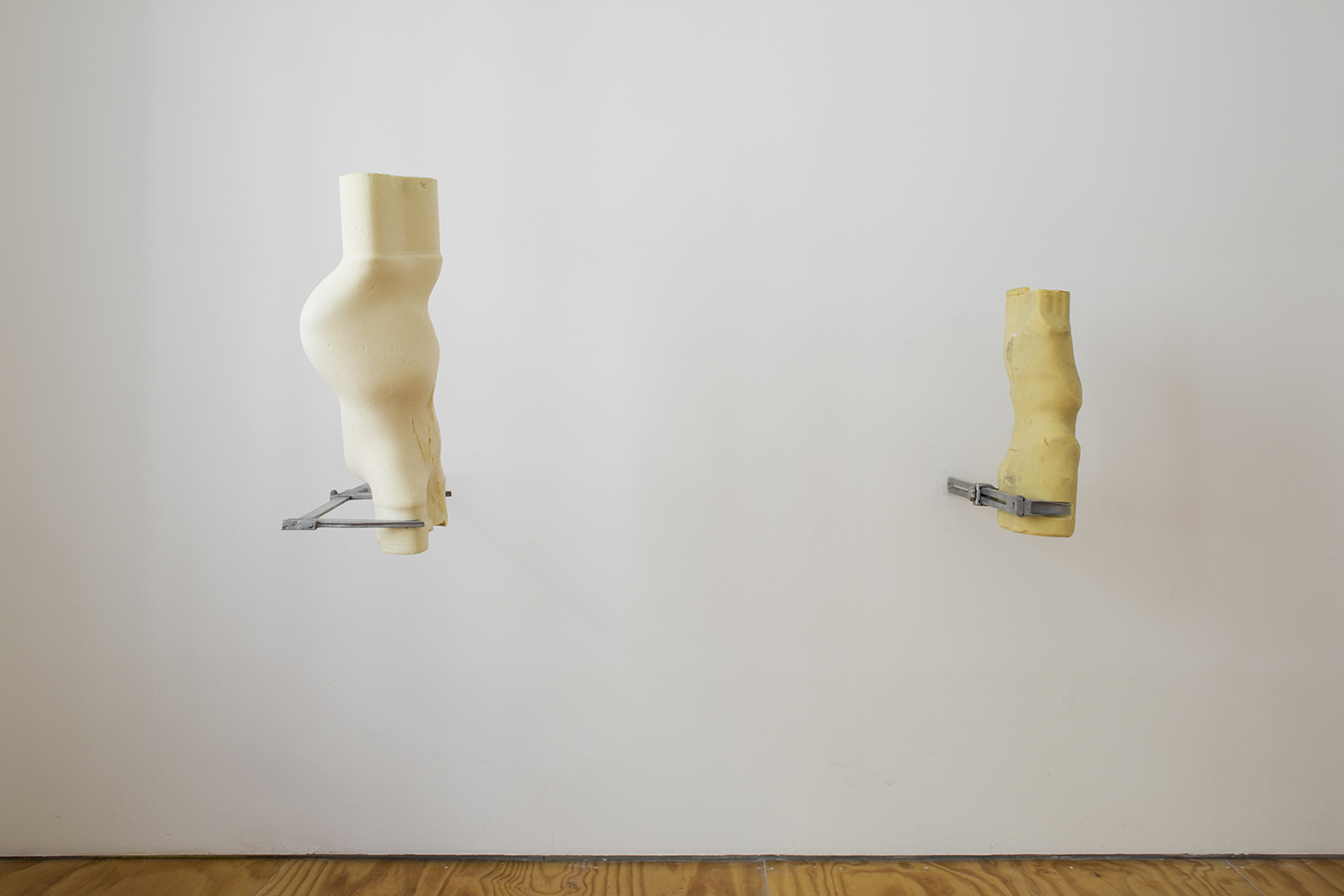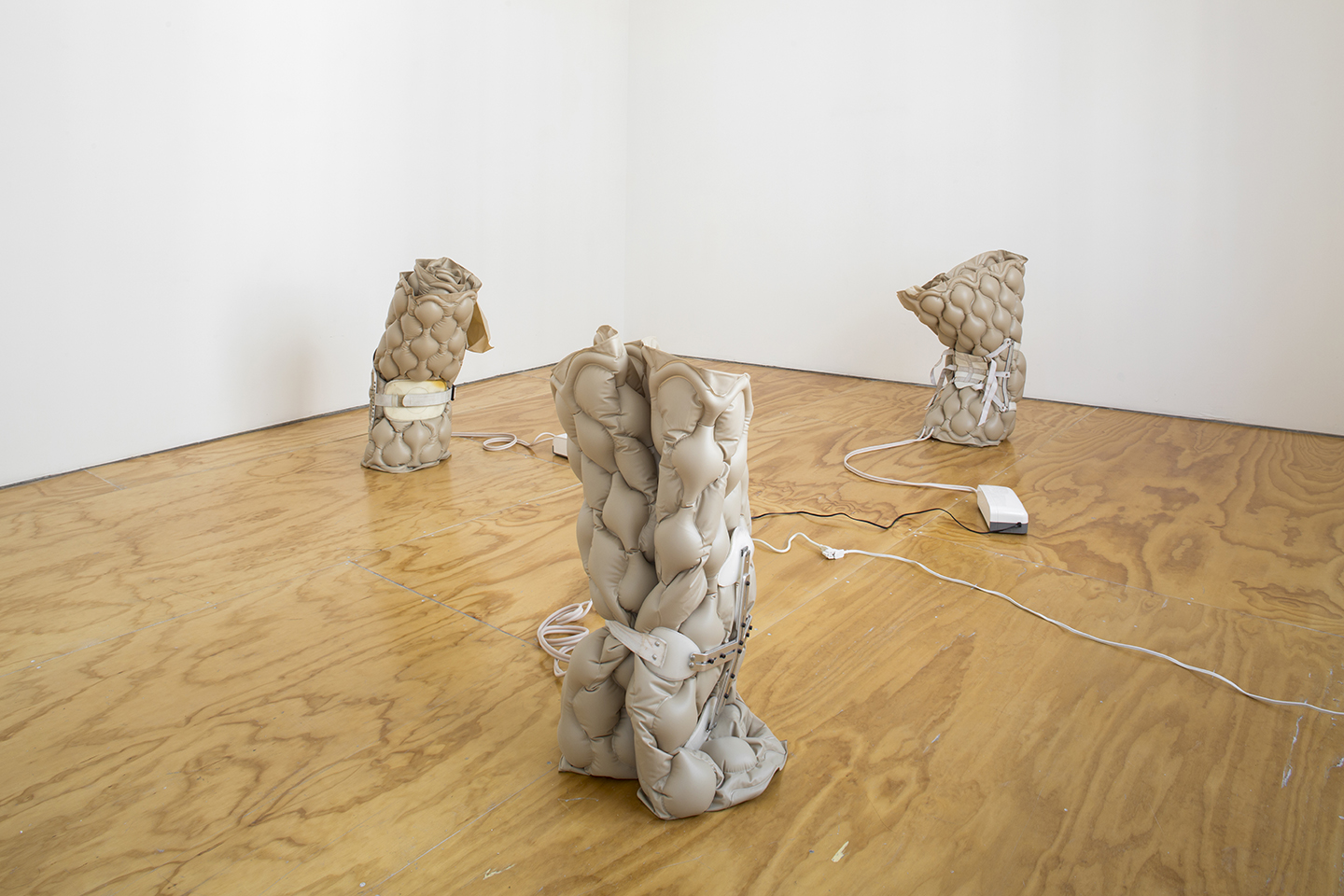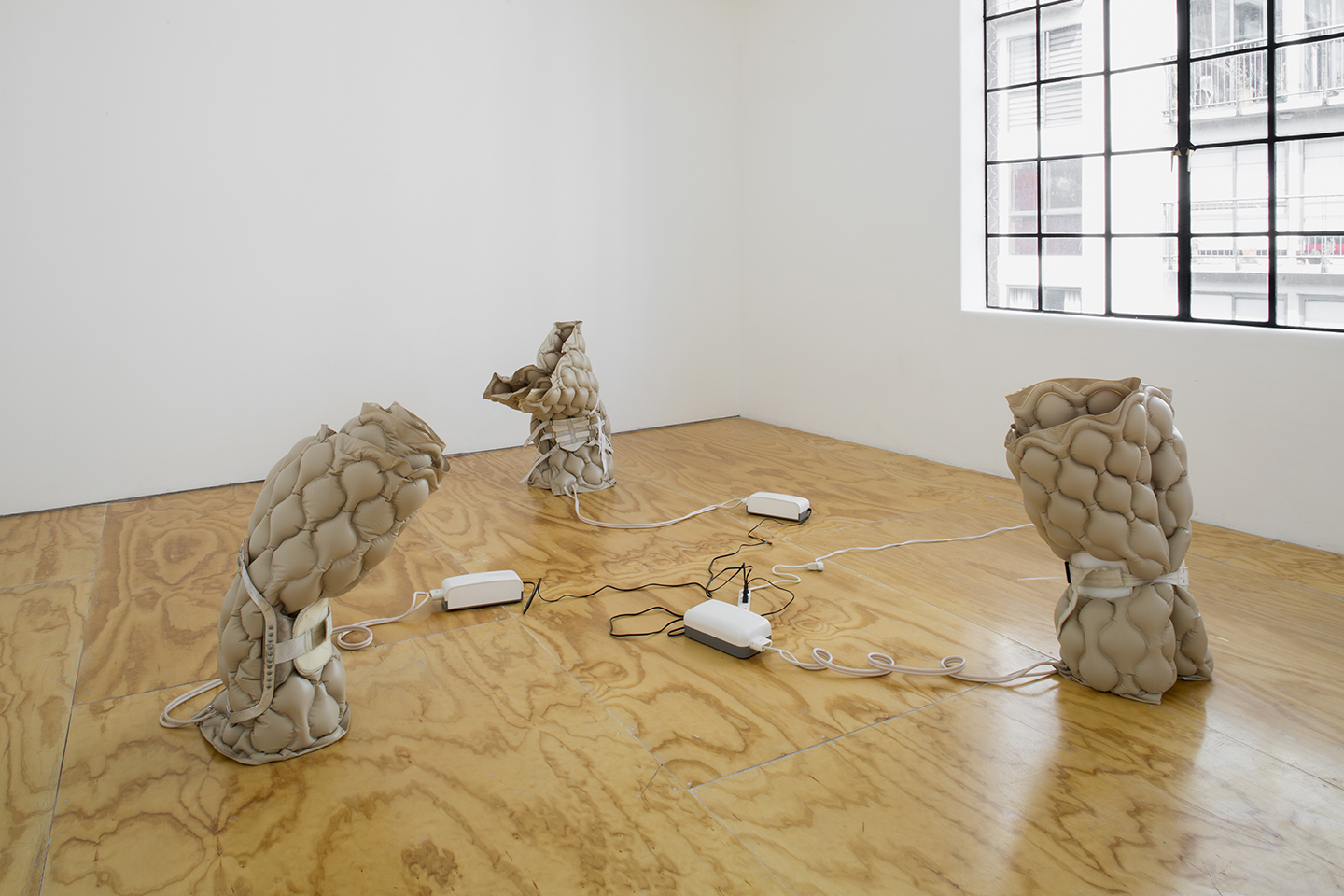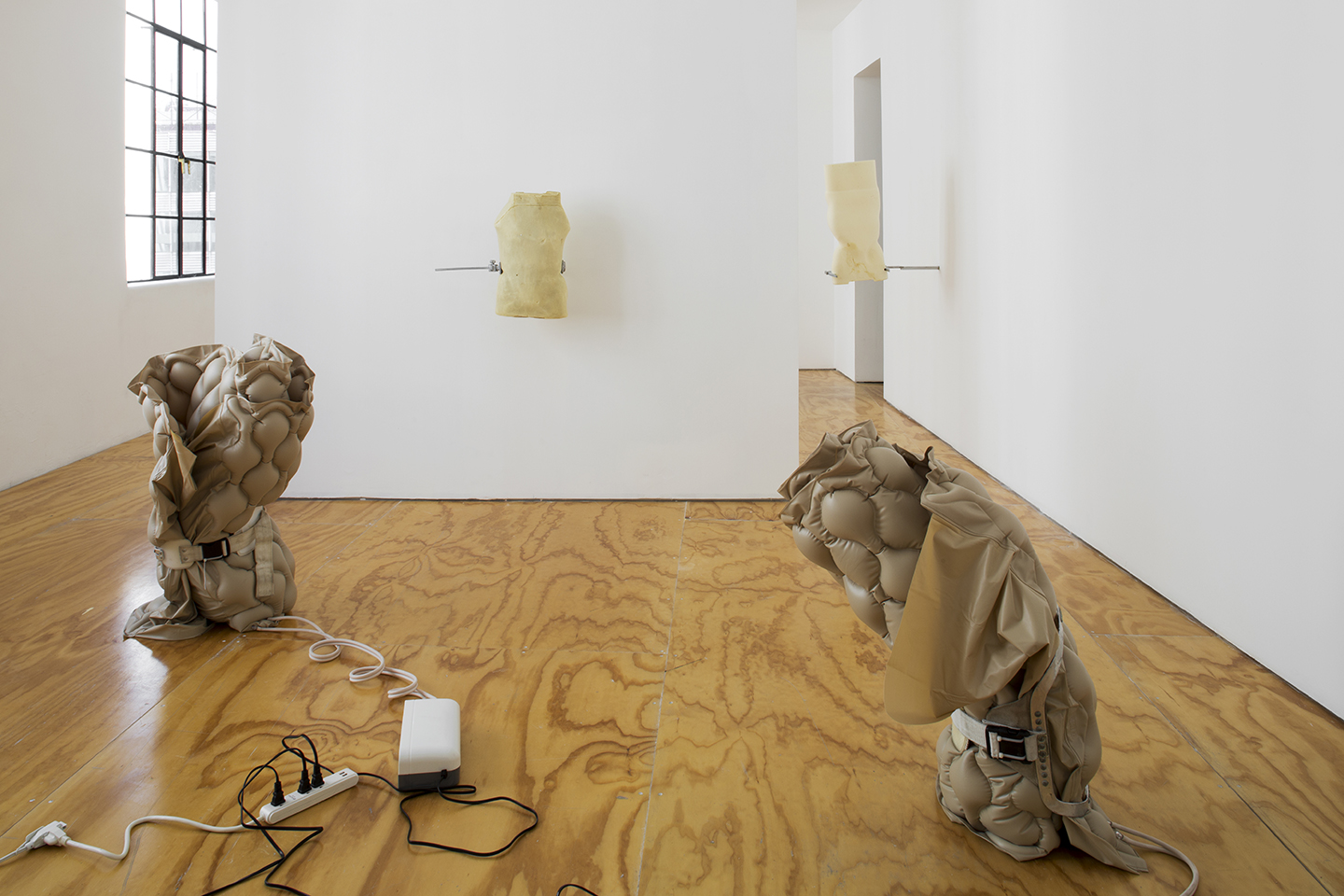 by Anna Goetz
Berenice Olmedo's work questions assumptions regarding the "natural" physical human constitution, proclaiming it, on the contrary, as essentially diverse; along the way she likewise probes authoritarian social structures that serve as universal cultural references. Not only are our bodies physically and symbolically shaped by culturally evolved categories, she asserts, but so are our ways of thinking and categorizing.
A colorful children's orthosis—a hip-knee-ankle-foot—appears to be trying to stand up, animated by barely visible wires attached to a motor. Yet its attempts to accomplish that coordinated sequence of movements and attain a vertically standing position repeatedly fail—its disciplinary function quasi disables itself. Olga (2018) is part of a body of work by Olmedo consisting of readymade orthopedic appliances. The medical devices were all individually custom-made for a specific body and its physical constitution—mostly children still in the development process—to support, align, prevent, or correct "deformities" and/or improve the function of movable body parts. The found objects used by the artist have, however, terminated their former relationships with their subjects, and now stand as mere contours of ghostly bodies. The apparatuses are staged as anthropomorphized, stand-alone characters with names: Eliot (2018), Luca (2019), Emma (2019), Noa (2019).
In her most recent exhibition, Toraco-Lumbo [SKOLIÓPHYSIS] at Lodos in Mexico City (2019), Olmedo presents two new bodies of work—héxis and áskesis (both 2019)—that carry forward her exploration of orthopedics as metaphors for normative structures and their sociopolitical implications. héxis is a series of readymade torso molds held in position and affixed to the wall like headless busts.1 The objects, used to custom-fabricate medical corsets that correct the lateral (sideways) curves of the spine in scoliosis—are here kept in position by cast anthropometric calibrators that usually serve to measure the degree of physical aberration from what is considered the norm. The shapes of the torso molds represent neither "deformed" nor "ideal" bodies, but rather the torso in its in-between state of being sculpted. The áskesis works are alternating-pressure mattresses strapped in their middles with lumbar braces and animated by the mattresses' electric pump systems, which produce a constant airflow inside the strapped pads. They alternately erect themselves, as if aspiring to verticality, then slump down, deflated, and "lose their position."2 
The aspiration toward erectness is a recurrent motif in Olmedo's work. Not only are the strapped mattresses seeking equilibrated verticality; the readymade orthosis and torso molds are likewise tools to sculpt the human posture to achieve the "normal" upright position considered a key distinction of human anatomy. This echoes the (Western) concept of evolution as organized along a hierarchical continuum of inferiority to superiority.
The orthopedic appliances and the enforced adjustments that they imply serve the artist as means to question normative structures and their manifestations, such as dualistic thought and pedagogy as imposed on constructs of identity. For example she exposes disability as constructed by social expectations and institutions rather than biological difference, comparable to how race and gender are not biologically fixed, but socially constructed. Olmedo thus addresses not only a physical problem but an essentially political subject—a state of existence and the societal constraints that created it. Peter Sloterdijk describes this imposed conformity as a "system for preventing mutations of the structure that ensure stability," suggesting that "political culture begins with the distinction between chains and crutches."3 Olmedo's deployment of orthopedic technics as metaphors for dialectics between support and constraint grapples with that very distinction.
[1] Hexis (ancient Greek) describes a relatively stable arrangement or disposition "acquired" via training or other habituation. Henry George Liddell and Robert Scott, Liddell and Scott's Greek-English Lexicon (London: Simon Wallenburg Press, 2007).
[2] Askesis (Greek) describes an exercise of rigorous self-discipline and/or determination of action and purpose. Collins English Dictionary, https://www.thefreedictionary.com/askesis.
[3] Peter Sloterdijk, You Must Change Your Life: On Anthropotechnics (Cambridge: Polity Press, 2013), 57.
Berenice Olmedo (b. 1987, Oaxaca), lives and works in Mexico City. She is scheduled to participate in the Riga Biennial, Latvia (2020) and a show at Haus Moedrath, Kerpen (2020). Recent solo shows include Toraco-Lumbo [SKOLIÓPHYSIS], Lodos, Mexico City (2019); Anthroprosthetic, Jan Kaps, Cologne (2018); Bioethics and Biopolitics: The Entry of the Stray Dog into the City System, Escuela de Humanidades, Puebla (2012); Vivir Mejor, Laboratorio de Biología de la Universidad, Puebla (2011); The Nation, Which Is Nation Thanks to Its Dead (performance), Plaza de Armas, Puebla (2011). Selected group shows include Selfreconstruction: Detritus (curated by Abraham Cruzvillegas), Museo Universitario de Ciencias y Arte, Mexico City (2018); Nuevo Manifiesto de Cine Mexicano (curated by Diego Salvador Rios and Francisco Cordero-Oceguera), Lodos, Mexico City (2018); Memory Emplacements, Knowledge Tianguis, Laboratorio Arte Alameda, Mexico City (2018); Now in Common, More Opacity, Universitario de Ciencias y Arte (MUCA ROMA), Mexico City (2018); Trasher, LADRÓN galería, Mexico City (2018); CyberArts, OÖ Kulturquartier, OK Center, Linz (2017); Young Creators of FONCA, Centro de las Artes, San Luis Potosí (2017); Freedom for the Taste, El Colegio Nacional, Mexico City (2017); UNAM Biennial Visual Arts, Galería Antonio Ramírez, México City (2016); and Transpiksel, International Festival of Art, Science and Free Technology, UNAM, Mexico City (2016). 
Anna Goetz is an independent curator and critic with a special interest in artistic strategies that expose governing societal hierarchies, narratives, and structures. She currently lives in Mexico City.