EXHIBITIONS
Charlie Billingham "Jam Standard" and Joe Reihsen "Factory Paint, Aftermarket Interior" at Brand New Gallery, Milan
Charlie Billingham  "Jam Standard"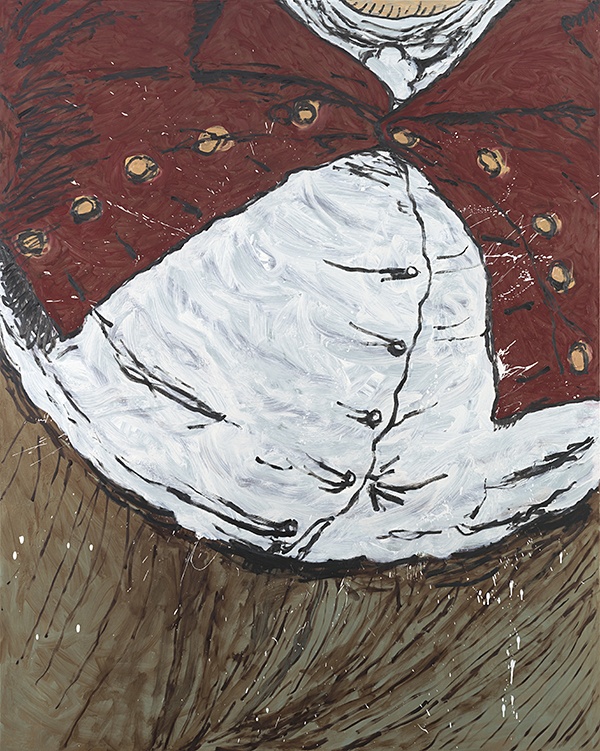 Brand New Gallery is glad to announce "Jam Standard", the first solo exhibition in Italy by British artist Charlie Billingham.
The prodigious and irreverent Charlie Billingham creates decorative paintings and installations using a language borrowed from interior design, art history, graphics and prints. In his highly subjective painting practice, Billingham takes inspiration from memorable images dating back to the historical phase in between the late 18th and early 19th century, a period that was marked by strong social transformations that shaped the major European cities, and led to the progressive affirmation of the modern bourgeoisie, with the resulting renewal of the Western taste.
Among the examples of inspiration – ranging from artistic expression to behavioral quirks–it is possible to include James Gillray's etchings and George Cruikshank's prints and drawings, the aristocratic excesses of the Regency Age and the attitude of detachment from reality, typical of fashionable dandyism.
When he paints, Billingham is focused on the surface, the pigment and the texture. He uses acrylic, oil and spray paints to apply them on canvas, polyester, linen, tapestries and wood panels.
It is a practice that questions, interprets and reinterprets the history and heritage of painting.
Billingham's art presents bizarre characters, musical instruments and animals portrayed in showy chromatic combinations: sometimes parts of the images are slender, sometimes awkward, always ready on the stage.
"Épater la bourgeoisie".
Domenico de Chirico
.
until 8 November 2014
Above – BIG TUM 1, 2014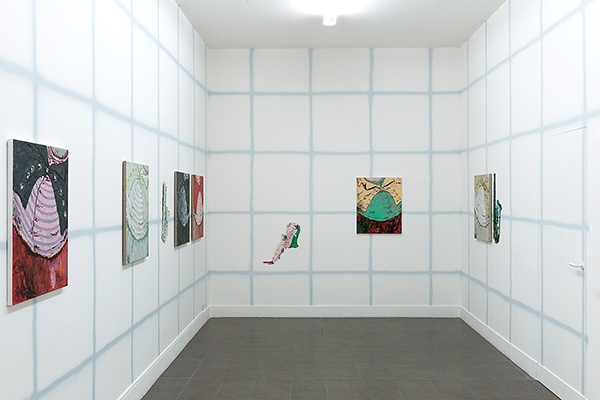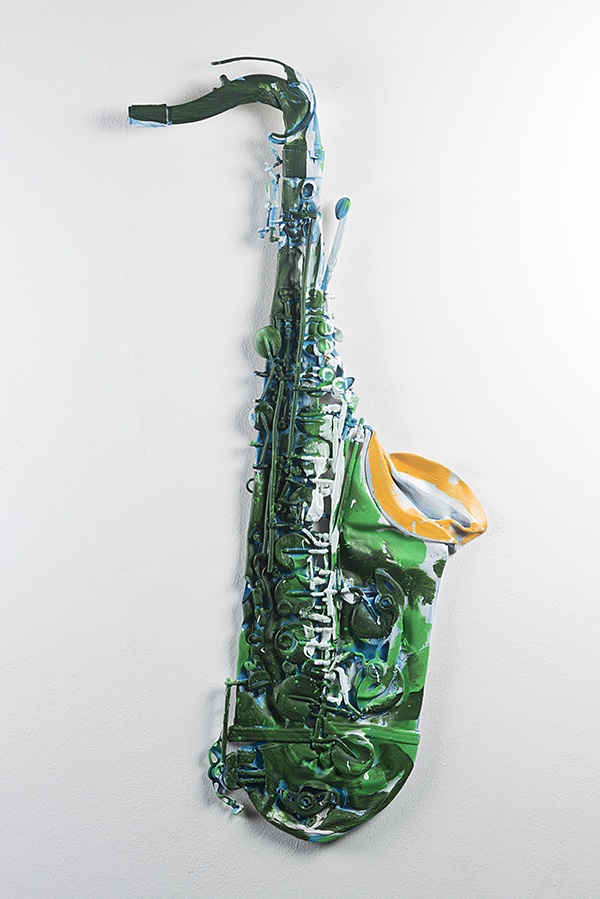 SAX 9, 2014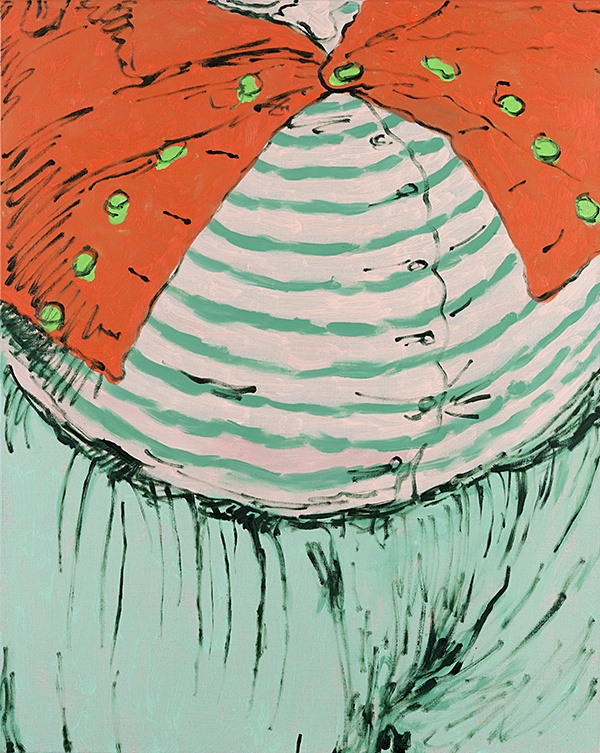 TUM 9, 2014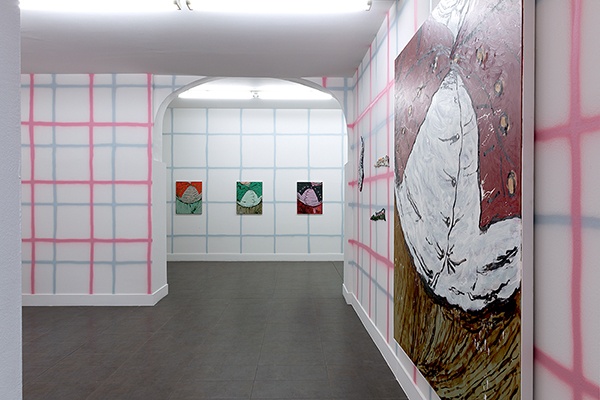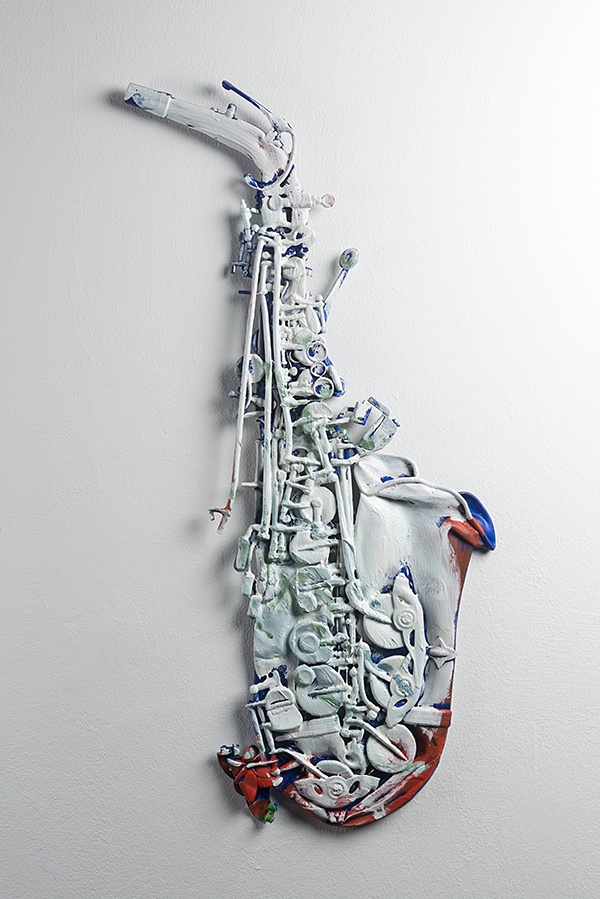 SAX 6, 2014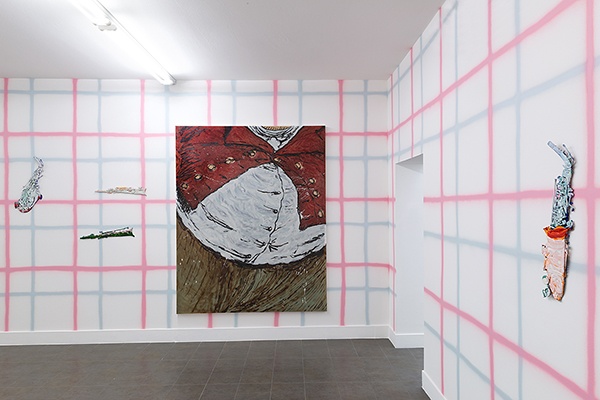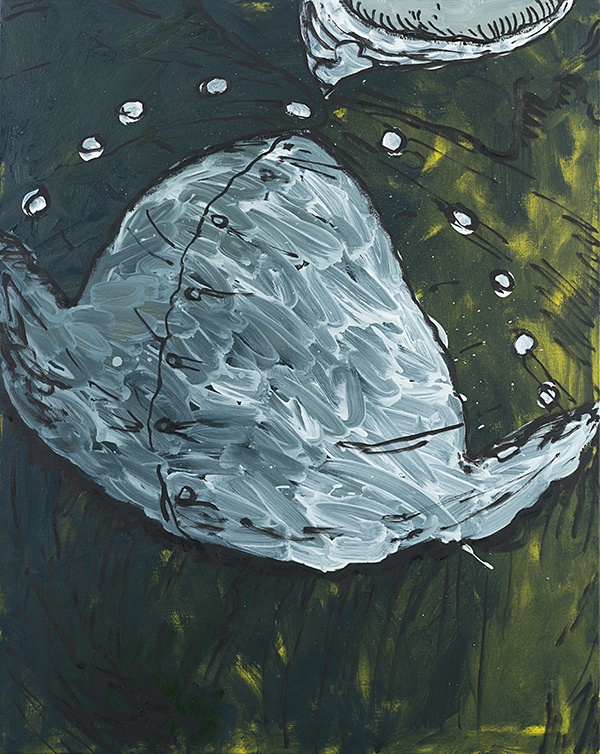 TUM 14, 2014
Charlie Billingham  "Jam Standard" installation views at Brand New Gallery, Milan, 2014
Courtesy: Brand New Gallery, Milan
.
Joe Reihsen "Factory Paint, Aftermarket Interior"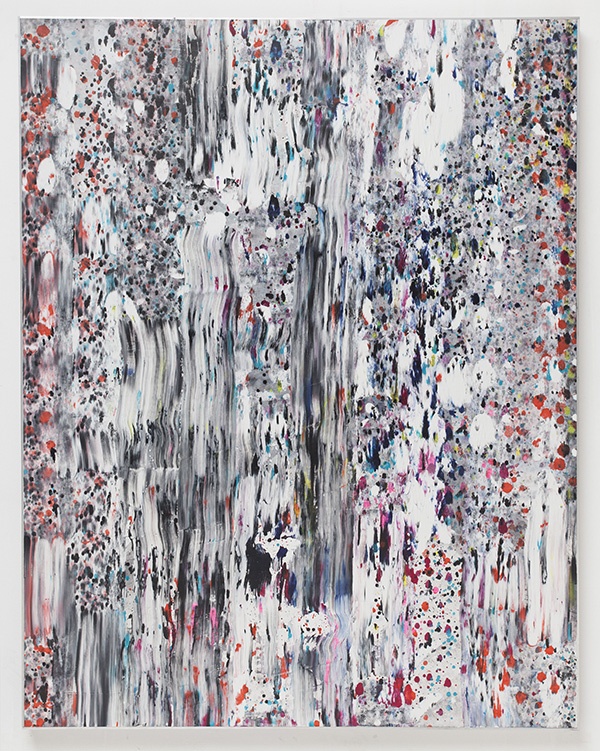 Brand New Gallery is glad to announce "Factory Paint, Aftermarket Interior", the first solo exhibition in Italy by American artist Joe Reihsen.
Characterized by optical illusions, with astounding juxtapositions of colored paints, vigorous and determined overlays of varnishes, Joe Reihsen's work exceeds the limits of the surface and of all chromatic matters and combinations. As a whole, it's a tense and intense work, materially determined and metaphorically romantic.
Using his peculiar composition techniques and various materials, like plaster powder and aerosol paints, Reihsen creates bidimensional chromatic waves that appear to have a great deepness. Random paint drops, a roller to spread them and a brush to customize them. Following his own performative process, the artist obtains an abundance of dots, lines, hints and other undefined shapes that overrun the canvas and display in astonishing, sometimes vertiginous, color variations.
The shades are often acidic, at times pastel, overwhelming and bright; the power of the brush strokes makes the viewer go behind the canvas. This mixture is psychedelic and debilitates the contradiction between image and object, because it weakens the official intellectual abilities.
Domenico de Chirico
.
until 8 November 2014
Above – My heart raced with joy, 2014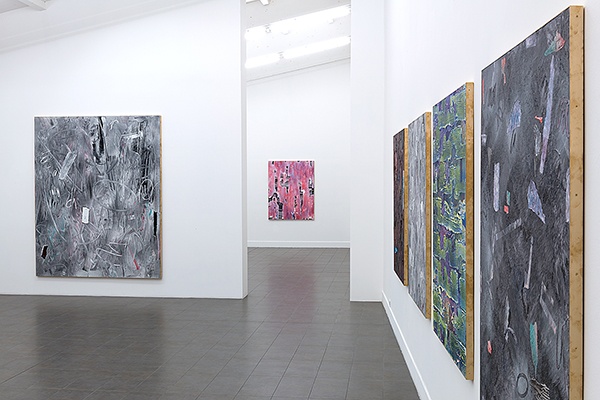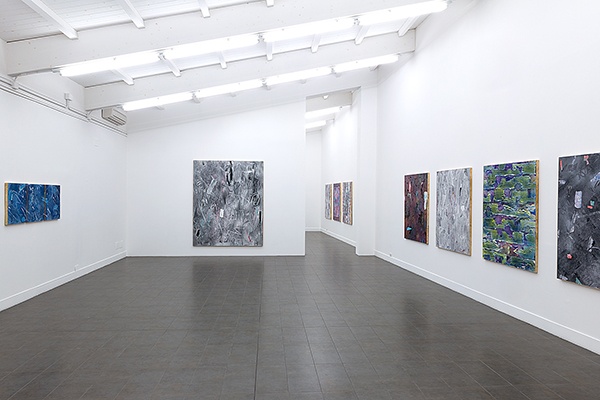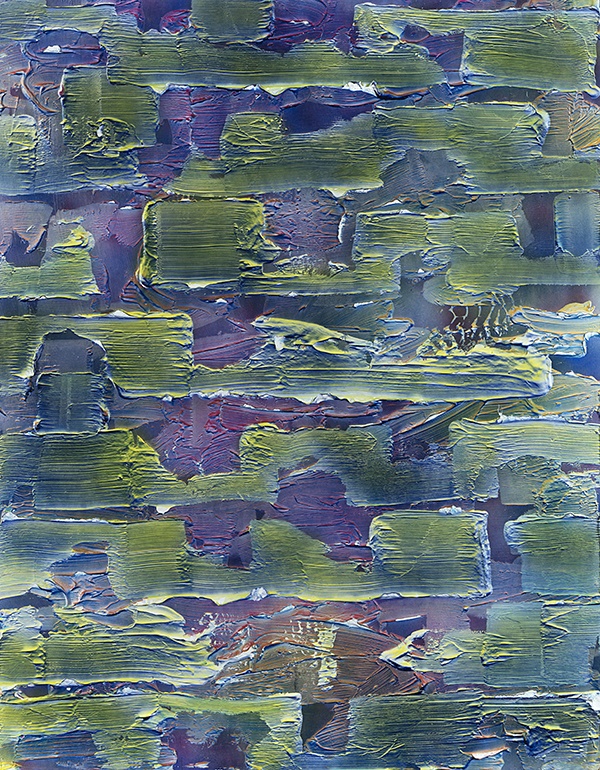 Tina from Riverside, 2014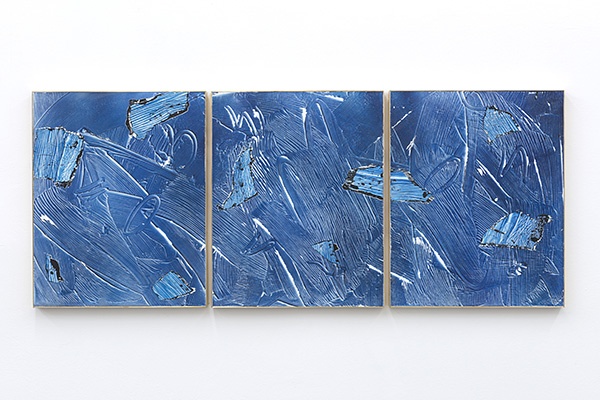 Paris Street; Rainy Day, 2014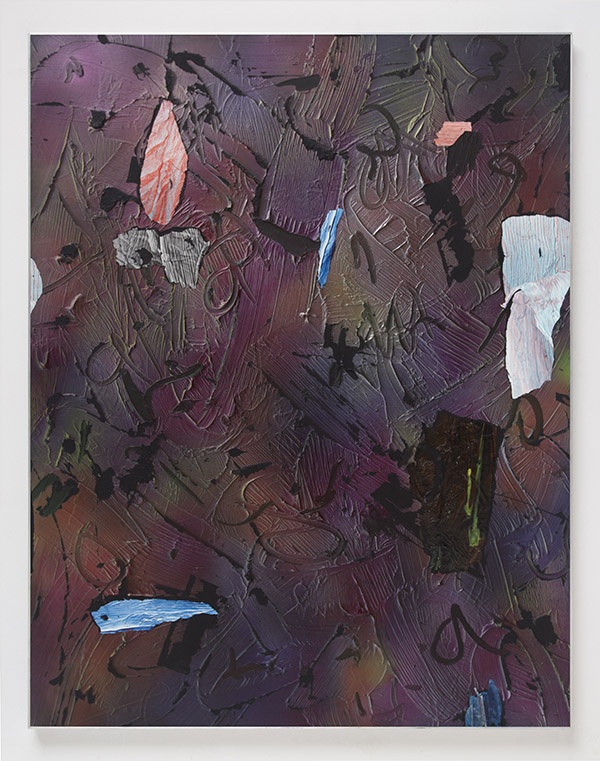 Pilots in Anaheim Hilton flying to Abu Dhabi, 2014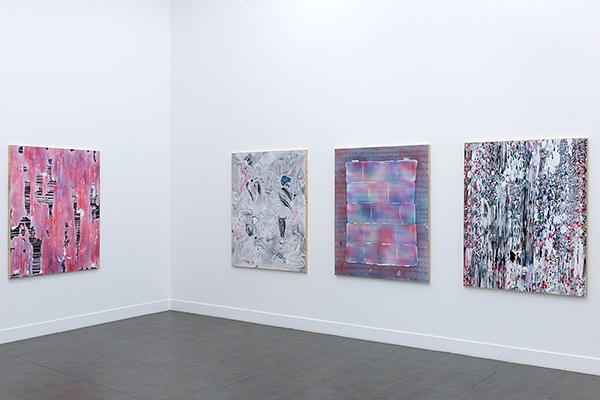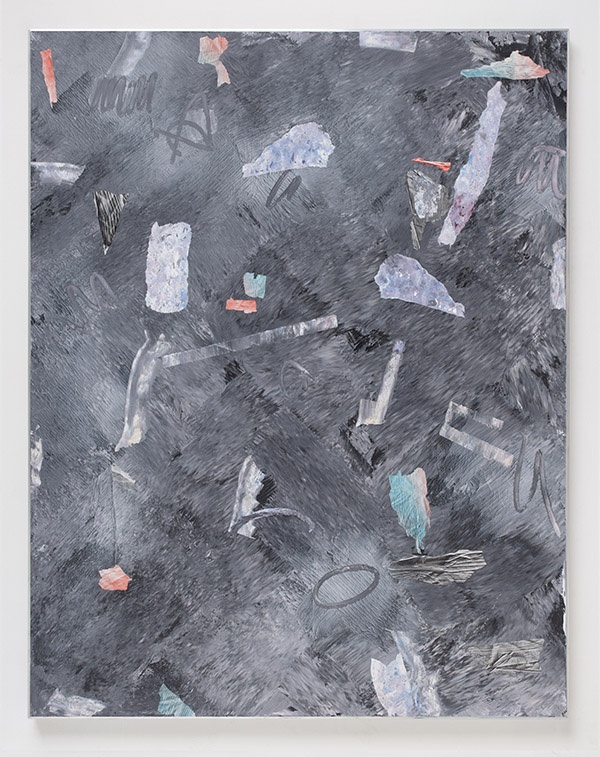 Aw geezus wtf Hpnd Hun, 2014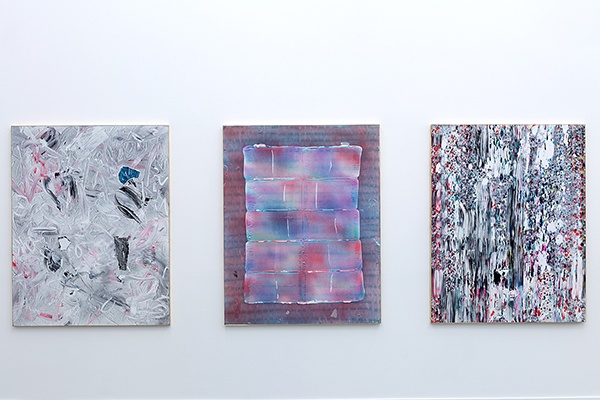 .
Joe Reihsen "Factory Paint, Aftermarket Interior" installation views at Brand New Gallery, Milan, 2014
Courtesy: Brand New Gallery, Milan