ESSAYS Mousse 69
Feminishism: Birgit Jürgenssen
Close
1
2
3
4
5
6
7
8
9
10
11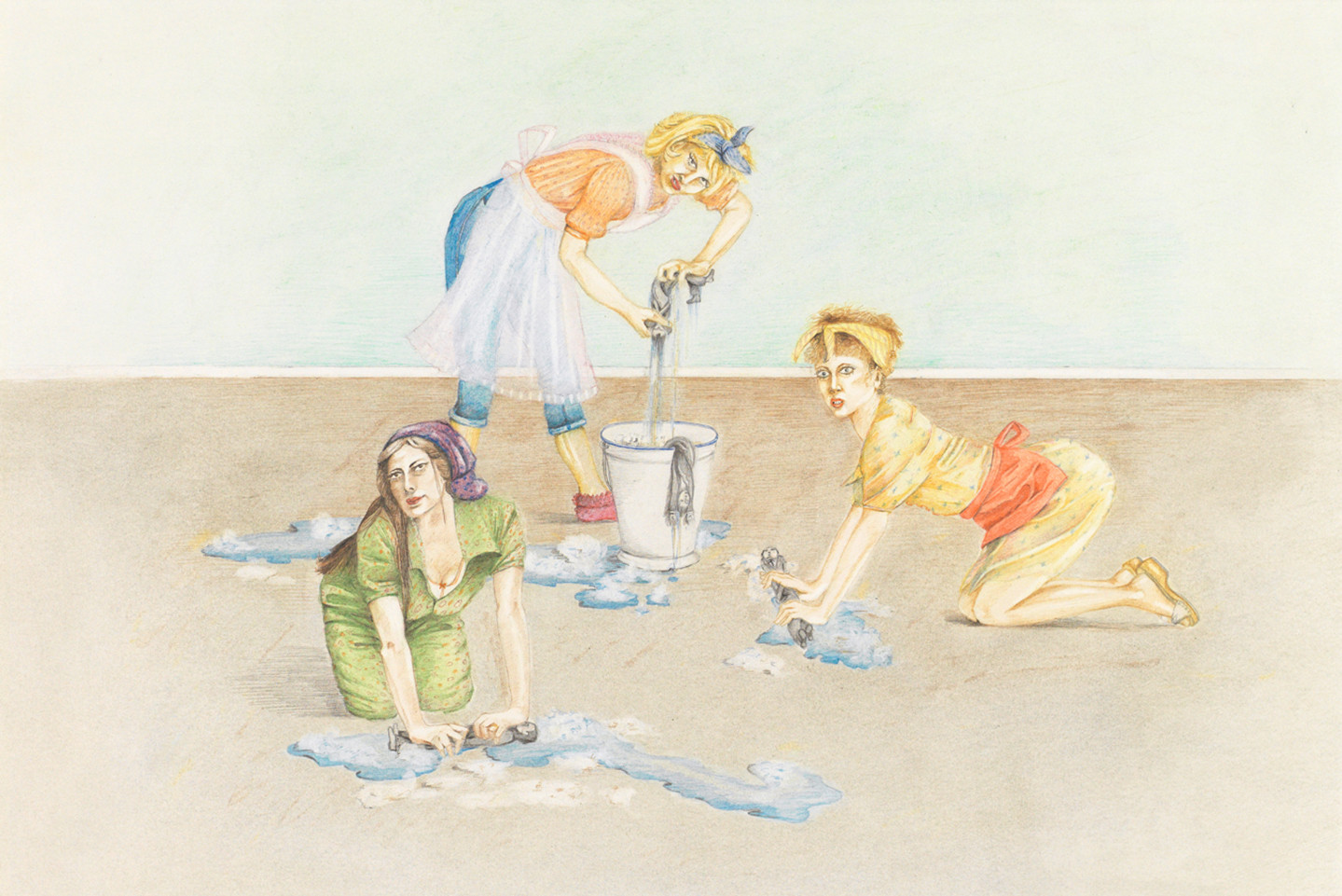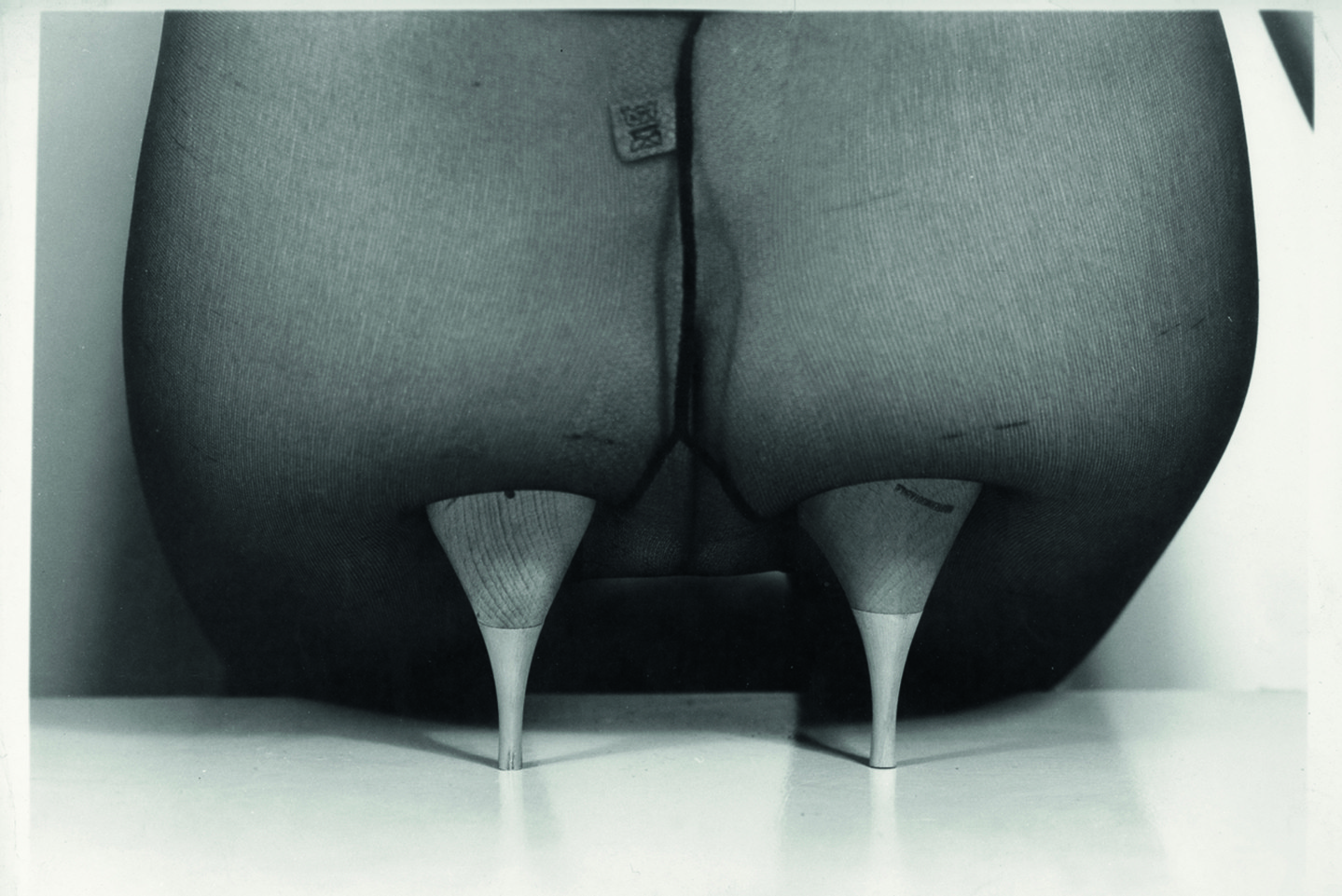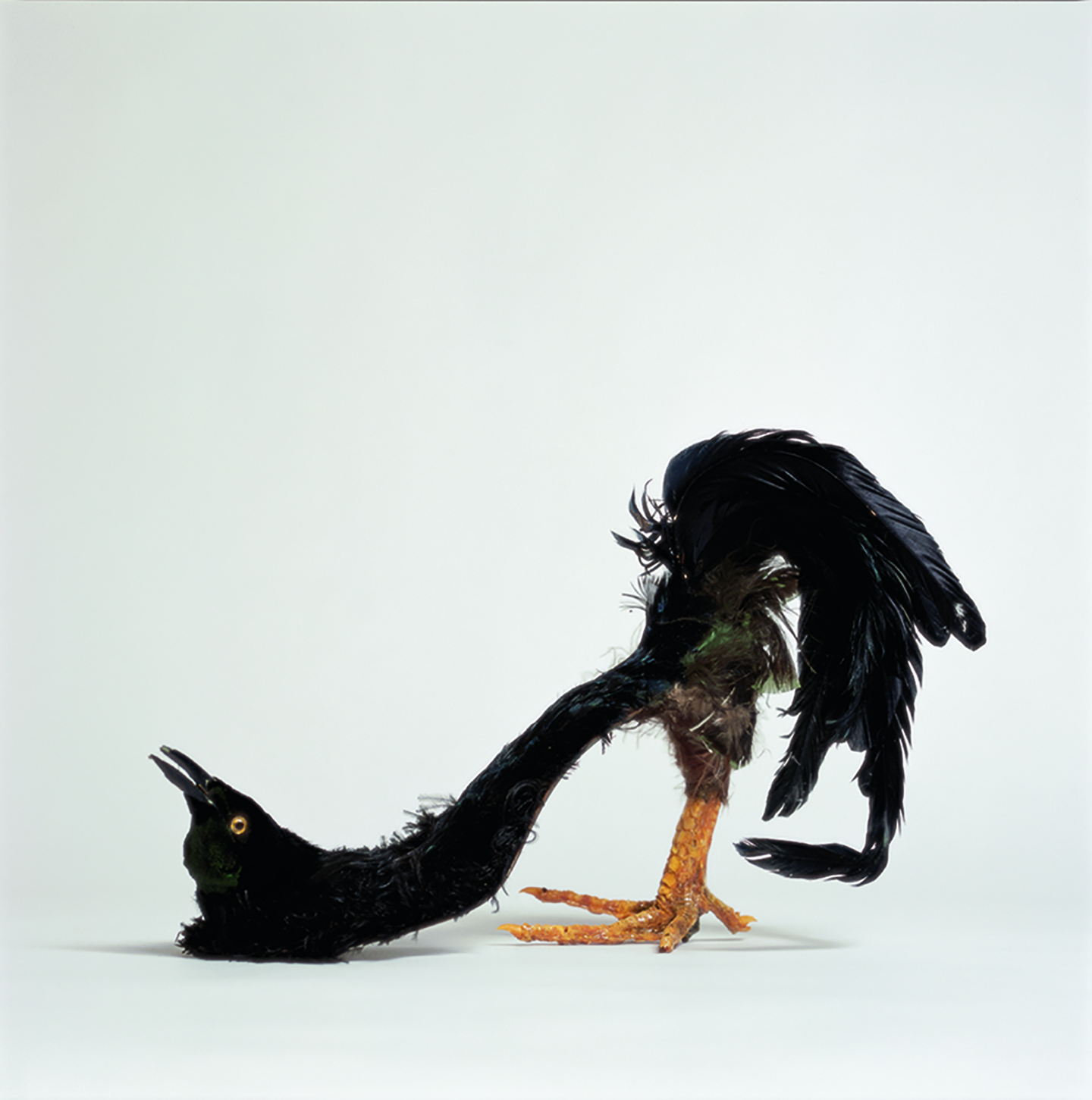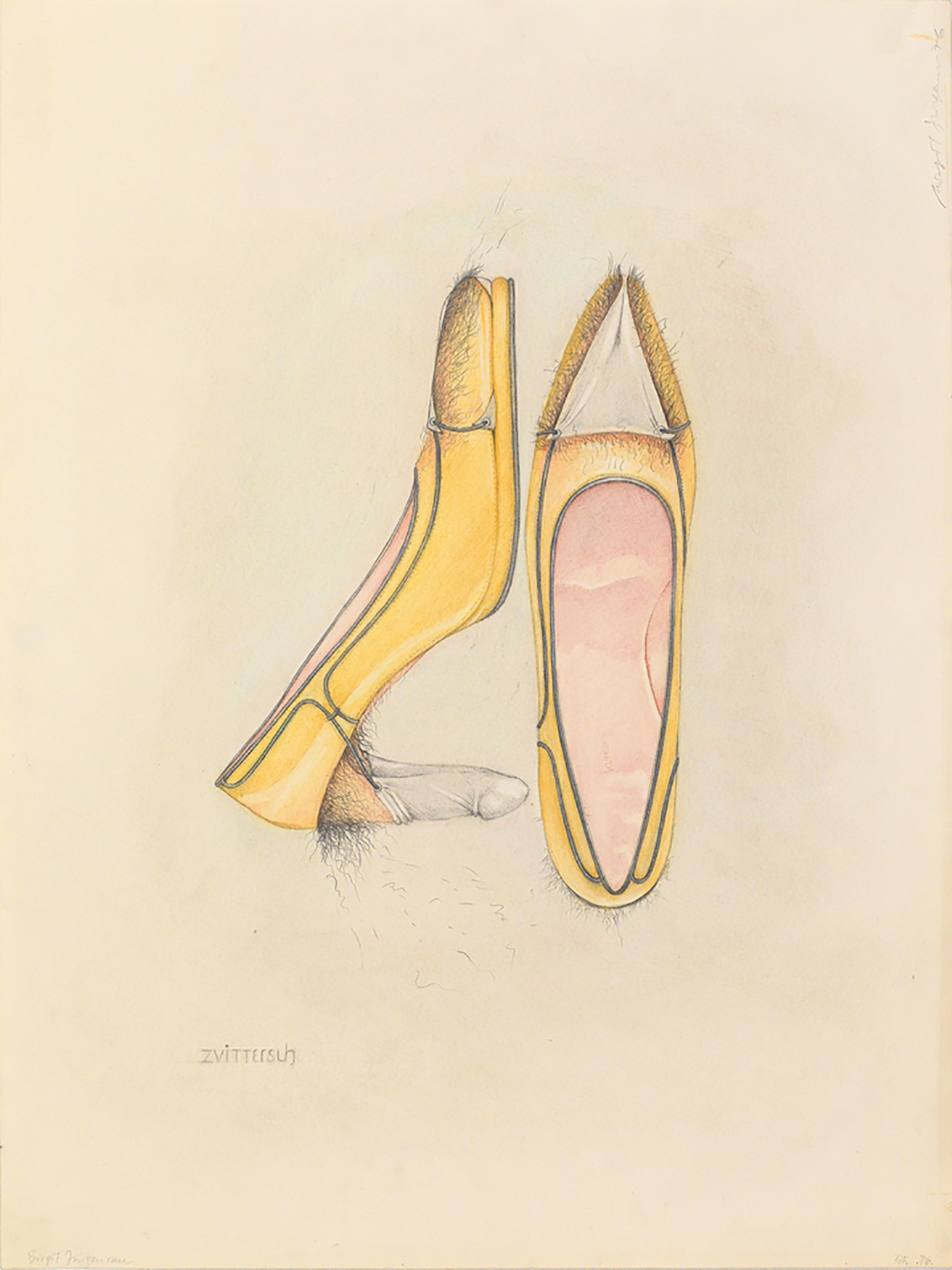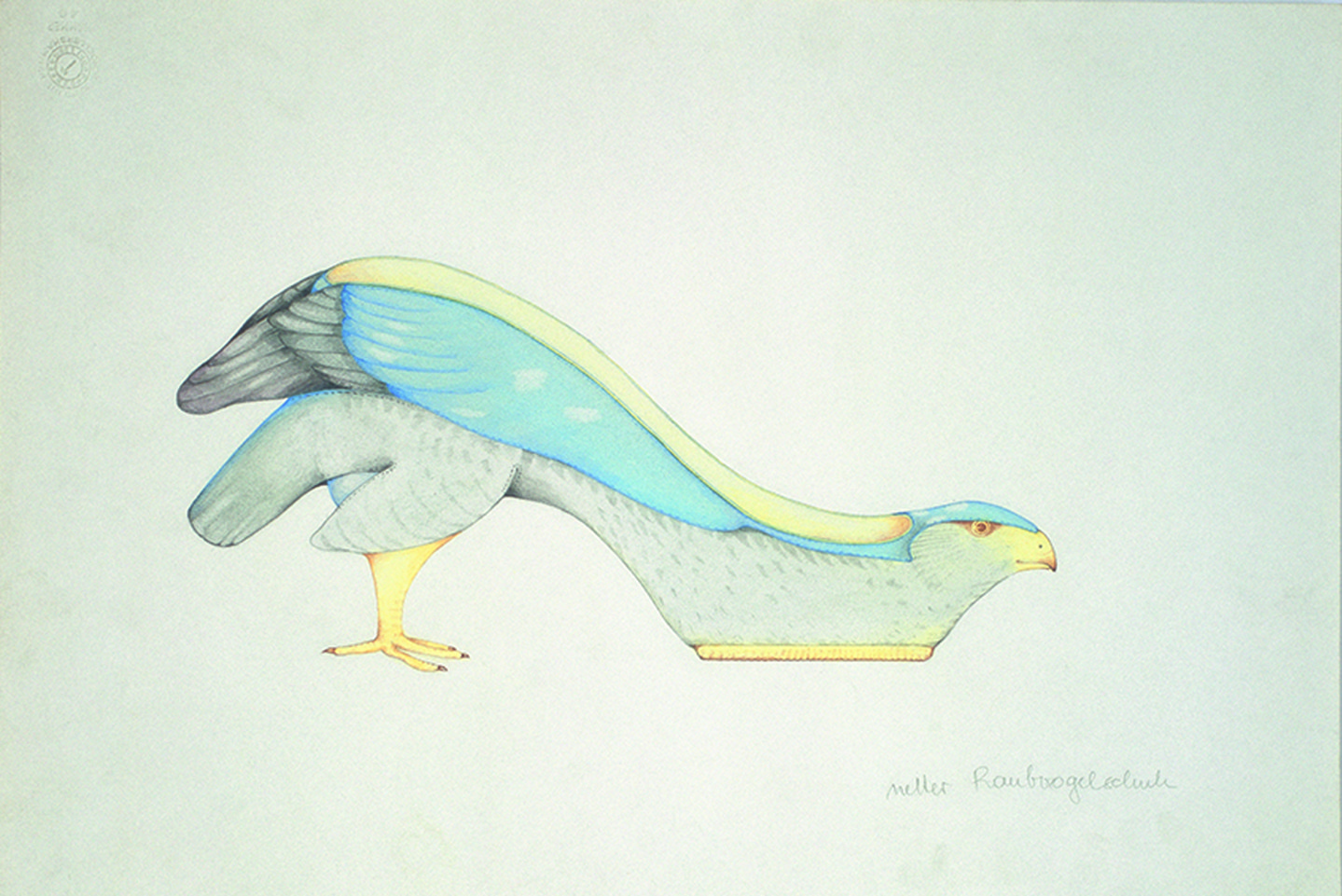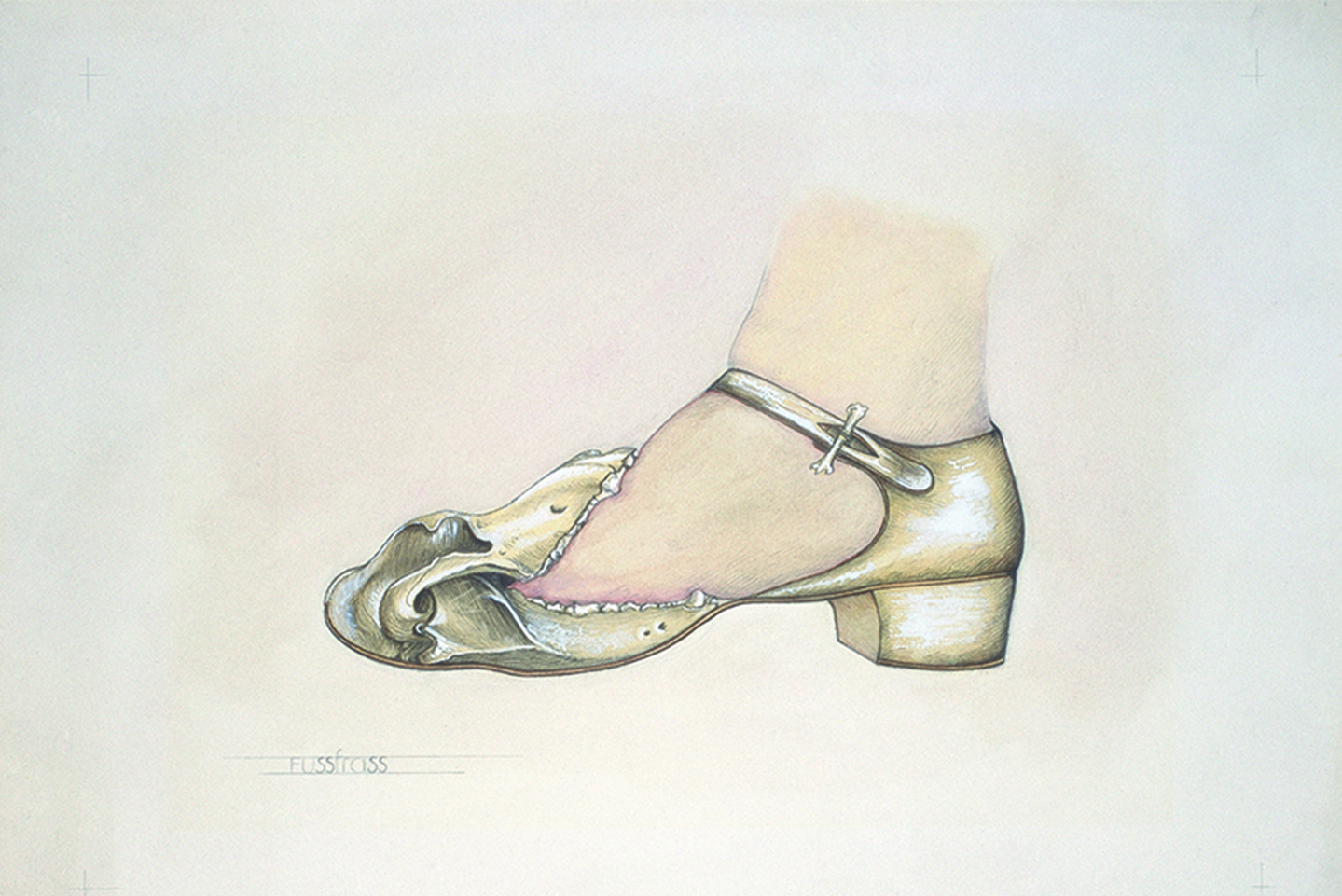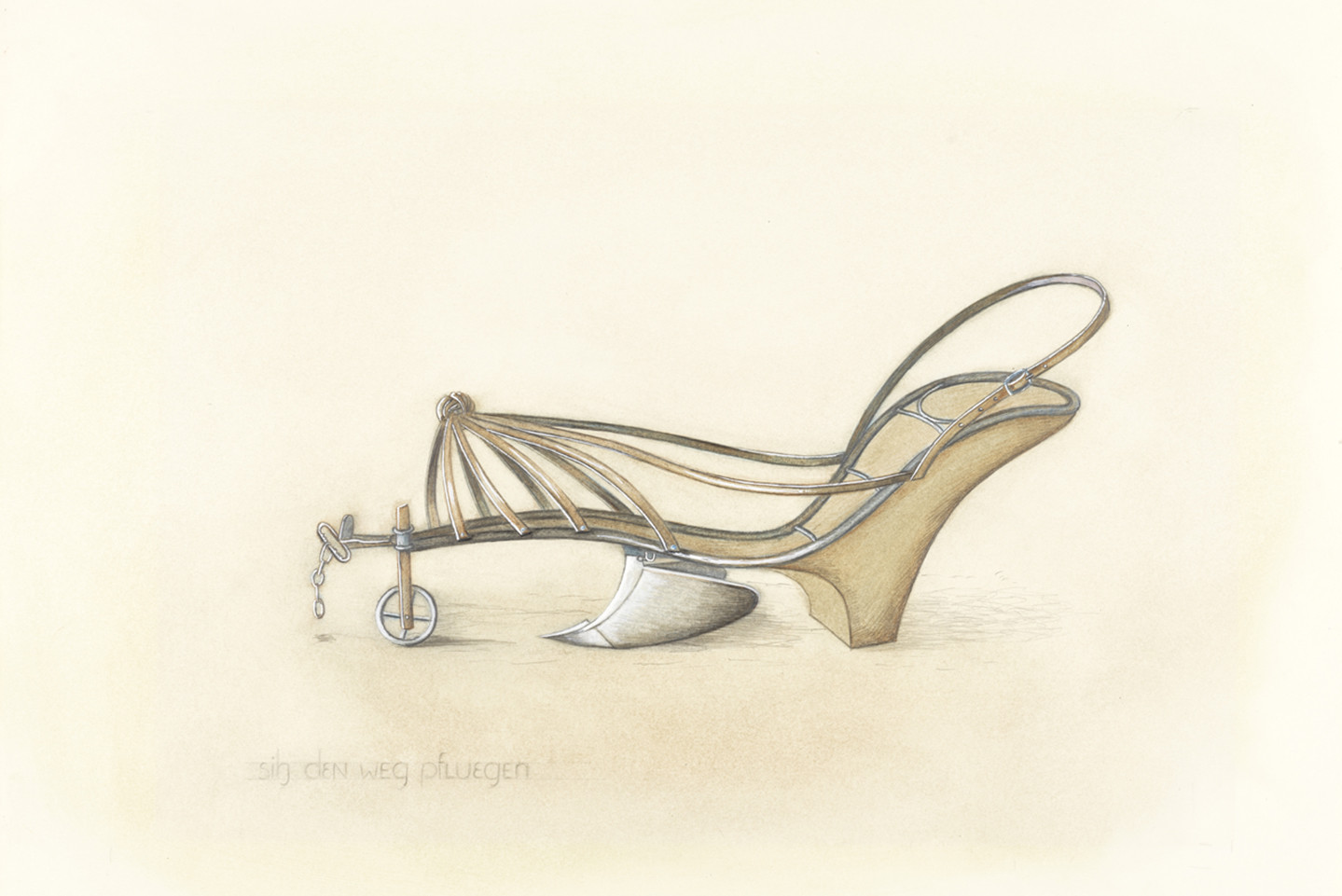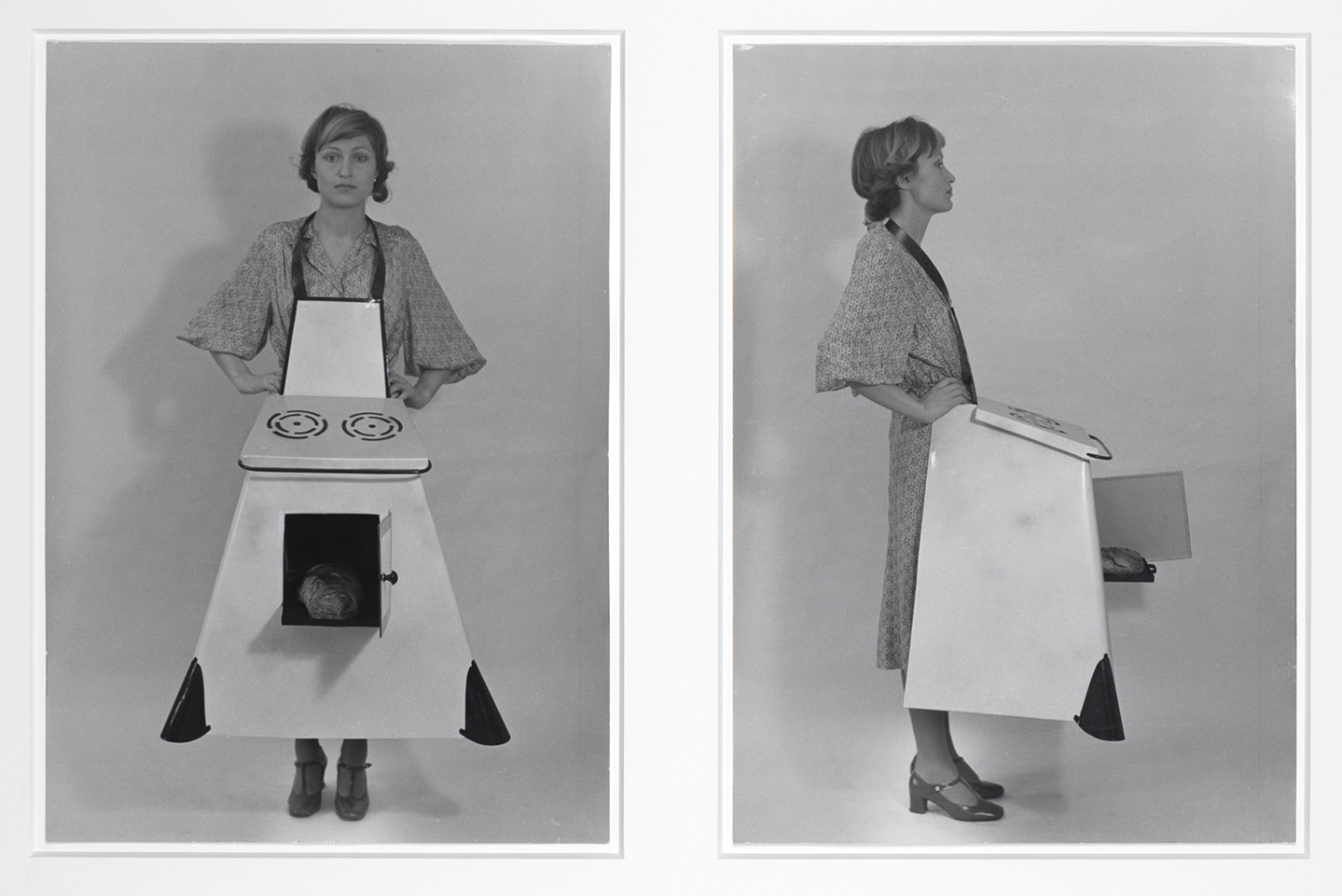 by Kasia Redzisz
An early drawing by Birgit Jürgenssen, Scrubbing the Floor (1975), shows three women cleaning the floor. Two of them are on all fours—one with visible cleavage, the other with a dress rolling up her buttocks. The third woman bends over a bucket of water, her legs straight. Their daring gaze is directed at the spectator. The scene is both a typical image of housework and a cliché illustration of erotic fantasy about the sexy maid.
In 1990 it provided an inspiration for a portrait of artists forming the group DIE DAMEN, which included Jürgenssen. Staged in her studio, the photograph features four women tidying up the room in poses borrowed from the earlier work. Over the fifteen years separating these images, Jürgenssen experimented with a vast range of media—drawing, photography, sculpture, installation, performance—yet her art remained consistently aimed at analyzing the roles of women in society.
"Foxy, foxy
You know you're a cute little heart breaker, ha Foxy, yeah
And you know you're a sweet little love maker, ha Foxy
I want to take you home, haha yeah"
In Jimi Hendrix's 1967 hit, released at the height of the sexual revolution, a woman is (rather traditionally) an object of male desire. The titled Foxy Lady is little, sweet and passive—very much unlike the one created by Jürgens- sen just seven years later. The now-iconic image Untitled (Self with Little Fur) (1974) is a half-length self-portrait of the artist, whose eyes and nose are covered by a small piece of fox fur. Pouting her red lips, a gesture so omnipresent in today's selfies, she emphasizes her cheekbones, creating an expression that references the visual tradition of erotic femininity. At the same time, she subverts the traditional dynamic of female representation by taking the photograph herself. Moreover, Jürgenssen chooses to ignore the lavishness of fur as a fashion accessory and uses it just to conceal her face and hide her identity. In the spectacle of society, masks allow women to enact various roles. There are plenty of them in Jürgenssen's works. Her mysterious fox-woman is not only sexy but wild, perhaps dangerous, and, unlike Hendrix's dream girlfriend, hard to domesticate.
When the artist exhibited the piece as a central part of her installation 10 Days/100 Photographs (1980-1981) at Galerie Hubert Winter in Vienna, in 1981, she dedicated it to Meret Oppenheim. The presence of fur pays obvi- ous homage to works such as Object (The Luncheon in Fur) (1936). But it is the Swiss Surrealist's My Nurse (1936), a pair of white shoes bound together and decorated with paper ruffs served on a silver platter, which seems to have provided the strongest inspiration for Jürgenssen. Between 1972 and 1979, she created a remarkably versatile series of drawings, objects, and photographs—all of them variations on the motif of a shoe. These works were later reproduced in a catalogue under the collective title Schuhwerk, densely populated by shoes of all sorts—the powder-pink Pregnancy Shoe (1976), flying shoes, shoes with teeth and duck feet, shoe-masks, shoe-mattresses, shoe- traps—all of them testifying to Jürgenssen's fondness for Surrealism, immense creativity, and sharp sense of irony. Focusing on a stereotypical object fetish, she humorously dissects all its cultural connotations: from women's vain fantasies about fashion to Freudian theories on sexual fascination with female feet and shoes as an expression of male fear of castration. All those shoes! Beautiful, perverse, uncomfortable, yet empowering… Jürgenssen's work subverts stereotypes by unveiling their grotesque absurdity. Flipping the pages of Schuhwerk is like looking at Freud trying to tiptoe on the streets of Vienna wearing red stilettos.
Jürgenssen started to measure femininity against criteria established by men very early on. At the age of eight, she began to fill the pages of a school notebook with drawings based on pictures by Picasso, some of them copied faithfully, others with improvised elements. She signed them "BICASSO," fusing her own name with that of the Spanish painter and claiming his fame. As a little girl, she was acutely aware of both her aspirations and the fact that art history is told through the achievements of men. In 1975 she participated in the seminal MAGNA. Feminism: Art and Creativity exhibition organized by VALIE EXPORT to challenge the male-dominated narrative. Her contribution was the Housewives' Kitchen Apron (1974-1975), a three-dimensional stove that can be worn in front of a person. This piece was presented alongside two black-and-white photographs, reminiscent of mug shots, showing Jürgenssen dressed in her sculpture.
The kitchen as crime scene or ideological battlefield features frequently in works criticizing domestic labor such as Martha Roesler's video Semiotics of the Kitchen (1975); Helen Chadwick's photographic documentation of performers in costumes that represent ovens, sinks, and refrigerators, In the Kitchen (1977); and Maria Lassnig's notorious self-portraits depicting the hybrids of humans and appliances, as in Kitchen War (1991). Part of this lineage, Jürgenssen's Apron is layered with cultural references. The bread sticking out of her oven is a religious symbol of life and an allusion to the colloquial expression "to have a bun in the oven," denoting pregnancy. It is also a phallic form penetrating a domestic object. Or maybe a metaphor for creativity? I think of Elfriede Jelinek, a Nobel Prize-winning Austrian writer—Jürgenssen's contemporary and fellow feminist—who, describing the main character of her novel The Piano Teacher (1983) writes: "Her body is one big refrigerator, where Art is well stored."1
(I couldn't resist borrowing the title of this text from Maurizio Cattelan and Marta Papini's contribution to Birgit Jürgenssen: I am, edited by N. Burger and N. Fritz, exh. cat. [Kunsthalle Tübingen, 2019; GAMeC–Galleria d'Arte Moderna e Contemporanea di Bergamo, 2019; Louisiana Museum of Modern Art, Humlebaek, 2019] [Munich, London, New York: Prestel Publishing, 2019], 173.
1. Elfriede Jelinek, The Piano Teacher, trans. Joachim Neugroschel (New York: Weidenfeld and Nicolson, 1988), 13.
Birgit Jürgenssen (1949–2003) was given her first camera at age fourteen and started experimenting with the medium. In 1967 she made an extended visit to France, acquainting herself with French literature, the theater of Antonin Artaud, and Surrealism. That year, she was accepted to the University of Applied Arts in Vienna, in the graphic arts program under Professor Franz Herbert. Jürgenssen graduated in 1971. The next year, she resumed her studies with Professor Herbert, experimenting with photography. In 1974 she encouraged the DuMont publishing house to put out a book about women artists. In 1978 she had a solo exhibition in the Albertina Museum's drawing and print collection, in Vienna. In 1980 she started working as an assistant instructor in the Austrian painter Maria Lassnig's class at the University of Applied Arts. In 1981 Jürgenssen had her first exhibition at Galerie Hubert Winter, Vienna, which today manages the artist's estate. In 1982 Jürgenssen started teaching in the Austrian artist Arnulf Rainer's class at the University of Applied Arts. Setting up photography classes, Jürgenssen ended up teaching for more than twenty years.
Kasia Redzisz is senior curator at Tate Liverpool, where she works on exhibitions and commissions by such artists as Maria Lassnig, Edward Krasiński, Judy Chicago, and Sol Calero, among others. She recently curated Women Looking at Men Looking at Women, an inaugural exhibition at Muzeum Susch, Switzerland.
Originally published on Mousse 69