CONVERSATIONS
A Body to Tune into Simulation: Anna K.E.
Close
1
2
3
4
5
6
7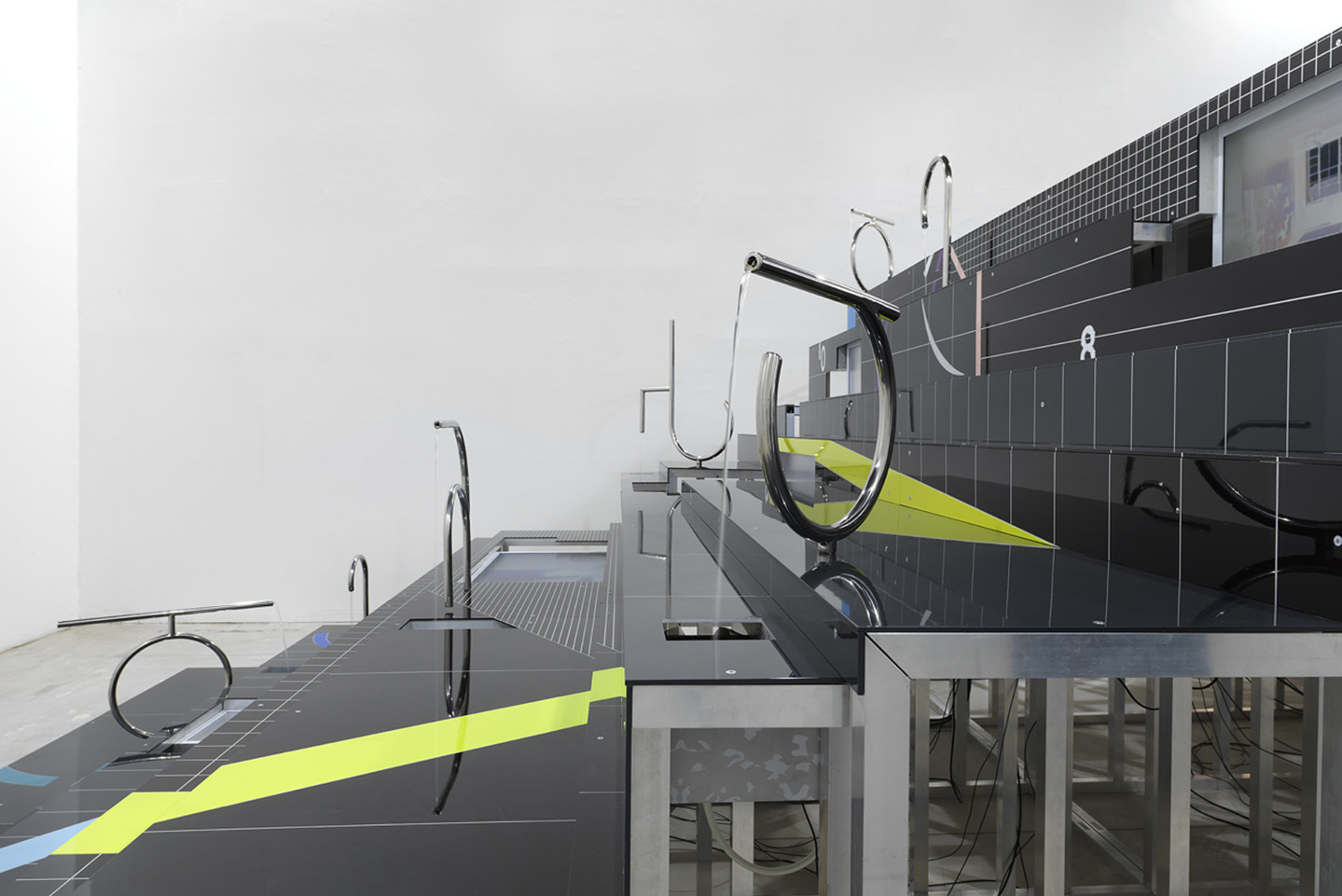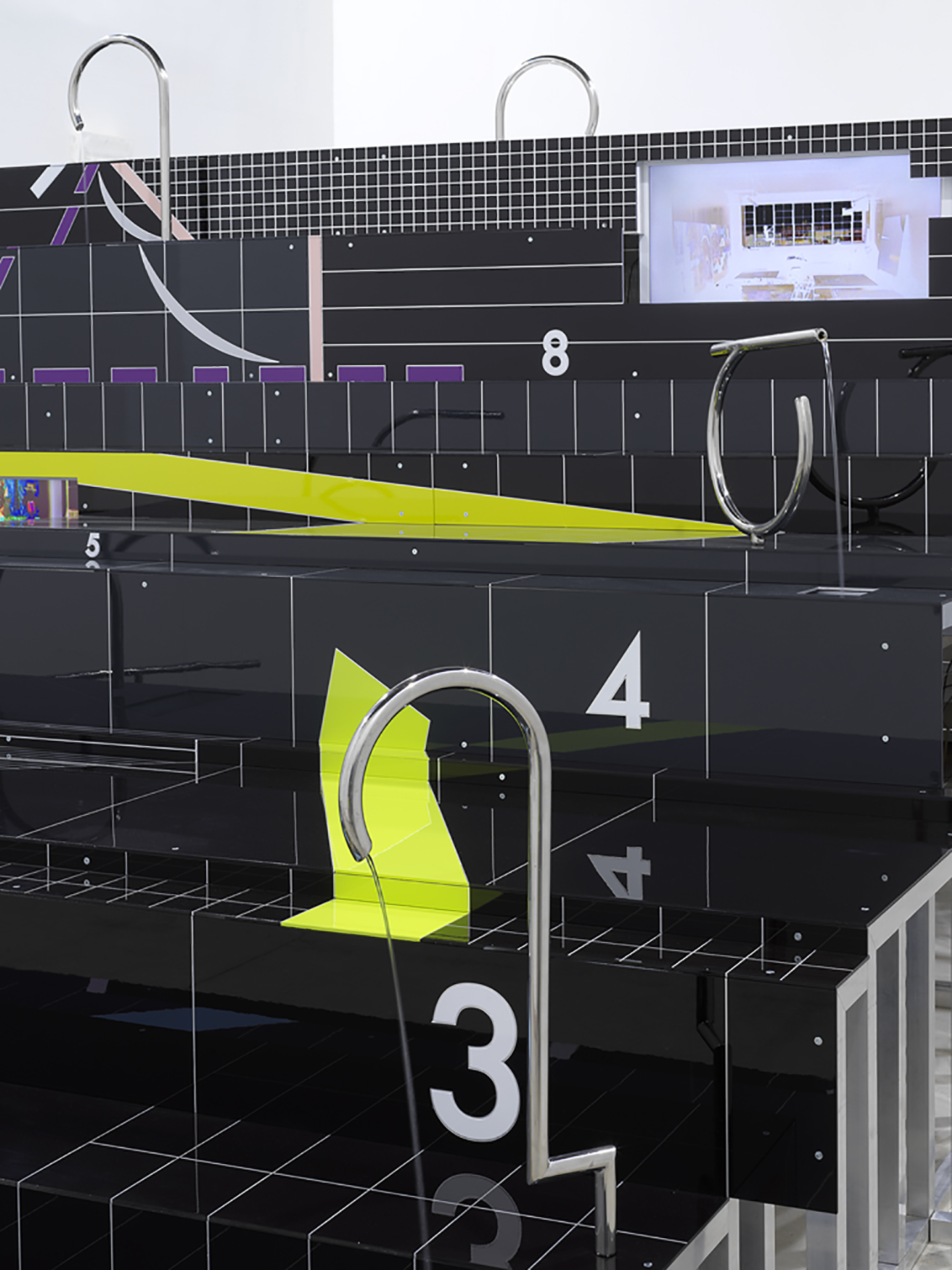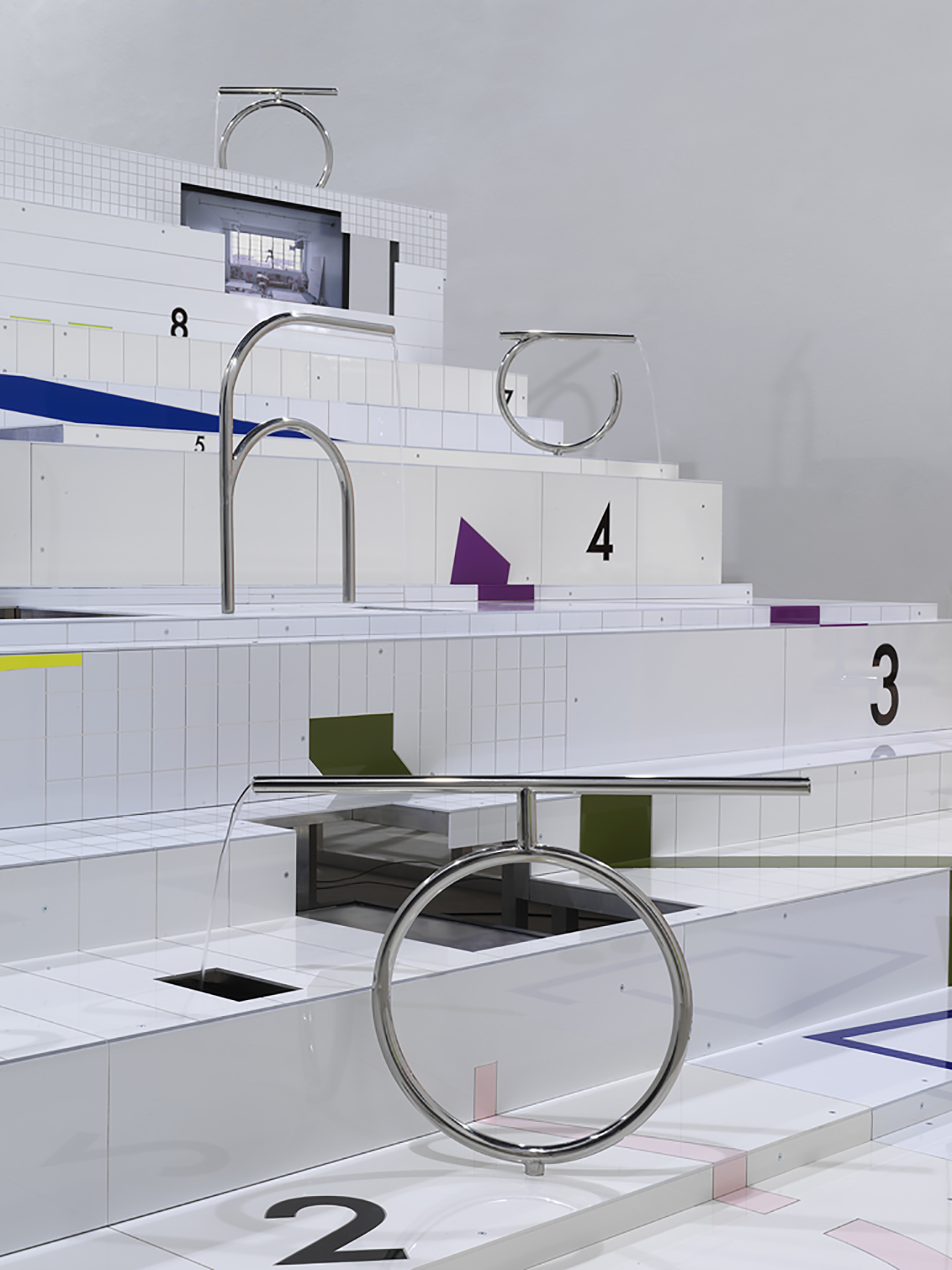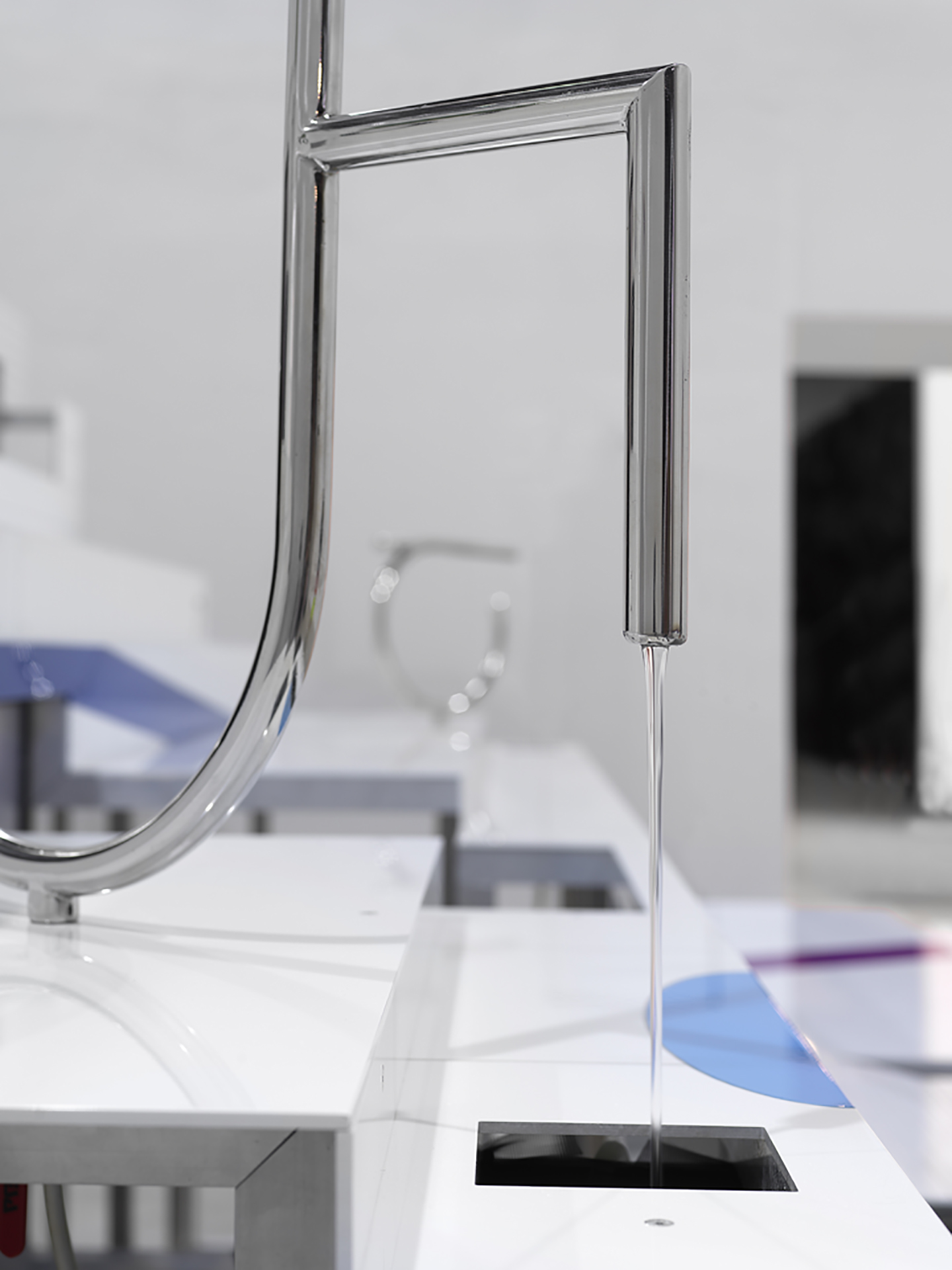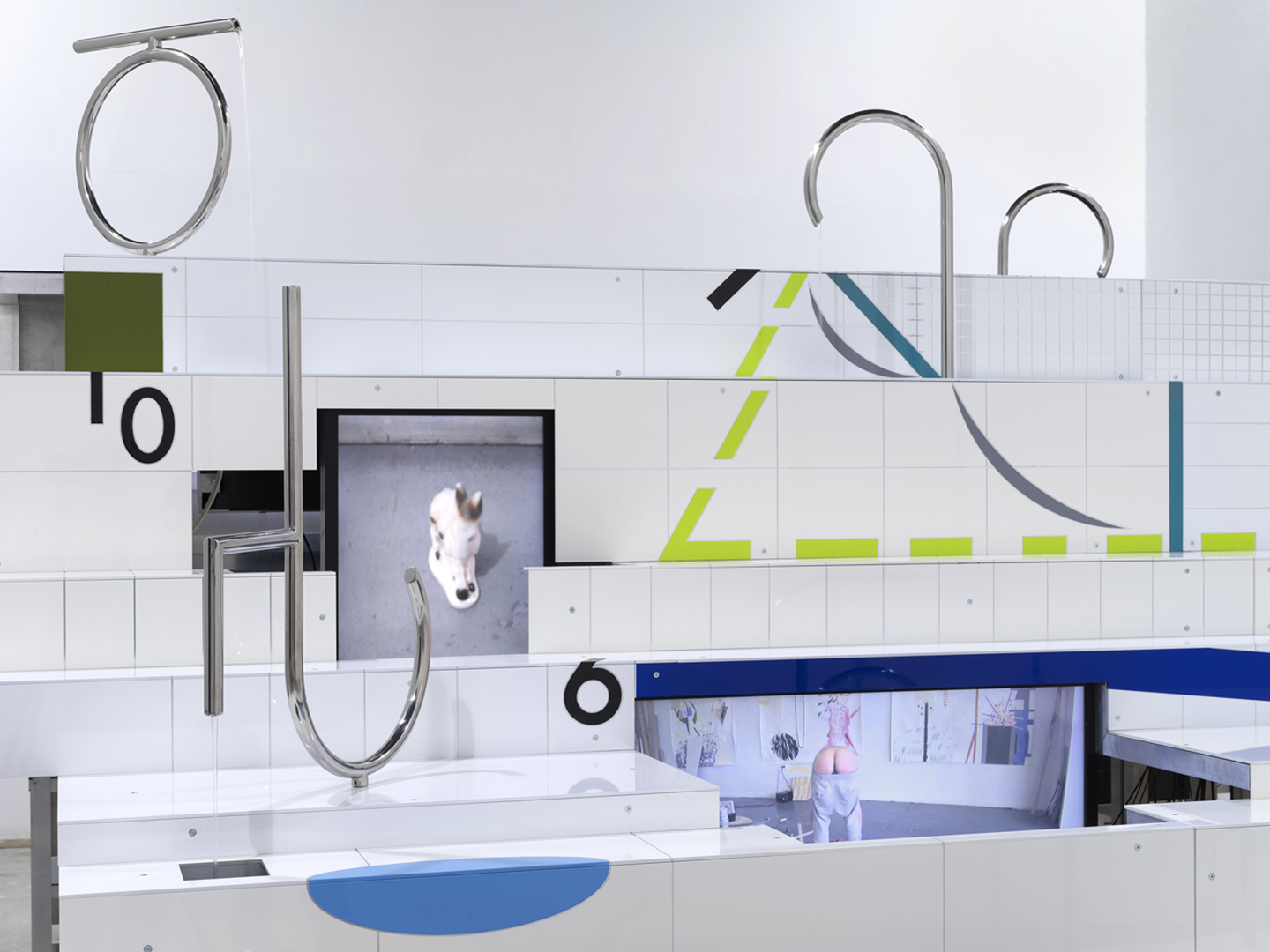 Anna K.E. and Attilia Fattori Franchini in conversation
ATTILIA FATTORI FRANCHINI: Where are you right now?
ANNA K.E.: Mentally drifted. Physically still on the run.
AFF: I am asking this question as I am really fascinated by your intimate relationship with the studio, as center of personal and artistic creativity and transformation. There are many historical examples—artists using their studio situation as the subject or point of origin of their work—but I'm curious to know how this relationship has developed for you.
AKE: I guess one of the sources is the way I observe my own self, and how my body coexists, moves through the space, and acts in between different situations and surroundings; I often find myself watching it from another perspective. I guess I become fascinated by the exercise of separating myself from my own center to observe it, even if only for a few brief moments. In these moments, everything becomes abstract and undetermined; an incalculable "event" occurs. This is one of the reasons why I describe my video works as empirical "actions" and not as performances. To trust one's intuition, and to reveal its own unpredictable self.
AFF: The recent REARMIRRORVIEW, Simulation is Simulation, is Simulation, is Simulation… (2019)—the project you have conceived for the Georgian Pavilion as part of the latest Venice Biennale—is a mosaic including video, sculpture, performance, drawing, and installation. Taking the form of a double-sided pyramidal staircase or stage, constructed of steel framework and brightly colored powder-coated tiles, the structure—also a fountain—supports a series of videos and language-based sculptures. This multidimensional proposition immerses viewers in a fictional model, a simulation of possibilities, as the title suggests. Could you tell us more about this project and its simulatory intention?
AKE: By the way you describe the installation, one can get a sense of the multilayered character of the piece, addressing different territories and levels and its simulatory potential. I guess the major impulse was to render the truth that human consciousness sets up—meaningless—and turn it into a deranged, infinitely mutable regime. The installation, almost entirely built out of aluminum and ultraglossy surfaces, resembles the digital realm, with oversized sharp pixels simulating a tile structure with computer numerical control (CNC)–engraved, varnished aluminum plates, unfolding and shifting into a tribunal platform. It seems to induce a perceptual disturbance of the one and only way of grasping and digesting nowness. And as there is not only one nature that builds and forms reality, I tend to call the experience of this piece hypersimulation, in relation to Jean Baudrillard's hyperreal. "Thus everywhere the hyperrealism of simulation is translated by the hallucinatory resemblance of the real to itself,"1 as described by Baudrillard himself. The numbers and sign system that spread throughout the tribune that covers both of the inverted twin structures, creating an equivalence of binarity and dichotomy.
AFF: There is a nice force between the architecture of the structure, shiny surfaces, and the digital and synthetic aesthetics. This tension leaves viewers puzzled, conscious about their own fragmentation in constant balance between digital and bodily identities. Can this be seen as a metaphor for the contemporary condition?
AKE: The human, within its surreal existence and its tender attempts to overcome its own destiny of organic vulnerability, is glittering through the immaculate seams of the synthetic body. But the unifying and cathartic source remains the same—infinite fluency—which is here manifested and embodied by the element of water.
AFF: REARMIRRORVIEW feels a bit like a miniretrospective, including also a compendium of the videos you have produced throughout your career. Mostly shot in your studio and featuring your own body, the videos show the body struggling through absurd tasks, contorting and matching the architectural space; objects become navigation obstacles and performative materials. By proposing unusual standpoints, the videos allow new perspectives to emerge, as if we see reality for the first time. How important is your own participation in these actions?
AKE: Positioning oneself in the midst of surreal procedures disassembles and smoothes the importance of the creator, as well as the act of creation itself. Irony and insignificance are key aspects in my video works and an important to my practice. I feel that using one's own body is in many ways timeless. It is always true to itself in a very simple and honest way; it drops all the questions and answers simultaneously.
AFF: Your work is filled with theater and ballet references, from the way your sculptures and installations are conceived to the vantage points proposed and the use of the body as the main tool of understanding and encounter. How much does the professional training received as a classical ballet dancer inform your work?
AKE: I guess the ongoing repetition of the same exercise has created an important drive in me—the drive of overcoming the infinite loop—by exemption of mind and motion; an infinite loop as a territorial ; the body as a manner to tune into an unfolding dialogue.
AFF: In the book L'individuation psychique et collective (1989), the philosopher Gilbert Simondon discusses how the multiple sensations received by our sense organs are turned into unified perceptions, exploring how psychological and social individuation is an affective process before it is a cognitive one. Individuals are seen as never final, untapped potential in constant metamorphosis. Is this sense of metamorphosis present in your work in a personal and social way?
AKE: When I was young, my father, artist and writer Gia Edzgveradze, would quote Michel Foucault: "Do not ask who I am and do not ask me to remain the same…"2 I remember that each time I would hear this sentence, I would experience totally different emotions and interpretations of what it actually meant to me in that particular moment and state of mind. It felt a little bit like when you watch the same movie several times, and each time it unfolds on a different level; and one succeeds the message from so many folded sides that in the end, one hermetic body becomes borderless within a horizon of limitless connotations. I believe that objects are pure vibrations and "reality" as such is a temporary creation by observers that seem to crisscross the same sequence in order to form the simulation. As such, all realities will always remain in a state of general metamorphosis.
AFF: By presenting a new perspective on our mediated reality, can your "actions" inspire social and political change?
AKE: The more I think of change, the more I comprehend the existence of shift. Fluidity of shifting as a new concept of change. A shift can create a new paradigm and a fluid "change" in all fundamental basic concepts. Change pre-assumes and highlights a transformation from a permanent state to permanent state, focusing on the differences between those. Shifting, in contrast, is a permanent, endless process of X possible combinations.
AFF: In the recent exhibition Complimentary Blue at Kunstpalais Erlangen in Germany, produced jointly with your partner, artist Florian Meisenberg (b. 1980, Berlin), you inquire how technology has impacted our understanding of the world, analog, digital, and physical. The show combines paintings, videos, installations, and a computer simulation also accessible online (www.100untitledworksinmillaluminum.org). I am interested in your vision of mediation and the transversality of the formats you employ, and I'm wondering if the duality of collaboration resembles a bit our schizophrenic self, constantly performing online and offline.
AKE: Nowadays individuals are interacting in autonomous systems. We try to multiply ourselves, complement in an endless time lapse the landscape of our own perfect version of ourselves. collaboration could be seen as a new game that is based on the Unreal Engine. Each participant introduces a core system where new games can be built and assembled. Collaboration could be an intimate dialogue between individuals, forming an alliance, inviting other players to join the field of play. Collaboration can be the twitching authority that pushes reality away from personal drafts. Collaboration could be a platform to challenge object-orientated programming and create a real-time strategy true to simulation. The concepts of collaboration refer to a time-invariant system and do not need to clarify the meaning behind ideas and language: there is a field of games where blue.
[1] Jean Baudrillard, Simulacra and Simulation (Michigan Ann Arbor: University of Michigan Press, 1994), 23.
[2] Michel Foucault, The Archaeology of Knowledge & The Discourse on Language (Paris: Gallimard, 1969), 17.