Books Mousse 73
Book Reviews by Quinn Latimer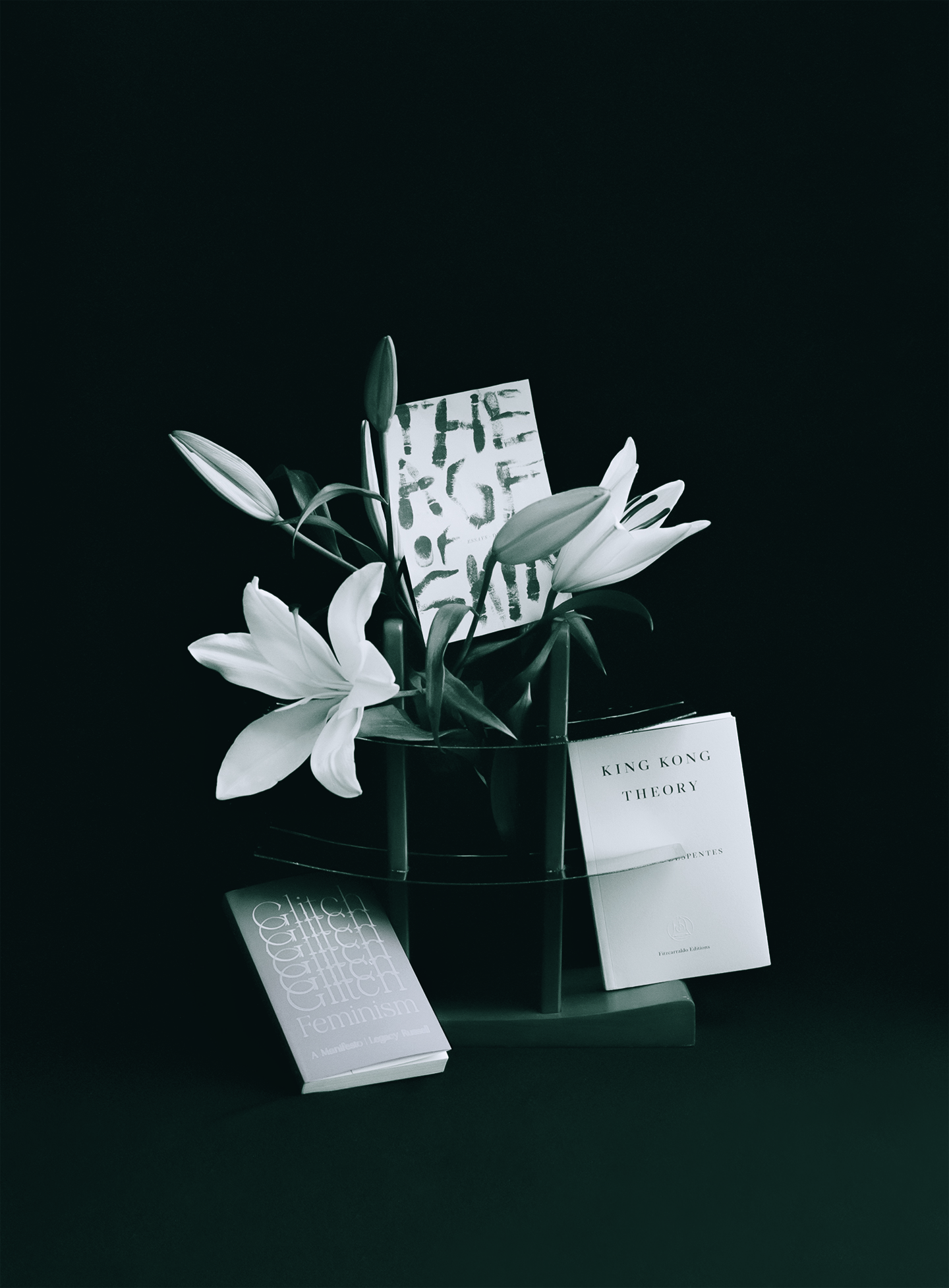 Photo: Alessandro Mannelli
Virginie Despentes
King Kong Theory
Translated from the French by Frank Wynne
(London: Fitzcarraldo Editions, 2020)
Legacy Russell
Glitch Feminism: A Manifesto
(London and New York: Verso, 2020)
Dubravka Ugrešić
The Age of Skin: Essays
Translated from the Croatian by Ellen Elias-Bursać
(Rochester, NY: Open Letter/University of Rochester, 2020)
Fall is the season for manifestos, someone told me so. Harvest, elections, the beginning of retrogrades and school semesters, our bodies practice clothes and pedagogy again, what they eagerly shed for summer. Some things continue, though, in our Northern Hemisphere slide from heat to cool: pandemic, poverty, misogyny, racism, authoritarianism, nationalism and global capital, liberation and literature. Three books, three manifestos of feminisms, their languages and practices, filled my late-summer days; might they fill your fall ones.
Virginie Despentes's opening lines from King Kong Theory, first published in France in 2006 and now in a new English translation from the unassailable Fitzcarraldo Editions in London, are already caustic canon, classic:
"I write from the realms of the ugly, for the ugly, the old, the bull dykes, the frigid, the unfucked, the unfuckable, the hysterics, the freaks, all those excluded from the great meat market of female flesh. And if I'm starting here it's because I want to be crystal clear: I'm not here to make excuses. I'm not here to bitch. I wouldn't swap places with anyone because being Virginie Despentes seems to me a more interesting gig than anything else out there."
Some voices are crystal clear; Despentes's is one of them. As a teenager, I knew kids who lived in the Crystal Lodge, a motel for those who practiced crystal meth, prostitution, or poverty. I saw Baise-moi then, the 2000 film that Despentes made based on her 1993 book about sexual violence and class. It seemed close to home.
Despentes dedicates King Kong Theory to the three women she made Baise-moi with: Coralie Trinh Thi, Karen Bach, and Raffaëla Anderson, all sex workers, including Despentes herself. In this, her book—memoir, autofiction, feminist and class and cinematic theory, a frank and fucking call to arms—becomes a call for community, for those who are cast out of most. And isn't that what a manifesto is? A public declaration for total liberation from the existing social order?
Lean and lucid, King Kong Theory takes its title from a startling reading of that colonial-cinematic monster, created out of Imperialism and racial capitalism. Despentes, though, looks at a mid-2000 filmic remake and sees its titular cipher-protagonist as the "chaos before gender," as evidence of the body before the binary. Of Skull Island, the island of the mind that is Kong's home, Despentes notes: "The island is teeming with creatures that are neither male nor female: repulsive centipedes with slippery thrusting tentacles." The island, she writes, is the "possibility of a super-powerful, polymorphous sexuality."
This potential is, in some sense, the thesis and reason for Legacy Russell's Glitch Feminism: A Manifesto, which suggests the cosmic destruction of the binary and its supporting hegemony via digital means, both online and AFK. Technical error—the gloss of the glitch—and its attendant failures (to perform, to progress, to remand bodies stay readable so they might be tracked, capitalized on, incarcerated) becomes the way out the sociopathy of cis-white heteronormativity.
The greatest pleasure of Russell's thin book comes from its sense of solidarity and community with the queer POC artists and poets whose transformative work is never slight, and which Russell pulls from and praises in equal and sustaining measure. If there is only so much the writer can do with her central conceit—which she spins and spins, sometimes without real revelation, the metaphor of the glitch being more a shiny image of buffering than an agile theory—the work she draws from proves endlessly compelling. The performances and poetics of the practices she draws from glitter, casting both deep and surface spells.
"Glitch" is rooted in the Yiddish gletschen (to slip), suggesting that famous quip of dispossession: "A language is a dialect with an army and navy." And Russell is best (I know, failure is the form and the ambition) on theorizing the glitch when in the service of ideas of refusal, of unwillingness to serve our exemplary systems of oppression.
Those systems in The Age of Skin: Essays by Dubravka Ugrešić are both out of date and omnipresent: this is their glitch. The operating systems of the worlds she writes from have been dully discarded (state communism) for new ones (global capitalism), but not forgotten. Her title is operative. If Despentes's and Russell's books are concerned with bodies rising out of the vicious requirements of the binary, Ugrešić is concerned with the skins such bodies, and their body politic, wear. And where the previous two writers use clarion calls of "theory" and "manifesto" in their titles, suggesting timely urgency, Ugrešić employs the more prosaic "essays," invoking temporality, and the long life of literature. The fierceness of her critique resides in such literary understatement, though.
Ugrešić writes about time, slowness, fiction, labor, cinema, social contracts, the global grind of criminality, and daily life in the post-Soviet Balkans. At the surface of her observations, on their skin, is the pallor of the misogyny uniting the mafioso autocrats of so many post-democratic states. Indeed, the title The Age of Skin suggests to me nothing so much as Trump's crackly orange hew, Johnson's wan pastiness, Bolsonaro's clamminess, Putin's buffed and cold visage, et al. In one essay, Ugrešić notes:
"Let's wait until we've lost our patience with the emptiness, the empty democracy [. . .] if in the meanwhile we haven't left Earth to move to another planet, if not us, then certainly our avatars, more real and bloodier under the skin than we are."
Ugrešić's avatars, "more real and bloodier under the skin than we are," suggest both Russell's digital and AFK avatars and Despentes's "unfuckable" and underemployed hysterics and freaks. Bodies consume us in language as they do in life, even as we wish for a world in which they are not consumed, eaten up, spit out, taught to traffic in narrow, dispiriting, and violent codes of the normative, the hegemonic, the real. We are more than this, each body says, stepping outside of its (material) form, and then into the (abstract) next. Or as the poet and curator Anaïs Duplan writes: "I'm not opaque. I'm so relevant I'm disappearing."
Originally published in Mousse 73