Books Mousse 74
Book Reviews by McKenzie Wark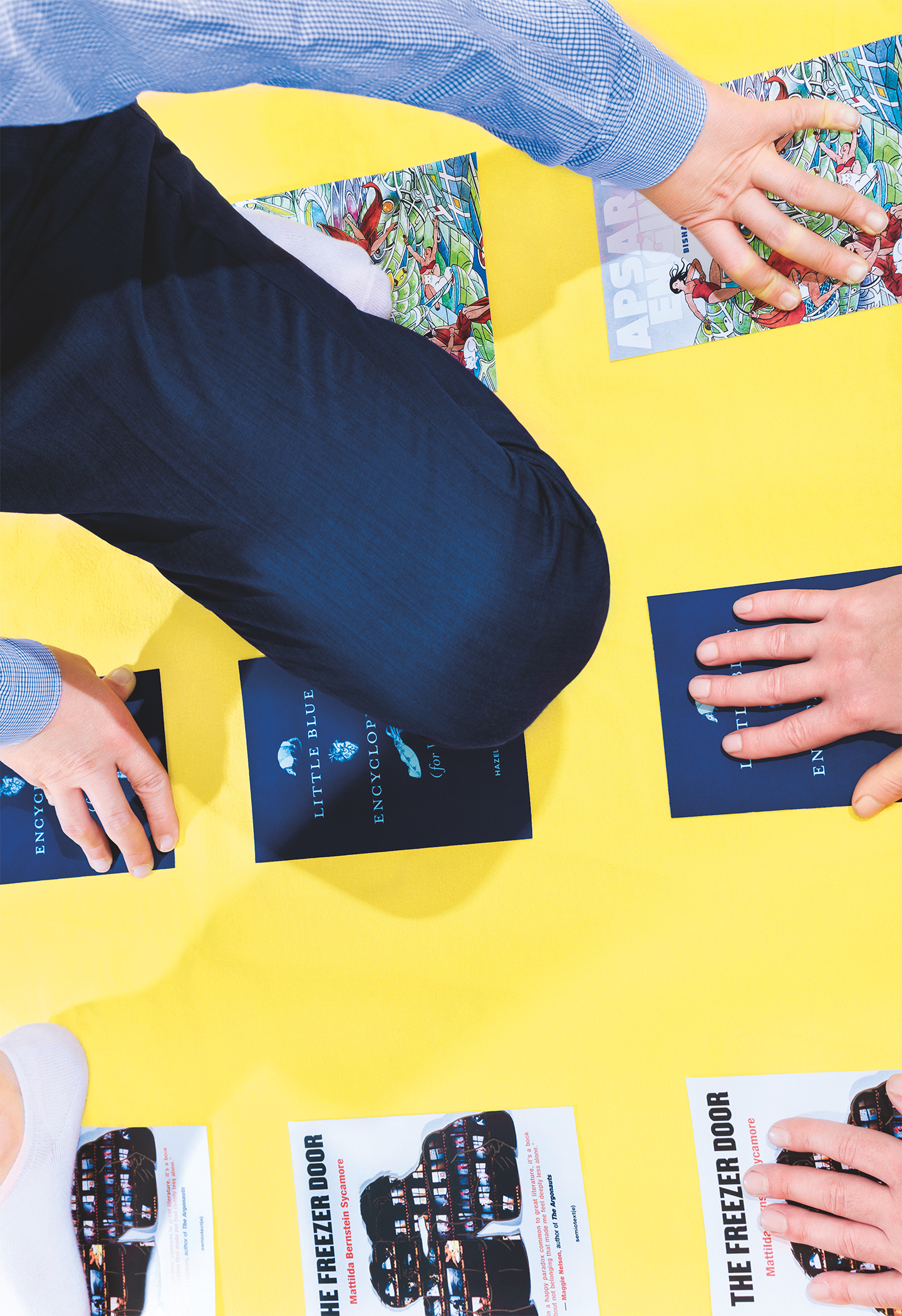 Photo: Ronni Campana
Hazel Jane Plante
Little Blue Encyclopedia (for Vivian)
Montreal: Metonymy Press, 2019
Bishakh Som
Apsara Engine
New York: Feminist Press at CUNY, 2020
Mattilda Bernstein Sycamore
The Freezer Door
Los Angeles: Semiotext(e) / Native Agents, 2020
There's some people that the world treats as if they were boys until those people decide one day they really need to be girls—are girls in some sense of the word, in some sense of gender. There's a lot of different ways to be such a girl, although you wouldn't know it from how they appear in books. By they I mean we, as I'm one of them.

Lately things have improved, on the literary side of life, at least. There's a lot more books now by trans women and trans feminine people. Not all of them are good, but some of them are. And they are so varied. Hazel Jane Plante's Little Blue Encyclopedia (for Vivian) comes from Montreal's Metonymy Press, which has put out a string of groundbreaking trans books. Here is a delicate work about mourning, where one trans woman grieves the death of another, Vivian. She has what you might call a gender crush on Vivian, on the way she handles her embodiment. A way from which she learns.

She mourns Vivian through becoming obsessed with Vivian's favorite television show, Little Blue, a sort of Twin Peaks on acid. What the show was for Vivian it becomes for the narrator: a world other than this one in which to exist, psychically at least. It's such a trans girl thing: to dissociate, to both inhabit and invent a world other than the one in which our bodies always seem to exist at some obtuse angle. It's also a trans thing to lose people. And it's a trans thing to lose people too soon. I lost a friend this year. This book felt close to me.

The world that Bishakh Som writes and draws is a world of femmes. They could be cis or straight; it doesn't really matter. She made most of the pieces collected in Apsara Engine before she came out (late, like me). When I read these pieces, what I feel is that, no matter what pronouns she may have used, our girl was always a girl. Apsaras can be found throughout South and Southeast Asian cultures. They are feminine figures, divine or worldly, youthful, elegant, and marvelous dancers. They are known to seduce even the sages, even the gods. There's a story directly about one in Apsara Engine, but in a way all of the pieces are about the pull of the feminine, of possible worlds where it's the atmosphere, if not always an entirely benign one.

One story draws out the subtext: a trans woman architect presents at a conference, meets a young, nervous, non-binary person, and takes them back to her hotel room. It's not the usual conference seduction. The trans woman draws blood from her own arm, and both of them start to sketch out a world in which the two of them could live, drawing on elements of everyday life on the Indian sub-continent that are their fragmentary spaces of comfort, desire, and joy. Together, they make another city for another life.

Little Blue Encyclopedia and Apsara Engine favor imaginary landscapes for trans femme lives. In The Freezer Door, the city is the only-too-actual Seattle. Where the two other books skew toward a transbian (trans lesbian) sensibility, Mattilda Bernstein Sycamore's is a book for queens, for those of femme disposition living in a world of cruising gay men. Gay culture doesn't always know what to do with its queens. Venerates them on stage, sure, but in the bars and community spaces treats them like an embarrassment. Treats us like an embarrassment: I tried, and failed, to be a gay man three times in my life. I didn't find it any easier to be a girl there than among straight people.

You could say this book is autofiction, in the best sense of the word. It's a genre invented by French gay men (Jean Genet, Guillaume Dustan, Hervé Guibert), so it fits that a queen should emerge to question what's left in the margins of their literature. It's a book about gentrification of both gay life and the city, but one that finds, through wandering, outside of the division of the space and time of the city, between work and "leisure," another city for a different, other life.
The text follows the drift of thought as it follows the drift of the queen through the city; both are open to whatever turn they encounter. It's a book that refuses the gated communities of the gentrified city just as it does the gated communities of suburban minds who produce and consume so much of what passes for literary. It's a book, like those by Plante and Som, where a girl can breathe.
McKenzie Wark is the author of Reverse Cowgirl (Semiotext(e) / Native Agents, 2020), Capital Is Dead: Is This Something Worse? (Verso, 2019), and Philosophy for Spiders: On the Low Theory of Kathy Acker, forthcoming from Duke University Press. She is a professor of media and culture at Eugene Lang College in New York.