Books Mousse 75
Book Reviews by Taylor Le Melle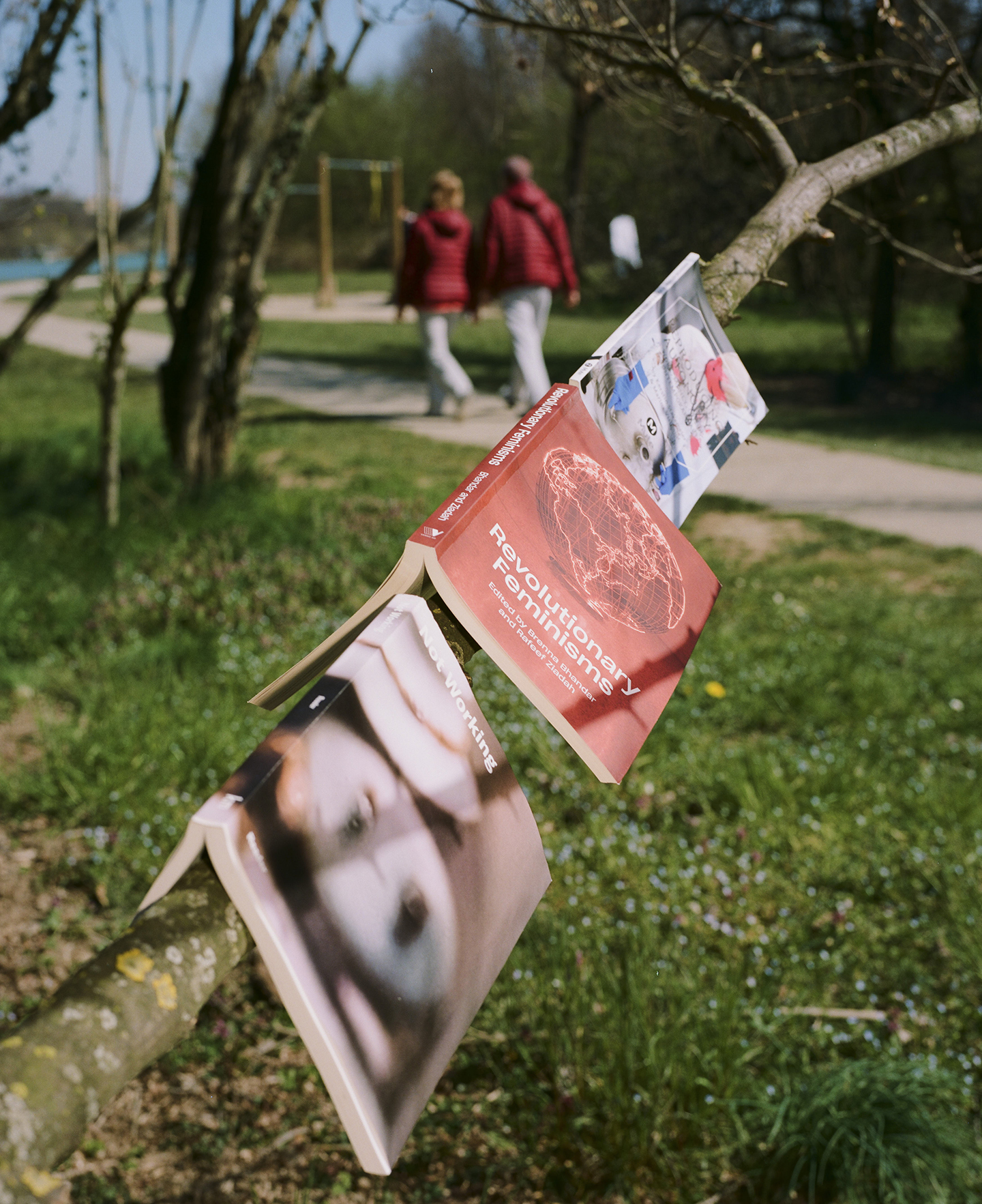 Photo: Paolo Zerbini
Brenna Bhandar and Rafeef Ziadah, eds.
Revolutionary Feminisms: Conversations on Collective Action and Radical Thought
London and New York: Verso, 2020
Maurin Dietrich and Gloria Hasnay, eds.
Not Working – Reader
Berlin: Archive Books, 2020
Kerstin Stakemeier and Marina Vishmidt
Reproducing Autonomy: Work, Money, Crisis, and Contemporary Art
London and Berlin: Angram Books, 2016
It is far more common to encounter an exhibition that represents liberatory politics than one that is structured by or enacts those ethics. I wonder how many artists or curators can recall being asked to show proof of legal residence to engage in a labor relationship, with an exhibition organism, in exchange for a dwarf wage wherein the time allocated is incommensurate to the expected labor output, and that anyway consumes a disproportionate share of material resources? I try to meet this slippage between rhetorical and embodied politics with neutral emotion, which is to say that I try not to get mired in disappointment or disillusionment. Furthermore, to the extent that the word "exhibition" is in close etymological relationship with words like "display," "representation," and "rhetoric," an exhibition that refers to but does not do is perhaps a tautology not worth spilling words over. That said, exhibition organizers probably, like many other middle-class intellectual laborers, feel intense revelations from the past year's newfound sensation of sitting in isolation while living through current events in unison.

On the topic of representing liberatory politics as an expression of what one wishes to see actually happen, Brenna Bhandar and Rafeef Ziadah's Revolutionary Feminisms provides reassuring and informative perspectives on the lifelong journey of effecting change in complex socio-economic and political systems. Their compilation of interviews engages activists who have been building political coalitions across a range of intersecting feminisms: queer, Indigenous, anti-racist, anti-imperial. The questions they pose reveal a depth of research across a wide arc of topics; indeed, it seems as if they have read every essay in each activist-scholar's bibliography. Many of the interviewees, who have been participating in collective action against authoritarianism and racial capitalism for more than forty years, will be familiar to contemporary art world symposium-goers: Avtar Brah, Gail Lewis, Vron Ware, Leanne Betasamosake Simpson, Silvia Federici, Ruth Wilson Gilmore, and Angela Y. Davis.

If collective action can only be initiated through the acknowledgment of a problem, Not Working – Reader could be regarded as a display and circulation of Kunstverein München's assessment of its own stake in art world-class dynamics. The reader is published in tandem with the exhibition Not Working – Artistic Production and Matters of Class, which ran at the Kunstverein's space from September to November 2020. The book is itself an index of complex of global politics and local concerns, circulating as it does on behalf of a show that no one outside Munich likely saw. While contributions like Lise Soskolne's "Made in Art School" focus on archetypal systemic failures, Leander Scholz's "The Blinded Class" brings a hyper-local perspective to the degradation of social welfare and community solidarity. Curator Maurin Dietrich foregrounds the institution's history "as a member-based institution in the early nineteenth century, initially serving as a cultural forum for the emergent bourgeoisie," and notes the failure of art systems to enact real, embodied change: "Art, in many cases, continues to be presented against the backdrop of supposed 'class homogeneity,' remaining complicit in the reproduction and masking of existing conditions which it often claims to overcome."
Why does contemporary art, especially where it shouts loudly about the multitudes and the margins, so often fail to fulfill its liberatory promise? Instead of trying to change the art world, of more impact I think would be to employ a sentiment that runs through much of the experience shared in Revolutionary Feminisms: first change yourself. Significant change on a molecular level includes reading to understand what the symposium vocabulary words actually mean below the surface of their use as rhetorical signifiers. For this, I have recently turned not only to Revolutionary Feminisms but also to Not Working – Reader contributor Marina Vishmidt's 2016 book coauthored with Kerstin Stakemeier, Reproducing Autonomy. Theirs is a discourse built in three parts: "autonomy," "reproduction," and an attempt to build a relationship between the two terms. Stakemeier charts, with specificity, the philosophical discourse within which her analysis of autonomy is built as it relates to contemporary art as well as avant-gardist attempts to "counteract the autonomy art had been afforded within bourgeois culture." Vishmidt's essay links a labor theory of value to periodized notions of art. I would benefit from the communal brainpower that comes from reading dense books in a group to fully articulate the relationship I sense between Vishmidt's references to art historical-taxonomic and economic shifts between the modern and contemporary periods, and the synchronous evolution of class politics and degradation of state welfare in that same period.
Taylor Le Melle writes, organizes, and produces objects. They have written for publications and monographs on and with artists Adam Farah, Sophia Al-Maria, Ima-Abasi Okon, Zadie Xa, Evan Ifekoya, Imran Perretta, Aslan Goisum, Rehana Zaman, and Daniella Valz Gen. With the publishing collective PSS, Taylor has published and edited numerous artists' books, including the forthcoming science-fantasy novel by Orion J. Facey The Virosexuals (PSS). With not/nowhere, an artist workers' cooperative, they have organized more than fifty workshops and events to provide contemporary artists with training and space to experiment with writing, movement, and film.