Mousse 73 TIDBITS
Vegetable Beauty Pure of Exchange: Brandon Ndife
Close
1
2
3
4
5
6
7
8
9
10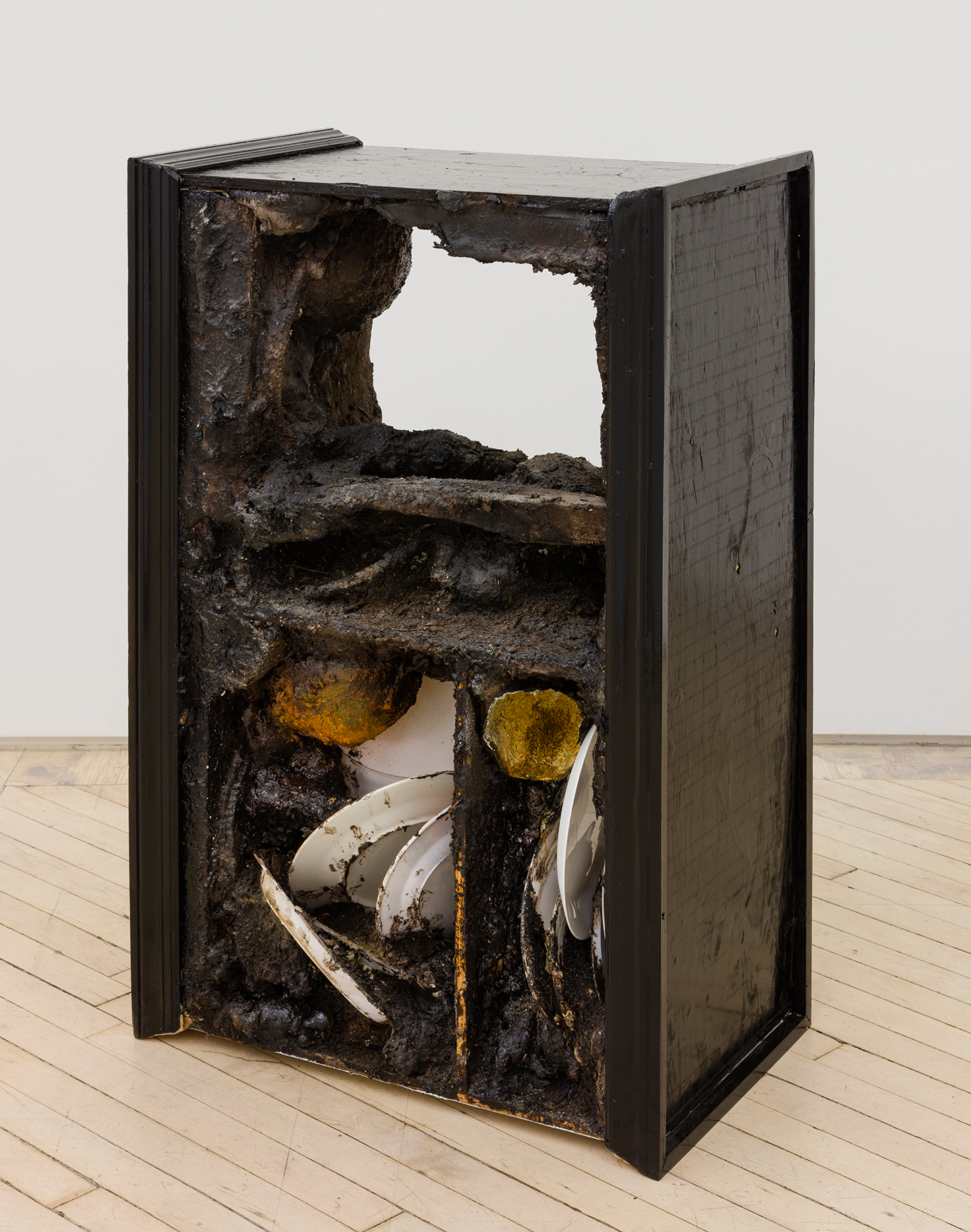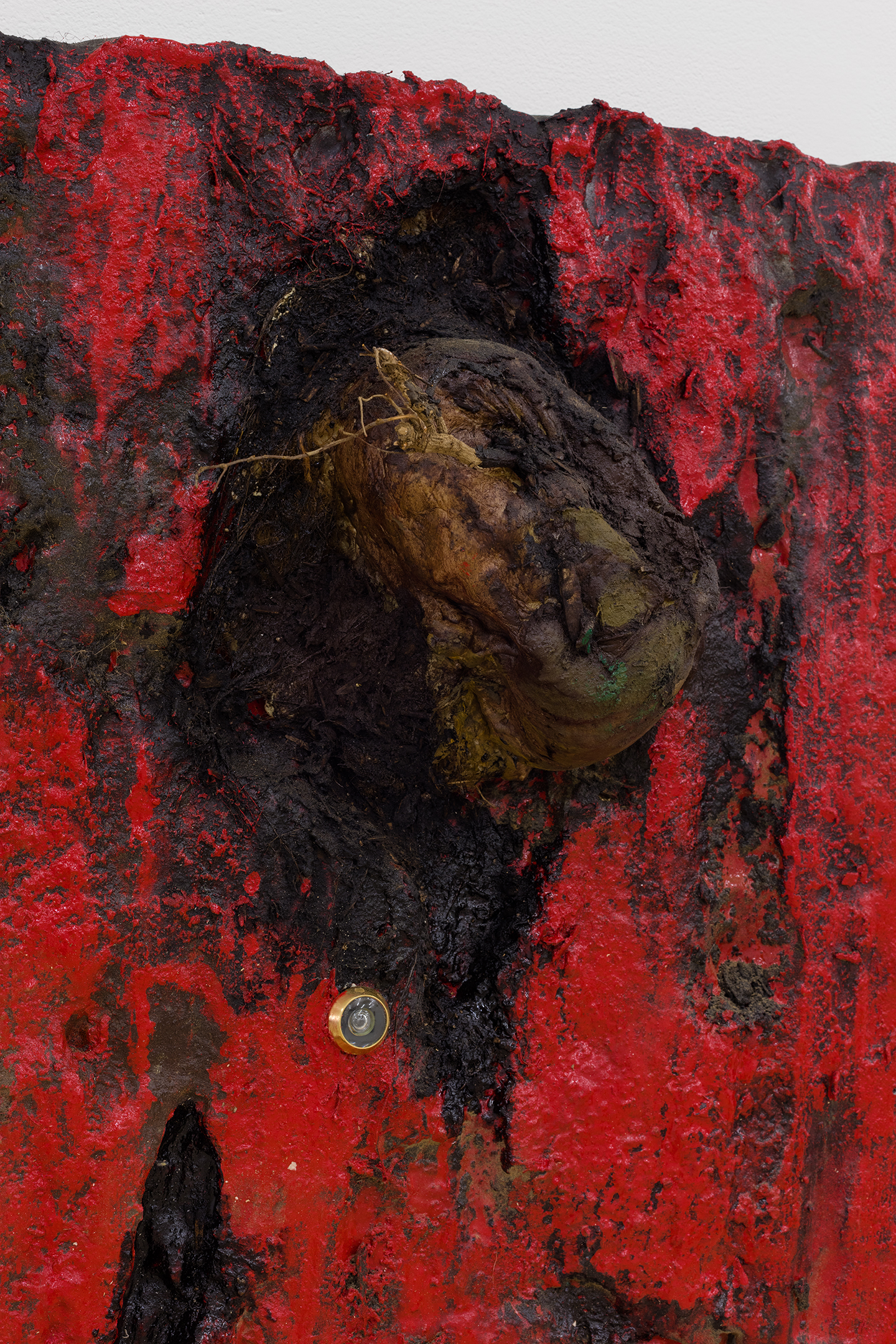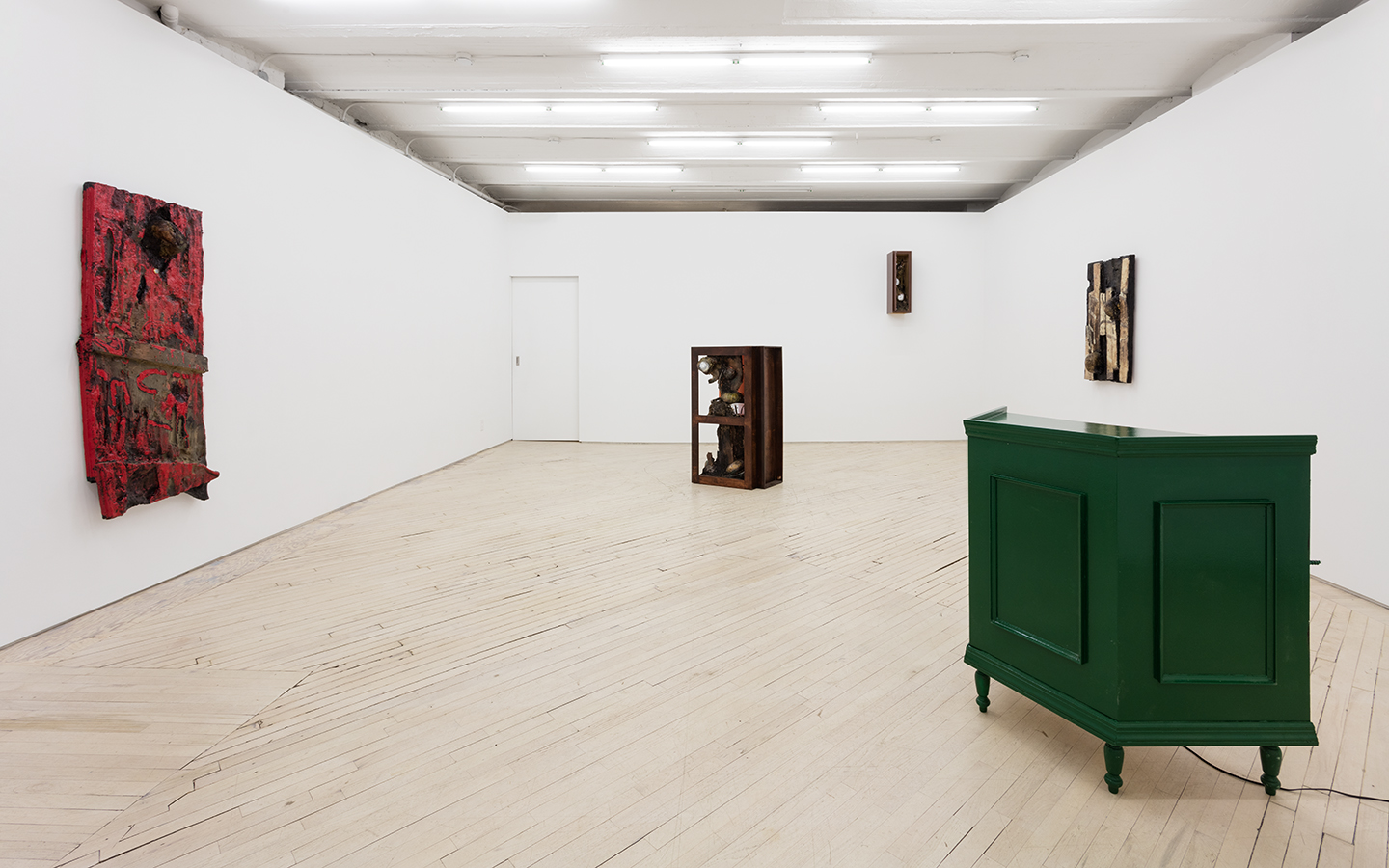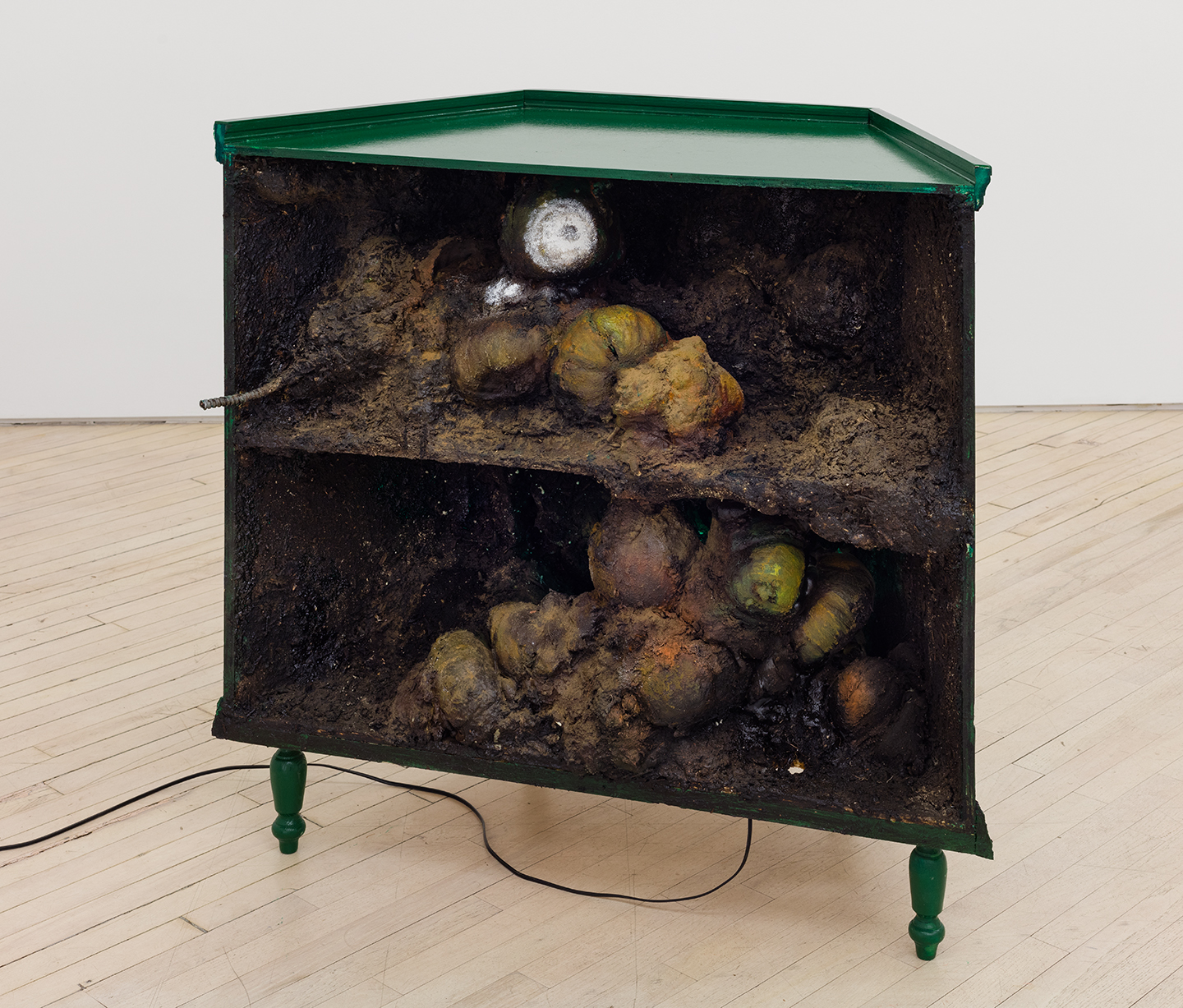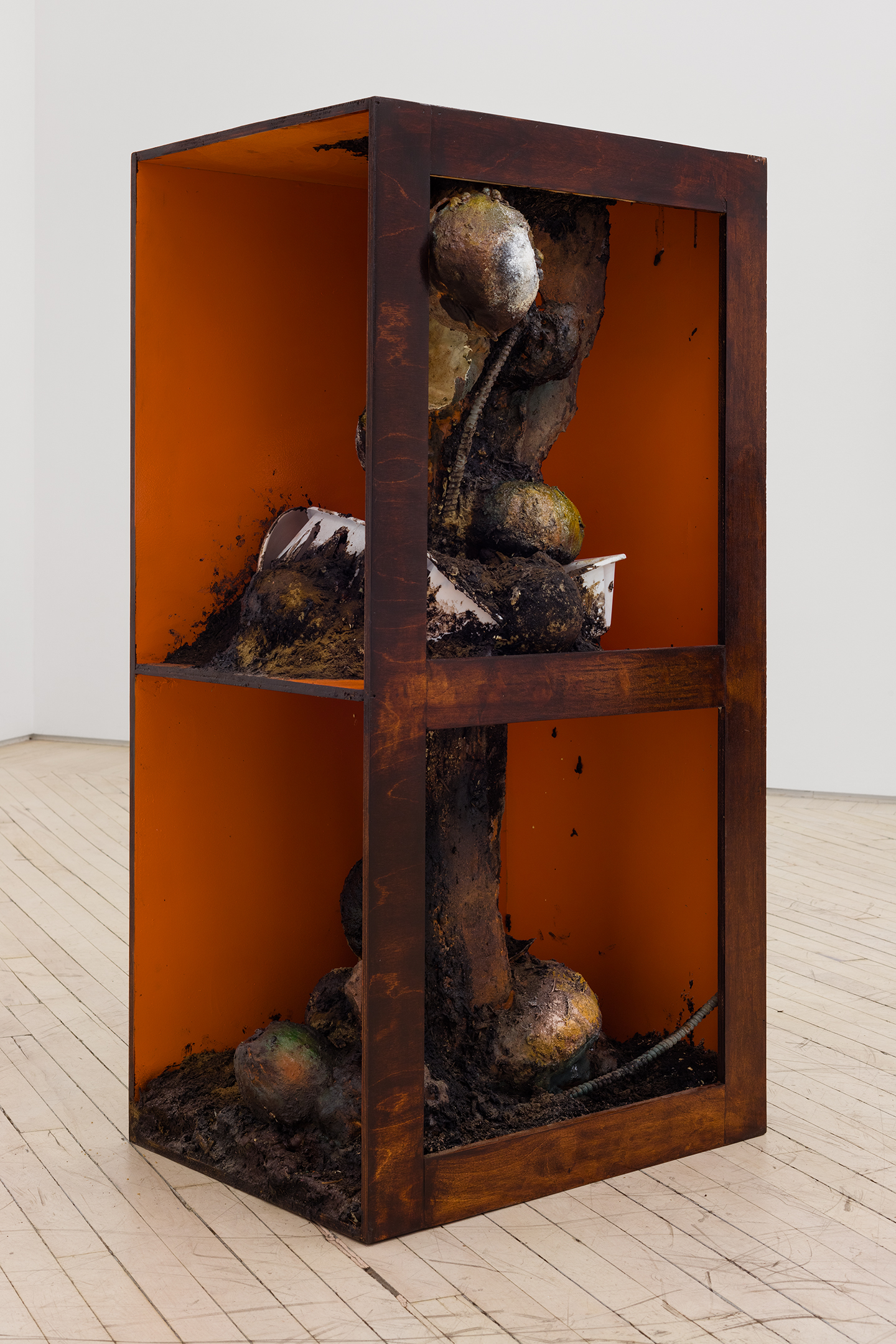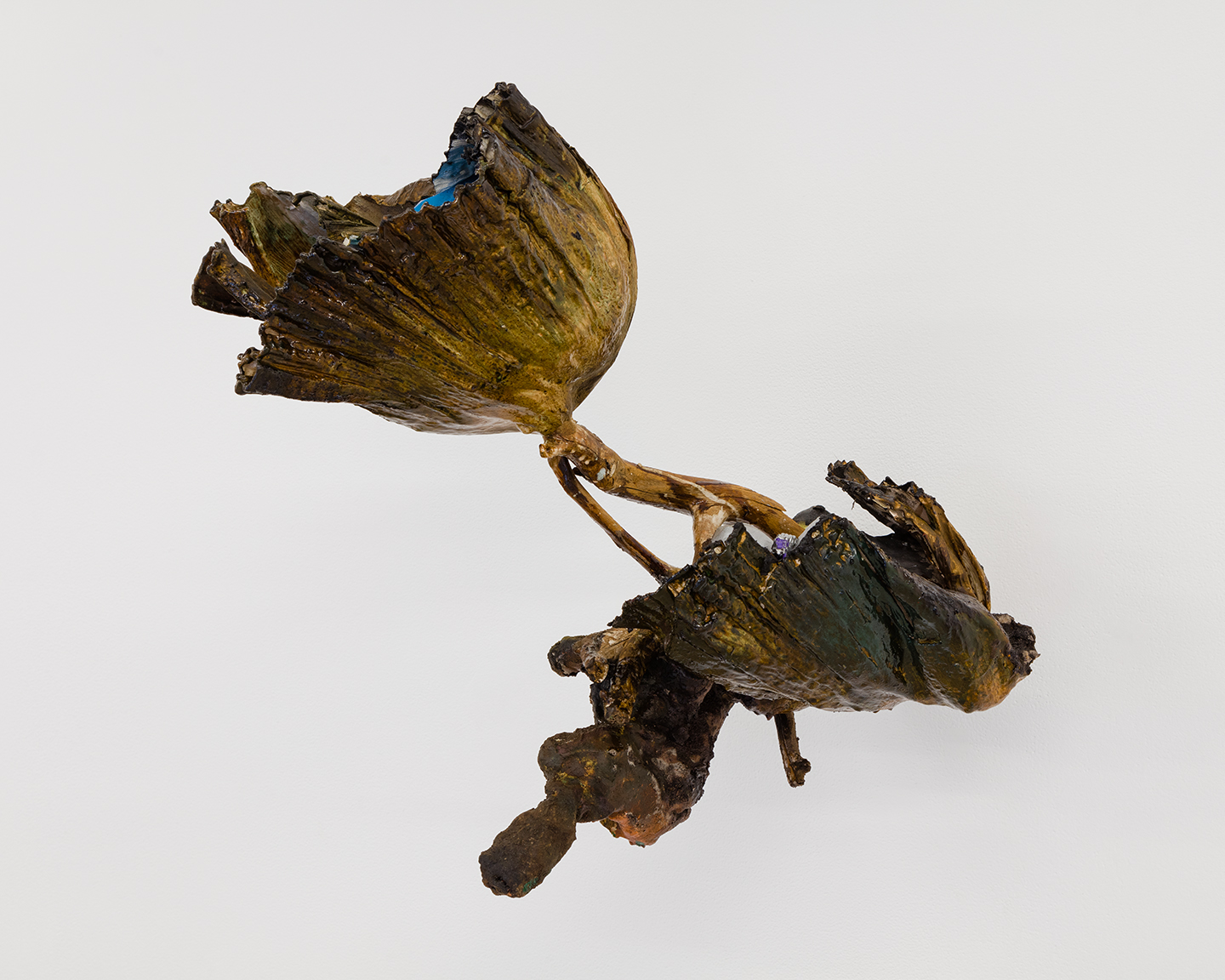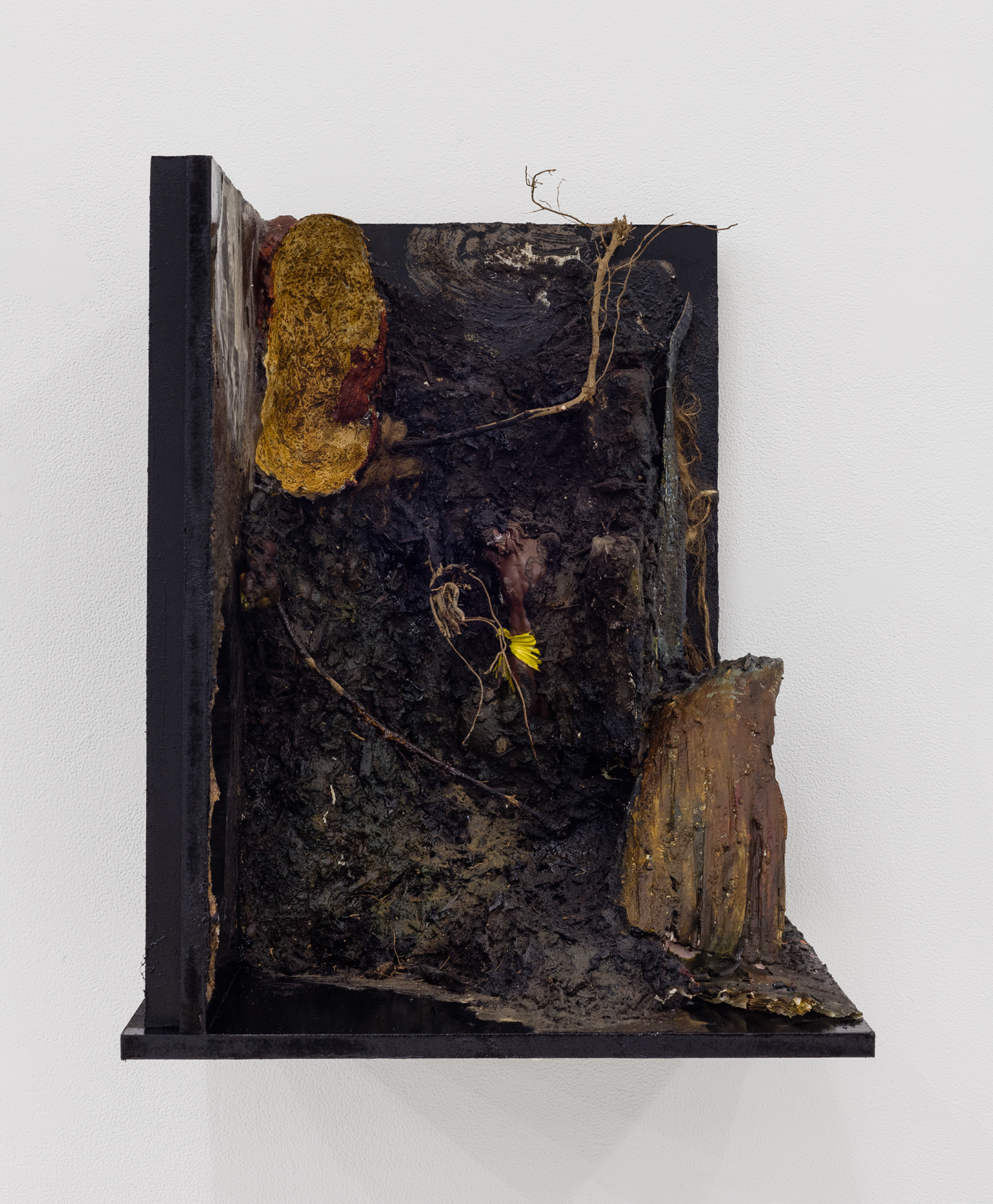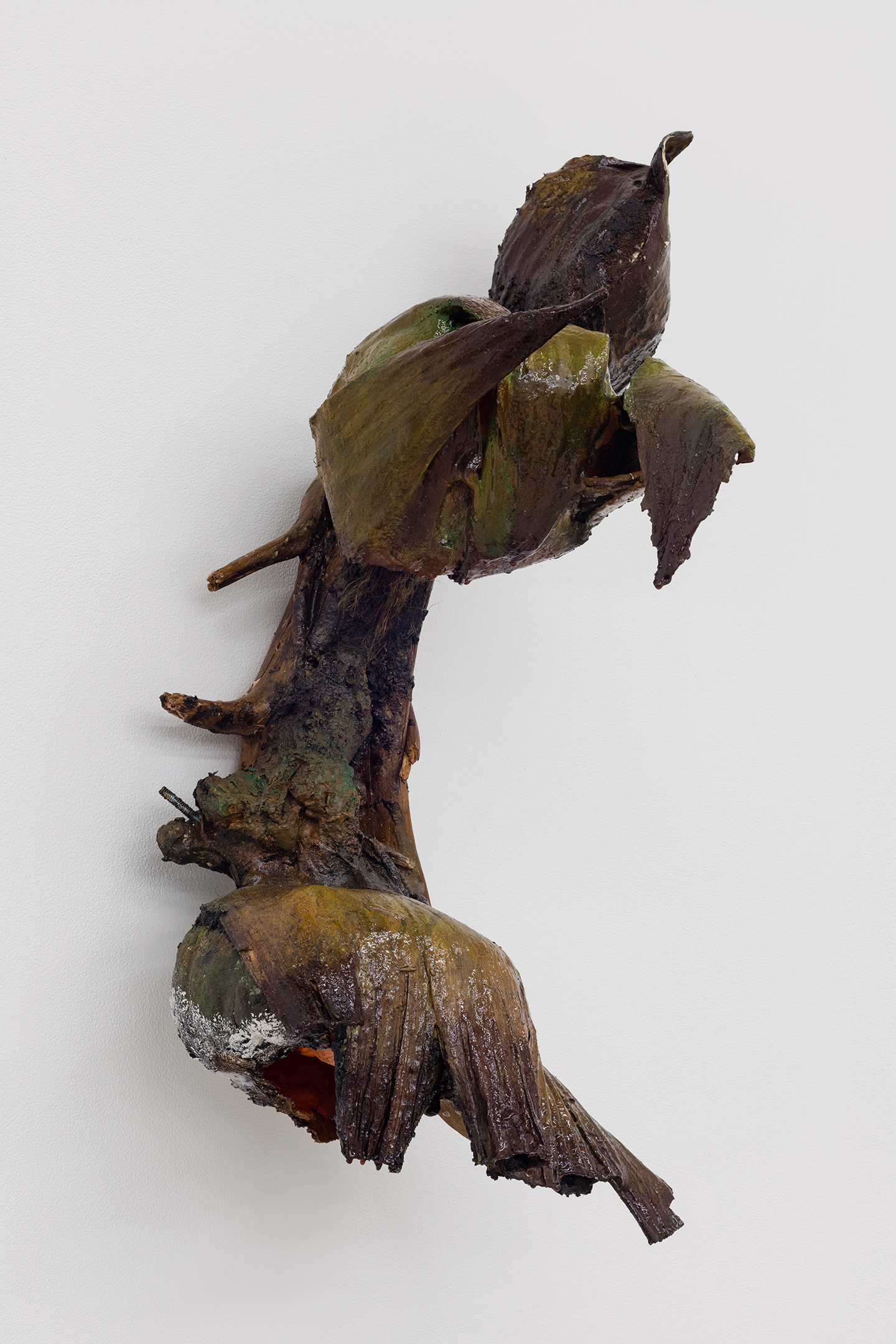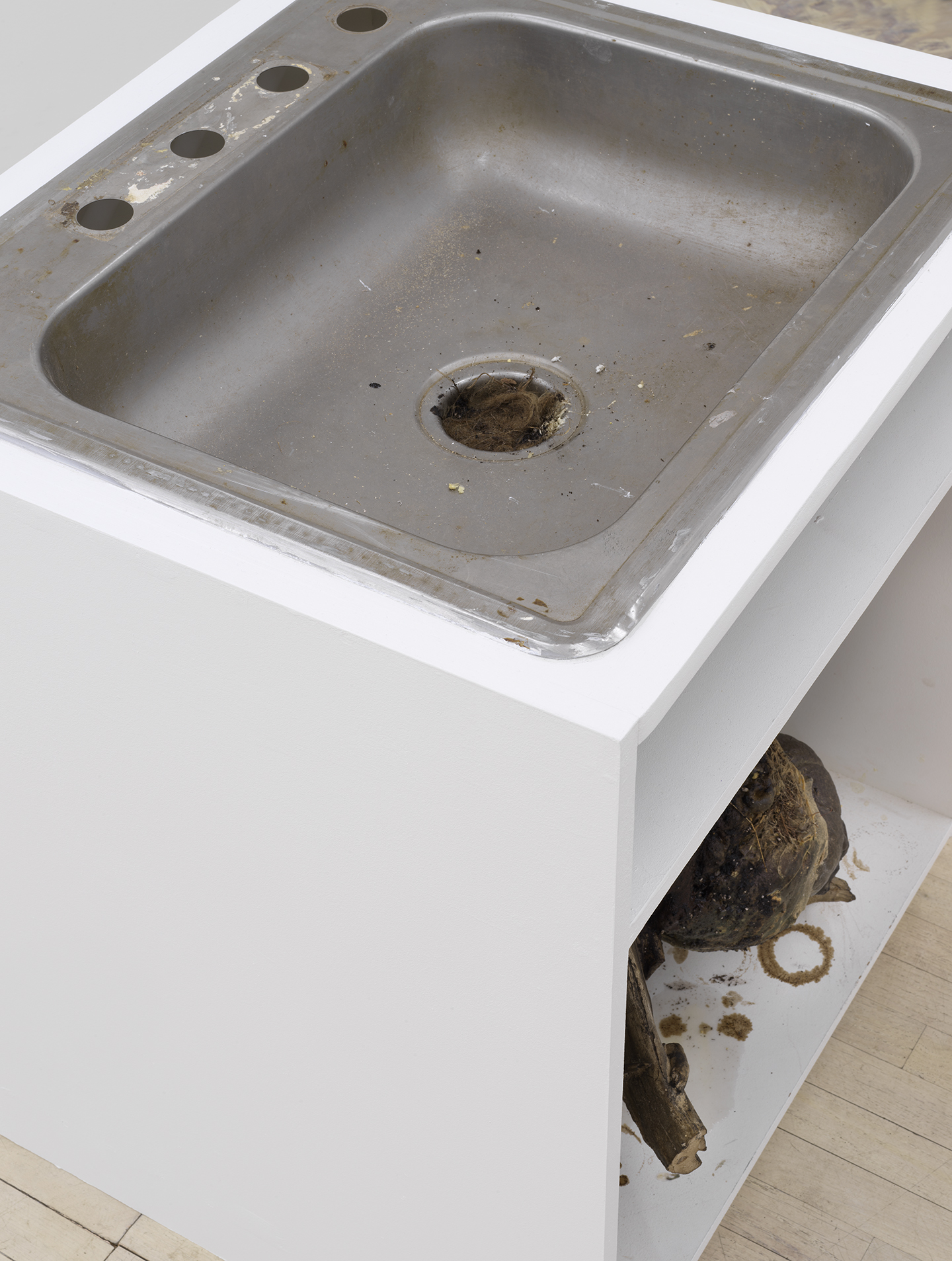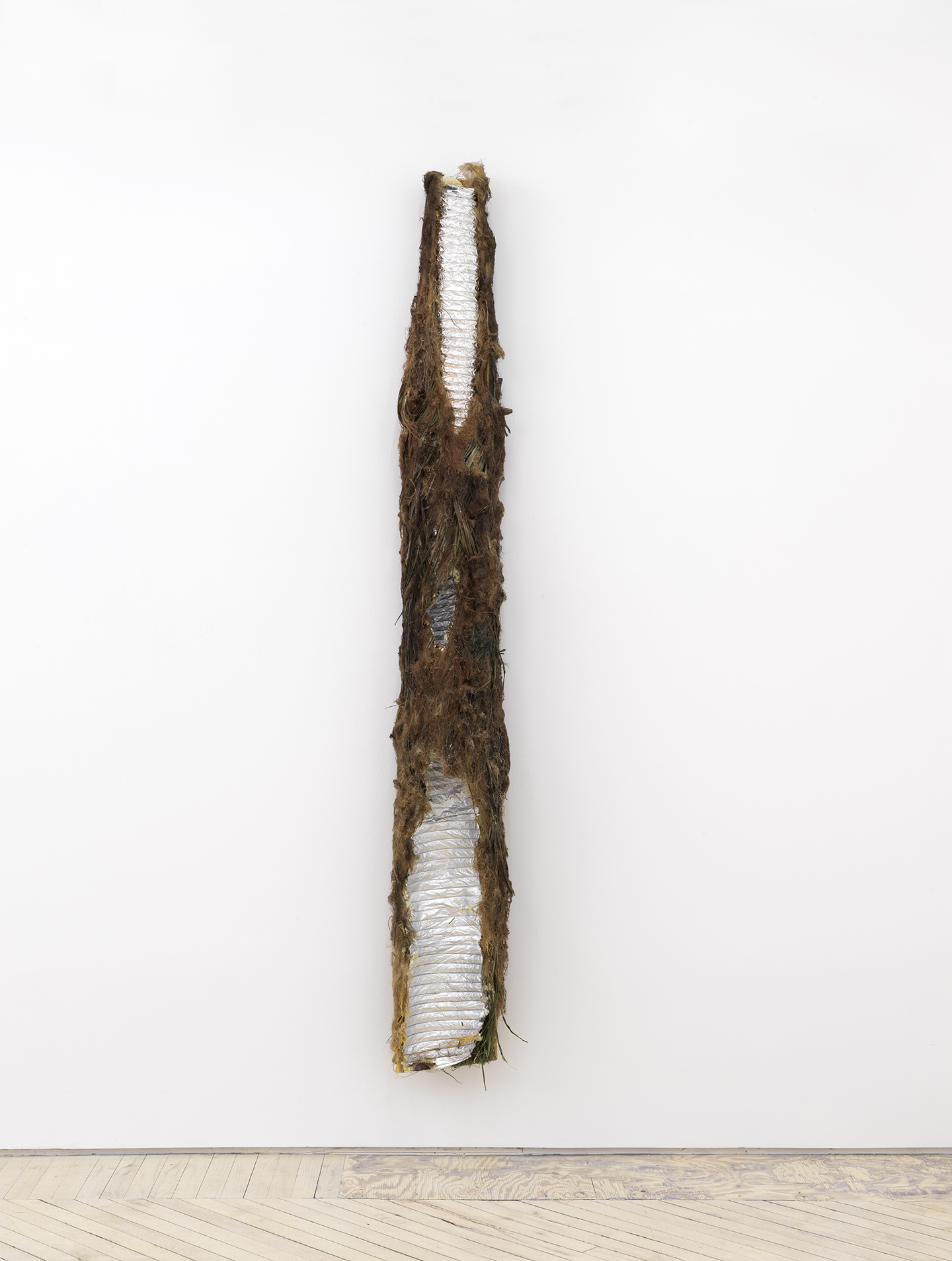 Brandon Ndife's presentation of found or reconstructed flat-pack furniture conjures an oft-elided necessity of the capitalist economic structure: the fetish character of the commodity. By displacing and defiling these quintessential exchange values, he stages sites of encounter with the Janus-faced character of our labor. Karl Marx's writings touch on something he called "the veil"—the idea that production is, in essence, the metabolic interaction of humans with nature, but that this reality becomes obscured by the socially hegemonic status of exchange. Production for exchange entails that the concrete, material basis of labor becomes dominated by its abstract value determination, namely an item's command over a certain quantity of money. The heterogeneous perceptible characteristics of things thus become collectively flattened into commensurable prices. Abstraction under capitalism is therefore no mere illusion. Through social synthesis, it possesses real objectivity, a practical if unconscious efficacy in which the ecological basis of production is subordinated.
All made things reflect this recalcitrant pattern, as the stuff that surrounds us becomes a proxy for definitive social relations. But the autonomy of increasingly rationalized procedures over their material substrates—the sputtering motor of modernity—falters in Ndife's contrivances. In his latest two exhibitions at Bureau in New York1—the most recent of which, MY ZONE (2020), opened mere days before Governor Andrew Cuomo's citywide shelter-in-place order—Ndife's furniture evokes the ultra-rational ready-to-assemble design language of IKEA, Walmart, Wayfair, and West Elm, but with an occasional caveat: much of it is derived from the "reject" section of these inventories, like items that don't fit the spec, or odd shapes on discount. Many are prefab made-to-order items with issues, something uncannily protruding from their mass-manufactured perfection. Out of the cracks of degenerate display cases sprout sinister tubers, yams, cassava, and bitter gourds. Root crops like industrial hemp overrun wooden cabinets; soil and dirt coat family dressers and baked kitchenware like pigments. Synthetic materials, including foam, cable conduit, electrical wiring, and Aqua-Resin, become marred by the detritus of a vegetarian diet. Ecological overgrowth sullies the ubiquitous fixtures of urban domestic interiors.
Here, the earth-given but socially neutralized matter that comprises the concrete basis of value in our social system violently erupts back into the dubious harmony of humanity's practical-technical capacities. The mediating agency of the organic in Ndife's work—evoking visions of both abjection and sustenance—assumes control over streamlined particle-board constructions, these cheap relative equivalents of all products in an exchange economy. It indexes the untenability of a damaged value system predicated on a repudiation of its own earthly foundations. That this is a microcosm for our present should be obvious. In a world where advanced industrialized agricultural practices quietly catalyze a single proto-pandemic pathogen that thereafter upends the stability of an entire global order, decomposition and growth become synonymous.
Dish racks, drop-in sinks—many of the sculptures are tips of the hat to the modernist and postmodernist canon. Points of reference include the minimalist ridicule of Paul Thek, the archival nightmares of Mario Merz and Arte Povera, the pithy negativity of Robert Gober, the quotidian grotesque of Yuji Agematsu. Ndife's theatrical special-effects presentation of protruding elm root, corn husk, sea moss, and birch removes these elements from their natural life cycles and habitats in order to stage them as pure spectacle for our immediate consumption. Underpainting—the accumulation of layers upon layers of enamel or oil-based paint, which Ndife subsequently scrubs down, turning opaque colors into gluey textures—allows him to access the fatty grossness of Jack Smith's or Paul McCarthy's consumerist camp aesthetic. In this way, Ndife foregrounds the coziness of contemporary art with consumer culture. That the market economy's leveling rule of abstraction equates all these objects and references as simple labor values—utilitarian furniture, plant life, ineffable works of art, and the aesthetic judgments they provoke—gestures toward the complicity of the creative industries in the dynamics of commodity production.
The division of labor's atomization of human beings into discrete subspecialties, the drive of capital to turn the whole of nature into its self-reproductive medium—Ndife's work posits these tangled inhumanities as contingent affairs. While assuming the status of an inexorable transhistorical given in the minds of its subjects, the drive by those who command labor to abstract from the concrete specificity of the activities of those who perform it, to reduce all laboring activity to "finite motions of hands, feet, eyes, et cetera, along with the absorption of sense impressions by the brain, all of which is measured and analyzed without regard to the form of the product or process," and to thus necessarily eschew concern for that labor's environmental metabolism, are historically particular components of the capitalist mode of production.2 Ndife diagnoses these fundamental features of daily life, precisely that which appears most normal, as illness. At the core of today's organized society lies that which is slowly eroding it: the material and ecological basis of concrete labor, over which the current regime of value takes custody only in bad faith.
[1] Brandon Ndife and Diane Severin Nguyen, Minor twin worlds, Bureau, New York, 2019; MY ZONE, Bureau, New York, 2020.
[2] Harry Braverman, Labor and Monopoly Capital: The Degradation of Work in the Twentieth Century (New York: Monthly Review Press, 1974), 220.
Brandon Ndife (b. 1991, Hammond) lives and works in Jersey City. He received his BFA from the Cooper Union, New York, and his MFA from the Milton Avery Graduate School of the Arts at Bard College, New York. Recent solo and two-person exhibitions include MY ZONE, Bureau, New York (2020); Minor twin worlds (with Diane Severin Nguyen), Bureau, New York (2019); Ties That Bind, Shoot the Lobster, New York (2018); Just Passin' Thru, Interstate Projects, New York (2016); and Meanderthal, Species, Atlanta (2016). His work has been included in the recent group exhibitions Material Conditions, Matthew Brown Gallery, Los Angeles (2020); Fixing the "not… but", LC Queisser, Tbilisi (2019); and Dinner that night, Bureau, New York (2018). 
Michael Eby is an arts writer and researcher. He lives in New York.