REVIEWS
Broadcasting: EAI at ICA, Institute of Contemporary Art at the University of Pennsylvania, Philadelphia
Close
1
2
3
4
5
6
7
8
9
10
11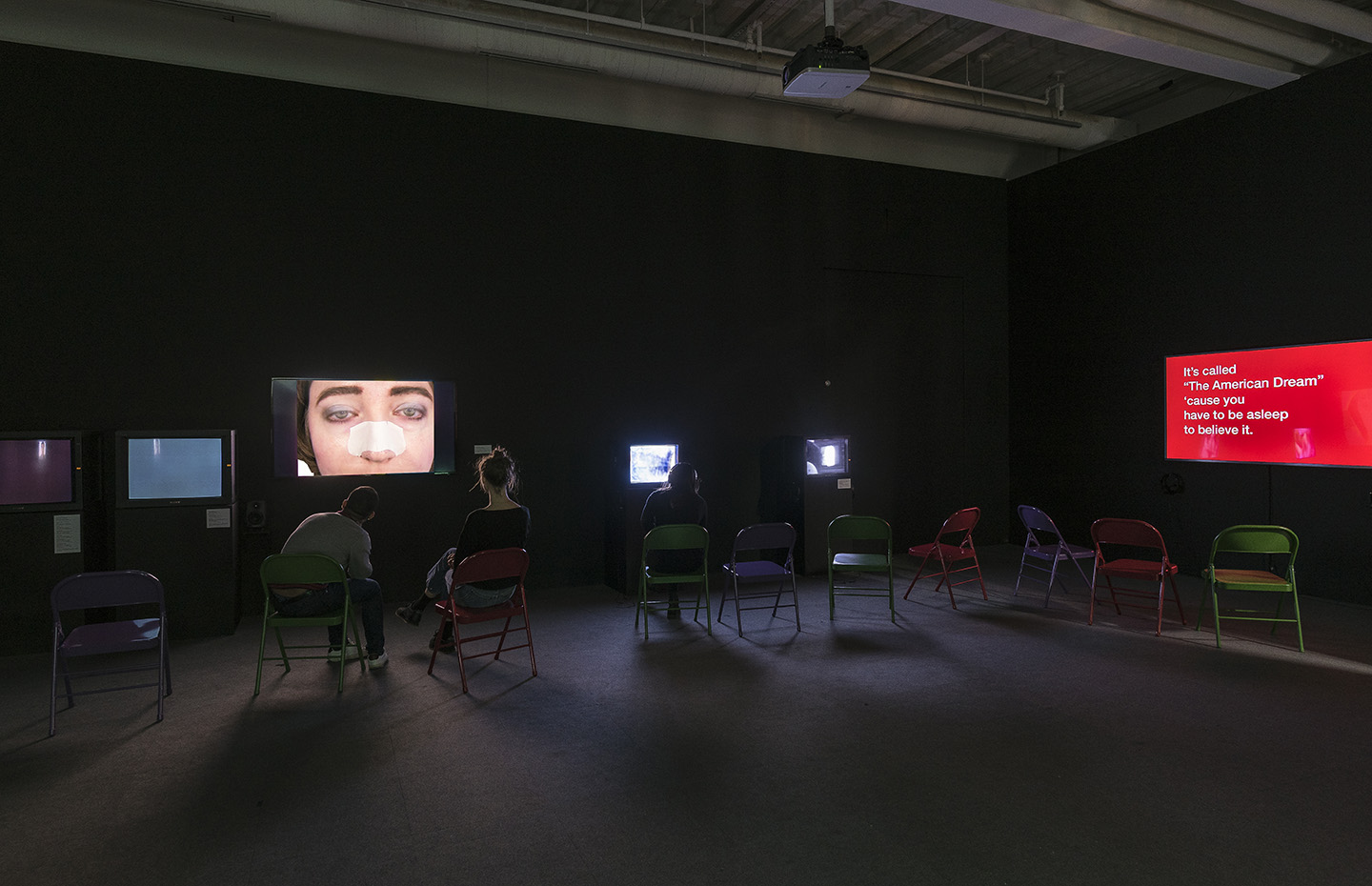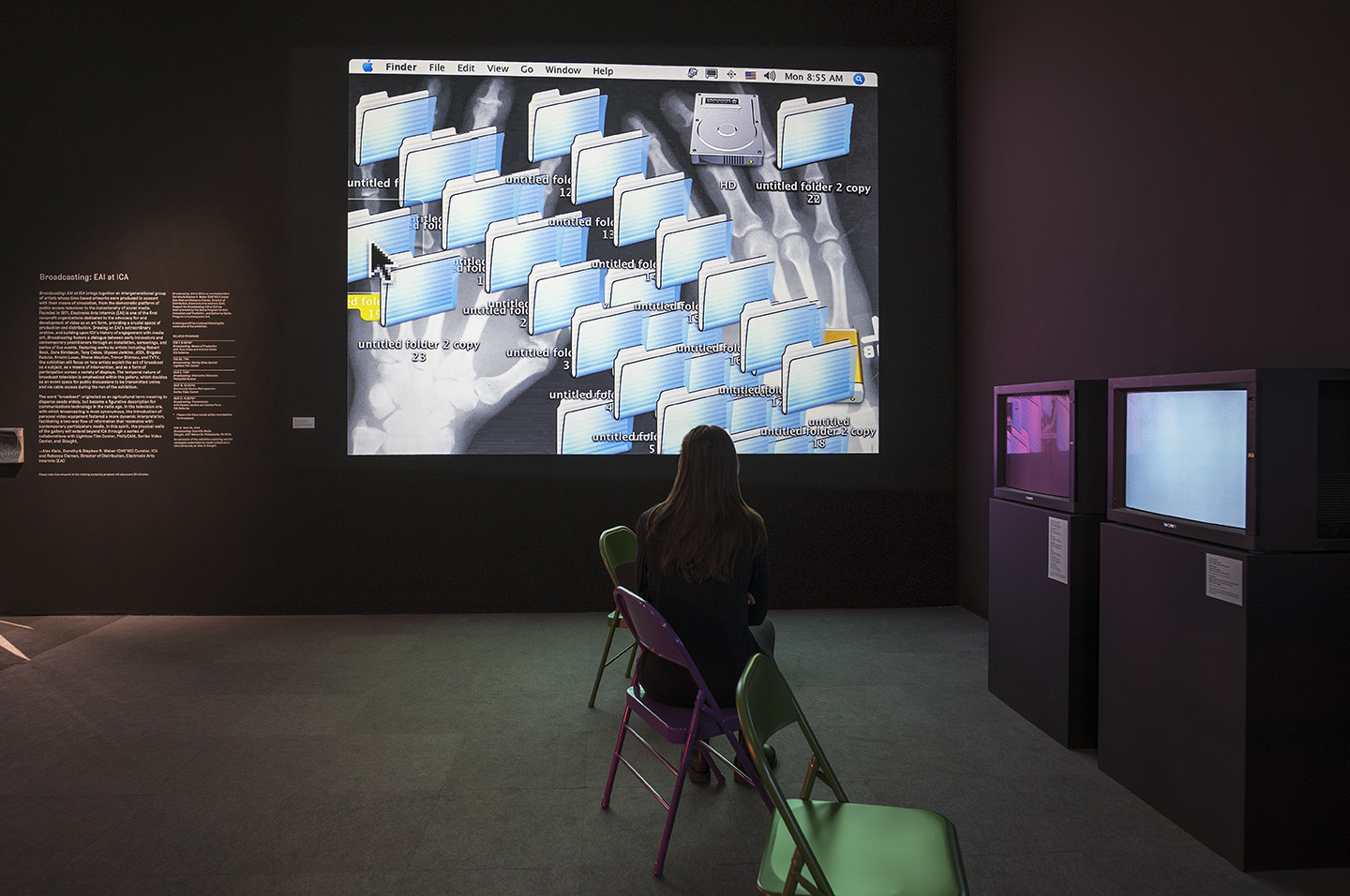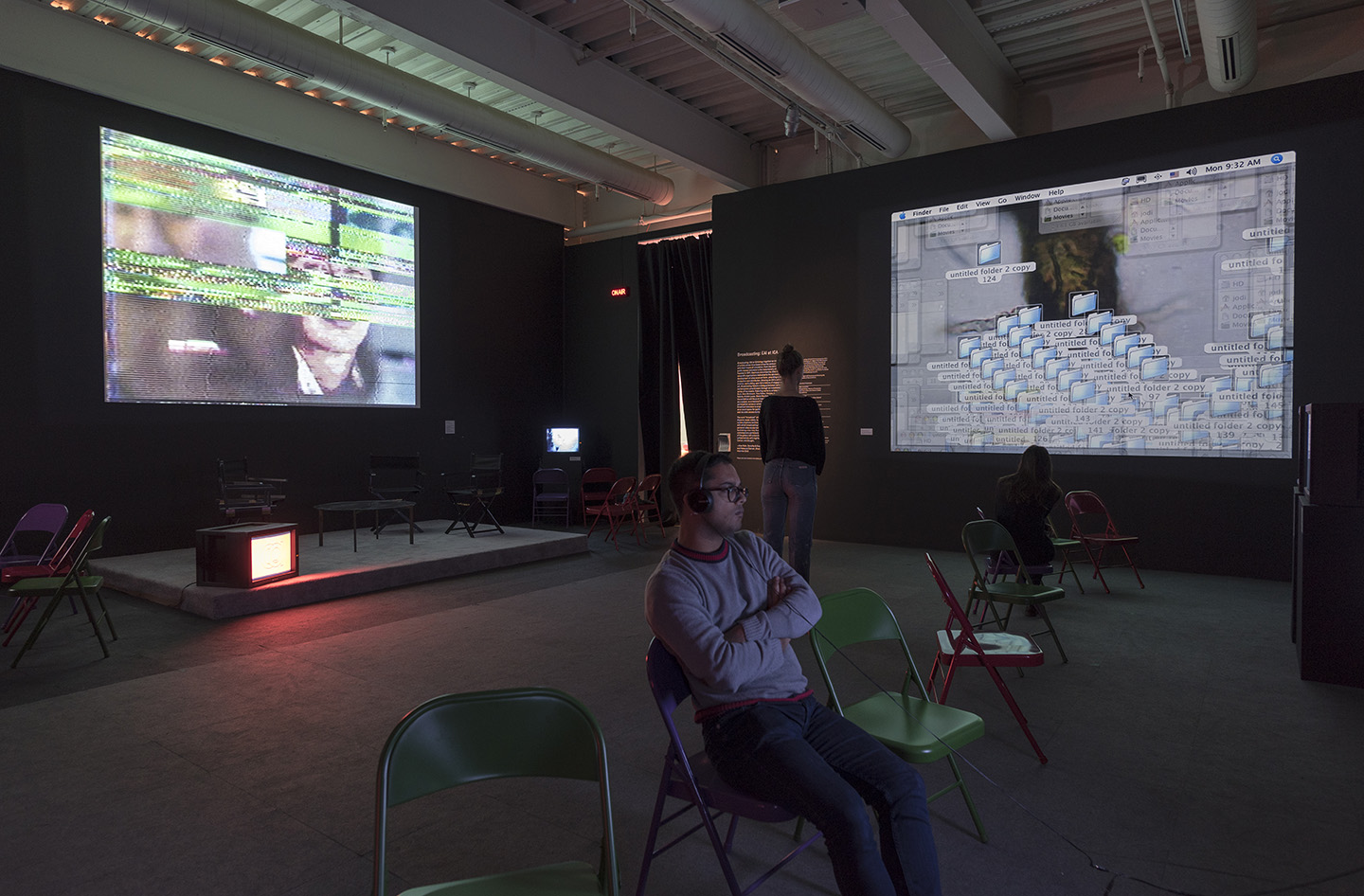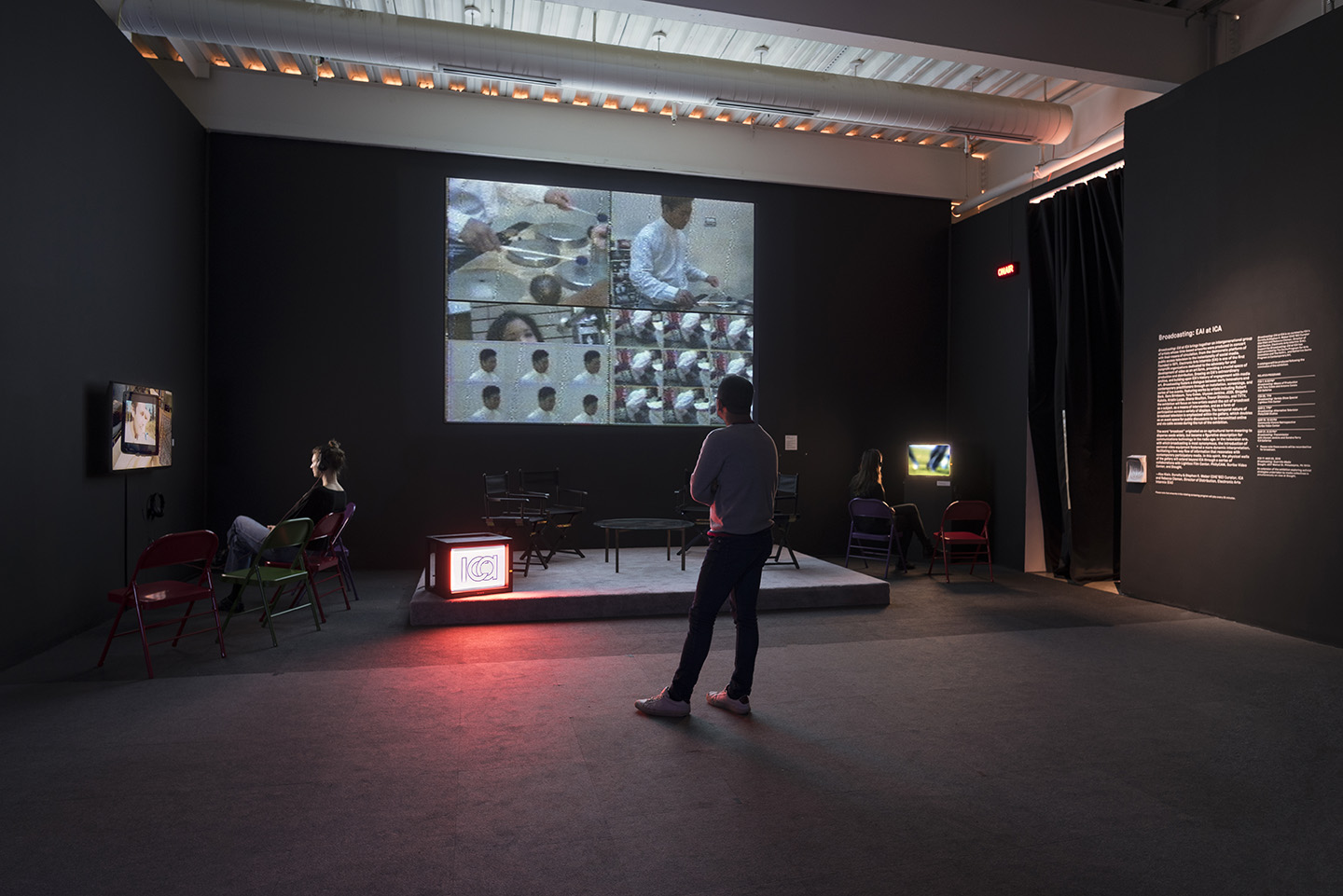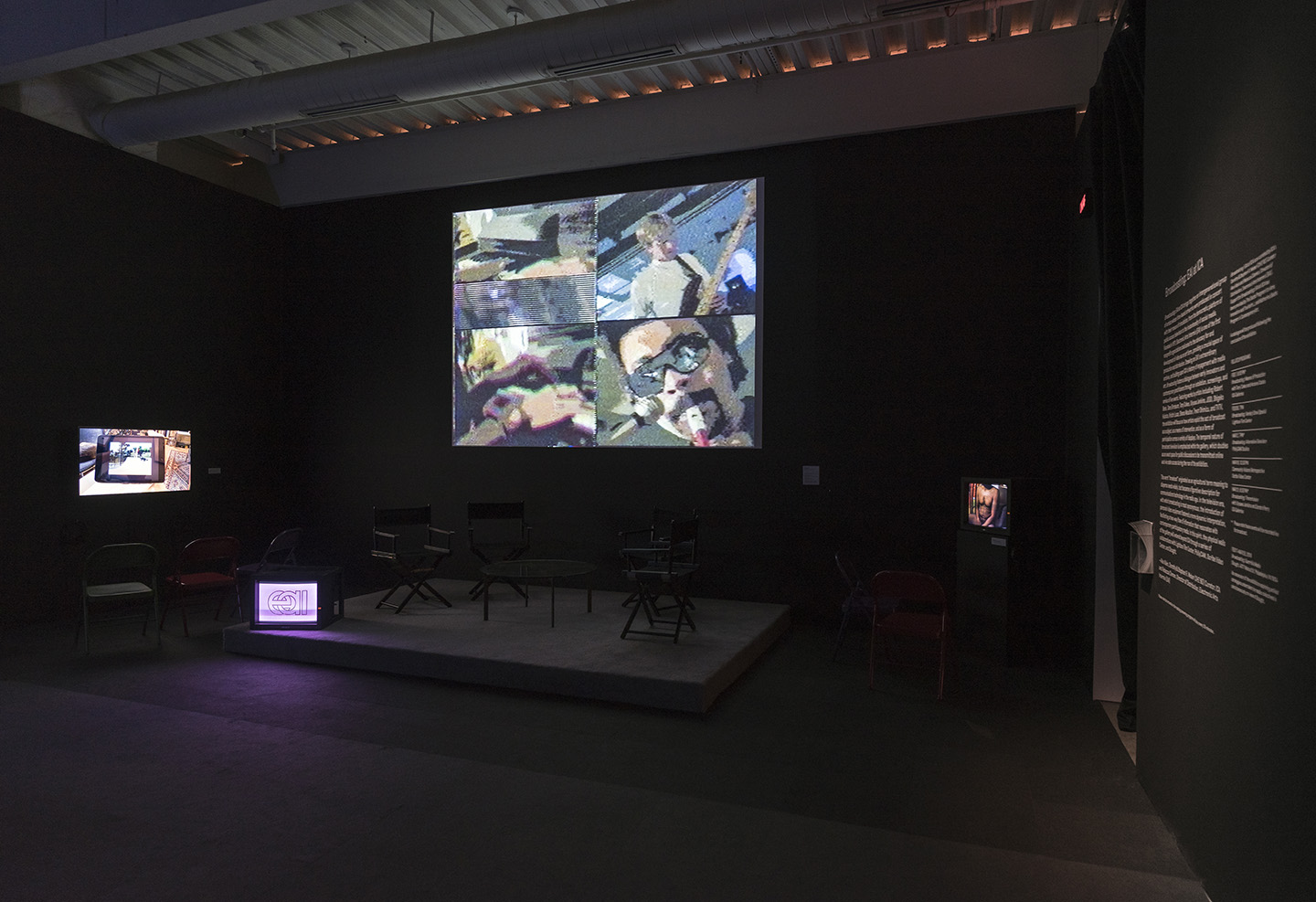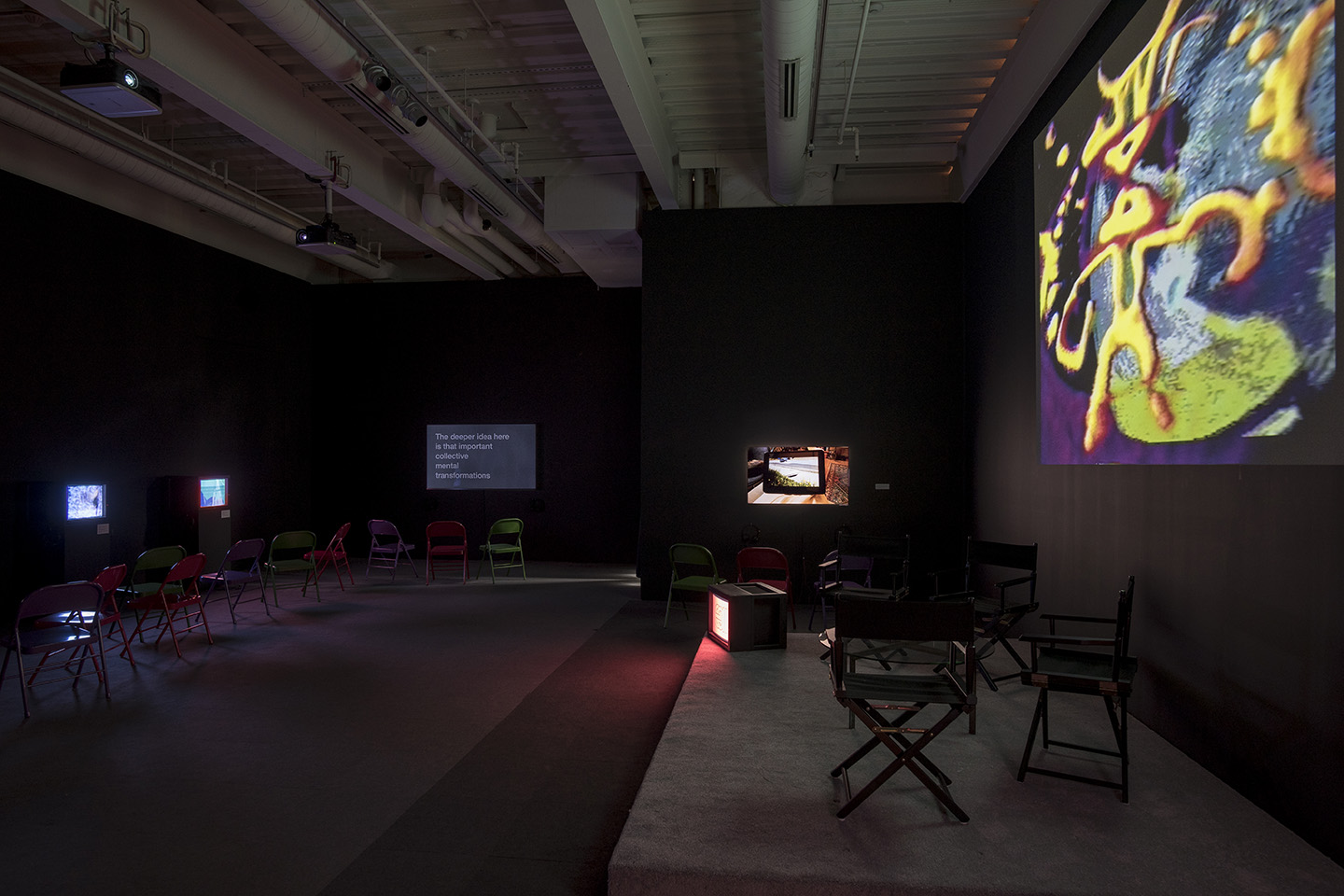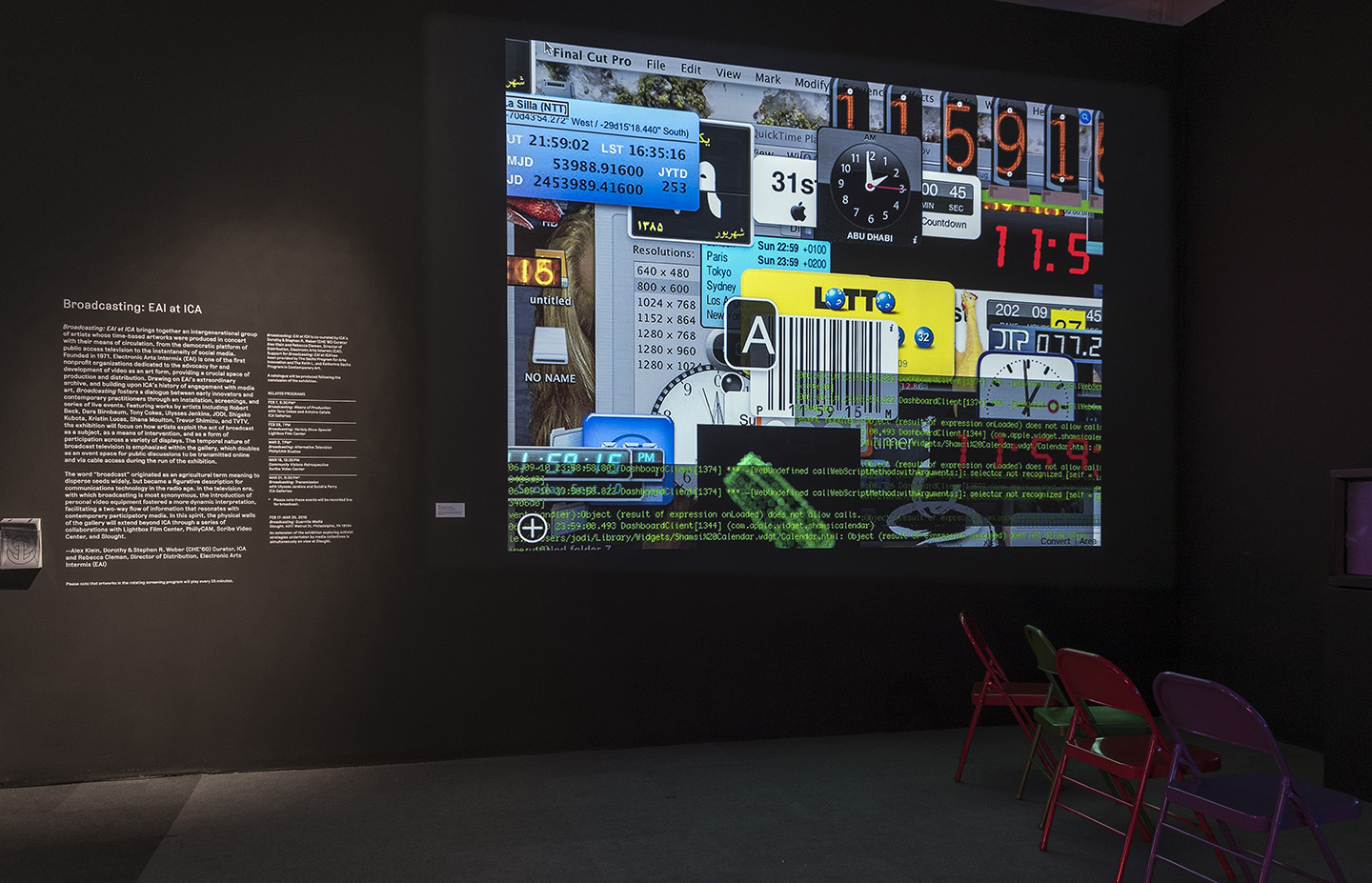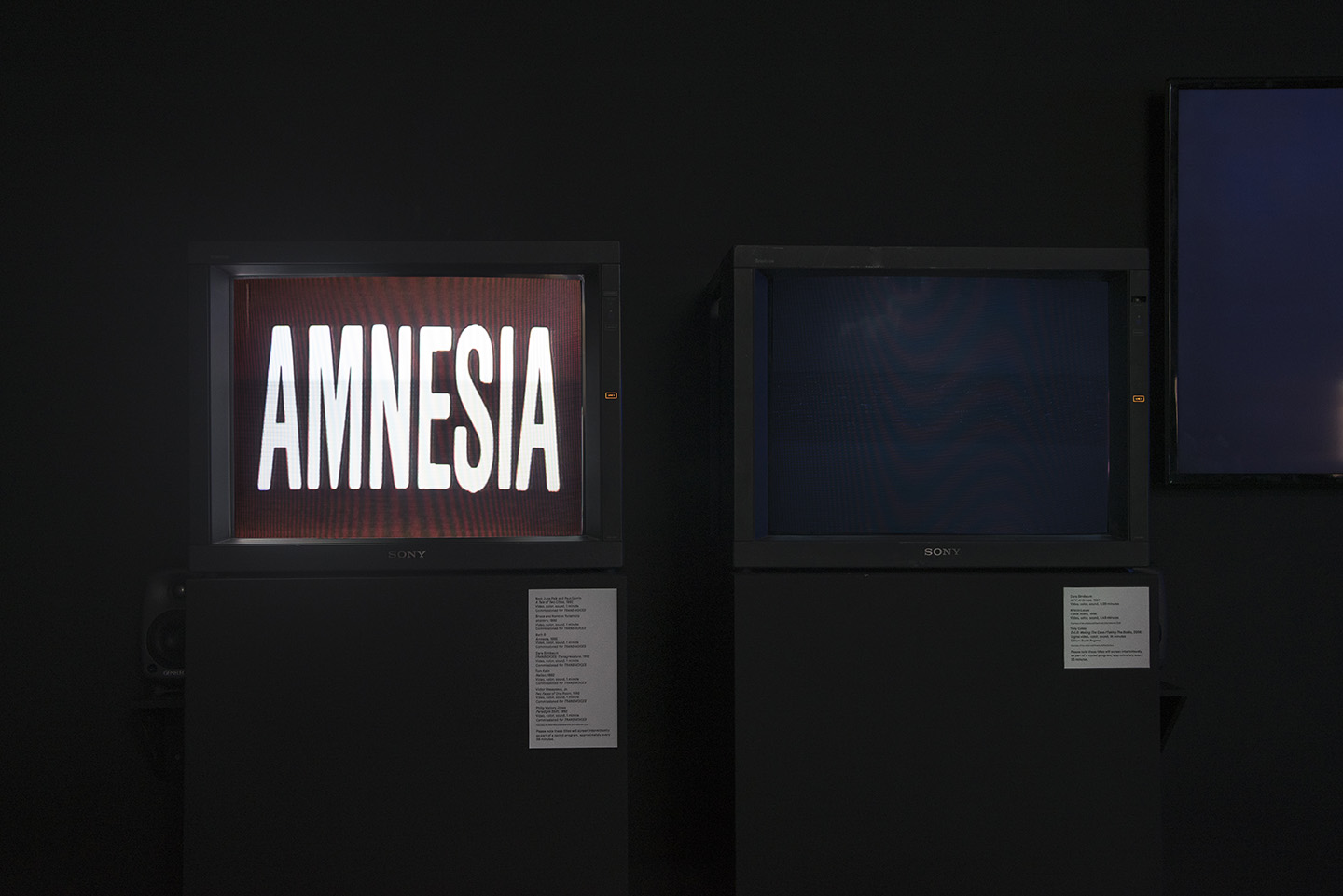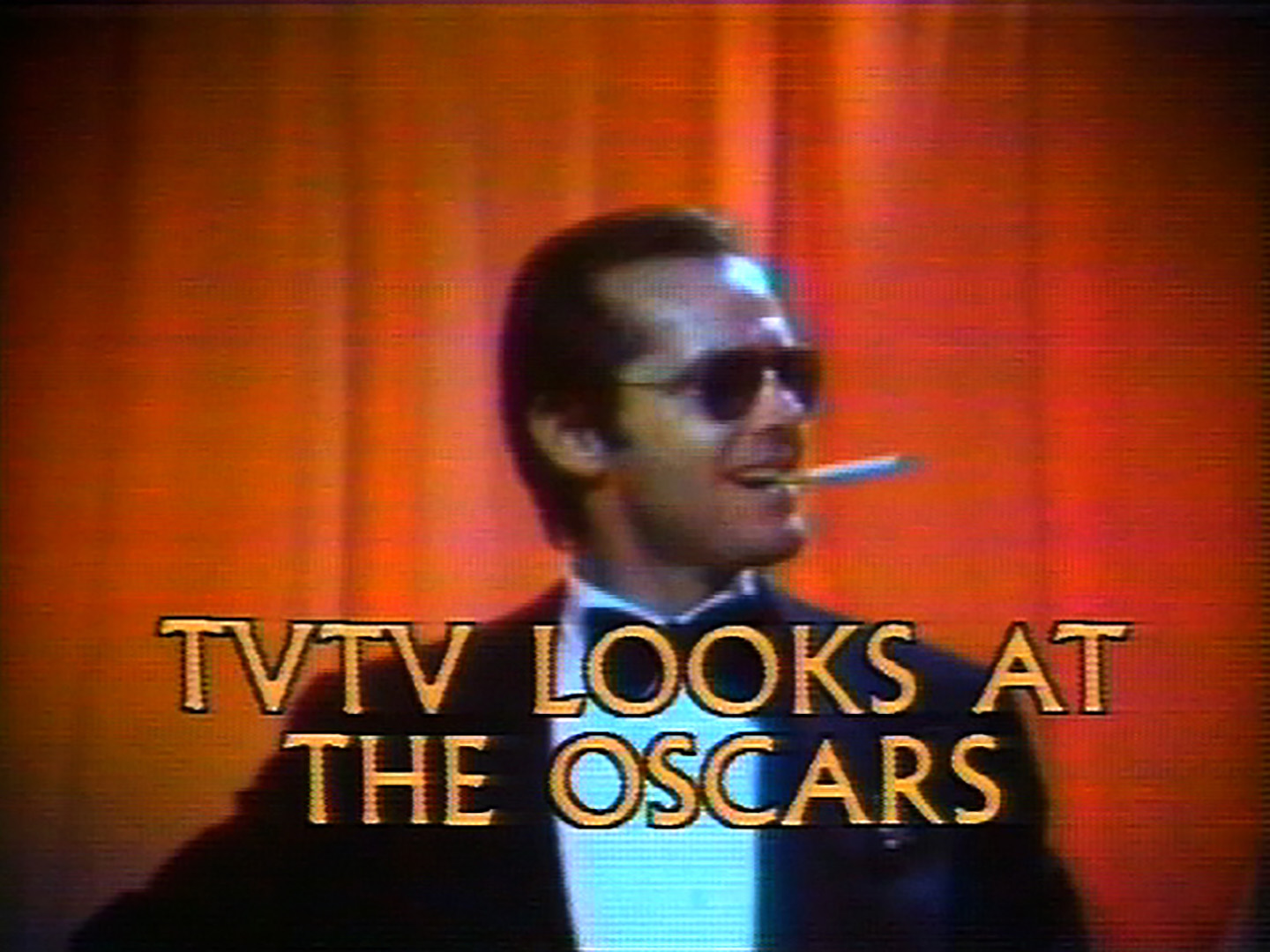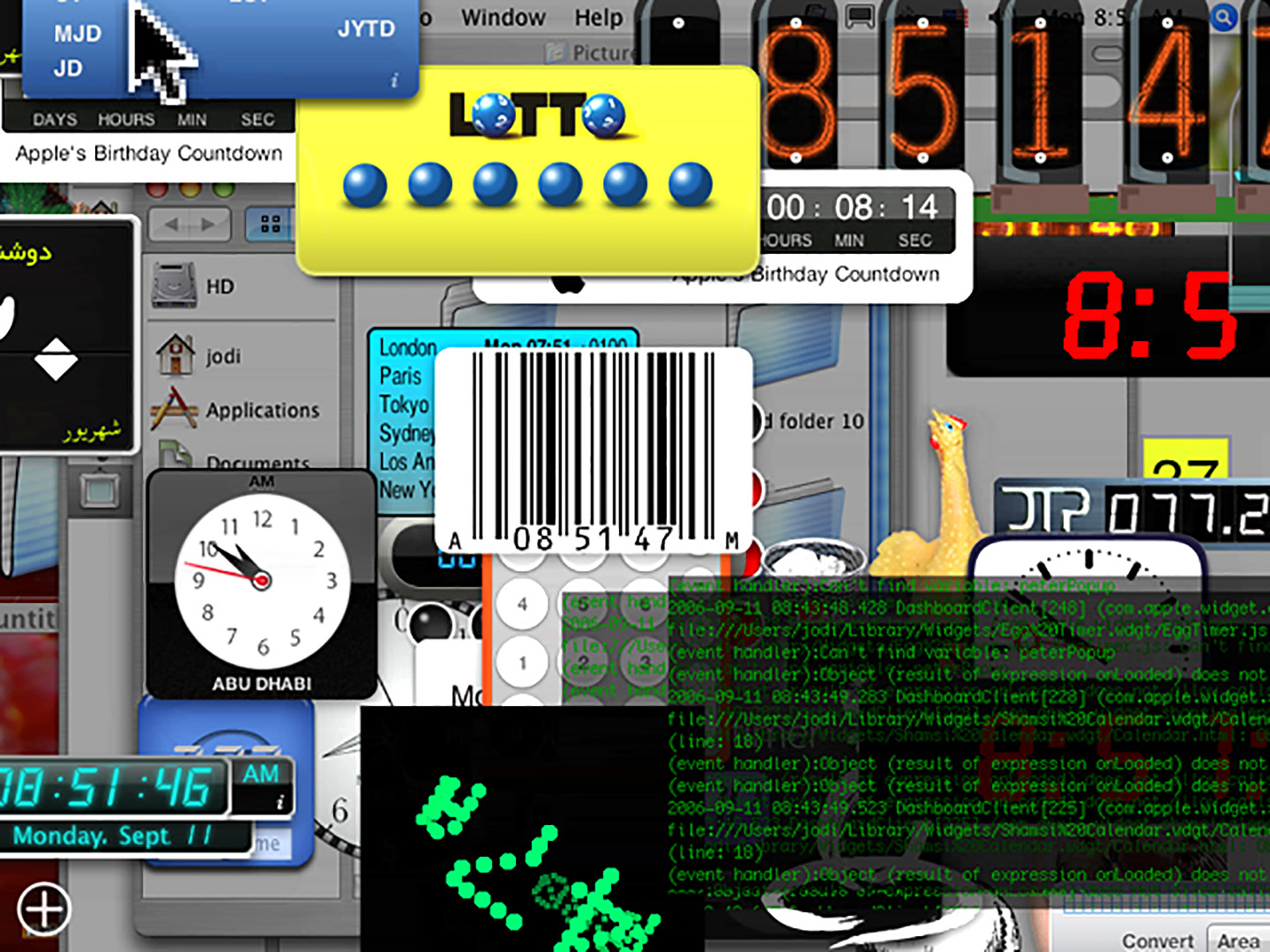 by Emily Watlington
On the heels of the influential 1969 exhibition, "TV as a Creative Medium," Howard Wise closed his self-named gallery in order to found Electronic Arts Intermix (EAI) in 1971. Rather than a commercial gallery format suited to traditional media, EAI proposed a new system of support for video and media artists. In the past, EAI has supported artists by, for instance, serving as an editing center at a time when editing required specialized (and bulky) equipment. Today, EAI primarily distributes and preserves its collection of over 35,000 works of video art, providing access to scholars and curators for research, institutions for exhibiting, and the general public for viewing. Maintaining such a collection is no small feat in our world of constantly-evolving video formats, and they do this all while advocating for and financially supporting artists.
The somewhat invisible labor of this hugely important nonprofit is given its due attention with Broadcasting: EAI at ICA, an exhibition at the Institute of Contemporary Art (ICA), University of Pennsylvania. Curated by the ICA's Alex Klein and EAI's Rebecca Cleman, the exhibition takes on broadcasting not only as its subject but its form. The curators note that the term "broadcasting" originates from agriculture and means "to disperse seeds widely," but later came to figuratively describe communications technology. Accordingly, the curators have broadcast the exhibition—notably, through a related exhibition nearby at Slought titled Broadcasting: Guerilla Media, which focuses on collectivist media and Guerilla Television, with works by groups such as Video Venice News, X-PRZ, and TVTV. Public programs—namely, discussions about media art—have also been broadcast on the public access network PhillyCAM in the lineage of several of the artists surveyed.
In the ICA's galleries, many gems from the history of video art work together to tell some of EAI's history. Monitors and projections from various eras fill the dark space, as do folding chairs in the three colors of EAI's logo: green, red, and purple. The central projection is Ulysses Jenkins' Bay Windows (1991), which embodies the idea of broadcasting in that the video documents an early video phone performance that connected artists in First Nations communities and media centers in California and Canada. The projection rests over a small platform that doubles as a stage during the events live-broadcasted from the galleries.

Several videos themselves were originally intended for television, including a 1987 thirty-second spot by Dara Birnbaum produced for an Artbreak segment on MTV, which tells a brief history of animated representations of women. Another is Kristin Lucas's Cable Xcesss (1996), a public service announcement that warns viewers against the consequences of exposure to cancer-causing cables and advocates for abstinence—evoking language from similar announcements at the height of the AIDs crisis.
The exhibition could have easily been a compilation of greatest hits in the history of video art, given EAI's impressive collection. But instead (and even better), it highlights forgotten foundational figures and traverses generations. For example, Cleman considered Shigeko Kubota an under-requested artist at EAI; she and Klein saw the exhibition as an opportunity to shift the spotlight, which tended to favor Kubota's husband, Nam June Paik. Kubota will hopefully continue to receive more consideration: Her piece, River (1979-81), is concurrently on view in Before Projection: Video Sculpture 1974-1995 at the MIT List Visual Arts Center.1 Her contributions to the ICA exhibition include My Father (1973-75), and Video Girls and Video Songs for Navajo Sky (1973)—the latter poetically documents her visit to the Navajo reservation; she describes feeling immediately welcomed when she was greeted with a warm "hello, hello"—pronounced "Ya-tu-hey, ya-tu-hey" in Navajo, which happens to mean 'love me, love me' in Japanese. And love them she did. The tape was later rejected when she submitted it to WNET, who told her they couldn't understand what she was saying because of her Japanese accent. It makes an excellent addition to the EAI exhibition, not only as a worthy work unto itself but also by showing how EAI has preserved and advocated for works at times when others did not.2
EAI's important history is told not only by honoring the sorts of treasures it collects, but also by way of its intergenerational framing. Take Trevor Shimizu: On view is volume one of his Lonely Loser Trilogy (2013), wherein the artist watches skateboarding videos online and records his view with Google Glasses. "The Google Glass videos were a way for me to make a performance video without being central in the picture," the artist told me.3 Shimizu was also the former Technical Director of EAI—succeeding Seth Price—where he befriended and worked with an older generation of artists, including Kubota.
The pairing of both artists' diaristic works speaks to the many forms of their connection.
These fascinating histories are called out in the exhibition's gallery guide, honoring not only the labor of EAI, but also making clear what is seldom foregrounded in museums, where artists have more traditionally been presented as autonomous figures. Many artists also have other jobs in and beyond the art world—often working for artists of an older generation and driven by financial need—and this impacts the work they produce. Broadcasting: EAI at ICA, then, not only interrogates the notion of broadcasting, but pays homage to myriad forms of underappreciated labor; the accompanying publication following the exhibition also promises to continue telling important stories in the history of media art.
1. I served as the curatorial research assistant on Before Projection.
2. Jonathan Price, "Shigeko Kubota and the Video of Wipe, Flash, Crash." Women Artists Newsletter 2, no. 6 (1976): 4.
3. Email to the author. 10 March 2018.