CONVERSATIONS Mousse 72
Beyond the Material, Substance Must Be Reckoned: Brook Hsu
Close
1
2
3
4
5
6
7
8
9
10
11
12
13
14
15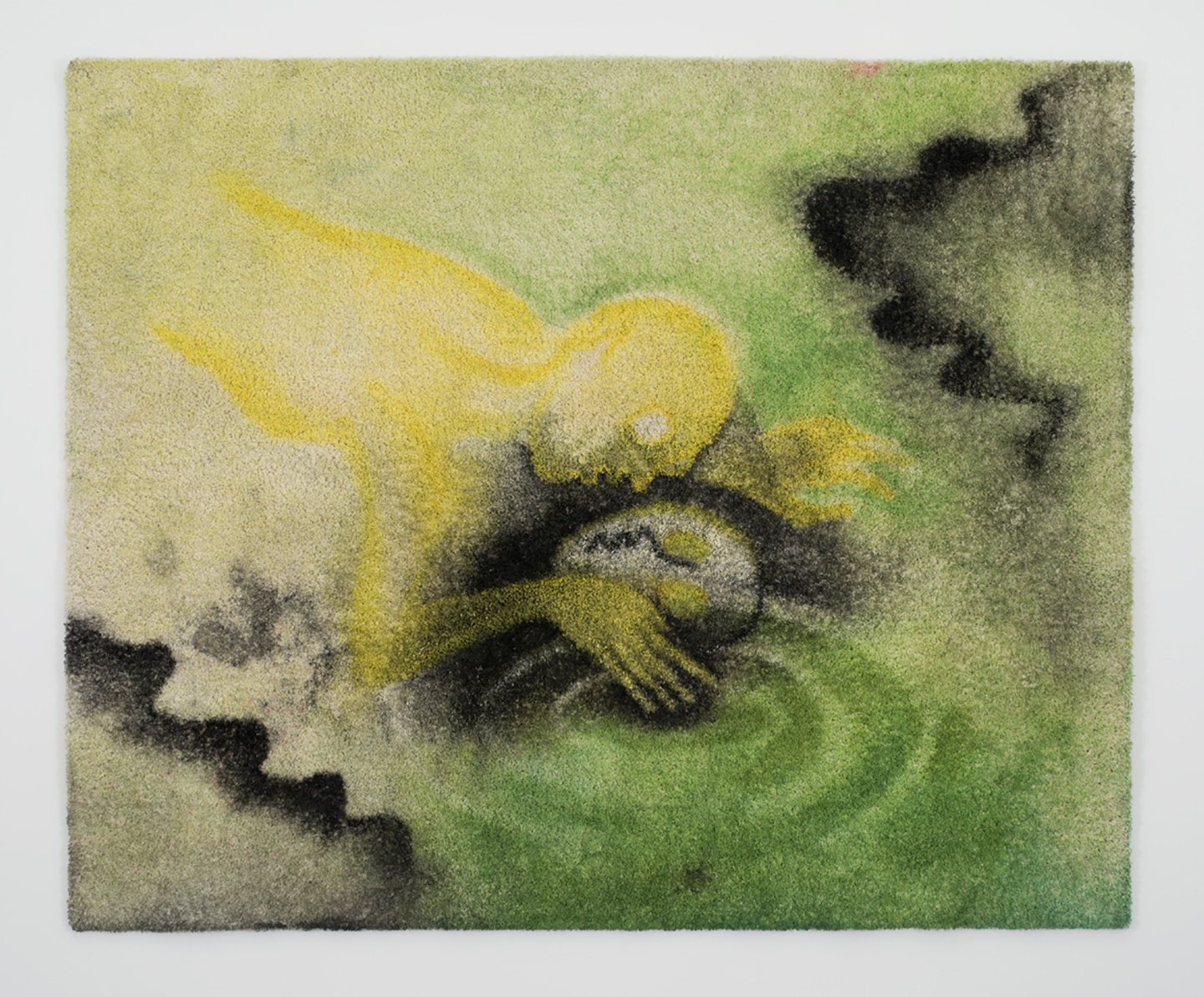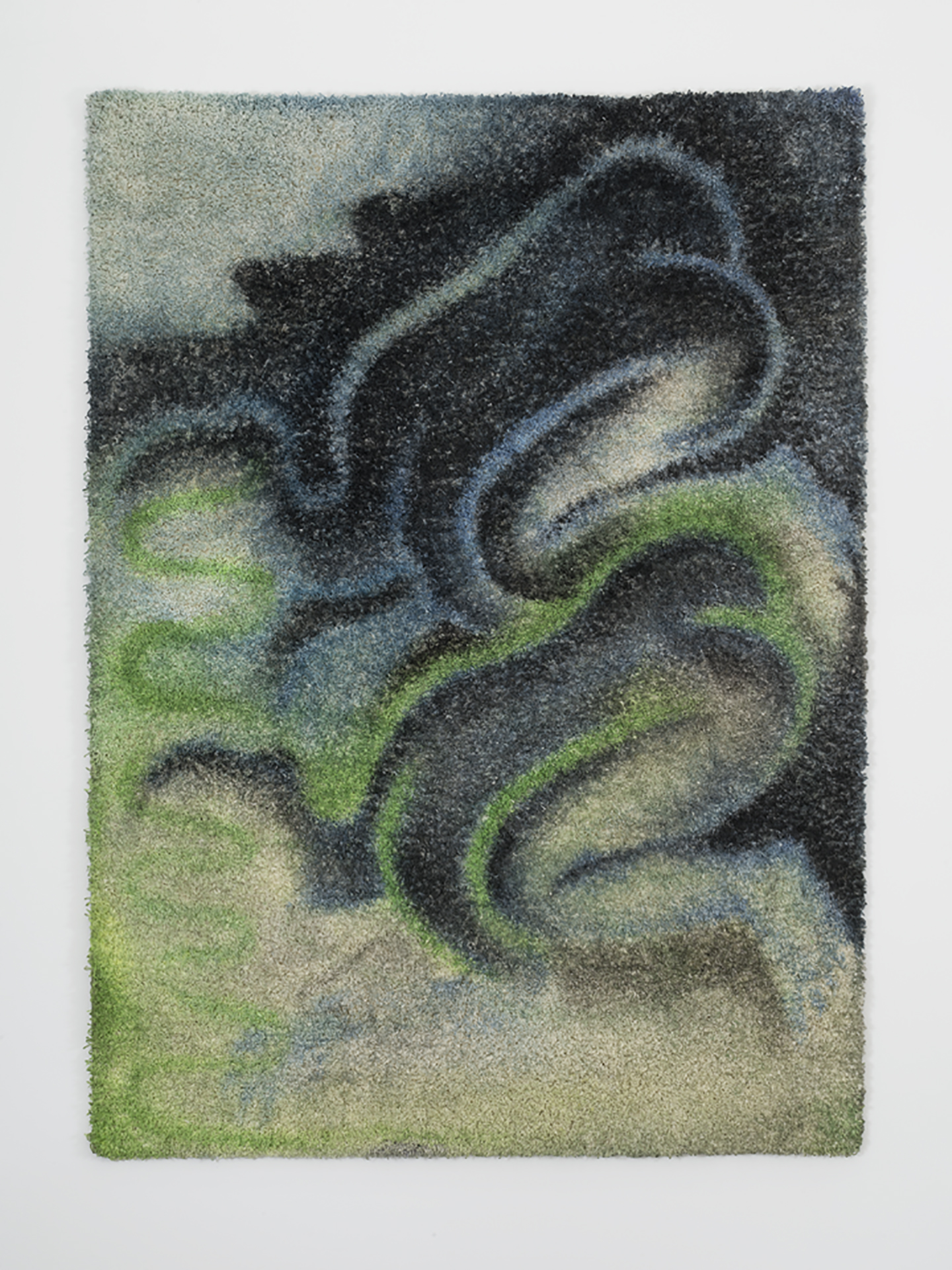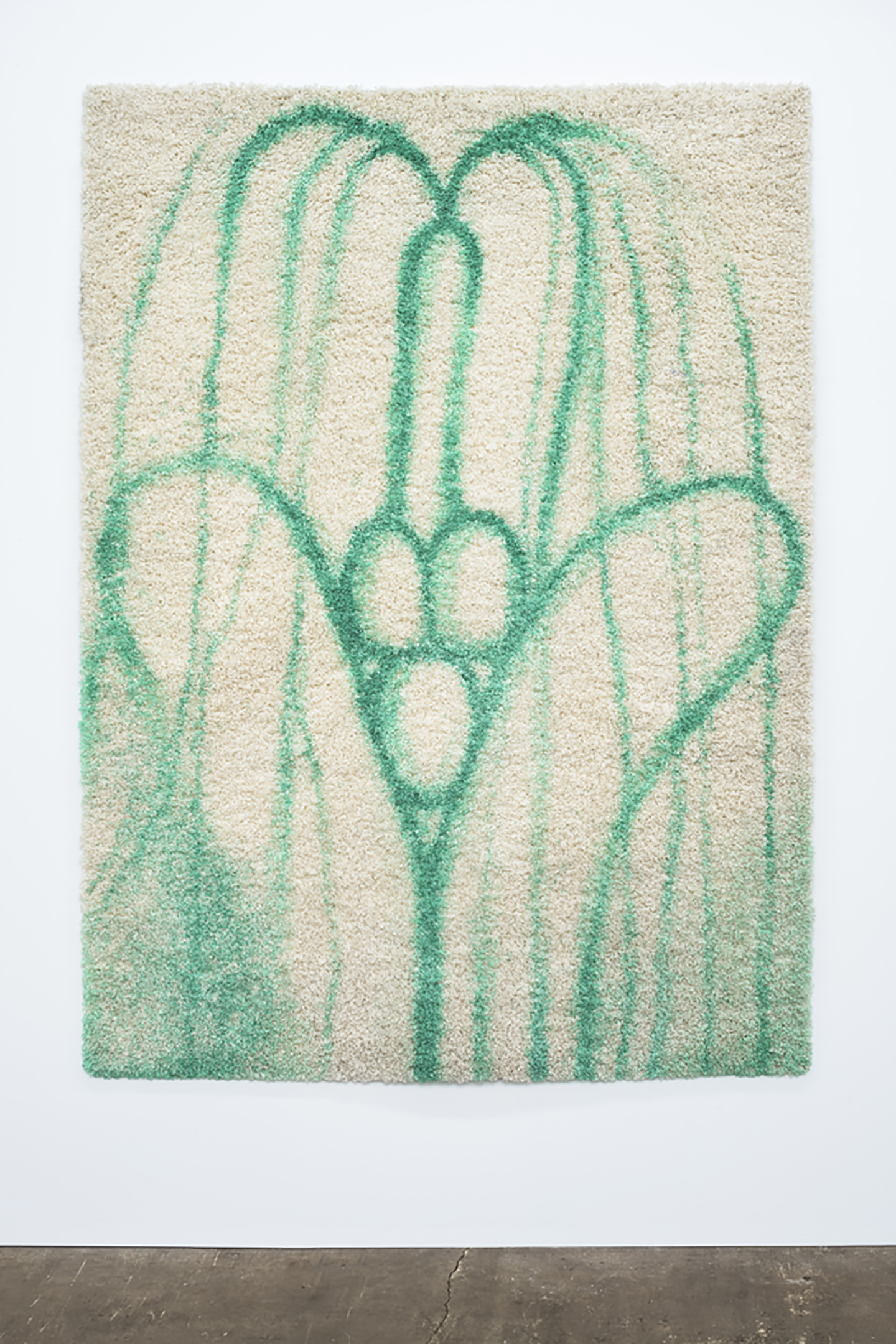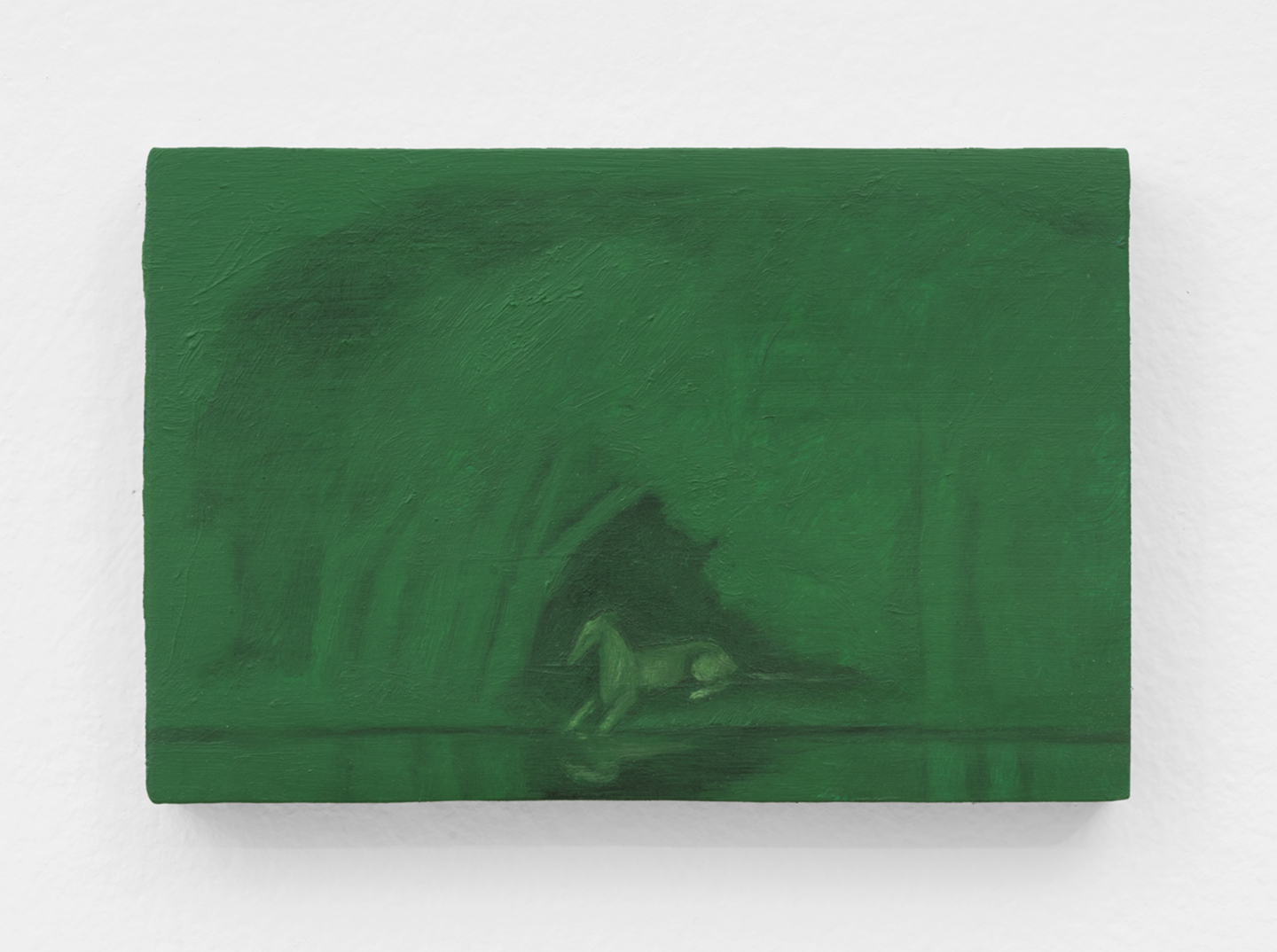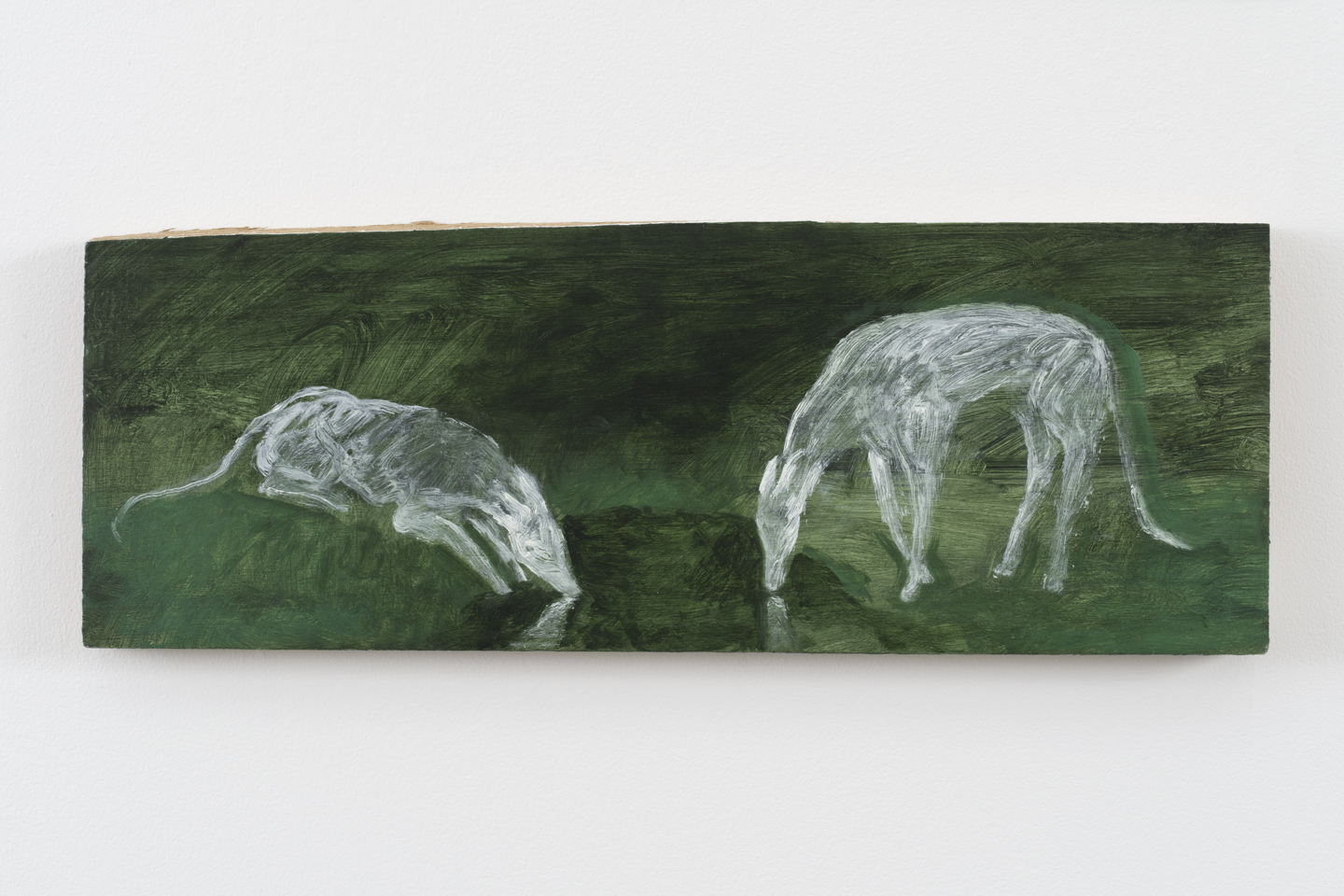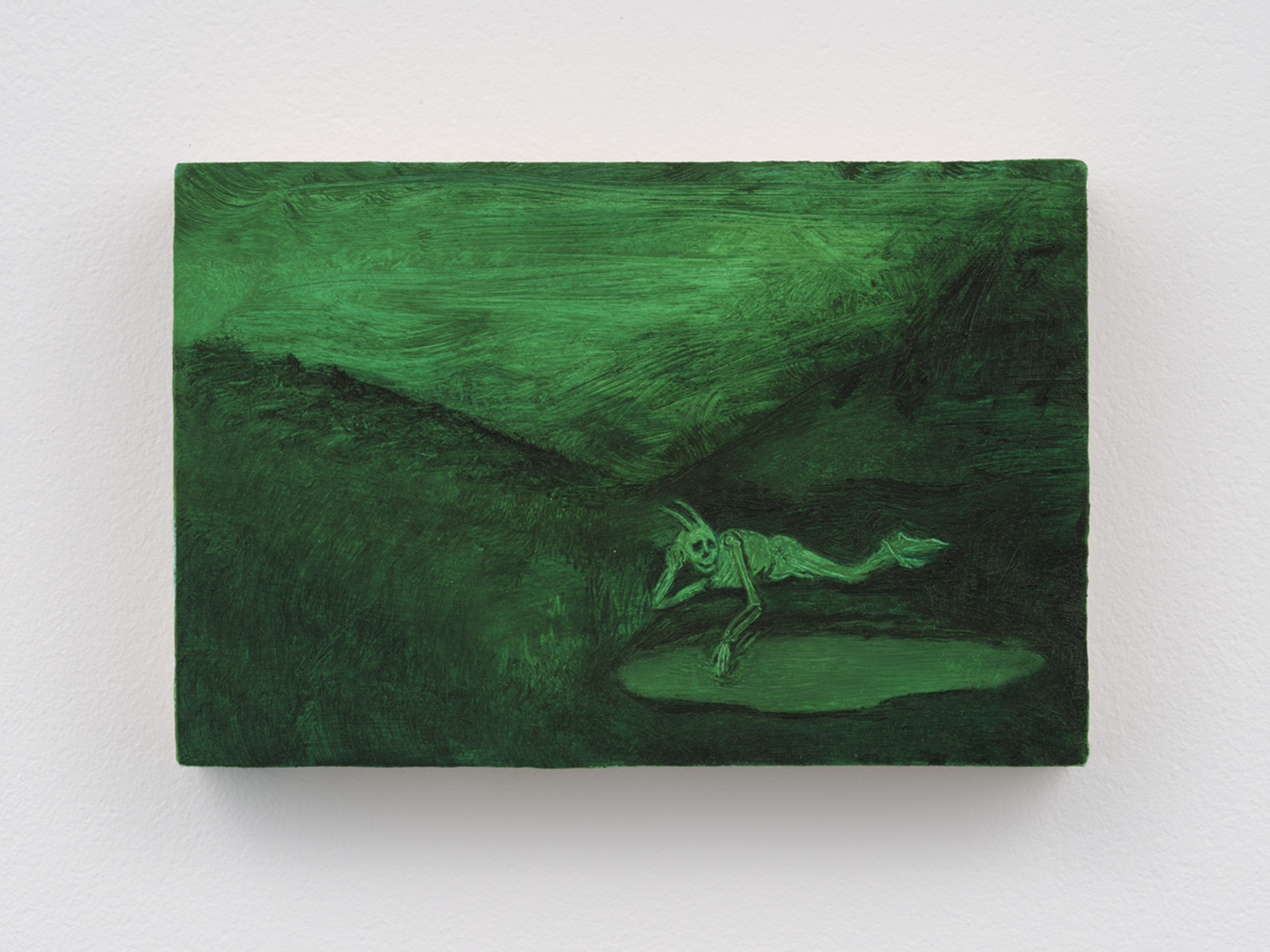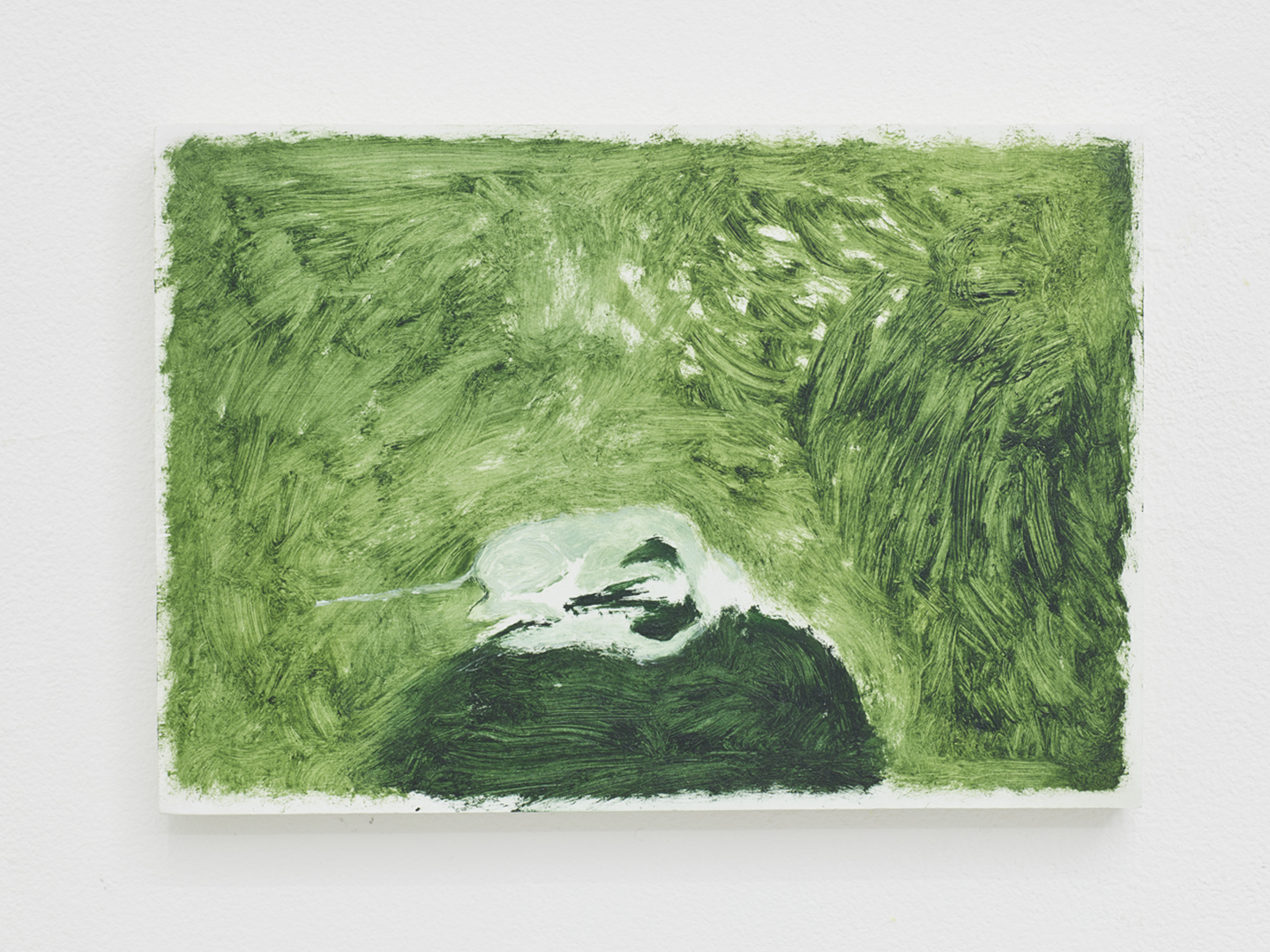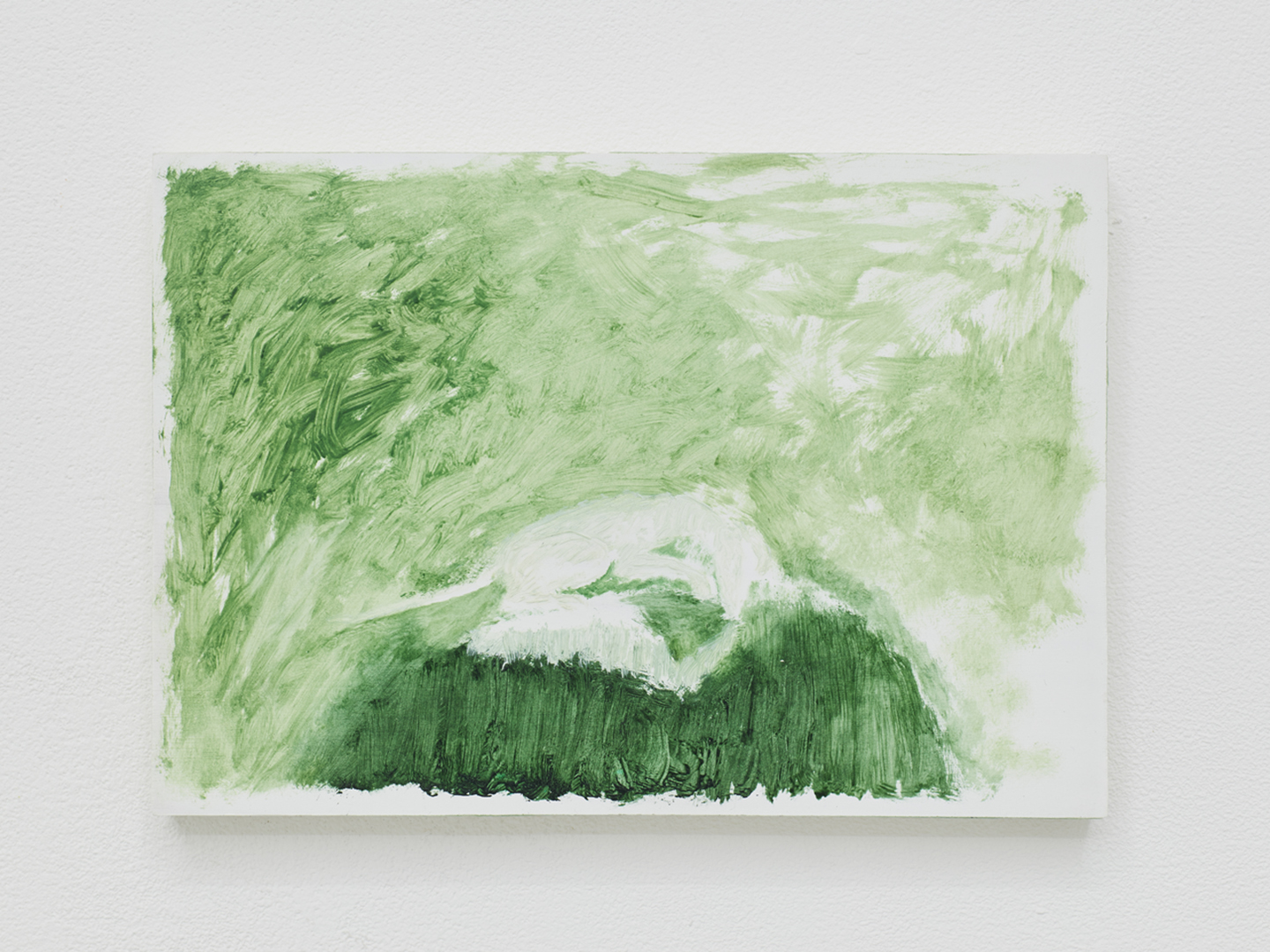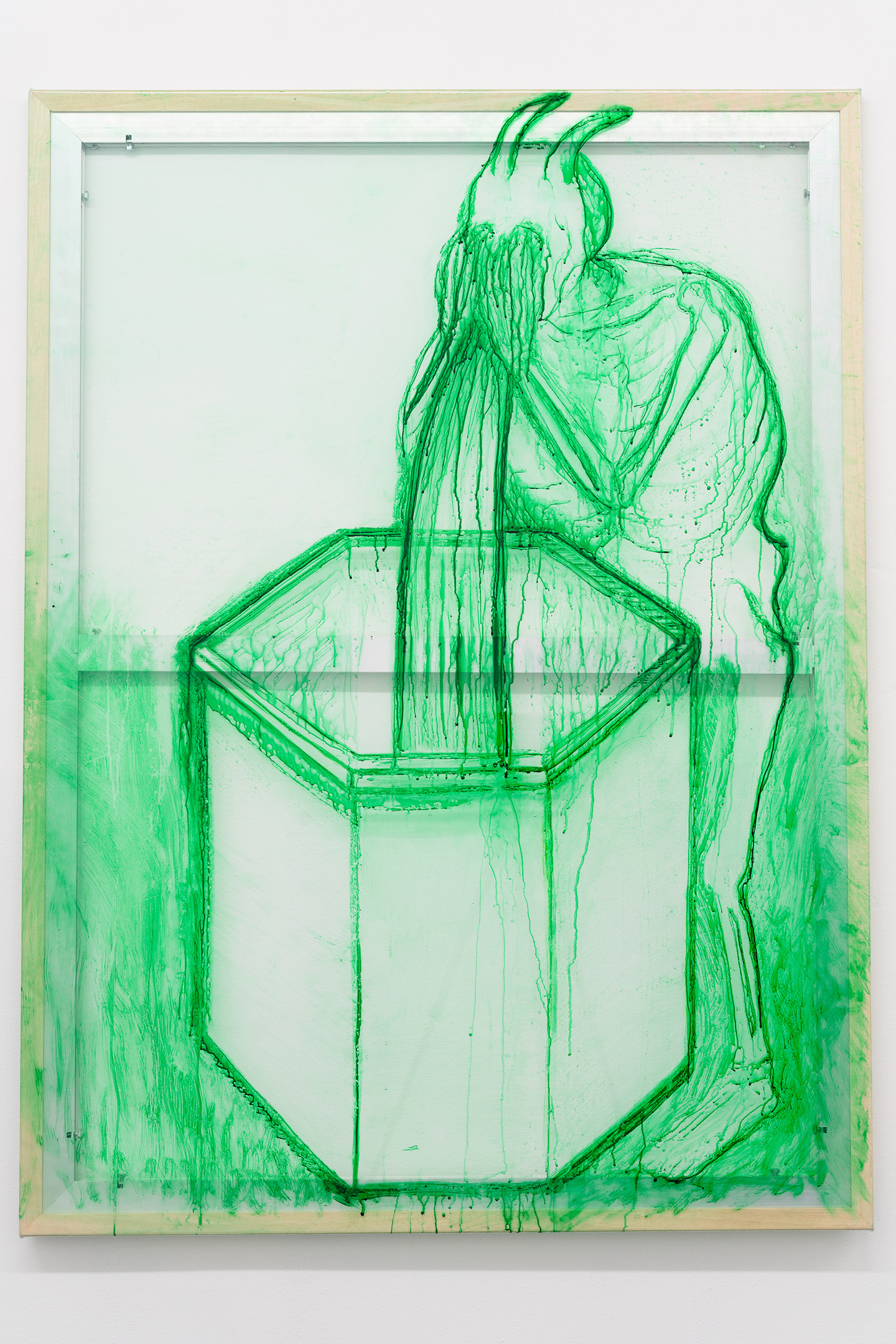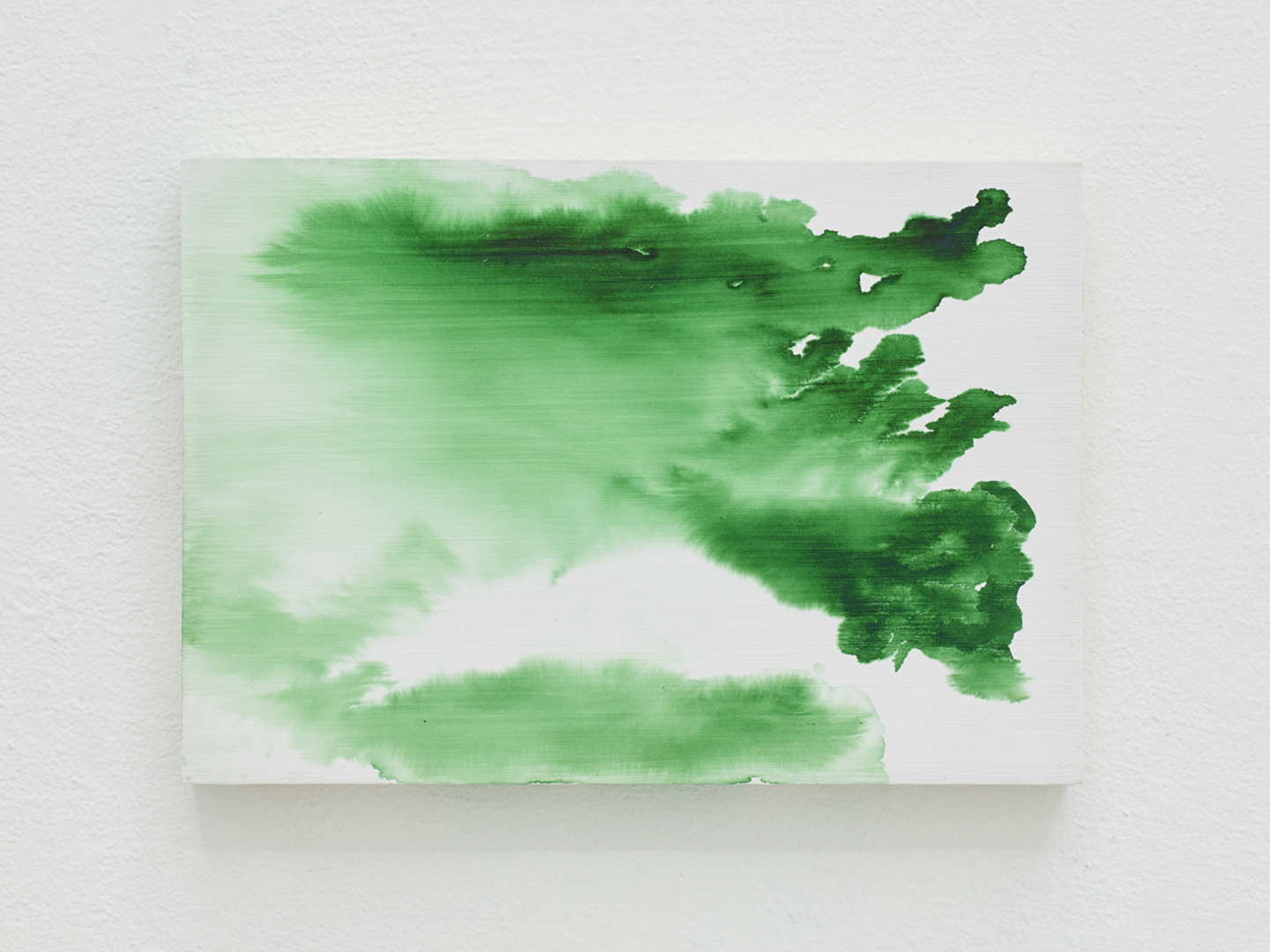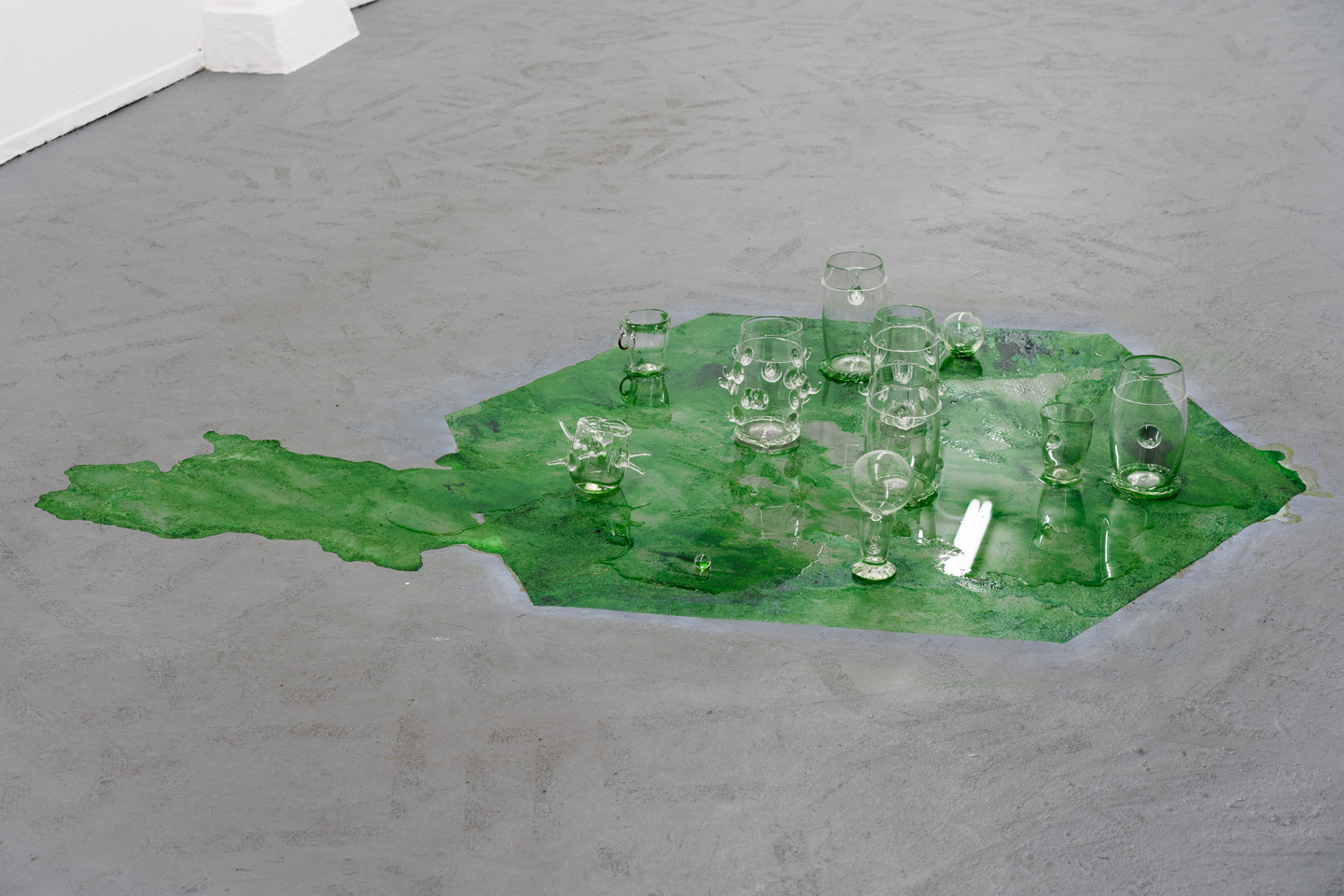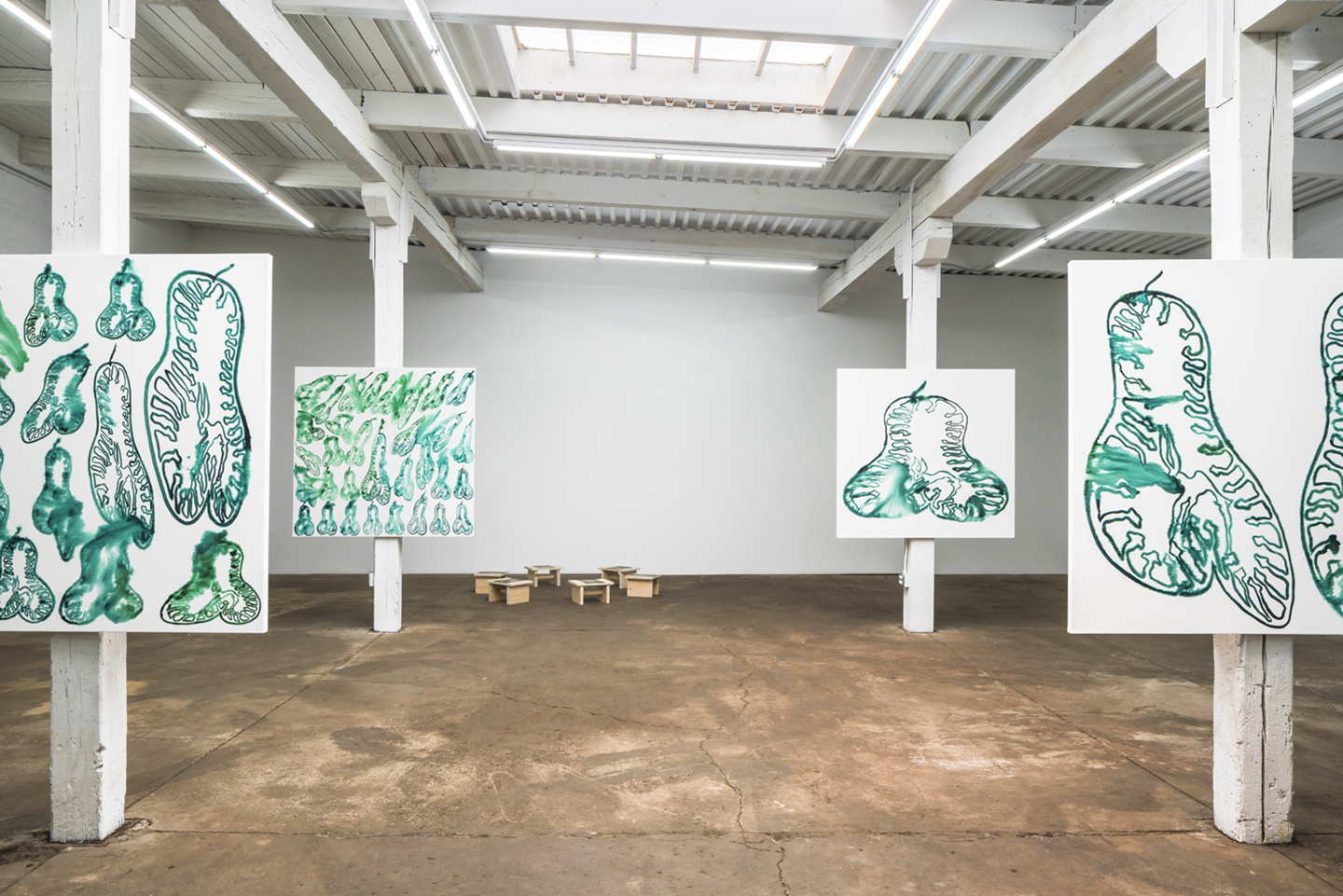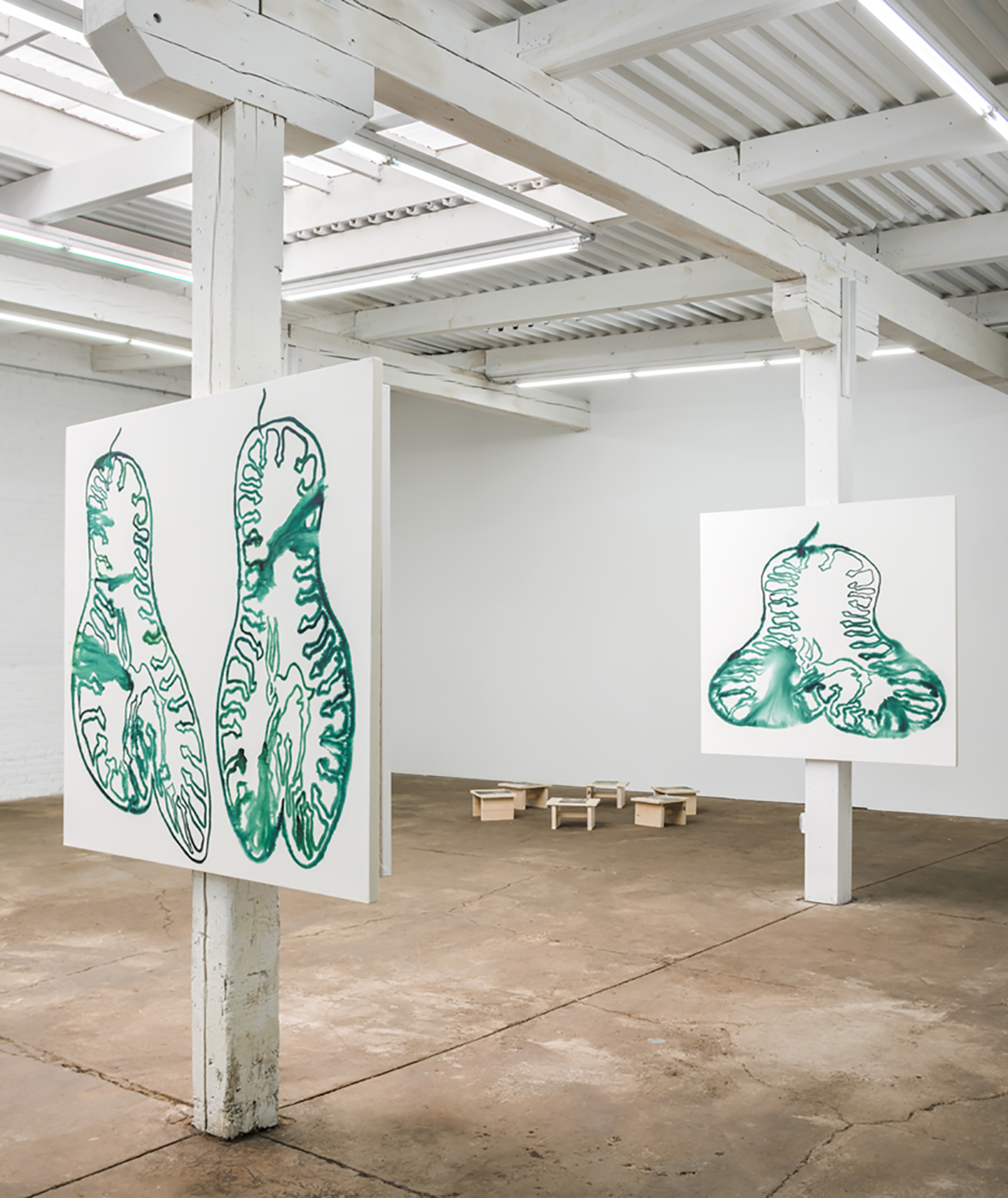 Brook Hsu in conversation with Ross Simonini
I first saw Brook Hsu's paintings online, which Hsu herself would not appreciate. The physical presence of material is, for her, essential to the work. This is perhaps best expressed in her rug paintings, which are practically textural sculptures. Even the content of the work—spraying urine, projectile vomit, fleshy appendages, sobbing demons—evokes a world where substance must be reckoned with. Luckily, I was able to see Hsu's work in person at Et al. gallery in San Francisco at her exhibition Conspiracy theory (2019). The experience of standing in this almost entirely green show possessed me, and I was compelled to reach out to Hsu. A few months later, we met in New York, where I was briefly living and where she lives and works.
BROOK HSU
I was born in Pullman, Washington, but I grew up in Stillwater, Oklahoma. It's kind of troublesome with bios that they want to see where you were born. I have no relationship to Washington. I don't even remember it.

ROSS SIMONINI
We put so much emphasis on where a person is born.
BROOK
You're born there, and then you're gone. It would be more appropriate to provide my star chart: Sun in Taurus, Scorpio rising, Aquarius Moon. I feel like I was born in Oklahoma.

ROSS
Do you identify with Oklahoma?

BROOK
Yes, but I also feel placeless now. I haven't lived there for fifteen years.

ROSS
I know you often think about mythology through your work. What is the mythology of Oklahoma?

BROOK
For most people, Oklahoma is not a place they have personally visited. The myth is that everyone's still riding around on horses to get to wherever they're gone- ing, wearing prairie dresses with big puffy sleeves or cowboy hats. But it's a lot of suburban sprawl. For the most part, now it simply looks like US. But I grew up on a horse farm. We didn't breed horses, we just boarded them. But we had forty acres, and I knew every little crevice of that piece of property.
I don't specifically research mythology. I have just been drawn to certain things. One author I have thought about and read a lot is Ursula K. Le Guin. She wrote this essay "A Non-Euclidean View of California as a Cold Place to Be" (1982), which is in part about how every little nook of California used to have a name and a place known by the Native Americans who lived there, and then when Manifest Destiny happened and thelandwas"tamed,"allofthosenameswerelostand our sense of place and belonging went with them.
ROSS
I notice that my physiological self improves when I go back to the place I was born. The humidity, the temperature—all of it helps. My body isn't fighting against its environment.

BROOK
Yes, Oklahoma definitely is where my skin is happy and my hair looks better. It's my micro biome's zone of existence.

ROSS
Are the forests in your work real places or mythical ones?

BROOK
I feel the things I paint come from things. A scene in a painting might have been something I saw in another painting, but zoomed in times ten. It's a grid for a kind of cosmology. Maybe nothing is real. I love to play with our desire to always ask why. "Why are you painting skeletons with horns?" And I guess I have answers, but I don't necessarily want to give them to people because it ruins the myth around the work.

ROSS
You are preserving a myth that already exists, but not actively creating the myth?
BROOK
A lot of mythology comes from years and years of storytelling. I have been thinking lately that it's related to sound, and wondering if a painting can have a sound. I'm not saying I'm trying to make sound art, but speak- ing of sound as a trace, as a carrier of a story. At one time, oral histories were all we humans had. And every word is so rooted in a slow evolution: the alphabet, ABC, baba, mama. So whenever I'm looking at a painting, I'm thinking about what it might sound like.
And that's not necessarily to give it a name. Do you know about true names, like Rumpelstiltskin?

ROSS
Yes: by knowing someone's true name, you hold power over them.

BROOK
Hayao Miyazaki's film Spirited Away (2001) is another good example. The idea of the true name fascinates me, especially now where there is this expectation to say what you are as an edge to a political argument.
ROSS
Your identity description.

BROOK
That there's a certain way of describing or identifying yourself that you would not discuss outwardly. I can, but it's not necessarily part of the work. Is it important for the work to say that I am a Taiwanese American cis woman, bisexual, in a straight relationship?

ROSS
It's giving away your name.

BROOK
Right.

ROSS
It's important for some people's work, not for others'.
BROOK
I've walked into certain gallery situations and been asked "What are you?" as a part of trying to sell the work. It helps for context. It's somewhat of a coping mechanism to be thinking about Rumpelstiltskin.
ROSS
Is Brook your real name?

BROOK
It's not Rumpelstiltskin. But I can spin gold.

ROSS
I have heard of galleries trying to make sure viewers are aware of an artist's ethnicity or sexuality as a way of promoting the work.

BROOK
Why did they teach us that good journalism meant asking the five W's? I don't get it. Those aren't always the right questions to be asking.

ROSS
The why question is always the slipperiest one.
BROOK
And the one that the artist is least qualified to answer.
ROSS
The zines that you make for your shows suggest that there is some kind of journalistic research going on around the work. You include Wikipedia pages and other reference materials.

BROOK
I see the writing as just another element of the work. I think it's misleading in a way, because it sounds sometimes like an essay or a research paper, but a lot of it is total fiction—even the material that is presented in a factual manner. For instance dreams that I have recorded, or early childhood memories.

ROSS
A collage of writing.
BROOK
I think about writing in terms of collage. When you work on something for so long, you abstract a version of the abstract, and you don't even realize you've done it. ROSS
Do you write often?

BROOK
Yes, but not at length. In the process of trying to make a body of work, I need to write to understand what I want. But when the show is over, I go back to just making notes on my phone. Lots of grocery lists. I love grocery lists, and recipes. I lament not writing out directions anymore. That used to be a big part of my life.
ROSS
They used to be scribbled on everything.

BROOK
I really miss it. Every notebook of mine contained some directions.

ROSS
Do the zines unify the shows?

BROOK
The last solo shows at Bortolami, New York (2019) and Et al. gallery, San Francisco (2019) were tied together through thinking about ponds. That research began with several trips to Japan as a child, with my dad, to see the gardens in Kyoto. Before I ever thought about art as a pursuit, I was experiencing these incredible gardens. I wanted to unpack those experiences more for myself. So I wrote the moss garden zines (2019).
ROSS
How much reading do you do in your studio?

BROOK
I love to read. I go through bouts of reading a lot and then not. I'm a slow reader. I used to work at the Strand bookstore in New York, so I'm a bibliophile and love to keep books around. They're my friends—for me, they are warm objects. I always wish I could retain everything in them. I have a stack of books in my studio and a stack of books at my bedside, and there's usually one book that I'll be carrying to and from my house, which is the one I'm feeling some urgency to finish.

ROSS
What's the current one?

BROOK
It's Bubbles (2011) by Peter Sloterdijk. But many people, I suspect, think that I only ever read Knut Hamsun's novel Pan (1894).

ROSS
I have read that in multiple interviews.

BROOK
I love it, and I have read it many times, but it's definitely not the only book I've read.

ROSS
How many times?

BROOK
Probably around ten. It's very short.

ROSS
Still, to have read anything ten times…

BROOK
I haven't read it in a long time. Back when I was reading it over and over, I was in my early twenties, and it must have given me some kind of solace. It's a dark book, and Hamsun is kind of a dark character, too. A lot of shadows.
ROSS
That's an age of obsession, though. At twenty-one years old, I only listened to one album—Talk Talk's Spir- it of Eden (1988)—for a year. I didn't ever lose interest. It was an obsession that I wanted to feed. And it felt good.
BROOK
Pan definitely tied into lovers and people in my life.
I named my dog Aesop after the dog in Pan, and now that he's passed away and I still make paintings of him, it's a weird feeling—how intertwined that book is with my life. It's been giving me the heebie-jeebies lately, especially given that most paintings that people have been wanting from me are the Aesop paintings.
The more I make them, the weirder I feel. It's almost like that feeling you get when staring too long at your- self in the mirror.

ROSS
You're conjuring something about Aesop?

BROOK
I think so. This series is of a dream I had of him right after I moved back to New York from Los Angeles, and he had just passed away. In the dream he was looking at his reflection in a pond. And the paintings of it feel further and further away from whatever that dream was. Now, each time I return to try to paint it again, I am yet further away from when his living body was here, and it becomes more difficult to embody him in a painting.
ROSS
If Aesop isn't here in a physical way, do you have a feeling about how he does exist now?
BROOK
I definitely feel him in my partner. He was our child, and we both intensely suffer his loss. I think his spirit is there, but I don't even know if I believe in spirits. I don't have an answer for why I have chosen loss as a major subject in my work; I've never tried to unpack it at all. But I think that death is the transitional place where you don't know what happens after. That's where we start to create the need for myths and stories.
I also keep getting asked about the color green. "Why green?" Because it relates to nature? It's a wild question to ask. I wonder if people ask because we have this phenomenon of feeling separate from nature and yet a part of it all the time. I don't know if there's another color that does that.

ROSS
You mentioned disbelieving in spirits. Would you say that you believe in anything?

BROOK
Yes, I do, but I don't know what. And I like that. Somehow, I always feel my need to believe in something, and the older I get, the more important that is.
"God" is definitely a word I have a huge aversion to. But it's almost impossible to not believe in something.
ROSS
Even science, which we consider an absence of belief, is a system of belief.

BROOK
I think more along the lines of science than religion, but ifIansweredyouwith"Ibelieveinevolution," I suspect we'd have a totally different conversation.

ROSS
We don't want to talk about evolution as a belief, even though nobody can truly know. I mean, Charles Darwin's ideas have been misinterpreted by many people.
BROOK
It's similar in art making. There is an anxiety about believing in making objects, producing things, in a time of ecological crisis. But I've been thinking about how impossible it is to not make anything. Even an empty room is a thing.
ROSS
We make human waste: fertilizer.

BROOK
I love talking about bodily fluids. In my work, it can make people quite uncomfortable.
I brought to Chicago these bronzes that I'd used my urine to patina. It was a learning process regarding when it was proper to tell people it was pee, and when people just wouldn't be comfortable hearing that. We changed the language depending on who was in the room. Vomit is another good one.

ROSS
One of your zines goes into vomiting as a whole metaphorical activity.

BROOK
I had a stomach flu during its making. Sometimes you throw up and you feel better, but sometimes you don't; you only feel better when you're over the bug.

ROSS
I've had some orgasmic experiences vomiting on psychedelics.

BROOK
Yes, it's wild. And one of the experiences that I wrote about was from mushrooms—throwing up after taking them. Most of my paintings for the show Fruiting Body at Bahamas Biennale, Detroit (2018) were made while I was on mushrooms.

ROSS
Was that a single drawing that you were replicating?
BROOK
I took one I had made and I repeated it, multiplied it for each canvas, and it was always the same. The images were projected, traced, and then I laid the canvas flat on the ground and traced it in ink, letting the ink pool and do its thing.

ROSS
They resemble a kind of fountain.

BROOK
Fountains are like our circulatory system—constant motion. I think of them like a source, which is a way of thinking about origins.

ROSS
The fountain of youth.

BROOK
There's a painting by Lucas Cranach the Elder about this old German saying: "The men stay young so long as the women are young." The men take their old women to the fountain of youth and bathe them. The women emerge young again, and the men are young again too. The men don't have to bathe—just the women. Here, female youth is like the gate to everlasting life.

ROSS
You said artists are anxious in this moment about making art. Why do you think that is?

BROOK
A feeling of being overexposed creates anxiety. There's no time to do honest work without feeling seen, or the need to be seen. I think that's driving people nuts.
ROSS
Is it driving you nuts?

BROOK
Sometimes. Like I have to delete Instagram off my phone. But it's useful for something. It leads to things. I'm part of a generation that didn't always have social media, so maybe I will always feel some kind of longing for a time without.
ROSS
Do you think your work ever looks better in reproduction?

BROOK
No, never. I was told once that the carpets look better in reproduction, but I don't feel that way. I like them far more in person. I look at a lot of art on the internet; it's how I find a lot of things. But I rarely get off my computer or my phone and feel great. I often feel sad.

ROSS
This divide between materiality and immateriality—on one side you have a painting, and on the other is an online reproduction of a painting, but also on that side of immateriality are the unseen parts of ourselves.
To what degree do you use painting to get into that immateriality?

BROOK
That's almost the goal of art. I question sometimes if there's a purpose for art at all. In paradise, it probably wouldn't be necessary. The material of art is almost useless. It's not a useful material in the end.
You are taking useful things and making them useless. But the goal of it is absolutely the thing that we can't grasp with our senses, whether you want to call it a thought or an idea or a feeling or a belief. A silent knowing.

ROSS
It's beyond the material.

BROOK
I come from a camp of making work where the material has its own autonomy. There's some control, but there's also the material, and I feel like we're actually collaborating, the material and I. It must create. Things start to resonate. How do you know when a painting or a piece is done? It's because there's something resonating in it. It's that immaterial thing that's vibrating.
Brook Hsu (b. 1987, Pullman, Washington) lives and works in New York. Recent solo exhibitions include: Conspiracy theory, Et al., San Francisco (2019); pond-love, Bortolami, New York (2019). Group exhibitions include: Let Me Consider It from Here, The Renaissance Society, Chicago (2018-2019); Fruiting Body, Bahamas Biennale, Detroit (2018); The End of Expressionism, Jan Kaps, Cologne (2020); Polly, Insect Gallery, Los Angeles (2019-2020); A Cloth Over a Birdcage, Château Shatto, Los Angeles (2019); and Finders' Lodge, in lieu, Los Angeles (2019). Upcoming exhibitions include More, More, More (curated by Passing Fancy), TANK, Shanghai; summer group show, CLEARING, New York; and Particularities (curated by Chris Sharp), X Museum, Beijing (2020). A monograph and edition is forthcoming from American Art Catalogues.
Ross Simonin is an artist, writer, and musician living in the Northern California redwoods. He hosts the new ArtReview podcast Subject, Object, Verb. He is currently showing a selection of his energy calendars and massage tools at Fresh Bread in Chicago. His next album under the ROOS moniker will be released in late 2020.
Originally published in Mousse 72