REVIEWS
Bruno Gironcoli "Shy at Work" at mumok, Vienna
Close
1
2
3
4
5
6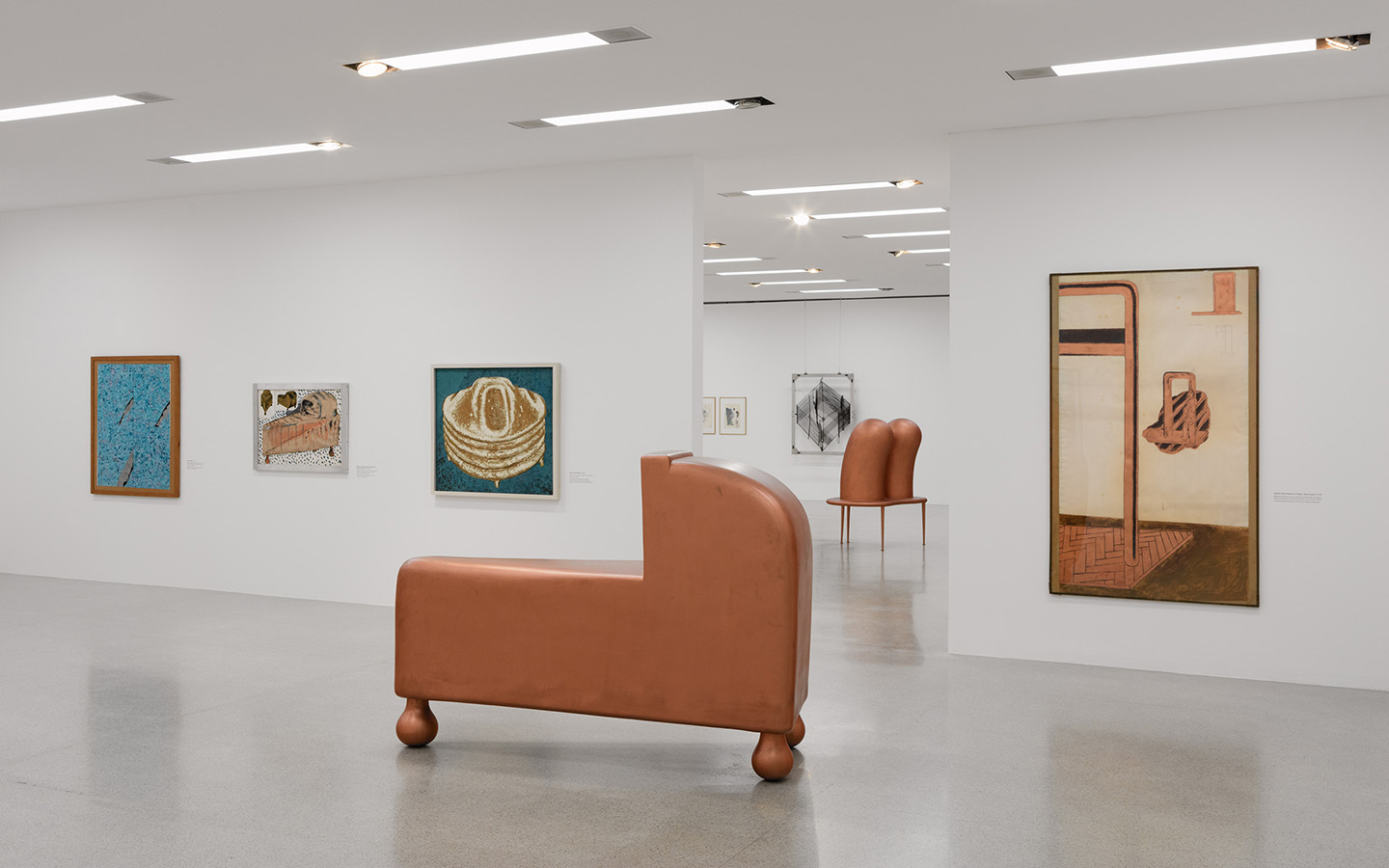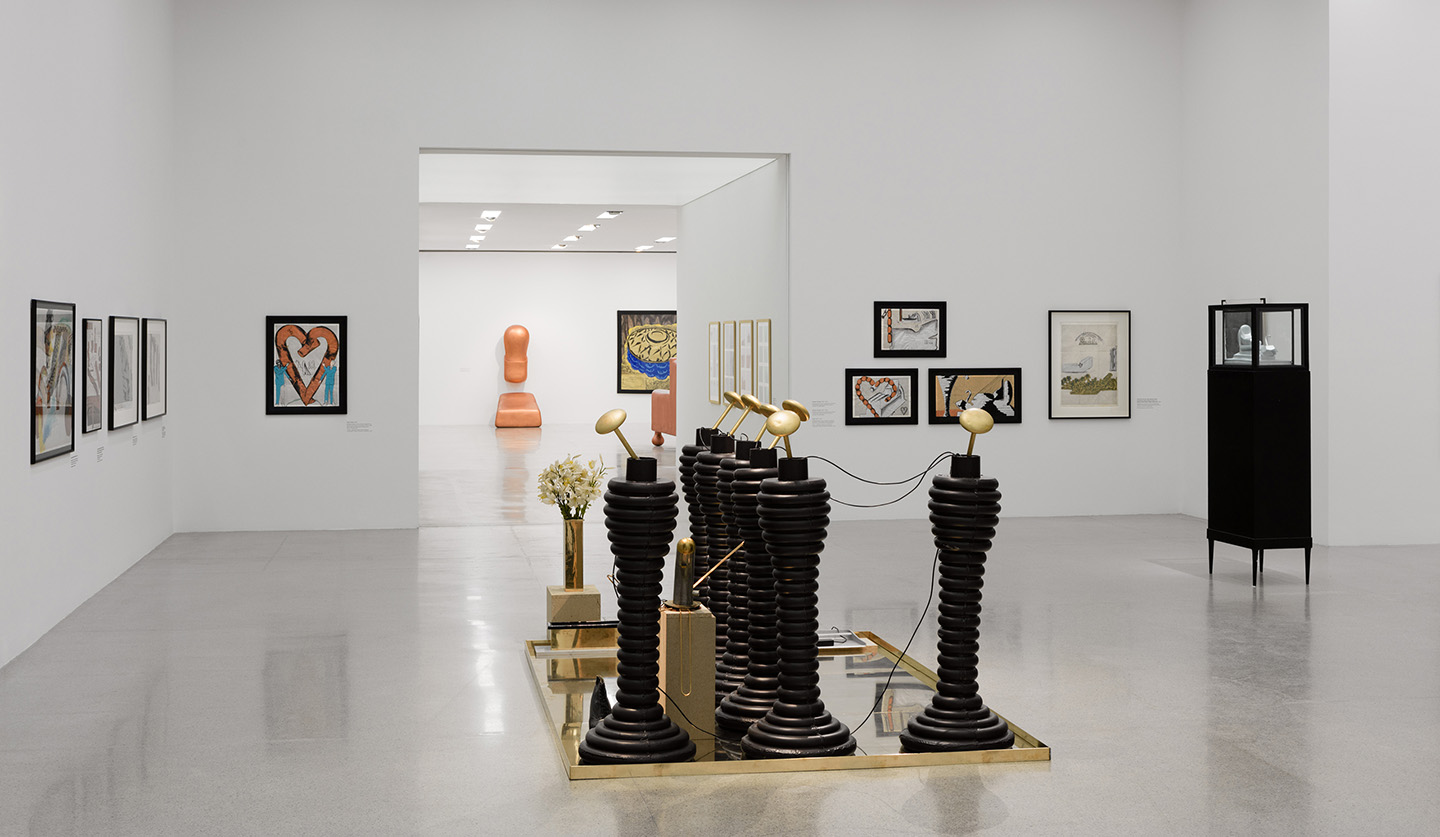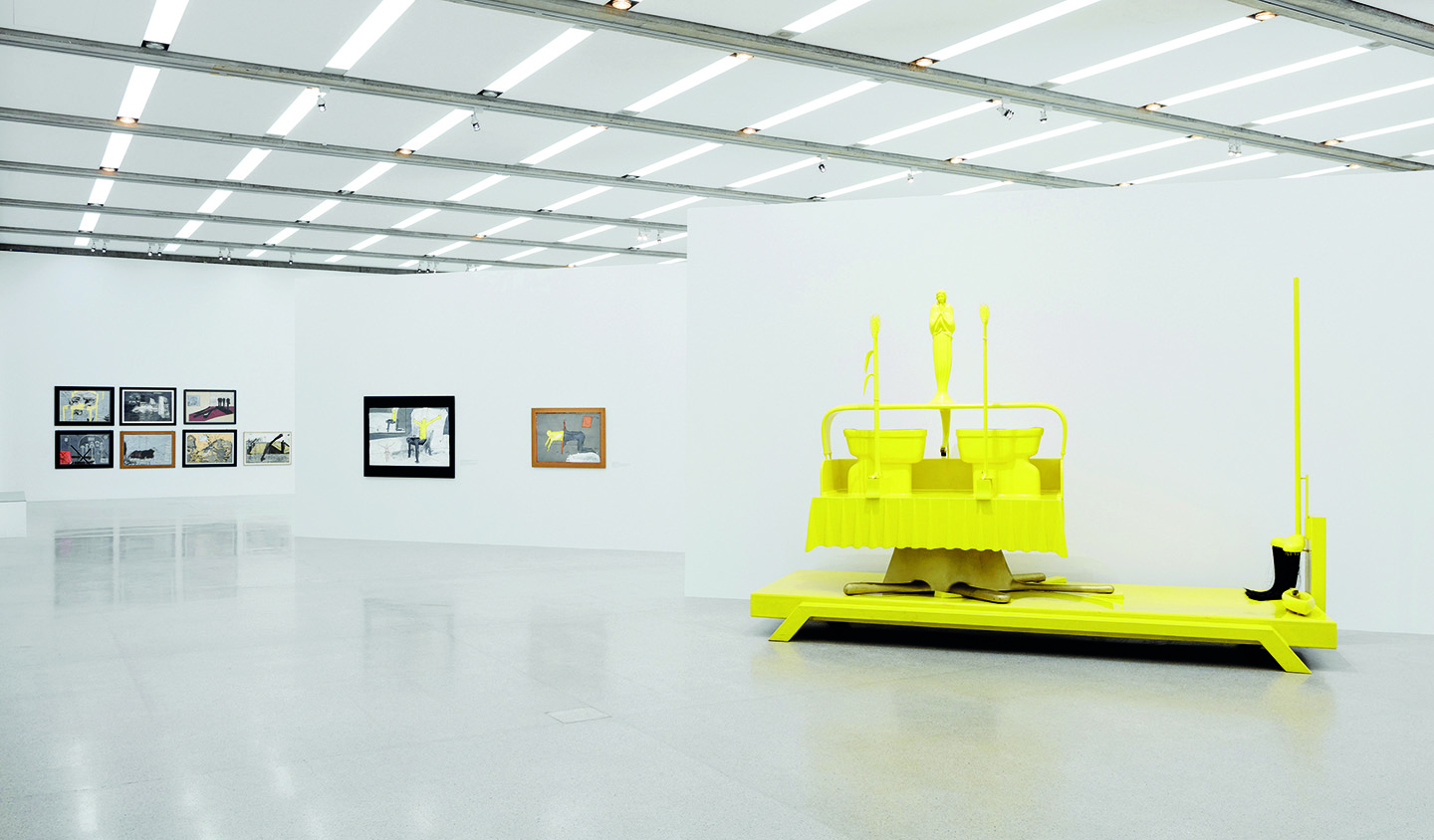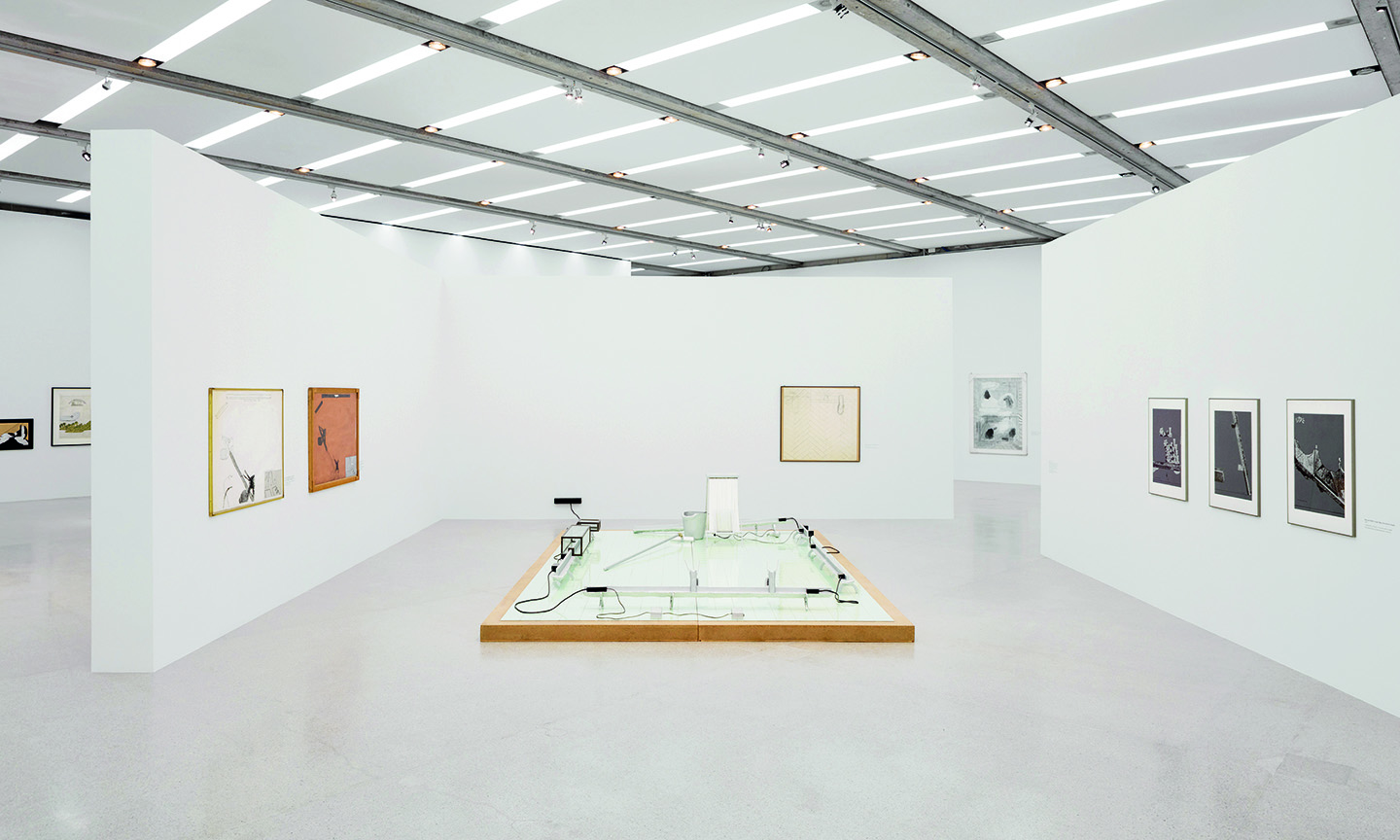 by Max Feldman
Shy at Work focuses on Bruno Gironcoli's skills as a painter and draftsman, producing an encounter between his sculptural practice and his works on paper from the 1960s through the 1990s. Though they sometimes include explicit instructions for their construction, naming materials appropriate to the drawn forms, the paper works are not simply anticipations of the sculptures, but fantasy animations of sculptural practice freed from practical trivialities like the very existence of the figures drawn, or the laws of physics. These fantasies reflect what curator Manuela Ammer has called Gironcoli's evolving "theatricality" as he found new forms of expression, constantly reinventing himself by reproducing and recombining motifs. After abandoning rigid wire works for rounded polyester objects finished in metallic paint layers in the 1960s, Gironcoli made distinctively cryptic, complex installations in the 1970s and imposing monumental statues in the 1980s and 1990s, always avoiding the motifs of his contemporaries.
Like a stage designer, Gironcoli paid ever closer attention to the "dramatization" of his works, but there are odd little continuities, for instance his unconventional attitude toward masculine sexuality that saw him constantly return to phallic symbols, whose virility wanes with time. Or his political views as a Marxist who grew up in the sanitized consumer society of post-fascist Austria, which influenced the repeated images of apes confronted by the strictures of civilization. And then there's the repeated figure of a man, always seen from behind, called Murphy after Samuel Beckett's novel, first seen in an experiment with sponge forms and plaster, Modell in Vitrine (1968). One way to tell this story is through Gironcoli's increasingly eerie and kitsch questions of our internalization of civilizational discipline. His drawings of Pavian apes—creatures who imitate humans—reflect his wider concerns with theatricality and masquerade on the one hand, and the disciplining of the human body on the other. The concern with discipline is evident in Große Messingfigur (1970), a giant piece of brass-colored gymnastics equipment, which can only suggest repeated and rigorous bodily conditioning, and in the prevalence of leather belts and torture devices, suggesting an inquiry into the sublimation of desires for domination and submission.

In Schuhe (1970-1971), Gironcoli repurposes the grid pattern that appears in many of his graphic works as a green ceramic tile floor in an installation that variously suggests the drudgery of janitorial work, an imaginary crime scene, or a fantasy of submission. Underlaid with a particle-board base, the tile floor is bordered by a series of steel constructions connected by cables and plugs. In the center is a silver-varnished aluminum cast mop and bucket, seemingly hastily abandoned by its user. If the base and floor act as a "stage," and the abandoned equipment the drama, the fact that the black electric cables lead "out" of the installation to reach a socket on the wall disrupts the "theatricality" of the sculpture, making it fully coextensive with everyday life. Schuhe suggests a more banal form of submission: the ordinary, willing wage slavery of waking up every day to go to work.
The "Yellow Madonna" of Untitled (1975-1976) turns on the problem of consumer society. Schuhe is the site of submission to alienated labor: we have a critique of the relentless overproduction of consumer goods to meet manipulated needs in the form of garish Catholic kitsch. The Yellow Madonna watches over us, fastened to a curvilinear bar, flanked by two rows of erect wheat sheaves and two toilet bowls. These objects all stand on a rippling tablecloth, itself placed on a plinth by way of a curious domelike surface with tubes sticking out like splayed inhuman fingers.
If the Yellow Madonna is an altar placed on pedestals to itself, then Untitled (1997), like the rest of Gironcoli's later works found in the first room, is an object of worship for an as-yet-unfounded futurist polytheism. Part socialist realist monumentalism, part neo-Babylonian archaeological find, it's a carousel peopled by eerie human babies, undergirded by a strict constructivist frame. It's a testament to Gironcoli's distinctive touch, despite his rabid eclecticism, that he could have moved so far from the simplicity of his early polyester works and yet create such a cohesive oeuvre.
at mumok, Vienna
until 27 May 2018