CONVERSATIONS
Calla Henkel & Max Pitegoff at Cabinet, London
Close
1
2
3
4
5
6
7
8
9
10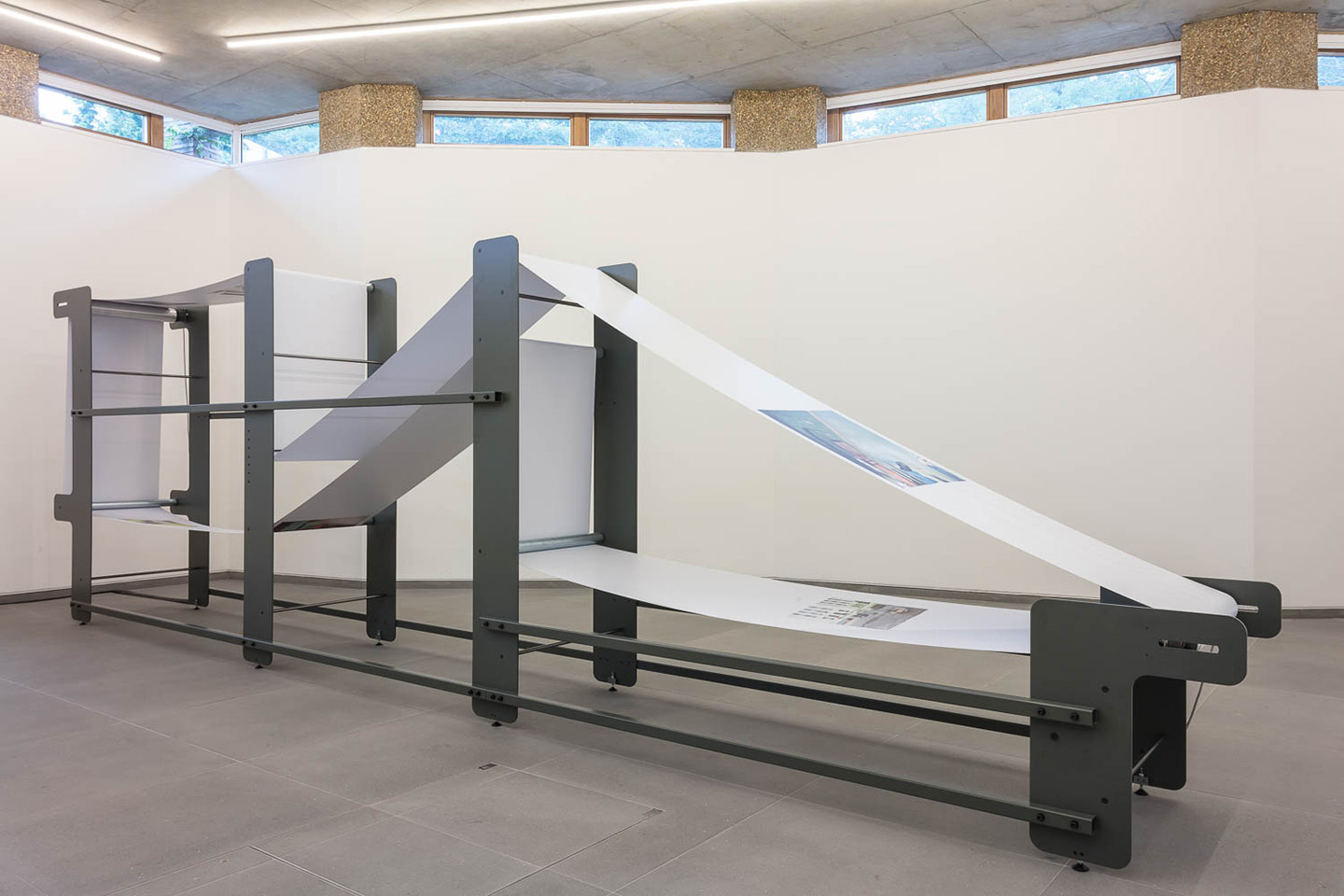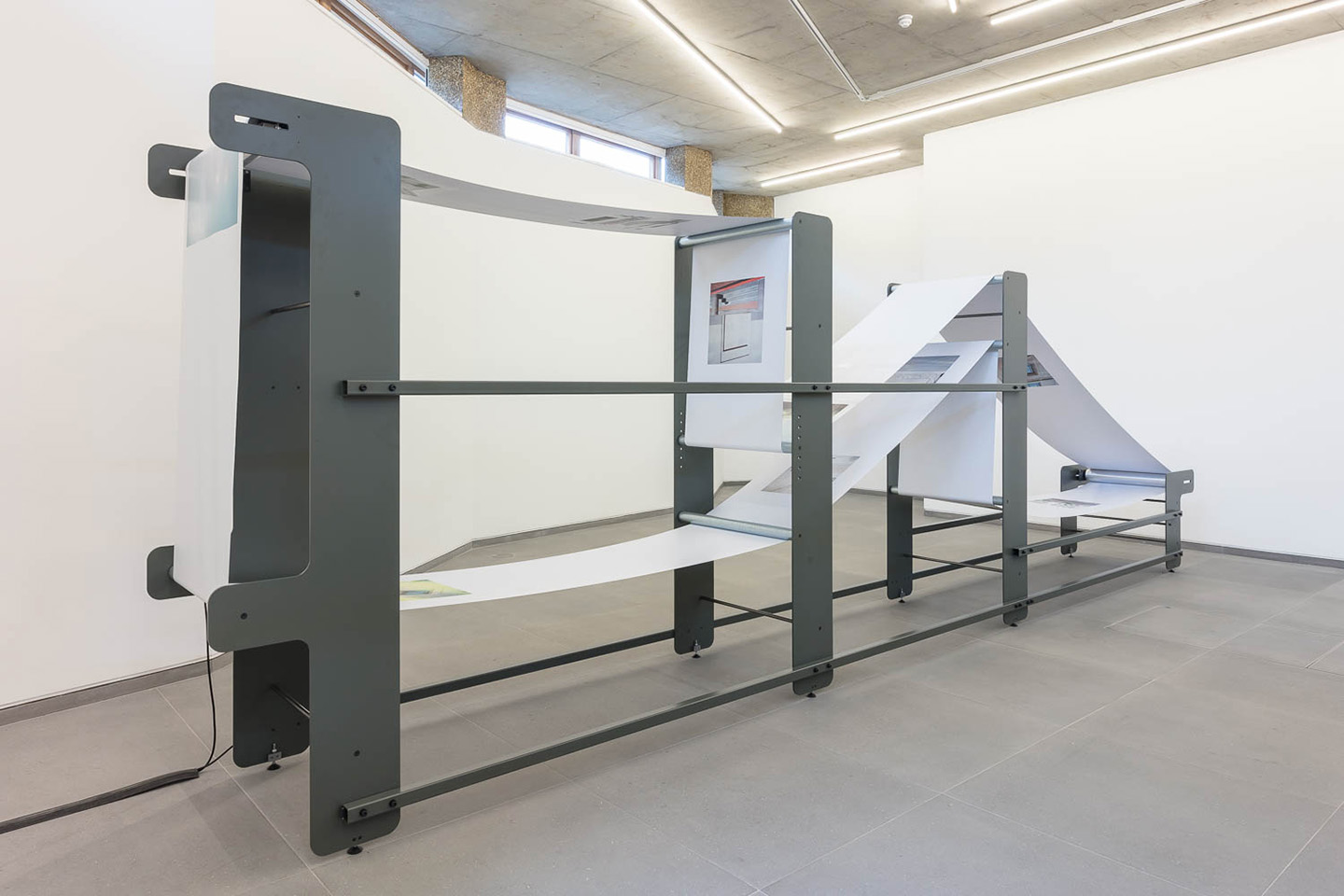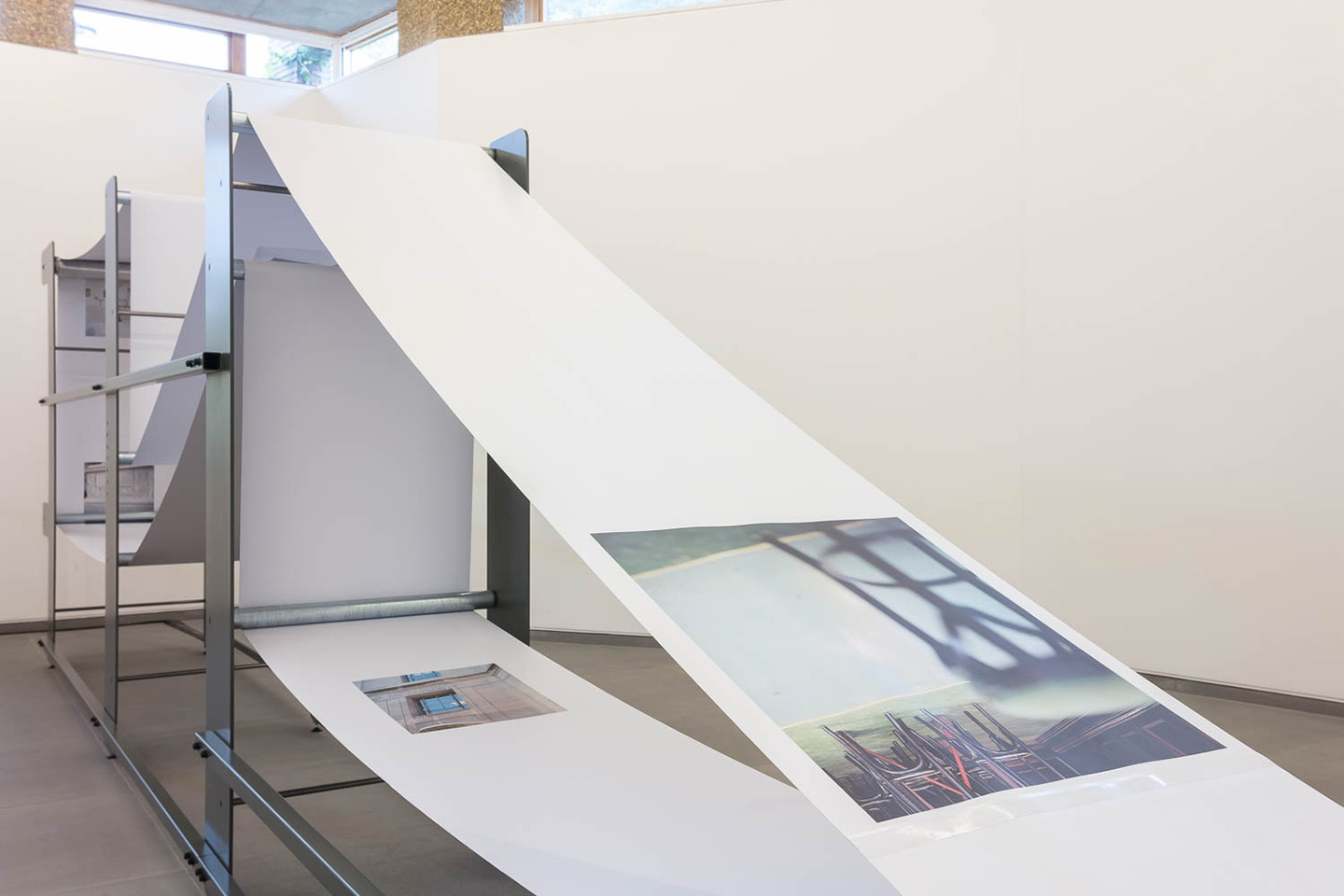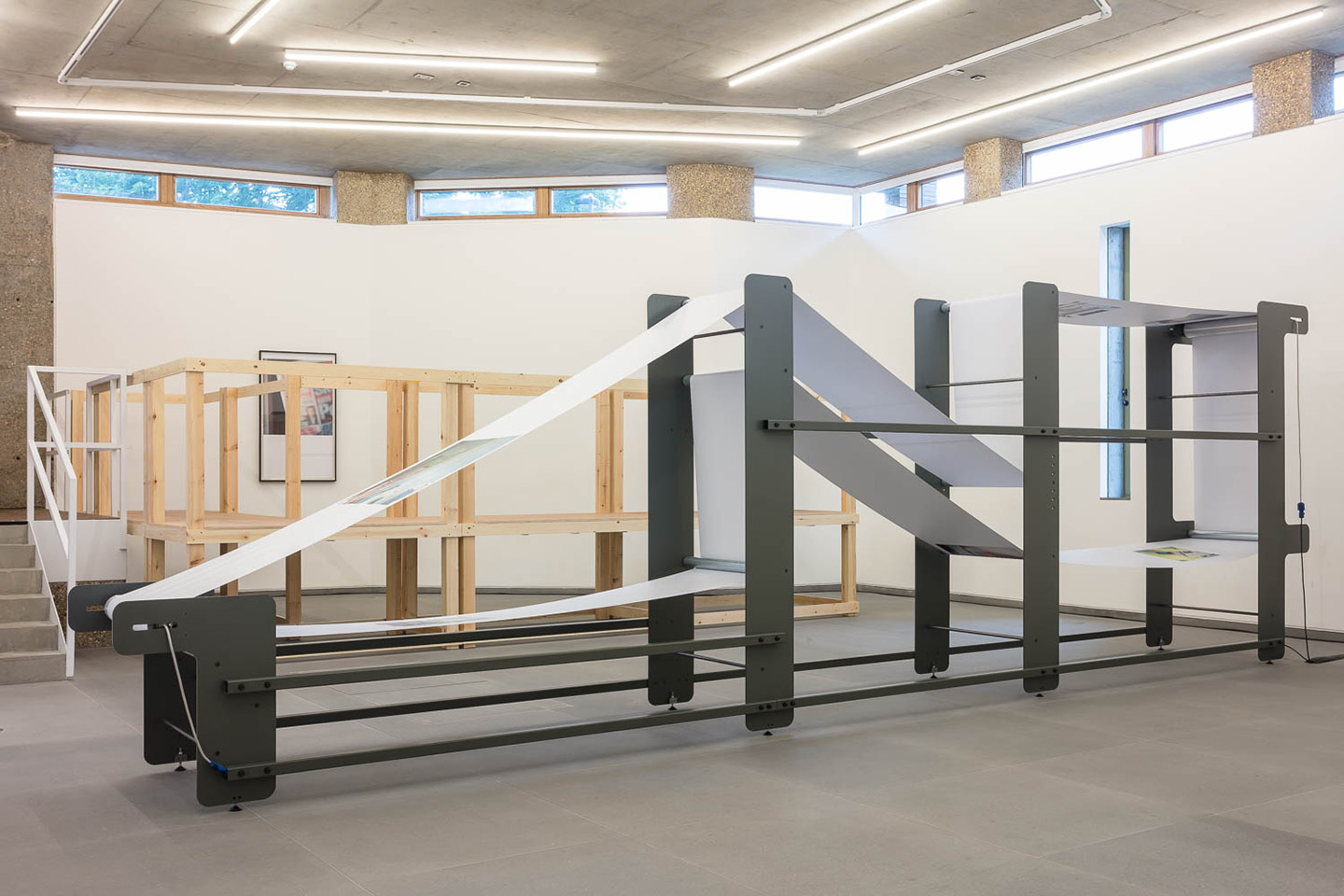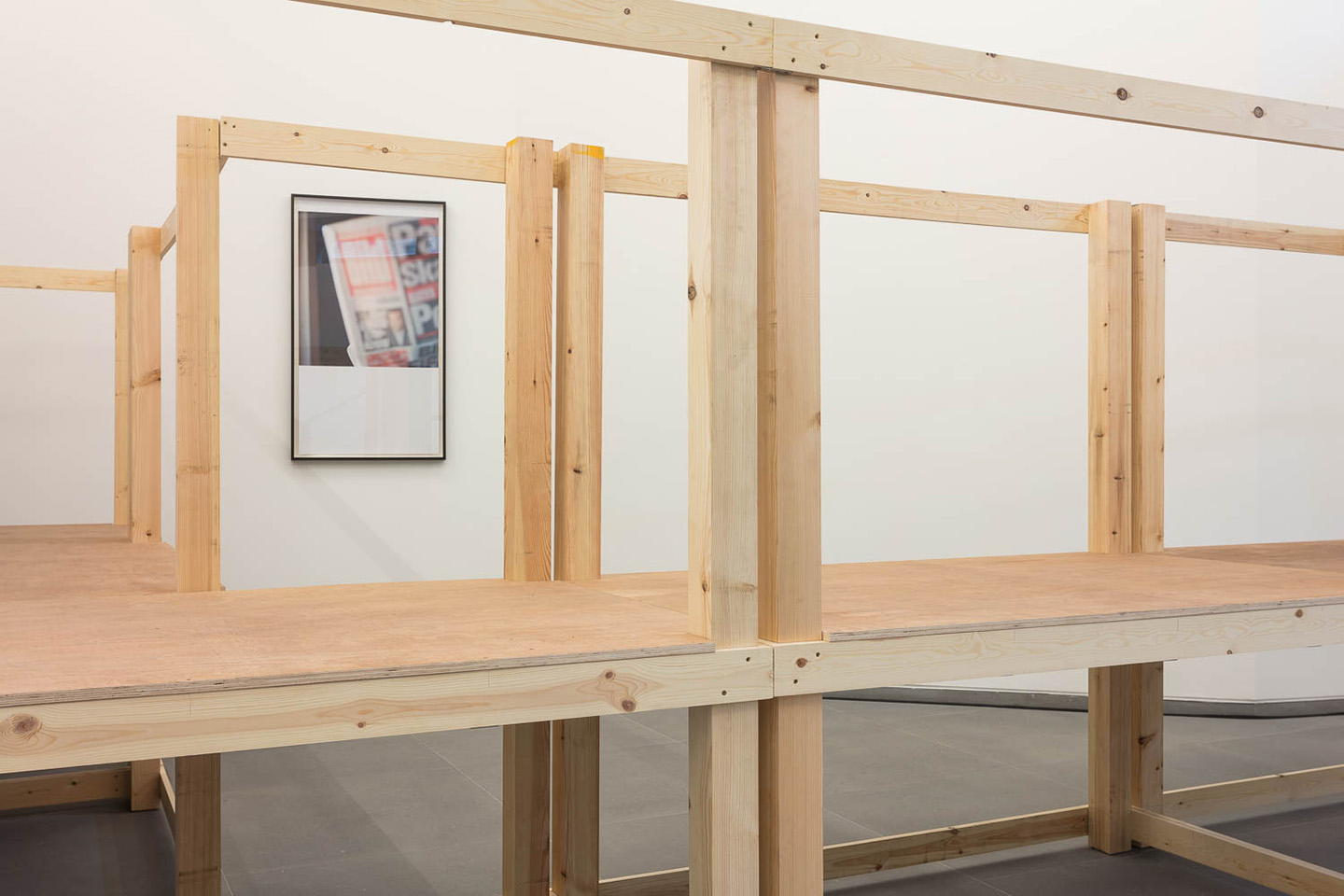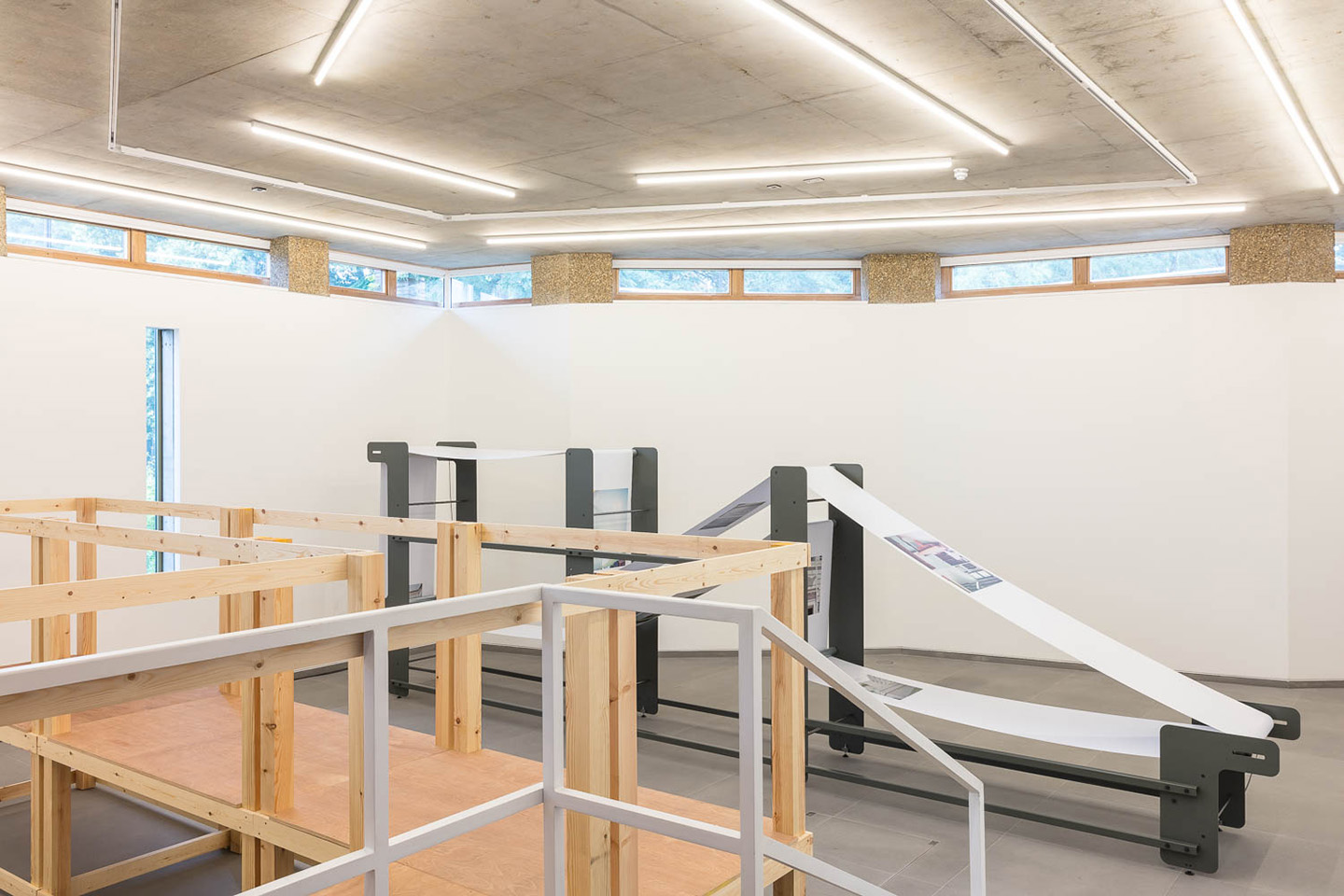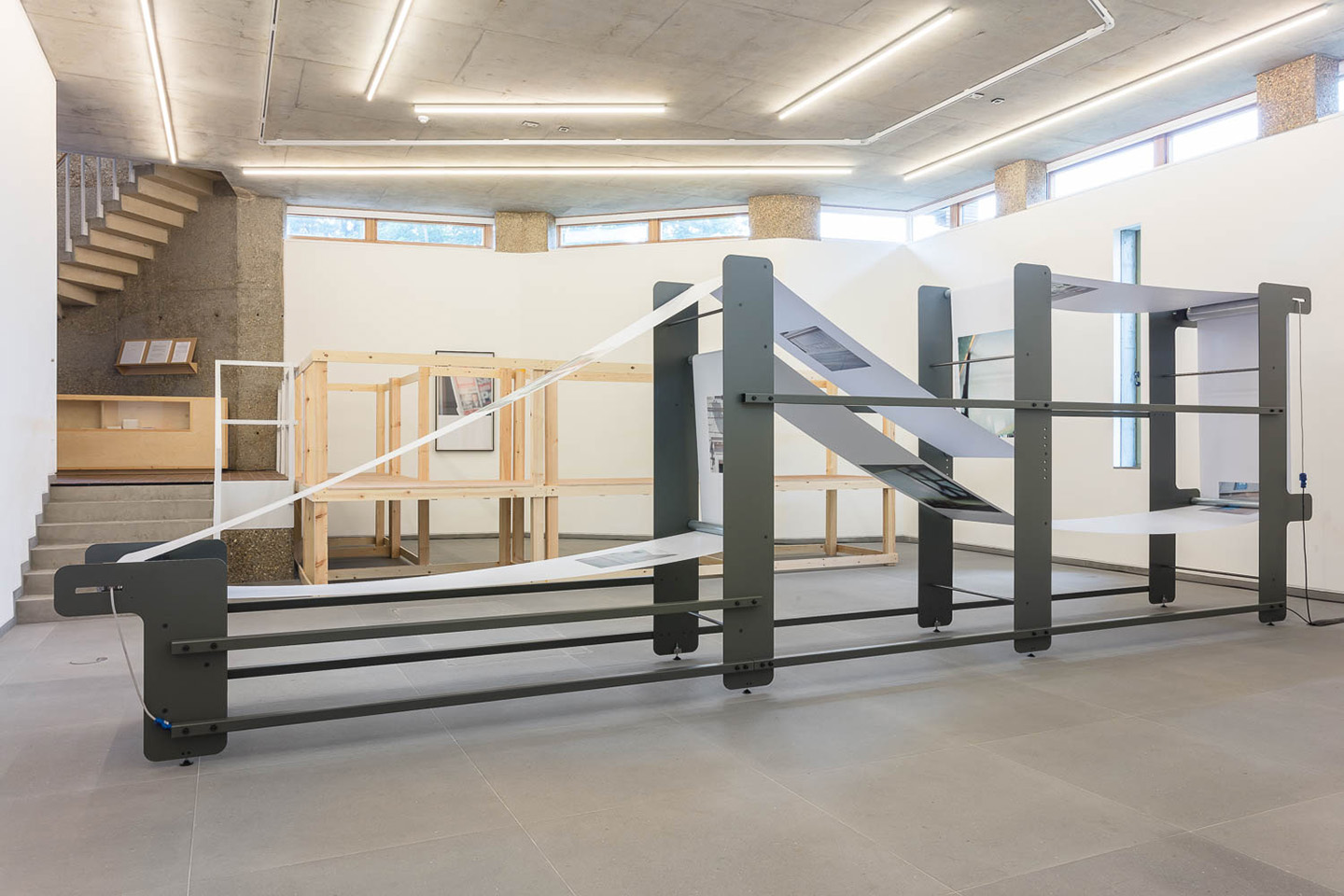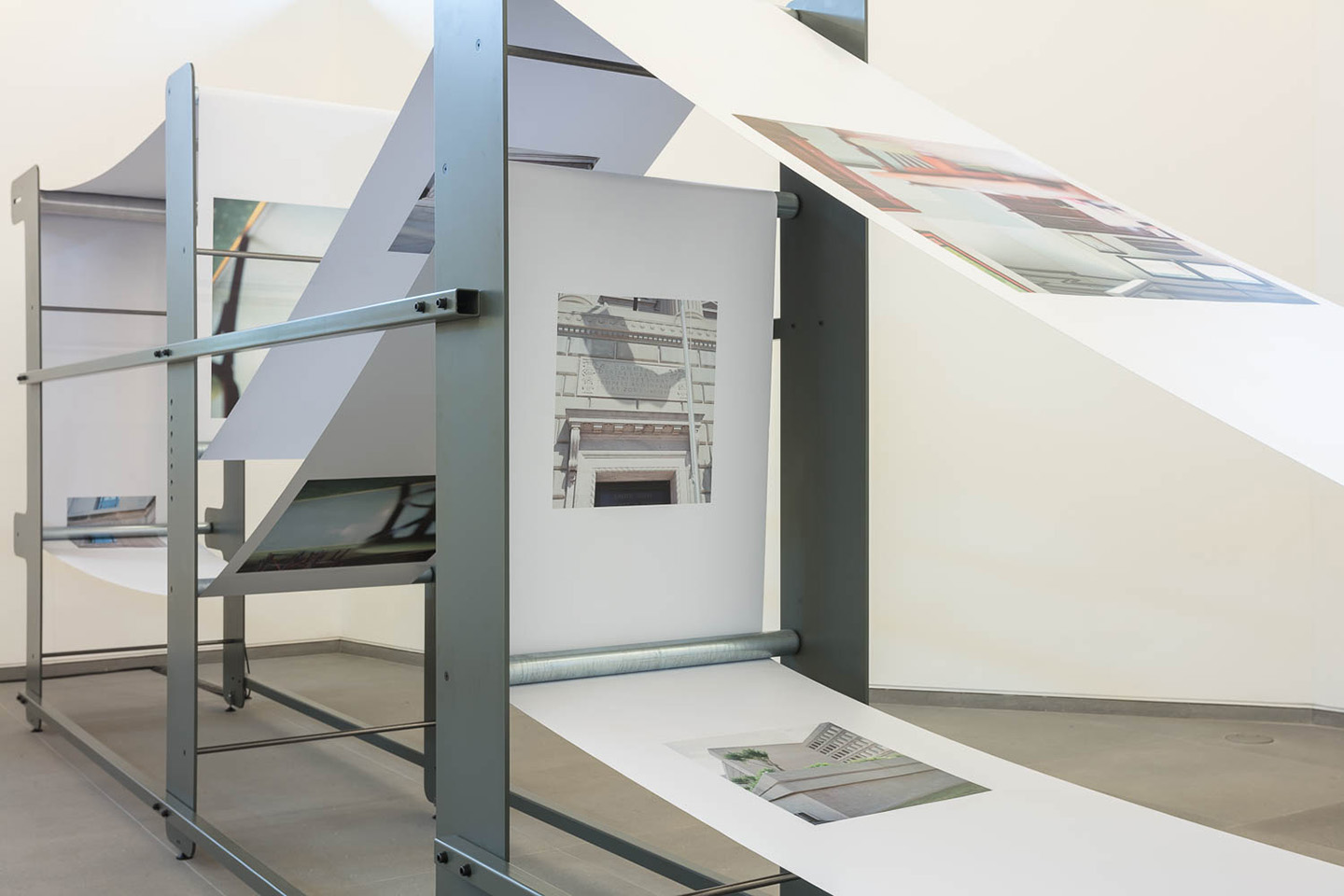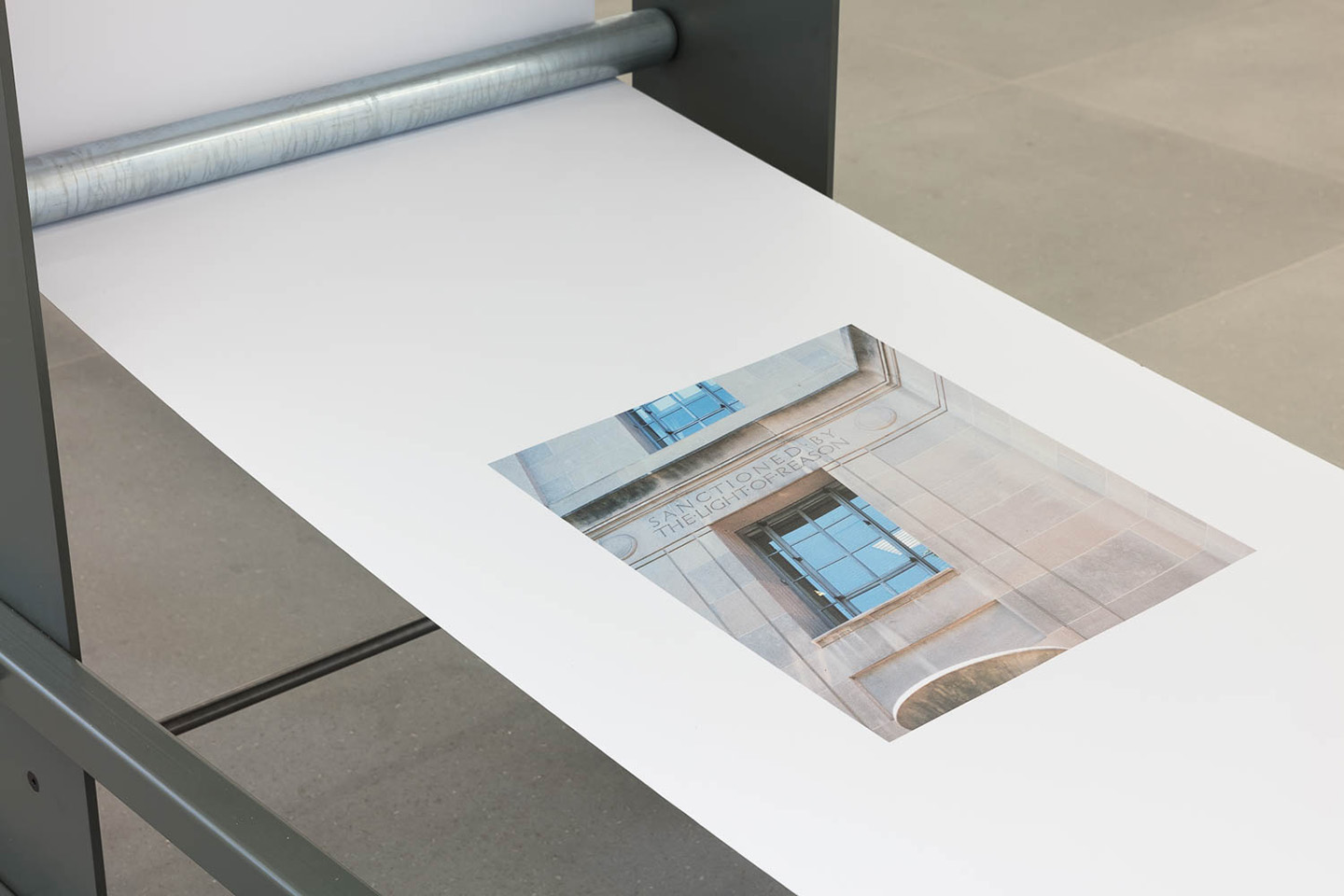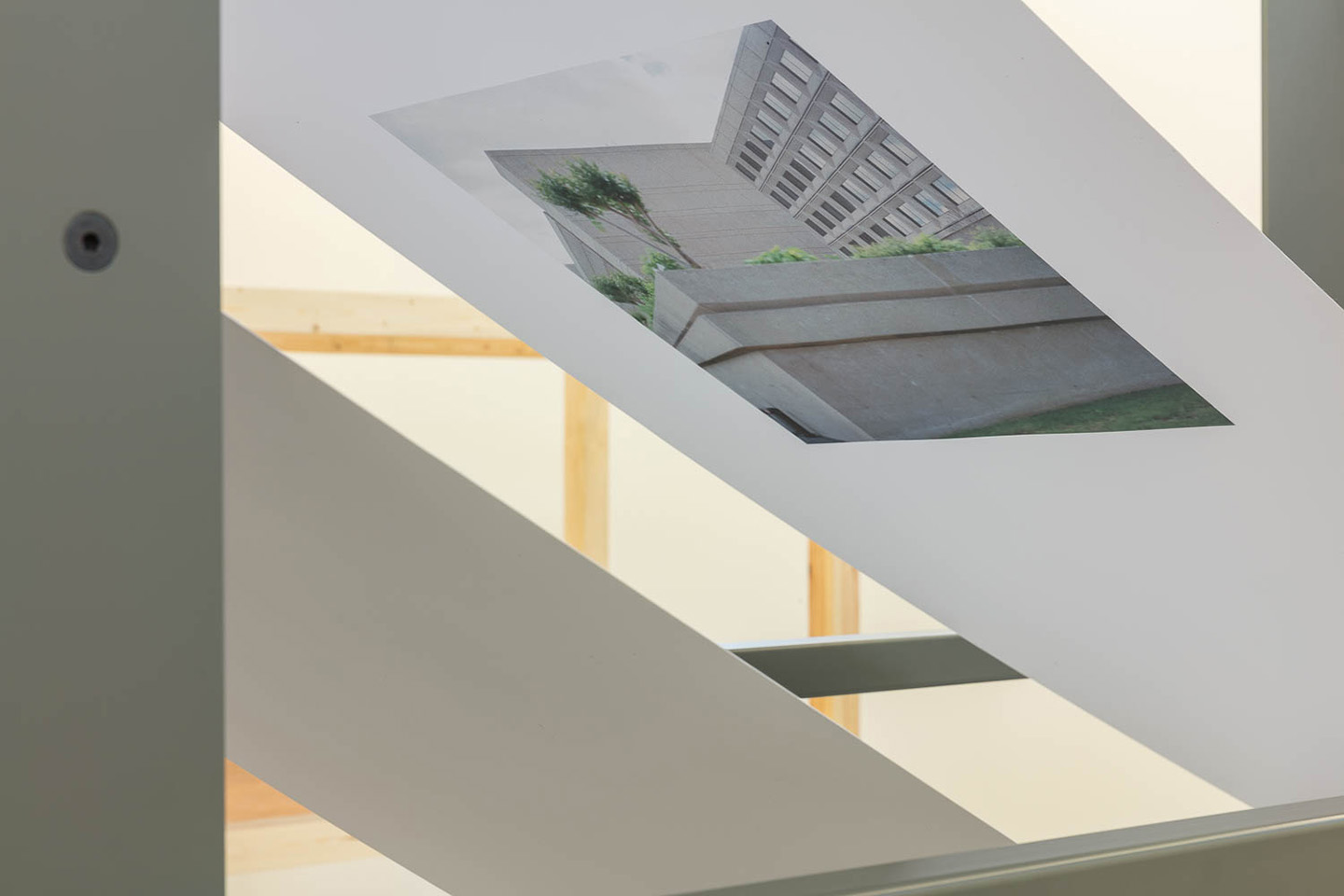 Calla Henkel & Max Pitegoff in conversation with Tenzing Barshee
Tenzing Barshee: For Made in Germany at the Sprengel Museum Hannover and your exhibition at Cabinet in London, you made two similar works. What's their core idea?

Calla Henkel & Max Pitegoff: For both shows we built large steel "machines" that circulate photographs and texts in a loop. Their form borrows from the filmic tool of showing a newspaper getting printed, a narrative device for the mass circulation of daily truth. Physically, the machine mimics a printing press but loops unproductively, harkening back to flimsy Victorian-era paper theater toys that used a hand-cranked loop of images as a backdrop.
TB: What are the metaphorical aspects of this "machine"?
H&P: We refer to the machine we made for Hannover as a prototype. It has a rough, welded look and a dumb functionality, which lends itself to an easy metaphor for creating one's own space or system for sharing content, narrative, or image. In a way, it's a sidetracking of the idea of performing in an exhibition space, which, for us, rarely works, and instead lets the machine do the work for us. So it brings us back to how we described New Theater, the theater space we ran for two years, which maintained fraught relationships both to being exported to exhibition spaces and to image distribution. The machine is this sort of blunt attempt at reanimating what has already passed, an endless retelling, something we'd always avoided trying to do in relation to our past performance work because we never found a format that felt strong enough to stand alone and that didn't embalm the images with quasi-historical fomo.
TB: What images did you use for the machine's feed?
H&P: The photographs we are showing in Hannover draw from a play in three acts that took place over three photo shoots. This was the first time a play we'd written was produced for the camera. The script, whose text also appears in semi-legible photographs in the piece, is choreographic and builds scenes with room for the actors to use their own language, improvisation, and working experiences to fill in the blanks. The play began as an update of Allan Sekula's 1974 photo-essay This Ain't China, which follows young Marxist employees at a diner in California attempting to unionize against and overthrow their boss, a bourgeois leftist who sees the restaurant within an extended Brechtian theater metaphor. Our play follows a group of performers working part-time in a restaurant in Berlin, who, in response to their bosses' insistence on the blurring of the language of their labor between service and performance, are pushed to the point where they decide to form an ensemble and make a demand for a proper German theater contract (specifically, the NV Bühne). Our photographs show images of breaks: cigarettes, group conversations, rehearsals, bows—non-commodifiable moments in their time together. We first photographed them in a restaurant, then in a dance studio, where their labor from the first shoot is rehearsed and developed for an invisible audience. For us these relaxed images of rehearsal tease the machine itself and the mechanical labor it performs.
TB: Over the years, you've established two main narratives in your work. On the one hand, you've been developing a pseudo-documentary photography, which lends itself to biting social commentary; on the other hand, you've created a performance-based format of social/communal spaces like Times Bar and New Theater in Berlin, and soon you'll do theater productions at Volksbühne Berlin. How do these different strings meet in your current project?
H&P: For us, this machine pretends a sort of impossible reconciliation between different practices while trying to reanimate documentation. There is such extreme failure in the photographing of performance; it produces these sort of microscope slides, glass sheets for sandwiching organisms that feel dead and removed, but in the end, they rot, age, and change. Whatever that rot is, that sentimental decomposition process is maybe also something we are trying to allow to enter into this machine. There is a dissonance between the openness of a text like a script to be interpreted or performed and the closed-downness within history of an image trapped as a photograph.
TB: Since the earlier work, your choice of motives seemed to be colored by a certain harshness, a disarming nakedness, spiked with irony or even sarcasm, when you turned your lens to topics such as the privileged U.S. expats in Berlin, student debt, the value of spaces, or labor conditions. The "machine" seems to employ a similar kind of directedness.
H&P: We've been very interested in the perversity of new economies and how language and labor structures frame them, as well as how we as artists and our work are implicit within them. We always come back to dealing with the realities of "practice," either our particular realities, for instance, in running New Theater, or larger issues like the ones you mention. Part of this is our recent engagement outside photography working with the preexisting physical material of "development," often directly related to our experience in Berlin—for instance, the project we did last November for the show Home Visit at Museum Ludwig, in which we traced a Cologne-based investor's Berlin real estate, connecting it to the way that culture is used as a city marketing tool, and in the end dressing one of his Cologne properties in the trompe l'oeil vinyl that we found at the construction site of Berlin's yet-to-be-rebuilt Schinkel Bauakademie.
TB: How do you see your ongoing interest in creating fictions (the theater productions, the utopian aspects of communal spaces) in relationship with your recurring commitment to document the "real conditions" that surround you?
H&P: Maybe there's an answer to this in thinking through how one can use existing logics to modify fiction, in a way opening it up for those who are already present—a sort of pragmatic fiction. At the moment, our studio is based out of the ex–billiards room of the twenty-four-hour bar Bierhaus Urban, where we went after plays at New Theater. From going so regularly we became friends with the owner and his son, Tarek, and after the theater closed, we asked them if we could work from there until we figured out what was next. So, for the time being, we've taken on the logic and rules of this bar as our own. It's been open nonstop for thirty years, so it has a very specific relationship to time, which is also this endless loop in which we now work. There is a faith in the mechanics of this sort of space. Relating back to our machine, Tarek described how he experiences major news events by seeing them on the front cover of the Berliner Zeitung, a local tabloid, being read by the same Stammgast (regular) at the same barstool every morning for the last twenty-five years. We've been writing plays set in the bar and, at Tarek's request, photographing the space for their website/Facebook, and are now working with him to redesign their logo and printed matter like menus and coasters. Bierhaus Urban is by no means a fictional site, but it has allowed us to exercise a different set of rules for our own work.
.
at Cabinet, London
until 9 September 2017