EXHIBITIONS
Cally Spooner "About a work #2" at ZERO…, Milan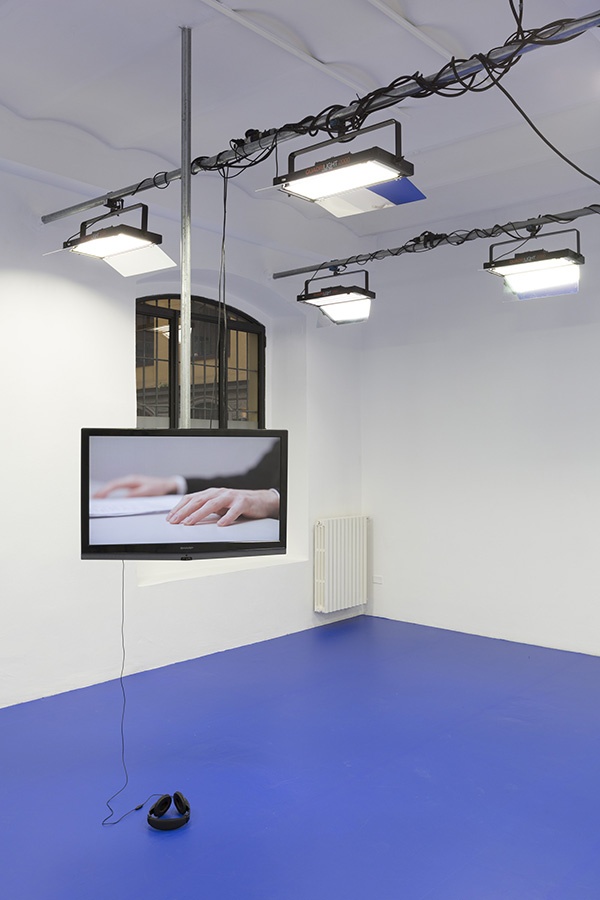 Is it still possible today to be unmediated? In a world that is dominated by a corporate economy, based on automation, commodification, a bureaucratization of life and high performance strategies, what are the boundaries between personal expression and market agendas?
These are only some of the questions that Cally Spooner explores in her practice. Using theory and philosophy as an alibis to write, the artist produced over the years a body of work that through writings, films, live events, broadcastings and installations investigates the behaviour of speech and challenges traditional notions of performance.

In the past two years Spooner worked on a large-scale project called And You Were Wonderful, On Stage. Started as a touring live musical, evolving as it moved between institutions, then disassembled entirely into a number of discrete independent works, only to be fixed again into permanence in a feature film that will be produced in the next months, the project explores ideas of technological dependency and their relationship with hired human bodies understood as a technology themselves.
A disjointed collection of current affairs, pop culture and corporate strategies become the main reference of this project, often conveyed by a chorus line of female voices who, with a cold, impersonal and at times sarcastic approach that leaves no space for character development and sympathy, ruminate on fallen heroes and broken dreams.
At every stage of this open, multifaceted project, the artist tries to test new spatial and choreographic developments: the musical can be seen as a type of public studio time, and the independent works produced during its progression, of which they document a conflicted "off- stage" subtext, are in turn an occasion to disrupt the overall project and explore some of the issues at its core.
It is within this context that the works presented should be considered.
For this show Cally Spooner intervened in the architecture of the gallery, transforming the exhibition room into a single system, whose imaginary is borrowed from TV studios' settings.
A blue TV studio floor covers the entire space, and the regular gallery lights are replaced by a temporary film studio lighting rig and Chroma film lights, which transform the room into a somehow too bright, too alienating environment.
Suspended from the ceiling, the work Off Camera Dialogue is based on an off-camera transcript, which the artist encountered whilst working as a copywriter in an advertising agency. The piece was rejected for commercial use, because it was a failed outtake. In the video an employee is asked to deliver his personal story and aspirations. An interviewer corrects his speech to better reflect the voice of their corporation, so that once the discourse is redelivered to the camera he would become himself a better TV commercial for the company. The work focuses on the non-verbal language of this awkward character, somehow out of human scale, often not in sync with what is heard. His hands move nervously, and trapped into the screen, he becomes a faceless, impersonal body, his head replaced with the pole that hangs the structure to the ceiling, as if a machine himself. His speech is constantly interrupted by the voices of a female chorus, who urges him to repeat his speech over and over again, in a climax of frenzy that ultimately exposes the impossibility to deliver any sort of message.
We, as viewers, are invited to walk in the room and to watch the video through a set of headphones plugged to the circuit, becoming part of this weird system. Commenting on the "performance" of the artist and the gallery that hosted the exhibition, chatting on diverse gossips of the art world that often characterize opening receptions and that are not very different from the gossiping of the chorus line in the musical, we become ourselves protagonist and inescapably complicit of a live mise-en-scene.
Leaving the gallery, we would not be surprised if someone would approach us, as if recognizing us, only to say: And You Were Wonderful, On Stage.
.
until 31 January 2015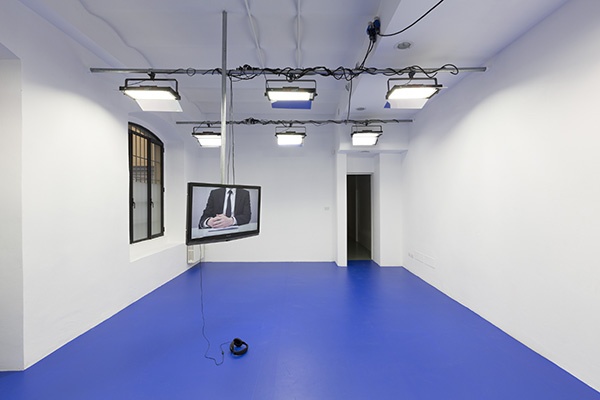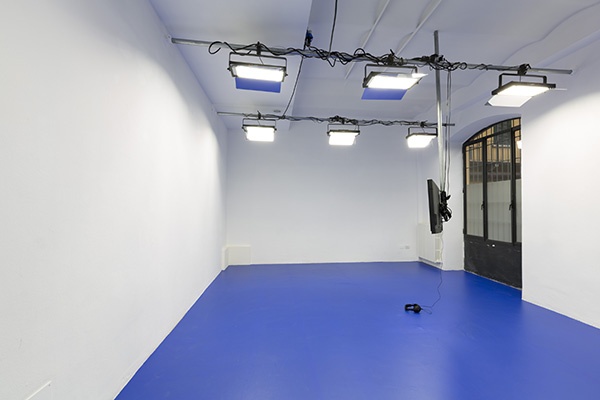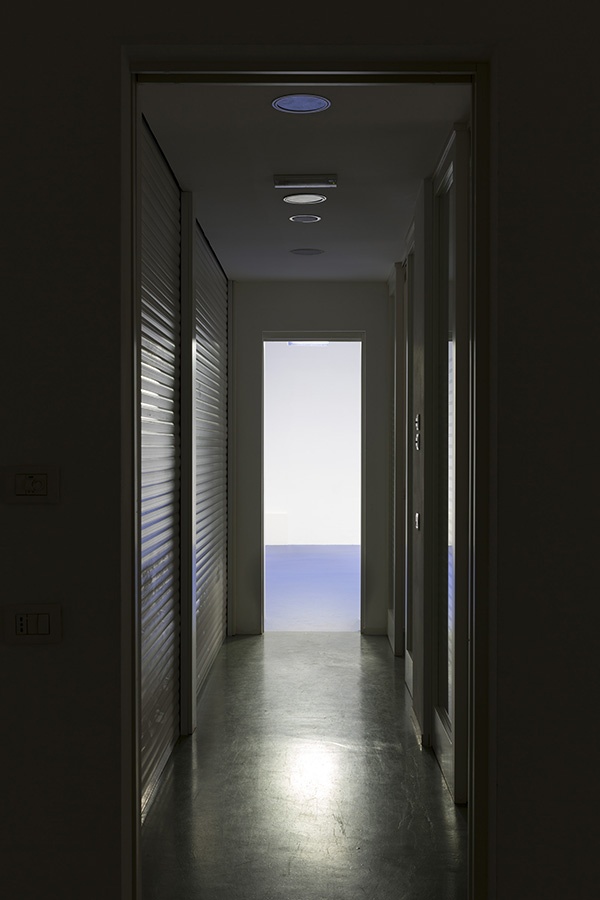 Cally Spooner, "About a work #2" installation views at ZERO…, Milan, 2015