CONVERSATIONS Mousse 35
Relations de Traduction: Camille Henrot
Close
1
2
3
4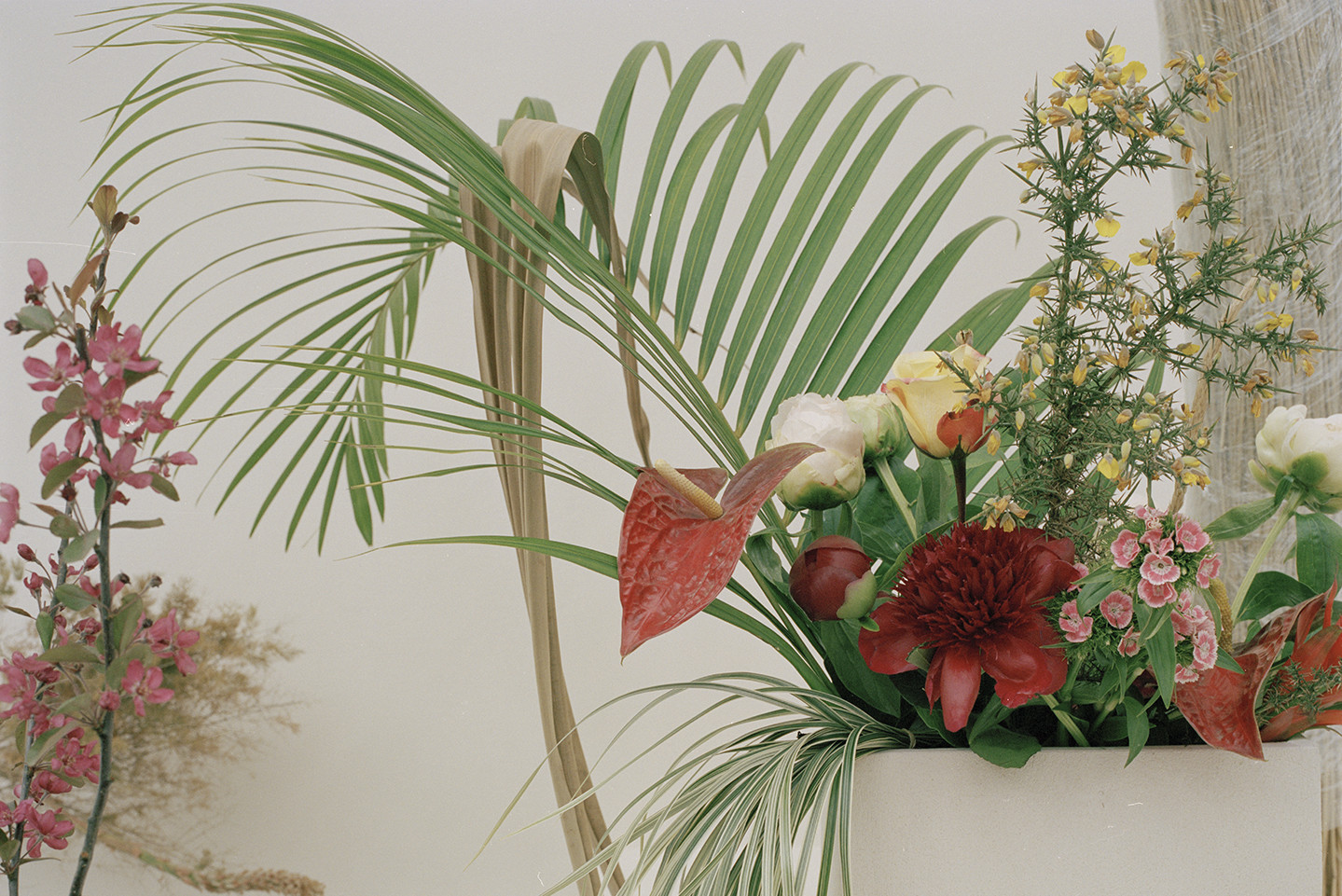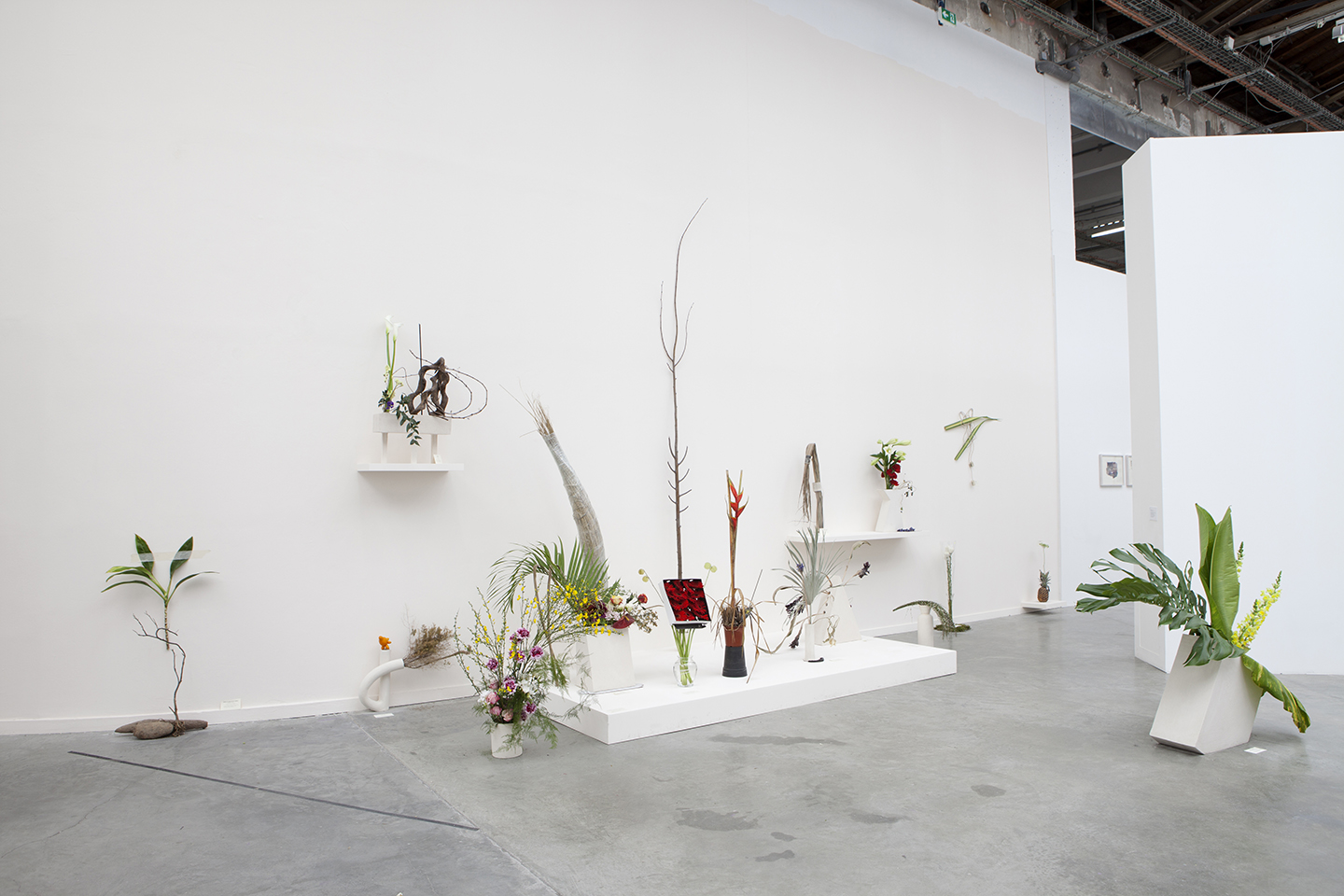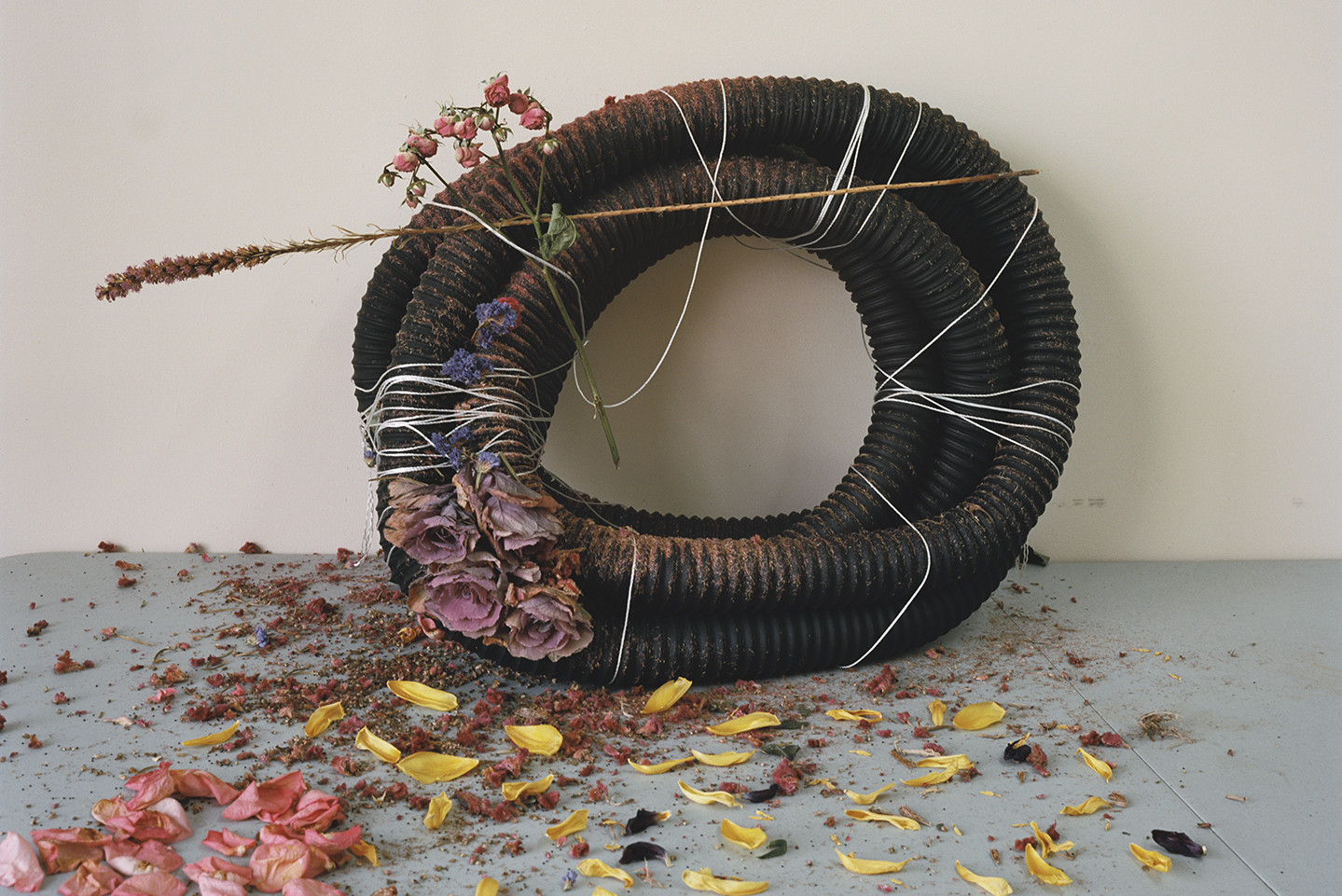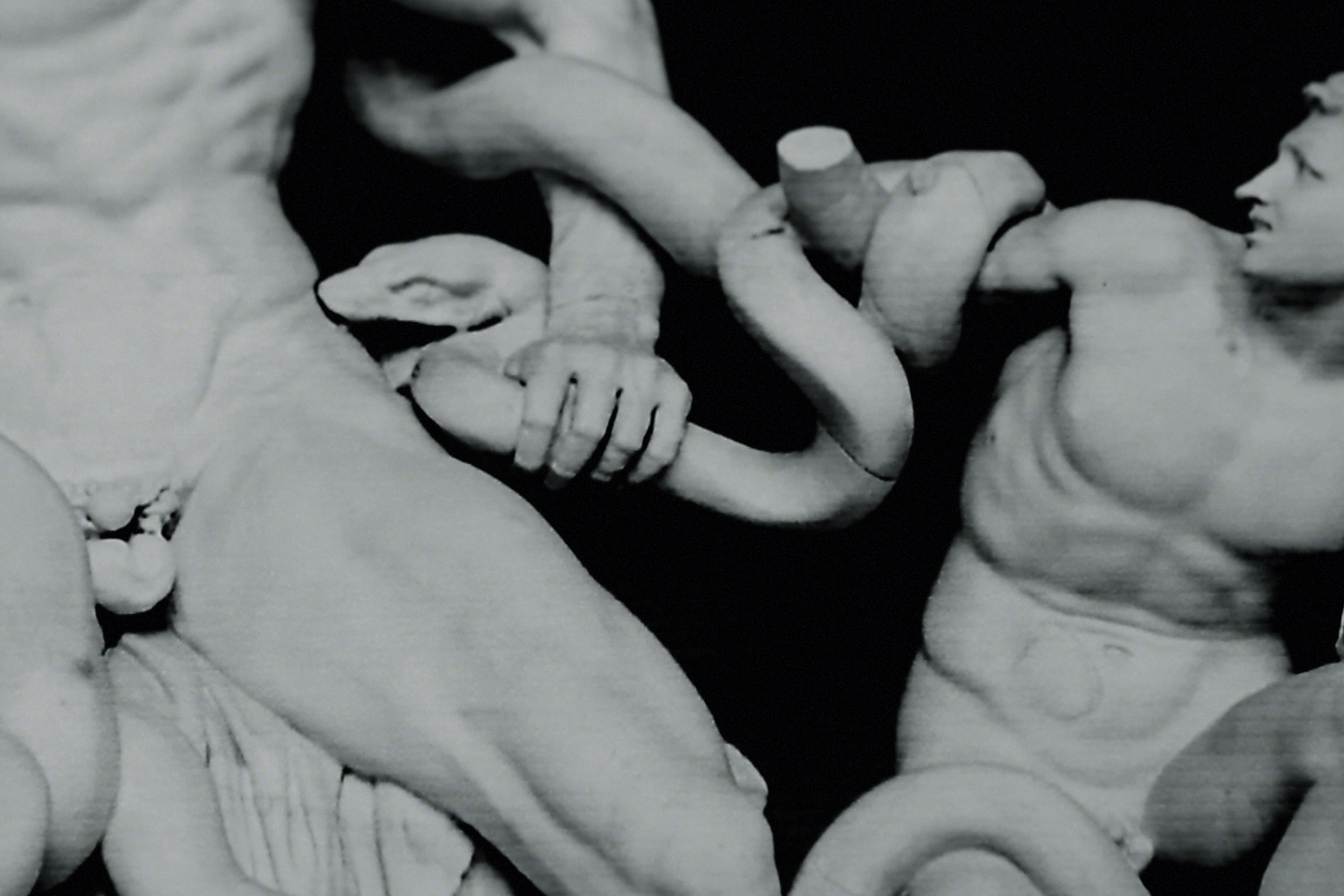 by Cecilia Alemani
Is it possible to be revolutionary and like flowers? This enigmatic question is the title of the latest project by Camille Henrot, and it is the practice of Ikebana that removes any reservations about the floral passion: an entire library is translated in arrangements; the reciprocal positionings, the Latin names of species that speak perceptibly of trade, pharmacological properties and history. Cecilia Alemani meets with the artist to talk about the translative qualities of her work, ranging through anthropology, archaeology and sociology.

CECILIA ALEMANI: In the last two years you have been focusing on the practice of Ikebana. How do you relate botany and floral decoration to contemporary sculpture?
CAMILLE HENROT: Flowers belong to a time that is not secular (like history) but seasonal. They address two major expectations of our time. Creating continuity in an era of ruptured temporality, they act like an antidote to the anxiety of living "in history." At the same time they represent renewal as we wait for change. That's why I called the project Est-il possible d'être révolutionnaire et d'aimer les fleurs? (Is it possible to be revolutionary and like flowers?). My initial attraction to Ikebana had to do with how it corresponds to the idea of a healing object. The practice of Ikebana has the role of creating a 'privileged space' just as much for the person who views the arrangements as for the person who composes them. By translating books into flower arrangements in a single gesture, the aim is to concentrate in one object the entirety of a thought, brining together disparate fragments—reconciling opposites in a whole of global dimensions. The approach finds a cohesion (of sorts) in the presentation of several Ikebana. The aim is to build an 'environment' within the image of a library that would be simultaneously out of time and connected to the Western fascination with knowledge and its expectations for a revolutionary change.
CA: Your work is bound up with systems of organization and taxonomy. Your Ikebana sculptures are each visualizations of books in your library and your videos often deal with the construction of racial identity. Can you talk about some of these aspects in your work?
CH: I like the serenity brought about by the image of an organized system, but I don't like simplification and authority. I'm fascinated by unifying systems because they are fragile and appear like ordered complexity. Regarding categories and racial identities I am interested in 'Taboo' objects, the use of which is coded; these can stir a lot of misunderstanding because they continually defy categorization. The idea of culture as "translation relationships" (relations de traduction) was my starting point. We could see the history of Art as a history of misunderstandings. That history would follow the same schemes and patterns as intimate relationships: desire, possession and miscomprehension. My practice of Ikebana—even though it belongs to a current that is itself non-traditional (the Sogetsu school)—contains interpretive mistakes and naiveties, as well as irregularities in terms of the fundamentals of this art. The presence of such errors is, however, perfectly integrated into my approach. It is even one of the subjects of this project—and more generally of the whole of my work. I often think of that quote from Frantz Fanon: "As soon as I desire, I am asking to be considered. I am not merely here-and-now, sealed into thingness. (…) In the world in which I travel, I am endlessly creating myself. And it is by going beyond the historical, instrumental hypothesis that I will initiate my cycle of freedom."
CA: Anthropology, archeology, and sociology all seem to play a role in your work. How do you see your role as an artist in relationship to these disciplines?
CH: I am very interested in the 'status' of objects and the ideas of people like Viveiros de Castro, Clifford Geertz, James Clifford, Monique Jeudy-Ballini, Pascal Picq, Roger Bastide… I find these writers inspiring and sometimes disruptive. In the case of anthropology, I am compelled by certain almost incompatible desires and undercurrents within the discipline, which for me are also quite present in the artistic process and experience. In this regard, I am consistently more interested in the errors and unsolved problems of anthropology, being a science that takes we humans as both object and subject and our universe and world as both substance and projected meaning at the same time and, like art, continually critiques, overturns and transforms its own findings. I do not pretend I am handling concepts from anthropology without bias. Somehow one could say I have developed a 'cargo cult' for anthropology. (The 'cargo cult' originally described cults in the Pacific that emerged after white people arrived; it then became an expression referring to a human behavior that takes elements of other civilizations and integrates them into its own system of thinking sometimes without understanding or shifting the original meaning.) I am not equating myself with anthropologist; I do not want to claim that authority. I am more interested in the character of Marcel Appenzzell, the anthropologist in check, mentioned in Georges Perec's Life: A User's Manual. I know that when I'm in Vanuatu, for instance, I am a 'white man' above all, and I am conscious of what this means: the vanity of my motives, the voyeuristic aspect of my attitude, the guilt, the self-disgust and self-mockery, which are actually all the subject of the "Tropics of Love" drawings I started after that trip.
CA: Rites of passages and initiations have a strong presence in your work, such as in Coupé/Décalé and in The Strife of Love in a Dream. Can you tell us a little more about the background for these two videos, how they were realized, what was the subject?
CH: The Strife Of Love in a Dream was a project commissioned by Centre Pompidou in Paris for an exhibition about India. I was pretty afraid to go to India and tried to understand why. The film's title comes from a book written in the Middle Ages, Hypnerotomachia. One of the stories, named "The Strife of Love in a Dream" tells of a monk who crosses The Dark Forest and finds himself facing a dragon. He is tempted to escape, but were he to turn back, the adventure would be over. This tale emphasizes the film's central notion: the necessity of facing one's fears. I was struck by the paradox of India being often imagined as a cure against the Western world's feverish agitation and at the same time being the number one manufacturer of psychotropic drugs. I imagined the film like a series of hallucinations that would create physical sensations and psychological imprints while showing very physical aspects of reality (the manufacturing of anxiolytics). Regarding Coupé/Décalé, the project started after I found images by coincidence on the web of the Naghol ritual or "Land Diving," and it made me think of Le Saut by Yves Klein. Thirty years ago this ritual had inspired bungee jumping and is now practiced as a "performance" for tourists visiting the island attracted by the similarity they see with a practice they connect to modern way of life (and need for strong emotions). There's a 'back and forth' movement within the gesture of the ritual itself as well as in its history. But how to escape archetypes when you bring images back from the other side of the world? I wanted to tackle that issue by creating a rough patchwork of deconstructed hybrid images in which the idea of 'reparation' is visual. The process implemented here is illustrated by the title Coupé/Décalé (literally "cut/offset").
CA: You have just started a fellowship at the Smithsonian that deals with systems of knowledge and organization of information; can you talk about it? Can you explain your approach to the research for new works and in general the importance of research within your practice?
CH: As an artist, I have the freedom to browse through ideas with the curiosity of the amateur. I'm allowed to have an irrational approach to knowledge, which is a privilege I appreciate a lot. I see the world as a fragmented ensemble and that fragmentation is harrowing. Through the research implied by my projects, I can establish some continuity. The more you progress in research the more categories appear to be arbitrary and oppositions collapse. That's why Zen irrationalism and thirst for knowledge are not contradictory in the end. I think the starting point of a new research or project should always be too broad. That way the research process is not only about aiming at a goal but also about being open to what you can learn by accident, new opportunities of new findings. My research will be focused on all-encompassing projects meant to achieve an image and/or a history of the universe compressed into a singular object, a total contraction of knowledge within representation. To my mind, there is a form of over-communication and over-saturation in our efforts to gather and structure knowledge into a completely globalized worldview, which, by all appearances, as subjectivity inevitably creeps in, seems to finally resemble an artistic goal or artistic project. Even though such processes and intentions might border on the irrational, I do feel that they are necessary for an understanding of what (and who) we are. This global approach and aspiration is to me ultimately parallel to a kind of subjective structuring of knowledge—what John Cowper Powys calls "a personal philosophy of solitude"—where the totalizing or universalizing image perhaps bears more the individual desires and consciousness of the one who attempts to complete it.
Originally published on Mousse 35 (October–November 2012)