ESSAYS Mousse 60
The Appropriation Debates
by Candice Hopkins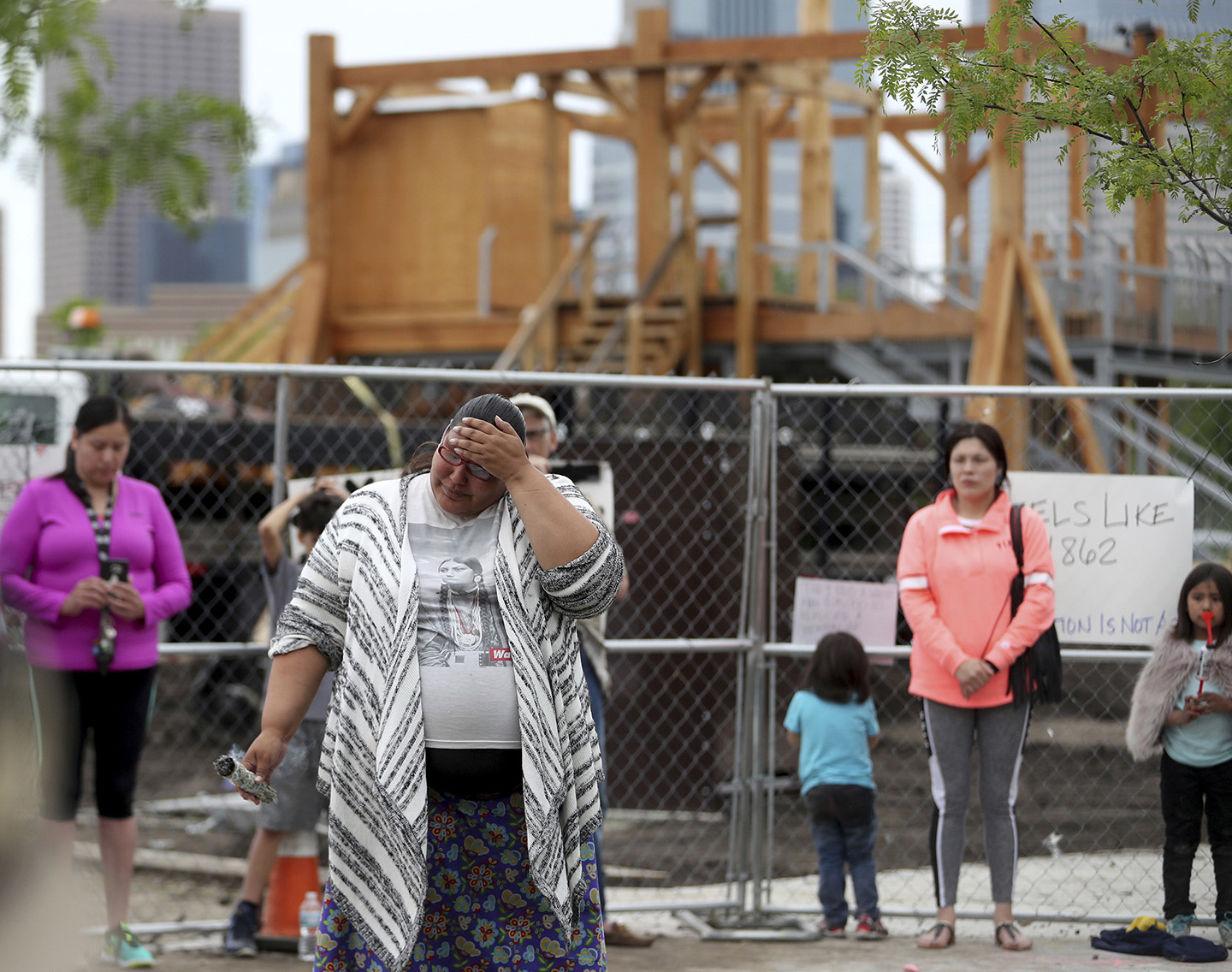 Crystal Norcross, a Sisseton Wahpeton Dakota from Sisseton S.D., speaks to a crowd protesting against Sam Durant's Scaffold near the Walker Sculpture Garden, Minneapolis, May 27, 2017. Photo: © David Joles / Minneapolis Star Tribune via ZUMA Wire
It's a river that collects bodies. Float them downstream. And the person that dumped them thought that it would be concealed, for a moment at least. And it floats back up… I would like to wake up Emmett.
On April 25, 2017, composer Wadada Leo Smith shared these words on the bank of the river where Emmett Till's body was found back in 1964. Smith grew up near the Tallahatchie River in Mississippi. He recalls a night when, nearly the same age as Till, he was confronted by five white men. He remembers that their look was menacing. It was only after one of them recognized Smith as a trumpeter in a local band that they turned away and let him be. On that day in April, Smith performed a haunting elegy that echoed up and out over the riverbanks. It was a sounding, a call for Till, as Smith puts it—for Emmett to "wake up." It exists now online, but I would like to think that it was performed that once, to call on the memories of Emmett that remain. But this was a call not only for Till's awakening but also for our own. The past returns when it is not properly dealt with, sometimes as hauntings, other times like flash points. The return of Emmett Till's image this summer as part of the Whitney Biennial was certainly the latter.
Dana Schutz's painting Open Casket (2016) wasn't overly large. I remember it being close to life-size. Till's tuxedo and crisp white shirt were flatly painted, his arms straight by his side, a single muddled rose near his right hip. It was his face that was treated differently, built up with layers of thick paint that reached their peak near his mouth; it was rendered in near three dimensions. This was unexpected. By that point, I had seen many images and read many articles about the painting, and no one had described this effect. Yet Till's face was horribly disfigured, a part of his skull crushed, his nose broken and one of his eyes dislodged from its socket. The two white men who killed him first beat him, shot him, and then strung a thirty-two-kilogram fan to his neck with barbed wire to weigh his body down before finally dumping him from a bridge into the muddy river below. The murder trial went swiftly. Both were acquitted. One of the jury members quipped that their decision of innocence would have come sooner but they took a break to drink some soda.
"It's a river that collects bodies. Float them downstream."
Till's alleged crime? Flirting with a woman cashier, a claim she quietly retracted in an interview many years later. A boy's life violently ended almost before it began over the false claim of another. If this is not evidence of the imbalance of power, I don't know what is. Emmett Till's lynching became a flash point for the civil rights movement. Against the wishes of authorities, his mother, Mamie Till Bradley, insisted that his casket be open for his funeral. She said, "Let the world see what I've seen." And some ten thousand mourners did. She wanted the nation to witness what had happened to her son. She insisted that photographs of her son's body be disseminated for all to see. These images are hard look at, even today. They encompass the horror of the time, only a little over fifty years ago. The photographs were first published on September 15, 1955, in an edition of Jet Magazine that sold out almost immediately—their horror a galvanizing force. It was a time when many—blacks and whites alike—rose up against the tyranny that didn't value the life of a child, let alone an entire race. Lawyers in the South used the images as a way to call for the urgent need for antilynching laws. Editorials in white-owned newspapers were ashamed, ashamed that this took place in their lands.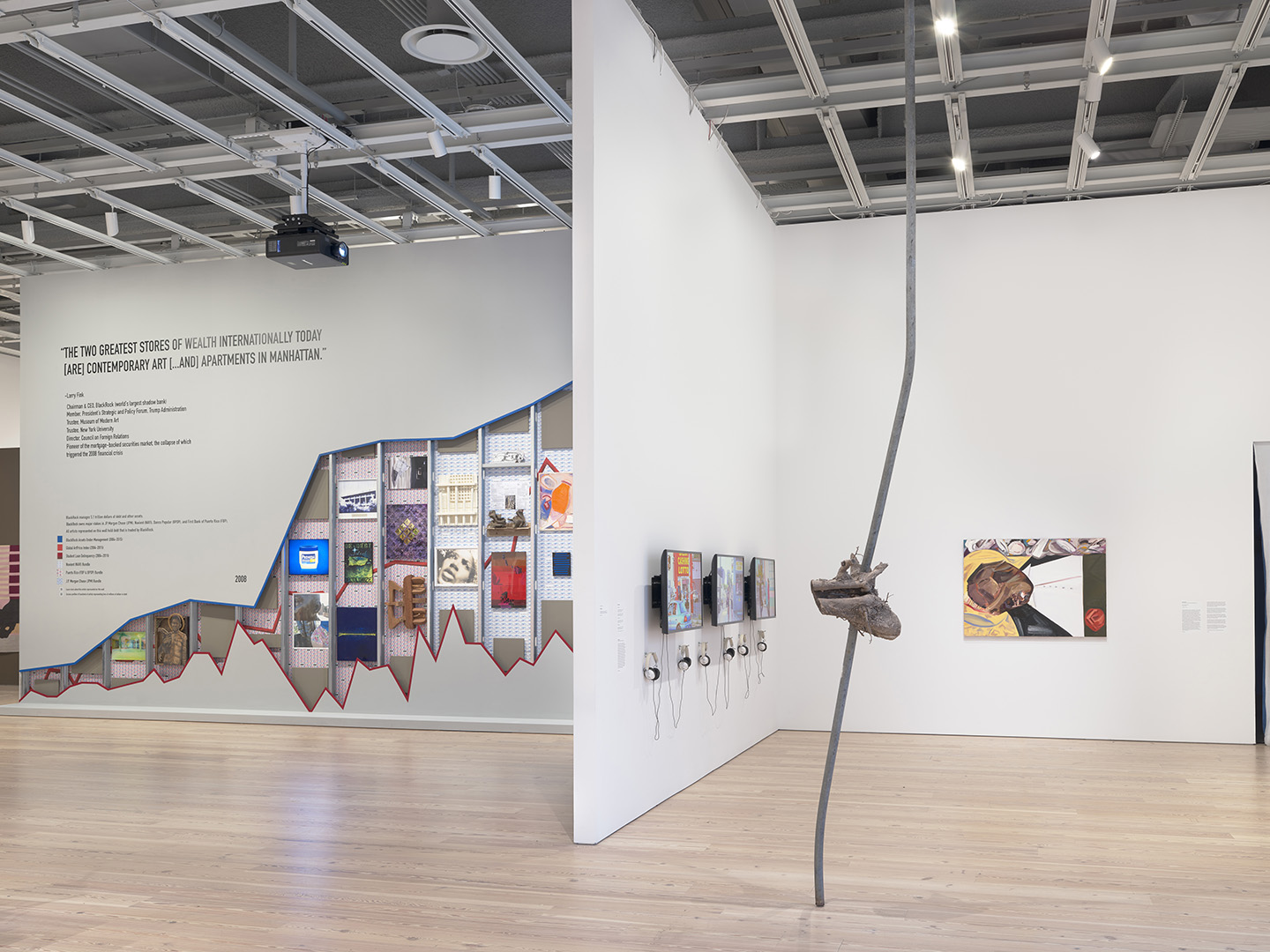 From left to right – Occupy Museums, Debtfair, 2017; Maya Stovall, Liquor Store Theatre, vol. 1, no. 3, 2014; Maya Stovall, Liquor Store Theatre, vol. 2, no.2, 2015; Maya Stovall, Liquor Store Theatre, vol. 1, no. 1, 2014; Harold Mendez, but I sound better since you cut my throat, 2016; Dana Schutz, Open Casket, 2016. Whitney Biennial 2017 installation view at Whitney Museum of American Art, New York, 2017. Photo: Ronald Amstutz
Shutz's painting was placed between two works by two other artists. On one side were the performance videos of Maya Stovall, a choreographed dance in front of a Detroit liquor store; in the room behind was the sound and video installation of Kamasi Washington. It was the proximity to Kamasi's installation that was most disconcerting. The sounds of layers of upbeat jazz became the unanticipated soundtrack of the painting.
The reaction to the painting's display was swift. On the opening days, Parker Bright placed his body between it and the audience. On his shirt, the message: "Black Death Spectacle." Bright—like artist Hannah Black, whose letter denouncing the painting went viral—was critical not only of the transformation of black death into spectacle but also of the potential profit by a white painter from black trauma. What happens when Till's body is represented through painting? The painting will never match the force of the original photographs, and the context and the time have also changed. Is the painting making the case that the image returns because violence against black bodies has never stopped? Black went so far as to call for the painting's destruction, while others argued that it should be removed from view: "The painting must go." The Whitney did neither. Instead, they held a series of listening sessions. In her defense, Schutz wrote that as a fellow mother, she empathized with Mamie Till Bradley and the pain she must have felt losing her son. For her critics, this transracial empathy wasn't enough. They asked what Shutz (an Ivy League–educated painter) could know about the experience of black pain. Yet there was more to their argument, as well.
Appropriation takes place when there are imbalances of power, when one attempts to represent the other. Jean Fisher defines appropriation as "the right to speak for the 'other' to represent their trauma." For Hannah Black,
discussions of appropriation and representation go to the heart of the question of how we might seek to live in a reparative mode, with humility, clarity, humour and hope, given the barbaric realities of racial and gendered violence on which our lives are founded.1
The painting sparked a long summer of debate about who can speak for whom and who can represent whose history. Some likened this to a return to discourses on identity politics that reached their height in the early 1990s, but the stakes are different now, and so are the players.
This was not the only representation of black death in the biennial. A painting by Henry Taylor of the police shooting on July 6, 2016, in Saint Paul, Minnesota, of Philando Castile garnered no similar outcry. The painting—THE TIMES THEY AINT A CHANGING, FAST ENOUGH!—shows Castile, eyes open, slumped with his head back on the car seat. A slim white arm is thrust through the car's window, pointing a gun. The killing of Castile was also known through its widely circulated image. Castile's partner, Diamond Reynolds, captured the immediate aftermath on Facebook Live. The moments before the shooting, Castile, clearly worried for his safety, explained to the officer that he did have a gun (he was licensed to carry). Despite his proclamations and deliberate movements, he was shot because the officer felt threatened. The couple's four-year-old daughter witnessed everything from the back seat, her voice urging her mother to stop yelling in case she would also get shot. Unlike Shutz's painting, which is based on a still image, Taylor's slows down a moment that moved all too fast, one that he constructs based on oral testimony by Reynolds and the officer, Jeronimo Yanez, of those 130 seconds not captured on camera.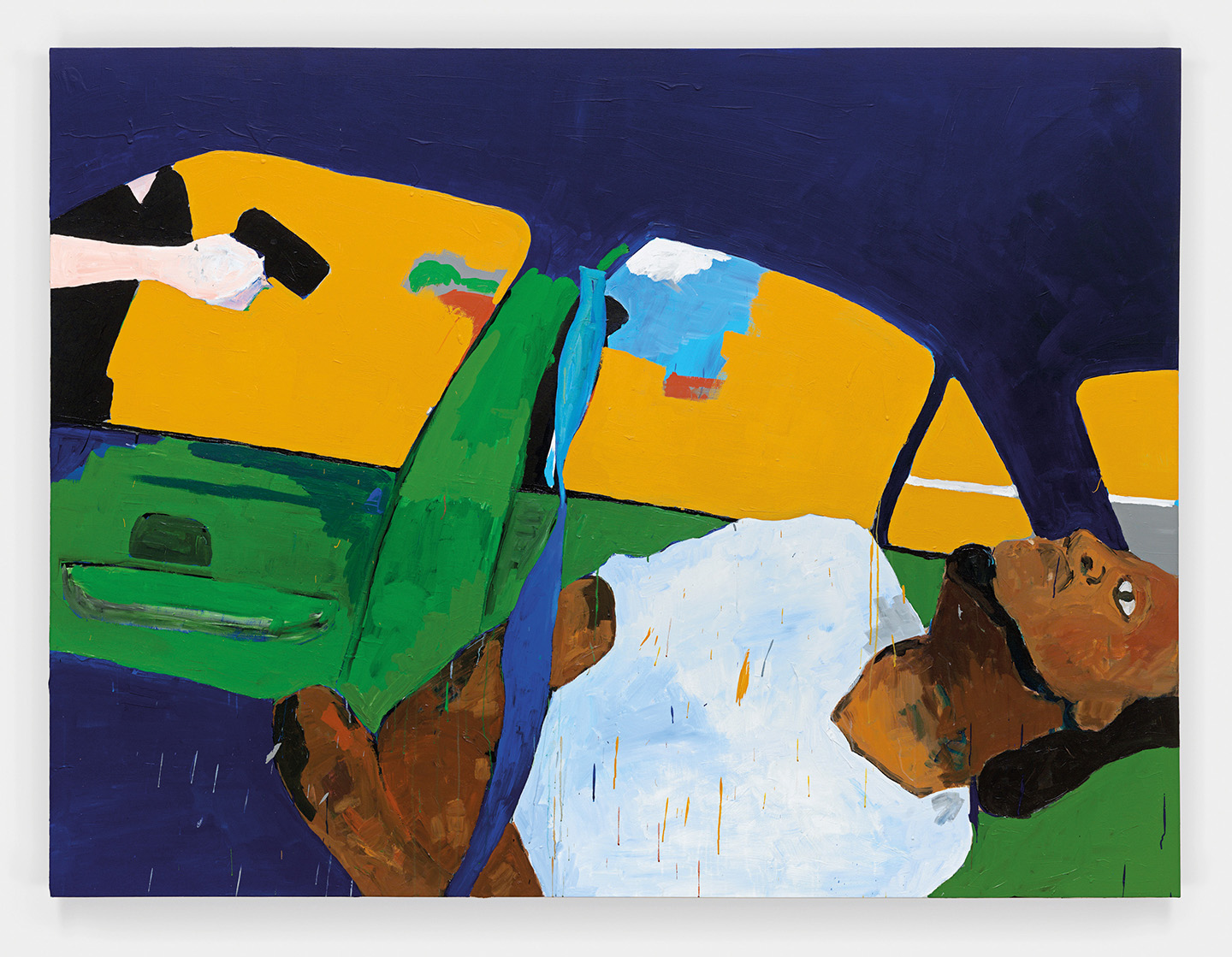 Henry Taylor, THE TIMES THAY AINT A CHANGING, FAST ENOUGH!, 2017. Courtesy: the artist and Blum & Poe, Los Angeles / New York / Tokyo. Photo: Cooper Dodds
The killing of black men continues in epic proportions in the United States. Most of the men are unarmed, some are shot in the back, some are choked, others are tossed around in the back of police cruisers with such force that they break their necks. The violence against black bodies continues. This is a new kind of lynching, and the perpetrators mostly go uncharged. The only group killed at a higher per capita rate is Native American men (this fact garners very little attention in mainstream media).
Black's letter garnered fierce debate. Some, like artist Coco Fusco, felt that aspects of the letter were essentialist: "The authority to speak for or about black culture is not guaranteed by skin color or lineage, and it can be undermined by untruths." But Fusco was most critical of the call for the painting's censorship, "her use of offense as a rationalization for censorship reinforce elitist and formalist views that ethical considerations don't belong in the aesthetic interpretation of art." Even novelist Zadie Smith has weighed in: "When arguments of appropriation are linked to a racial essentialism no more sophisticated that antebellum miscegenation laws, well, then we head quickly into absurdity."
The debate around censorship raised its head quickly after, sparked by the reconstruction of an artwork originally from 2012 called Scaffold, by Sam Durant. First created for dOCUMENTA(13) in Kassel, Germany, it was acquired by the Walker Art Center in Minneapolis, Minnesota, that same year and intended as a permanent installation in their outdoor sculpture park. The work elicited no protests in Kassel. Installed in the city's public park near a peaceful canal, people climbed up the gallows; some, like me, took the initiative to look deeper into the sources of the work, for which Durant had produced an extensive website of historical sources on gallows, their architecture, and the executions that they hosted.
The work was also installed for a brief period at The Hague in 2015. There it became something of a stage to speak about the death penalty, as well as a place for bands to play "Murder Songs." There it was linked to the long history of public executions, such as the beheading of Johan van Odenbarnevelt in 1619, and certainly to conversations on justice and criminality. It wasn't until Scaffold neared completion in Minneapolis that there was an outcry. Led by Dakota and other indigenous activists, there was an outcry over why such a sculpture could suddenly appear in their territory with no consultation. While Scaffold brings together the architecture of multiple gallows, including that built to execute John Brown in 1859 on charges that he was initiating an antislavery uprising, and that built to hang Saddam Hussein in 2006, it was those at the center of the construction that were contested, the Mankato gallows from 1862. Mankato is the largest public execution in U.S. history.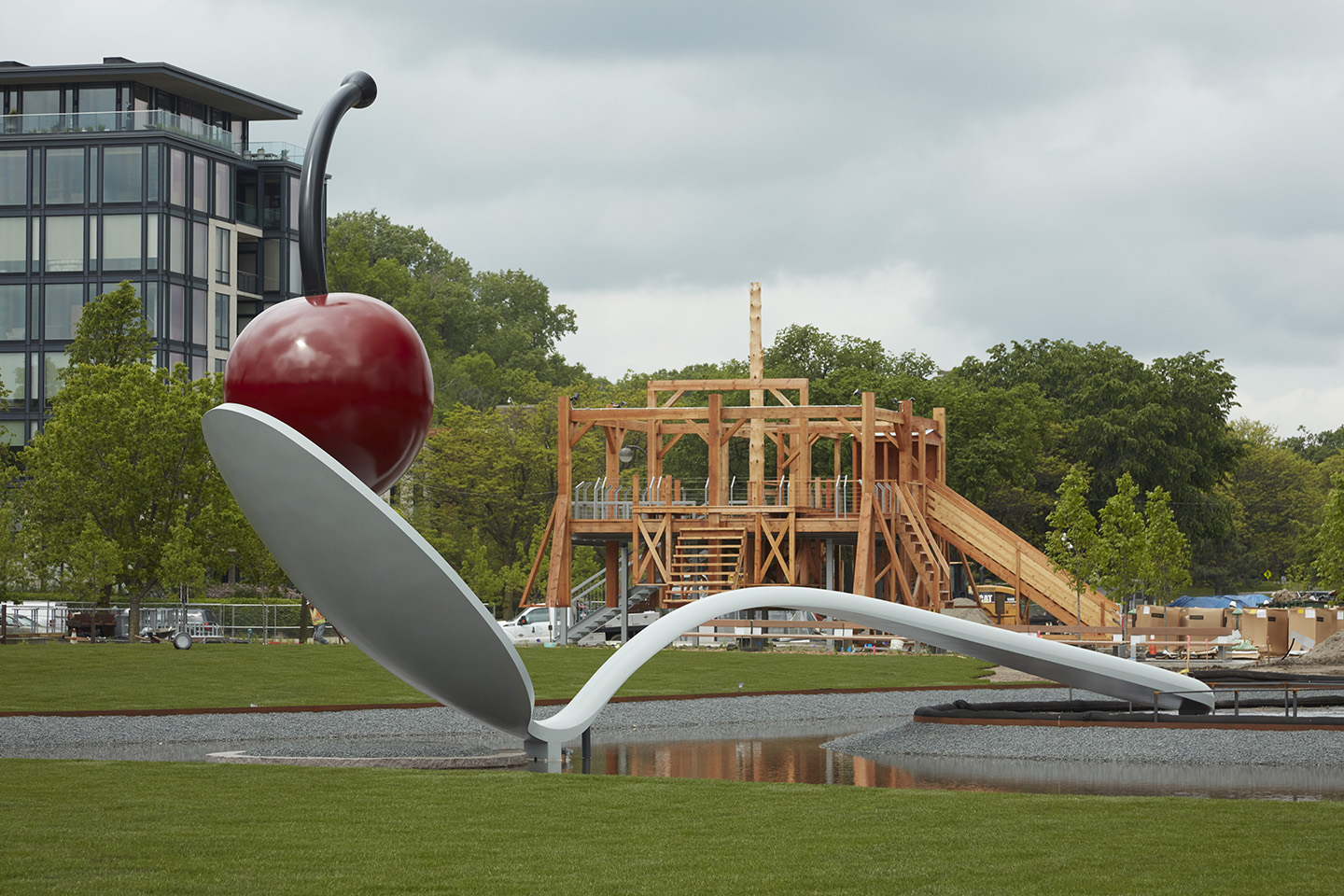 Sam Durant, Scaffold, 2012-2017. Collection Walker Art Center, Minneapolis. Purchased with funds provided by the Frederick R. Weisman Collection of Art, 2014. © Dakota Oyate
They became known as the Dakota thirty-eight. Men chosen by then-president Lincoln to bear responsibility—ultimately death—for their role in the Dakota Wars, uprisings against the ongoing loss of land, necessary for the survival not only of a people but also of a culture. Their names are important. On December 26, thirty-eight men were hanged (one was granted reprieve in the final moments). Tahedonecha (One who forbids his house) was hanged. Hinhaushoonkoyagmane (One who walks clothed in an Owl's Tail) was hanged. Toonkauechatagmane (One who walks by his Grandfather) was hanged. And on and on and on. For many who bore witness to the act, it was traumatic—the gallows were not entirely fail-safe. One man had to be rehanged after his rope broke prematurely; others writhed, choked, and grasped to loosen the ropes around their necks for minutes after the floor beneath them gave out. Some in the audience, including soldiers, retched, and a few cheered, including a boy who climbed near the structure to yell that one of the men had killed his parents. Few men had a fair trial: 392 were tried, with some trials lasting a mere five minutes, and 303 were sentenced to death; 16 were given prison terms. They had no attorneys, nor were the proceedings explained to them. In a display of blatant double standards, the longest trials were permitted to those of mixed race. In the case of Harry Milford, some seven witnesses were called on his behalf.
For the Dakota, a people who had barely survived the Indian Wars and loss of land, starvation, and government-forced assimilation policies, this remains a traumatic moment in their history. Not only was it traumatic, it was also an example of the failure of the justice system. The trials of the Dakota were conducted unfairly in a variety of ways. The evidence was sparse, the tribunal was biased, the defendants were unrepresented in unfamiliar proceedings conducted in a foreign language, and authority for convening the tribunal was lacking. More fundamentally, neither the Military Commission nor the reviewing authorities recognized that they were dealing with the aftermath of a war fought with a sovereign nation that the men who surrendered were entitled to treatment in accordance with that status.2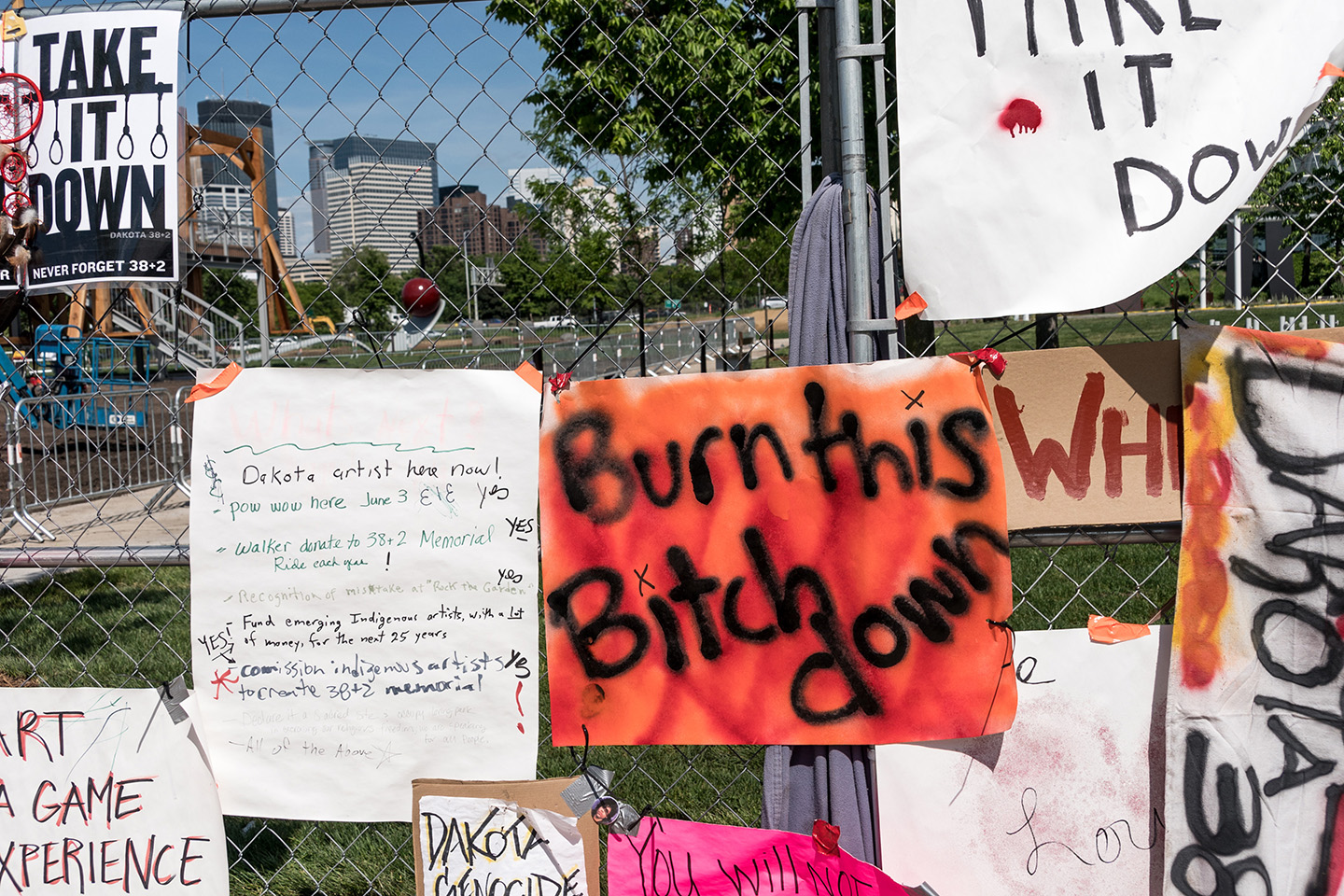 Protests at the Walker Art Center in Minneapolis, Minnesota, over the sculpture Scaffold by artist Sam Durant, June 17, 2017. Photo: User: Magnolia 677 / Wikimedia Commons / CC-0
It is said that Lincoln needed to execute these men as a means of quelling the unrest that arose over the killing and rape of settlers during what is called the U.S.-Dakota War. The gallows was specially constructed for the event, described in great detail in historical texts and also documented through drawings and etchings. We know that it was square, with the jailhouse forming the back of one section. To create a buffer between the accused and the gathered crowds, military on horseback formed another square just outside the perimeter of the structure. It is said that the accused sang a song in Dakota in the moments before they were executed and grasped one another's hands just as the rope was cut with a single blow from an axe. Why replicate the very thing that was the agent of death of so many, some as a result of racist laws, others the very example of American exceptionalism (in the case of Hussein)? It is clear that Durant considered the sculpture a means to provoke questions about history and ignorance, crime and justice through the architecture of execution. Is the audience implicated when they climb on the gallows themselves? In dOCUMENTA(13), this climb revealed the vista of a baroque park, with ponds, flowers, and expansive greens. In Minneapolis, the view is very different. You are near the river that now divides two cities, cities founded on land forced from the Dakota people through treaties that were ever more in the favor of the colonizers. This dispossession was finally to such an extreme that the Dakota could no longer live traditionally, the land wasn't large enough for them to hunt, and eventually they were forced to turn to government annuities of money and food simply to survive.
These annuities, as we know from the U.S.-Dakota War, were often slow in coming or did not come at all, creating a cycle of dependency and powerlessness that led many to rise up in a final bid to regain some of the territory that was lost. The hanging then came at the tail end of extreme cultural poverty and trauma. The Dakota were already a defeated people at the time of the hanging.
The gallows are an architecture of execution. What does it mean to return them to the place of the original trauma? For the Dakota and their allies, who already lead a daily fight against historical ignorance, Scaffold became a different kind of monument; for them it was a daily reminder of the pain and suffering of their people. Quickly protest signs were erected on the chain-link construction fence outside the sculpture. "Our Trauma Is Not Your Art." "Not Your Story." "Cultural Genocide Opportunist." The sign makers were perhaps unaware of an existing project by the artist that replicates protest signs created during the civil rights and red power movements and reproduces them as lightboxes—the language of advertising. Normally hung on the outside of buildings, they replace a commercial slogan with a call to rights. But like Scaffold, this is another replication of an object of history.
The protests that took place in response to the sculpture exposed the limits of the object to speak to their experiences. It might be that the work was not for them, but for others to bear witness. The protestors were clear in their call for the removal of the work. They didn't want to see visitors climbing playfully over the gallows.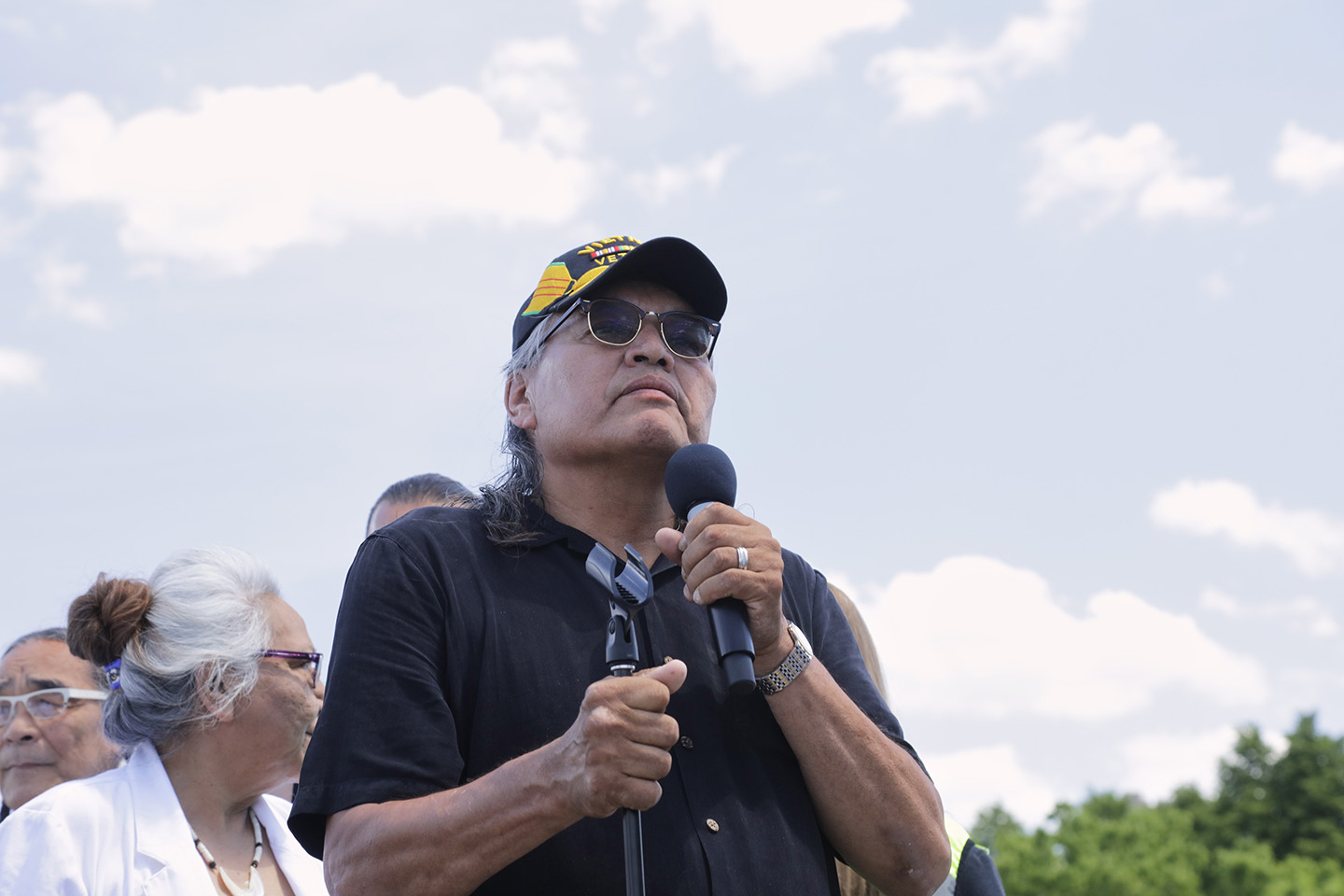 Speakers representing the Dakota at the dismantling of Sam Durant's Scaffold on June 2, 2017, at the Minneapolis Sculpture Garden. Photo: Gene Pittman. Courtesy: the Dakota Oyate and Walker Art Center, Minneapolis
The response was fast. The Walker organized talks with Dakota leaders; a group of advisors was gathered, including elders and other leaders (although some pointed out that not everyone in the Dakota community necessarily agreed with who was appointed to this council); and talks soon took place both in private and in public between the Dakota, the broader community, the Walker, and the artist. It was decided that the sculpture be removed and destroyed. Olga Visa, speaking on behalf of the Walker, publicly declared that the museum had erred in not informing the native community about the work and its content prior to its installation and hearing their feedback. This was also an error by Durant, who has a history of creating work within specific communities, including working with students from reservation schools.
Unlike Schutz's painting, for which there will be no real resolution, here it felt like the resolution perhaps came too quickly. Instead of completely destroying the sculpture, what about leaving it there in part or making use of the empty plot as a stage for the kind of conversations Durant had hoped to spark at The Hague concerning justice and history? Since the water protectors gathered at Standing Rock, native voices have been gathering and getting stronger. Here is an opportunity to build upon that strength by providing people with a place to speak.
Yet Durant's was not the first work in Minneapolis to address the Dakota thirty-eight. In 1990, commissioned by the Walker, Hock E Aye Vi Edgar Heap of Birds erected a series of public signs called Building Minnesota. His signs declared the names of each of the men killed on that day. They also included the names of two men executed two years later. The signs lined the banks of the river. For Heap of Birds, it was a way of honoring and memorializing the dead. The signs have since entered the collection of the Walker. Perhaps it's time to erect them once again.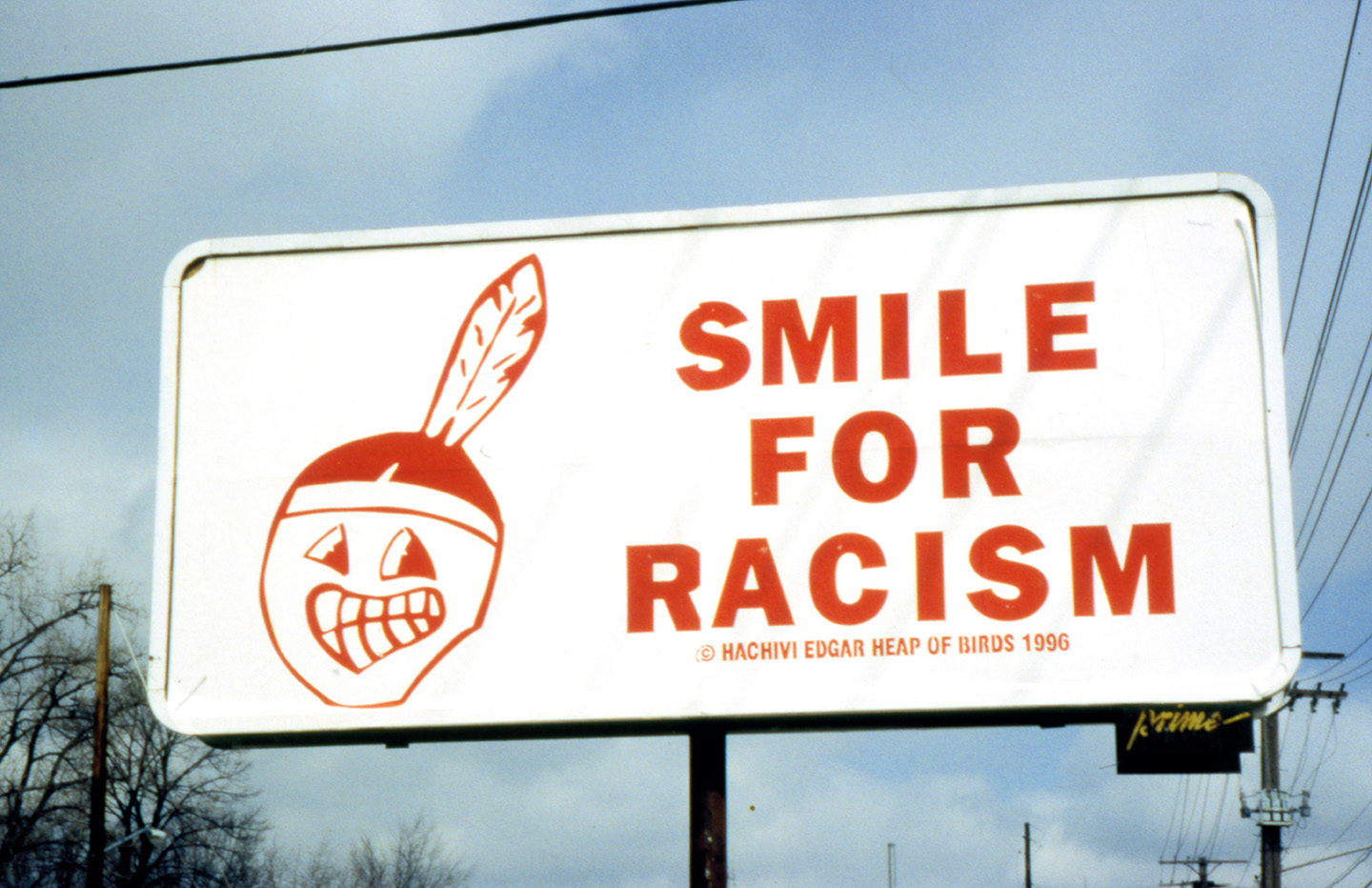 Edgar Heap of Birds, American Leagues, 1996. © Edgar Heap of Birds. Courtesy: the artist
The execution is remembered in other ways, as well. Dakota people stage an annual walk in memory of those killed. Their marker is much more modest. Consisting of a circle of upright sticks with tethered pieces of cloth at the ends, it doesn't have an official marker or accompanying plaque. For those who know the significance of the sticks, this is reminder enough. Some traumas are irreducible to representation. It will always fall short. Even language can fail in these instances. How then do we keep these traumas from falling into oblivion? We know that there will be no national movement to recognize the wrongs against American Indian people; this would be too threatening to the very foundation upon which the United States was built, their death and assimilation and simultaneously the violent economy of slavery. The debates this summer about who can speak for whom were also a reckoning of who has the privilege to speak for whom, and within this, whose voices are heard.
[1] Hannah Black, Open Letter to the Whitney Museum of American Art, March 2017
[2] Carol Chomsky, associate professor, University of Minnesota Law School.
Candice Hopkins, a citizen of Carcross/Tagish First Nation, is an independent curator and writer. She was in the curatorial team of documenta 14. Her writings on history, art, and vernacular architecture have been published widely and she has held curatorial positions at the IAIA Museum of Contemporary Native Arts, the National Gallery of Canada, the Western Front, and the Walter Phillips Gallery at the Banff Centre.
Originally published on Mousse 60