Mousse 72 TIDBITS
A Pleated Skirt in the Slope of a Mountain: Caroline Bachmann
Close
1
2
3
4
5
6
7
8
9
10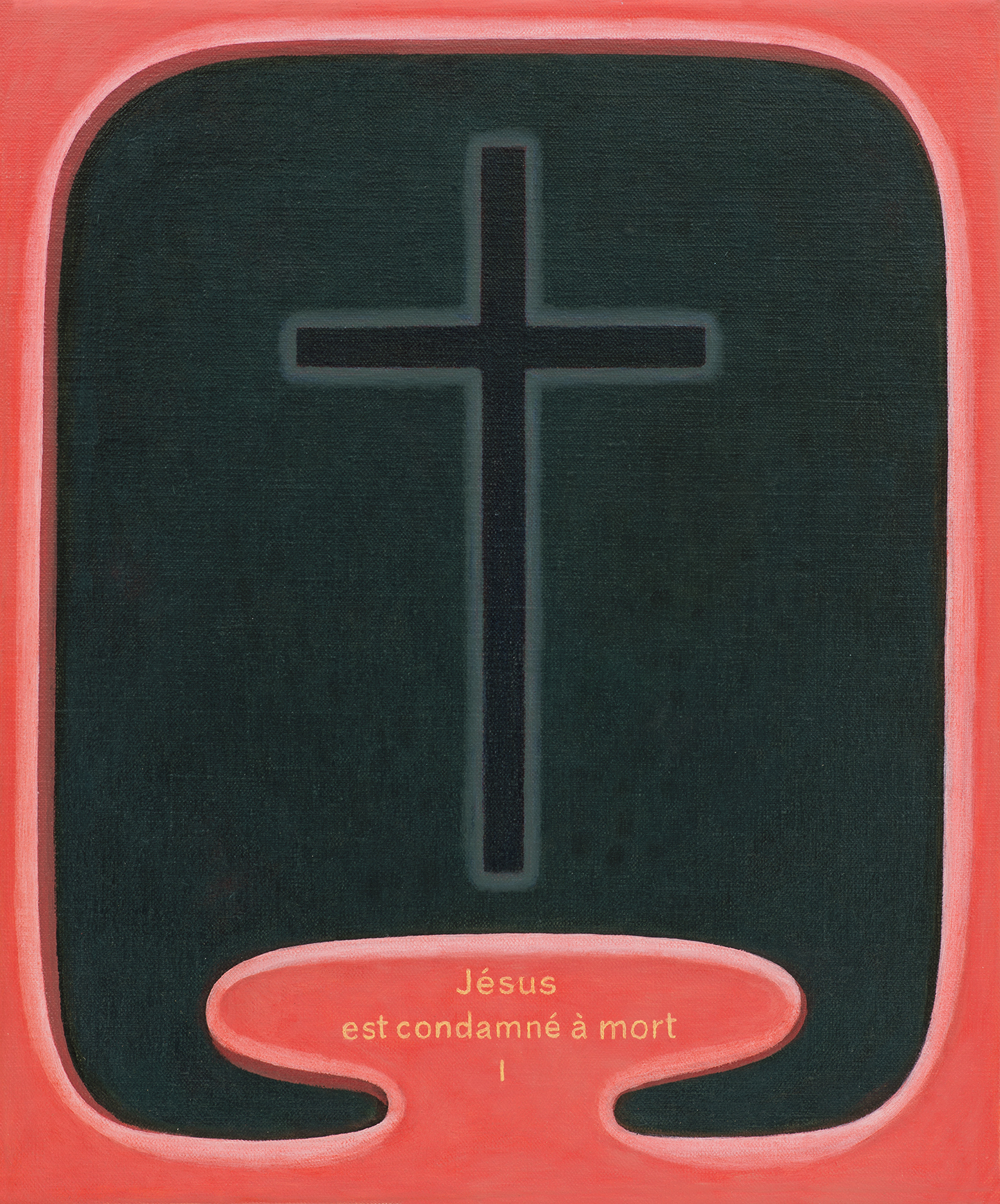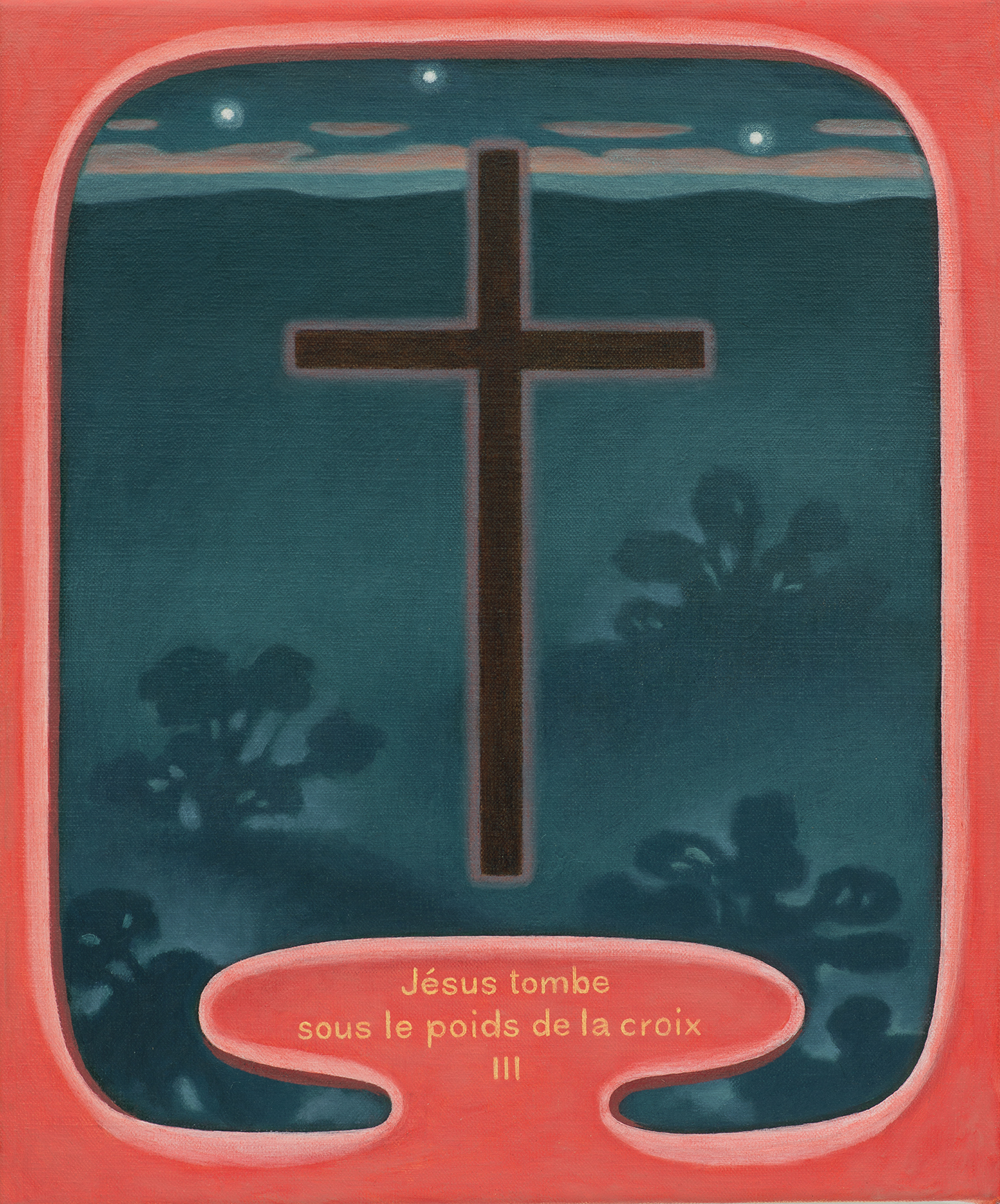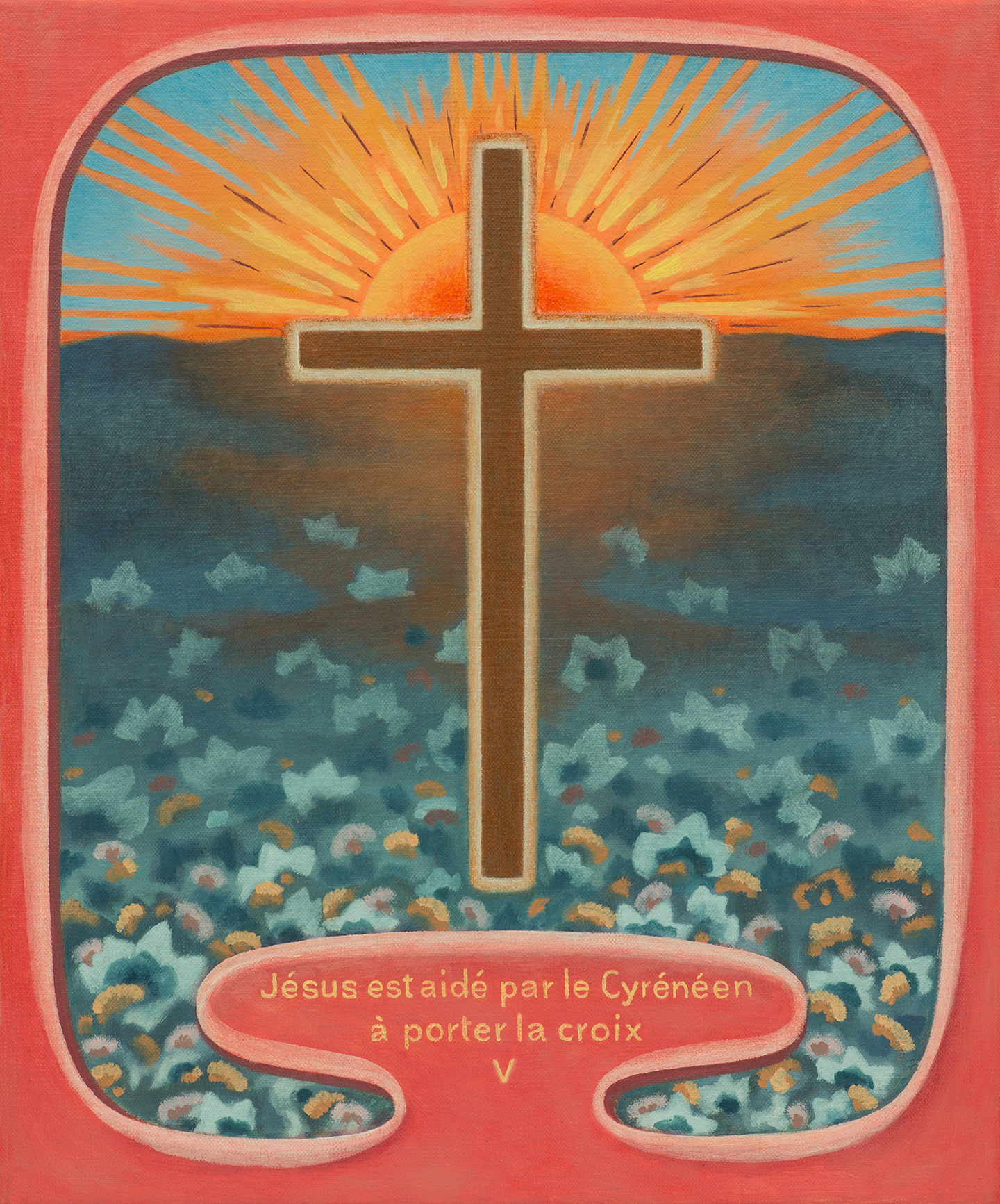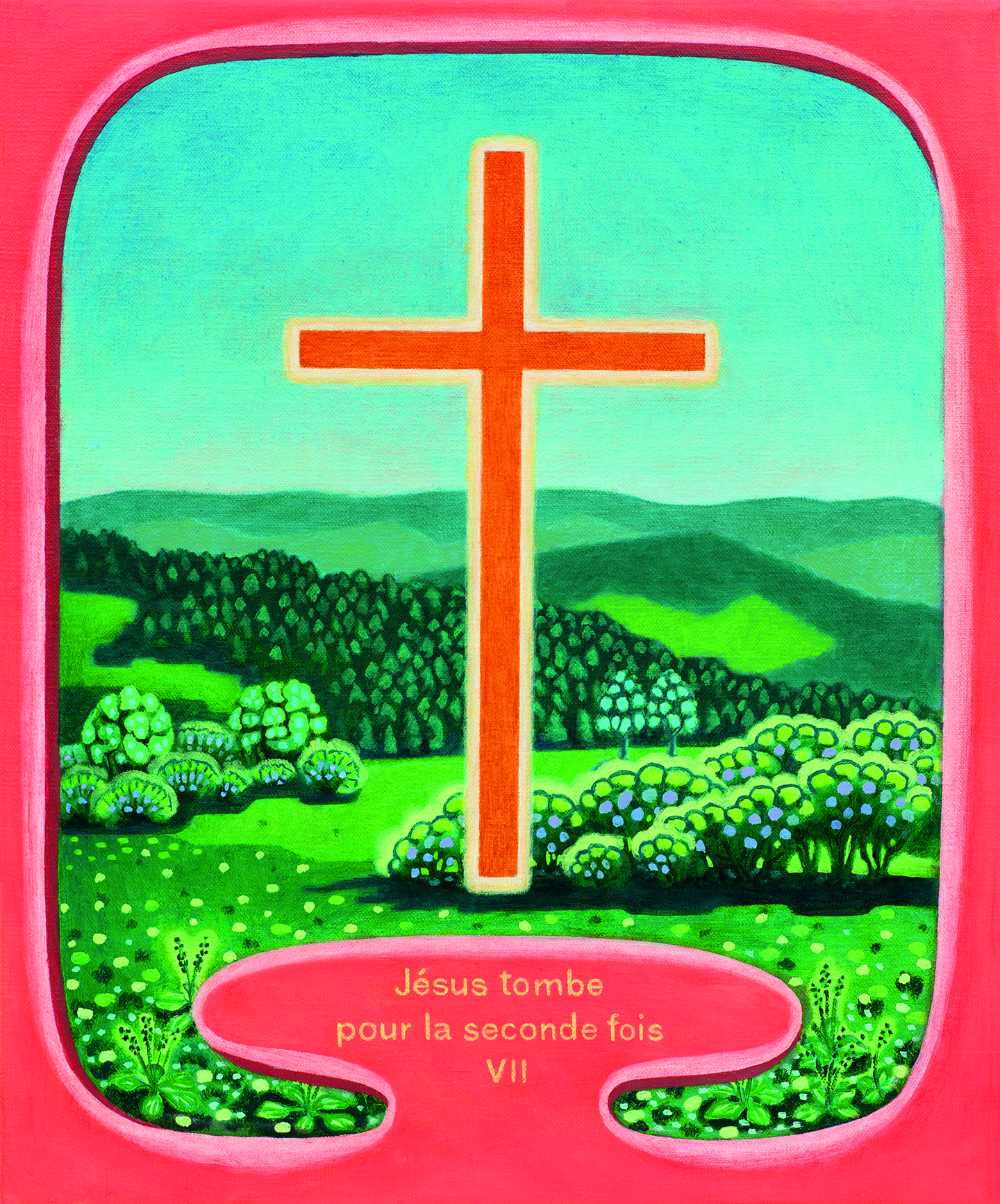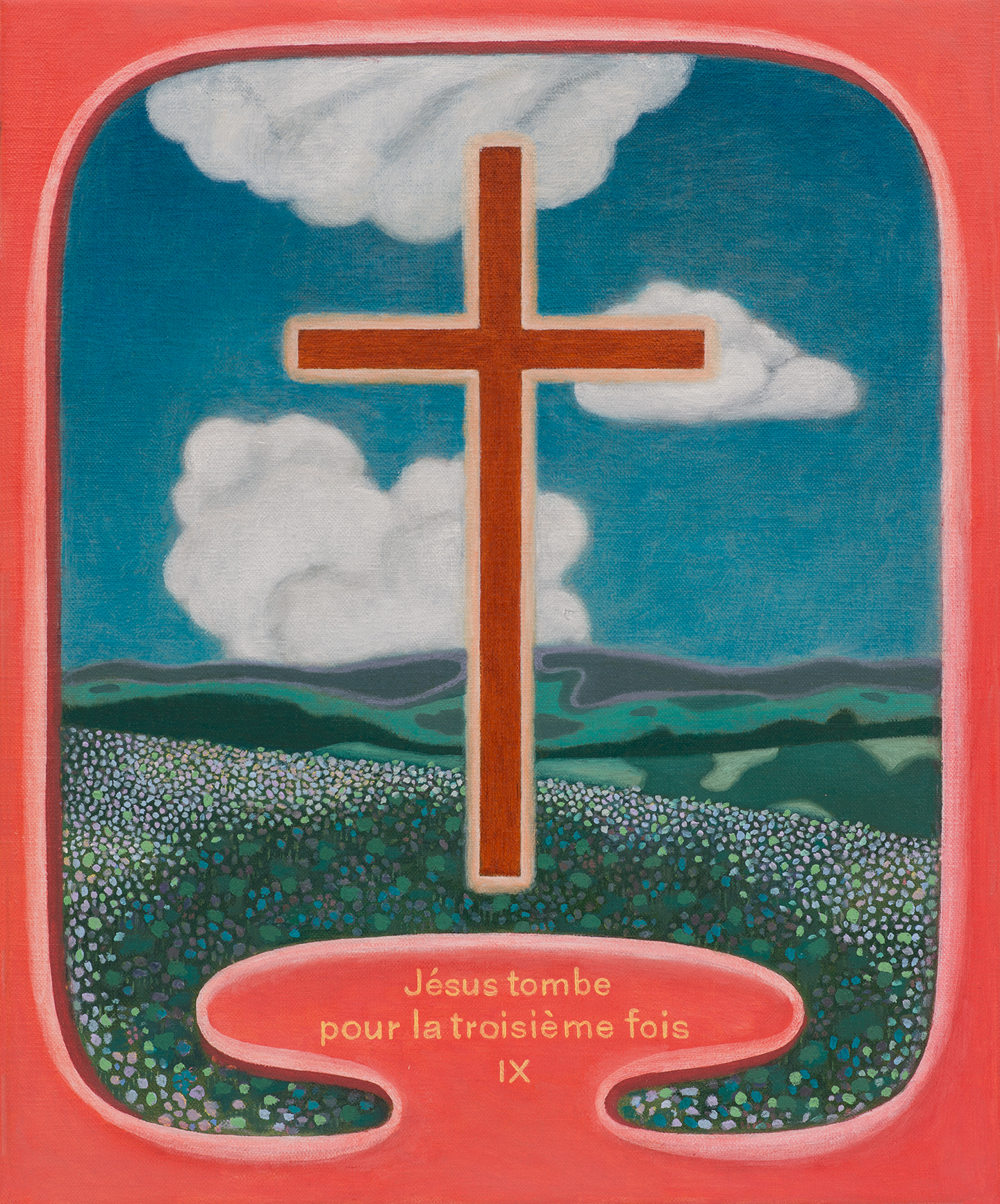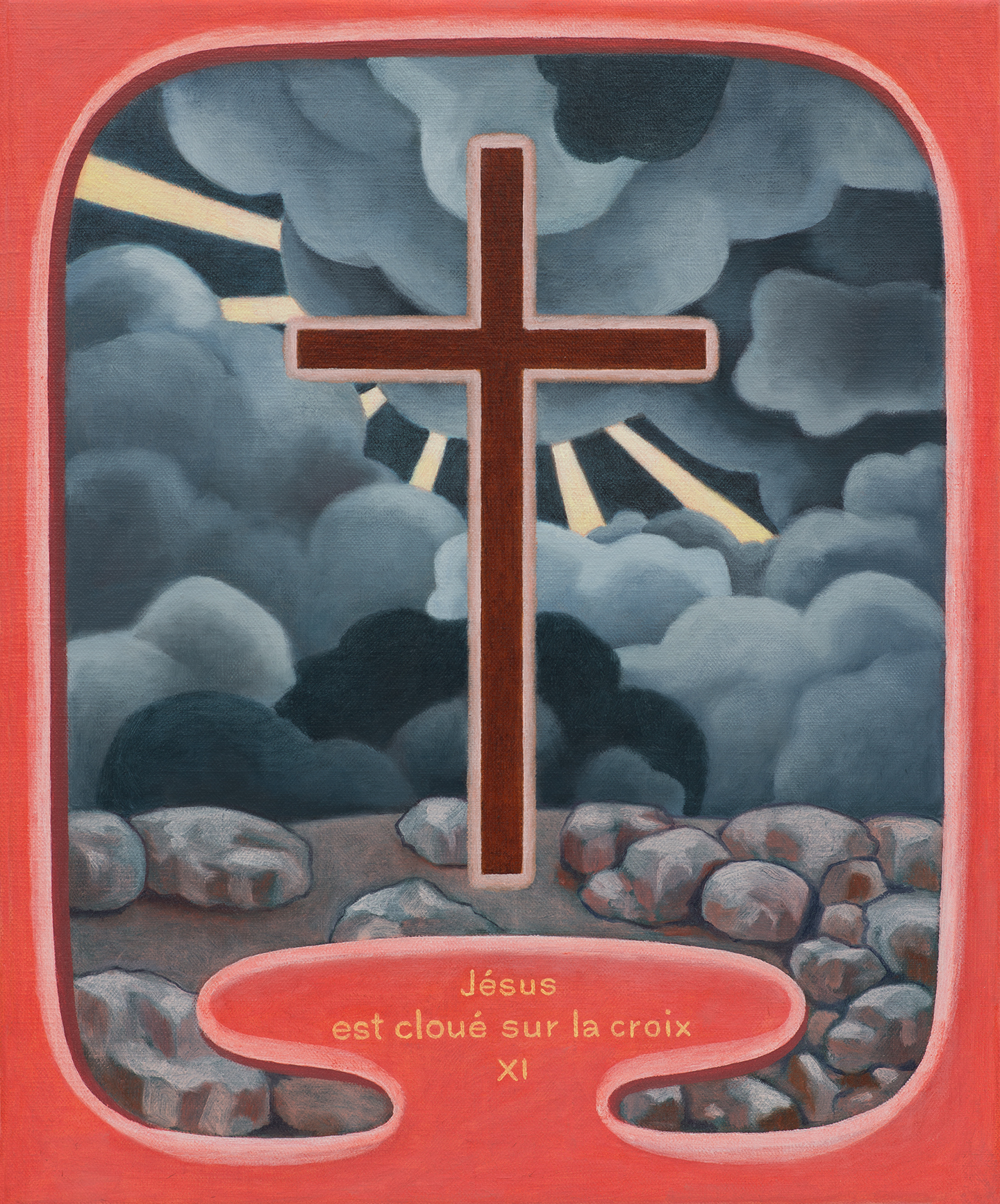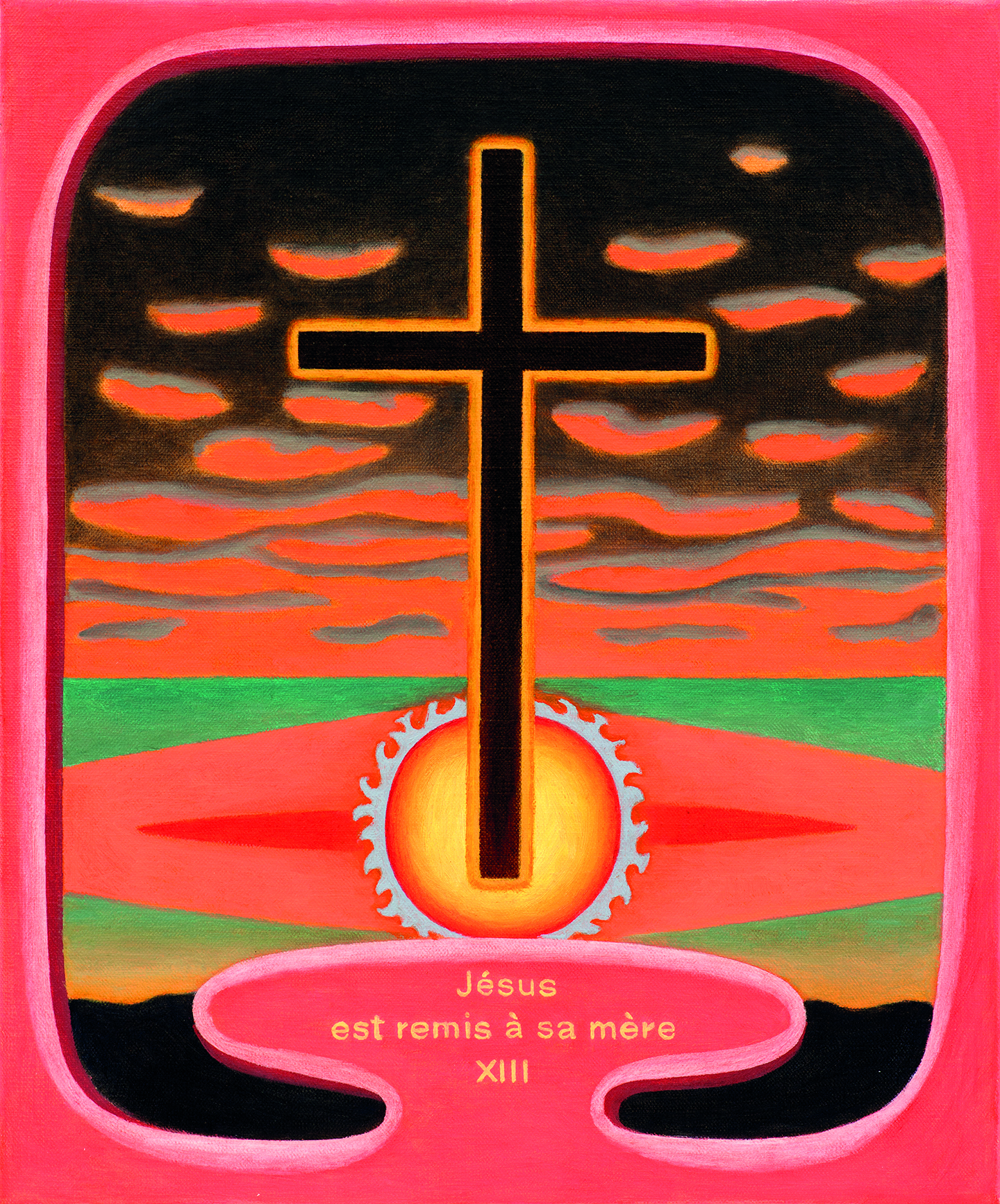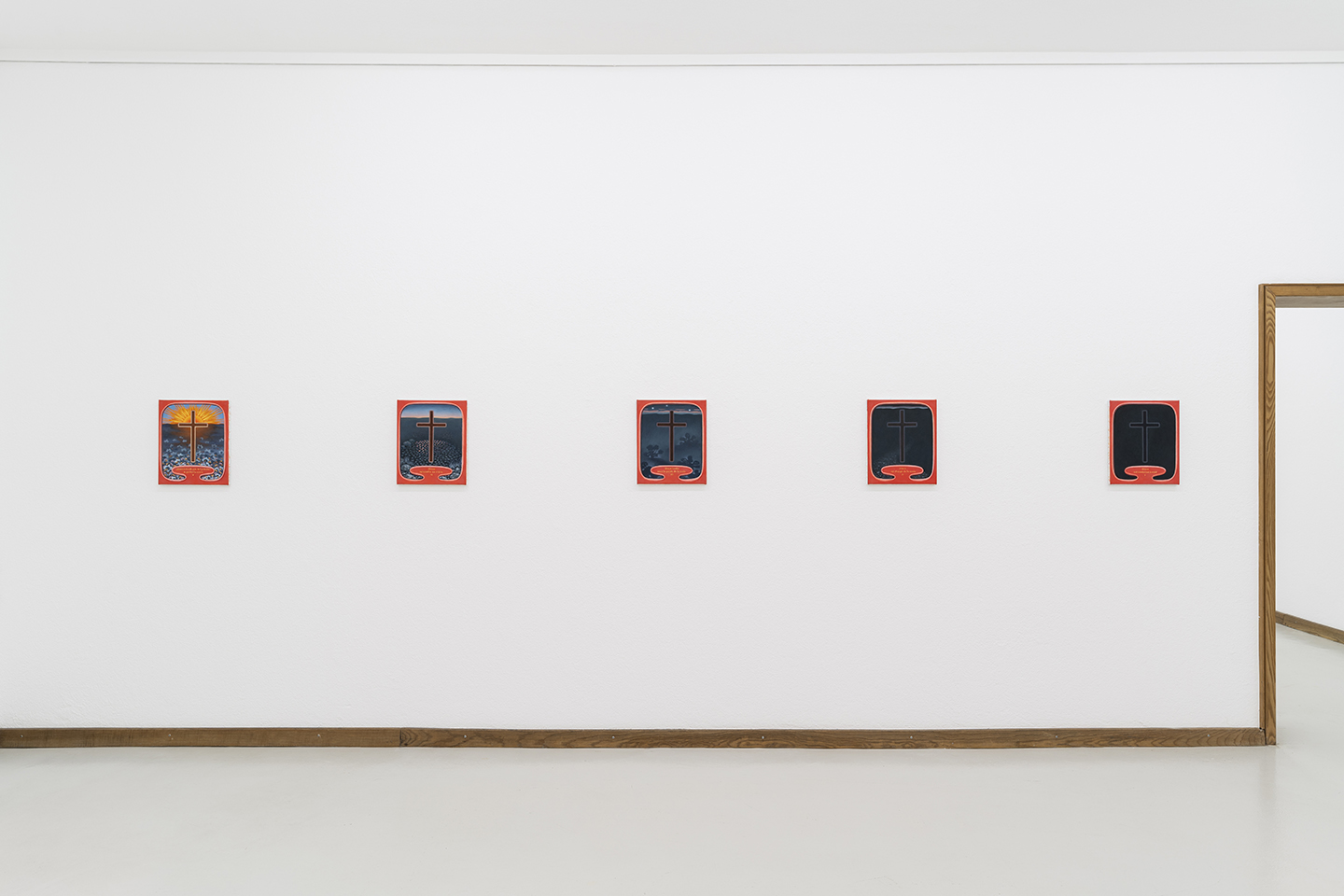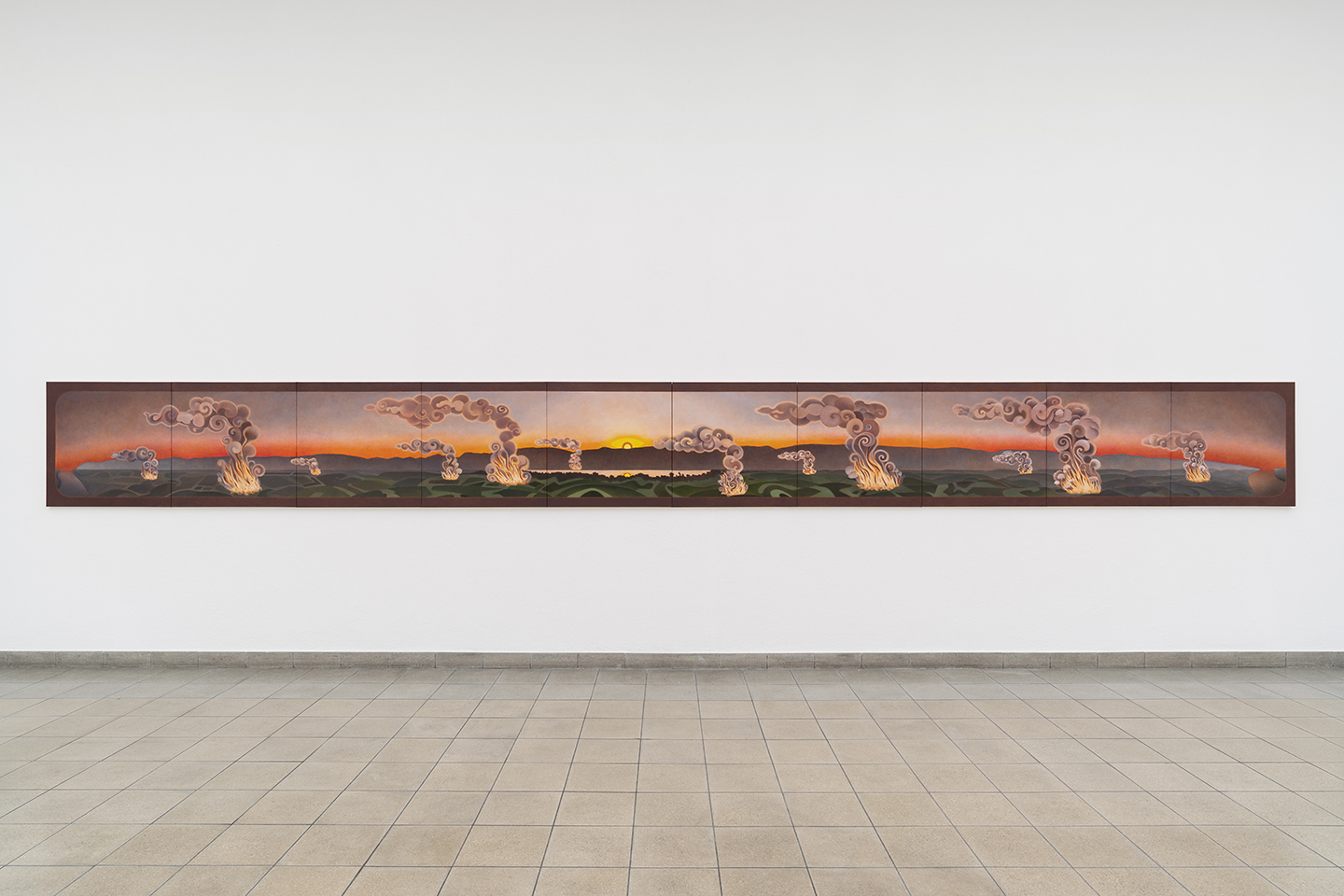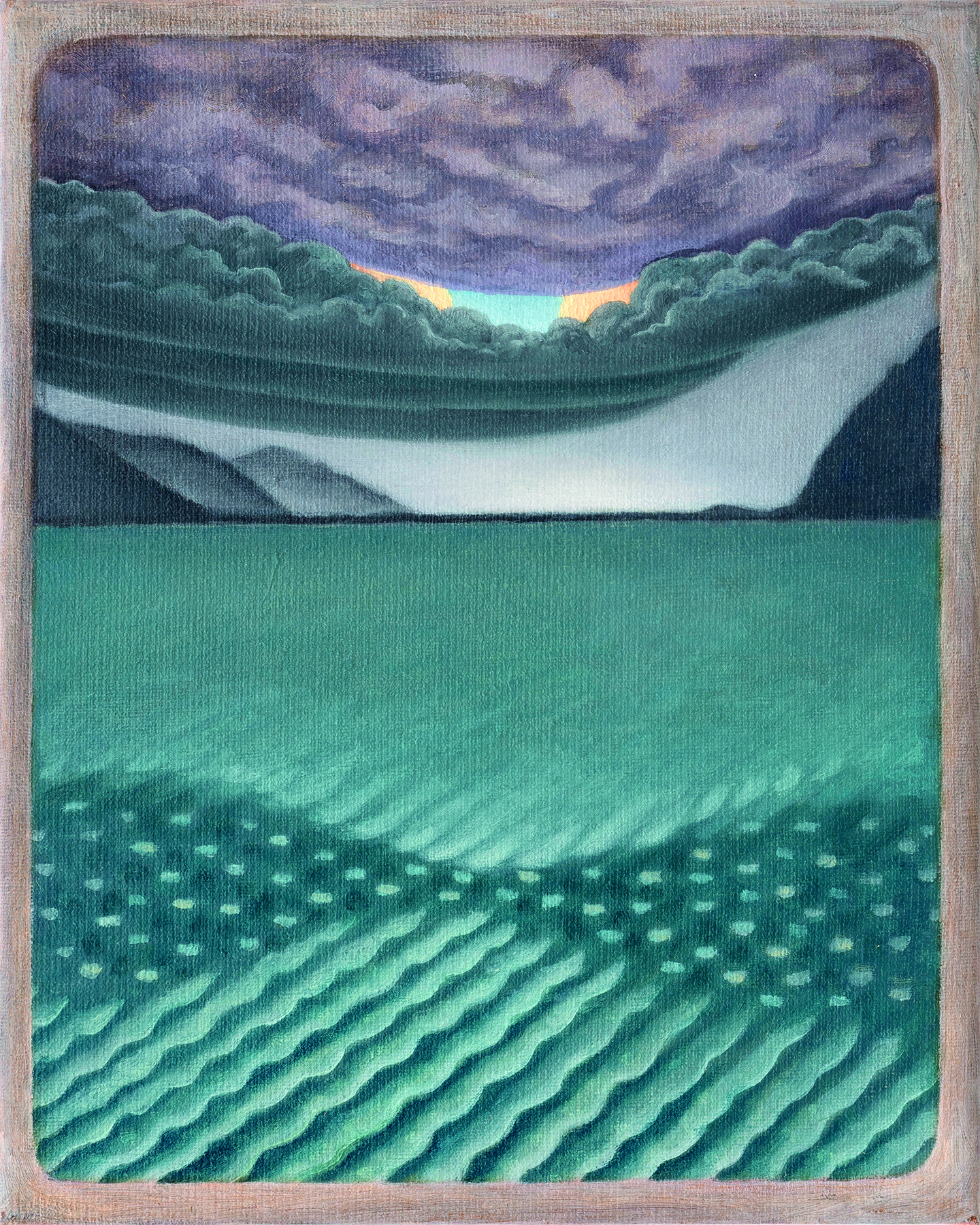 by Elise Lammer
When I got on the phone with Caroline Bachmann to discuss 58 av. J.-C., the exhibition she opened at Kunsthaus Glarus, in March 2020, the first thing she told me was that she had just returned from a hike on the Napf, a mountain between Bern and Lucerne that, according to her, looks exactly like a skirt. After having successfully hiked through each pleat, she reached the top and could contemplate the entire Swiss alpine panorama. Describing herself as a very rational artist, it took me some time to realize that this anecdote is actually an excellent entry point to understand her approach to painting—namely, as a tireless quest to disentangle the medium while testing the semiotic potential of representation.
Chemin de croix (2018) is a series of fourteen paintings that "represent" the Way of the Cross, a cycle of images inspired by the Passion of Christ corresponding to his last earthly hours. As with other genres, such as landscape painting or historical painting, that Bachmann borrowed for other works in the exhibition—including the eight-panel panorama that gave it its title—sacred painting proved useful in Chemin de croix for the conceptual and formal framework it provided.
Devoid of human figures, Bachmann's version is a succession of natural landscapes topped with a variety of skies and light conditions. Late in our call, when I finally asked her what Chemin de croix was about, she declared: "It's all about light!" And she didn't mean it as a metaphor. After confessing that spirituality wasn't the point of this work, she explained that the depiction of light felt like an adequate way to portray the progression of time. From right to left, the viewer embarks on a journey that starts with the first station, showing early morning light before the sun rises, and ends with the fourteenth painting showing a dark sky, at twilight. Exhibited in one small room across three adjacent walls, the series was an invitation to physically walk by each station, scrutinizing the execution of each sky and landscape. Their meticulous and masterful gradations translate Bachmann's longstanding interest in capturing the effects of light on different surfaces. Drawing from earlier traditions of sky painting, from the Italian Renaissance up to early-twentieth-century US landscape painters, notably Louis Michel Eilshemius, Bachmann is not so much offering a homage to Old Masters but acknowledging painterly techniques that have proven their effectiveness over time. Twice during our conversation she emphasized that there was no need to invent anything. She is, she maintains a "very rational artist."
Likewise, genres and motifs act as placeholders, if you will, that Bachmann exploits to experience painting as a medium. Always figurative, and often synthetic, her work relies on a shared understanding of visual cues and styles that she trusts to be easily and quickly identifiable so that the focus will be on her mastery of technique. The motif of the cross repeated in each painting in Chemin de croix is a good example, as it offers the painter a playful grid around which to build a geometric and balanced composition. It's controlled reception; nothing is random in Bachmann's work. As the most recognizable symbol of Christianity, yet also a pop icon, the cross plays upon a transgressive iconography. Its ambiguous nature strains the plausibility of a universal semiotics of art—something the artist thrives on testing through her work. Reconciling signifiers and the signified, Bachmann hints at the possibility of a visual grammar whose polysemy could be validated by a great number of viewers. In the end, she agrees, it boils down to what images, colors, and forms have contributed to shaping a given culture.
Following this logic of synthesis and opportunity, and for the anecdote, Bachmann's Stations of the Cross was made after she was invited to exhibit her work in a chapel. Why reinvent the wheel? She felt inspired by the architecture of the church and decided to embark on the making of her own version of the Way of the Cross, despite not having been specifically commissioned to do a religious painting. Her pragmatism and straightforwardness could be understood as conservatism, but one could read in such choices tools for emancipation. Sacred painting is arguably a radical gesture in 2020, and by revisiting a format that historically has only ever been painted by male artists for spiritual purposes, she reassesses a vast portion of art history, unveiling an underlying political facet in her work.
The unexpected visual pareidolia involved in seeing a pleated skirt in the slope of a mountain expresses a visual system that is unique to the person who sees it. And as such it is a valid metaphor for a pictorial space that relies on imagination while simultaneously being based on straightforward embodied experience. In Bachmann's painterly grammar, skirts, mountains, skies, and crosses are all part of the same family, in which rationality and imagination are in fact two sides of the same coin.
Caroline Bachmann (b. 1963, Lausanne) studied at the Academy of Arts and Crafts (later renamed School of Art and Design, HEAD) in Geneva, then went on to live and work in Barcelona and Rome before returning to Switzerland in 2003. Since 2007 she has been a professor and head of the painting and drawing department at HEAD, Geneva. She collaborated with the Swiss artist Stefan Banz between 2004 and 2014, and together they founded KMD – Kunsthalle Marcel Duchamp | The Forestay Museum of Art, an exhibition and research space that they have been running together since 2009. She lives and works between Berlin and Cully.
Elise Lammer is the curator and host of #artTaaalkssss, a series of weekly public lectures held at FHNW Institut Kunst in Basel, where she lives and works. She is the founder of Alpina Huus, a research platform dedicated to exploring the relationship between performance and domestic space. She is currently writing a theater play dealing with nonverbal communication as a tool of resistance among marginalized communities.