CONVERSATIONS
Cecilia Vicuña "PALABRArmas" at Neubauer Collegium for Culture and Society at the University of Chicago
Close
1
2
3
4
5
6
7
8
9
10
11
12
13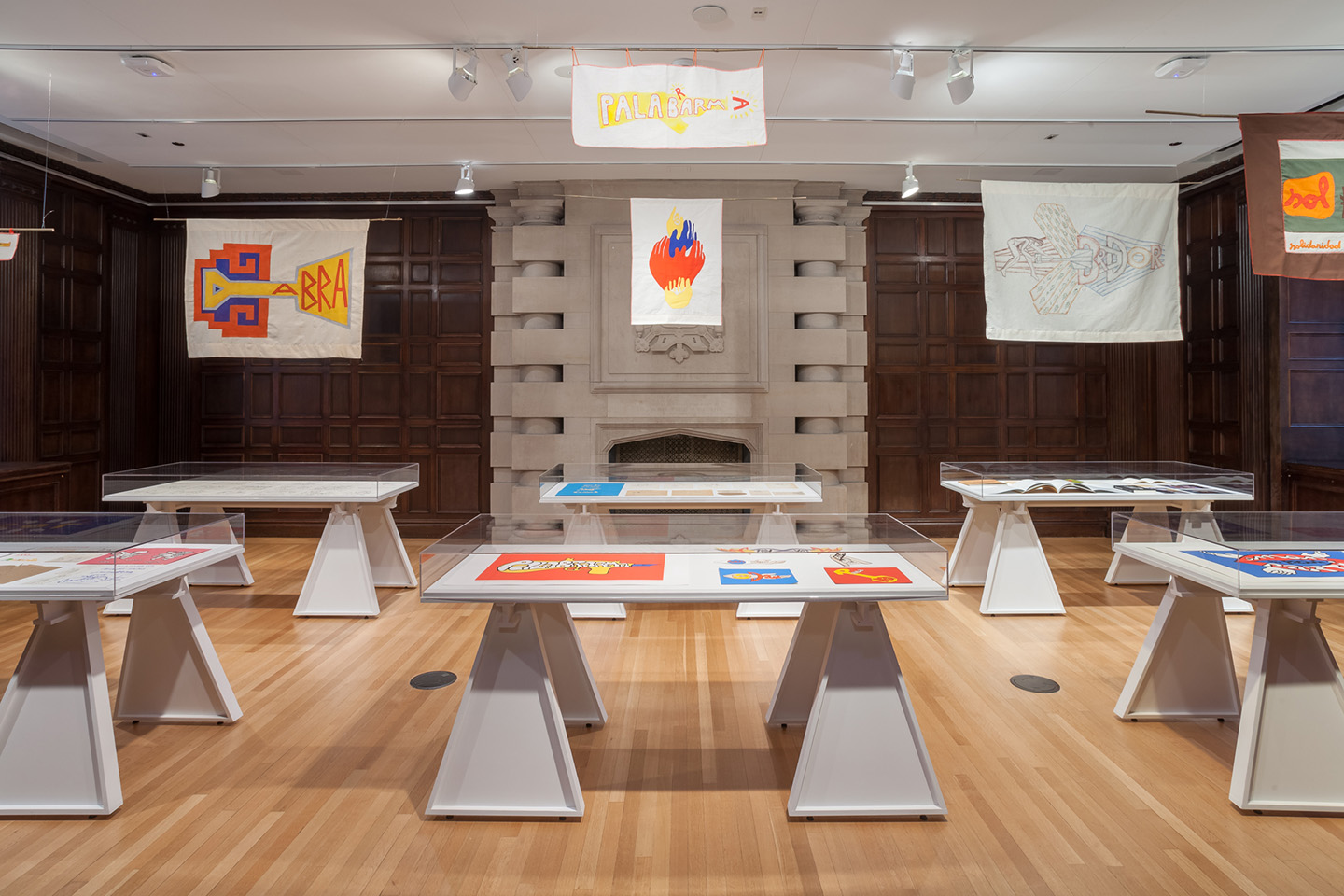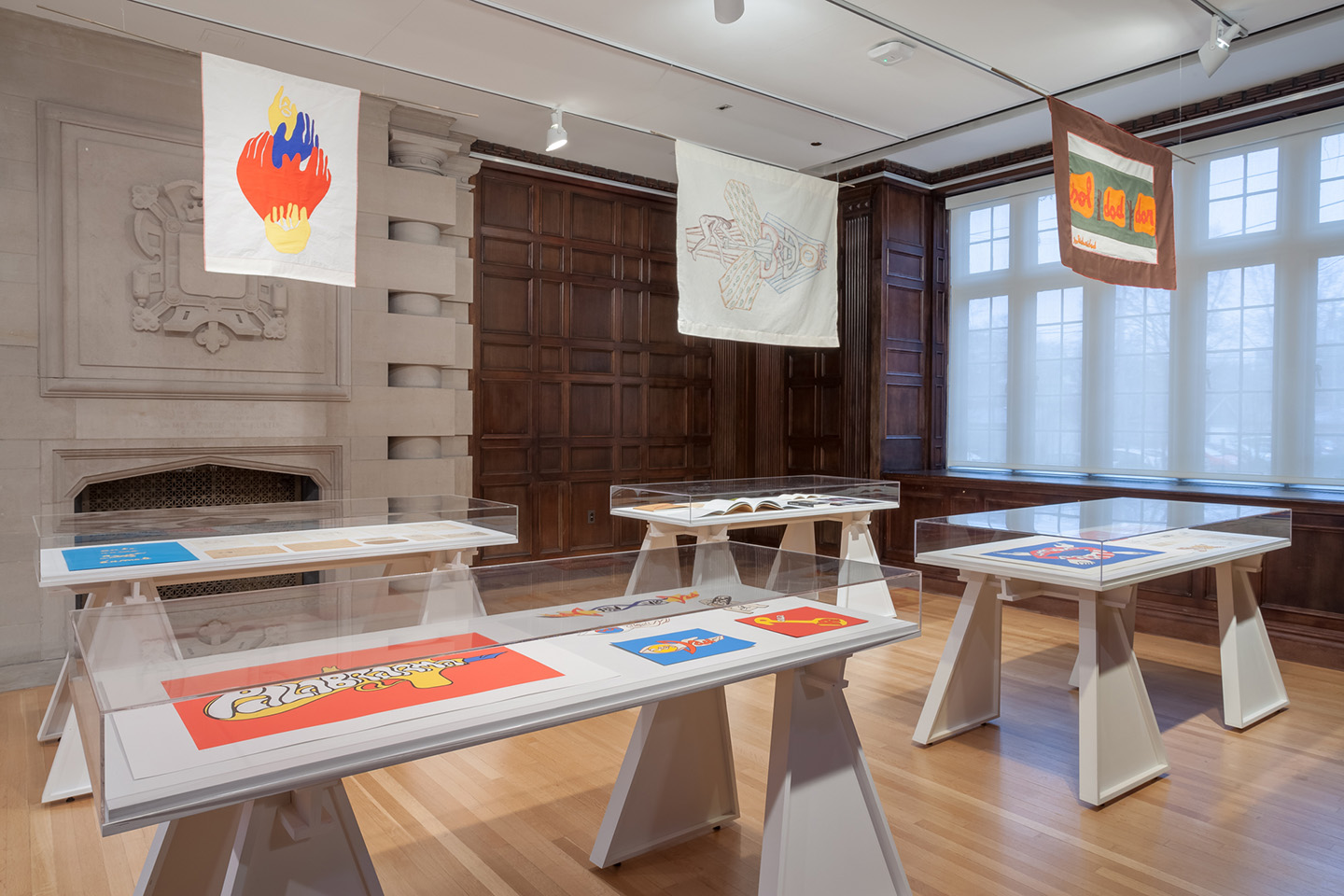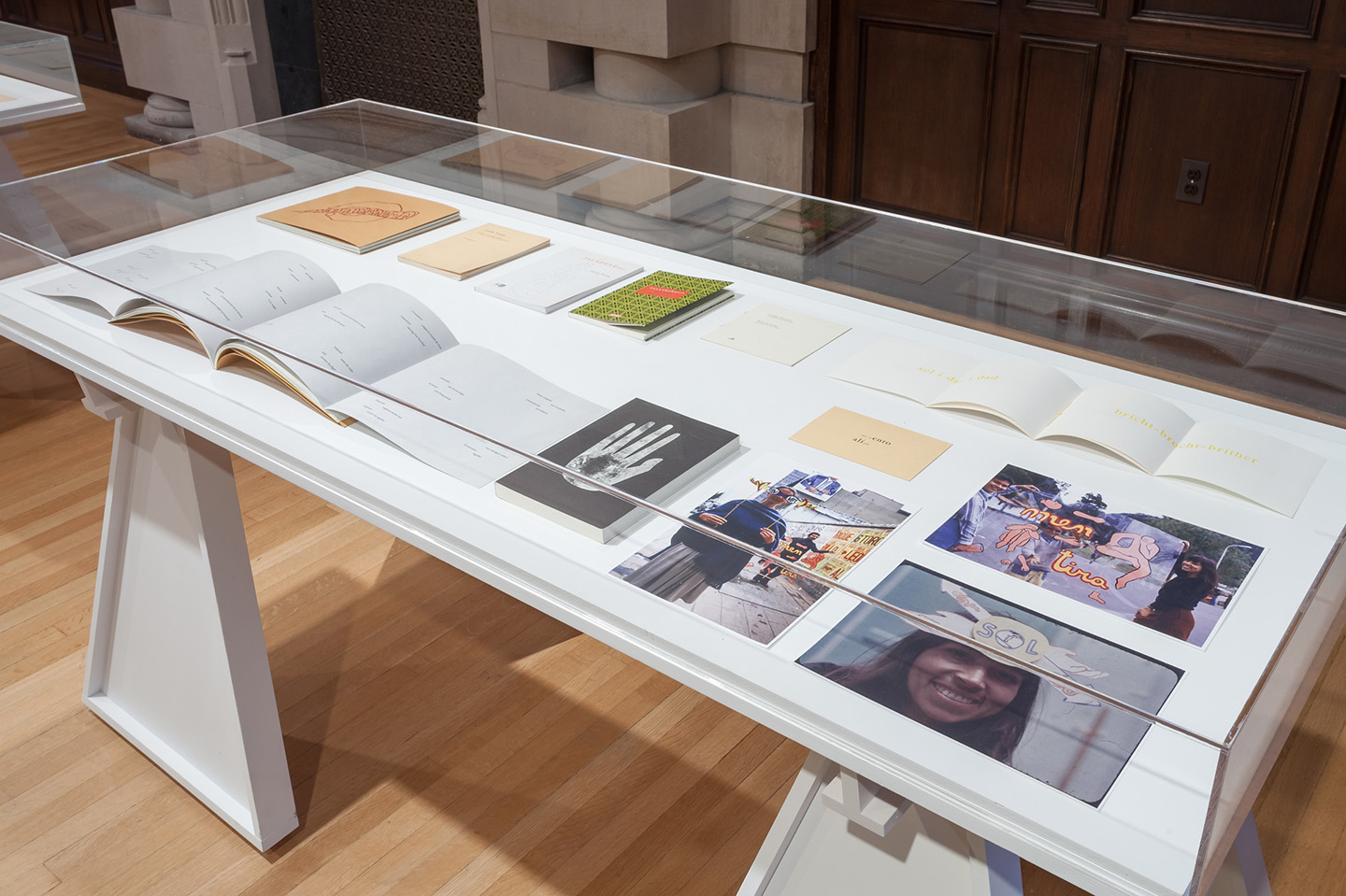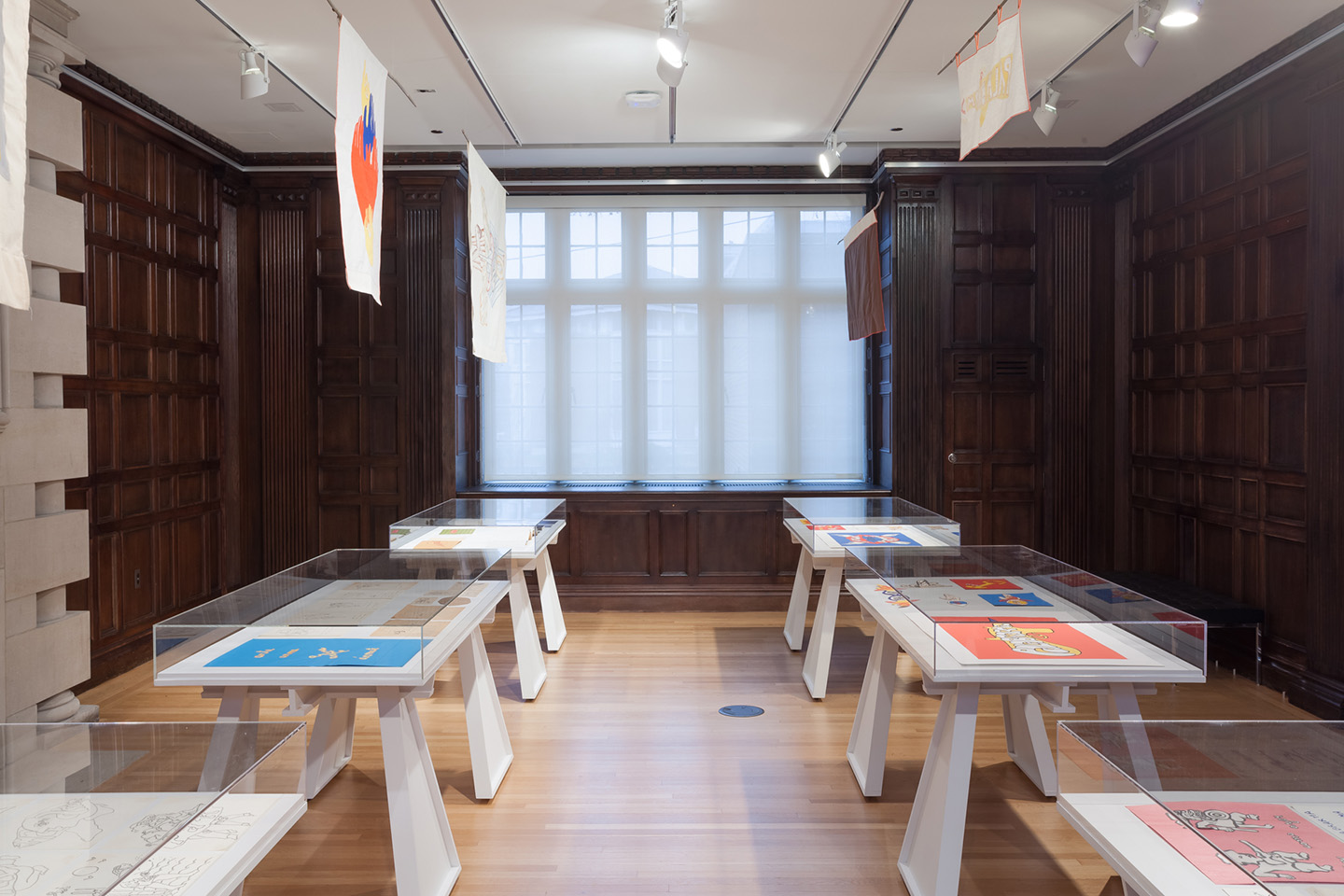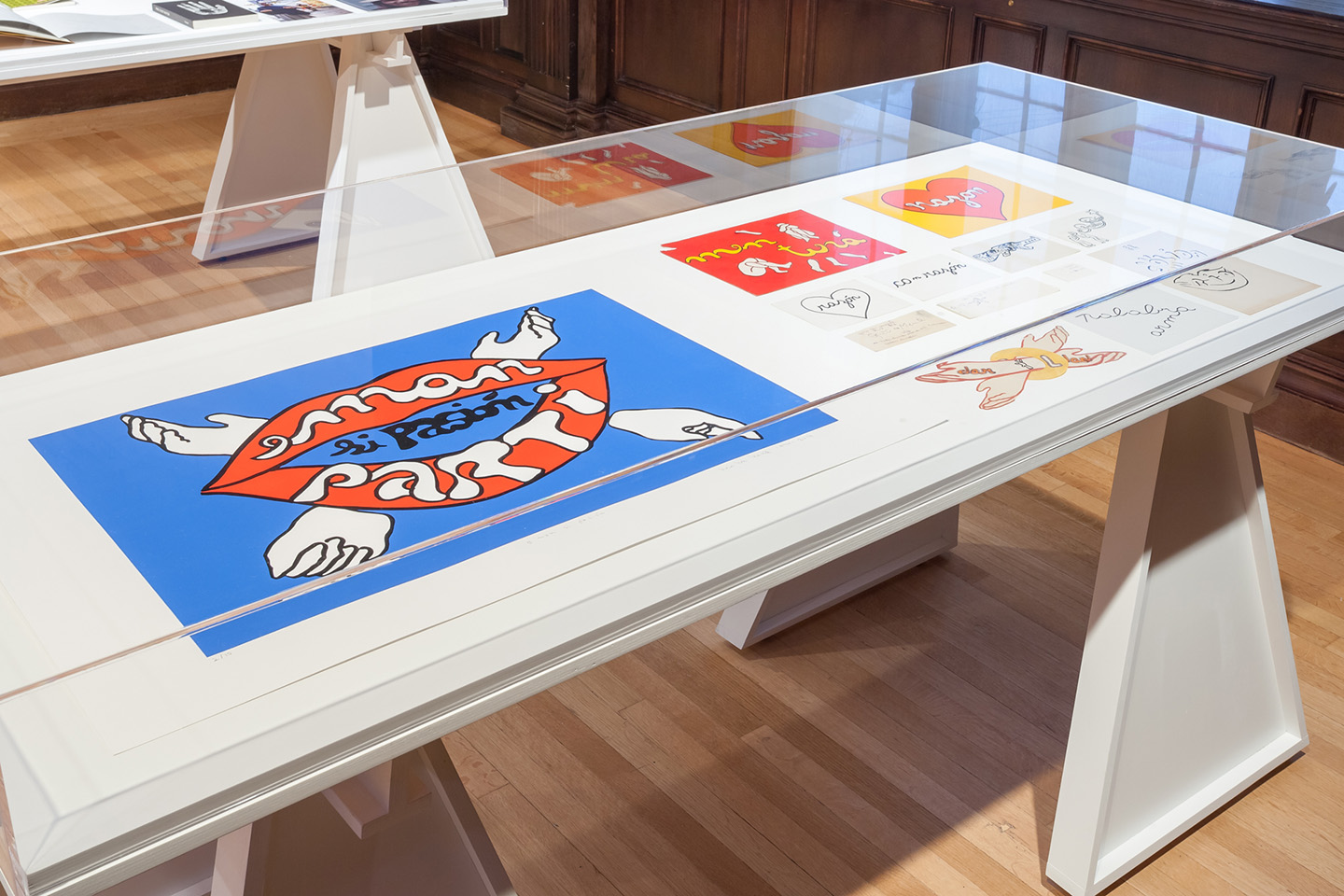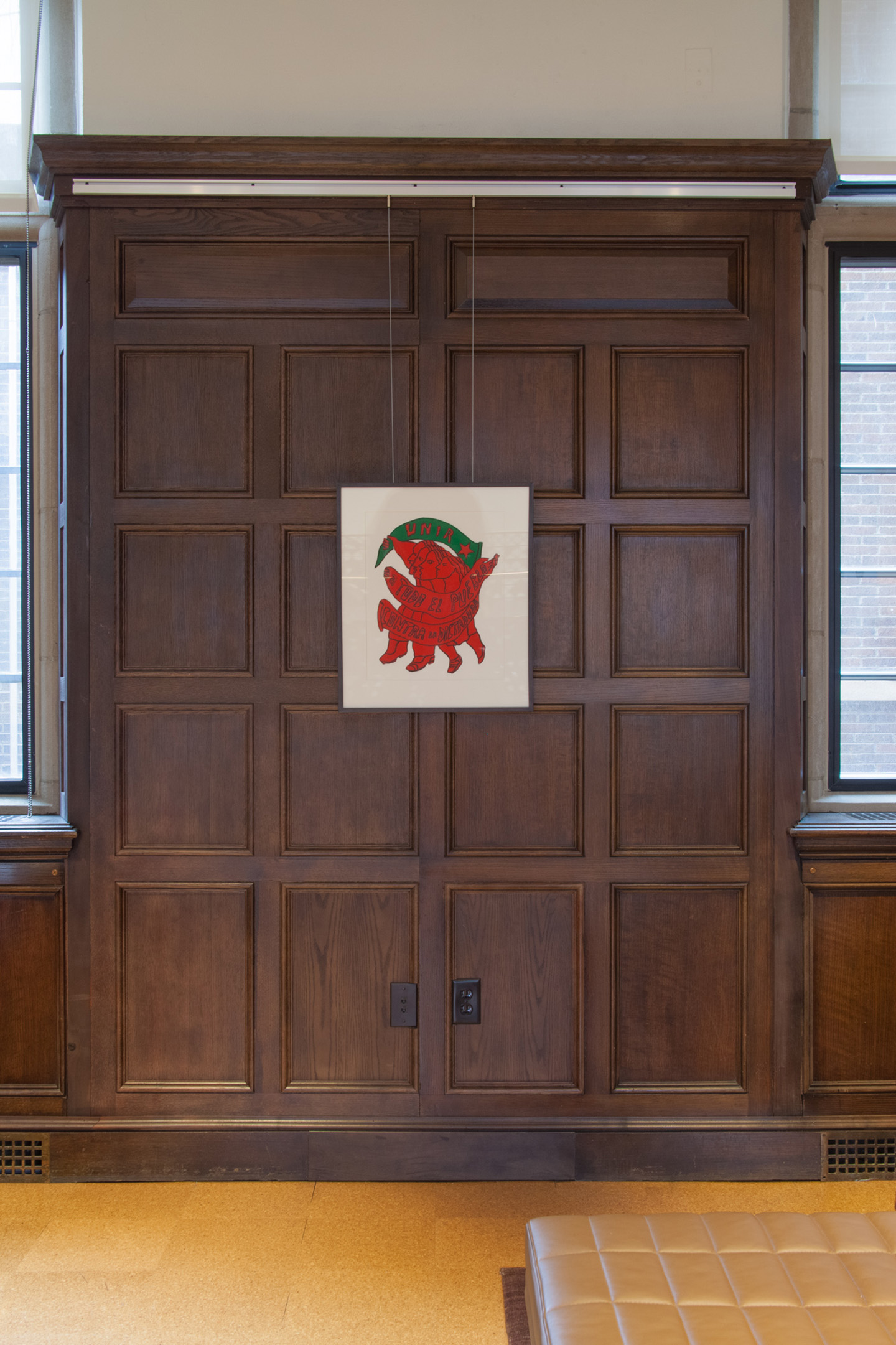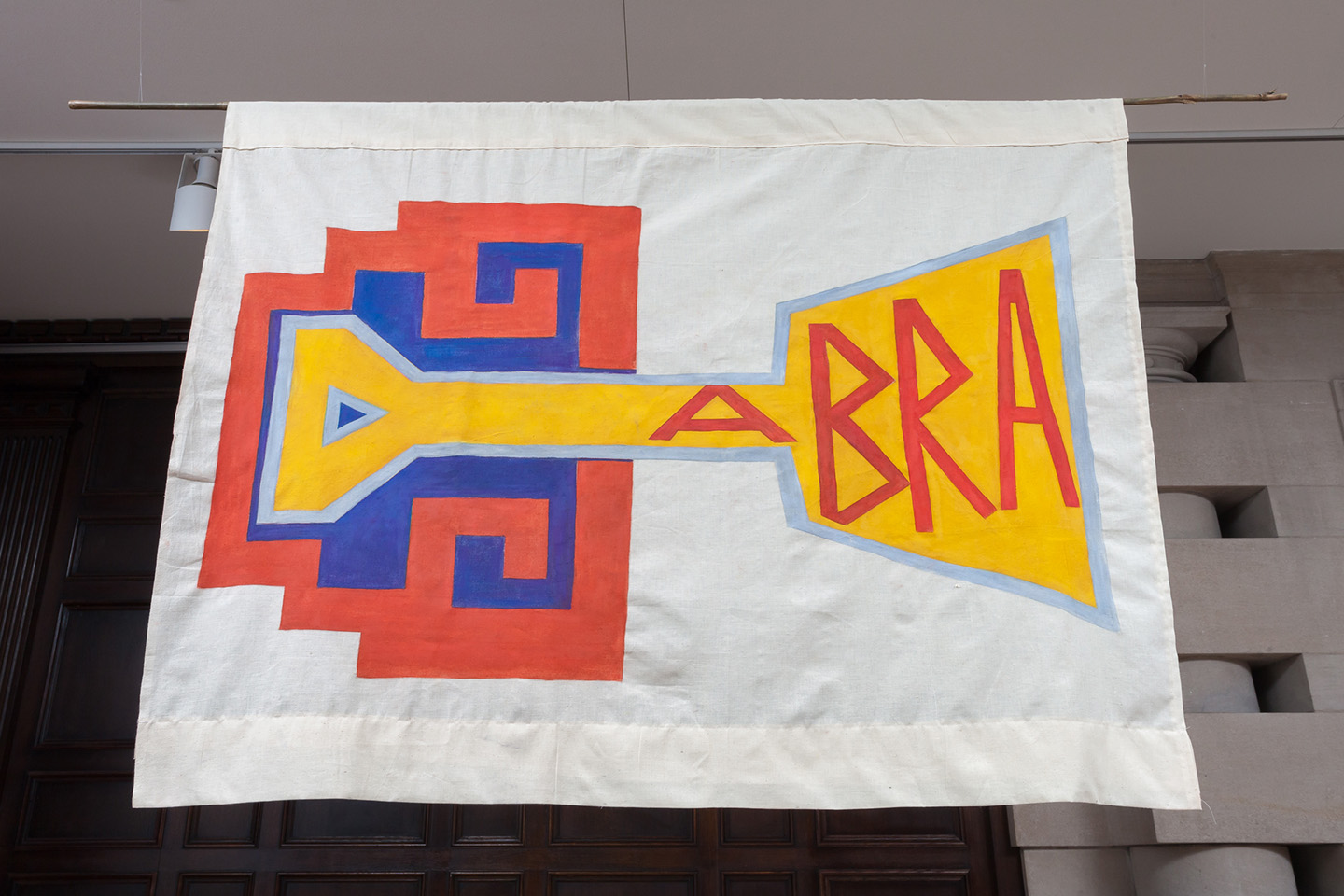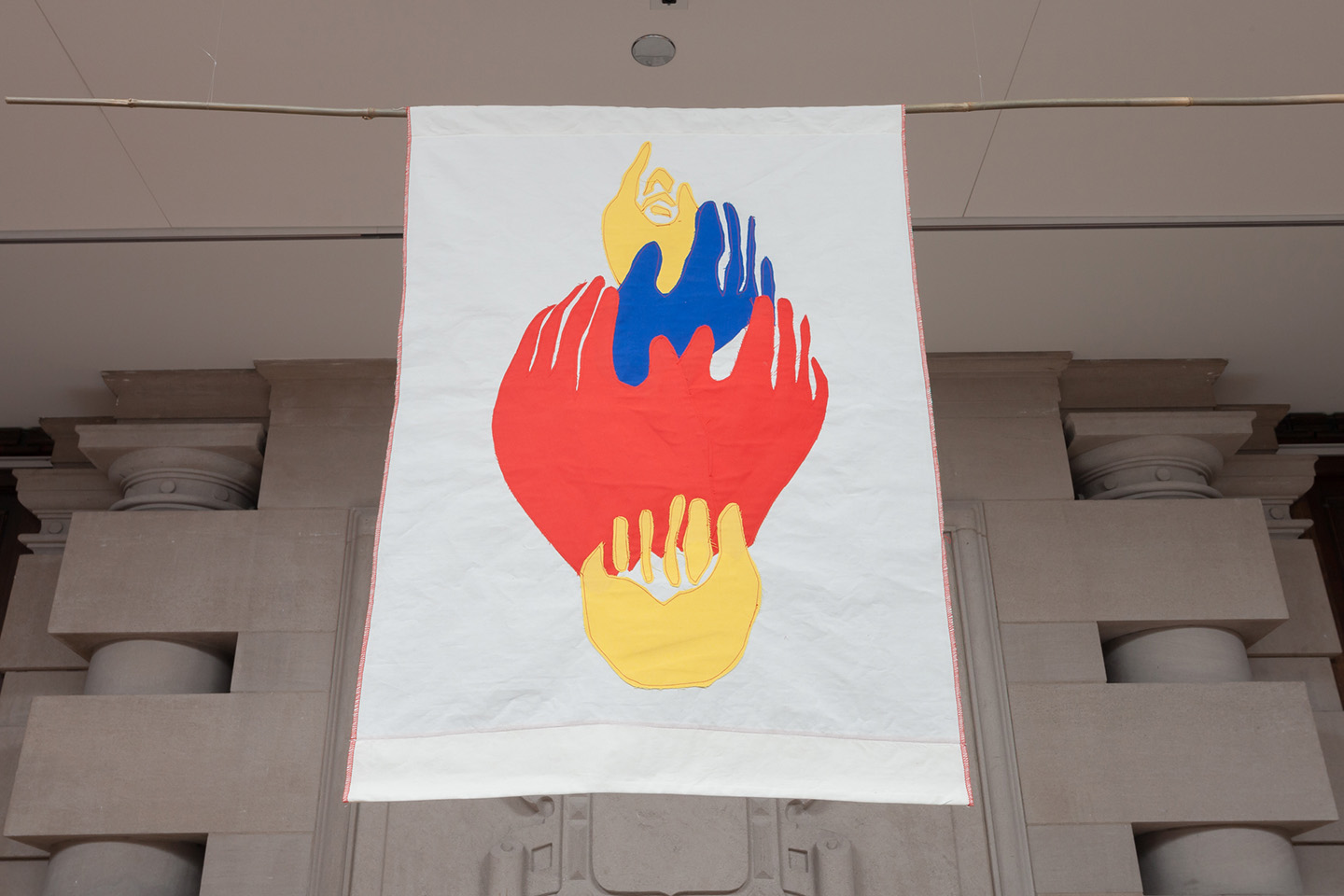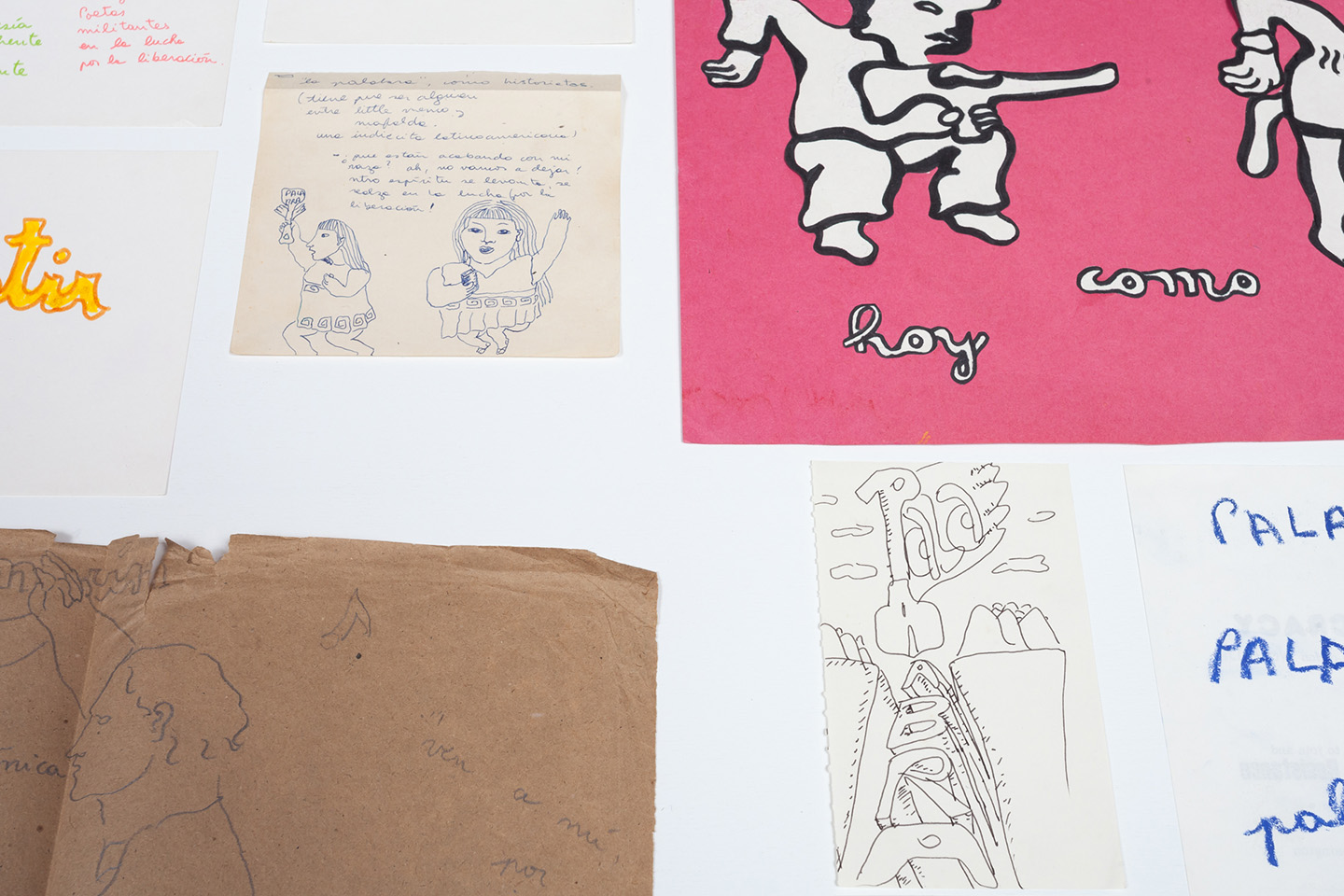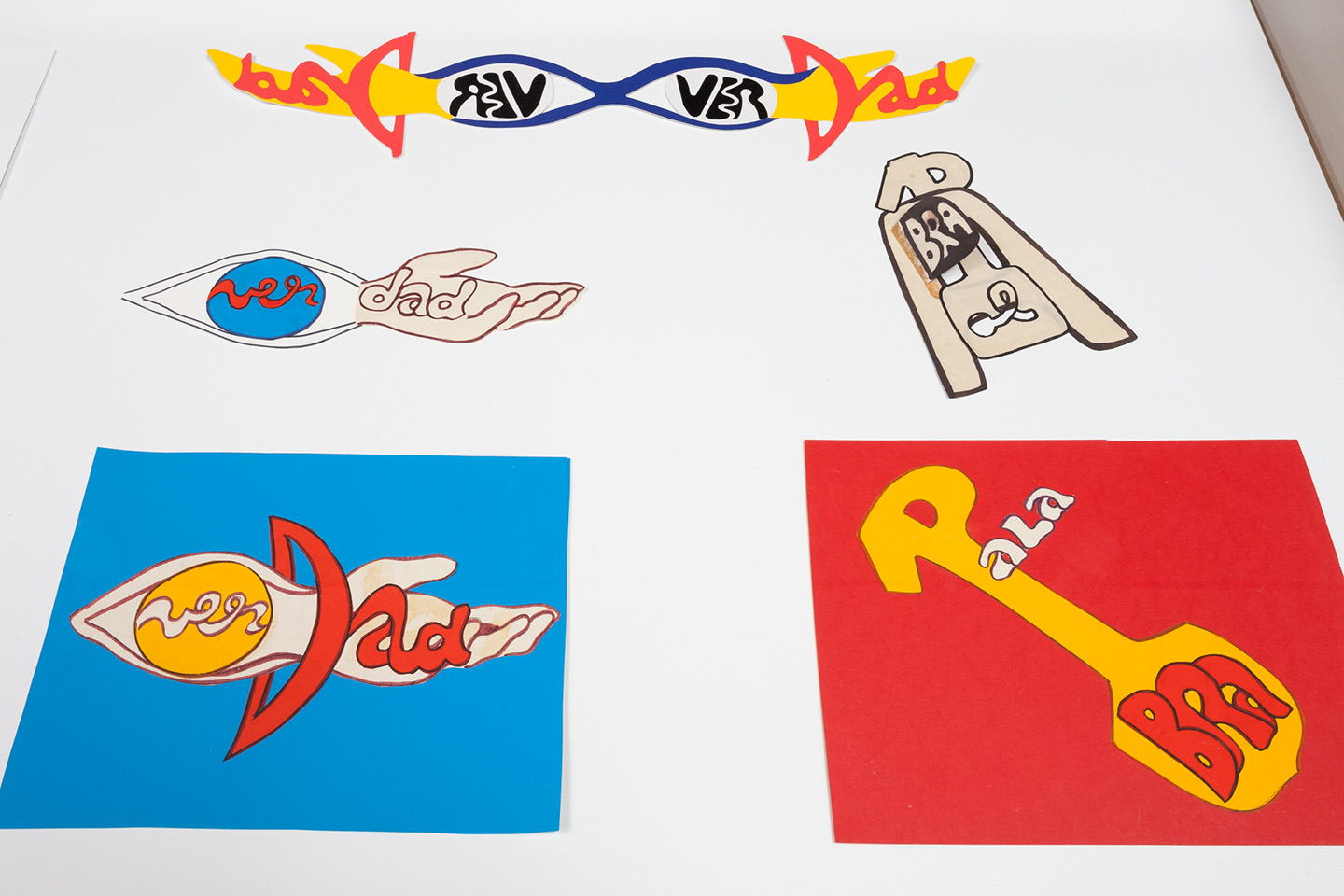 Interview by Mary L. Coyne
Cecilia Vicuña is a Chilean poet, artist, filmmaker, and activist who has been based in New York since 1980. After being exiled from her native Chile following Augusto Pinochet's 1973 coup, Vicuña developed a heightened political awareness of the intersection of the individual body with a social, collective, civic space. This conversation took place in advance of Cecilia Vicuña: PALABRArmas, a solo exhibition at the Neubauer Collegium for Culture and Society at the University of Chicago, on view through June 2, 2018. Exhibited now for the first time, forty years after they were made, the PALABRArmas speak eloquently and directly to the political consciousness of our present time.
Mary L. Coyne: The works you're showing here at the Neubauer were made in London, where you had fled following the political unrest in Chile in 1973. Why does it make sense to show them right now, here?
Cecilia Vicuña: Since Dieter Roelstraete and I had the idea of showing the Palabramas a few months ago, the extraordinary "March for Our Lives" movement has emerged. The gun violence here in the United States has been monstrous for many decades, but there has not been a true movement against it until now. So for me, it is a very emotional thing that I started this work with the PALABRArmas when I was a teenager myself. It began in 1966, when I was maybe seventeen or eighteen in Chile. It began with a vision. Suddenly I saw a word as if it was a living organism. This word opened up to reveal the huge dimension of its emptiness, and the poetic world inside language opened up for me. It is a cosmic dimension, the way language was understood by ancient people for millennia.
MC: How do the PALABRArmas fit into your practice of spatial poetry? And how do these language-based works become more sculptural?
CV: Space, as I understand it, is multidimensional, and you can experience it in so many different ways. In the indigenous perspective, you cannot separate it from time. Both are fluid, both are in a shifting system in which your participation, or the participation of your awareness, intervenes. So for example, when I see a word as infinite space, at the same time that there is infinite space inside the word, it is completely finite in the sense that it has a sound that opens it and a sound that closes it. But how close and how open is it? It is a matter of perception. It depends on what state of mind you are in. It is very interesting that in quantum physics now, you have scientists like Frank Wilczek saying that you indeed see from where you're standing.
MC: You've said of your larger-scale street weavings that "the thread is a rupture in the public sphere." This thread acts radically or ruptures; it breaks the way we typically move through a space, even separates and segments it momentarily but more strongly, the aspect of the thread as a connection between places. It is also interesting to think about this rather didactically, how you have worked with communities to help you enact performances.
CV: The way the world is being run now is a disempowerment of the people. In Chile people have chosen a billionaire as their leader. Why, in Europe and Latin America and even Asia, are people moving toward these extreme positions? It is the idea that power and money are the only gods. People have been instructed to feel that only millionaires or billionaires know what is best. How do you disrupt that? By doing what is most despised, ridiculed. And nothing is more despised and ridiculed than an indigenous woman. Nothing is more despised and ridiculed than a little piece of thread. I often do performances in the middle of the street, unannounced, where they are not expected, where nobody knows exactly what is going on. Yet there is this mysterious sense by which people are either attracted or repelled. I have woven towns with thread only to discover that these threads have been burned, cut as people are also burned or cut. What is it about the thread that evokes something so deep in a human being that it can either soften you or harden you depending on where your orientations lie? I think, when I do these performances: What am I trying to disrupt? Perhaps it is the vision of ourselves.
CV: To return to the exhibition and the book at the Neubauer. The book published with the exhibition, AMAzone PALABRArmas 1977-1978 contains a group of twenty-eight or thirty drawings that I did of PALABRArmas after a journey I took through the Amazon. I traveled by land and canoe for two months in the Amazon between 1977 and 1978. That was the beginning of the modern colonization of the Amazon, which has led to today's monstrous destruction of the rainforest. So these trans-Amazonic highways were just beginning to be built.
MC: Which is, of course, a more common form of violent rupture.
CV: Forty years have passed, but this work's relevance today is that these ancient people of the rainforest had a perception of language, of words. They say that words come from trees. Life comes from the mist in the forest. "If the mist and the forest are gone we will all be gone."
MC: Which we're now becoming aware of universally. We're well past the point of destruction of the world's forests, but also now conscious of the vulnerability of the very landmasses we inhabit. We're hyperaware of humanity's vulnerable position.
CV: And yet it is not too late. Because of the young people. I started to notice four or five years ago that my audience changed. For a long time, I was the ridiculous one doing thread things. And I was okay with that. Things changed a few years ago in 2014 when I did a performance at Hamilton College in northern New York state. I had no thread there, so I had to create another system. I came in holding a little piece of soil like this [in cupped hand], sharing it, passing it on. Everyone would have to get dirty to receive it. It became like receiving communion in church, but this is just soil, something dirty. What can be more despised than soil? Yet I noticed that people were willing to do it. Something had shifted, and after that, I began to experience it no matter where I went. The audiences are willing to go where I want us to go together.
MC: People are yearning for tactility. For something that awakens a haptic aspect of experience.
CV: But it is not just the tactile. It is the touch, the poem, the politics. All of that is combined. There is a connectivity that wants to come back. Connectedness is dangerous. When people get together they can begin thinking together, make a decision together. People want directions on how can we return to a coalition. How can a coalition take place so that the fractured movements of the young people, Black Lives Matter, the women's marches, the students, and Occupy can find a common ground?
MC: We were having the same conversations in the 1960s, when we sought to combine the goals of the civil rights movement with the women's movement. A lot of progress was made across those communities.
CV: Which is also why these movements had to be crushed, because of the coalition building. Now the same thing is beginning to happen. So it will be a huge test, because life on this planet is at stake. If we fail this time, there may be no other time. Everyone knows we are at an edge that is different from any previous edge that humanity has been since humanity has been here for two million years. So this two million years are taking us up to a momentous realization, to a moment of awareness, that is the most beautiful, most painful and most dangerous. I feel that the fact that there is no more time left, that there is no more room puts us in. So we are in a moment of terror. What are we going to do in the face of that fear? Reject the refugees? Let them die? When more than half the population of this world could become refugees and migrants over the next twenty years?
MC: Which calls for a radical rethinking of space and time and boundaries and the structures in which we live.
CV: To me that makes for a moment of potentiality. If we open up to it, who knows where it will take us?
at  Neubauer Collegium for Culture and Society at the University of Chicago
until 2 June 2018