ESSAYS Mousse 8
The Restless Universe: Christian Frosi
Close
1
2
3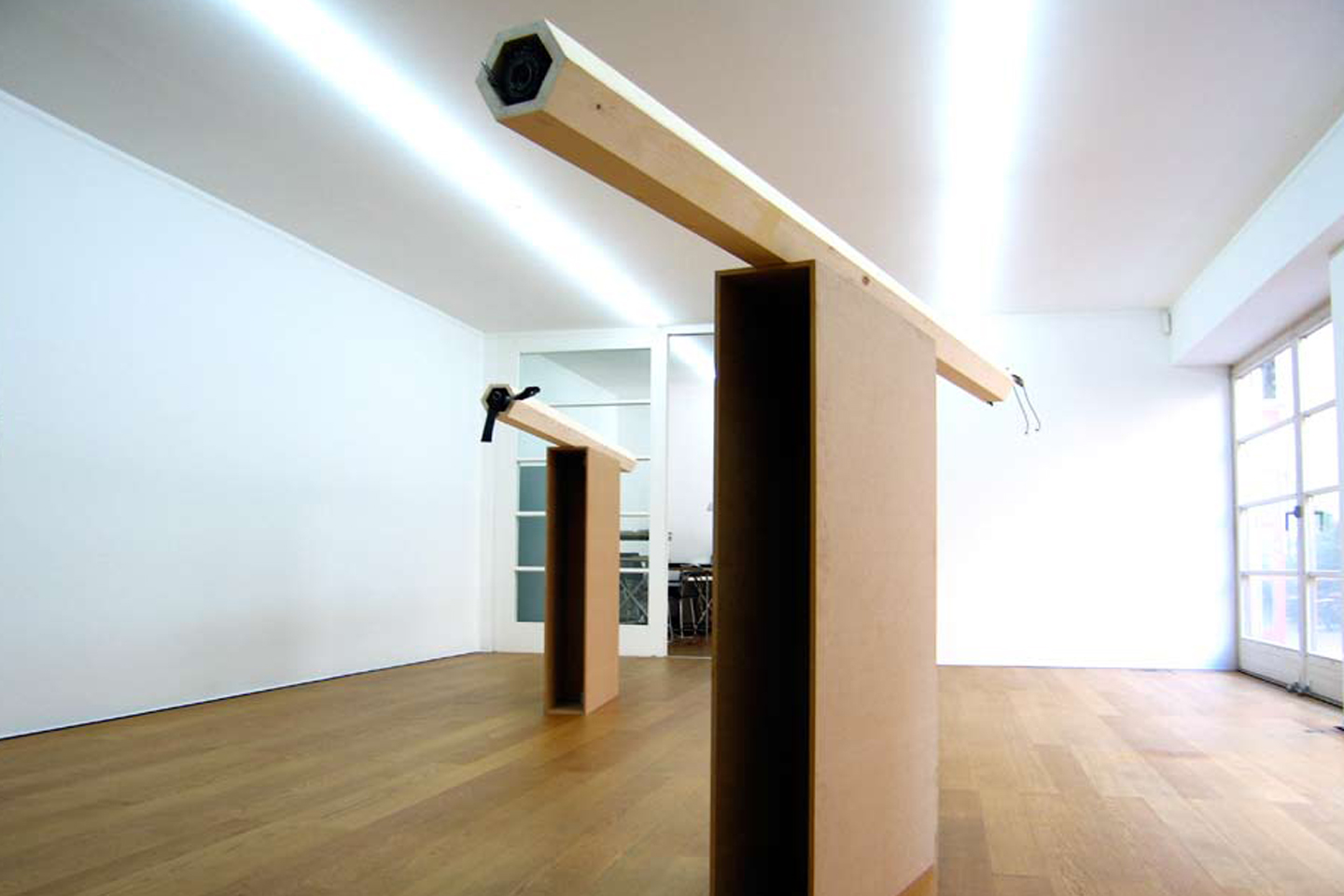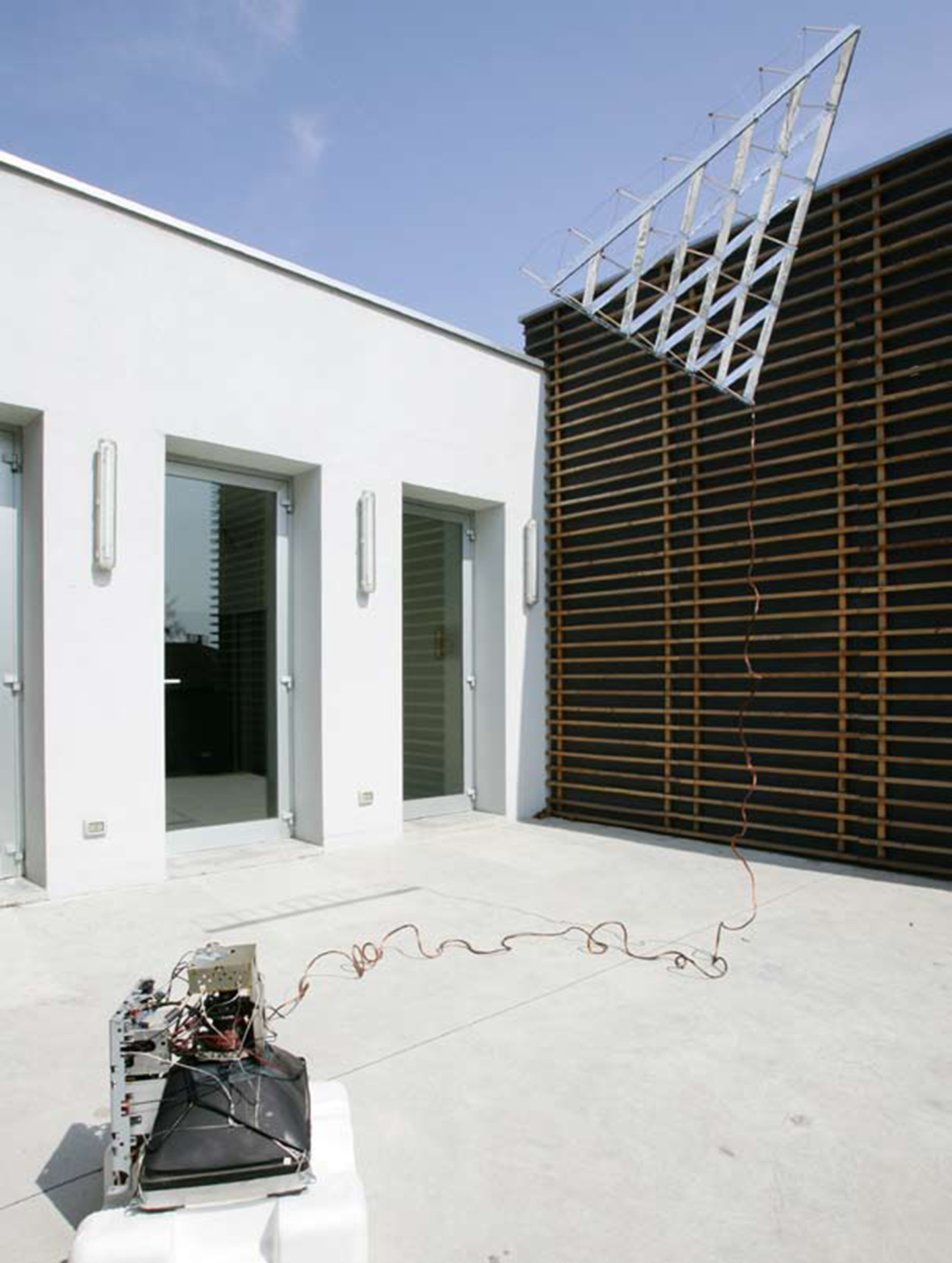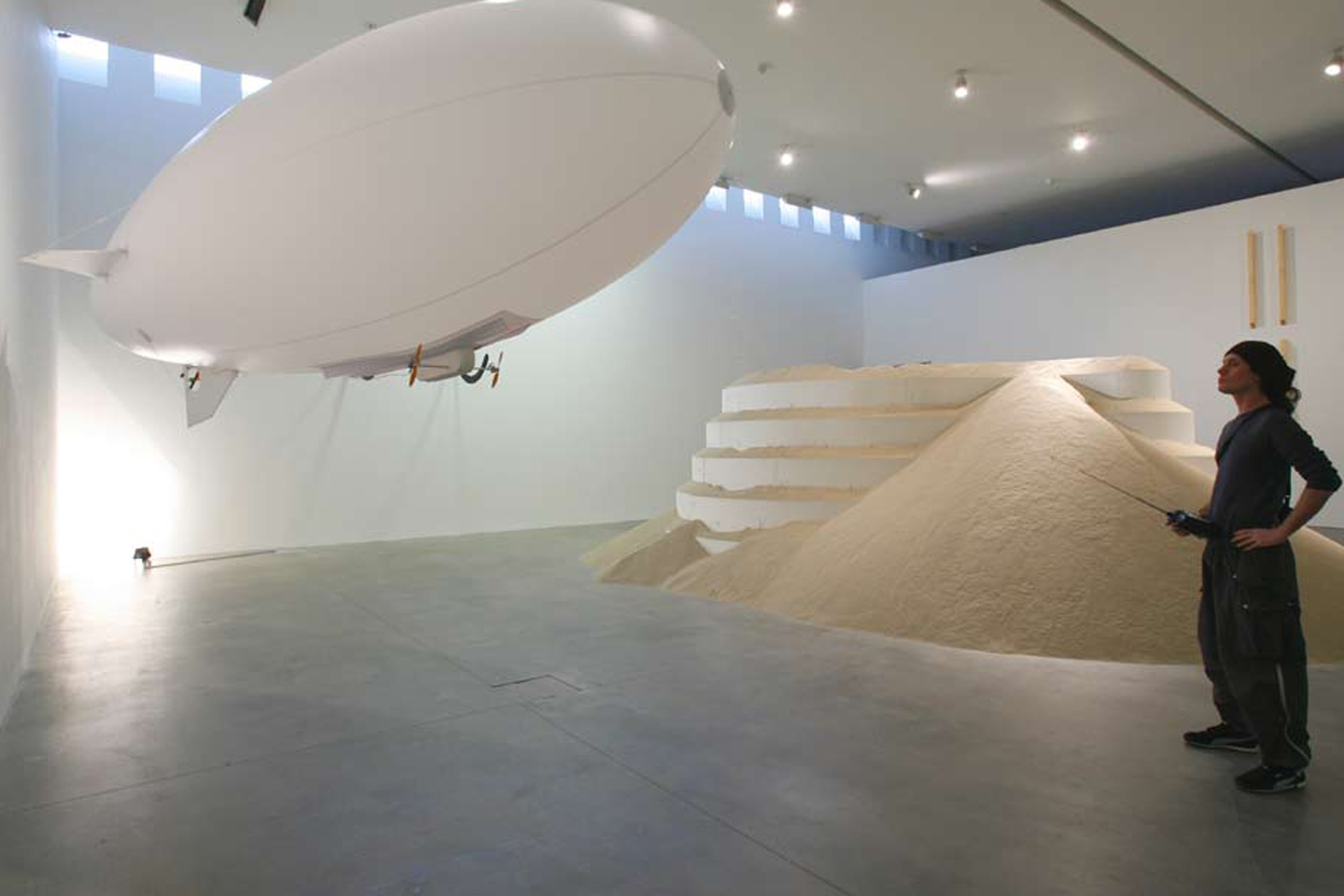 by Barbara Casavecchia
Installations, videos, sound works. These are the instruments through which Christian Frosi gives birth to a shifty world from univocal interpretations. His work raises questions linked to the perceptions of things and to the reality itself. Often, in front of his creations, the Earth seems slip under the feet. And often it's like a fall in the void. Because it's like plunging in a restless universe, never immobile, constantly in tension. And he is one of the more enchanting, and complex Italian young artists on the scene. His last show OOOOOOOOOO is showing at Fondazione Sandretto Re Rebaudengo in Turin till May 13.

Einstein believed that God doesn't play dice with the universe. It more of a chess game, he thought, just as Leibniz and Spinoza did. To sum it up; the rules of the chess game are arbitrary from a logical point of view, while the game itself is logical. It would be enough just to understand how the moves are structured"as physics and philosophy have tried for many years"in order to understand the workings of the Creator's chessboard. O Great Creative One. Cristian Frosi, for many reasons, looks like a chess player. Within a highly controlled formal grid, made up of abstract and laconic shapes, he puts a series of pieces, each based on its movement (evolving). It is as though he continues to repeat the same game, verifying the precision of his combined calculations, as he did with T1 and T2 (2002), two distinct works, each composed of 15 elements. They are put on a wall like shelves where the differences are determined by the minimum variation of certain measures and by the degree of inclination from the wall. Errors and surprises are part of the game: of the work he often cites, Merzbau by Kurt Schwitters, (in an interview with Marcello Smarrelli, for the Furla Award 2005) where he says to consider not only the ten years of work needed to construct it as an integral part of the piece, but also the bomb that destroyed it in a split second. In the rare profile of of Frosi's "genius and regularity", the breach between balance and imbalance is purposefully thin. When in 2004 he exhibited in Turin at Sonia Rosso's with Riccardo Previdi and Massimiliano Buvoliin, the common thread of narration that the three artists chose in common was the existential parabola of the legendary Paul Morphy, The Best American Chess Player (1837-1884), who became a proclaimed world chess champion in London, Paris and New York at the tender age of 21. He left the championship feeling a lack of competition, and he went mad due to a mental stasis, or perhaps due to unexpressed possibilities that accumulated to infinity. And taught to this day, are the 17 moves with which Morphy defeated the Duke Karl of Brunswick, in Paris in 1858, to illustrate a perfect attack strategy: e4 e5; Nf3 d6; d4 Bg4; dxe5 Bxf3; Qxf3 dxe5; Bc4 Nf6; Qb3 Qe7; Nc3 c6; Bg5 b5; Nxb5 cxb5; Bxb5+ Nbd7; O-O-O Rd8; Rxd7 Rxd7; Rd1 Qe6; Bxd7+ Nxd7; Qb8+ Nxb8; Rd8#. For ones that are incapable to interpret the chess notations, Frosi's titles could also be troublesome: R (white construction; polyester, wool and shaving foam; digital print, 1999), L (construction of a light mobile structure in plastic, 20 meters of lenght; video, 2000), Panda Records 15 (Photos taken while walking through the streets of Prague; digital prints, 2003), Panda Records U O1 New Title (installation of 3 elements at the Biennial of Prague, 2003), New Title U O2 (installation of two elements at the Galleria Zero in Milan, 2003), New Title U O3 (installation in plexi-glass, steel and three rare books, for Dojo curated by Luca Cerizza, 2005), NZ O1 (video installation at the Torino Triennale, 2005). They seem like archive numberings and maybe in truth they are, and yet they follow an order that is only inside his head. And for everyone else, the order is a wonder. The interpretation stays opened, only as open as the approach to his work. It is not surprising then, that he shares a certain bond with the kinetic art of the fifties and sixties that studies phenomena related to nature, to materials and their properties, to state changes, to the attempt of being launched into what Guy Brett defines the "language of movement" (from the introduction of Force Fields: Phases of the Kinetic, MACBA, 2000). David Medalla used fluid organic materials, unstable like water, mud, rice, dust, carbon, coffee, soap, oil, vapor, and smoke. One of the more important works of Frosi: Foam (2003) "a cloud of foam was sprayed continuously from a cannon, until it overspilled the terrace of the Galleria Zero, closing off its visibility from the inside, spilling towards the outside, falling down onto the street. It recalls the recent 1963 Bubble Machines by Medalla, big and small containers with a central hole ejecting hypnotic foam modeled by the air currents, gravity and pressure. Then, this machine, Ricostruzione approssimativa di un esperimento di elettrostatica (a floating triangle in aluminium, wood, connected to copper cables, 2005) makes one think of the levitating experiments of Takis which in 1959, metallic elements magically suspended in mid air, creating his Telemagnetic sculpture. The following year at the Galerie Iris Clert in Paris, he presented L'impossible, un homme dans l'espace, launching his friend, the poet Sinclair Beiles, into the antigravitational orbit. The poet himself at the time would exclaim: "I am a sculpture". It was a powerful and excessive attempt to shake off immobility, weight, and static points of view. The same air tension that touches the project, in which Christian Frosi participates (together with Deborah Ligorio and Flavio Favelli, untill May 13th) is Ambient Tour at Fondazione Sandretto Re Rebaudengo in Turin: OOOOOOOOOO, "ten capital O-s, a title which, majuscule, derives from the desire to play with the shape of the letters, so that they can look like the images that describe the piece. The O-s are the discs that remain suspended in the air, and they are the routes of air balloon, and also the grains of sand.
And then, I find its sound aspect very interesting. On viewing, there is a single hall, six extremely light "flying saucers" in wood and silver covered plastic Mylar filled with helium (New Title 00000), 4 modular supporting hanging above (UT O7), a white remote-controlled air balloon (Blimp) flying over the central Duna, and 15 tons of sand spilling over a polyester ziggurat armory. In a conversation Ilaria Bonacossa (catalogue) the artist explains: "The sand creates a particular connection between each grain, a dynamic called "self-organizing pattern". They are statistic systems studied mostly in the field of nanotechnology. In the air there is a constant presence of sand, invisible and imperceptible.
So restless to urge him to create New Title OO (at Villa delle Rose, Bologna, in 2005), a "performative installation" of constant variations, that redefine each day the order of its components, amongst them an helicoidal pile of Kerouac's On the Road. He even compacted two halves of a bicycle into two hexagonal tubes in fir wood, as if they were secret propulsions. The same accumulation of muscular energy, a potential that radiates from the series New Title UO4, UO5, UO6, where he suspended at more than three meters off the ground, the most immediate vehicles of Jonathan Viner (gallerist), Chris Dercon (critic), Jean-Olivier Wahler (curator): their shoes. "…OOOOOOOOOO quanta strada nei miei sandali, quanta ne avrà fatta Bartali!" (…OOOOOOOOOO such a long way in my sandals, as long as Bartali's!, Paolo Conte). Science is studying how to make it possible for the grains to record information, and thus to make what we now call 'space' something that is tangible and sensitive. These characteristics bring sand closer to foam, making it lighter". And that's not all. In Turin, Frosi presented another one of his operations, the Ricostruzione approssimativa di un Manifesto Spazialista. An animated digital video in 3D, black and white, philologically wrong, which he imagines geometric shapes and cosmic visions with are all the things the Spatialists could have used during one of the very first experimental television trasmissions of RAI-TV. Actually, the night before, Castelbarco, Baj and Joe Colombo had projected their Nuclear Projections at the Galleria Amici della Francia, in Corso Vittorio Emanuele (home to the Prima Esposizione del Movimento Nucleare), a short film composed of abstract coloured surfaces in movement, a metaphor for the unleashing of "primitive energies" and for all the fermentation of the universe, where nothing is still, not even the infinitesimal atomic particles.There is also some of this in Frosi's: the anguish of movement.
Of making a move, in fact.
Originally published on Mousse 8 (April 2007)