Mousse 71 TIDBITS
The Sound of Passing Time: Christine Sun Kim
Close
1
2
3
4
5
6
7
8
9
10
11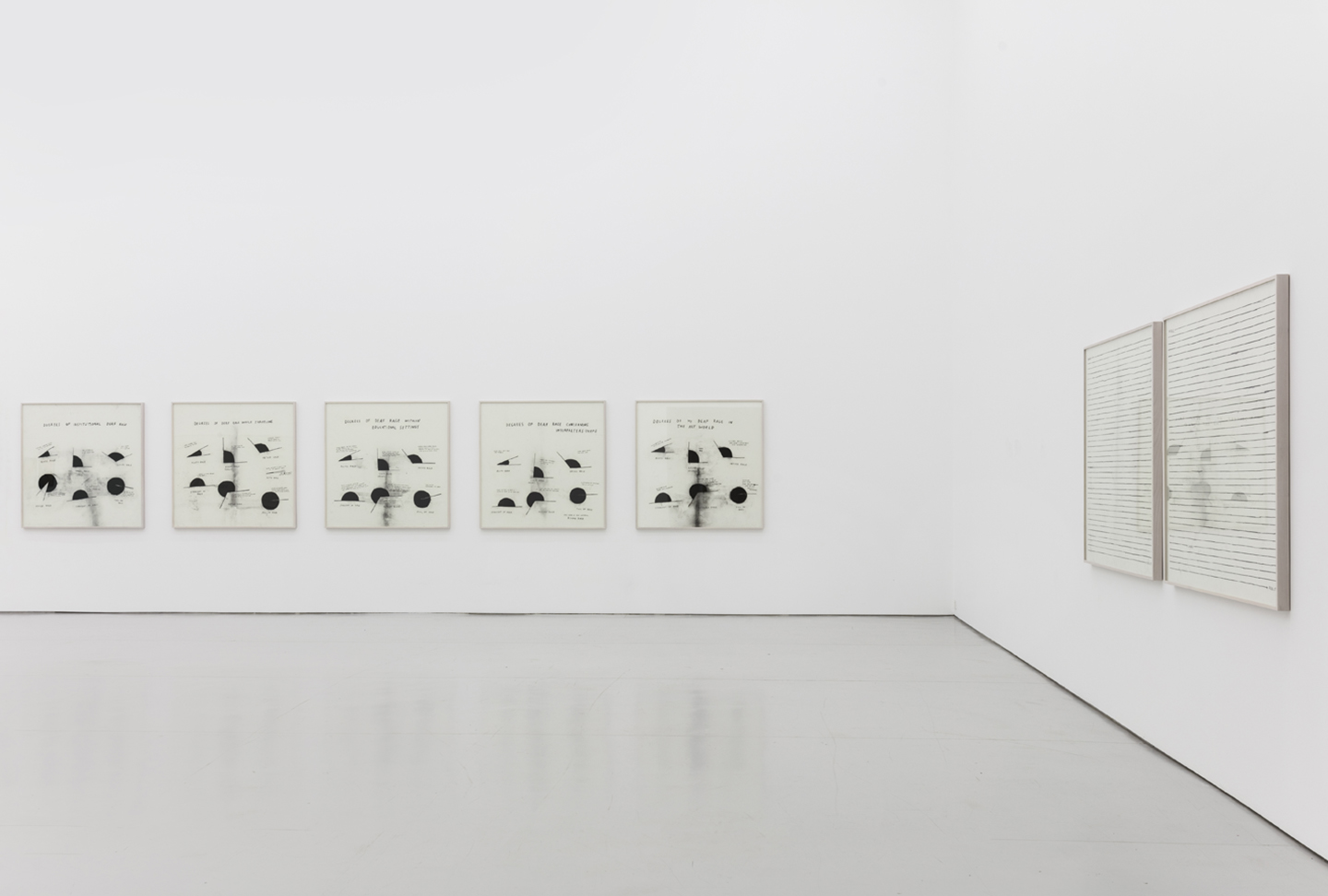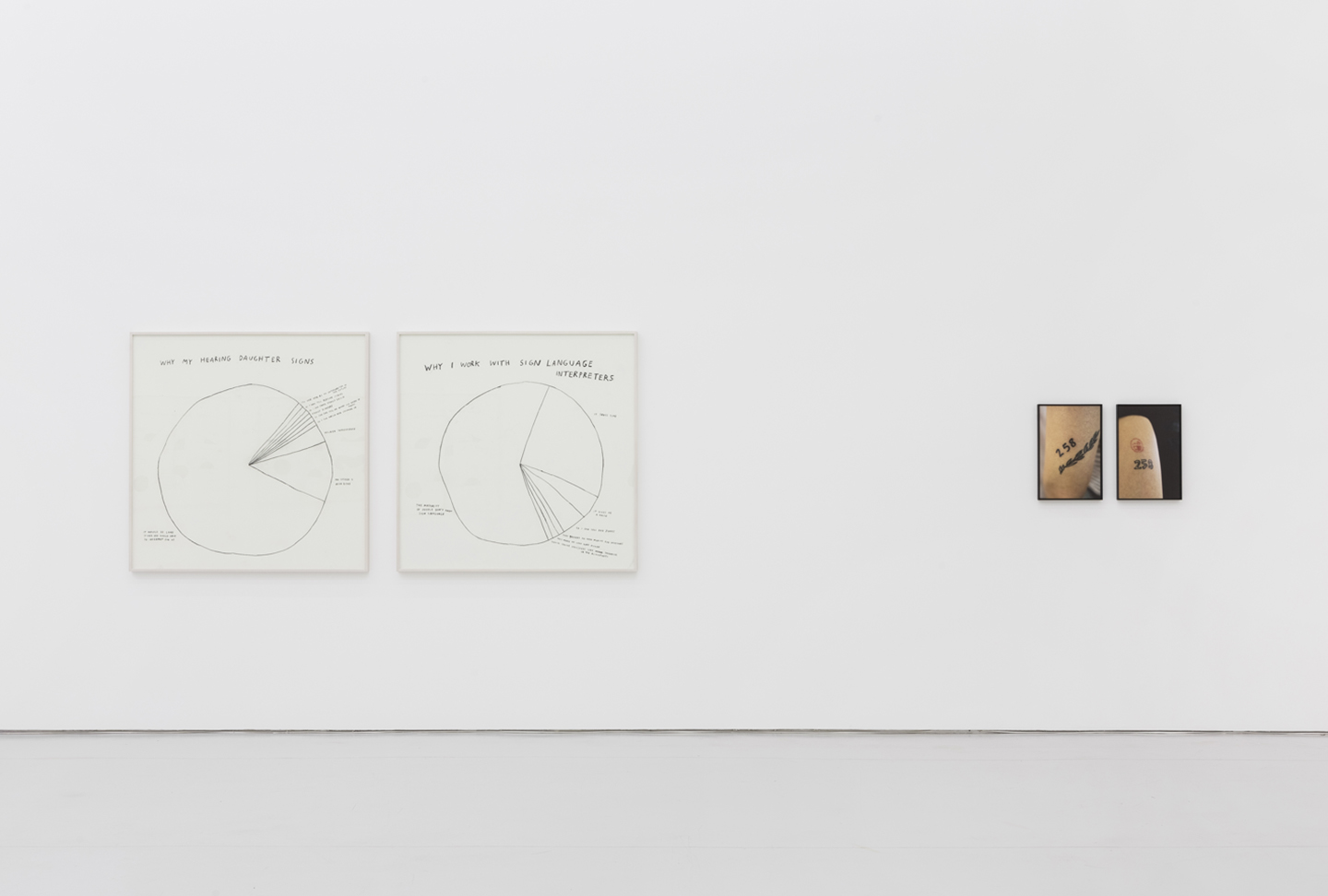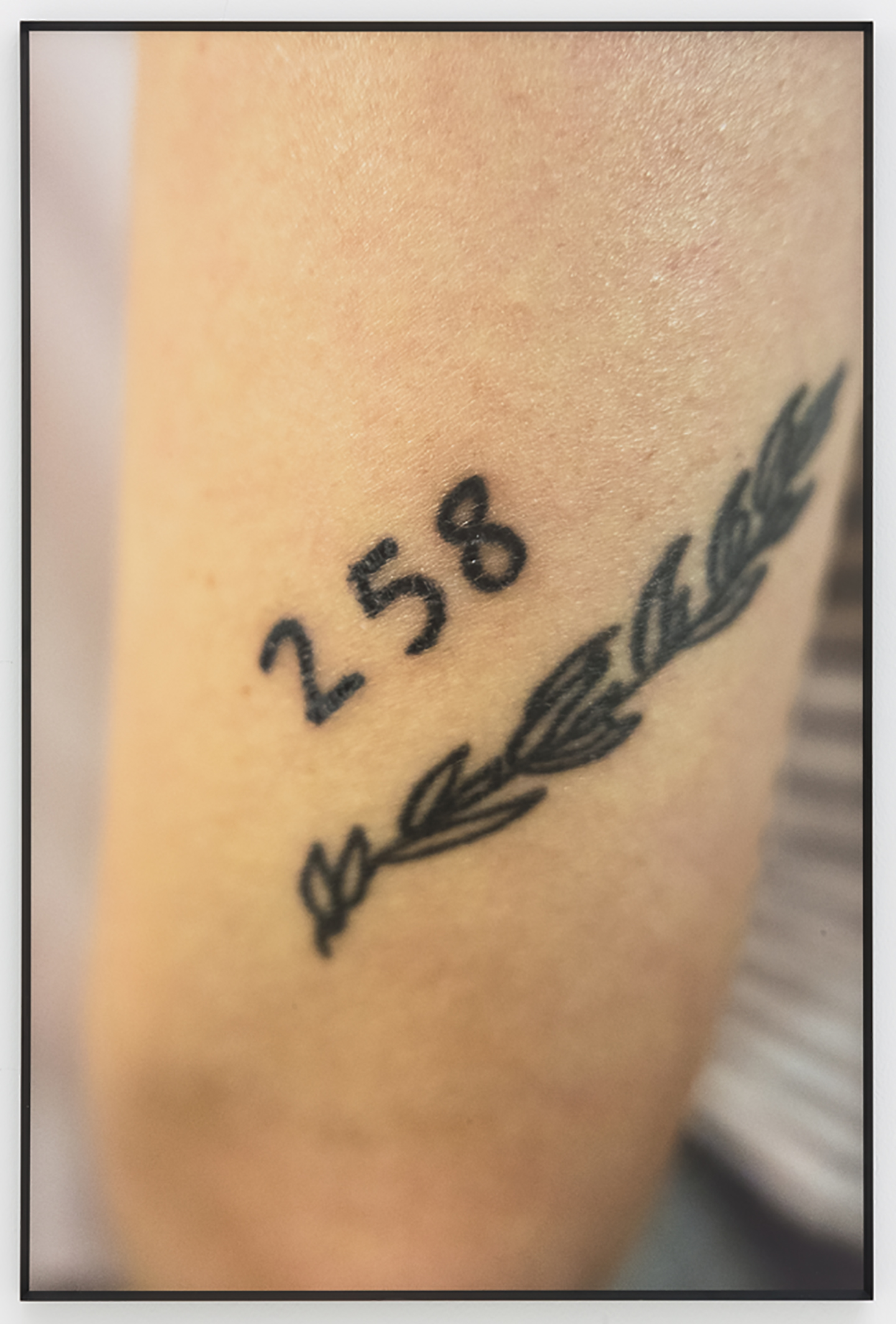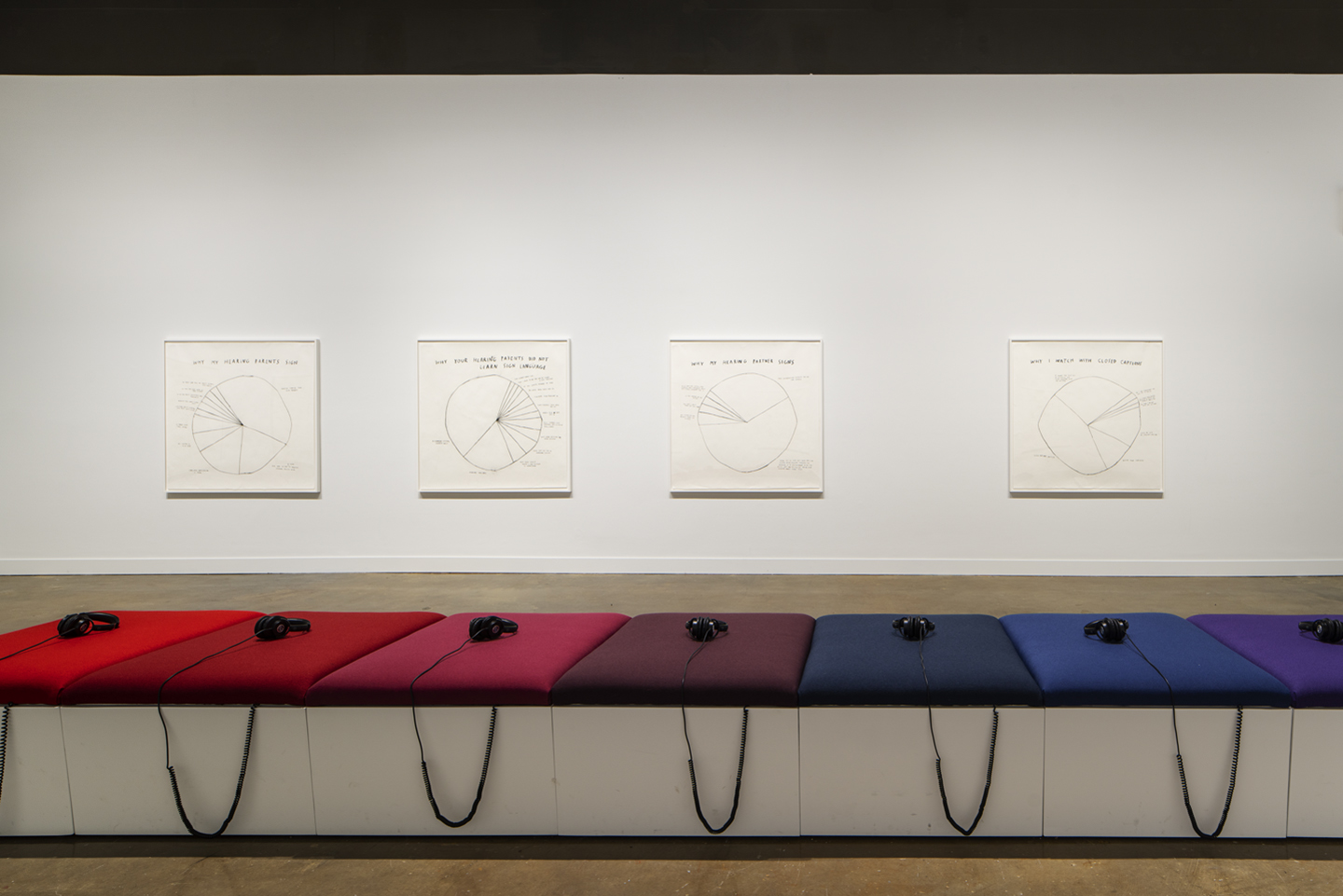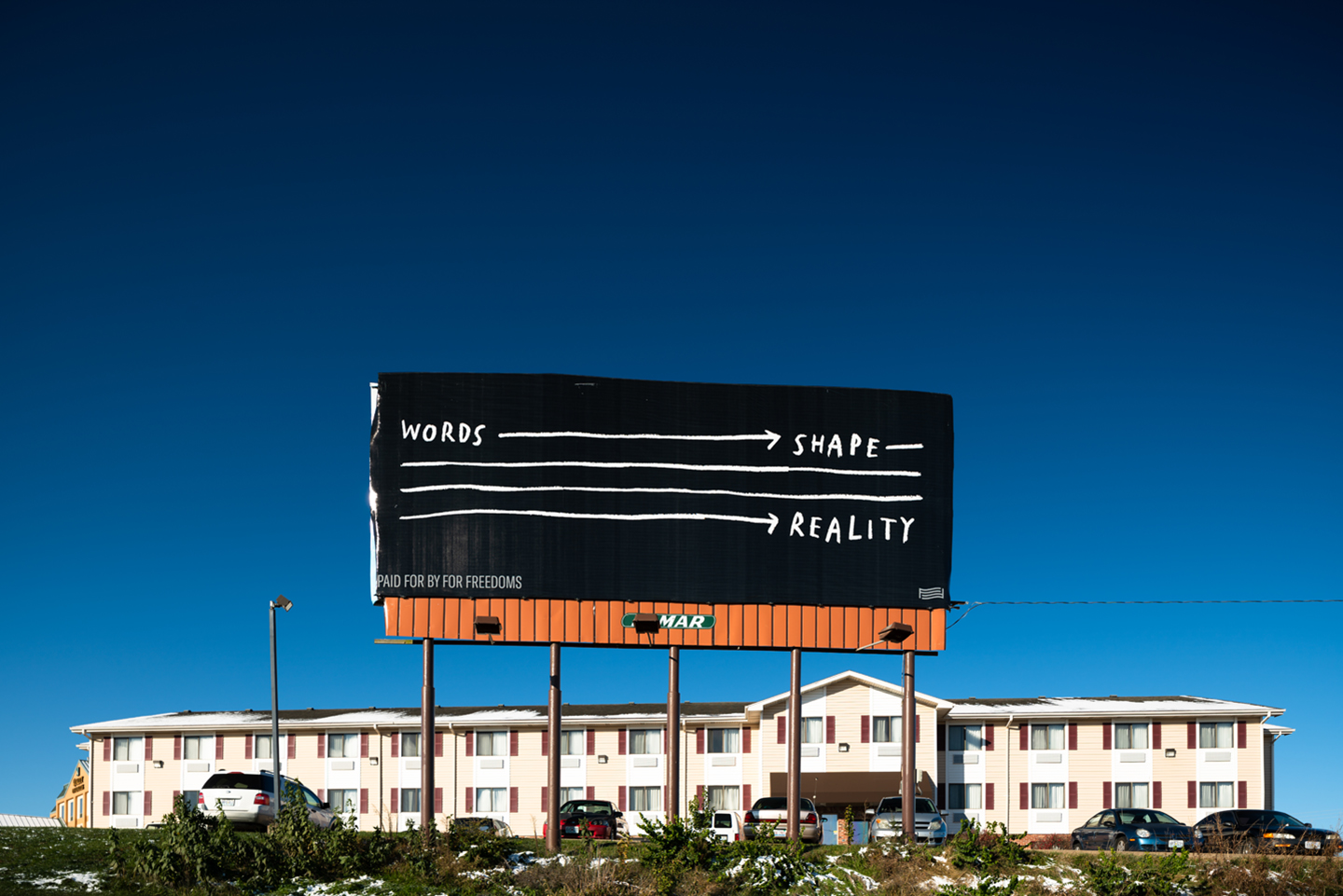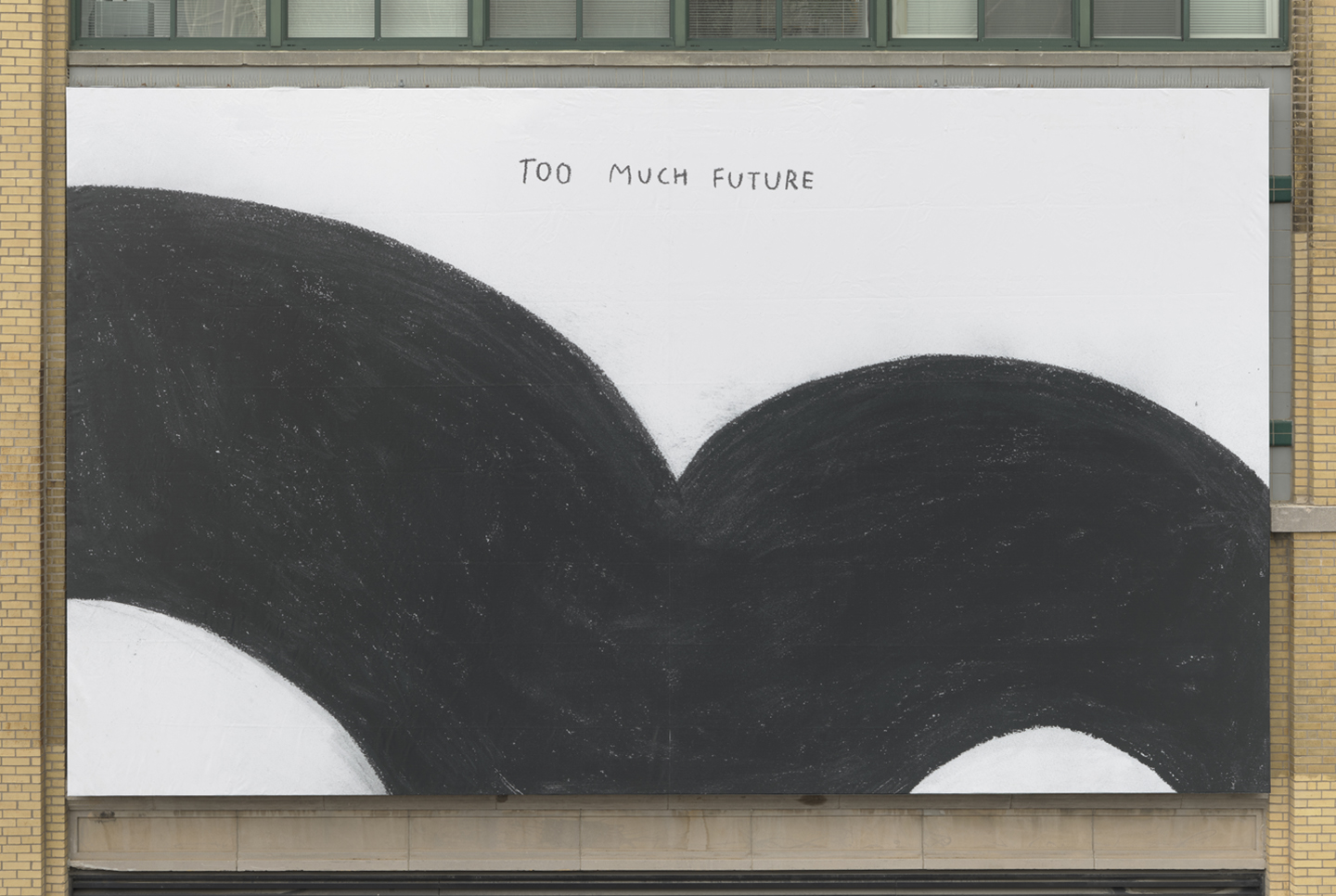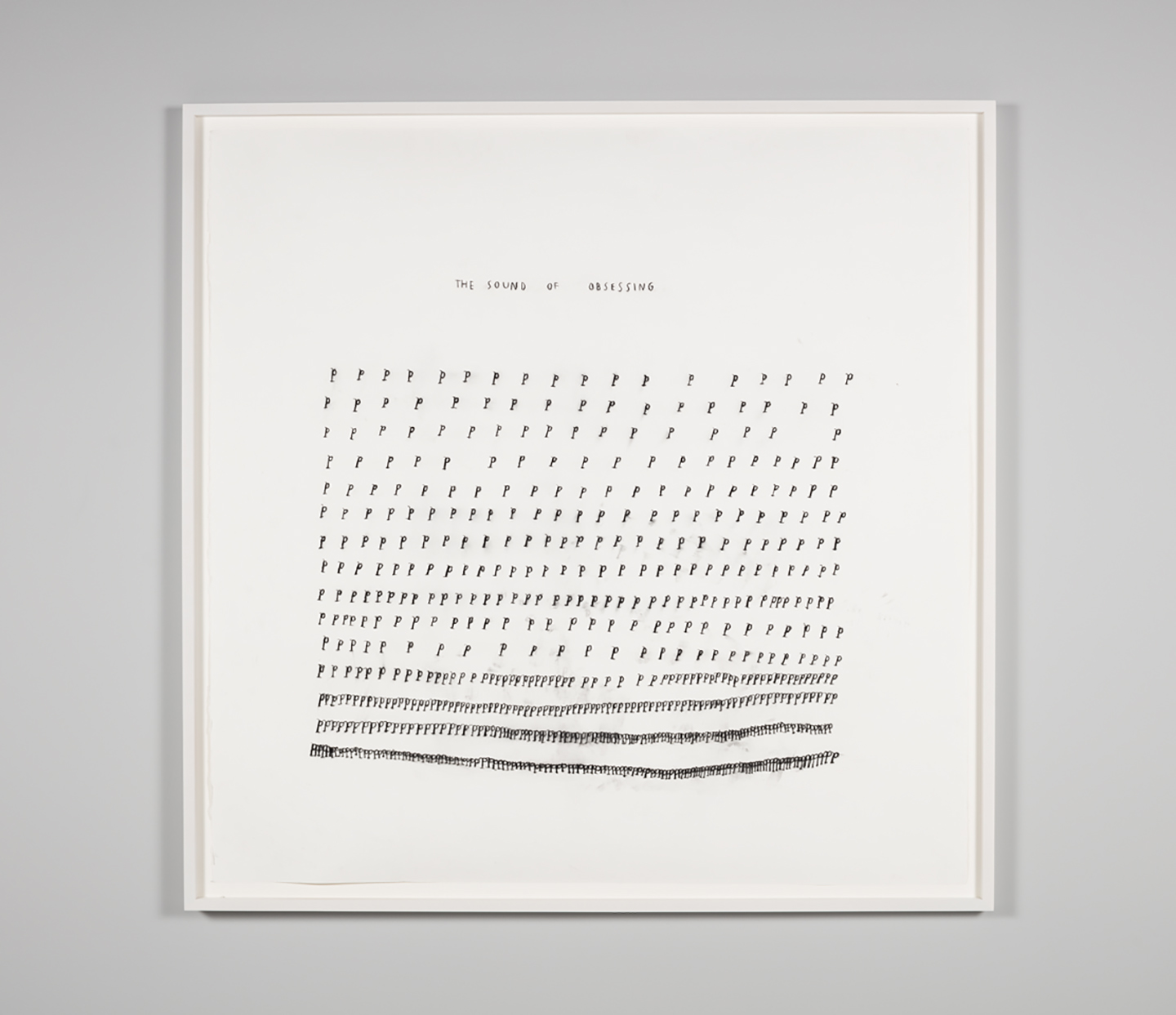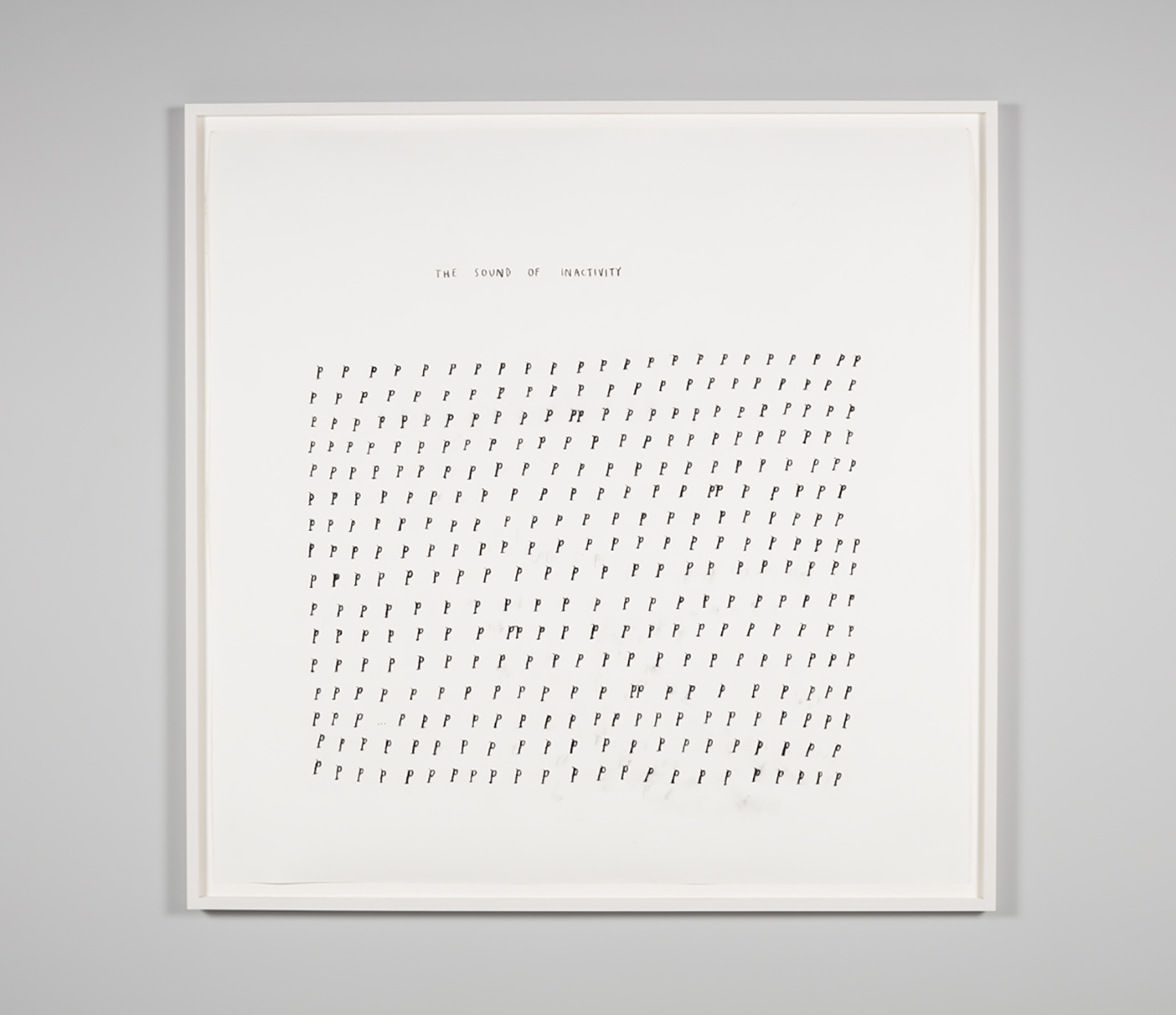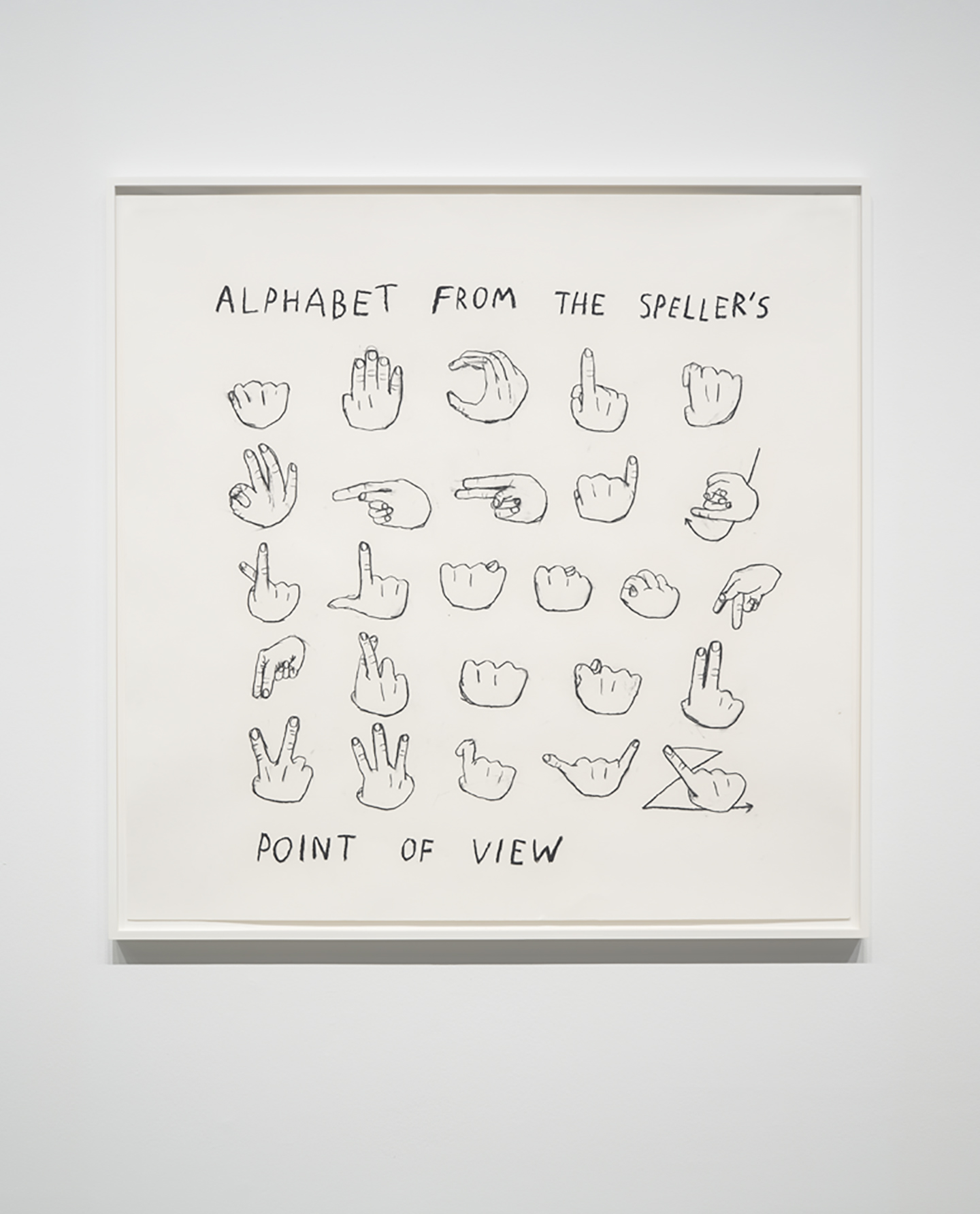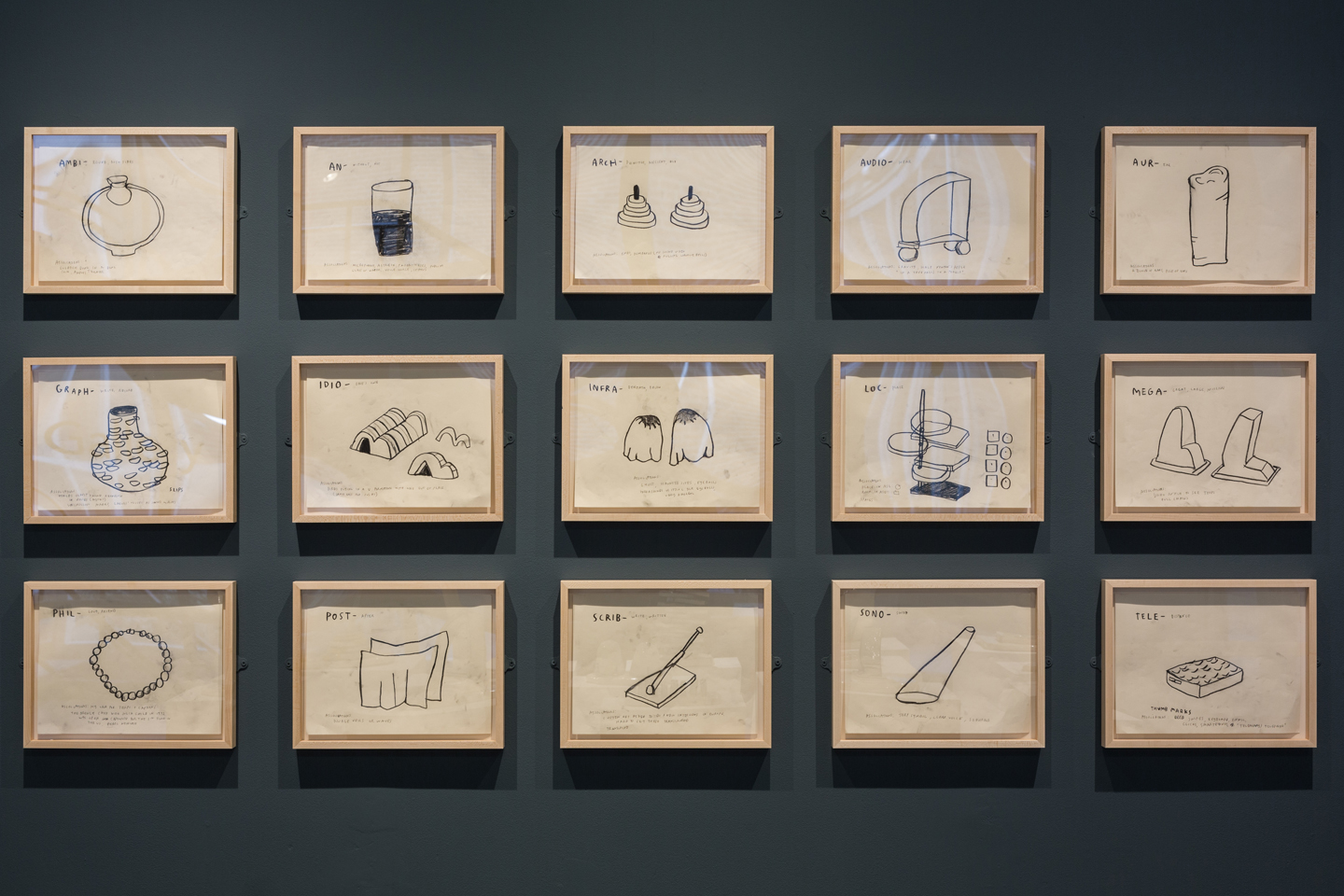 by Sofia Lemos
Christine Sun Kim explores sound through drawing, painting, and performance. Aware of the world as socio-material volume, she combines aspects of musical notation, body language, and American Sign Language (ASL), expanding on their communicative potential. Composing through forms of temporal deprogramming embedded in the materiality of sound and language, Kim's practice deconstructs preconceived ideas and interrogates how they might reframe our perception.
Playing with notions of voice and address, Kim draws sonic experience into musical staff, translating everyday rhythms into the thickness of the line, smudges, and discontinuous passages. Not unlike how musical convention uses abbreviations such as p (piano, or soft) and f (forte, or loud) to demarcate dynamic change in a musical score, in Kim's work musical notation provides ways of communicating volume and intensity as well as her experience of time.
In the series of works on paper six types of waiting in berlin (2017), Kim uses this musical language to "en-listen" as well as envision the pace of everyday rhythms such as "sitting in an immigration's office waiting room," "waiting for customer service at an art supplies shop," and "waiting in line at the bank." The German sociologist, philosopher, and critic Georg Simmel called these recurrences the "tempo of life," describing them as bounded periods of "continuous readiness for experience and action, combined with a continually open ear for the autonomous life of things."1 In the series, Kim's episodic narration of passing time opposes the conventional view of time as autonomous, linear, directional, and made up of spatial successions. In its place, rhythm emerges as a movement and a becoming that cannot be measured in terms of its trajectory.
In his analysis, Simmel refers to the ear as an organ markedly linked to the perception of time, echoing theories of resonance elaborated over the course of the nineteenth century in the growing fields of acoustics and musicology. Hearing and music were then associated with broader theories of knowledge, by way of their emphasis on the ear canal as the medial threshold through which humans apprehend the world. Since then, artists, feminists, disability studies, and critical race theorists have struggled with the distance between speech and listener, representation and experience, and sound and sense implied by this way of listening to time.
In the drawing series the sound of non-sounds (2017), musical notation is used to describe the sound of "obsession" or "passing time" and of "temperature rising." Sound and time become mutually embroiled without one being able to claim sovereignty over the other. The series emerges from questioning the grammars of power that govern the writing of sound captions in films, on television, and on the internet, which aim at translating aural experience to d/Deaf and Hard of Hearing audiences. Kim is interested in how these seemingly objective descriptions define a d/Deaf person's experience of sound, and in turn the different sensory and emotional responses that can be elicited in the sonic properties of a script.2
For Kim, captioning serves a double purpose: it closes in on the semiotic complexity of sign languages, and disjoints acts of listening from the ear. For instance, in the four-channel video Close Readings (2016), the artist invited d/Deaf friends to caption popular films according the sonic expressions they felt were relevant to describe, and in the videos Classified Digits (2016) and LOOKY LOOKY (2018), Kim, who is a native American Sign Language (ASL) speaker, collaborates with artist Thomas Mader, an ASL learner, to illustrate the ways in which ASL constructs worlds, rather than just describing them. These videos are parodies of language lessons, translated for non-ASL speakers through subtitles, which further stresses the limits of written language to transliterate d/Deaf experience.
ASL is often perceived by hearing audiences as a gestural language located in the hands. But signing, as Kim notes, is much more a choreographic process by which meaning making also derives from the subtle motions of the eyes, eyebrows, and lips. In the public art installation too much future (2018) at the Whitney Museum of American Art, New York, Kim drew the sign for the word "future" in ASL as a thick black mass. The drawing mimics the hand as it moves away from the face in two arching gestures and reimagines that line in movements of waxing and waning, suggesting different dramaturgies of time that might be projected onto the word.
For nearly a decade, Kim worked with the Whitney Museum to develop programs and resources for d/Deaf audiences. In a recent statement on exhibition practices, she proposes an ecology of awareness among artists, curators, and institutions that should be "fiercely protective of each cultural practitioner's time and work" while being attentive to the specific requirements of culturally diverse identities and backgrounds. Identity appears in Kim's discourse as a set of practices, regulations, and affects that have been shaped by scientific and legal discourses, often pathologized and made invisible, which required sign languages to speak under erasure.
Contrary to the aural-oral approach that historically equated deafness with muteness, Kim's voice is ear-piercing. The history of Western logocentric thought invests spoken languages with the value of an unmediated relation to truth, with the speaking subject representing the voice of experience, and speech the natural condition of language.3 Returning to Simmel, hearing has been understood as the privileged connection between voice and truth claims. However, what the language of hearing makes speakable suggests that there are other modes of narrating time and experience. Kim's works attend to sound beyond the threshold of the listening ear and emphasize the potential for a critique of identity as not essential but relational, of language as contextual and dynamic, and of time as multiple and disjointed.
[1] Georg Simmel, Soziologie: Untersuchungen über die Formen der Vergesell-
schaftung, quoted in Veit Erlmann, Reason and Resonance: A History
of Modern Aurality (New York: Zone Books, 2014), 280.
[2]  See: http://christinesunkim.com/work/the-sound-of-non-sounds/.
[3]  Nikita Dhawan, Impossible Speech: On the Poltics of Silence and Violence (Sankt Augustin, Germany: Academia Verlag, 2007), 23.
Christine Sun Kim (b. 1980, California) lives and works in Berlin. She has built an acclaimed practice around sound, its visual representations, and its circulation as social currency. Kim uses performance, video, drawing, writing, and technology to reflect on her experiences as part of the Deaf community and to comment on the social and political operations of sound. A keen observer of language, Kim employs American Sign Language, music notation, televisual captioning, and other systems of visual communication in a wide-ranging practice that address the intricacies of social exchange and the power of representation with illuminating wit and candor. She has exhibited and performed internationally, including MIT List Visual Arts Center, Cambridge (2020); the Whitney Biennial, New York (2019); Albright-Knox Art Gallery, Buffalo (2019); the Art Institute of Chicago (2018); the San Francisco Museum of Modern Art (2017); De Appel Arts Center, Amsterdam (2017); the 9th Berlin Biennale (2016); the Shanghai Biennale (2016); MoMA PS1, New York (2015); and the Museum of Modern Art, New York (2013).
Sofia Lemos is a curator, writer, and researcher based in Nottingham and Berlin. She is curator of public programmes and research at Nottingham Contemporary and associate curator public programmes at Riga International Biennial of Contemporary Art (RIBOCA 2). Since 2017 she has led METABOLIC RIFTS, a multi-platform symposia series for visual and performing arts research, with Alexandra Balona. Lemos is a former associate curator at Galeria Municipal do Porto, where she curated new commissions by Caroline Mesquita (with Kunsthalle Lissabon, 2018-2019), Forum of the Future (2018), and Musa paradisiaca (2018). She was previously involved in research and coordination of exhibitions, public programs, and publications for various institutions, including Haus der Kulturen der Welt, Berlin; Contour Biennale of Moving Image 8; Museo de Arte Moderno de Buenos Aires; NTU CCA Singapore; PRAXES, Berlin; DRAF, London; and MACBA, Barcelona. Lemos is a regular contributor to Art Agenda and Contemporanea, and has written on contemporary art and visual culture for various publications and catalogues.