Mousse 72 TIDBITS
The Language of Flowers: Cinga Samson
Close
1
2
3
4
5
6
7
8
9
10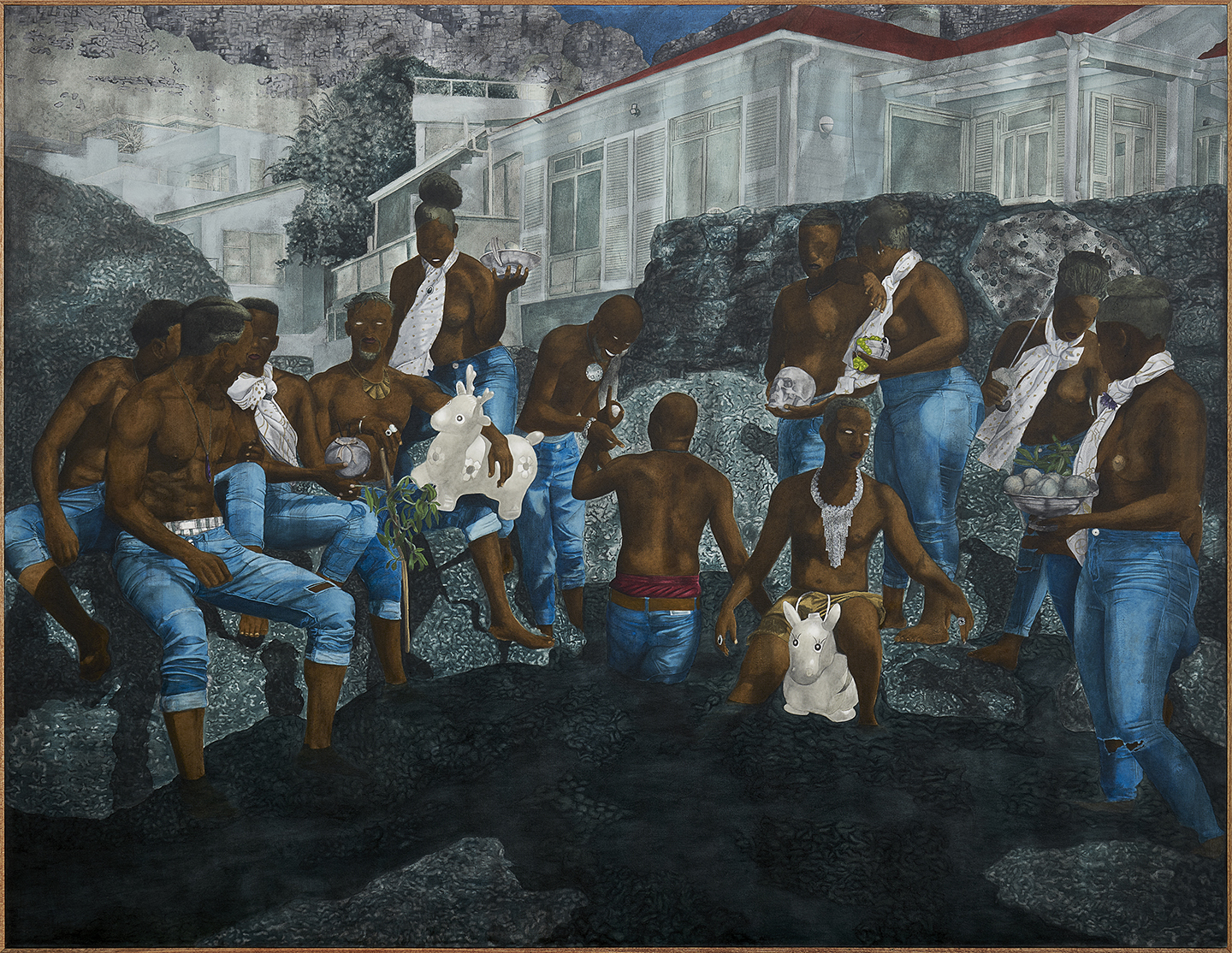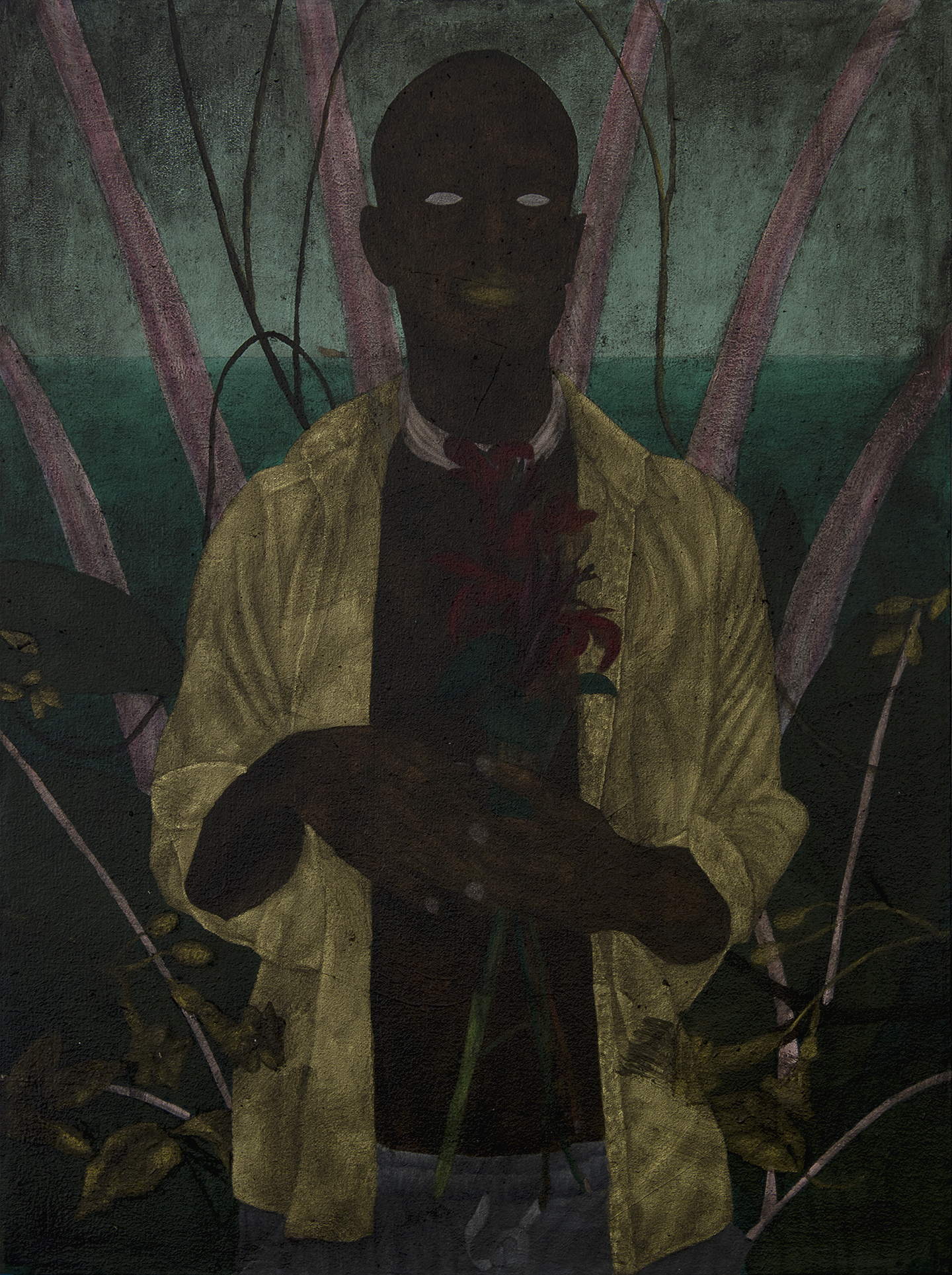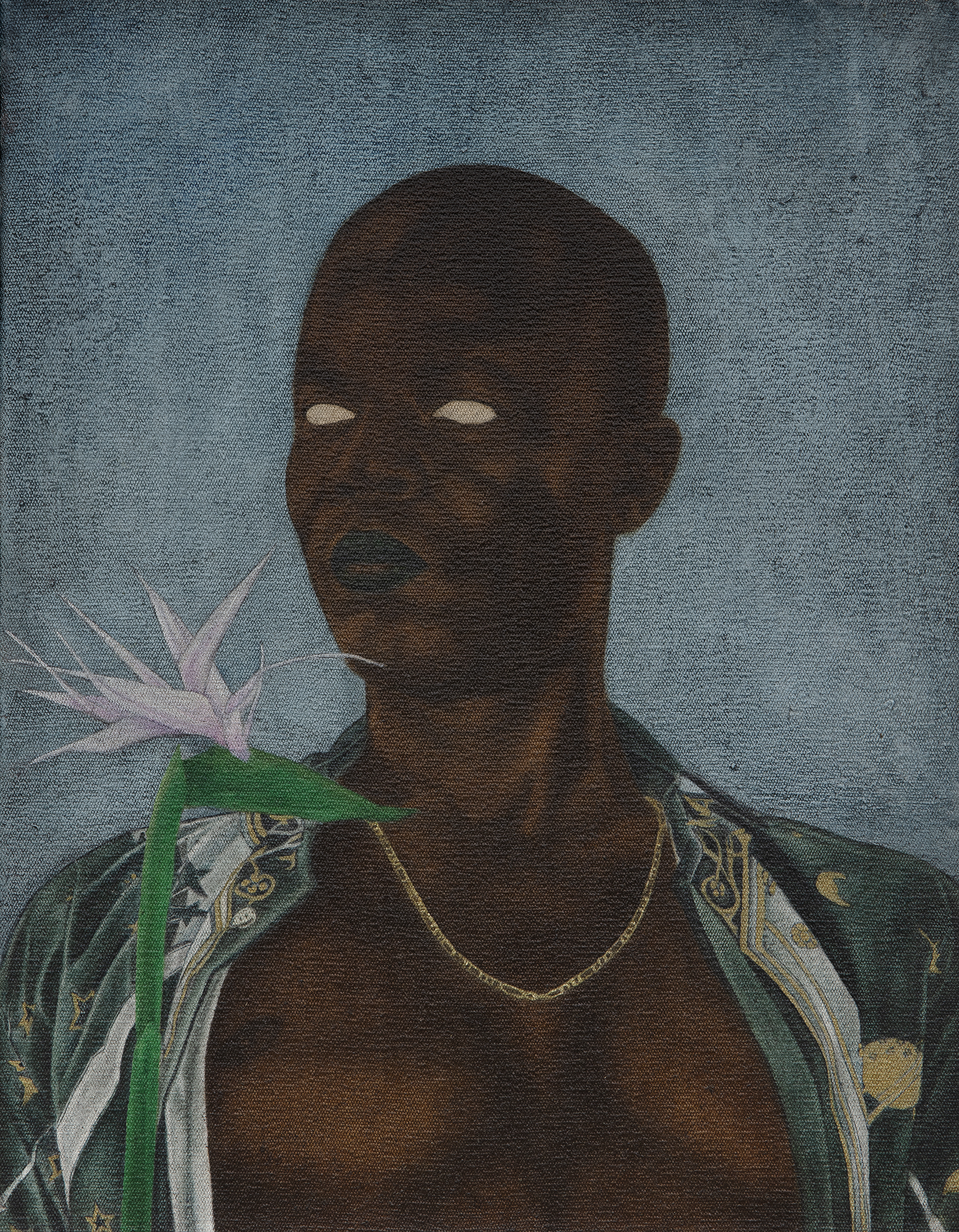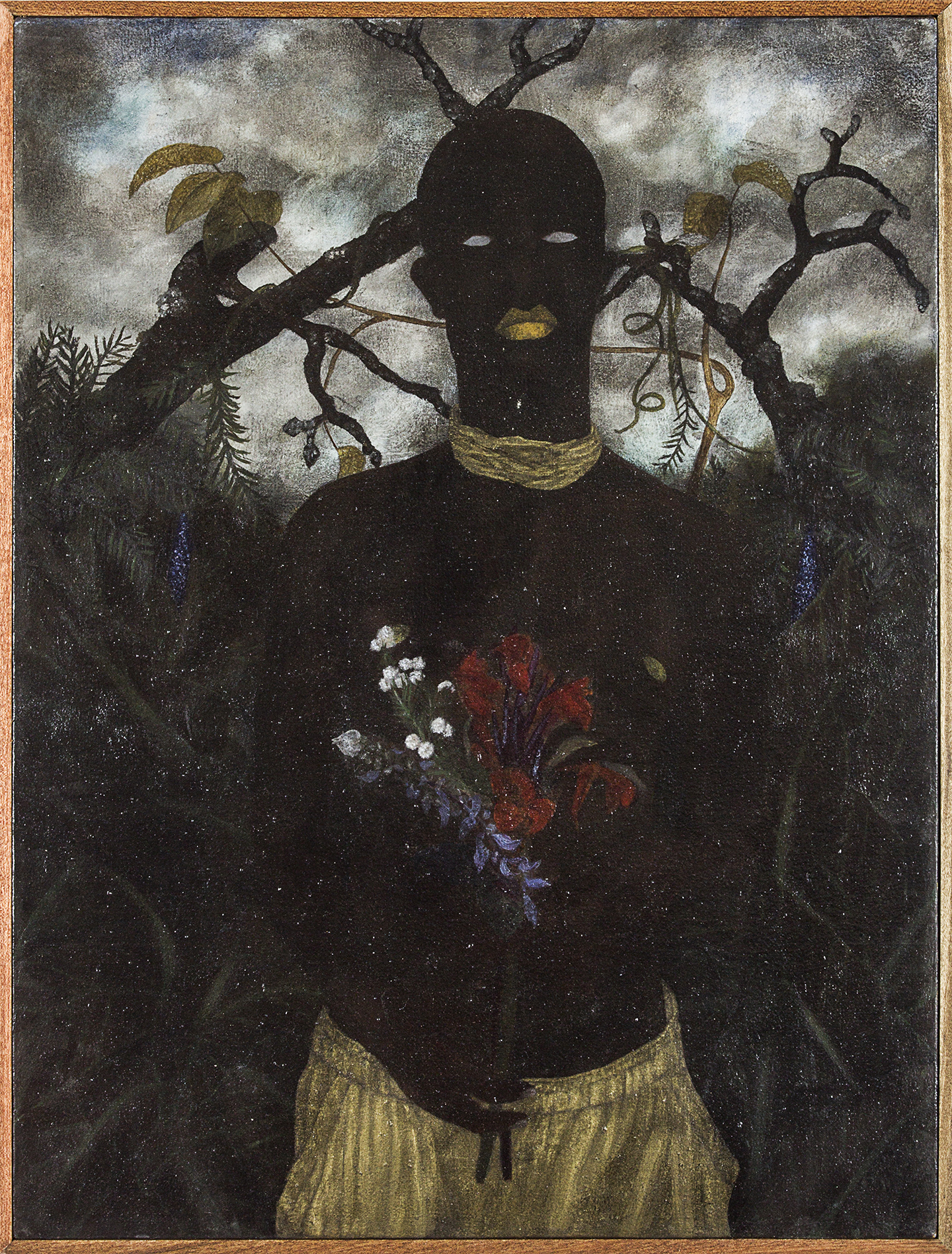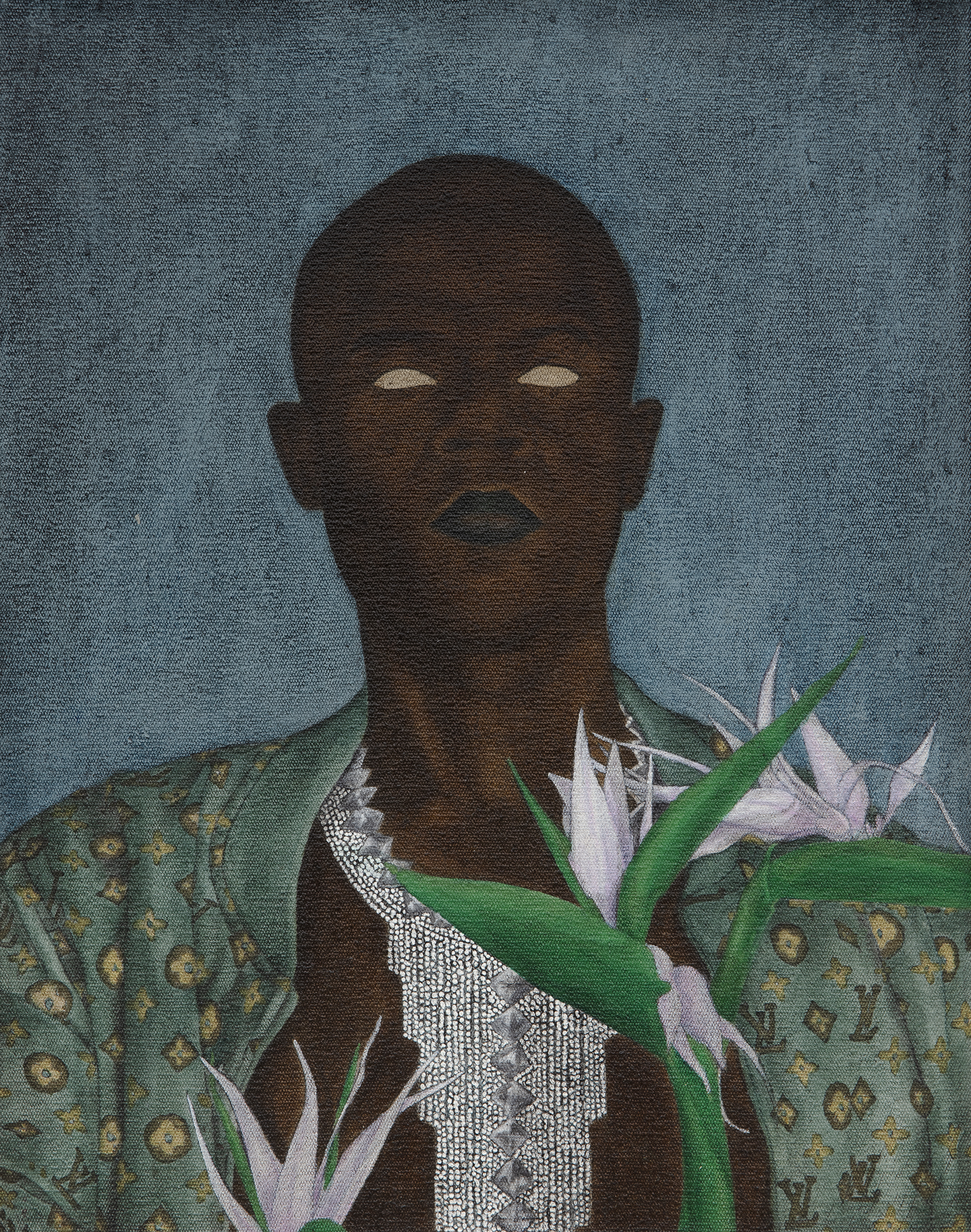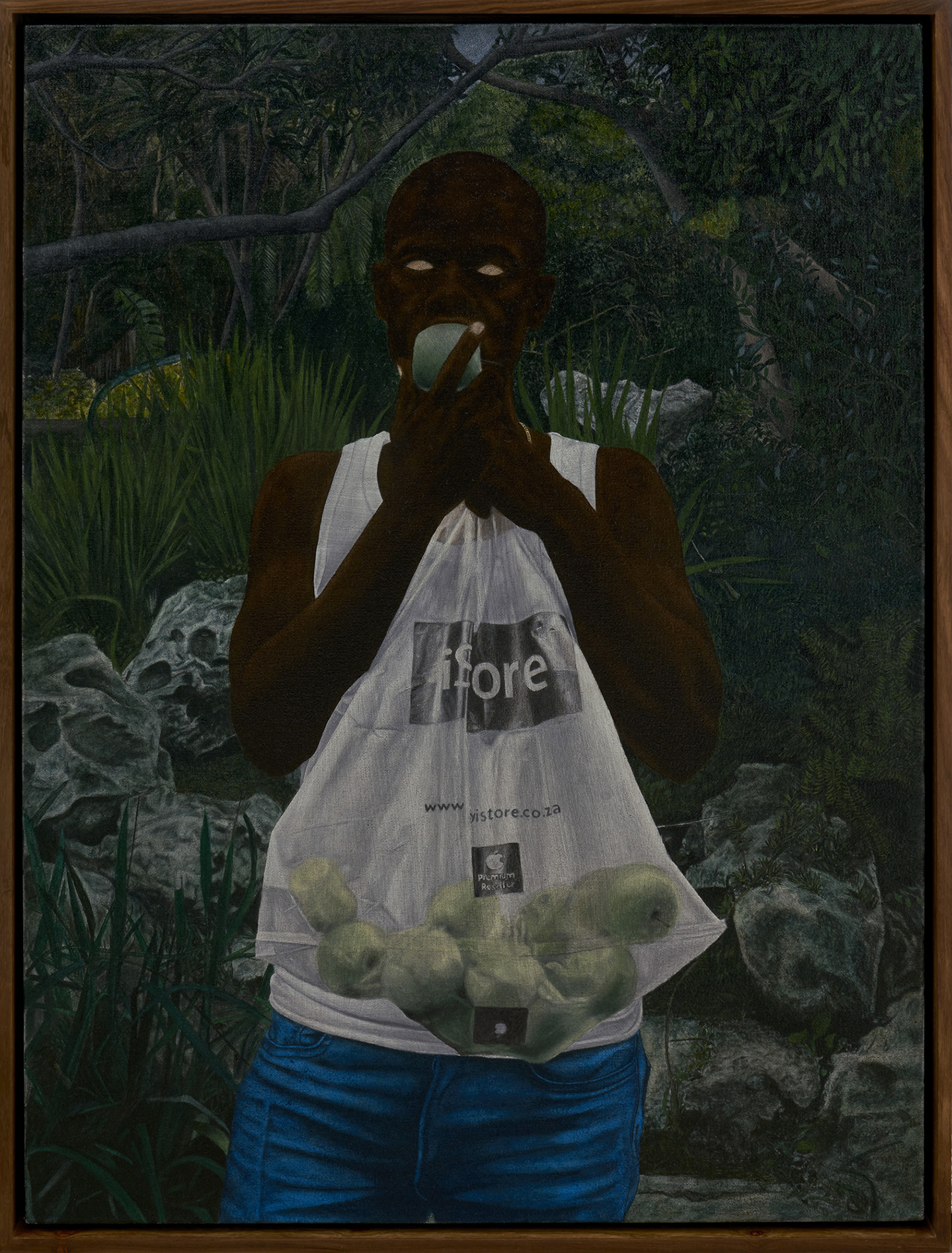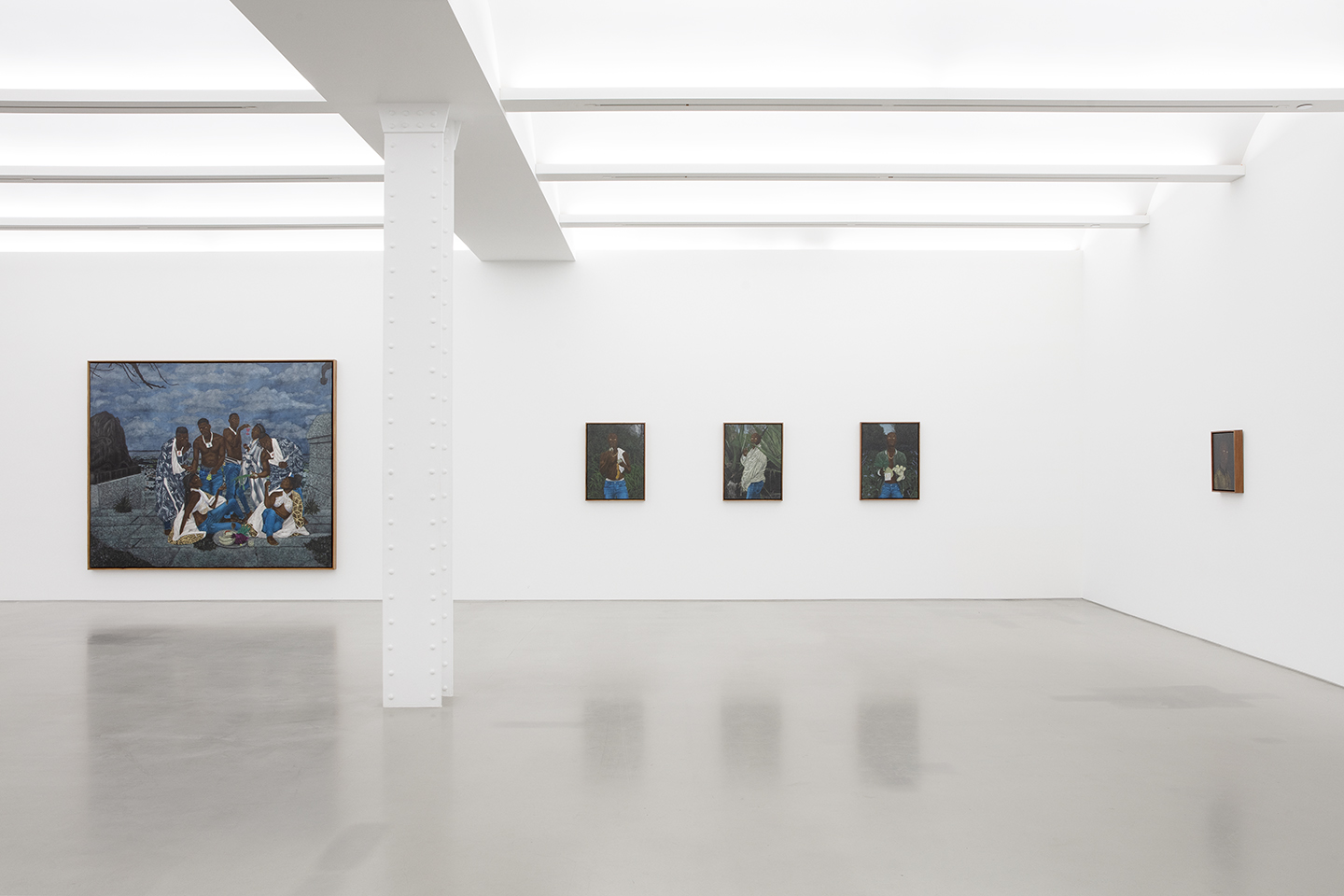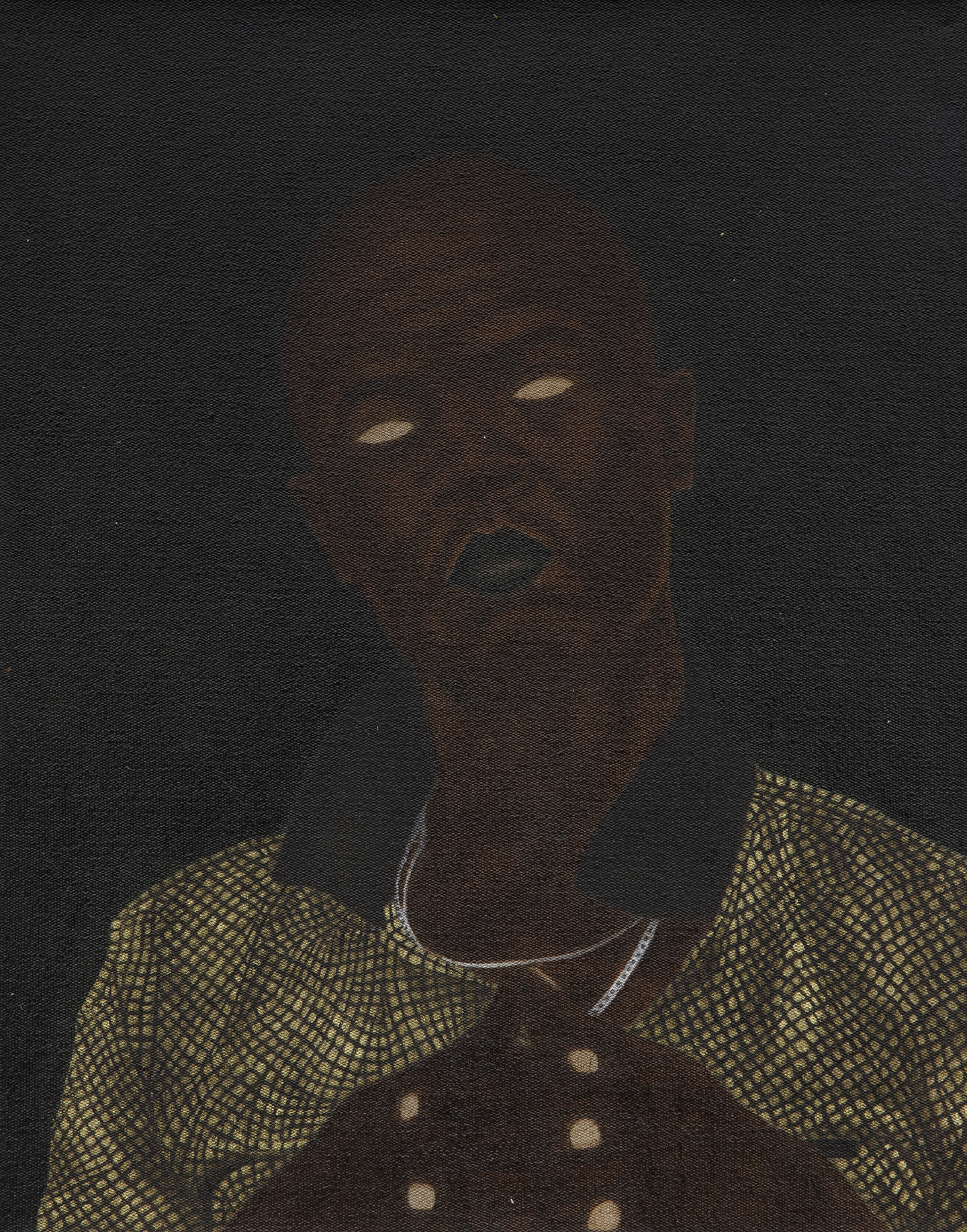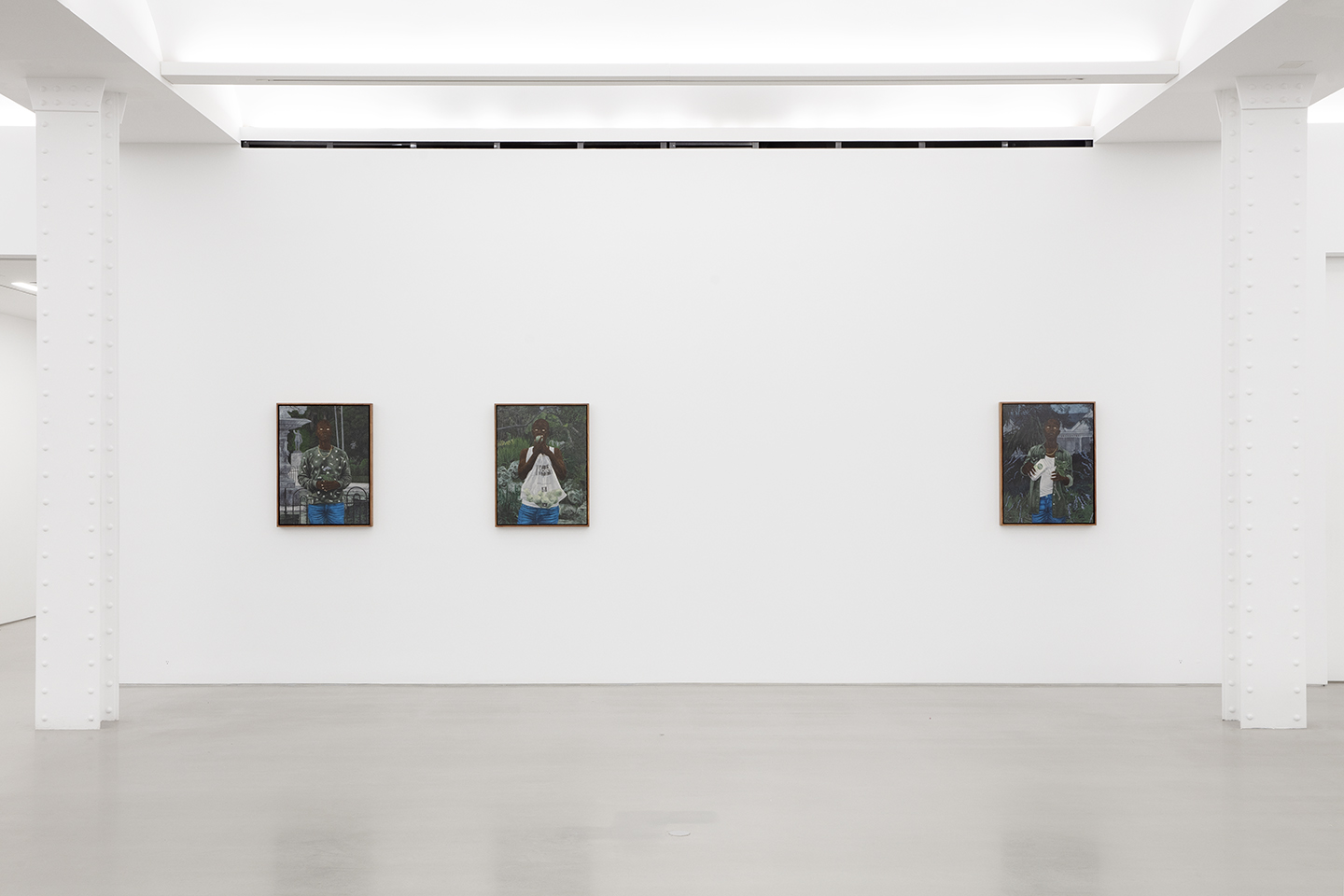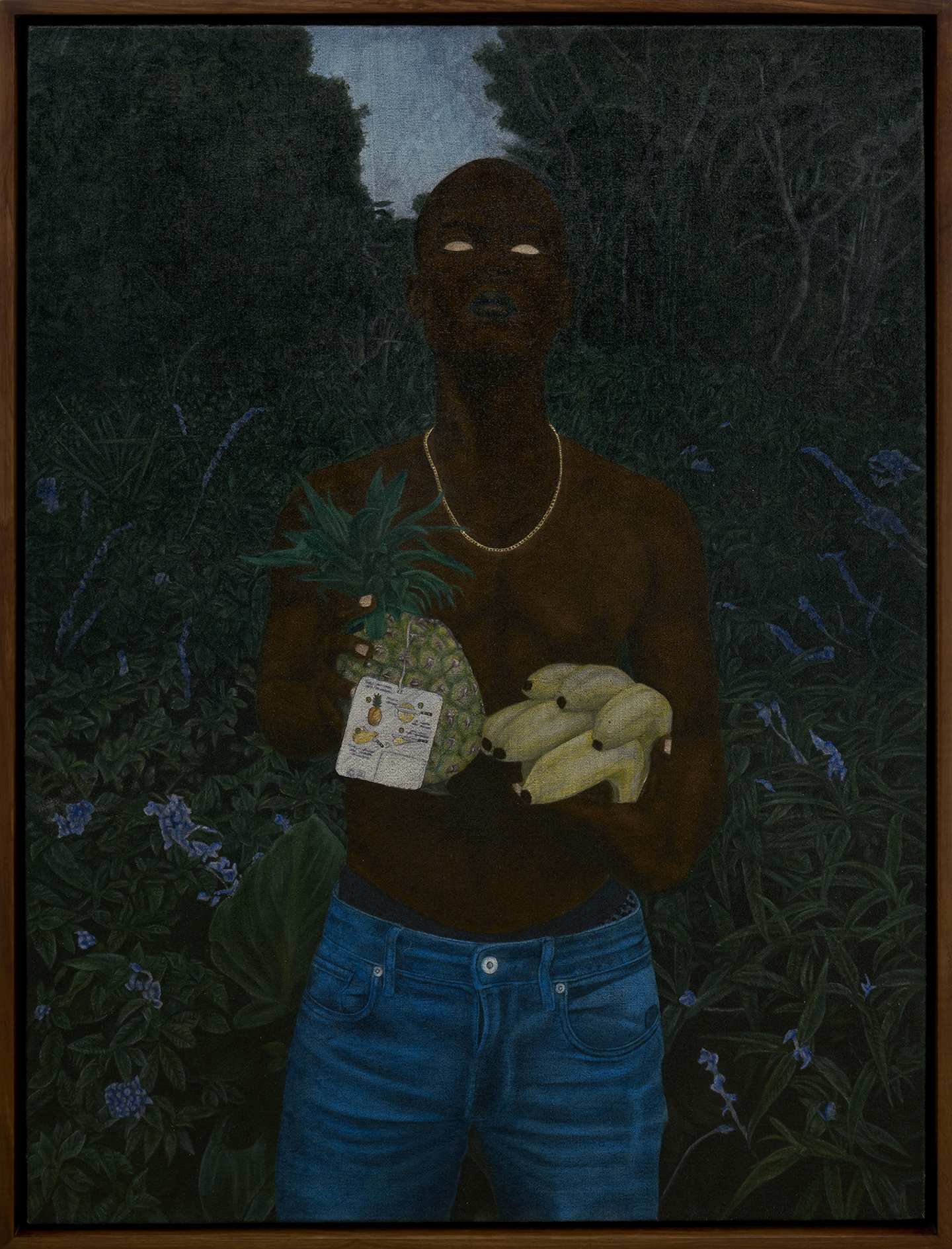 by Rahel Aima
"Always use the words 'Darkness' or 'Safari' or 'Africa' in your title," begins Binyavanga Wainaina's withering 2005 satire "How to Write about Africa." "Readers will be put off if you don't mention the light in Africa," he continues, beseeching the reader-writer not to forget the African sunset, big and red, or the expansive sky, or the wide, empty spaces, or the game.1 Wainaina's essay is more properly a manual of how not to write about the continent. Closely cropped and caliginous, Cinga Samson's oil paintings provide a visual analogue. There is no African light, and decidedly no open savannahs, deserts, or highlands. Absent, too, is the settler-colonial fantasy of wide-open spaces with nary a local in sight, replaced instead by sensitive evocations of masculinity and joyful materialism.
Cinga Samson's saturnine figures gather against rocky littoral outcrops, verdant vegetation, and handsome municipal buildings under cloudy skies. They frustrate external expectations of what an African artist "should" depict: war, corruption, malady, blight, poverty porn, and so on. They adopt stylized poses, wear blue jeans, gold chains, and luxury sportswear, slurp Coca-Cola, and snack on various fruits. In works such as Ibunghane 3 (2020) and Ibunghane 13 (2020), the produce is bagged and tagged, so you know it's from a supermarket and not harvested off a nearby tree. Their pupil-less eyes are blank, as if rolled back in dreamy reverie or communicating with unseen supernatural beings. They quite literally refuse the Western gaze—or any gaze, for that matter.
Samson grew up between Cape Town and rural Eastern Cape townships and villages at the tail end of South African apartheid. Childhood landscapes from this time, natural as well as political, would come to form the backgrounds of his paintings. Samson's mother planted a hedge of canna lilies, scarlet and showy, between their house and the next, and loved to pick blooms to display indoors. His stepmother, whom he would later move to live with, also loved flowers. These memories provided inspiration for some of his earliest paintings—traditional still lifes of flowers in vases—and became a floral leitmotif that runs through his practice. Later, the smoldering injustice and structural violence that characterized the immediate post-apartheid era would find expression in his Ivumba Letyatyambo (Scent of Flowers) series, in which the same vases of flowers are rendered in smudgy charcoal, as if pulled from the embers, against dissonant geometric backgrounds. Later still, the flowers recurred as icons infiltrating Louis Vuitton's monogram.
Today Samson is best known for his quietly sumptuous oil paintings, but he was initially a photographer before encountering Cape Town's Isibane Creative Arts, a painting collective, in his twenties. To date, his process involves working from photographs, usually taken at night. His backgrounds have a flat quality that suggests a subject posing against a vacation backdrop in a photo studio, or a prop-filled photo booth at a party. The interchangeable scenery effect is multiplied by the fact that Samson often uses himself as a model, as in his Ivory series. In each painting a solitary, insouciantly glamorous man models various ivory, ecru, and golden tops against a composite botanical-surreal backdrop: a quilted jacket, a Tommy sports sweatshirt, a sagging T-shirt, a silken LV bomber, and in the delightful Two Piece 2 (2018) a velour bed jacket paired with toothbrush, toothpaste, and fried-egg-print boxers.
In his most recent series, ancestral figures haunt the paintings just as history haunts the land. Many of these works are inspired by family stories—for instance of an aunt said to have come back to life after drowning—as well as Xhosa spirituality, which holds that ancestors reappear by rivers. (It has an unexpected parallel with Islamic eschatology, which posits rivers as interstitial boundaries between worlds.) Here, too, figures gather by water bodies. They are young and beautiful, immortalized as they might want to be remembered, suggesting the kind of collective power that comes not from ceremony or ritual so much as presence, simply being together.
There are other specters, too: early works feature shadowy cabals of bald, mottled-headed white men that invoke an acid-washed Dutch Golden Age, as well as architects of violence like Cecil Rhodes. In particular, works like Bestow: to confer or present (an honour, right, or gift) 6 (2015), in which the suits crowd around a canna lily to examine and pontificate upon it, suggest that the collective noun for this demographic might be "a collusion." But South Africa's brutal history—as well as more recent events in the US—suggest that the term for crows, a "murder," might be more apt.
[1] Binyavanga Wainaina, "How to Write About Africa," Granta 92 (2005): https://granta.com/how-to-write-about-africa/.
Cinga Samson (b. 1986, Cape Town) lives and works in Cape Town. To date, Samson has had four solo exhibitions at blank projects, Cape Town: NaluLwandle, NaliKhaya (2019), Safari Fantasy (2017), Ubugqoboka Magqoboka (2016), and Thirty Pieces of Silver (2015). In 2020, he had a solo show at Perrotin Gallery in New York, AMADODA AKAFANI, AFANA NGEENTSHEBE ZODWA. He has participated in several group shows, including Mapping Black Identities, Minneapolis Institute of Art (2019); Hacer Noche, Centro Cultural Santo Domingo, Oaxaca (2018); open agenda, blank projects, Cape Town (2018); A Painting Today, Stevenson, Cape Town (2017); In the night I remember, Stevenson, Johannesburg (2013); Our Fathers, AVA Gallery, Cape Town (2012); and Strata, Greatmore Studios, Cape Town (2011), where he completed a residency. In 2017, Samson won the prestigious Tollman Award, and in 2018 he exhibited with Nicholas Hlobo at the Maitland Institute, Cape Town, in a two-person show titled Umthamo.
Rahel Aima is a writer, editor, and critic from Dubai currently based in Brooklyn. She is the special projects editor at the New Inquiry and a contributing editor at Momus. She is currently working on a book about petro-materiality and contemporary art in the Arabian Gulf, and a collection of essays about Enya. Aima was a 2019 recipient of the Andy Warhol Arts Writers Grant.