EXHIBITIONS
"You will find me if you want me in the garden" and Donna Huanca "Water Scars" at Galerie Valentin, Paris
"You will find me if you want me in the garden"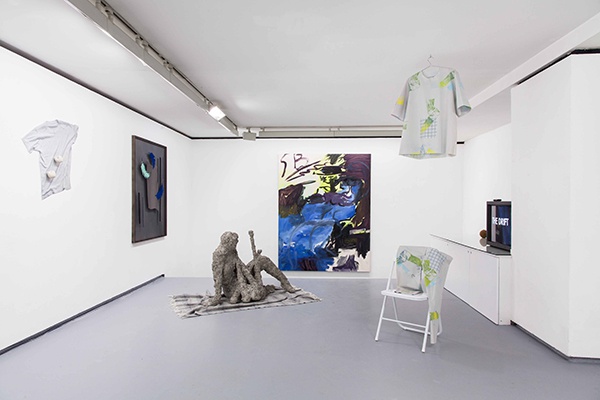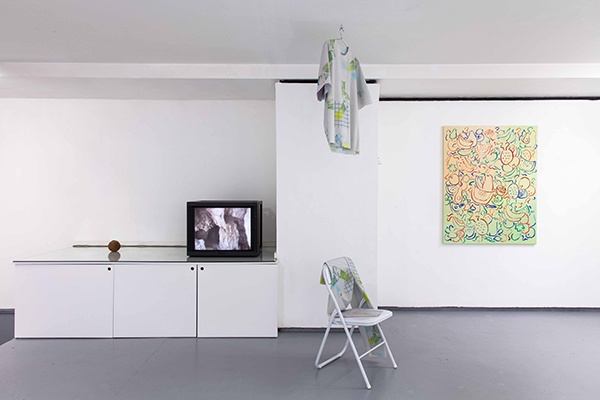 Alessandro Agudio, Stefania Batoeva, Sol Calero, Simon Dybbroe Møller, Carson Fisk-Vittori, Ditte Gantriis, Pakui Hardware (in collaboration with Jeannine Han), Daniel Keller, Spencer Longo, Matthew Smith, Anna Virnich, Andrew Norman Wilson

Epicureanism is a philosophy based on the teachings of Epicurus**. The school of Epicurus, founded in 306 B.C. is also called "The Garden" in reference to the philosopher's home and garden near Athens where he held his teachings.
Epicurus' philosophy, inspired by Democritus' atomism, is centered on the understanding that philosophy's main goal lies in achieving a state of tranquillity.
Hence the thoughts of Epicurus are based on three principles: First, the value of our senses and feelings as criteria of truth and happiness (pleasure); secondly the principle of atomism according to which objects are formed and modified by atoms constantly uniting and separating, whereas feelings are formed by layers of atoms that radiate from those objects and thereby affect the atoms of the soul; thirdly, his semi-atheism which accepts the existence of gods but denies them any form of interference on the making and governance of the world.
In short, Epicurus believes that the highest good is pleasure (hedonè) and, at the same time, that the criterion of truth is sensitive knowledge, or rather that only the senses are true and infallible and should therefore be cared for constantly.
Surely, the garden, seen as an eco system, is an ideal place for everyone to move freely and to express their opinions. Besides, it can favor debates with a historical perspective—an undisputed and valid tool for the knowledge and understanding of religious, artistic, poetic and literary expressions—deeply satisfying, despite their peripatetic appearance.
Curated by Domenico de Chirico
.
*Title of the show by Blixa Bargeld.
**Epicurus (Samos, 10 February 342 B.C. – Athens, 270 B.C.), ancient Greek philosopher
Source: Wikipedia
.
until 16 May 2015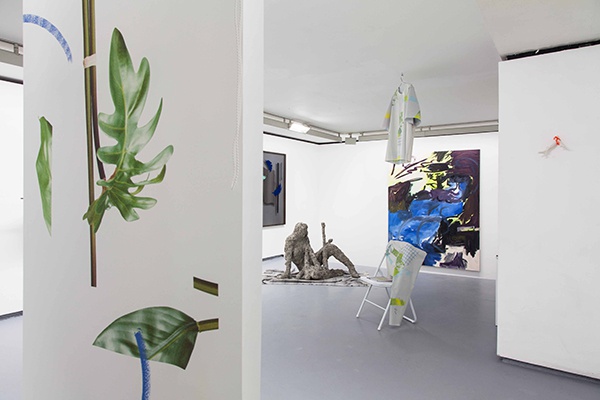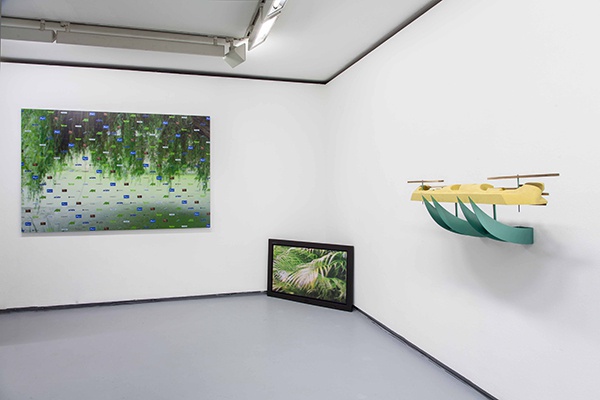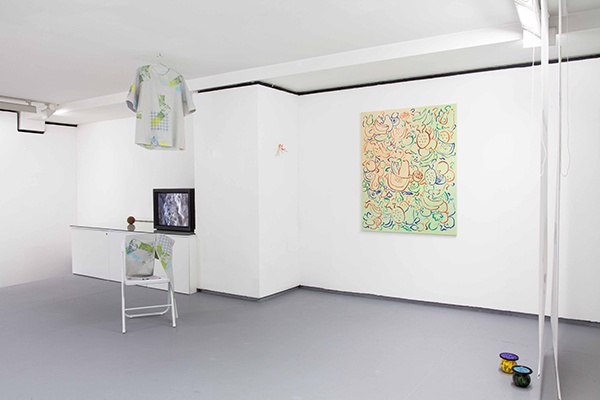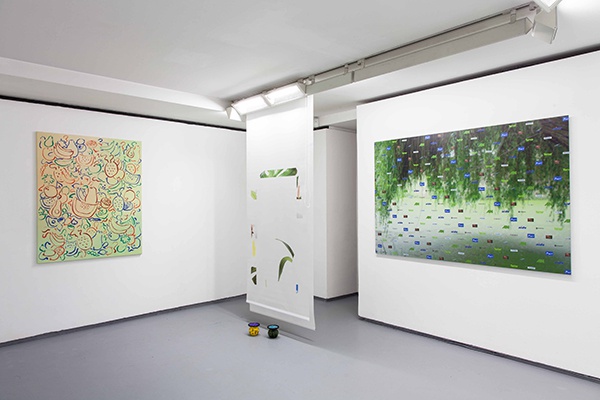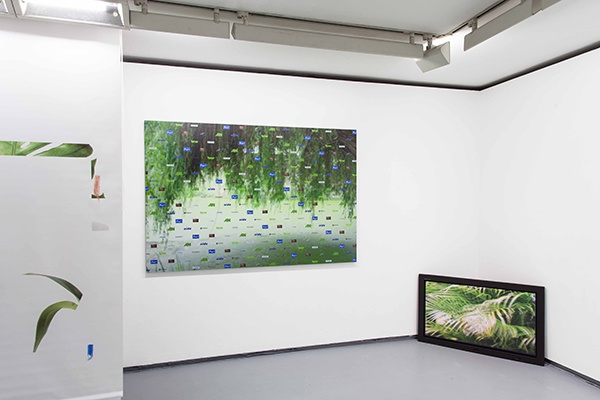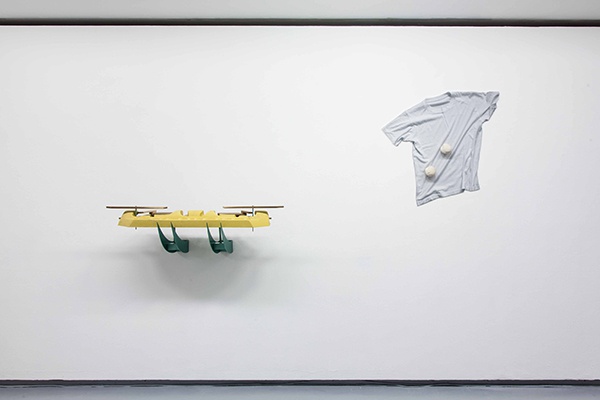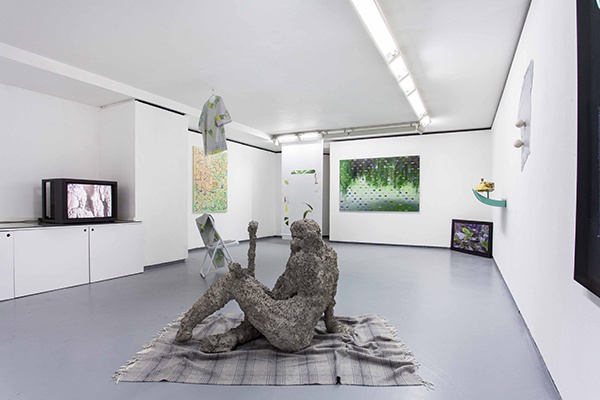 .
"You will find me if you want me in the garden" installation views at Galerie Valentin, Paris, 2015
Courtesy: the artists; Galerie Valentin, Paris. Photo: © Sylvie Chan-Liat.
.
Donna Huanca "Water Scars"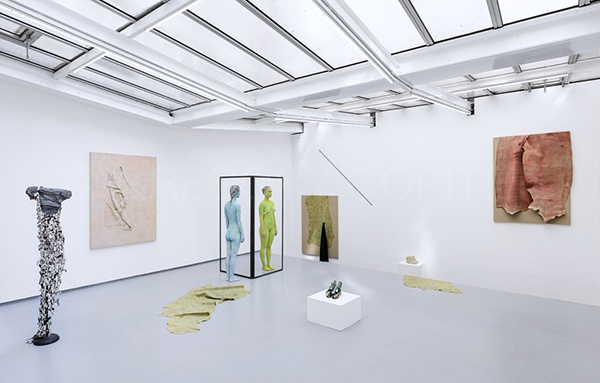 Through her manipulation of clothing and skin, Donna Huanca uses the energy of objects to show the overdeveloped, fetishistic tactility of cultural processes, thereby activating a subconscious, prelinguistic memory.
Clothing–inserted in rituals that define the body's everyday intimacy and social practices–is a cultural transmission medium, a subjectification tool, but also an interface steeped in anxiety. As a way of assimilating and appropriating, it appears here as a process of identity-construction and as denaturalisation. In her performance installations, makeup modifies the person by an instrumental coefficient in which the self-staging ceremony no longer aims to be part of a relationship of alterity, but rather one of dissimulation, fusion, camouflage–furnishing the beginnings of a sometimes-absurd poetic narrative on the fragmentation of identity.
This attention to the spiritual dimension of the envelope is all about examining the body's contemporary discourse, the spacetime of the hesitant metamorphosis between rebirth and depersonalisation. In an ever-ambivalent, unrhetorical way, Donna Huanca shows how the body is sculpted by its environment, determined by a process of mimetic absorption, driven to forms of
dissolution that the artist makes seem like psychotropic methods of depersonalisation and a liberating form of schizophrenia.
The artist's large-scale installations combine tactile materials, clothing, shoes, fabrics or found objects, which she deconstructs and freezes in the painting. Recombined with plastic or latex materials, or superimposed in layers on stretchers, the used or worn objects give rise to new artefacts. Linked in space through a network of semantic and plastic connections, the static elements are activated during performances, in which living models, infused and crystallised in the installation, start interacting with the works.
The body always remains the central agent in the succession of tableaux vivants. The ecstatic or impassive attitudes of the models causes them to ceaselessly evolve, from reverence and withdrawal towards a vulnerability, due to the breaking of that protective barrier, as a result of their overexposure. Thus camouflage and make-up, this dressing up and burying create a
constant confusion between predation and seduction, sensual pleasure and cruelty.
Between control and spontaneity, whether consecrated and raised on podiums or exhibited under glass, reassembled into a totem, the bodies and the objects are inserted into an allegorical system that places self-care rituals and contemporary hedonism alongside archaic and primitive forms of socialisation. The emergence of identity through a series of artifices, stagings and masks shields it from the ascendency of rituals, but only in order to immediately give it over to a stressful multiplicity of perspectives.
.
Clara Guislain
.
until 16 May 2015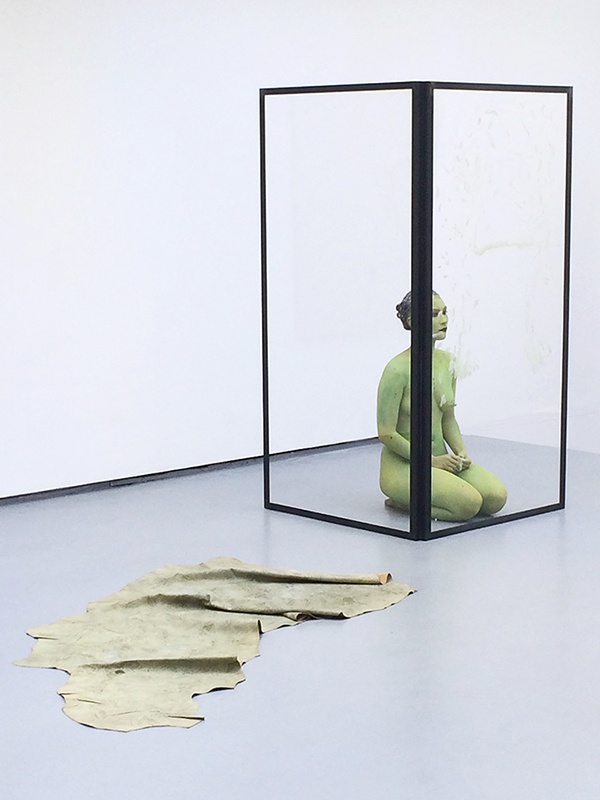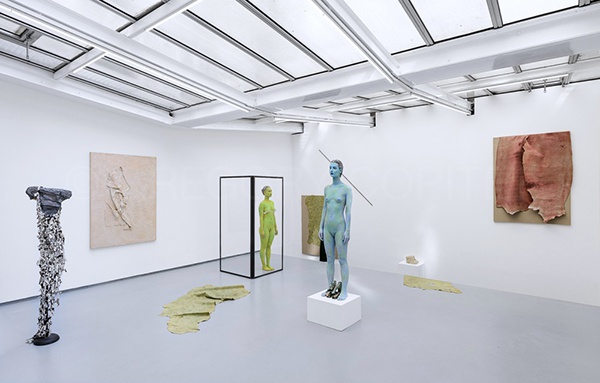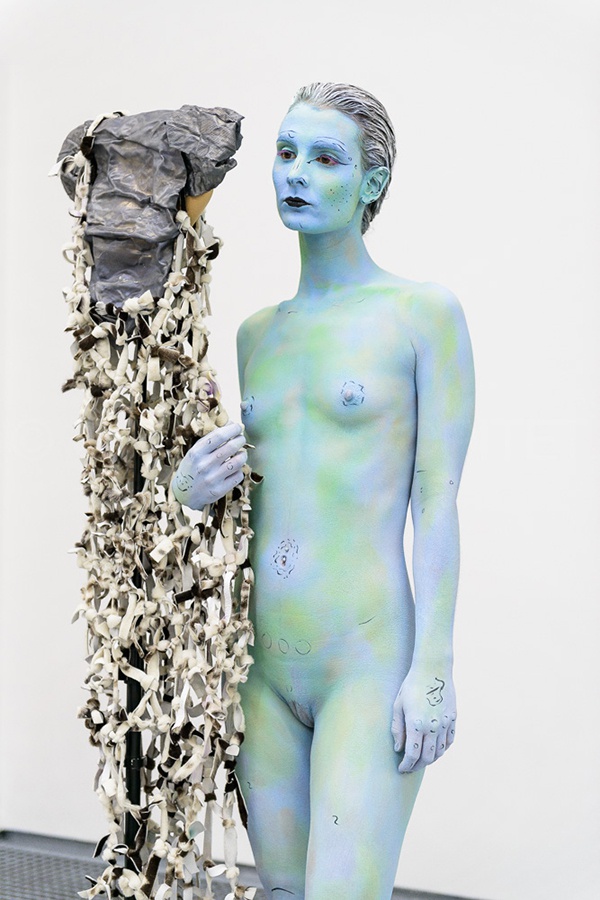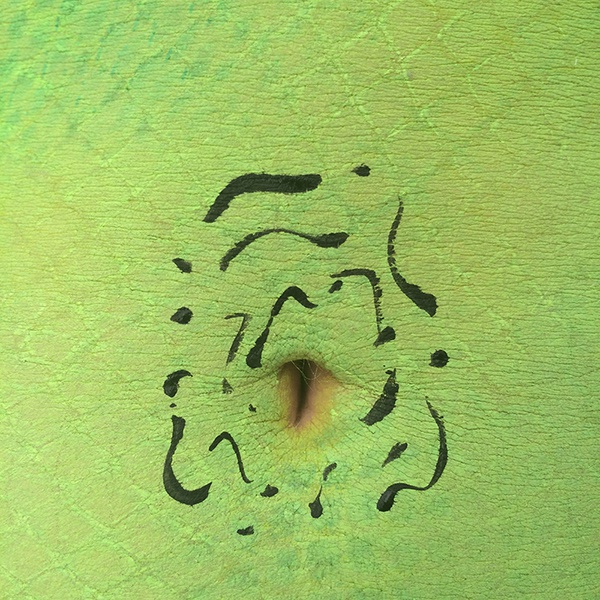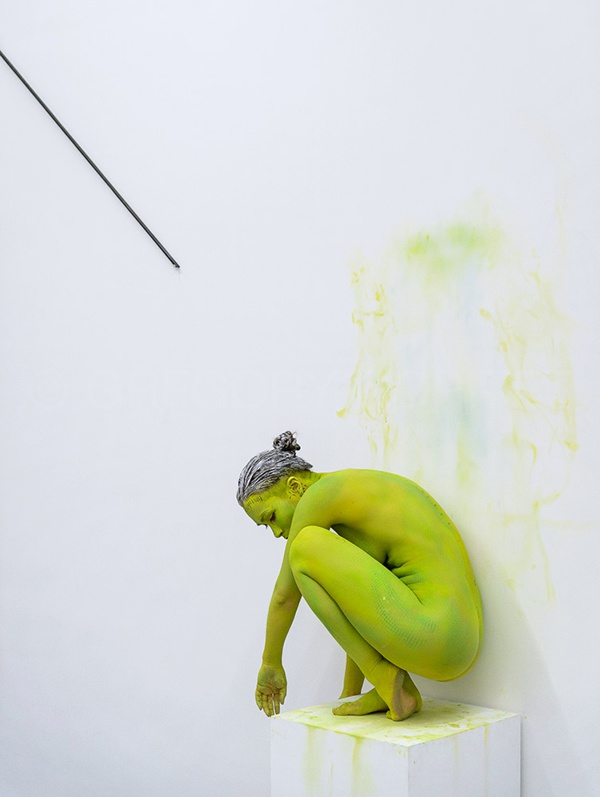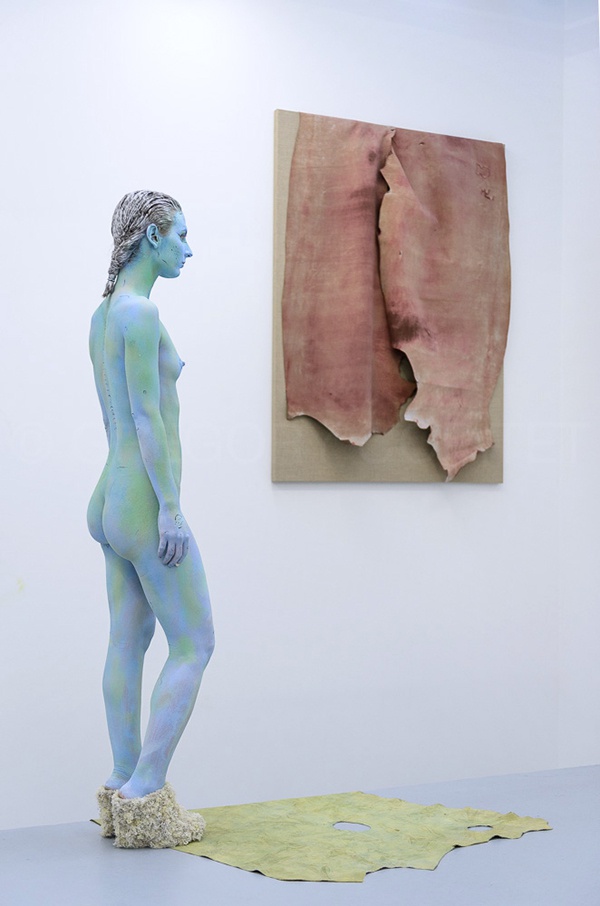 .
Donna Huanca "Water Scars" installation views at Galerie Valentin, Paris, 2015
Courtesy: the artist and Galerie Valentin, Paris. Photo: © Gregory Copitet.