CONVERSATIONS Mousse 27
From Magazines to Architecture: Dan Graham
Close
1
2
3
4
5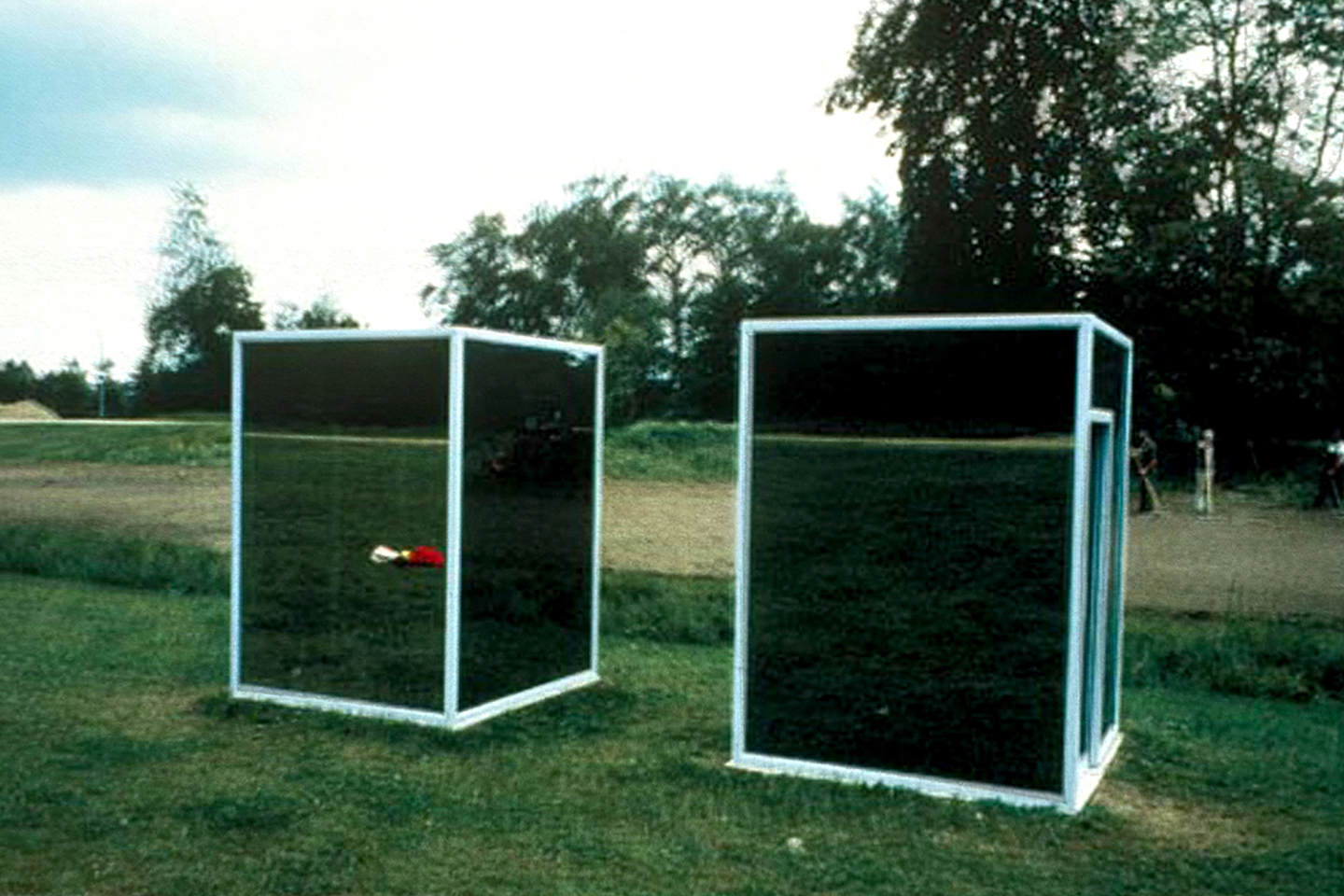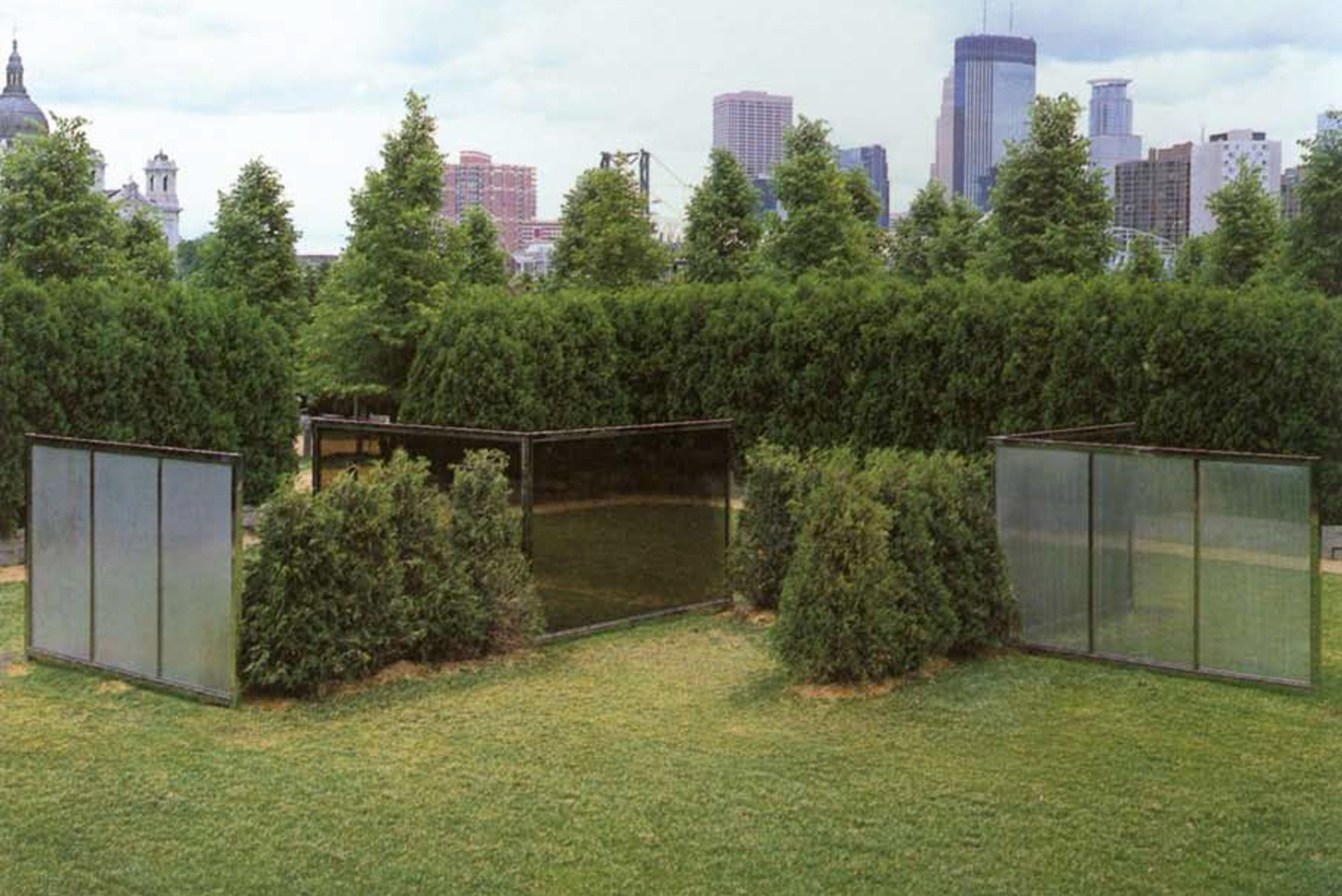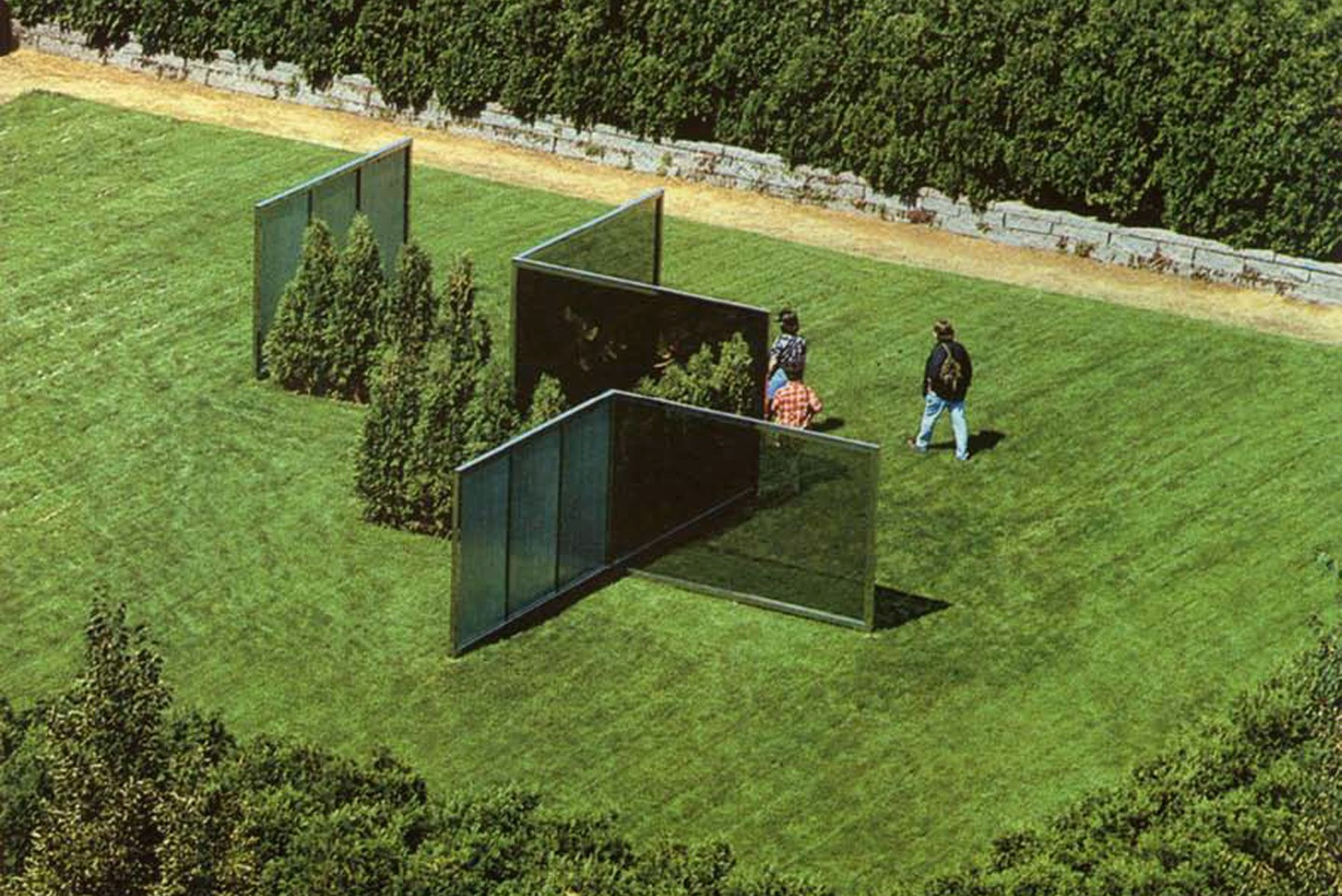 by Ute Meta Bauer
In December Ute Meta Bauer and Dan Graham met in New York for a conversation whose scope was determined by their many shared interests and long friendship, as well as by a passion for literature that, inevitably, coincides with extraordinary storytelling ability. Literature, architecture, music and cinema, friendship with a wide range of artists and architects of our time, Antonioni, comicstrip novels and Catholic girls. Gripping stuff, right down to the last word…
UTE META BAUER: Let's talks about your interest in magazines and writing related to music, popular culture and architecture.
DAN GRAHAM: Well, when we first met in the early nineties you made a magazine called Meta and I think your fascination then was publications. The person who got me very involved in the German magazine culture was Fritz Heubach and the great thing about Fritz was that for him this was a passionate hobby. I can relate to that because a lot of my work is a passionate hobby i.e. the last thing I did with music Don't trust anyone over 30, a rock-opera puppet-concert.
UMB: I also believe in amateurs and fans. They have an incredible pertinacity and an obsession to figure out details.
DG: What happened in New York City in the 1980s and 1990s when people went to art schools, they were trained to be professional artists; some of my favorite artists actually didn't study art like Dara Birnbaum, who studied architecture. Kathryn Kathryn Bigelow, who now is the new every woman's idol, was initially an artist and close to the members of the English art group Art & Language. She got interested in film because people in her surrounding like Jim Jarmusch were doing music and film at the same time.
UMB: Jarmusch's Stranger than Paradise short movie represented for me a particular mood of alienation that I didn't experience in German art of that time.
DG: Jarmusch says he composes listening to music and my interest in music actually started when I saw Andy Warhol on television, where he said he listens to pop music when he is making his paintings. His favorite songs were very similar to those of Robert Smithson, kind of gay, semi Camp songs like Lesley Gore's "It's my party. " My first interest in music was, when I used it as a background when I was writing.
UMB: Early on you were writing about music…
DG: Yes, I don't know if you have seen my new book on rock writings. It includes all my articles about rock music.
UMB: To go back to publications, my interest is not just in magazines per se. It's the casualness of magazines that is attractive to me. Your start as an artist was a work called Schema that was published in a magazine – Aspen in the mid sixties.
DG: Magazines are periodicals. Each issue creates a new situation and also often they have a semi thematic focus. In terms of the magazine culture I was particularly interested in rock magazines and Rolling Stone was just one of the magazines that was around at that time. Paul Williams had Crawdaddy!; he was the most influential rock critic then. Everybody read these inexpensive rock magazines. I originally wanted to be a writer and I was initially very interested in Leslie Fiedler, an American critic, who wrote about American culture especially Huckleberry Finn. He said the thematic of American novels was unrequited homosexual love between men, and Huckleberry Finn was a good example. I realized that literary critics were actually rock writers seeing rock as a kind of literature.
UMB: Why did you shift from writing to running a gallery and then to focus on art, and from where comes your deep interest in architecture?
DG: When I had my gallery, the John Daniels Gallery, the first show was around Christmas and I invited everybody who came into the gallery to put in works for the Christmas show. The person I felt closest to was Sol LeWitt, and Sol actually studied architecture at Syracuse University and worked for I. M.Pei. We also had the same favorite writer, Michel Butor, who was much more interesting to us than Robbe-Grillet. He has written a novel that took place in Northern England where the narrator was somehow stranded and couldn't find his way around, so the city became a kind of labyrinth. It is called Passing Time and had a huge influence on Aldo Rossi as well as on Sol LeWitt and me. It was all about the city plan and I think my interest actually – from that novel – was the idea of art should be involved with the city plan and not with the white cube. At that time I thought that the white cube is a simplistic reduction.
UMB: I remember that we once did this trip to Philadelphia and visited Venturi's Franklin Museum and also the Louis I. Kahn archive at UPenn walking around the city.
DG: Today it's actually hard to get into that archive. Another reason for my interest in architecture was Donald Judd. I was really a fan of his writings and when my gallery went out of business I went to the library and copied all his writings in Arts Magazine. He wrote an article about Kansas City – "Kansas City Report", as in his youth he lived in Kansas City and than his family moved to New Jersey. I think what Judd did was – as he moved to New Jersey as a teenager – he understood that there is a kind of dialectic tension between the neo classical city of Kansas City and highway culture that he saw in New Jersey. There is a tension between classicism or neo classicism, which was very important in the American Midwest, and new kind of materials like plastics, iridescent paint, etc. that you find in New Jersey.
UMB: Coming from Germany I am more familiar with the Bauhaus generation that were artists, educators, but also writers. They experimented with new pedagogy, did their artistic work, and also would write about art and society. To discover contemporary perioartists, who would write about their own work, as it was the case with the series of The Press of the Nova Scotia College of Art and Design in Halifax under Garry Kennedy, was crucial for my understanding of how artists think and work.
DG: The reason I was interested in being an artist, was because the people I knew who were artists all wanted to be writers. Dan Flavin wanted to be like James Joyce, Smithson wanted to be like Jorge Luis Borges, and also Sol LeWitt, although he wasn't a writer, was fascinated by literature. It was a period of artists being interested in literature. Even Andy Warhol, who was dyslectic, became a writer. It was a generation of artist writers. Back to writing about architecture, I actually found art criticism very boring. Then I discovered Oppositions, this magazine that was edited by Peter Eisenman, founder of the New Yorkbased Institute for Architecture and Urban Studies. Some of the best writings were done by architects like Aldo Rossi's writings about the city, or by Robert Venturi, and by architectural historians like Anthony Vidler or Kurt W. Forster.
UMB: I once asked some US-American architects why they are so profound in writing and the answer was, because USAmerican architects hardly have the opportunity to build.
DG: I also think those architects did a kind of self-education and part of it was visiting classical sites like in Italy. That was when Venturi became a kind of mannerist. But also that kind of polemic that Venturi or Aldo Rossi was writing were also poetic and they have one thing in common, they are about poetic vernacular. Rossi was highly influenced by De Chirico and also by the films of Antonioni. Sol LeWitt loved Antonioni and my hero in terms of filmmakers from Italy was Elio Petri, who did this film The 10th Victim. He also did The Working Class Goes to Heaven (he was kind of a Marxist political filmmaker) but The 10th Victim is kind of a science fiction satire about the future of violence with actors Marcello Mastroianni and Ursula Andress. Another influence of how I got into architecture was seeing films of Jean Luc Godard, because his film Two or Three Things I Know About Her has a lot of suburban housing projects and high-rise apartment buildings. I like Godard, because his early films were almost like magazine page essays.
UMB: If Godard's films are like magazine essays is because they have the tempo of a magazine and similar ruptures and discontinuities. Godard captures you in a different way than traditional filmic structures. He is more playful…
DG: When you say playful, I think the fascination that you and I share is for the cliché, the new suburban vernacular architecture cliché.
UMB: Nobody wants to be associated with a "cliché".
DG: But everybody loves Marcel Broodthaers, whose work is totally about clichés. The word cliché in its original meaning has a lot to do with layers; it was the printing plate cast.
UMB: You had no problem in being associated with popular cultures and related behavior patterns may it be in music, fashion, religion, and architectural language.
DG: Homes for America was actually misunderstood by Benjamin Buchloh as sociological critic of suburbia, while in fact it is much more complex. The fashion at that time was that sophisticated magazines like Esquire often published articles about the banality of the suburbs written by a sociologist that were illustrated by a famous photographer.
UMB: You always showed a respect for those areas, the small differences within homogeneity of those houses, their different colour schemes. Suburbia is America.
DG: It is also a class thing; it's related a bit more to T. J. Clark, whose writing I like a lot, maybe that is because we have the same take on things. My family was upper middle class, but we grew up in a working class housing project, and I have always liked the culture of being Jewish of Italian's upper middle class who wanted to become lower middle class.
UMB: Why would that be? Is it guilt? Or was it more a matter of identification?
DG: It's Catholic girls, they were more fun and also Catholic culture is more interested in spectacle. But coming back to writing, one of the reasons why I wanted to write was because critics were dominating the field and my problem with critics is that they were prescriptive. I did read in the Sixties Walter Benjamin and loved his writing. His star sign is cancer by the way. I found a real affinity looking at things by his way of looking.
UMB: As working class we have it easier in that respect as our education is less determined by such traditional upbringing.
DG: That was Benjamin's problem, he was upper middle class, from a business culture and of course his parents subsidized him. He had to make a break with that subsidization. But I want to go back to T. J. Clark and social class. He said that the most revolutionary class was the petite bourgeoisie, because it was making a transition between being working class and lower middle class. Usually people in the art world despise that class. But I think Homes for America is almost a celebration of Italian-American's and other people from that class who decided that they wanted to have private homes. They decorated them in a kind of Hollywood style and had plastic swimming pools in their backyards.
UMB: The German Bauhaus broke with upper class traditions with an ambition to bring good design into the everyday in an affordable way, including designing objects for everyday use.
DG: I have a resistance to the Bauhaus. I find it boring. My biggest influence was actually being close friends with Dan Flavin and Sol LeWitt who became friends because they were both guards at the big Russian Constructivist show at MoMA in the mid 60s. Flavin had a particular influence on my work. He and I took an awful lot from Russian Constructivism. In Germany there was a November revolution and of course the predominant influence in European Art at the time was still Russia and Russian Constructivism.
UMB: But in the Bauhaus education various disciplines interacted together like at the Nova Scotia College. Today this is more common but the classical art academy kept a strict division between art and applied arts or design.
DG: What happened at the Nova Scotia College was that I invited myself up to there to realize some projects as I had no access to camera equipment in New York. They were doing prints or lithographs with their press at the time and I suggested that they should do monographs with artist writings. I suggested most of the titles, but I also got Kasper König up there, because Kasper needed a place to publish. At the time the College invited artists for two or three days the most, so I suggested to invite artists that had never taught before to come to Nova Scotia for three weeks, followed by another artist for the next three weeks. I did the first three weeks and the last three weeks, and I got Michael Asher, Dara Birnbaum, and Martha Rosler.
UMB: Also Yvonne Rainer was there…
DG: Kasper König invited Yvonne Rainer. He liked her and she was part of his book program, not of the teaching program.
UMB: So those activities were separate?
DG: Actually there was only one overlapping, I suggested Simone Forti to do a book. I met Richard Serra when he first came to New York, he told me his biggest influences are two people: Simone Forti, because of her use of gravity, and Bruce Nauman. So I invited Simone to do a book, she came up and did a little bit of teaching and she also helped me realize my films. I suggested that Nova Scotia do a book on Steve Reich as well. Reich along with Simone, Yvonne and Bruce Nauman were all part of Anna Halprin's Dance Workshop in San Francisco. But to come once more back to publications, as a fellow traveler hippy I was very involved in San Francisco's psychedelic comics, Robert Crumb and S. Clay Wilson who is also pretty amazing. Then I missed out on that period. In England during the punk period there is Alan Moore. The graphic novels as a format actually were pretty important. I came to that very late. Of course there are Roy Lichtenstein and Claes Oldenburg who had a lot to do with that sensibility, but we had a different kind of pop sensibility.
UMB: Comics somehow stayed hermetic to me.
DG: What about satirical comics? Political satire? John Heartfield?
UMB: That's much more about collage and montage that offers to me indeed a point of entry.
DG: Our friend Kasper König changed his name to Kasper. His given name was Rudolf, but he identified himself with "Casper, the friendly ghost" and also he didn't wanted to be mistaken with Rudolf Nurejew. Kasper also did a very good book with Claus Böhmler, who is a cartoon oriented German artist.
UMB: Böhmler was one of my professors at the Hamburg Art Academy. He participated with that kind of work in documenta 6.
DG: Really? Kasper at the very beginning of his career was very interested in pop art and cartoons. So you went to school in Hamburg? That school in Hamburg was my favorite as a teacher and then my real hero was Philipp Otto Runge at the Hamburger Kunsthalle.
UMB: After we met first in 1983 in NYC with another teacher of mine, Ernst Mitzka, I met you at the HfbK during my last year as postgraduate student.
DG: I don't remember.
UMB: But of course, I do. I was actually working on the realization of your Double Triangular Pavilion for Hamburg for a small park at the Alster. I was the project leader for the Hamburg Projekt 1989, so I didn't spend much time at school, as I was fulltime working on that extensive Public Art project, a healthy reality check early on. You were there also working on the Children's Pavilion with Jeff Wall.
DG: The first pavilion I did for children was in 1986 for Jan Hoet's exhibition Chambre d'Amis that took place in private homes. The owner of the house was an architect who used Homes to have his studio in a front house, in a plot. As he shifted his studio to the main house, what he did was you are supposed to go to his studio through a kind of patio garden that used to be the playground for children. He was taking over the children's area and wanted me to do a small object you can pass through on the way to the studio. The smaller scale pavilion I did was designed for the children who lost their play space and it was also addressing the fact that he had a family with children. So this pavilion was for his son and his friends.
UMB: Walter Benjamin did radio plays at the Berlin Public Radio for children and collected children toys and books.
DG: I know. That's how he actually earned his money by working for the radio. The other connection to children is that my mother was an education psychologist. She was a head of Head Start that was created by L. B.J. [Lyndon B. Johnson] to educate black children before they go to a public school to allow them to enter on the same level as other students. That was in Newark, which is fairly black city. My mother's teacher was Kurt Lewin, a child psychologist, who was a pioneer in social psychology and group dynamics. I think he influenced Lacan because he did topological diagrams of psychological interactions.
UMB: And what did your father do?
DG: He was a chemist. It's actually very horrible, he invented all the pesticides and of course he didn't make any money from it.
UMB: Because he didn't have it patented, but the company did?
DG: Yes, he did not get the patents. I don't know my mother's work or my father's work very well, but when I look at some of my architectural models they look like chemical models. Do you know my Girl's Make-Up Room? An interesting thing happened in Norway. A developer at a dinner, after I looked at a site asked me what was my favorite undeveloped piece. Because it has not been realized, I said the Girl's Make-Up Room. In his youth he had spent a lot of time at the Louisiana Museum of Modern Art, where they have a children wing for children art education, and he told me that his family has a small building in the park and that we could install Girl's Make-Up Room there.
UMB: The Louisiana Museum made once a children show and all the invited artists were asked to create pieces for children.
DG: I think it's the Scandinavian way of dealing with social artistic development.
UMB: When I worked on the NowHere exhibition for the Louisiana Museum we were researching children programs for television. It was the most innovative stuff because it kind of flies under the radar. As it's for children, adults don't pay so much attention and sometimes you can do much more radical work for that age group, if you really want to do a revolution, do it with children.
Originally published on Mousse 27 (February–March 2011)