EXHIBITIONS
Danh Võ and Abrahm Cruzvillegas at Museo Jumex, Mexico City
Danh Võ  ???? ???????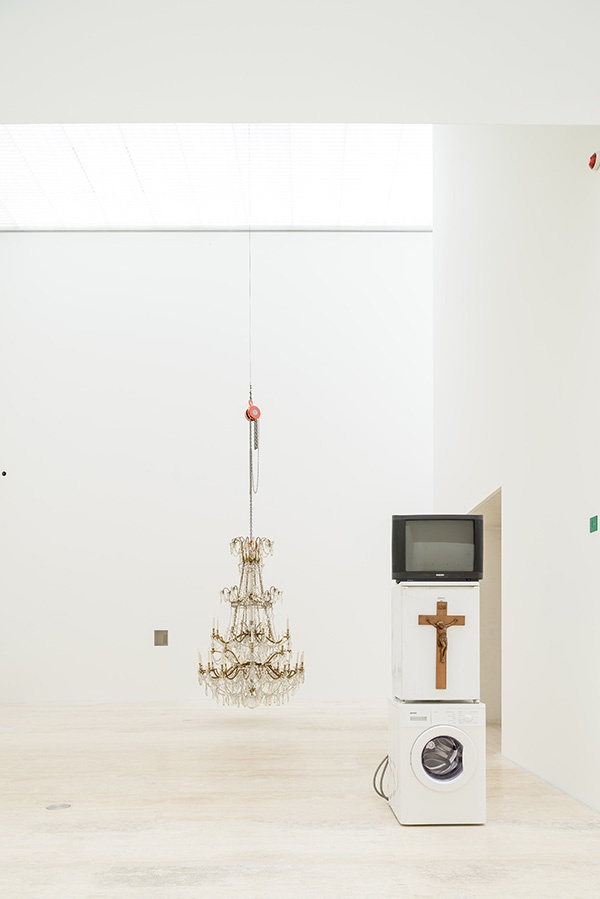 Vo's work explores the intersections of personal experience and major historical events, including the impact and mutations of Catholicism as it spread through colonization. His artworks reflect on the paradoxes inherent to the construction of identity. His use of objects evokes the historical circumstances that shape contemporary life: "I don't believe that things come from within you. To me things come out of the continuous dialogue you have with your surroundings," he has said.

Rocks are not simply there to be kicked at, desks to be thumped at…
—Bruno Latour, Dingpolitiks
Danh Võ ??????? ???? [W?d al-?a?ara] takes its title from an Arabic expression meaning "river running through rocks." This is a reference to the first time Vo (Vietnam, 1975) came to Mexico, when years ago he traveled to Guadalajara with his longtime friend Joseph M. Carrier, a retired US military analyst who had lived in Vietnam from 1962 to 1973. This relationship allowed Danh Võ to take a mediated approach to explore his country of birth and to appropriate thereby a series of historical moments and everyday situations that he had not experienced firsthand. But ??????? ???? is not just a personal reference, it also signifies a new chapter in Vo's work in that it examines the history of colonialism and its close ties to the dissemination of cultures and the assimilation of religions, going back in this case to the first Arab conquest of Spain and its later transposition to the "New World". In other words, the show also refers to how the rise and fall of empires have a powerful impact on the social body and determine the cultural economies that make up our everyday lives.
In Danh Võ's work, historical narratives mingle with personal, often autobiographical stories. Those elements that, at first glance, seem to be silent witnesses to history betray their false innocence: they are relics of a political time and a social space and, once removed from their original context, they become vulnerable and reveal how they played an active and irreversible role in the course of historical events, affecting the lives of millions. The works included in the exhibition refer to precise chapters in history like the Christian evangelization in South-East Asia, the spread of the Vietnam War and the artist's family's exile. But they also embody phenomena like cultural cross-contamination and the difficulties of reconciling two different contexts; the (more or less) failed attempts at resisting dominant ideologies, and the severe consequences of expansionism and industrialization. By tackling issues such as migration and displacements, the consequent multiplication of presents and the ensuing need for negotiation with the past come about, echoing the dismembering and disarticulation of bodies, and death as a means of expression that might end up signifying all of our actions.
.
until 25 February 2015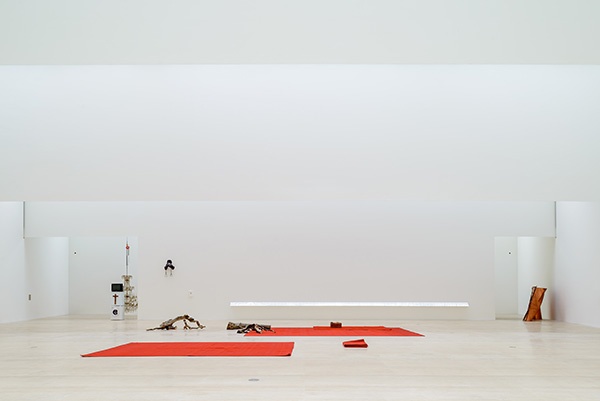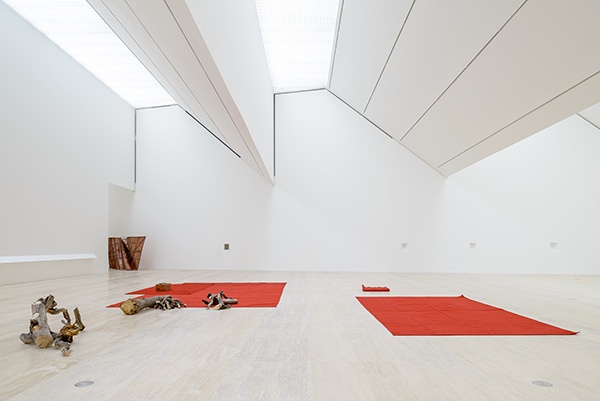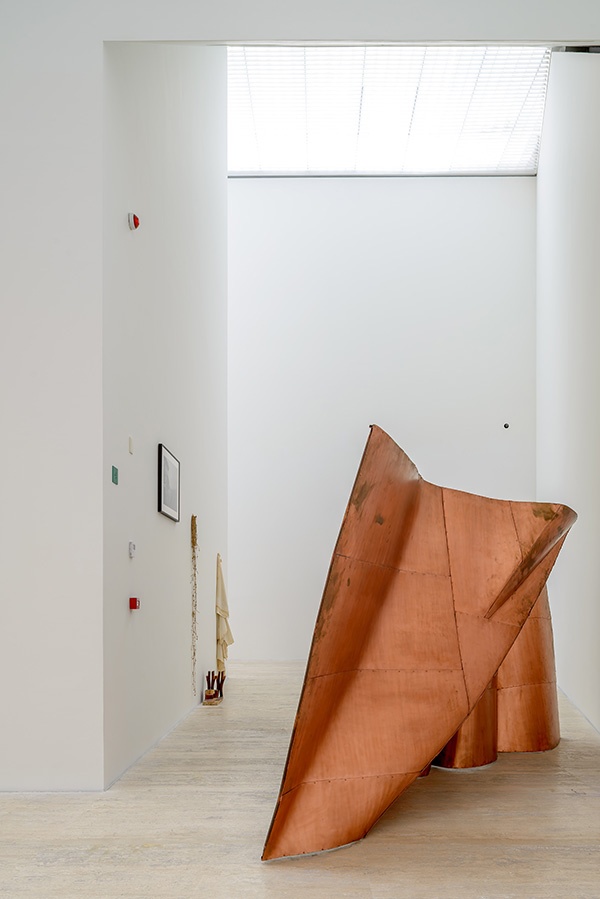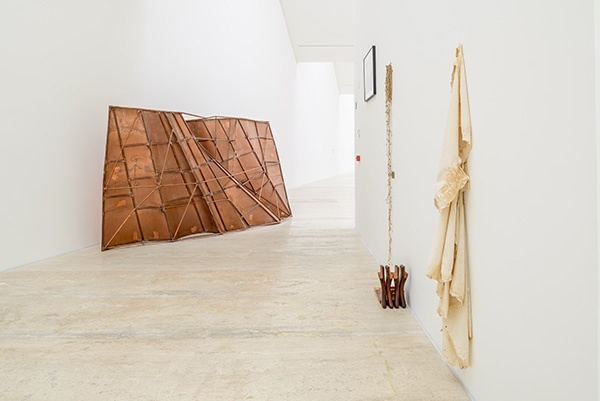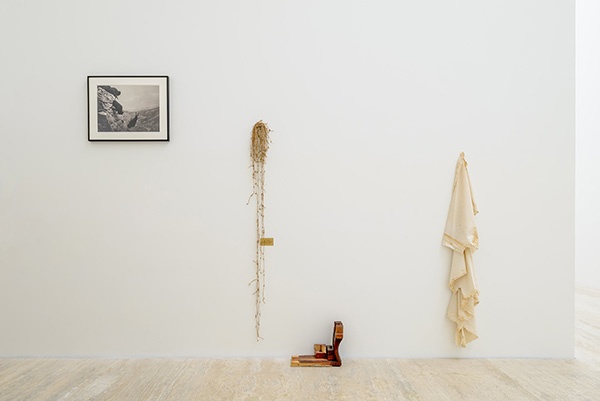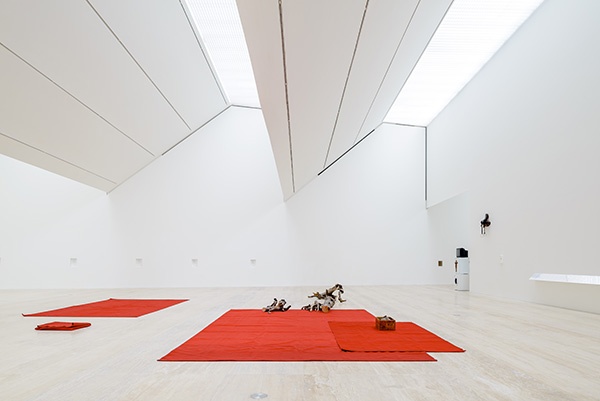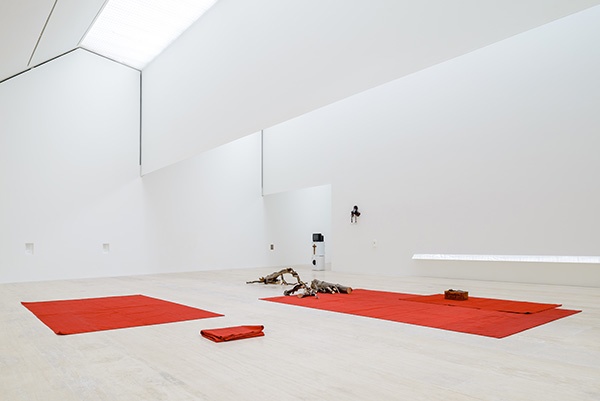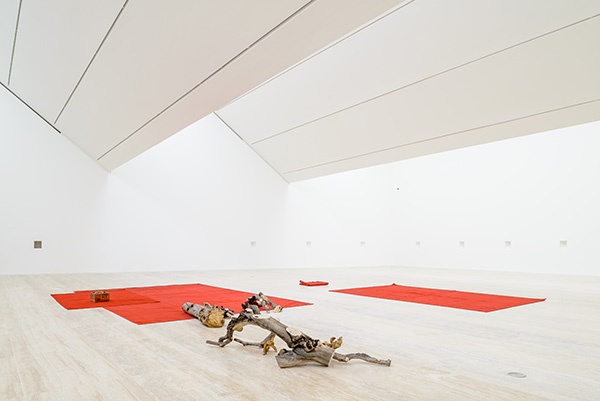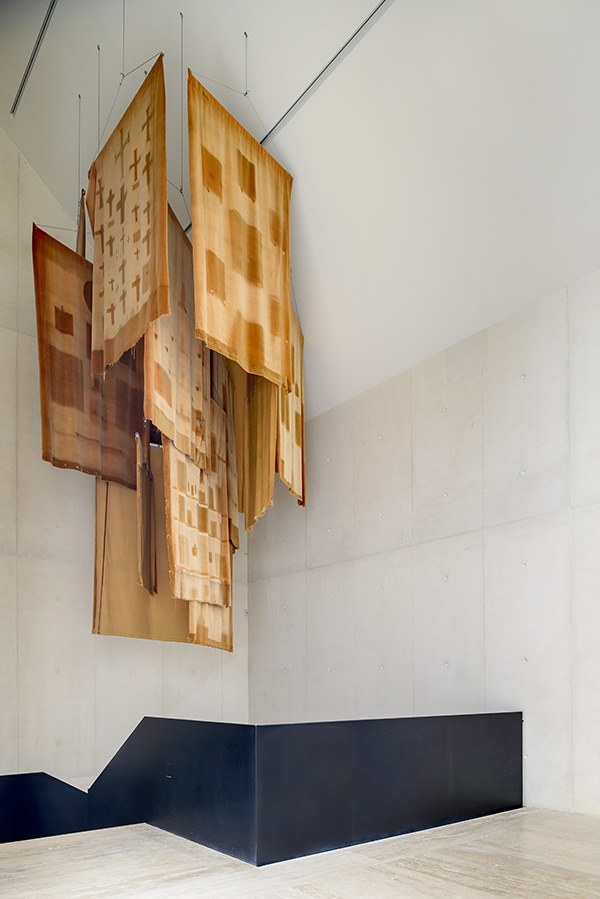 .
Danh Võ ???? ??????? installation views at Museo Jumex, Mexico City, 2014
Courtesy: Museo Jumex, Mexico City.
.
Abrahm Cruzvillegas "The Autoconstrucción Suites"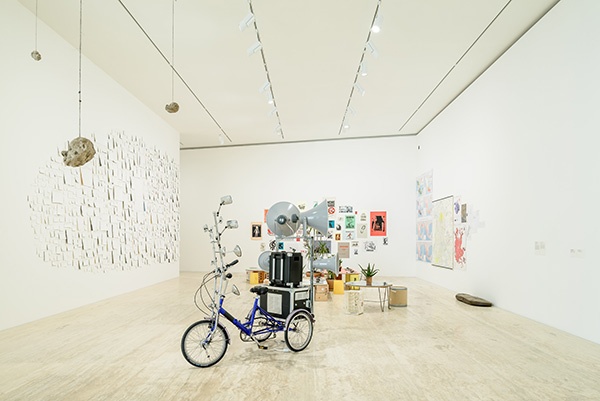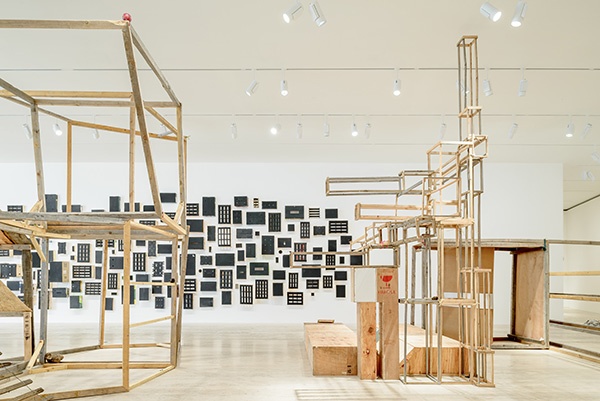 Over the past ten years, Abraham Cruzvillegas has developed a riveting body of work that investigates what he calls autoconstrucción, or "self- construction." Interested in improvised building materials and techniques, he roots his sculptural practice within the urban landscape of his childhood home in Ajusco, a district in the south of Mexico City where structures remain in a constant state of transformation as additions are made when materials become available and necessity dictates. This way of constructing has become the basis of Cruzvillegas's own thinking and methodology, while operating as a rich metaphor for the articulation of individual identity and place.
Featuring individual sculptures and installations, along with his recent experiments in video and performance,  "The Autoconstrucción Suites" is the first major presentation to shed light on the artist's unique vision and multifaceted practice.
roof out of line with sides the yards cluttered
with old chicken wire, ashes,
furniture gone wrong;
the fences and outhouses
built of barrel staves
and parts of boxes…
—William Carlos Williams
For the first twenty years of my life I watched the slow construction of the house where my family lived; we all took part in the process. Against the background of a mass invasion of migrants from the countryside, whose needs—like housing—were very specific, the construction of my house and neighborhood began in the 1960s, in a lava field, in the southern part of Mexico City that was never part of the city's master plan—if such a plan ever existed.
The materials and techniques we used were almost entirely improvised and depended on whatever was available in our immediate surroundings during a time of great economic and social instability. The solutions we found arose from concrete needs and situations, like building an extra room, modifying a roof, improving or eliminating one space or another.
Because it was built with a very small budget and without an architectural plan, today the house looks chaotic, almost unusable. Nevertheless, every detail and every corner has a reason to be where it is. The house is a true labyrinth, polished by the simultaneous patina of construction, use, and destruction.
It is important to recognize that this autoconstrucción (self-building), the term generally used for this type of construction, is a process full of human warmth and solidarity among neighbors and relatives. It is important not just as a collaboration, as shared capital, but also as an enriching educational environment to help everyone who is part of a community understand their own circumstances.
The series of works that make up the "Autoconstrucción" project began by observing the house as a whole, paying close attention to the details and improvised techniques that were born out of the need to create a human habitat by any means necessary—a space that becomes spontaneous, contradictory, and unstable. The references that arise from observing the house are transformed, in an equally unstable way, into obstacles, debris, constraints, leaps, jumps, tremors, unevenness, falling materials, ricochets, cracks, and disappearances that appeal to what is local in the form of a somatic consciousness of the immediate and the urgent, of a physical presence in time and space that is multiple and simultaneous.
Many of these works express my wish to confront two or more radically different economic systems, creating hybrid marriages and unexpected combinations of materials and techniques. The technical details of construction are not represented; only the diverse mechanisms that were used have been reproduced, observing their socioeconomic context as a kind of scaffolding on which I operate.
Even when particular pieces in isolation might recall figuratively the basic structure of a "house," rather than simply presenting models of poor people's architecture, my main purpose is to generate knowledge and understanding of how human activity produces forms, and also to renew, for myself, a significant vehicle for invention and creation.
Additionally, in order to construct the total image of myself, I have collected in a cumulative and affectionate search, expressive signs from everywhere I go, much like Aby Warburg's Mnemosyne Atlas. Like a silent soundtrack of time and space, the sculptures I have made are accompanied by an accumulation
of information translated into drawings, photographs, images in movement, sounds, collections of movie posters, over-painted images taken from newspapers and postcards, fragments of videos and songs, and texts stolen from my own reading, that I have shared to provide testimony of my cosmos. All these fragments are the hand-carved stones and bricks that form the walls, ceilings and floors of my house.
Buckminster Fuller said that matter should be organized by sympathy, a concept that I apply to my collections of objects, images, and sounds as well as my three-dimensional work. Through minimal transformations, with no explanations or stories and possibly even without much skill, my work is the proof that I am alive. In my work, the transformation of information, materials, and objects constitutes the definitively unfinished construction of my own identity, as a way of approaching reality by way of bare facts.
Abraham Cruzvillegas
.
until 8 February 2015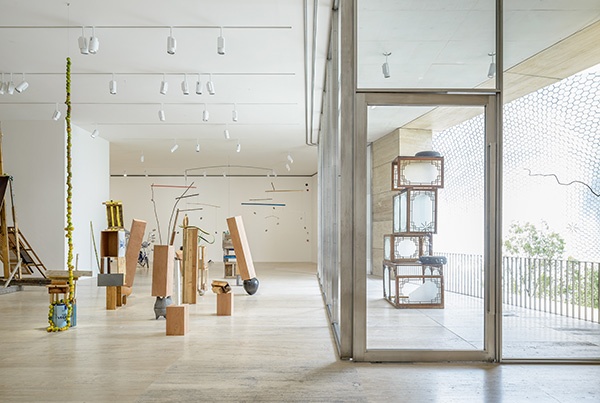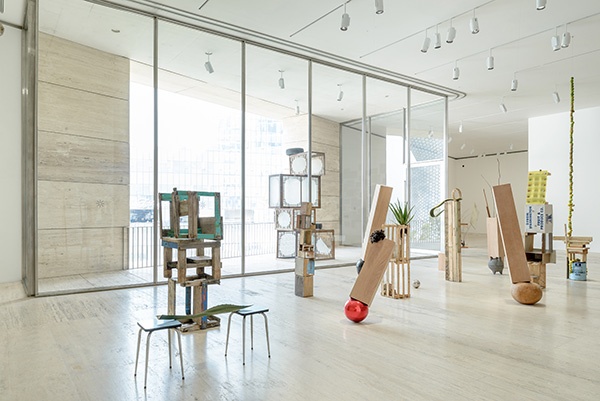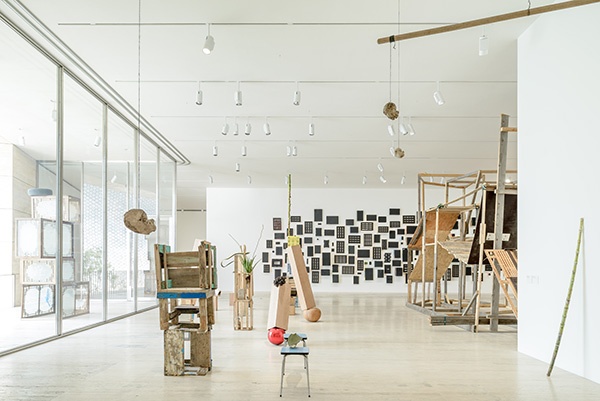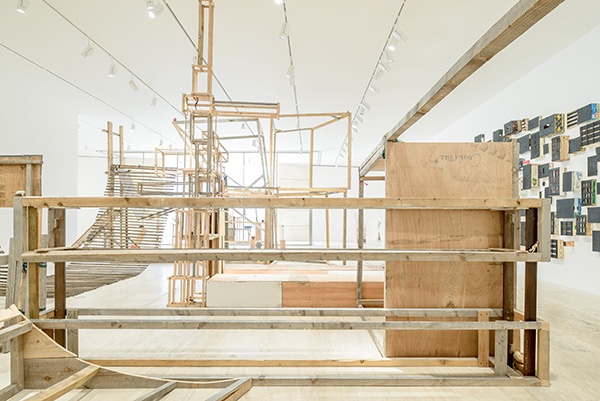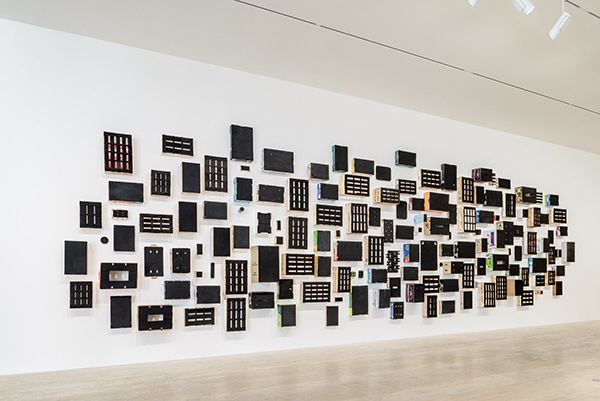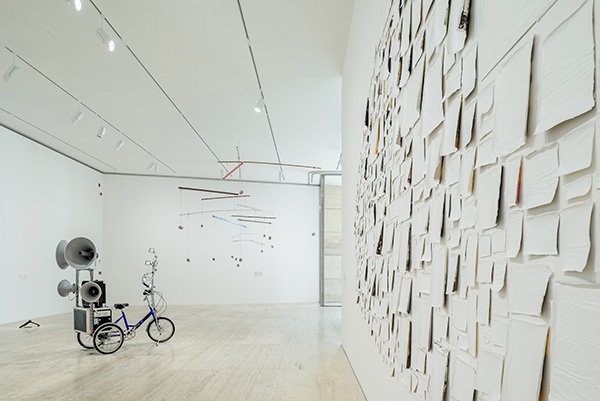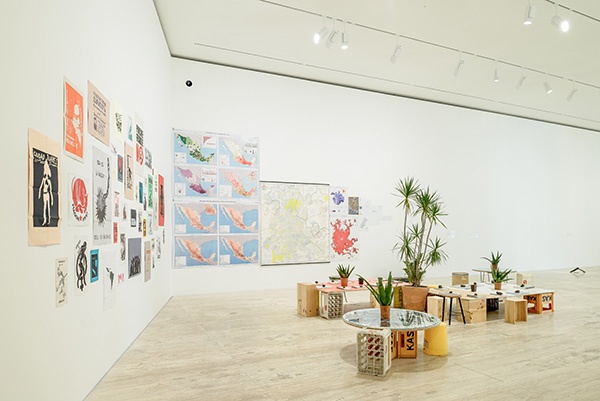 .
Abrahm Cruzvillegas "The Autoconstrucción Suites" installation views at Museo Jumex, Mexico City, 2014
Courtesy: Museo Jumex, Mexico City.