EXHIBITIONS
Dina Danish "To Be A Pinball" and Ode de Kort "Fold / Unfold" at SpazioA Gallery, Pistoia
Dina Danish "To Be A Pinball"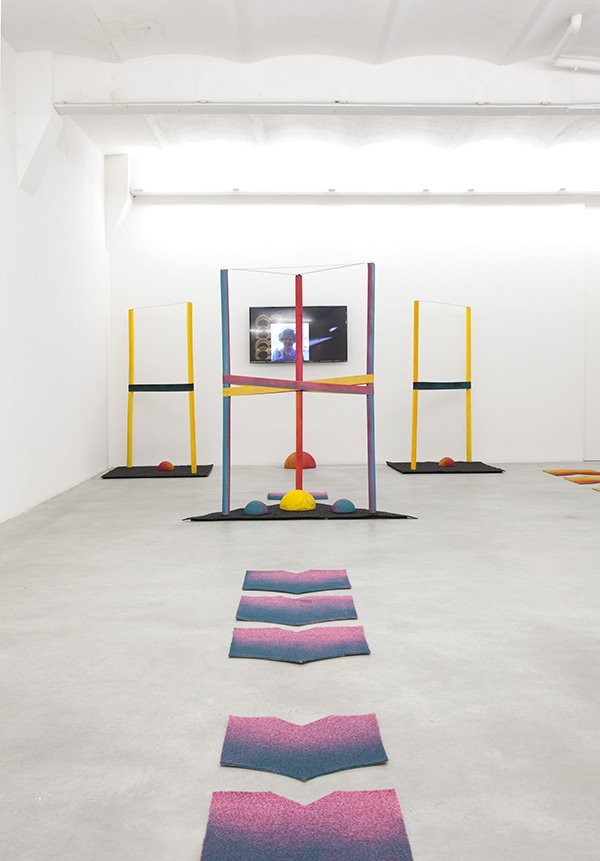 SpazioA is pleased to present  "To Be A Pinball", second solo show by egyptian artist Dina Danish at the gallery. "My vocabulary did this to me" confessed the poet Jack Spicer, during his last moment of lucidity before passing away. This final statement inspired the artist Dina Danish to reflect on how something intangible, like words, can potentially become a menace. Her idea of shifting this feeling from the linguistic to the visual dimension became a way to explore the potentiality of language in art last November in the setting of a performance program at South London Gallery.

To gain a better understanding of what was dooming the poet's art and existence to the point at which he felt threatened, Dina investigated his life, looking for signs of incompleteness and dissatisfaction.
San Francisco Renaissance poet Jack Spicer was among the founders of "6" gallery in Fillmore Street where the Beat generation was launched, but he always preferred to remain an outsider to the group. Inspired by Surrealism, he used to claim that poetry was coming to him from outside forces—like Martians—and that he functioned as a transmitter for dictated lines and rhymes.
Words would come to him like radio frequencies, finally creating some sort of meaning for his presence in the world. Words would eventually become "thing-language", as in the title of one of his poems in which he declared that there is no meaning in things without language to describe them.
The poet's condemnation of his own words amounted to a withdrawal from the artist's status. He expressed it well with a visual metaphor which is hilariously one of the most concrete elements of his vocabulary. Thus he conceived the idea of a poet hosting a pinball-machine where balls hit objects on the table's surface to run up points—which he imagined to be an ideal graveyard for himself.
Following the logic that if words can threaten the poet, then forms can threaten the artist, Danish decided to avoid the production of closed and autonomous objects. This visual metaphor led her to instead turn this gallery into a space where poetry (or art) is being transmitted.
Like pinballs, which should keep rolling around inside the game waiting for the right moment to fulfil their potential, the visitors at "To Be a Pinball" energize the environment built inside the exhibition: a life-size playing board. The moment of encounter between life and props is the only thing that matters in the end: the props in the space lose their relevance as forms, and become facilitators for the transmission of energy, meaning, and matter.
Danish, who is interested in mimesis and repetition, "rewrites" biographies and moments of the past. Far from a perspective of historical exactness, she interprets the subject's intentions, creating new possible understandings.
If "Words are what sticks to the real", as Jack Spicer wrote in After Lorca, then mimicking the scoreboard of a pinball- machine sticks perfectly to Jack Spicer's words.
Emma I. Panza
.
until 14 March 2015
.
Above – The Upper Right Slingshot, 2015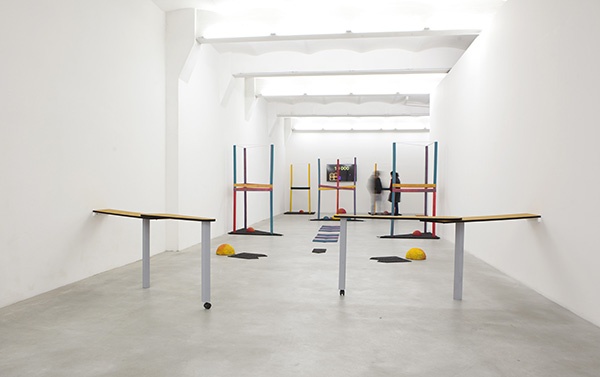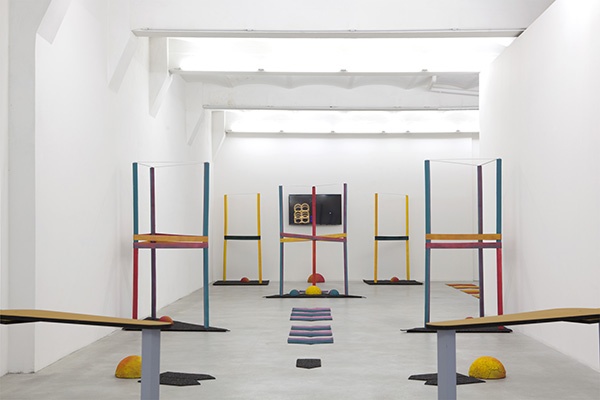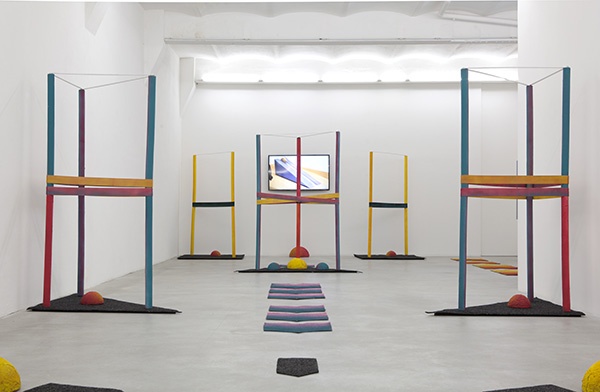 The Pop Bumper, 2015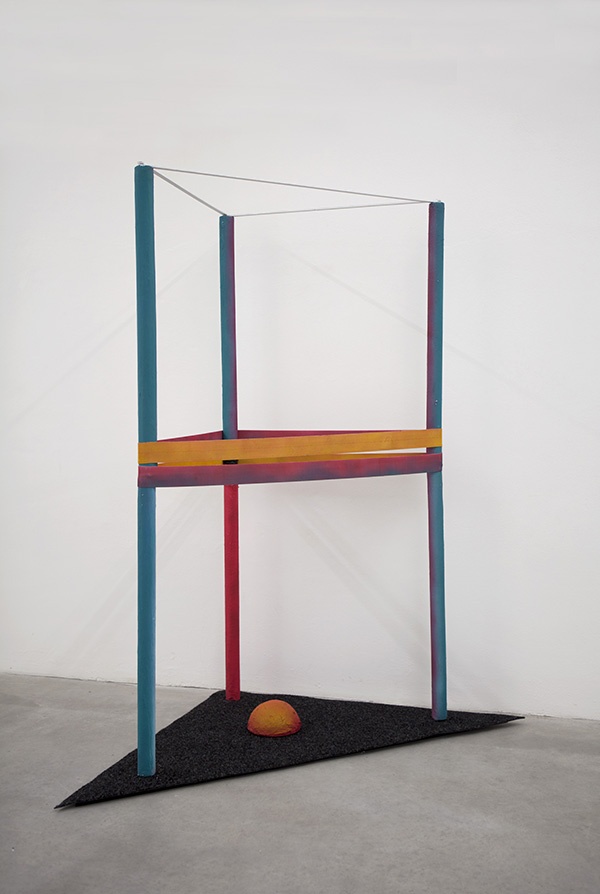 The Stopper, 2015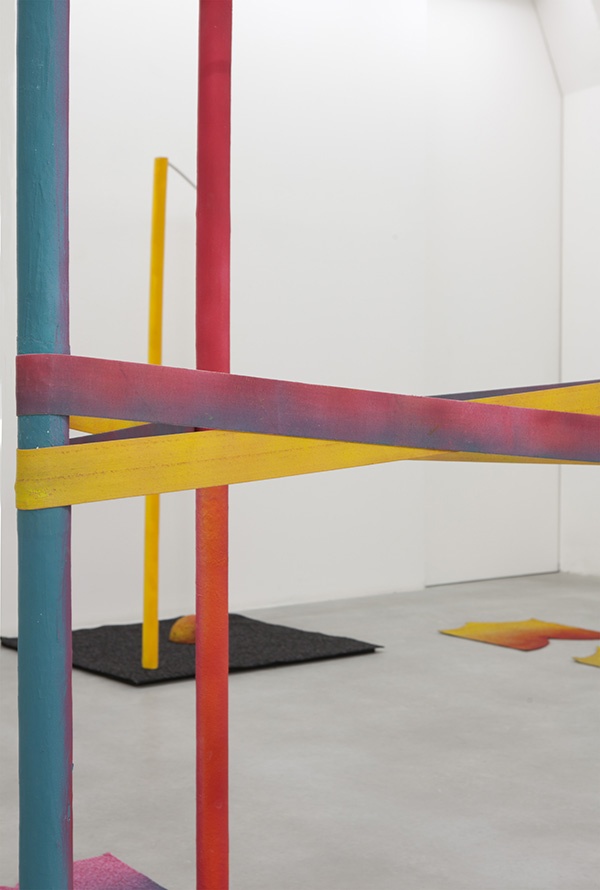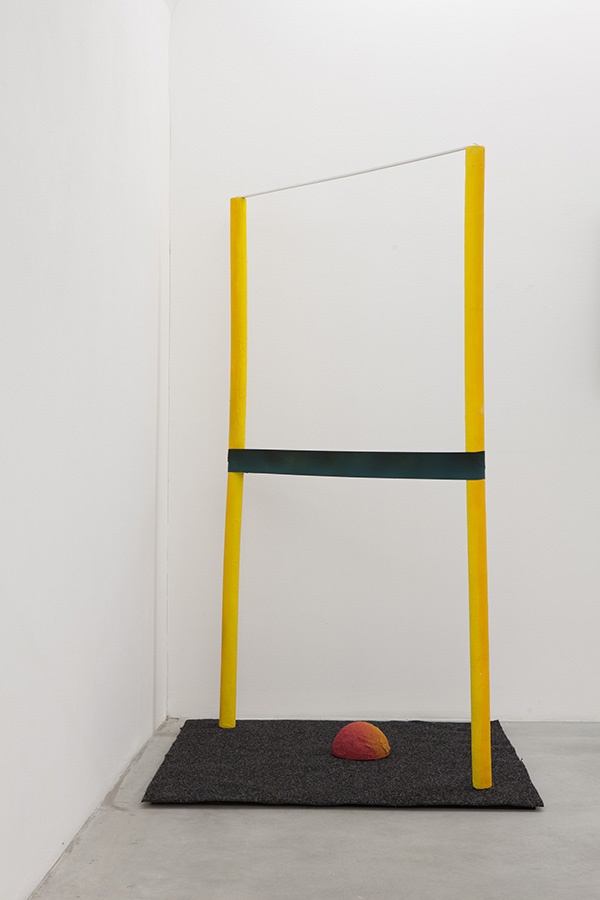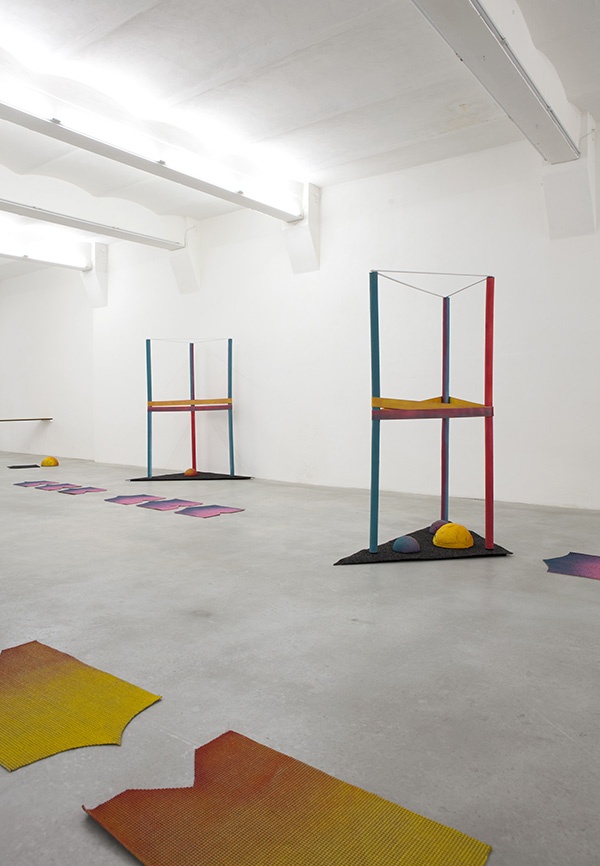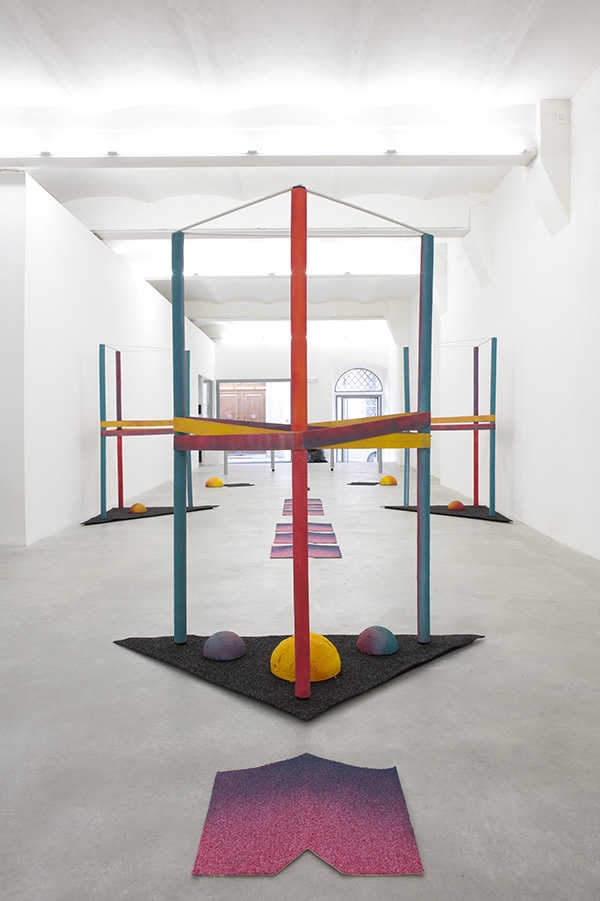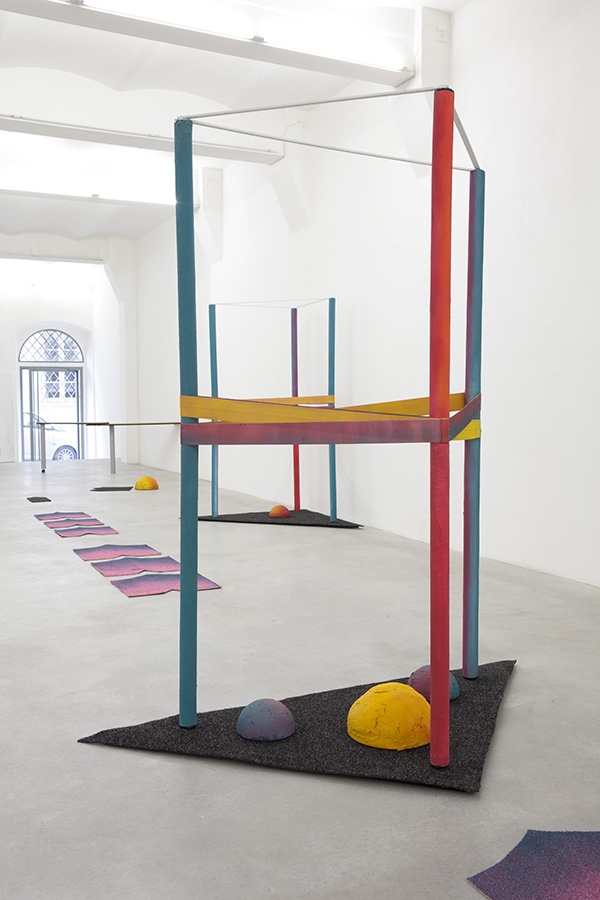 The Firing Lane, 2015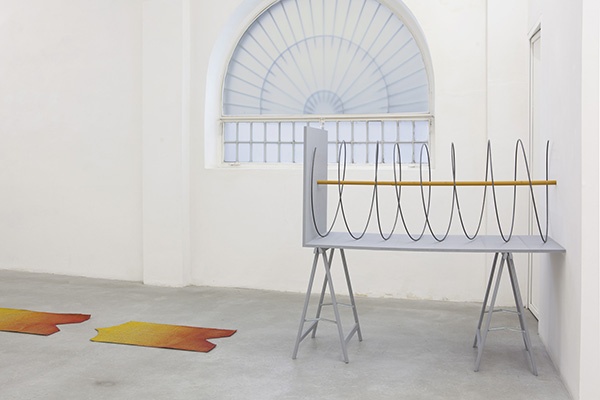 The Plunger (The Skill Shot), 2015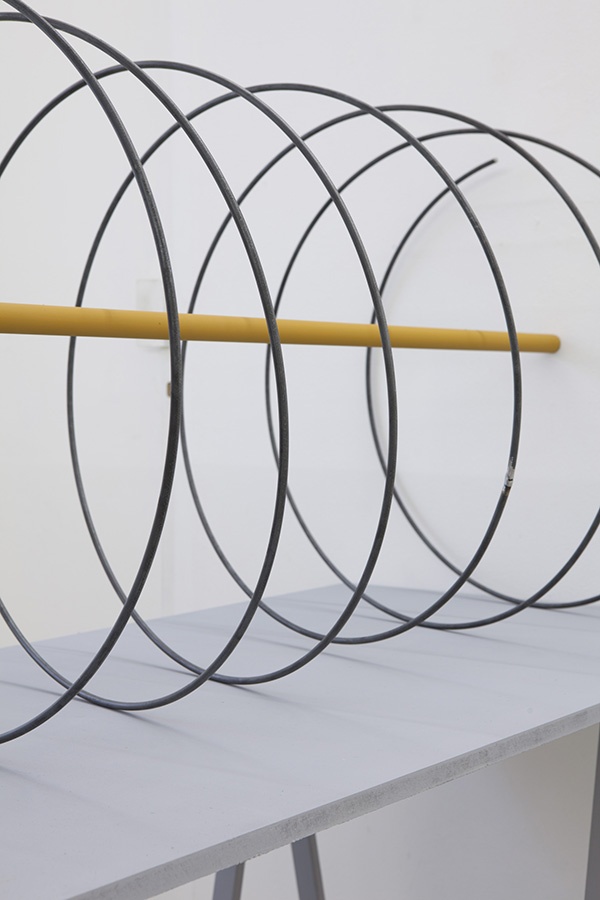 The Backglass, 2015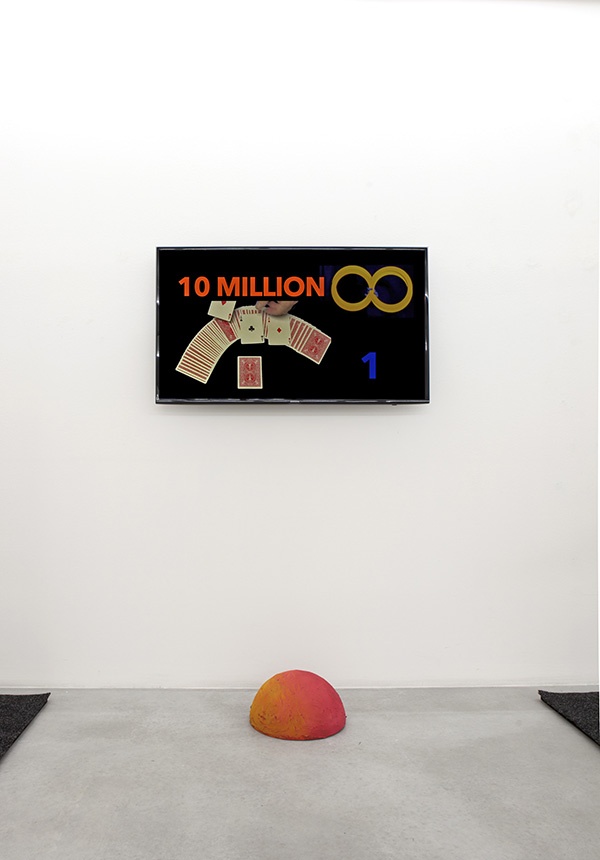 Dina Danish, "To Be A Pinball" installation views at SpazioA Gallery, Pistoia, 2015
Courtesy: SpazioA, Pistoia. Photo: Jean-Baptiste Maitre.
.
Ode de Kort "Fold / Unfold"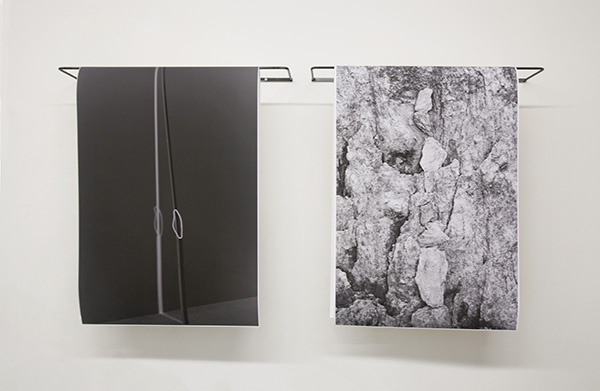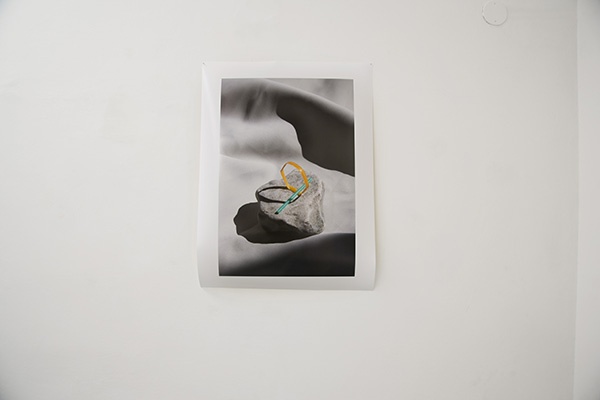 SpazioA gallery is pleased to present "Fold / Unfold", the first solo show in Italy of the young Belgian artist Ode de Kort at the gallery's Project Space.
The work of Ode de Kort can be described as photographic yet resides outside of the usual boundaries of the medium. As is traditionally expected of photography, walls are employed as a means of support for prints, however, de Kort strays from this tradition and engages floors and corners with equal measure. Works are also often attached to custom-made armatures designed specifically for each photograph. This given, de Kort's practice establishes a dialogue with the space and thus the works take on a sculptural presence in addition to that of their photographic nature. The images themselves are charged with a physical subsistence, whether they depict forms found by the artist within a landscape (rocks, sand dunes etc.) or ephemeral assemblages made in the studio with mundane materials like wooden sticks, paper and rolls of tape.
The works shown in the Project Space of SpazioA are carefully balanced in order to play with notions of sculpture and movement. The perception of forms, found or assembled, shifts with simple choices of angle, distance, scale and light. Folding and unfolding suggests mobility. Shapes are formed, corners covered or revealed, lines are drawn. As a body, an image transforms by a gathering of elements it can't foresee.
.
until until 14 March 2015
.
Above – Untitled #2 and Untitled #4, 2014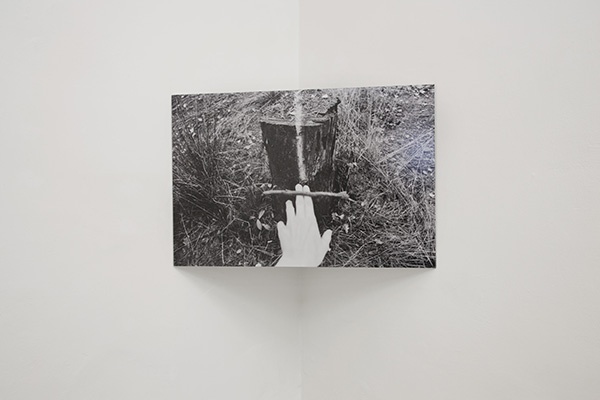 Untitled #5, 2013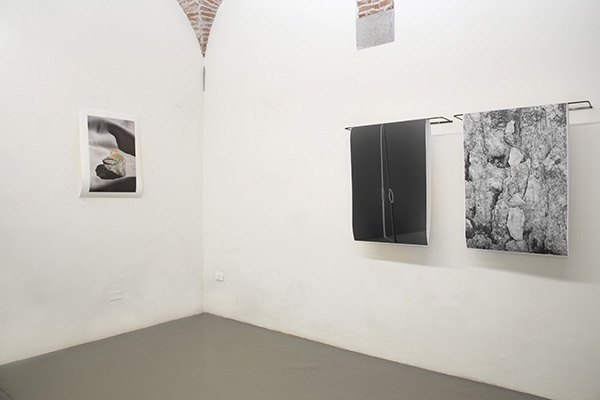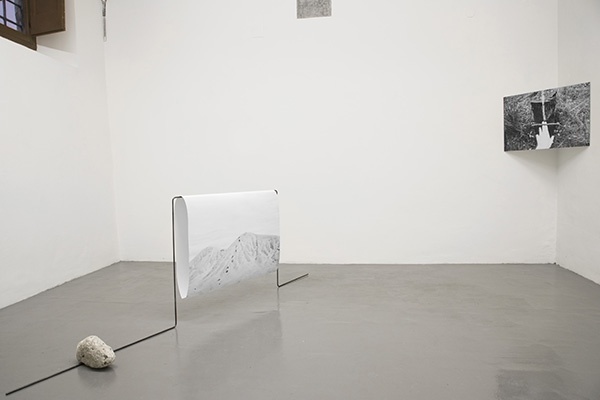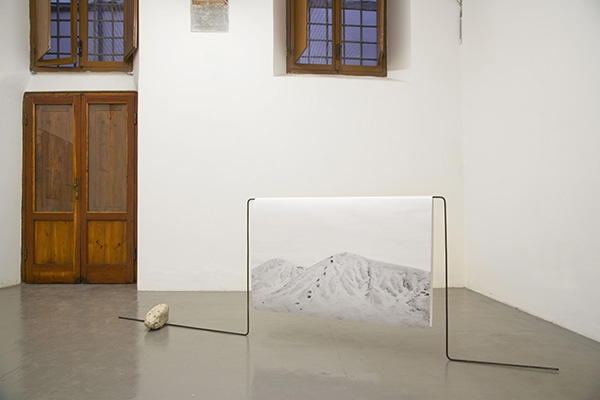 Untitled #1, 2014
.
Ode de Kort, "Fold / Unfold" installation views at SpazioA Gallery, Pistoia, 2015
Courtesy: SpazioA, Pistoia.