CONVERSATIONS Mousse 66
Letters: David Horvitz
Close
1
2
3
4
5
6
7
8
9
10
11
12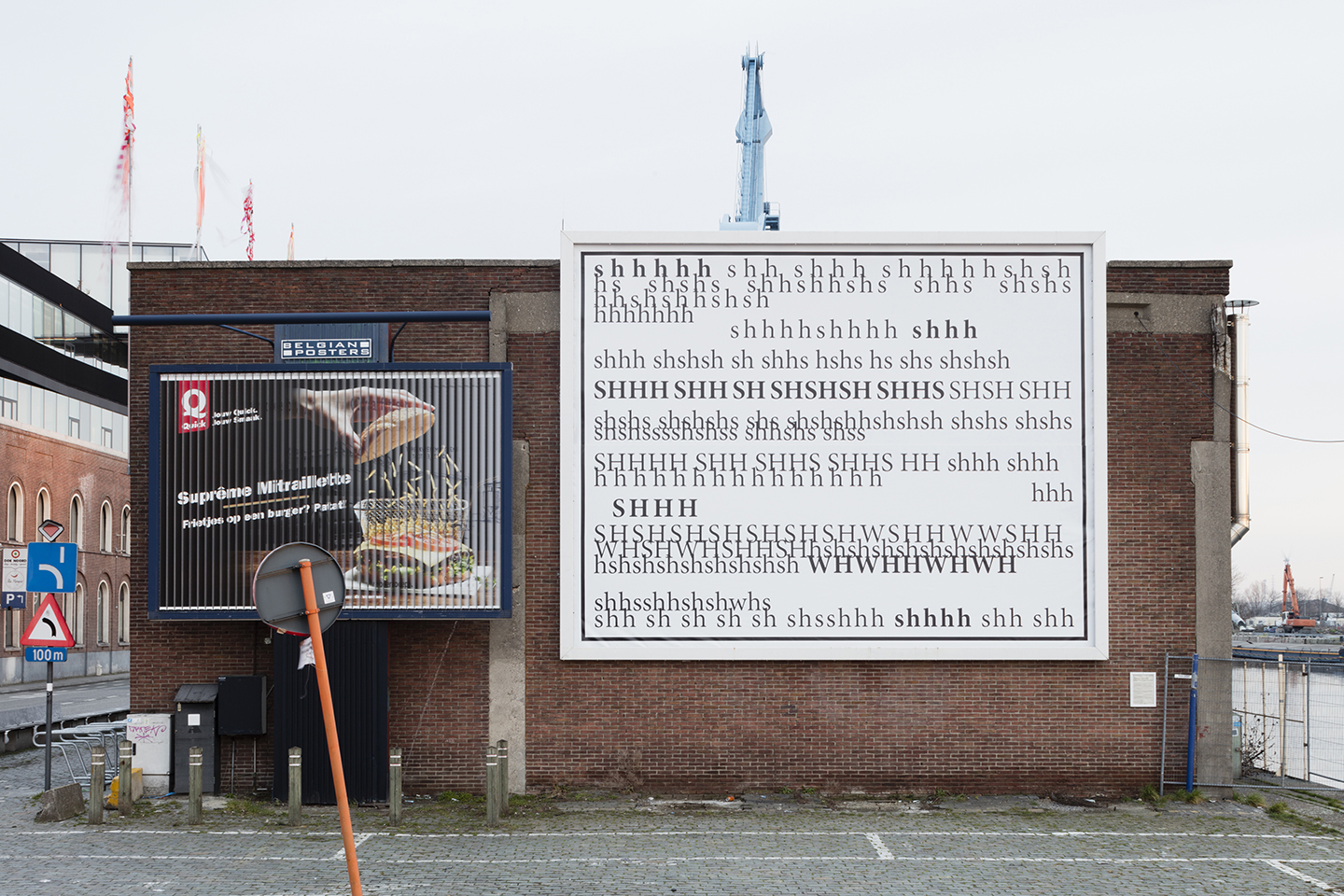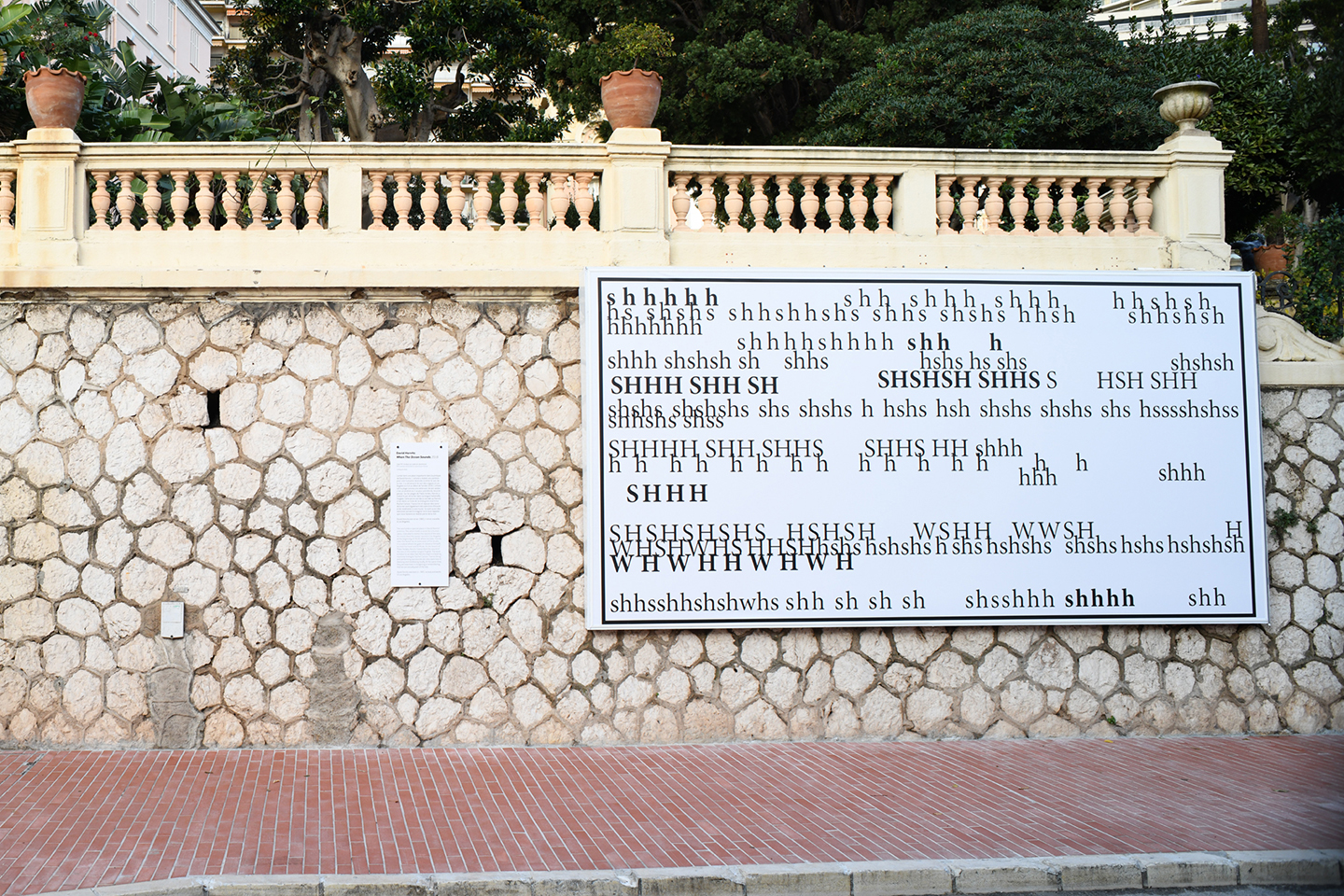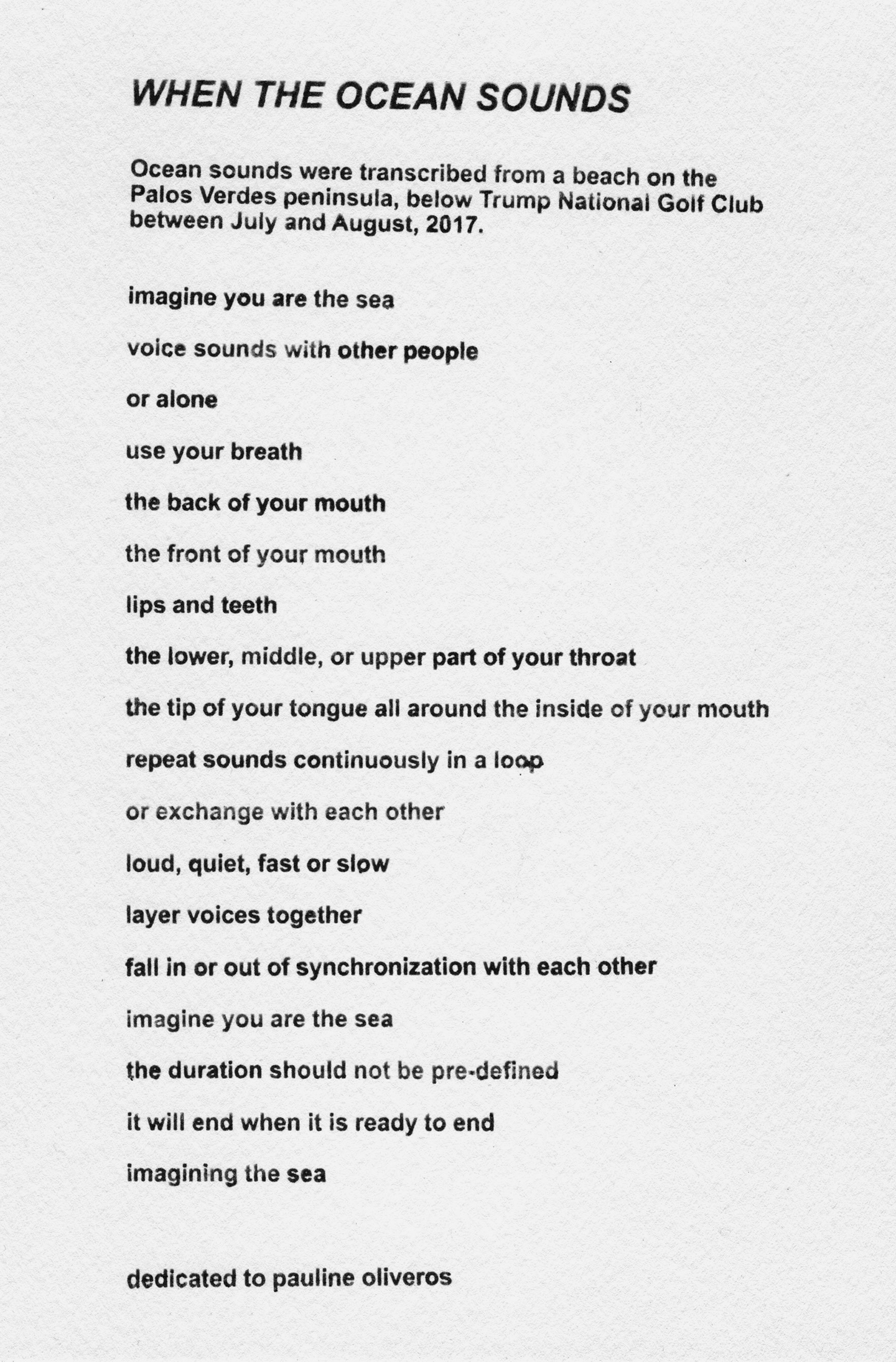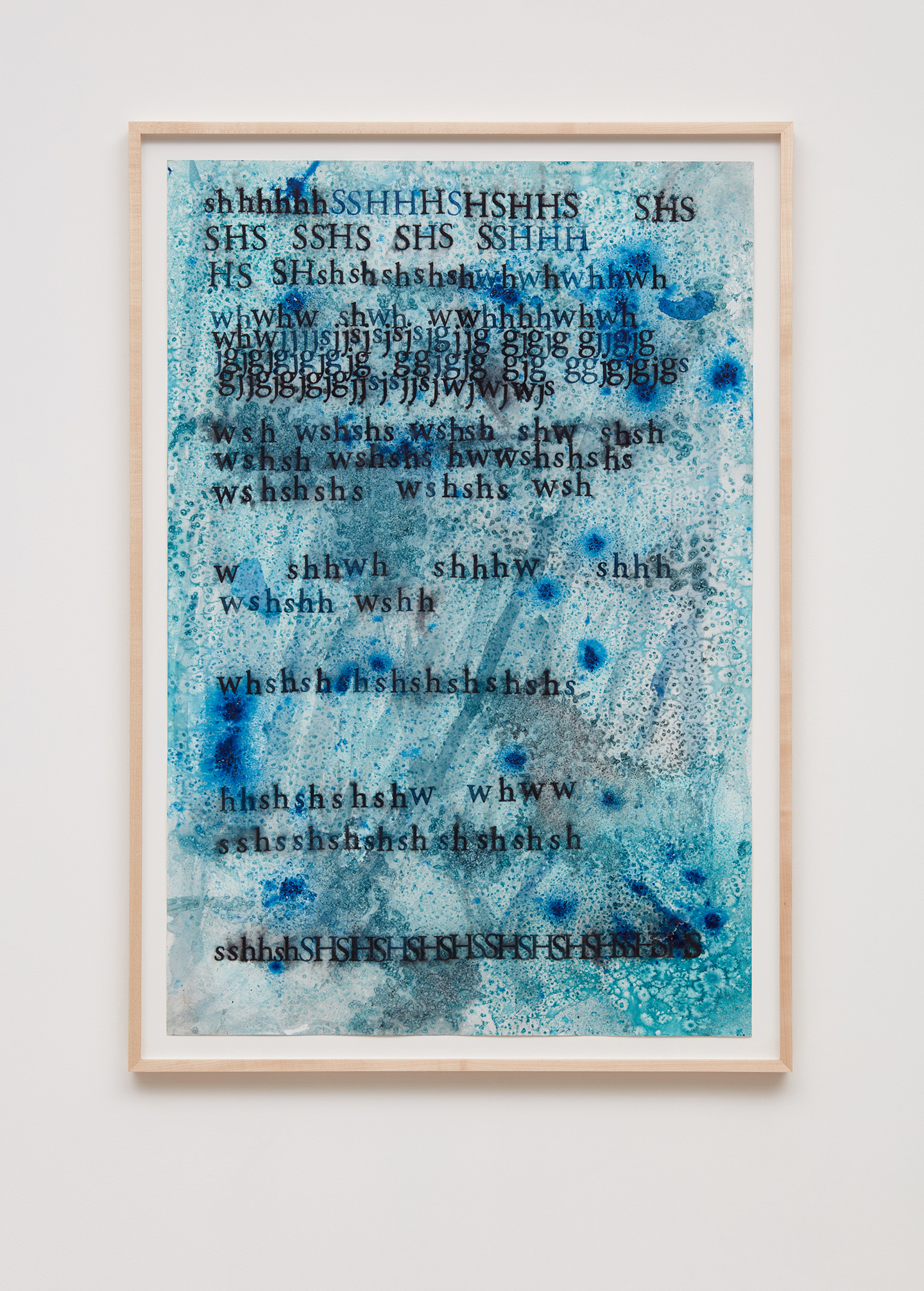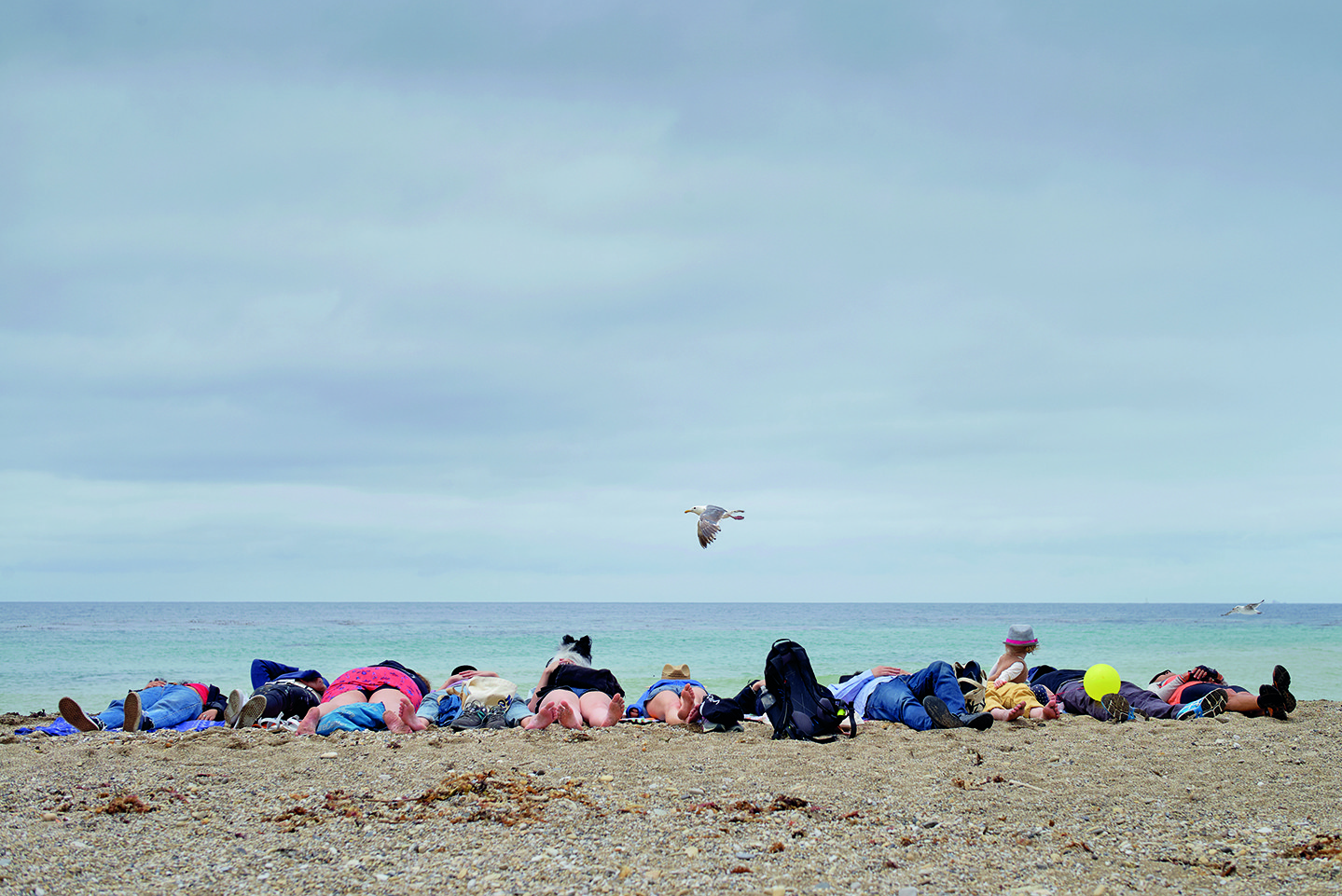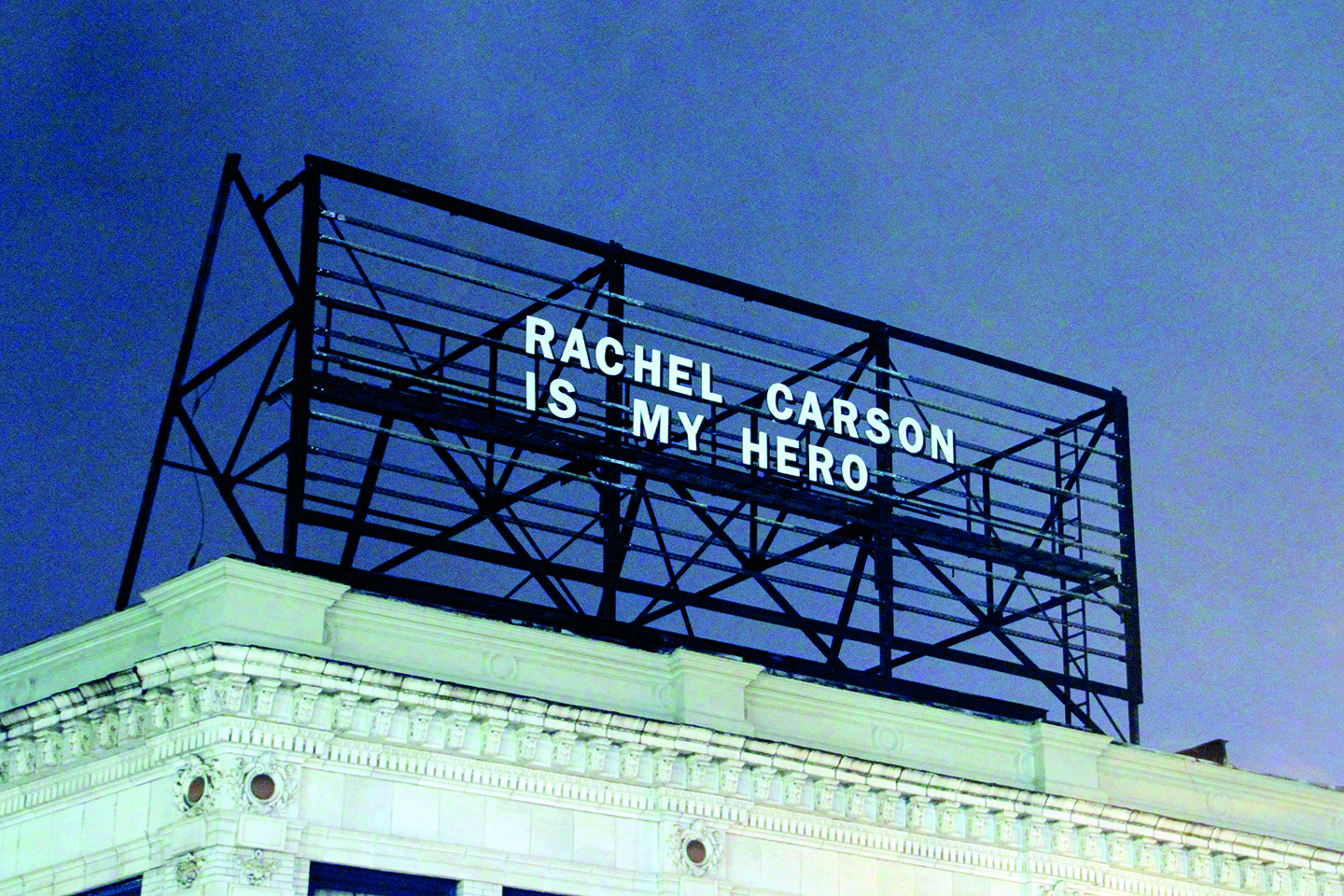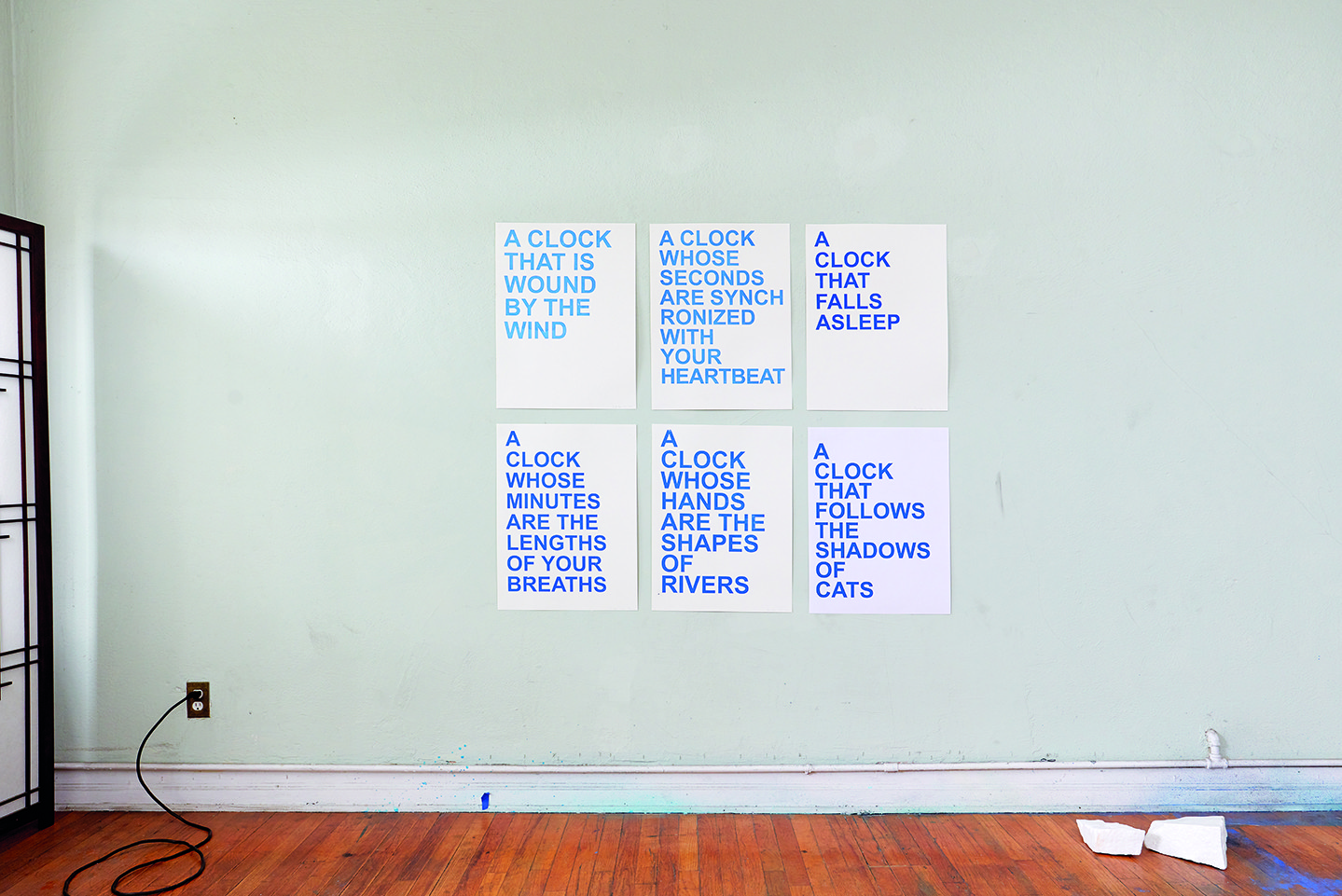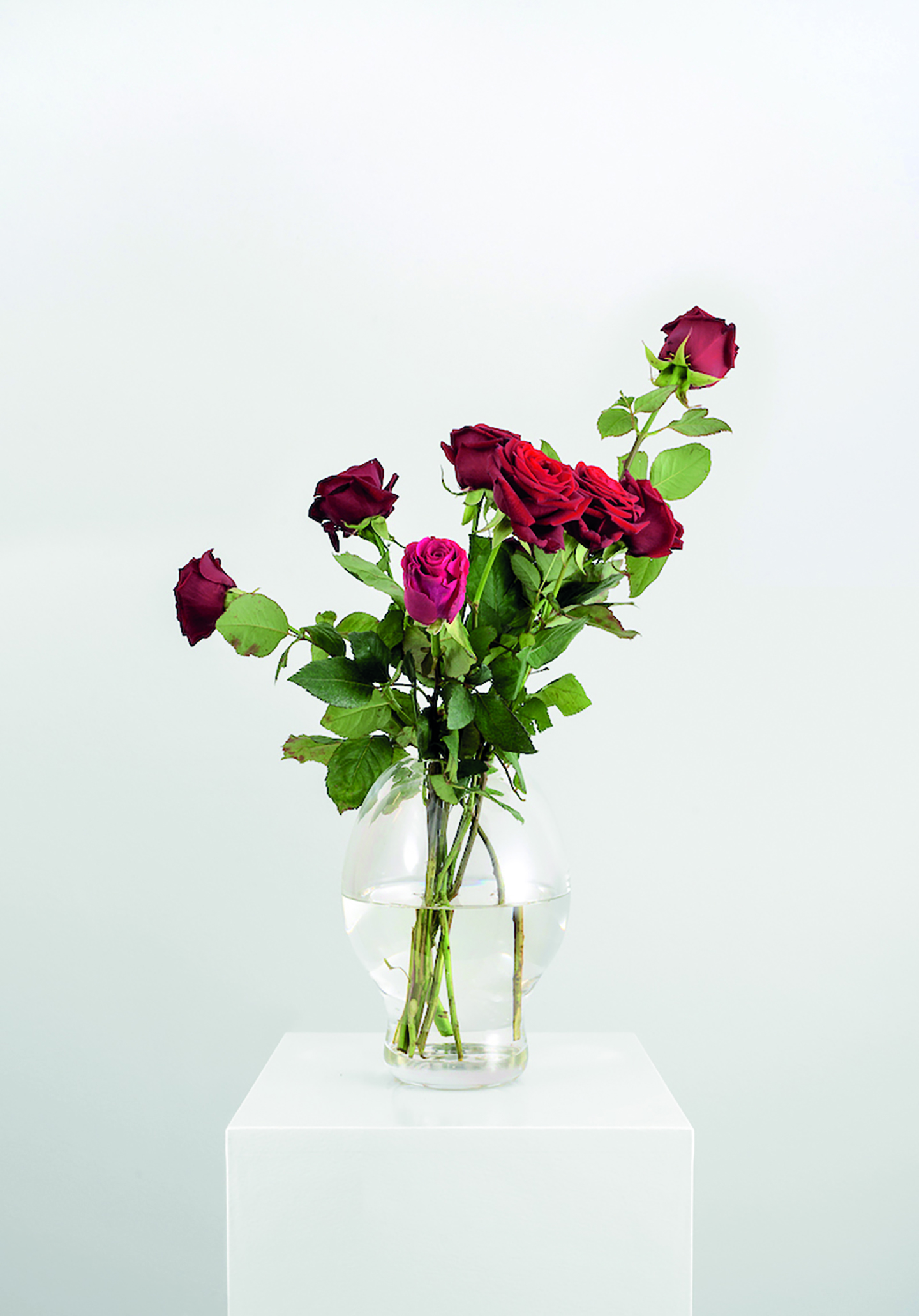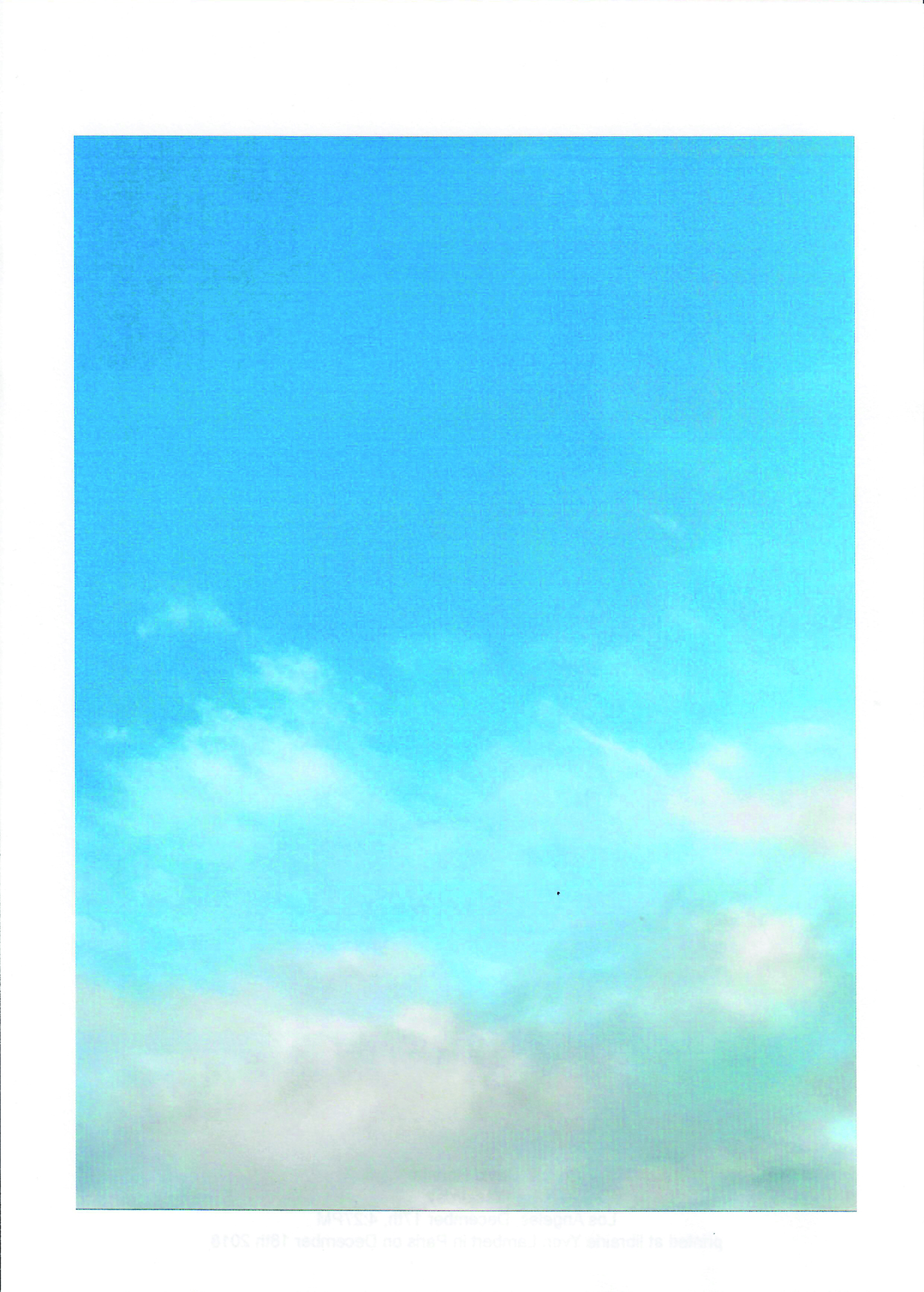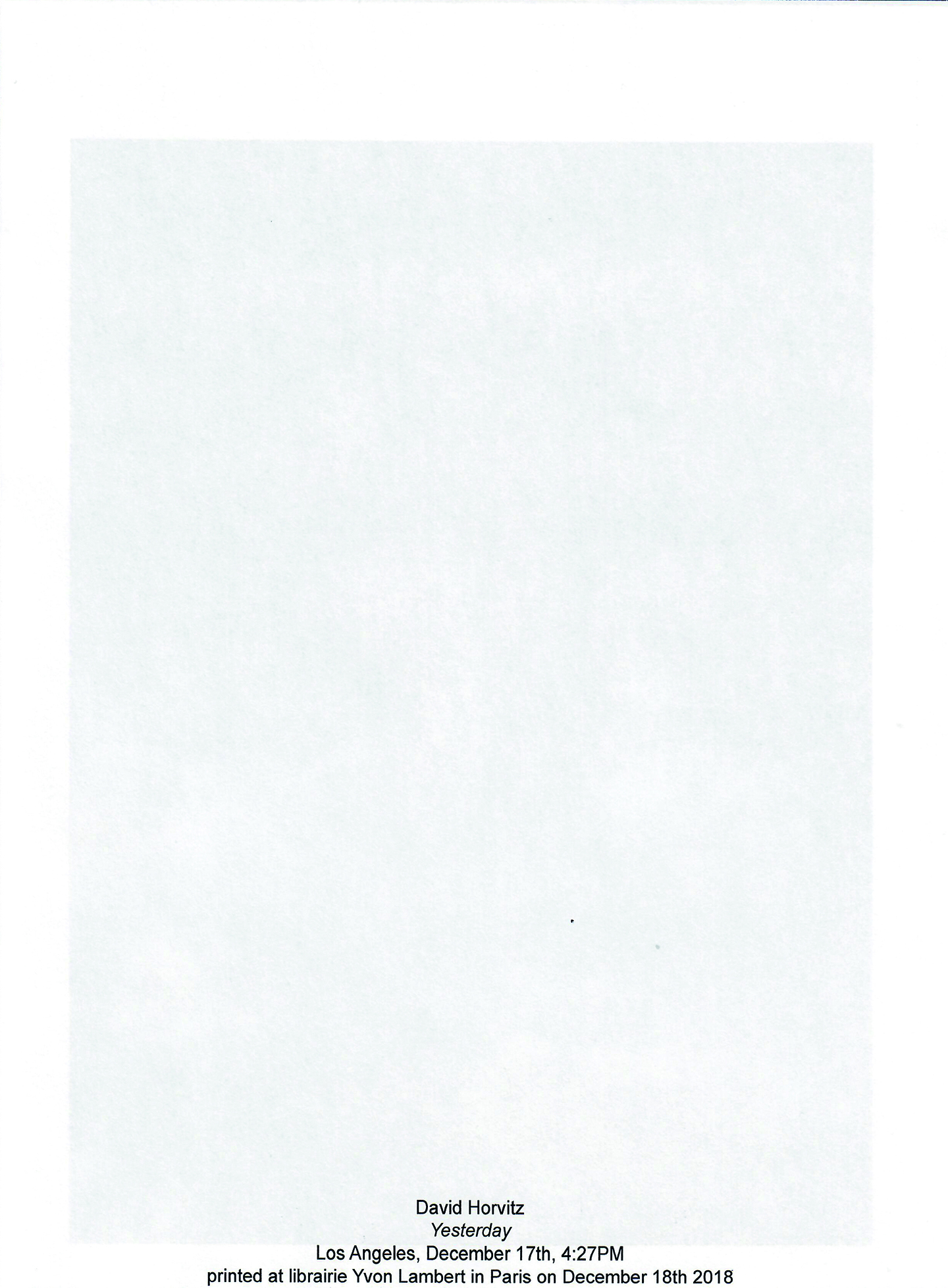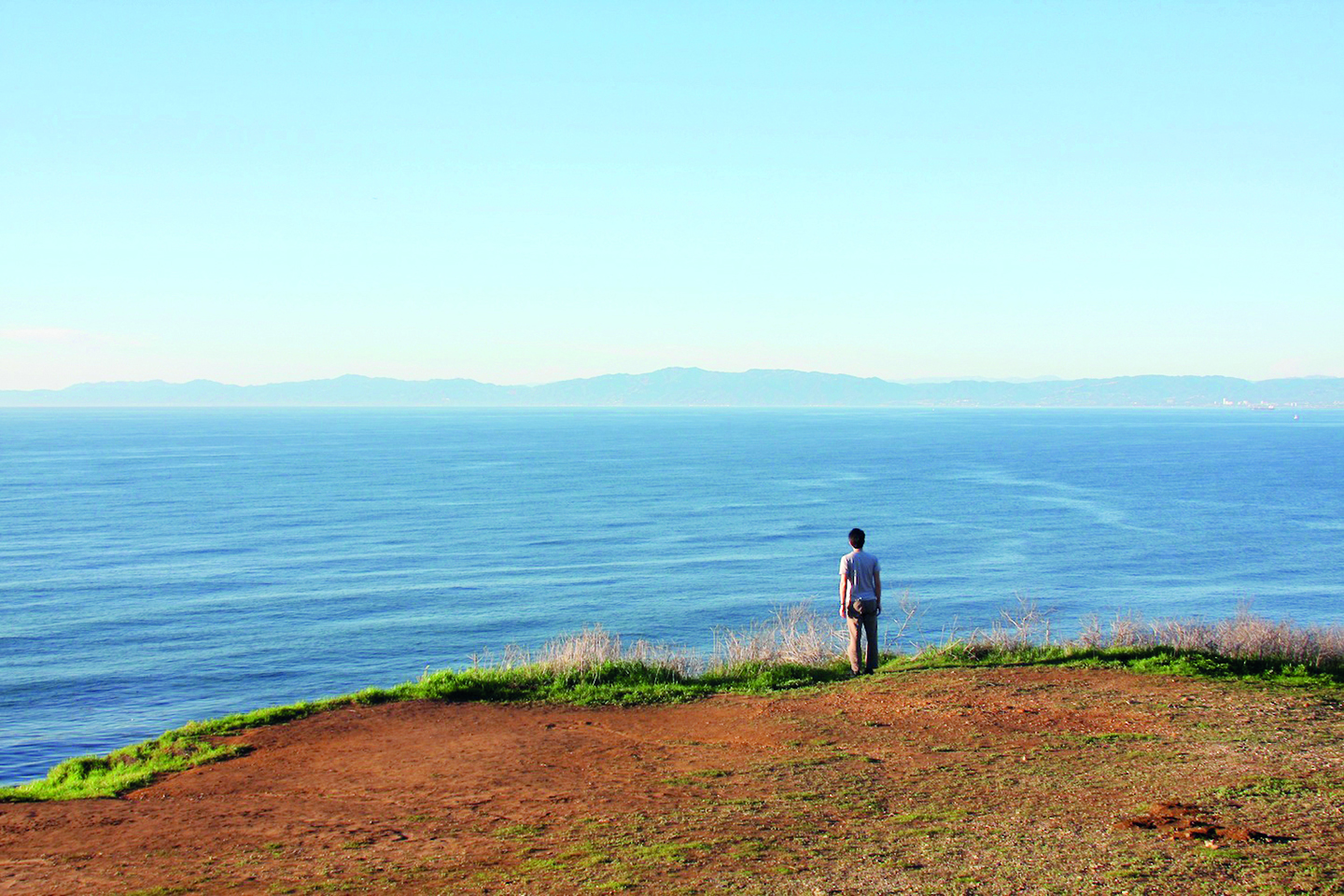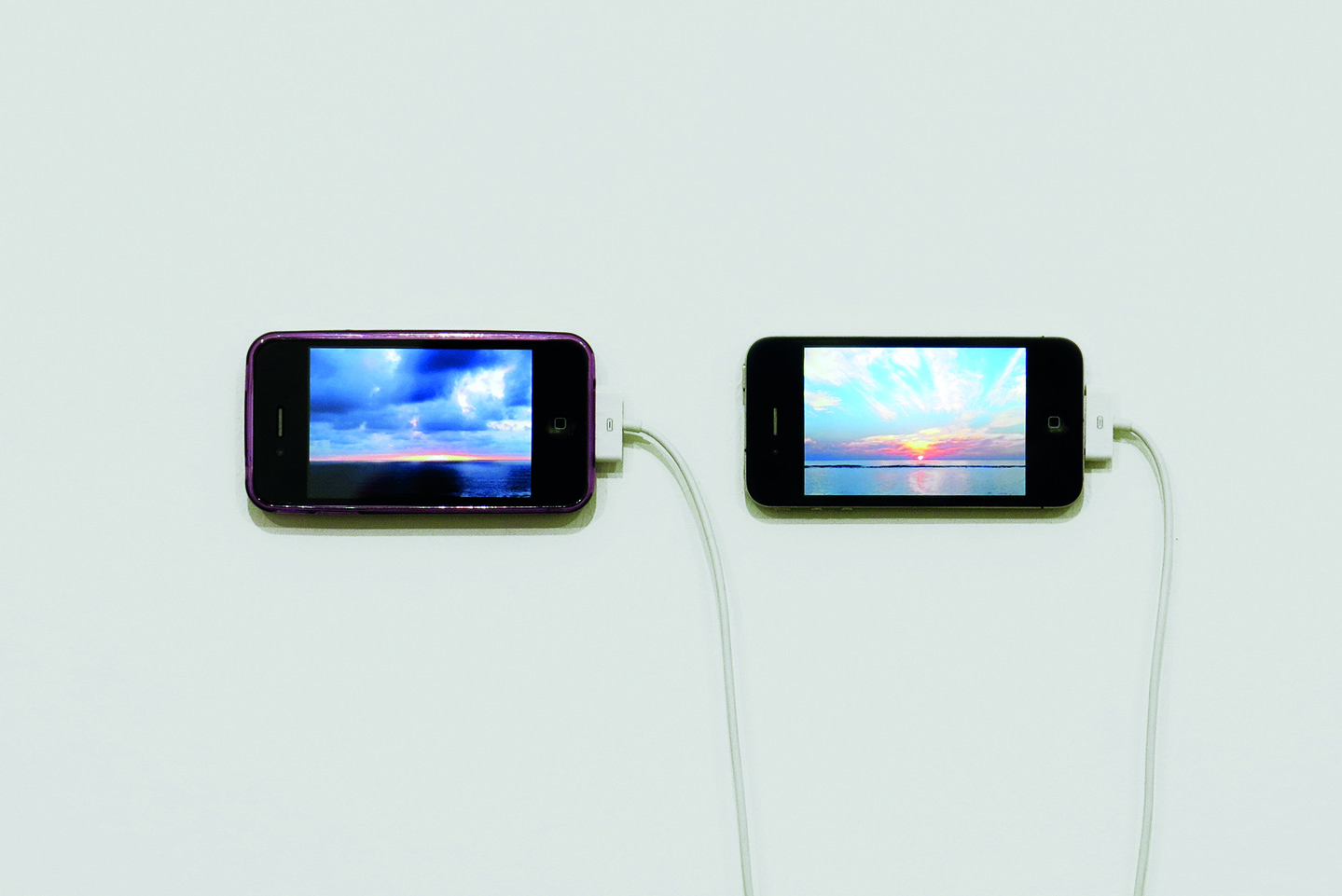 David Horvitz and Yann Chateigné in conversation
In fall 2018, artist David Horvitz and writer Yann Chateigné wrote letters to each other. Starting from a simple protocol based on the idea of having an epistolary exchange about the concept of correspondence itself, the conversation rapidly opened up to wider questionings. The letters published here evoke works as attempts of emancipation from standardized time, matters of absence and connectivity, communication and communion, as well as exhibitions as vegetal compositions and as discrete forms of communality.
MONTREAL
Dear David, 
This morning, the temperature was so cold, I almost had to run to my office. In the meantime, I was thinking of how much time I miss, especially for writing. I miss this particular time quality, allowing concentration in depth, that has progressively been replaced by other times, over the years. I am communicating, yes, but I have difficulties in writing even to my closest friends. In fact, this is one of the reasons why I suggested that we should write letters to each other, indeed a very egoistic one: just for the pleasure to write and be written back. Yesterday, while I was apologizing for being late with the start of our correspondence, you replied back with a mention of a work you did in the past, which consisted of giving people a minute of time. How nice is it to think of such an inversion. I have the feeling that in our work, but also in some parts of our daily lives, we usually do the opposite: we mostly tend to take the time and take time to people, to obtain some attention, to take things, in fact to appropriate. In your message, you also interestingly evoked the fact that the audience certainly did not understand the piece then. The surprise might come from the gift, as your work offers the opposite of these strategies of capture: a discrete form of freedom.
Yours,
Yann
LOS ANGELES
Yann,
For me, why I am drawn to letter writing as a form of communication, besides the satisfaction of the slowing down and drawing out of a thought, is that letters seem to be as much about place as they are about time. Here in Los Angeles. There in Montreal. Whereas texts and emails seem to exist in a time that is connected to no place. Here in Los Angeles, it is night. It is winter. Orion is visible in the sky. The camellias have begun to bloom. The piece you are describing was at the Take Me (I'm Yours) exhibition in Milan at Pirelli HangarBicocca. The exhibition consisted mostly of things you can take away, made by a large group of artists. I didn't want to give away an object. I wanted to give away a piece of time. Attendants in the exhibition would "hand" viewers a minute. They did this by telling them when the minute started and when it stopped (not using a clock) and then telling the viewer they could take it away with them. Actually , maybe the piece was two people sharing a moment in time. It was important that no clocks were used, the minutes were purely subjective, that maybe at that moment, the attendant of the exhibition and the random viewer were conjuring a brand-new minute, one that existed outside of standardized time. I could try to send you a minute in this letter.
David
BERLIN
Dear David,
While reading your letter yesterday, being on my way back to Berlin after a couple of days off, retreated in the Swiss Saxony mountains, I thought of this matter of place and time, and the epistolary. Actually, I felt like the fact that we are writing letters to each other, instead of emails or texts, allowed me to quietly answer you with delay. And that this silence was part of the communicational process. In parallel, trying to figure out what could it mean to give a minute of time to someone, I thought that one minute was also the time one gives to the absented ones in the form of a minute of silence. Earlier this morning, or was it still the night, shortly after arriving at Schönefeld Airport, already heading to Geneva for teaching, I read that three persons had been shot at the Christmas Market in Strasbourg, in my home country. I felt dislocated and connected in the meantime. In a recent work of yours, the audience was invited to perform a series of scores you made out of transcriptions of the sound of waves breaking on some rocky coast in California. The work was dedicated to the composer Pauline Oliveros, for whom place was of great importance in her work. As well as silence, I suppose. For those who have been interested in her work, and who have been practicing yoga or meditation, performing the ocean sounds like a very practical, almost technical way to deepen the breath, to tune the body in another frequency, another timewave. There might also be an attempt, in this work, as you mentioned in your letter, to offer the possibility to visitors to share a moment in time, but very subjectively, to create commonality while preserving singularity. Oceans, among many other inspiring interpretational paths, might be one of the most pertinent elements to mirror, and confront, the condition you are evoking in your letter. We are living in a time of spaces with no place. Oceans in your work are places where time exists beyond its jurisdictional quantification, places that allow long-distance connection. They are, in the meantime, natural and silent immensities and complex systems carrying information. Becoming an ocean: what an inspiring possibility.
Yours,
Yann
LOS ANGELES
Dear Yann,
I am writing this in my studio, exactly one minute before noon. But when I finish this letter, time will have crossed this imaginary boundary into the afternoon. When the Ocean Sounds consists of fifty-one transcriptions of sounds of the ocean I made to be performed by human voice (by anyone). They were made on the Palos Verdes Peninsula, at the southern tip of Santa Monica Bay, south of Los Angeles. I took my laptop to the waves and attempted to type out what I heard. Part of the work is a vocalizing performance/exercise. But for me, in making it, it was also about listening. It was to actively listen to a place (or what Oliveros calls deep listening). To slow down and listen, and to listen deeper, and deeper, becoming aware of an aural landscape that was always there but that we were maybe too unaware or too distracted to enter. It is the subtleties of a place, in its silence. But silence doesn't have to be the absence of sound; it can have a lot of sounds. When we are distracted, our attention is pulled out of where we are. A kind of displaced, or non-placed, attention. In the spirit of improvisation and spontaneity, the performance of the work can happen by anyone at any time. I have a great story from La Criée, the art center in Rennes, France. The curator Sophie Kaplan told me a story that she was told from the person who was sitting in the gallery, about a professional choir group from I think Wales, how they randomly entered the exhibition space, saw the work hanging in a group exhibition, and immediately started singing it. Only one person was in the gallery to witness this. She told Sophie, who told me. And now this exists as a kind of rumor. I'll have my own show in La Criée in January, and one of the works in the exhibition will be the retelling of this story to visitors of the show. Letting the lore about something that happened in the same space continue to circulate and grow, though there is no actual proof that it happened. Returning to the place where I made the transcriptions, the Palos Verdes Peninsula, I have done a series of works here. It was never intentional to return to the same place to make other works, but it just happened organically, because this is what I consider home. And the landscape of the peninsula is in a way my studio. The Distance of a Day, which is two videos shown on smartphones depicting a sunset in Los Angeles with a sunrise happening at the same time in the Maldives, was made here. A new video I recently made documenting me sowing palm tree seeds native to Baja Mexico in Donald Trump's golf course was also made only a ten-minute walk from where I made the transcriptions. And one of the photographs I made in my Public Access series, where I photographed myself standing on beaches in California and uploaded them to Wikipedia, was also made here. Here… Here… Here… I feel I should have written you this letter from there. Maybe the next letter! On a final note, one of the ideas in the thinking that formulated When the Ocean Sounds was this part in a Rachel Carson book where she describes the chemical similarities between our blood and seawater. As you say, becoming an ocean is an inspiring possibility. Maybe we are already the ocean, and it is not about becoming, but becoming aware of that. Last week I was invited to Baltimore to give a talk at MICA (Maryland Institute College of Art). Rachel Carson is buried outside of Baltimore. I had read in an introduction to one of her books about the sea that she had requested that a passage from one of her books be read at her funeral, but her wish was never granted. So with a couple of art students, right at nightfall, we read the text to her.
D
GENEVA
Dear David,
A peninsula in California as your studio, me in Switzerland in the basement of an art school, surrounded by the archives of Ecart, an artists' collective, a bookshop, a gallery that, from the late 1960s until the early 1980s, was very actively involved in the circulations and networks of figures and structures that were connected through postal exchanges, mail-art practice, letters—something that you've been interested in, as you have been doing this fascinating show, with and for Ruth Wolf-Rehfeldt, who was actually in touch with Ecart and one of its main characters, the artist John M. Armleder. Another unexpected connection, as I am thinking again of what it means to write to each other. In my first letter, I was mentioning a first reason why I wanted to propose this protocol to you, and there might be a second one. Lately, I have been quite often thinking of communication, and of my ambivalent relationship with social networks, and Instagram in particular. I have been seeing it as a form of contemporary ritual, based on this almost apocalyptic movement of pe ple throwing pictures in a sort of digital void, pictures of any kind, loaded with feelings, experiences, souvenirs, continuously spilled into a vertiginous and bottomless hole, as an almost mystical attempt to feed something that is never satiated. It looks to me as the opposite of communication. And when I think of your recent exhibition at Chateau Shatto in Los Angeles, I am feeling like what you are doing is different. To the verticality of these social networks' structure, you are opposing a form of horizontality, and the show seems to act, as often in your exhibitions, as an ecosystem into which a series of works was precisely addressed to specific individuals, on the contrary of the latter operational modes, into which the spectacle that is produced involves a form of contemplation, of depressive fascination, of passivity. The works in a n e m o c h o r y seem to function as vectors of connectivity, of subjective affinities, that composed a shape that I imagine as a connected bouquet, a vegetal composition of works that in this case created a real net, allowing the always potential possibility of a temporary commonality.
Yours,
Yann
LOS ANGELES
Dear Yann,
Sometimes when I write, I wonder who it is that is actually writing. Is it the cup of coffee from this morning? Is it the gloomy L.A. weather today? Moods from the weather dosed with caffeine from ground-up seeds steeped in water. A kind of hyperactive melancholy. I was so happy about to have a show with Ruth at the Albertinum in Dresden. She is amazing. The title of the show, For Ruth, the Sky in Los Angeles, actually came from a small watercolor I mailed to Ruth. It was just a text. I guess it was another day like today where I was contemplating the sky. But I think I was probably sending her a bright blue sky for her probably gray Berlin sky. This watercolor was never actually intended to be public. But Kathleen Reinhardt, the curator of the show, wanted to put it in the show and title the show after it. I sometimes think of the seed sower, who casts seeds into the wind, and these seeds grow into something sometime later. Like this little piece of mail I sent to Ruth that grew into something else. My practice is sometimes one of coincidence and chance and seeing what happens. I first met Ruth when my wife sent me to her house to look in her mail-art archives for works sent by Paulo Bruscky to Ruth's late husband, Robert Rehfeldt. The archive was neatly organized in boxes labeled with the names of countries, like a large abstracted global map. I imagine that at every node of the international mail-art network you can find these small personal archives. Some might be neatly organized, some might be in boxes in a closet, some may be scattered across a studio floor, decades of communication from dedicated lives accumulating haphazardly into piles. I looked through Bruscky's works in the box for Brazil, while Ruth gave me coffee and cookies. All while I was wearing Robert Rehfeldt's old slippers. I remember looking at the wooden table in the room, which used to be their studio. It had remnants of rubber ink stamps, like a palimpsest of years and years of mail-art production in East Berlin. The impression of two lives lived together, of their creativity and involvement, and maybe even of their love. I feel my work with the mail is more about personal intimacies than about the mail-art network. For me I am interested in the idea of distance, a space (that is both physical and temporal) that a letter or a postcard traverses as it goes from one person to another. And how it goes to one person, not broadcasted to all your followers. Obviously in the world of electronic information, the communication traverses that distance electronically. But what I like about mail is the actual object of the mail physically moving across that space. It makes its journey, finding its way from me to you, connecting two places that are unique. Though I do have a small work that is produced over text message that I have done over the past year. It's called Yesterday, and it's only available for one day in Paris at Yvon Lambert's bookshop. It's a photograph of the sky (the sky again) from yesterday. I text them the image from my phone from where I am, and in that communication, from one place to another, usually from L.A. to Paris, the image sometimes instantaneously enters into a new day. I like to imagine it crosses over someone's midnight somewhere between here and Paris. And that specific photograph is sold only for one day. The next day there is a new photograph of the new yesterday. I also like to imagine someone walks in and buys it (only for one euro!) like they are buying yesterday's croissant! Going back to the idea of non-place, for me Instagram exists in a temporality without a place, it is a clock that continues to tick but has no grounding anywhere. It pulls our attention into nowhere. We look, we forget. But we have to keep looking because we are addicted to looking, and also to posting. Then we forget. It's a constant refresh into a reality we are not experiencing. Then we look up and we don't know where we are, and feel a little dizzy. I do it too, I feel the addiction. Our everyday experiences become validated if our friends like them. What does it mean when my scrambled eggs didn't get so many likes? Don't they know I used truffle salt with Italian white truffles and salt from Brittany? I should have made that more clear in my comments. Now I'm a little depressed, and I need to keep looking and get more depressed. Or maybe I get euphoric, and I can't tell the difference between this euphoria and the depression that I feel in this void of images. I'm being a little extreme here… I want to tell you about this new work I have made. It's called Nostalgia, named after Hollis Frampton. They are unique digital projections where I project a sequence of digital photographs, each for one minute, for the exact duration of an exhibition. The files are pulled from my archives of snapshot photographs I've made with digital cameras for the past fifteen years or so. I've always had an anxious feeling about this archive, which still today continues to grow. I never knew what to do with it, how to use them, what purpose all the images were for. I had maybe around one hundred thousand. They were small moments of my daily life, random things I'd encounter, notes for a future work, friends, family, food, anything. After the photographs are projected, all copies of the file are deleted. So it becomes the last time the photographs are seen. And maybe no one is in the gallery when a photo is shown, so it disappears without a witness. This work will continue until the archive has been completely erased. Though I still continue to make photographs (why?), so maybe this work can never actually be finished. I like to think that what I photographed were small fleeting moments, and that I let them become that again. The title of my exhibition in Los Angeles that you referred to, a n e m o c h o r y, refers to the process of plants using the wind to distribute their seeds. They are plants that basically evolved with the wind. There is a mail-art work in the show that you can only see on the gallery desk if you are looking. A few days before the exhibition opened I made about seventy large postcards. I consider them minimal poems, consisting of three words made spontaneously with rubber stamps. I mailed these to the gallery, which is only about four miles from my studio. But I used wrong addresses, for remote locations all across the United States, with the gallery's address as the return address. During the exhibition they slowly began arriving at the gallery, after going on a little detour as they were sidetracked on their way to their destination. Like they were blown in the wind somewhere.
David
David Horvitz currently lives and works in Los Angeles. He is a conceptual artist with a practice that spans diverse media and subject matter. The founder of Galerie Morille in Los Angeles, Porcino in Berlin, and Matsutake Gallery in Paris, he studied at the University of California, Riverside, and holds an MFA from Bard College. Recent solo and two-person exhibitions include Für Ruth, der Himmel in Los Angeles, Albertinum, SKD, Dresden (2018); Yesterday, Yvon Lambert Librairie, Paris (2018); Água Viva, Belo Campo, Lisbon (2018); Eridanus, Galerie Allen, Paris (2017); Situation #20, Fotomuseum Winterthur, Switzerland (2015); David Horvitz, Blum & Poe, Los Angeles (2014); Gnomons, New Museum, New York (2014); and POST, Kunsthal Charlottenborg, Copenhagen (2013). He is represented by ChertLüdde, Berlin.
Yann Chateigné lives in Berlin. A writer, curator, and associate professor at Geneva School of Art and Design, he has previously served as dean of the Visual Arts Department at HEAD – Genève (2009-2018), and chief curator at CAPC museum of contemporary art in Bordeaux (2007-2009). Recent exhibitions include Bringing Something Back (with Joachim Koester), Bergen Kunsthall, Norway (2018), 1977, L'Onde, Vélizy, France (2017), Seismology (with Lars Bang Larsen), Palais de Tokyo, Paris (2013), Panegyric, Forde, Geneva (2012), and IAO. Psychedelic Explorations in France, 1968–∞, CAPC, Bordeaux (2008-2009). His texts have appeared in Artforum, Art in America, Frieze, Les cahiers du musée national d'art moderne, and Mousse. He coedited, among other publications, The Archive as a Productive Space of Conflict (with Markus Miessen, Sternberg, 2016).
Originally published on Mousse 66